Do you want to learn how to thrift shop more effectively? Here are a few thrifting tips to help you get started! 
I get a lot of questions about thrift store shopping and finding good deals. Corey and I are pretty serious about not spending a lot of money on the furniture we buy, and we are persistent enough to keep checking places like Craigslist and local thrift stores until we find exactly what we want. As a result, we find some amazing items at ridiculous prices, and I've had a lot of people ask me how exactly we do it.
Well, now that Corey and I are in a new town and are beginning the process of finding the best stores in our area, I thought it would be the perfect time to write a few posts on our methods for choosing the best stores to frequent and for finding good deals in said stores.
We had plans to go out thrifting on Saturday afternoon because we're itching for some good thrift/antique stores and we haven't found any that we love yet. So, before we headed out I began my research.
Thrifting Tips: How to Thrift Shop More Effectively
Tip # 1: Google is your friend.
We live in Austin. There are approximately two million thrift and antique stores within a 30-mile radius, and there is no way we can ever visit them all. Thrift stores aren't exactly the sorts of things people review very frequently online, so you have to get a bit creative with this part. For this particular outing, Corey and I were headed to a specific area of Austin and didn't want to venture too far beyond where we were going for dinner. So, I pulled up Google Maps and searched both "thrift store" and "antique store" and chose several that were near where we'd be.
Anytime you're searching for something like this (at least if you live in a big city) you're going to find more results than you could ever know what to do with. I spent a few minutes checking out the websites of the stores and the reviews (if they had either) and was able to pretty easily eliminate the ones I knew we wouldn't be interested in. Many of the thrift stores that showed up were listed primarily as clothing stores, so I knew that wasn't going to fit the bill for what we wanted. I also saw a few that were very clearly what Corey and I affectionately refer to as we-take-ourselves-too-seriously antique stores, and we just aren't interested in spending $500 on an antique clock that may or may not have resided in some famous politician's home. Use your best judgment with this part, but it should be pretty simple to narrow down your results to a few you're interested in.
I wrote down the names of about seven stores, in order from the furthest out to the closest to where we wanted to stop for dinner, and we headed out.
Tip #2: Even if the store is a dud, look around!
We knew almost immediately upon walking into the first store on our list that it was a we-take-ourselves-too-seriously kind of place. It was formal, stuffy, and every single price tag in the store made me feel a bit like I might faint.
Even though these aren't the kinds of stores you'll probably ever buy something from (at least if you're as cheap as we are you won't), but they can be a never-ending source of inspiration, so it never hurts to spend a few minutes browsing.
Here are some of the things we saw in the store that inspired us (all the photos in this post will be iPhone photos – forgot to bring our real camera!)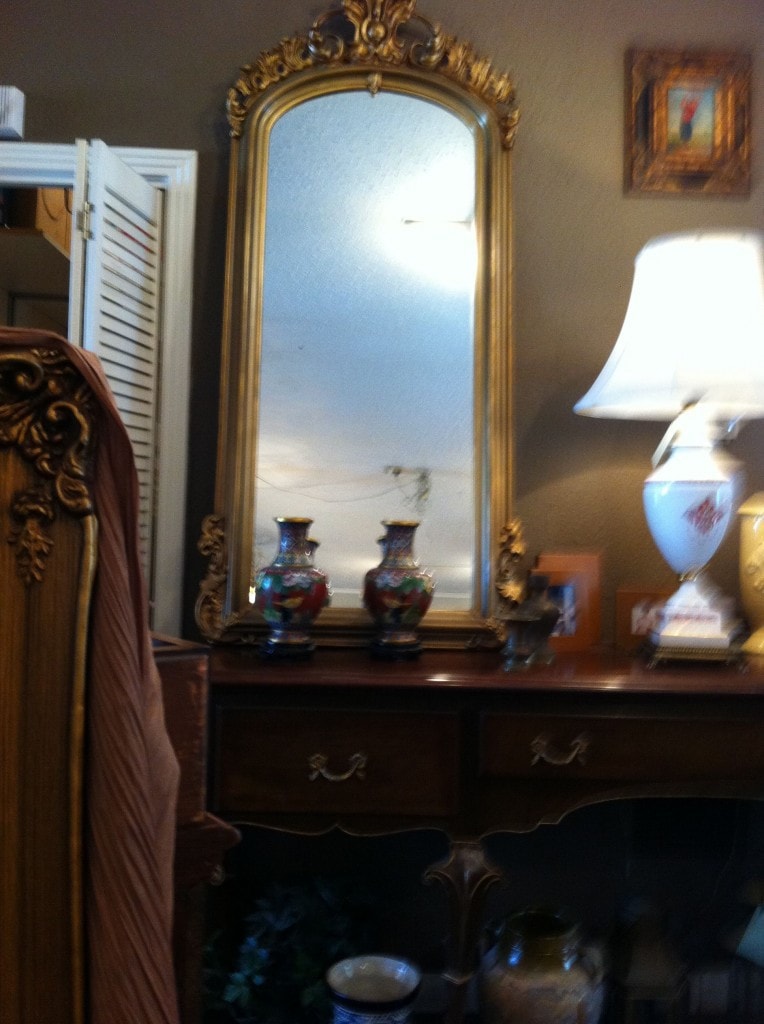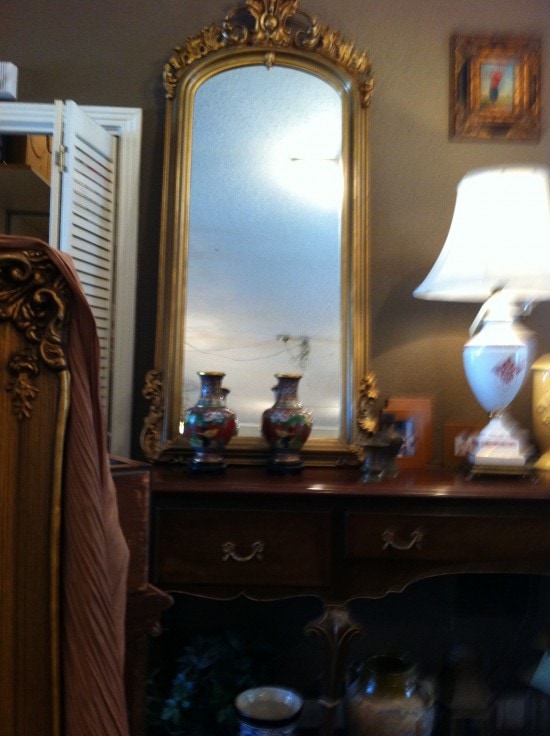 This mirror was beautiful, and I loved how tall and narrow it was. I immediately thought of our master bathroom and the insanely tall ceilings we have in there – I can definitely picture a pair of mirrors like this one hanging above our sinks.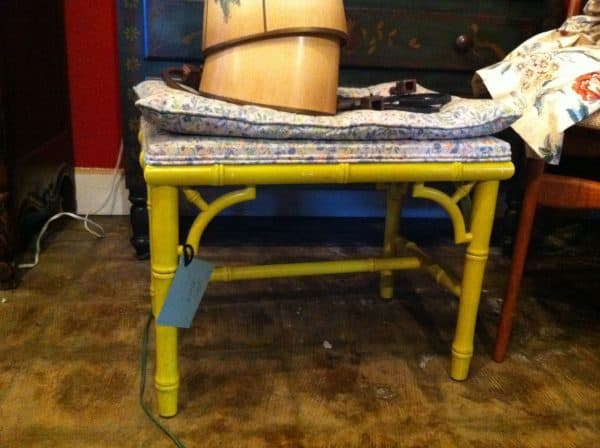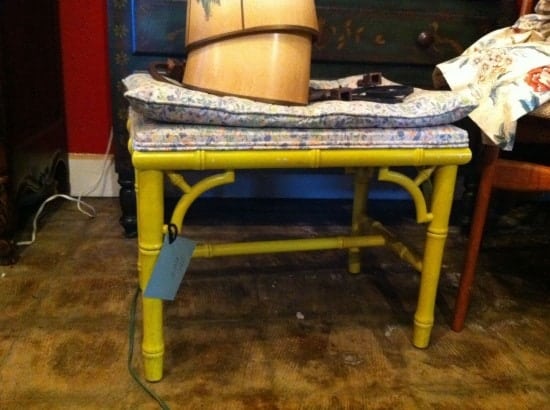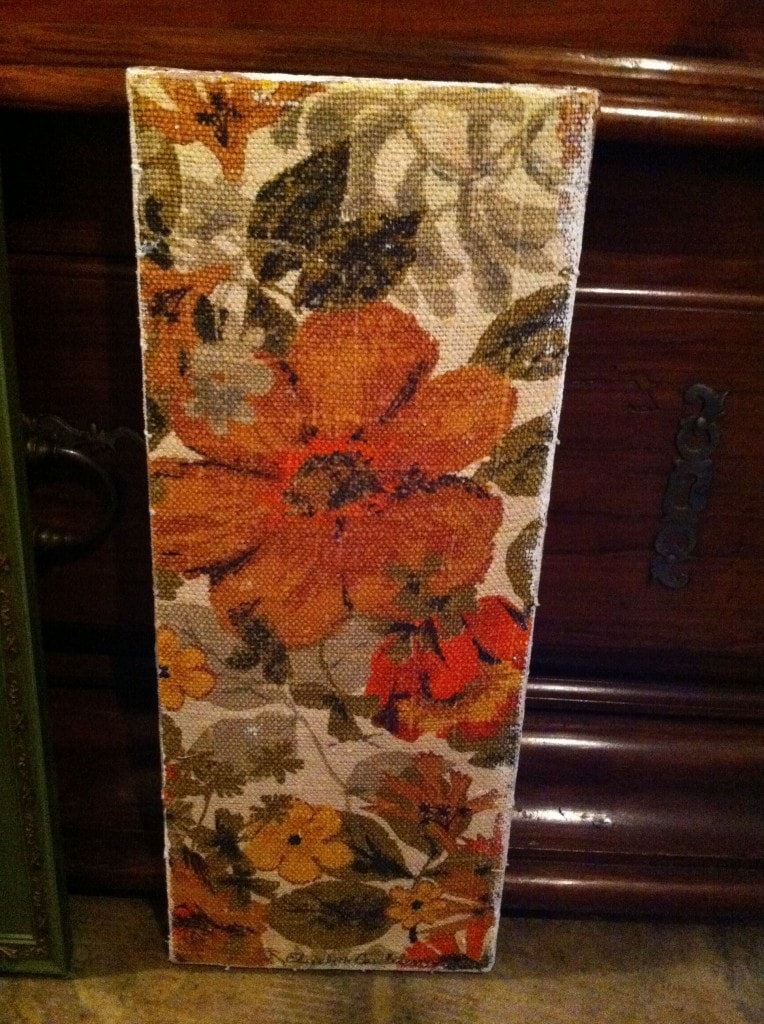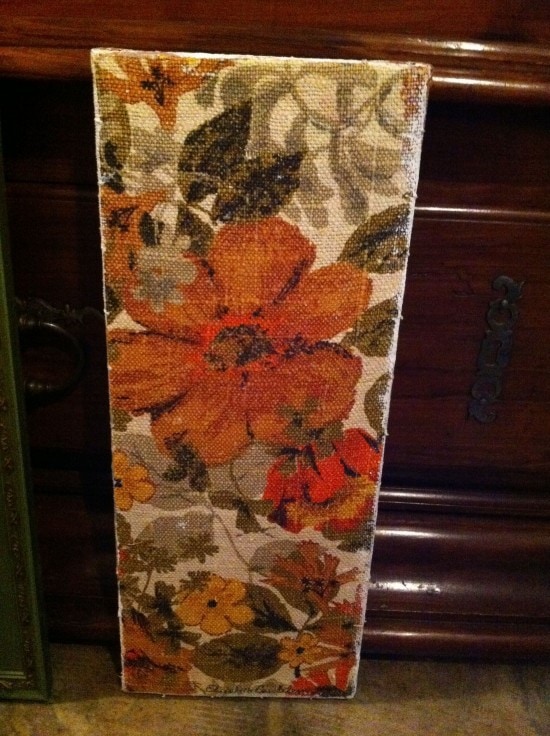 We both loved this floral canvas, and even though it was way out of our price range, it was a big inspiration for us and we agreed that we want to find a good floral fabric so that we can re-create this sometime soon – we need some more art in our home!
Next up, we headed to a store that we knew would be way too expensive for us, but that we couldn't resist checking out. It was an entire antique store full of mid-century furniture and decor. Right up our alley, right?! Again – we knew we wouldn't ever buy anything from here, but it offered up some great eye candy and inspiration.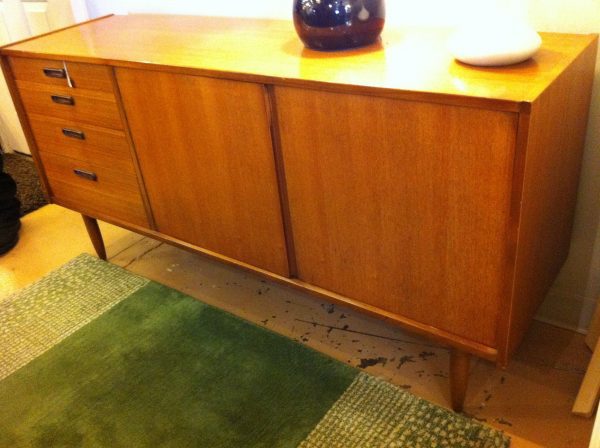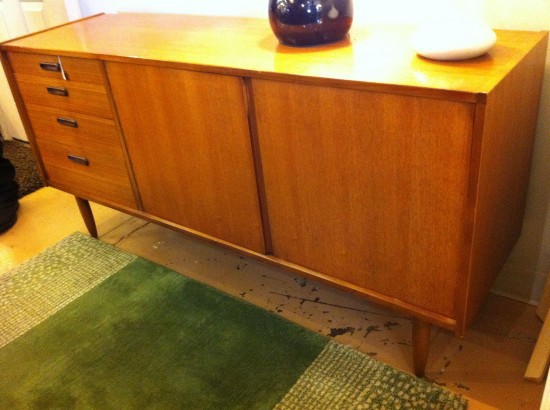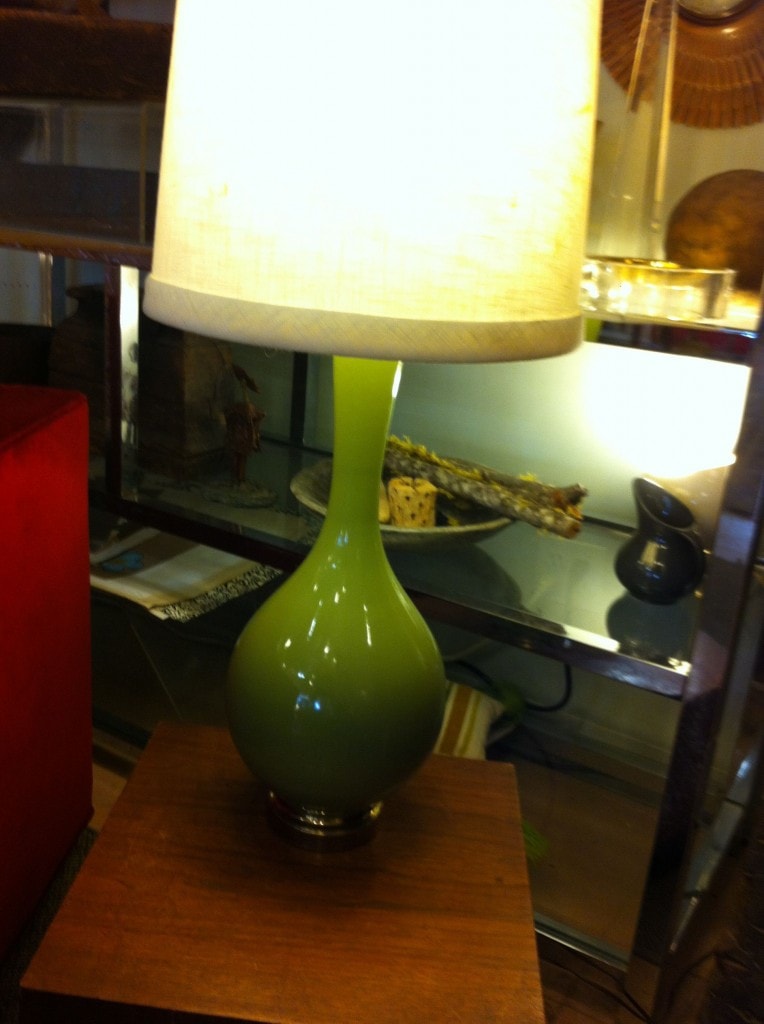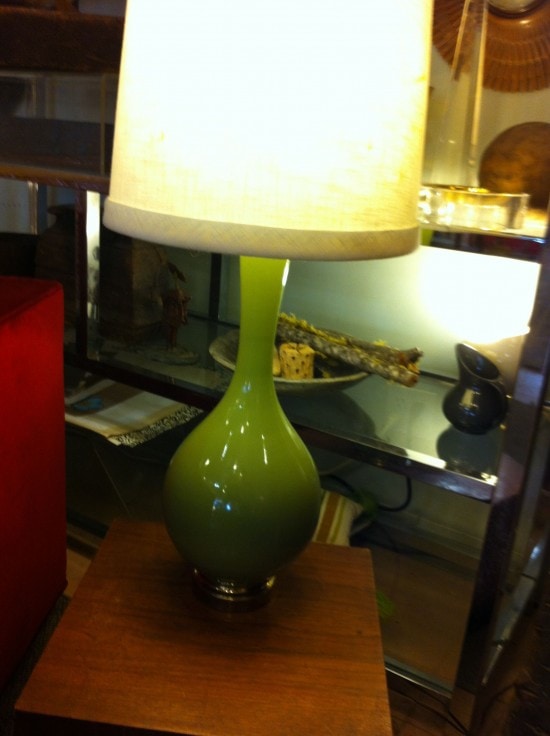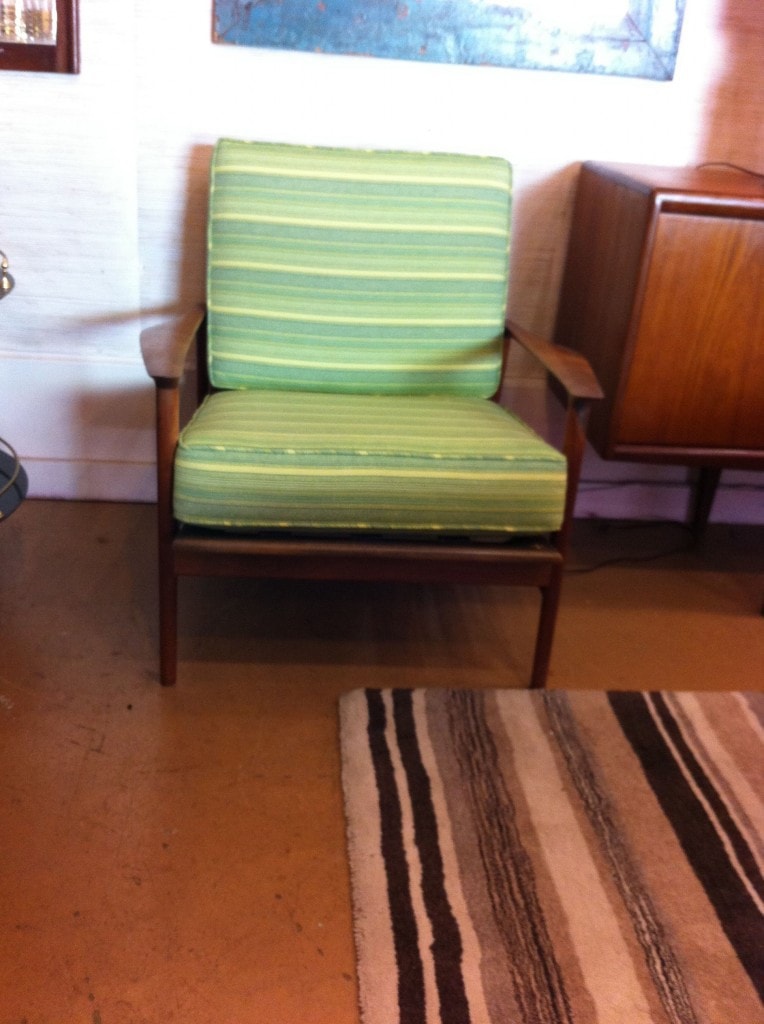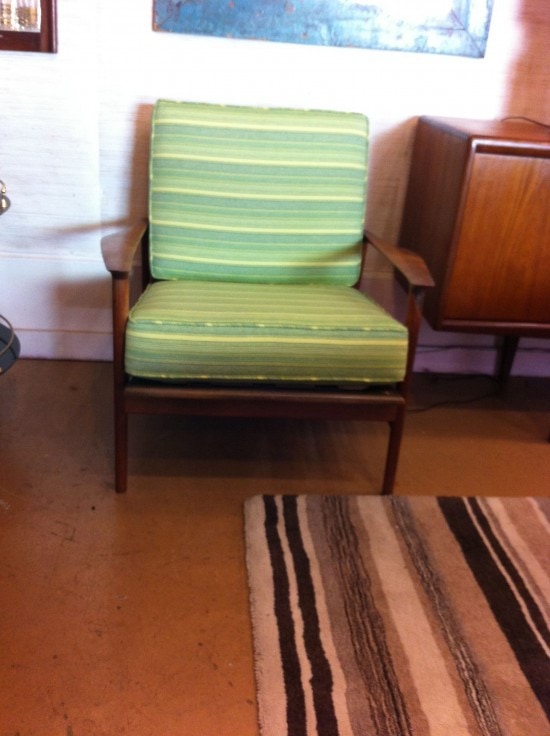 I was so excited to stumble on this chair in the mid-century store – it looks just like the free chair we got from my friend! It gave us a good visual for how our chair might look once we give it some new, colorful fabric, and now we're very excited to get it done!
Tip #3: Don't rule out the good ol' standbys. 
I know that sometimes when I'm looking for a good thrift shop or antique store, I tend to want something new and exciting. A little mom-and-pop store that no one has ever heard of that can be my special place to visit.
But, um, those are really hard to come by. And you know what's not hard to come by? Goodwill. Salvation Army. Those slightly boring but oh so trustworthy stores that everyone and their grandmother know about.
Corey and I visited two Goodwill stores and one Salvation Army on our day out, and I feel pretty confident in saying they were the three best stores we visited as far as potential for wanting to go back. They had good stuff, amazing prices, and a ton of things to look at. What more can you ask for?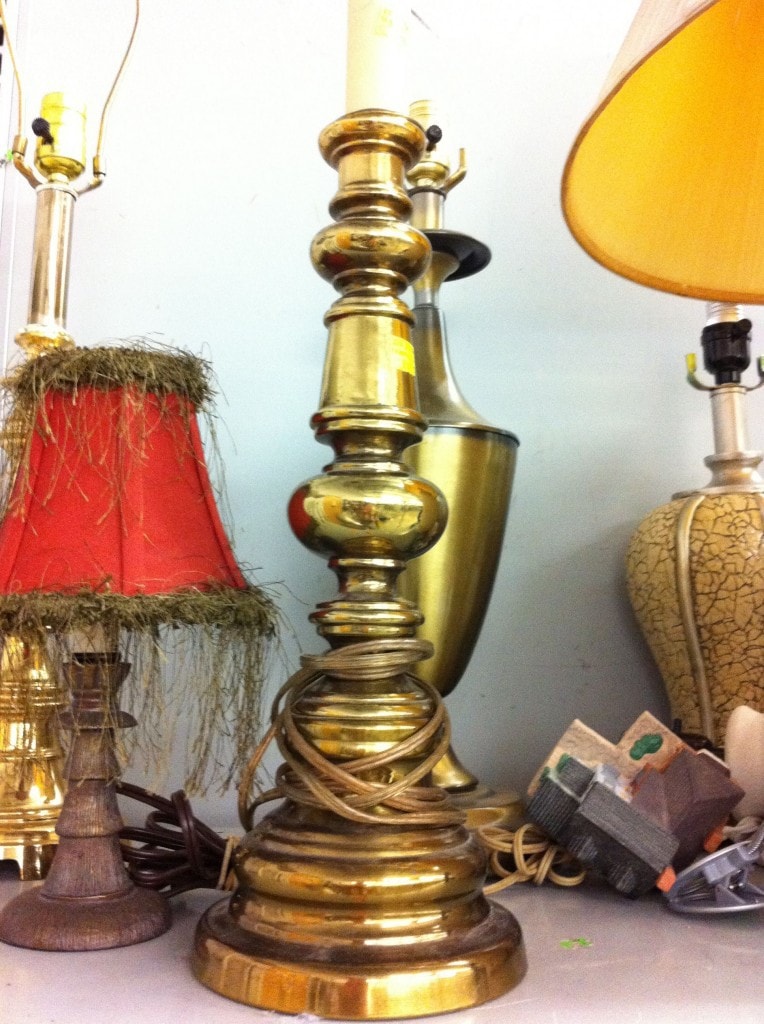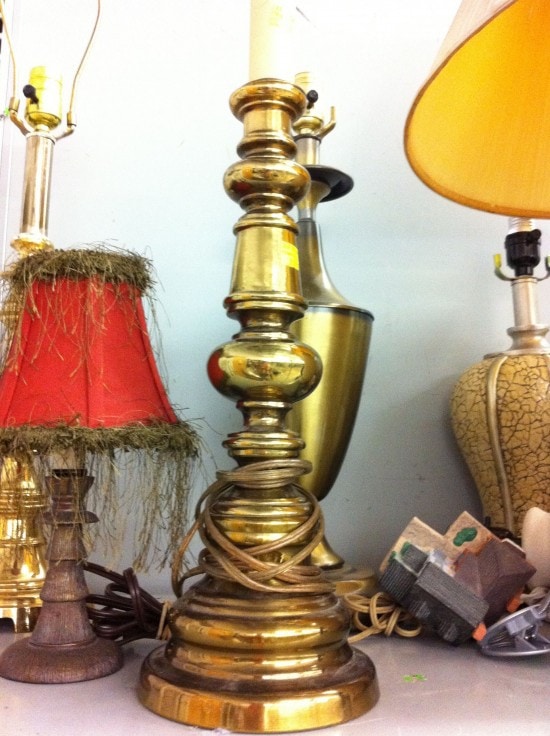 We both really liked this $7 lamp (and its very similar looking friend behind it) at Goodwill, and we seriously considered them for our new bedside tables. But, we decided they were a bit too large for our petite little tables. I'm still a little sad we had to pass on them!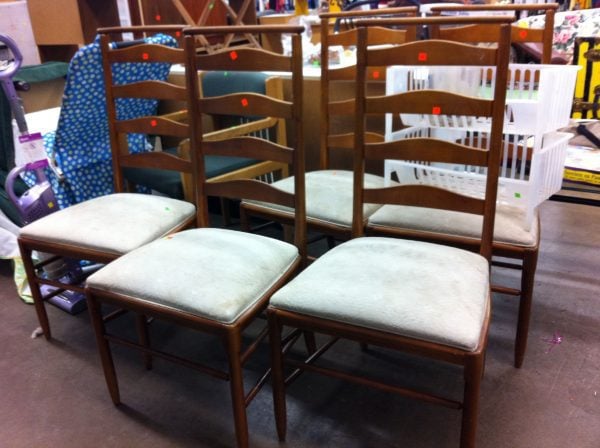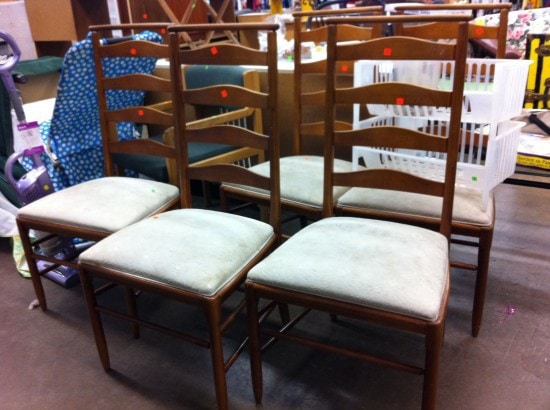 These chairs were $6 each. Seriously. Six. Dollars. Enough said.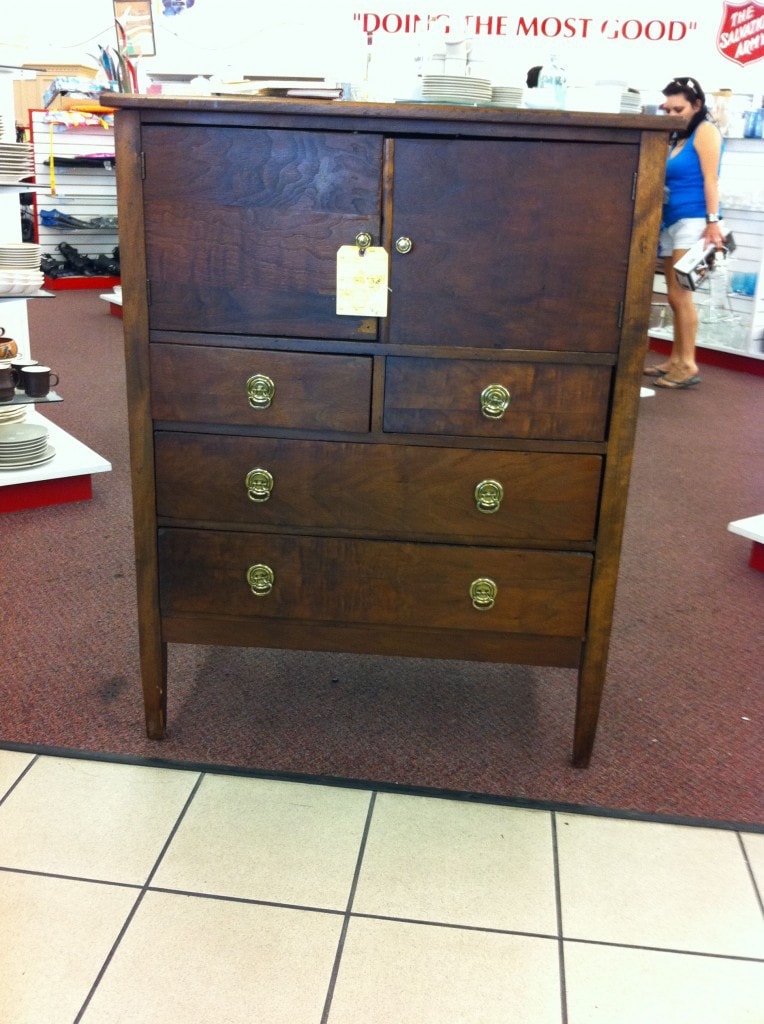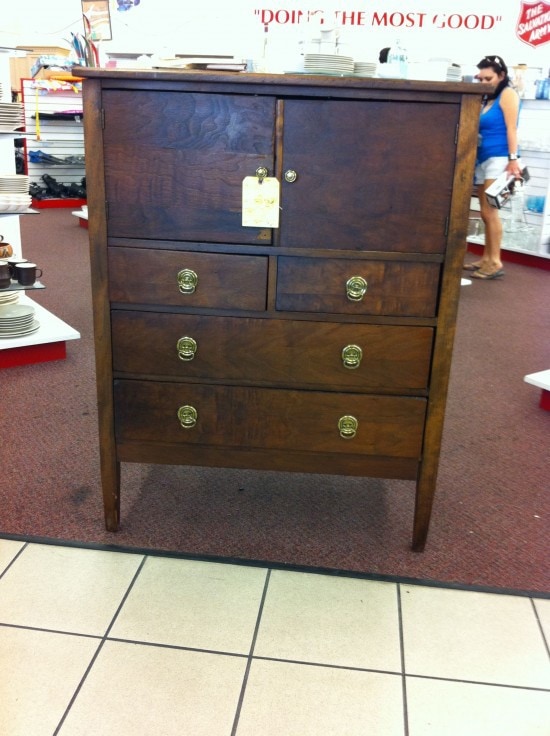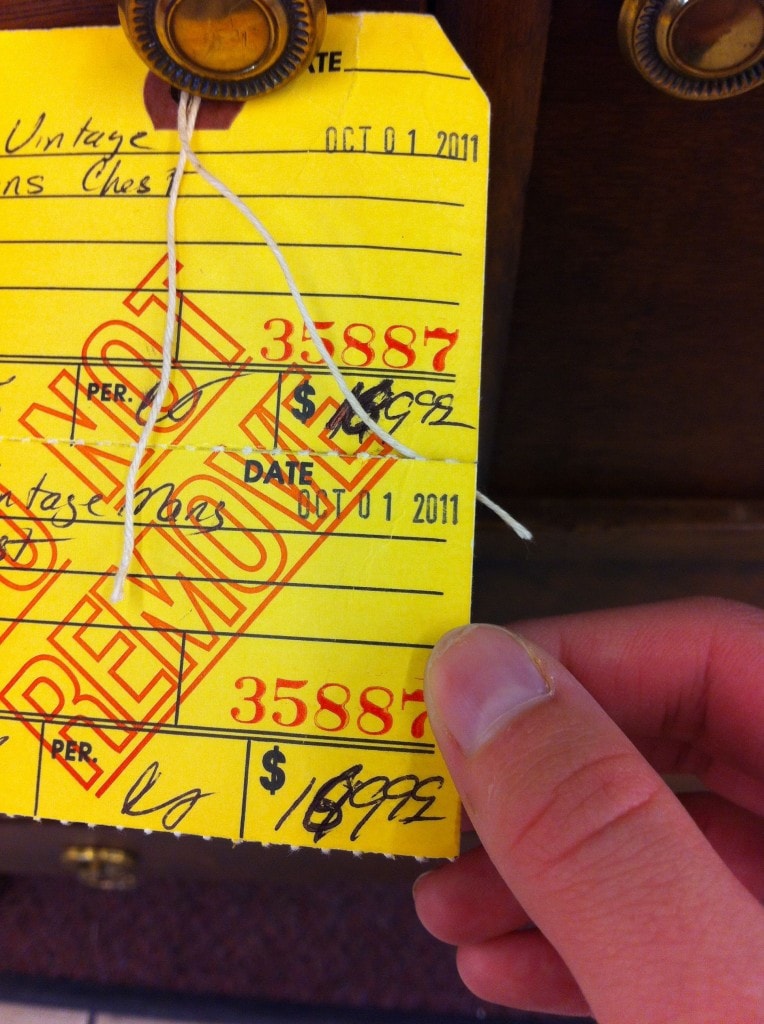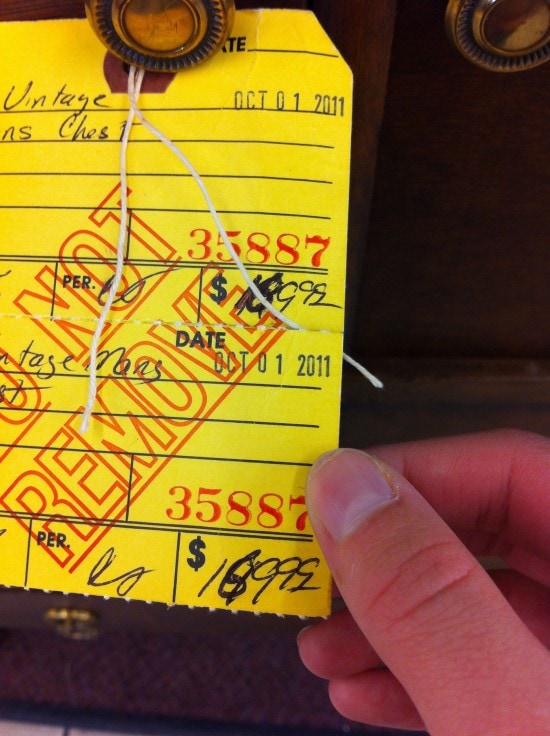 This dresser was a bit more than we would have wanted to spend, at $169, but it was in great condition and it was a high-quality piece of furniture. And that hardware? I die!
In short, Goodwill and the Salvation Army were pretty much the highlights of our day, even though we visited at least five other antique and thrift stores. So don't discount them – they've got a lot going for them!
Tip # 4: Look up! 
Sometimes when you get into these crazy-crowded antique stores you get a bit overwhelmed and it becomes almost impossible to actually see everything they have to offer. But if you aren't making sure that you look up while you're walking around on the store, you're missing out on some amazing items!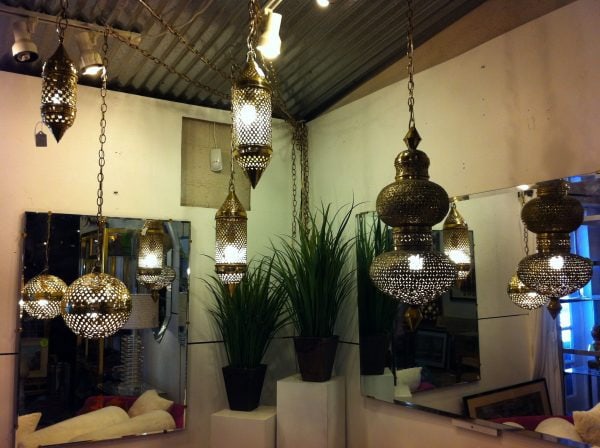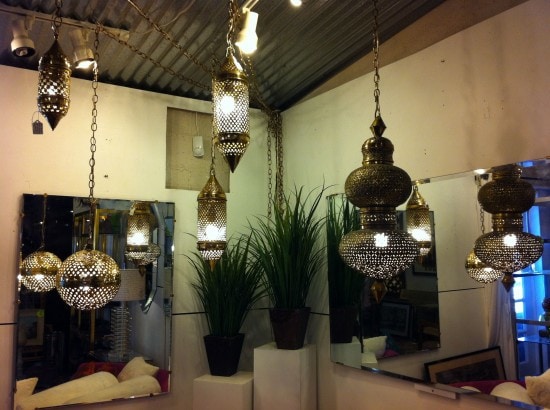 This collection of lanterns had me drooling all over myself and seriously contemplating a way to re-create it in our home. Absolutely stunning!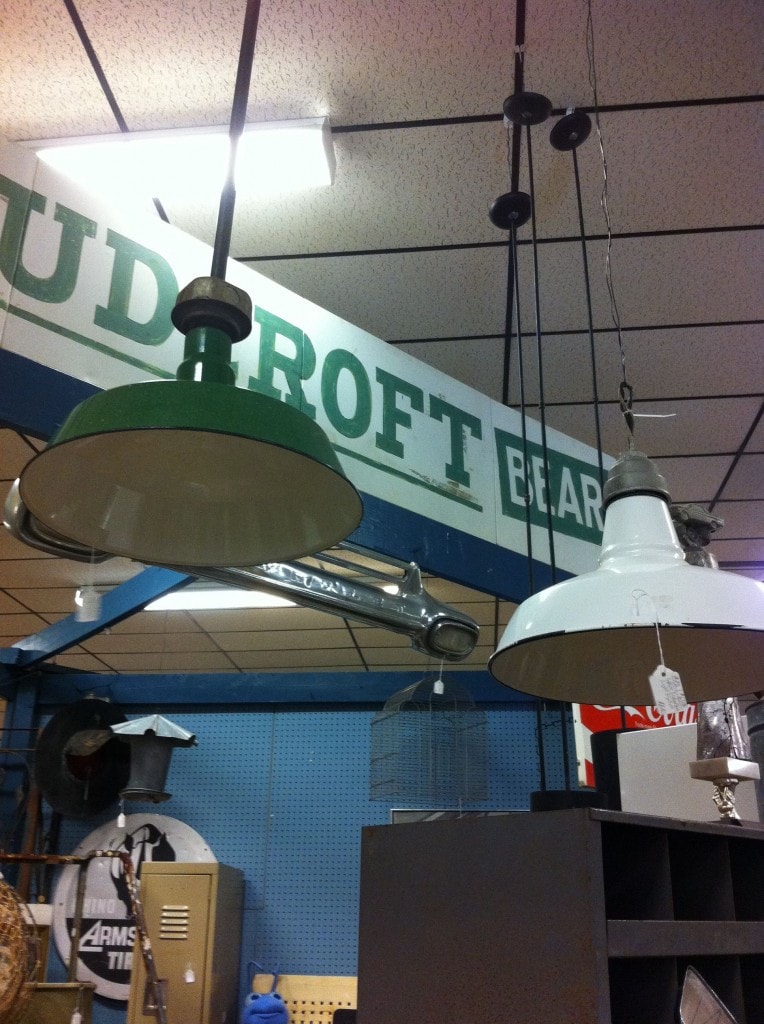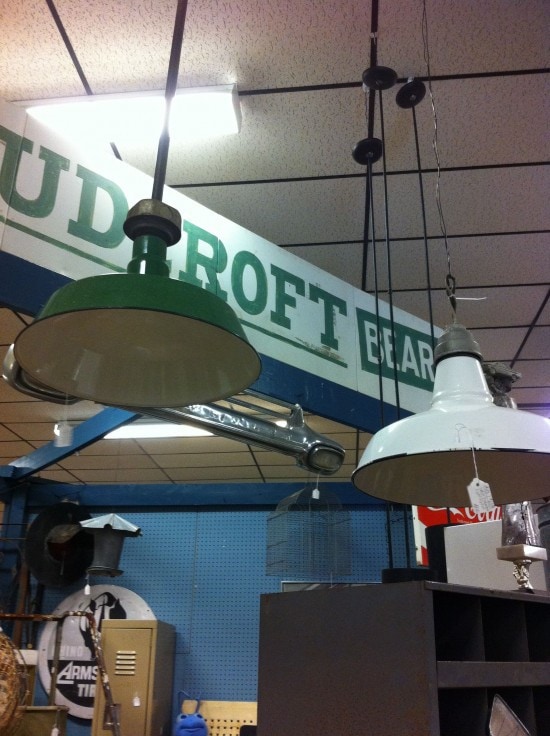 I'd be lying if I said I didn't seriously consider grabbing one of these vintage light fixtures. They would look amazing in a kitchen, and even though they were a bit steep for me, at $69 each, they'd make a big enough impact in a room that it just might be worth it!
These are the only two up-high items that I snapped photos of, but we saw so many things that we would have totally missed if we would have been focused on eye-level-only items. Some stores had chairs hung from the ceilings, some had gorgeous light fixtures. But almost every single store we went in had something going on high up within the store, and it was always worth seeing!
Tip #5: If at first you don't succeed…
You know how it goes.
Corey and I visited quite a few stores this weekend in the hopes of finding at least one new thrift shop to frequent, but we didn't really find anything that we plan on visiting again. Most of the places we saw were either too expensive, or they weren't good enough to justify the long drive out to them.
But that doesn't mean we're giving up! We only saw a (very small) fraction of the hundreds of thrift stores in our area, and we are already making plans to go on another outing sometime soon. I'll admit that we were spoiled in College Station because it only took us one day to visit almost every single thrift or antique store in the entire town (and the neighboring town of Bryan) and so we very quickly learned which were the good stores and which ones we didn't care for. It's going to take us a bit more time to get our bearings here in Austin, but we're confident that we'll figure it out soon and we'll find a new store (or a few new stores) that we can visit obsessively to find amazing deals.
And that's where we are right now on the thrift/antique store front. I'll be sure to keep you updated as we continue to visit places – and once we find a few good stores, you know I'll be back for tips on finding the best stuff in an amazing store!
Do you have a favorite thrift store in your area? How did you find it?