You guys, I am so excited to finally be sharing our recent lifestyle family photo session with you, along with some tips for family photo shoots of your own. A few weeks ago we had my friend Jessica Scott come out and take some photos in our home and they turned out so amazing. I don't know about you, but I place a ton of value on having quality family photos, but the last time we had photos taken was when I was (newly) pregnant with Jackson! We definitely needed some photos as a family, and I wanted to do it before Jackson got too big.
When we had these photos taken, we hadn't yet decided that we're going to move (I told you it was an out-of-the-blue decision!) so it makes these photos that much sweeter to know that we'll have captured these memories of what life in this house was like. I also love that we have photographic evidence of all of these sweet family moments, and I can't wait to start displaying them all over our house.
After we got our photos back, I reached out to Jessica to ask if she'd be willing to share some of her best tips for family photo shoots with you guys, because I think there are a few key things you can do to make these shoots go way smoother. She shared her best tips on what to wear, how to prepare, and what to do and if you're wanting to do some family photos in your home these tips will help make sure you love your photo session!
Tips for Family Photo Shoots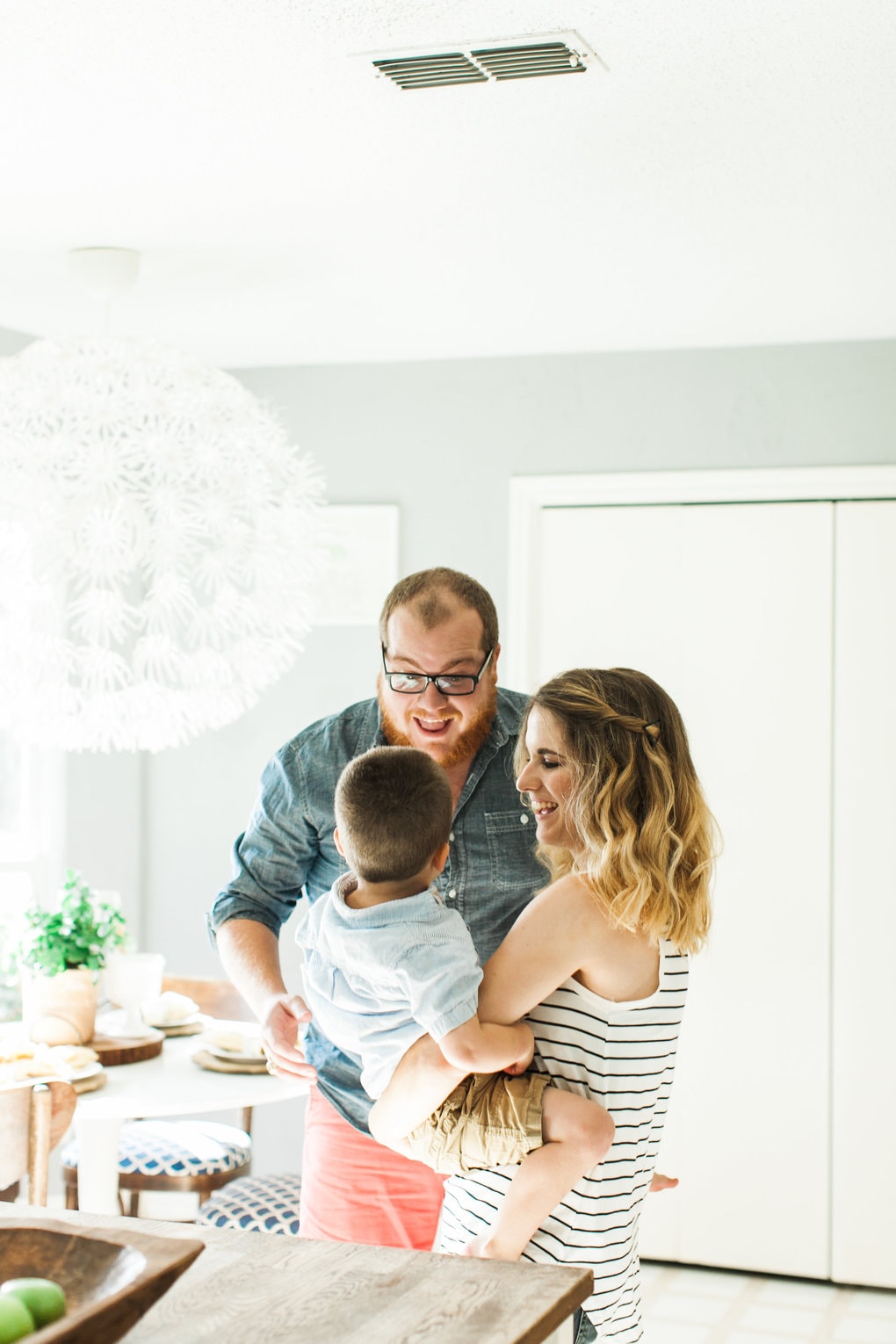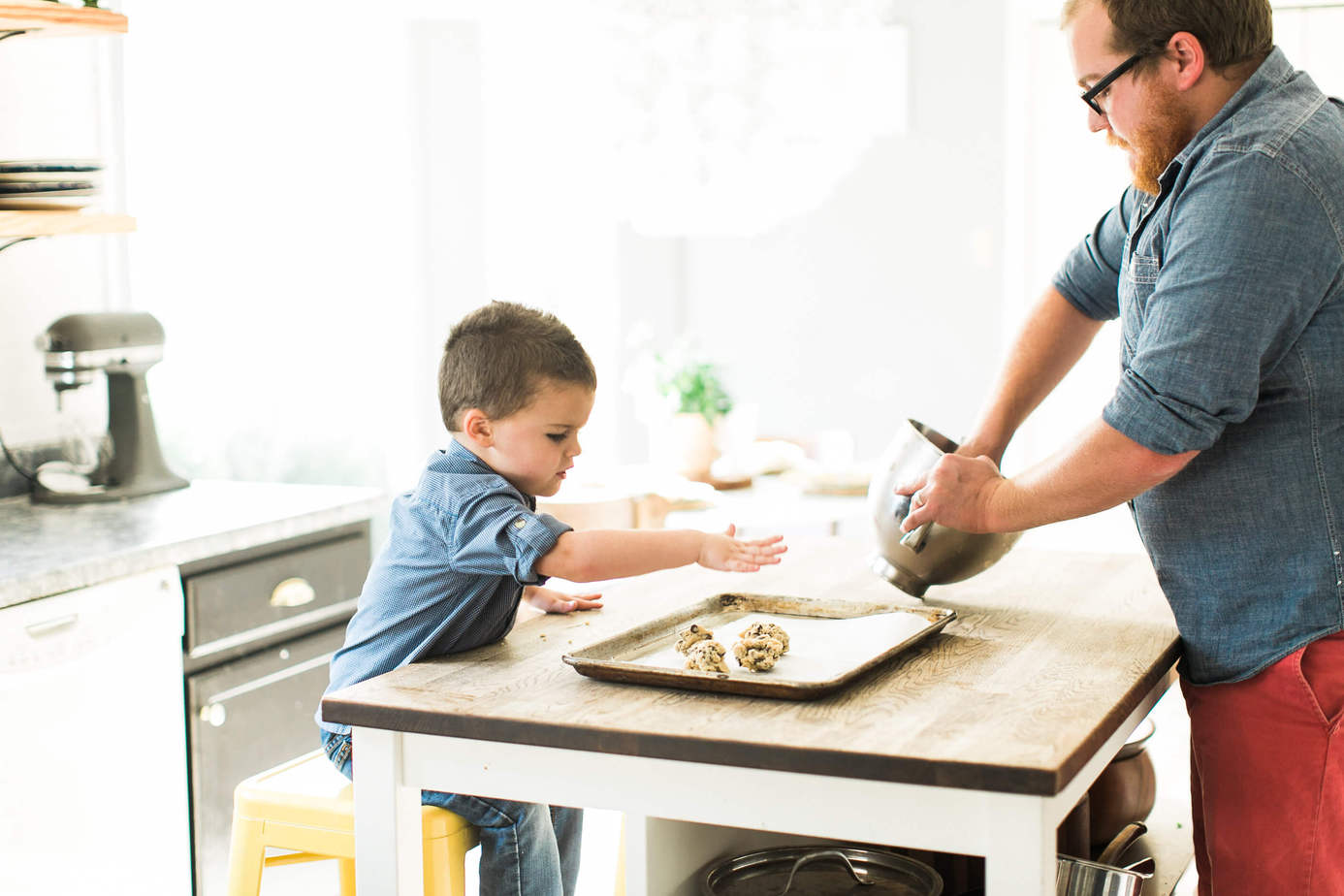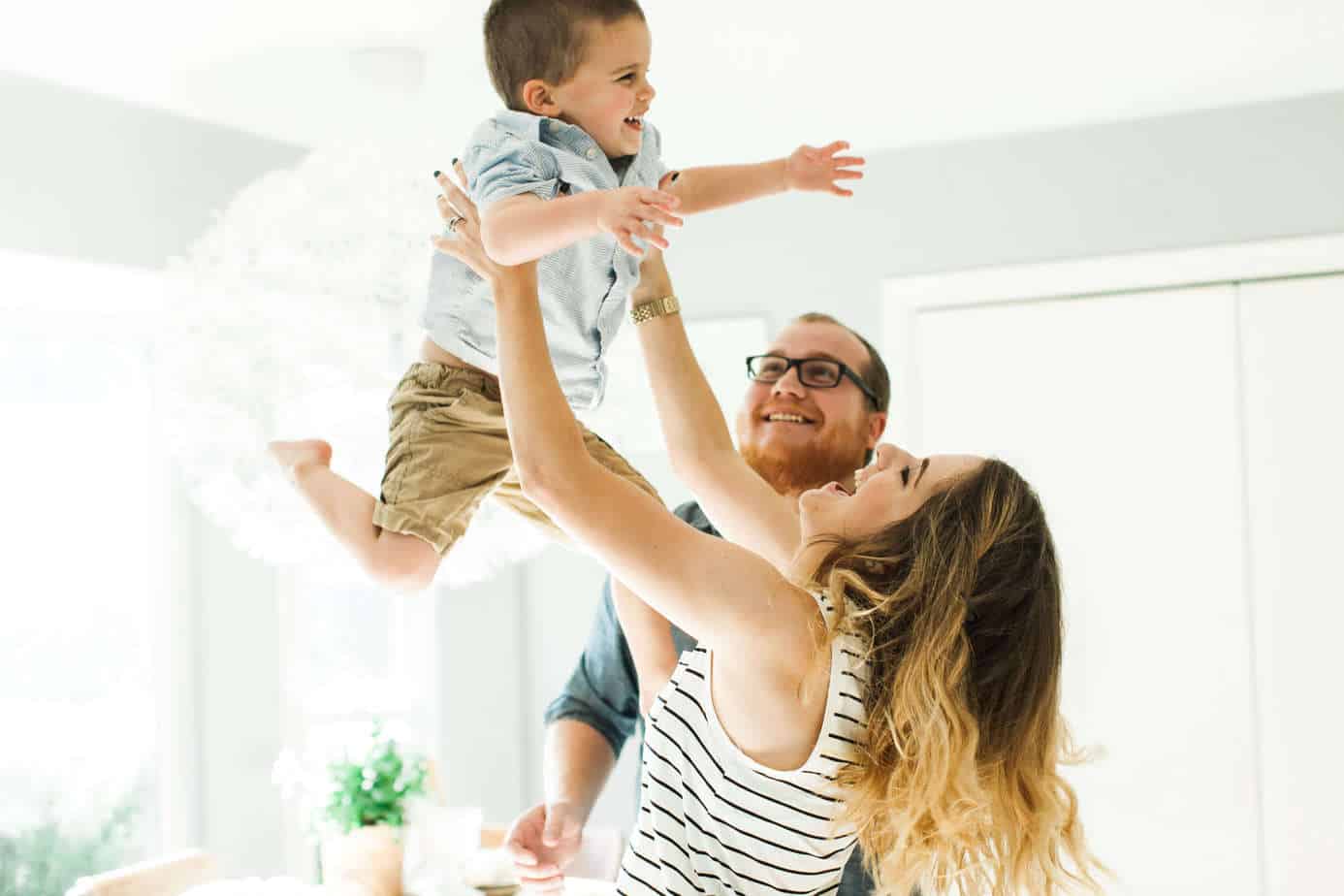 Clothing:
"Coordinate, don't match – pick 3-4 coordinating colors to incorporate in your clothing. This way you will coordinate with one another but you won't be matchy-matchy."
"Patterns – Patterns are wonderful in photos when they are done right. Adding in a couple of patterns in the coordinating colors you chose can really add dimension to images. If there are 3 people in your family, maybe one or two can wear patterns and the other should be in solids. Some great patterns are plaid, tiny polka dots, thin stripes, etc.

 "

"Texture – Adding texture to your clothing also helps add some good depth and interest to photos. Guys can easily add dimension by rolling their sleeves. Adding a cardigan or scarf is also a great way. Ladies can wear lace or ruffles, or a flowy dress to also add some great texture!"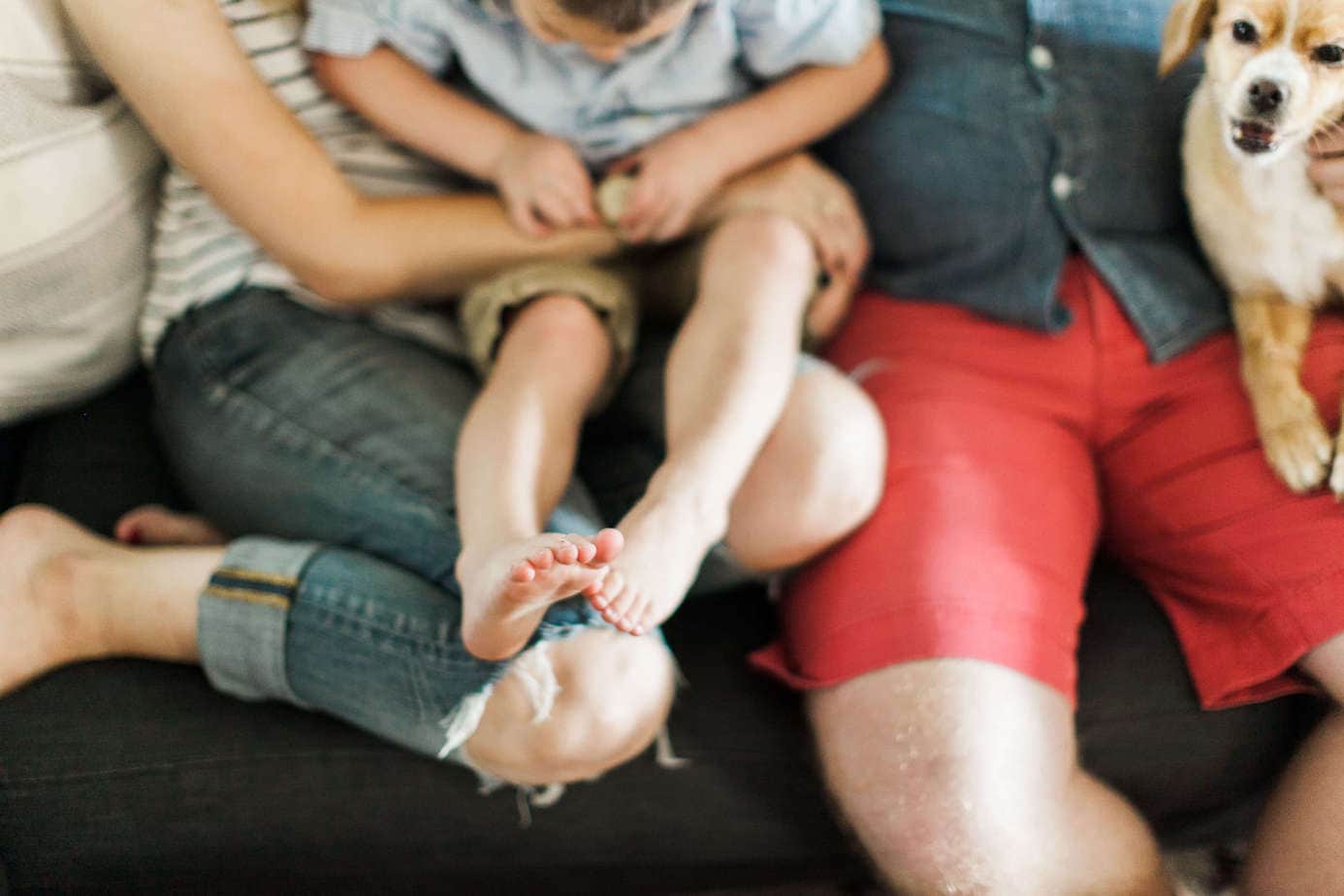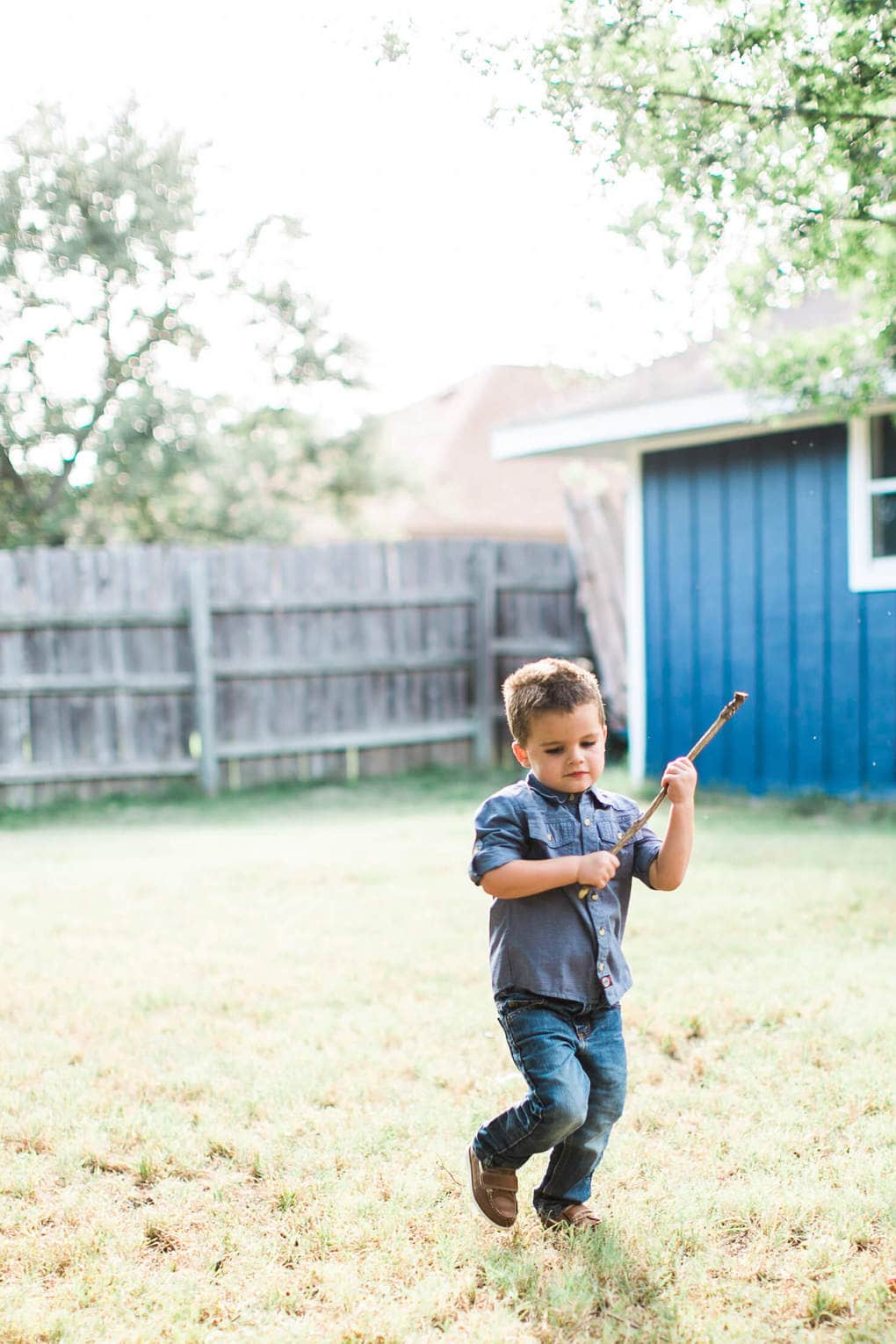 What to do: 
Jessica says, "Think of things your family likes to do together that you can all do in a consolidated area – play games, bake cookies, dance party in the kitchen, bedtime routine, reading books together, etc. If you have a little baby, this could look like cuddling on the couch or on a bed together. For toddlers, think of something they can do that will keep them occupied for a little bit – baking cookies is a great one because it gets them involved and also has a yummy treat at the end!"
For our photo shoot, we started off with some snuggles and chatting on the couch, then we moved into the kitchen for a dance party – it was a great way to get some of Jackson's energy and sillies out, and the photos we got during that part are some of my very favorites! We already had some cookie dough in the fridge, so we made cookies together, played outside, ate cookies, and played with trains. It sounds like a lot, but when you've got a three-year-old, activities rarely last more than 10 or 15 minutes! I wished that I would have planned the activities out a little bit better ahead of time (I was kind of flying by the seat of my pants), but it ended up being a great thing because we fell into the same basic routine that we would do on any normal night. We were able to capture Jackson hugging the plants (a favorite activity), playing with trains, in his playhouse, etc. Doing a lot of activities for a short amount of time meant that he never had a chance to get bored or cranky, and the whole night went pretty smoothly.
We also had Jessica take photos for us during the bedtime routine – which is my favorite part of the entire shoot. The photos are so incredibly sweet, and I love that we'll have these sweet memories saved forever. Another benefit of scheduling our shoot around the bedtime hour meant that after Jack went down we were able to get some shots of just Corey and I.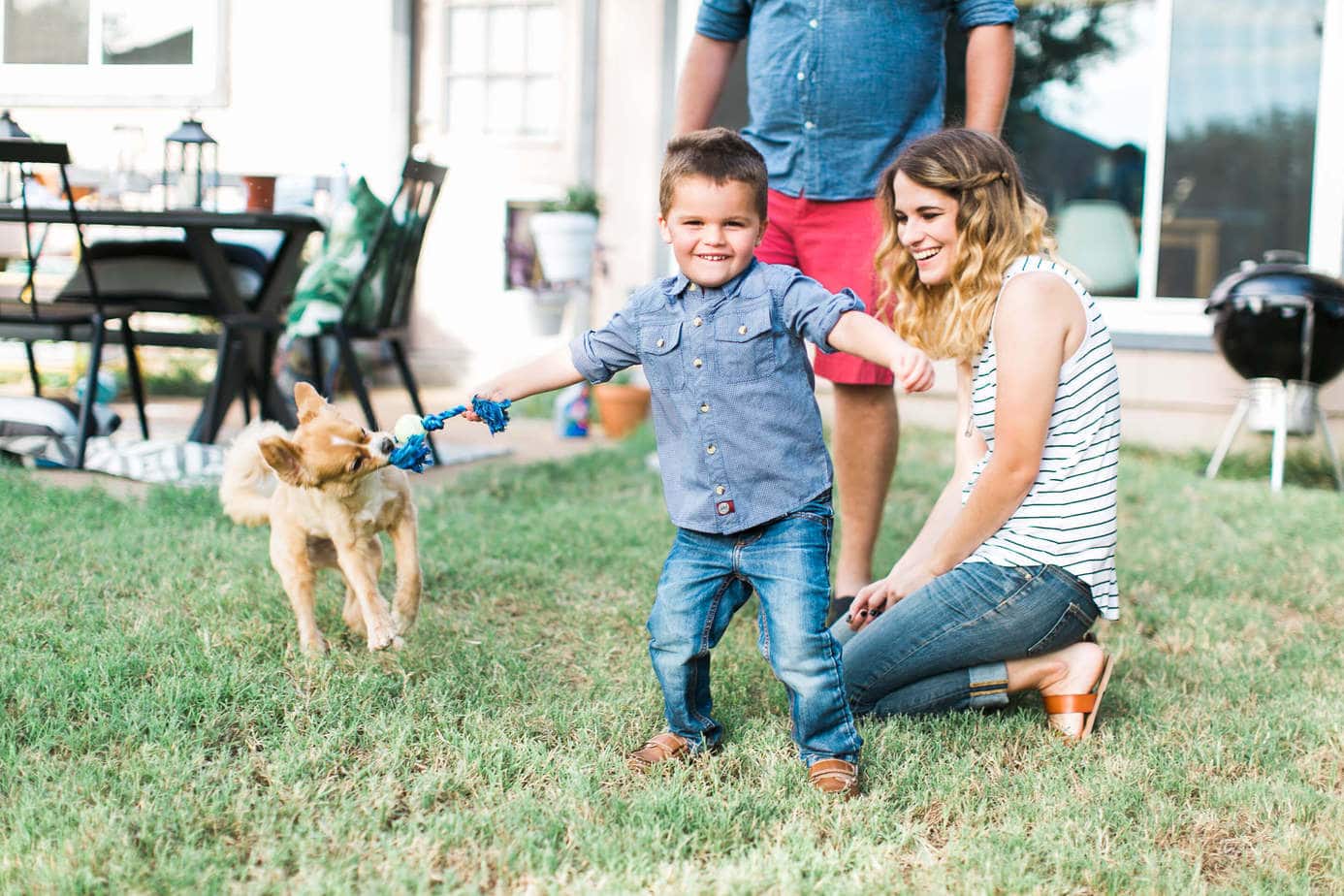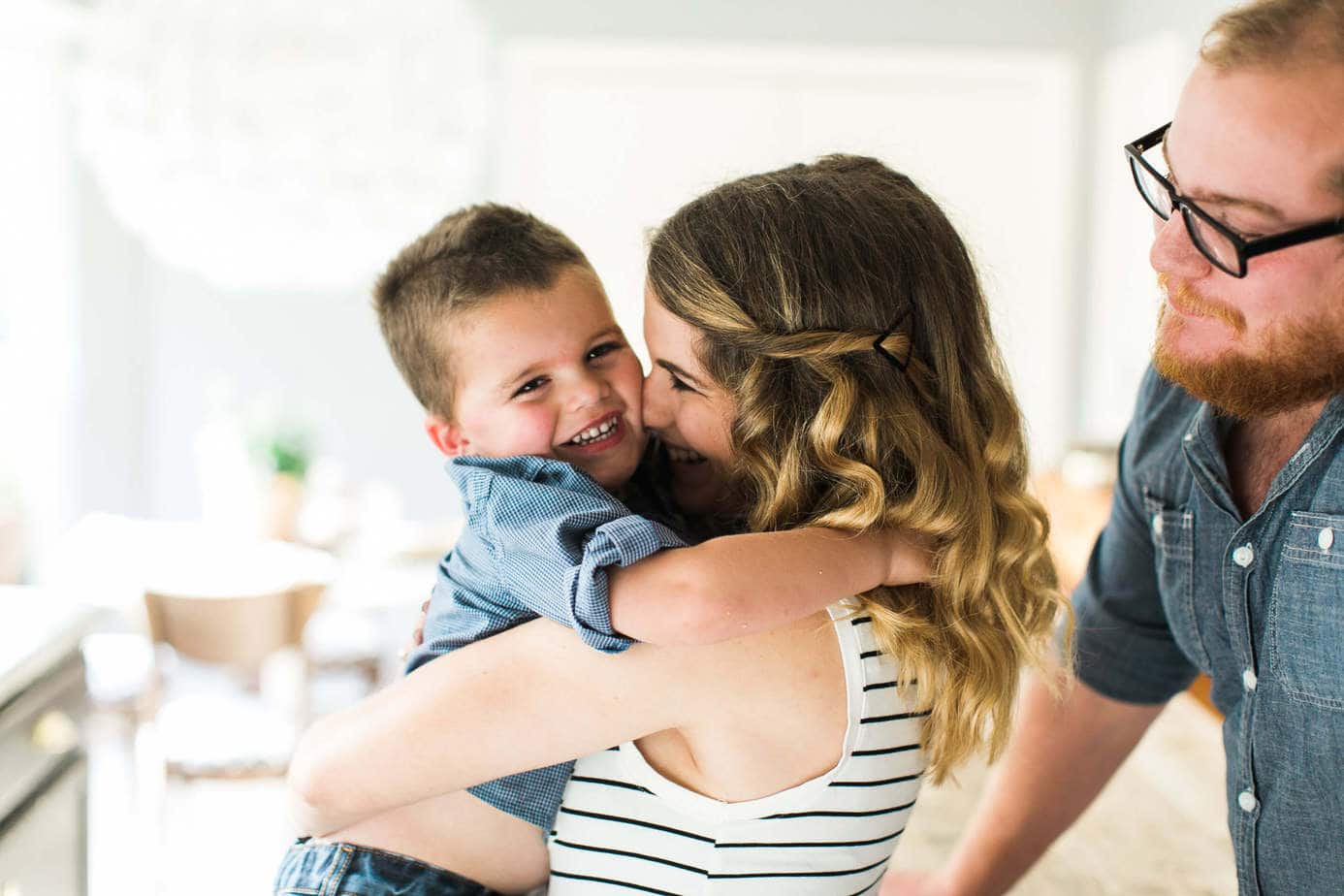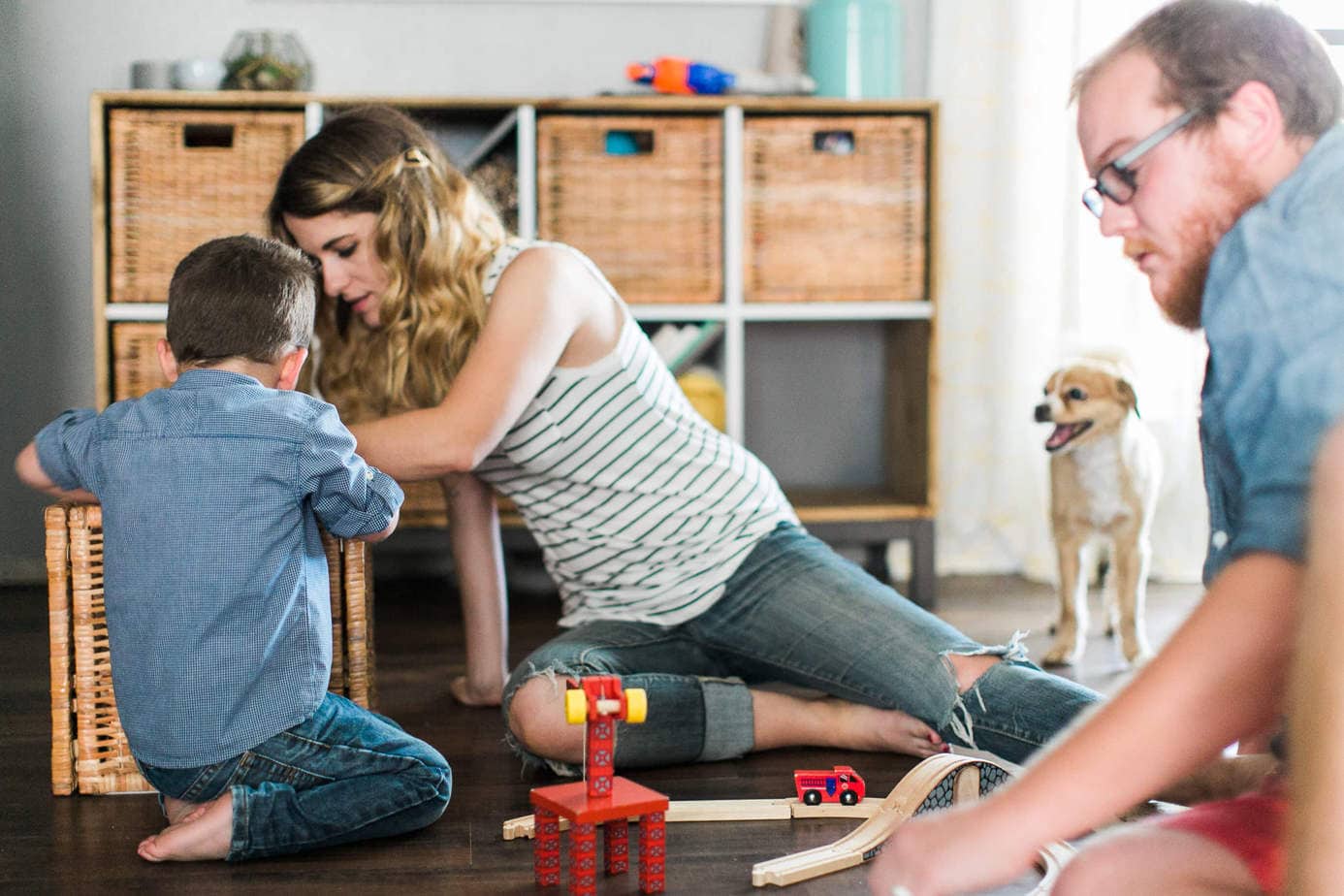 How to plan: 
Jessica says, "If you are doing an indoor session, plan your session when your home is the brightest. Your photographer should guide you through that, but just in case, think of times when your home is filled with the most natural light, and do your session at that time. Great light = great photos! 
If you can, also try and coordinate your shoot during an ideal time for your kiddos' schedule. Don't plan a session when your kids are going to be hungry or tired because that just leads to cranky kids."
Yes, yes, yes! This is great advice and very important to consider when you're scheduling your photos. We did ours in the evening because it's the time that works best for our family – we scheduled it during the week which meant we had to wait for Corey to get home. It worked out perfectly though, because early evening and into bedtime are Jackson's favorite parts of the day – he loves it when Corey gets home from work and is in a great mood most evenings. I made sure to feed him before Corey got there, and Corey and I just ate dinner once the session was over – having a full belly makes for a very happy toddler…and the cookies helped too!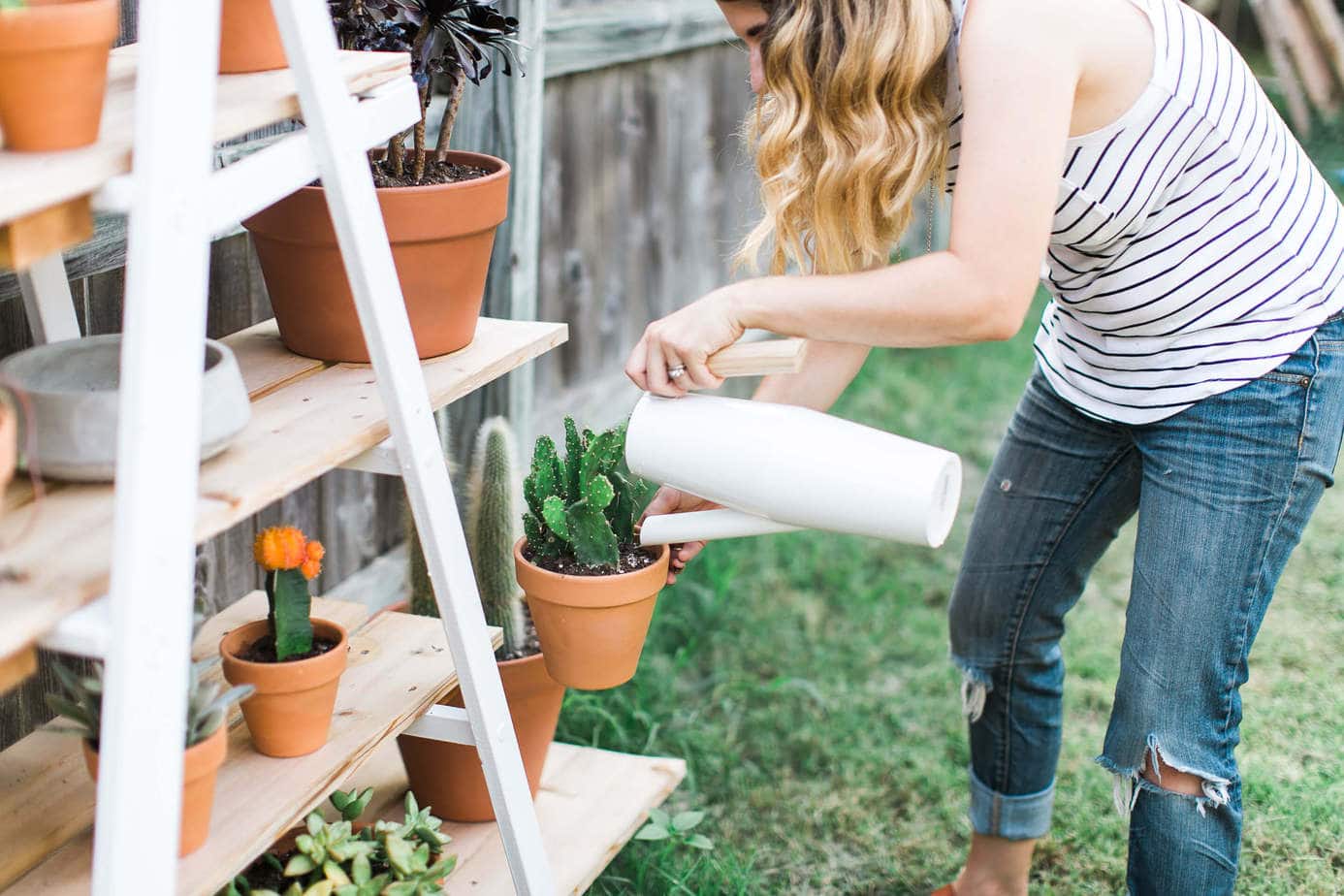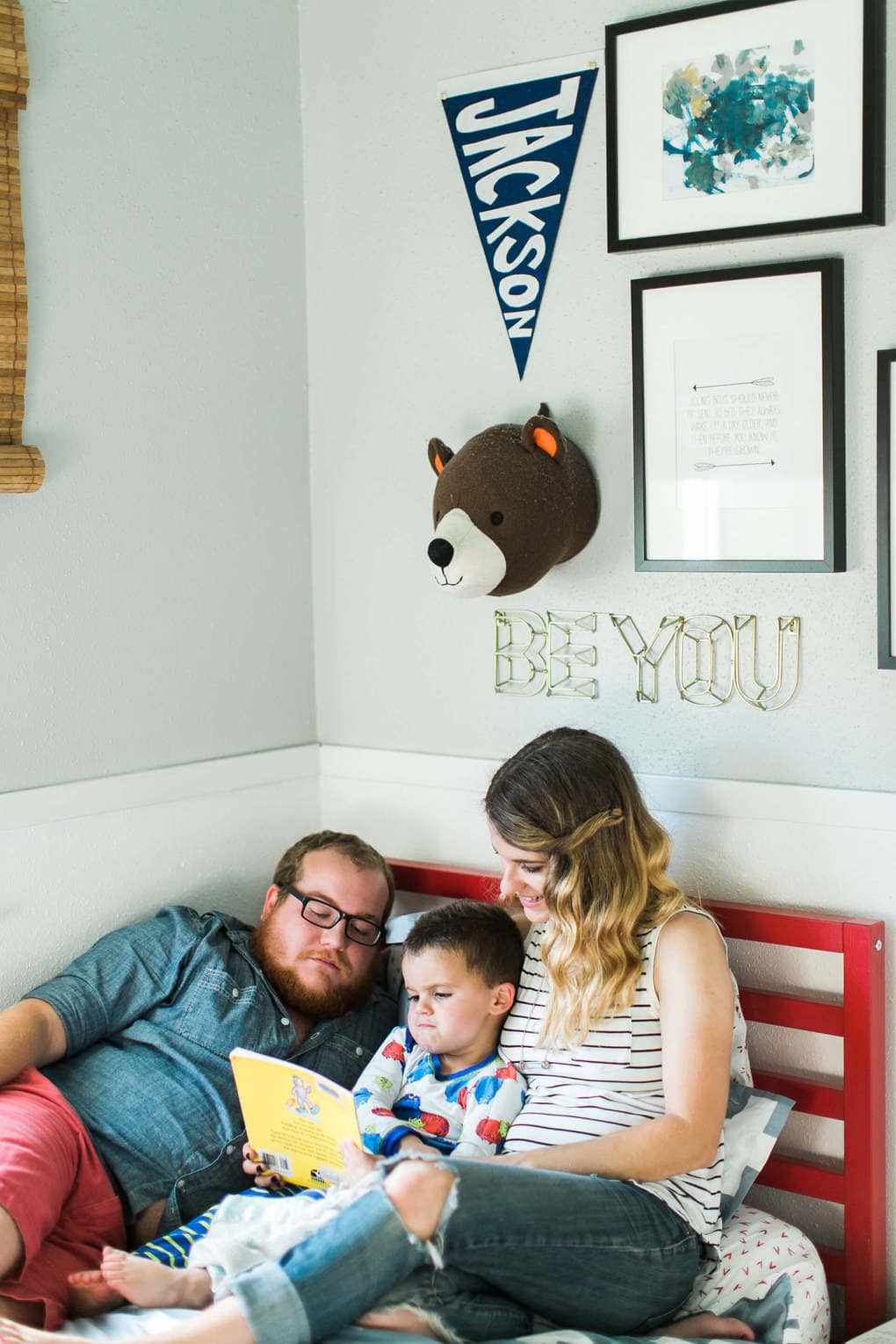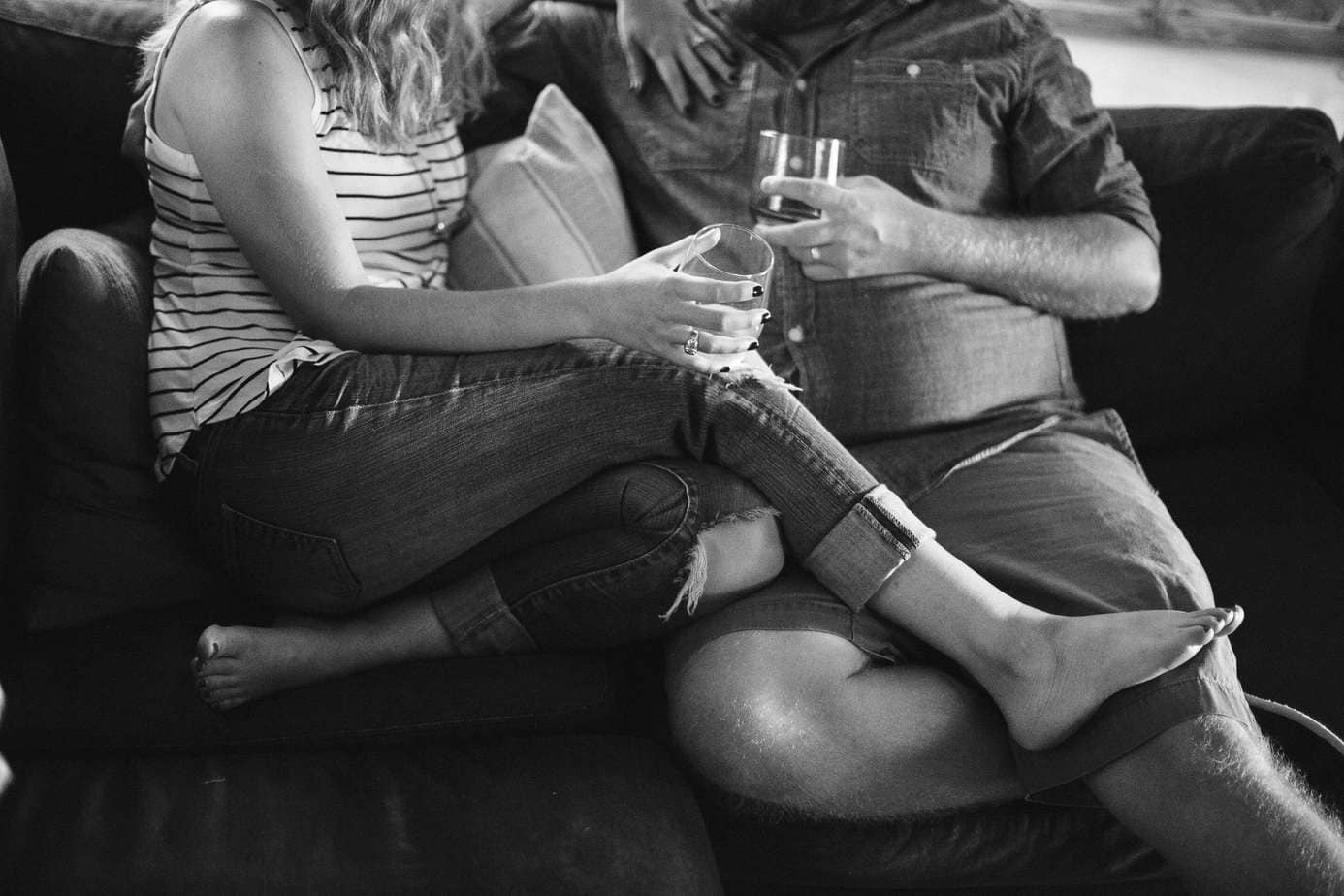 A few more tips for family photo shoots I'd add?
Try to have a mental list of activities to do in case something doesn't work out. For example, if Jackson wasn't in the mood to play trains (you never know!), I would have suggested a board game or even a quick walk around the block. Kids can be unpredictable, so you'll have a lot less stress if you spend a few minutes ahead of time thinking of a variety of things you can do.
Coordinate your outfits but don't overthink it! We're always so tempted to dress up for photos or try to look particularly nice, but I wanted us to look like we might actually look on a regular day hanging out at home. It helps if you have a friend you can bounce ideas off of – I texted my best friend about 12 times before Jessica showed up with photos of all of the outfits I was thinking about for both me and Jackson, and she was able to help me make sure I was comfortable but was also in an outfit that would look great on camera. Oh, and notice Jackson's change of wardrobe? Always have a backup outfit, my friends. You never know what's going to happen when there are toddlers involved.
Don't neglect the little moments. Two of my very favorite shots of the entire session are from when Jackson was changing into his pajamas. There's not necessarily anything special happening in the photos – it's just me helping him put his pajama pants on and him giving me a hug in his underwear, but they're so sweet and they perfectly capture this adorable phase of his life. I also love all of the photos of us reading books before bed, him brushing his teeth, and all of those tiny little moments throughout the day that you don't pay much attention to, but are often the sweetest parts of your day.
And finally, make sure your house is clean but don't worry too much over it. At first, I was feeling really stressed about trying to make sure my house was spotless but then I remembered that this session was all about capturing the real, everyday moments in our home. And my house is not always perfectly clean. So sure, I cringe a little when I see that the backyard is overgrown and I can't help but notice the stray toys hiding under the furniture in a few shots, but that's our real life – this is a phase of life that is all too fleeting and I hear a rumor that someday I might miss the tiny little toys floating all over my house.
Oh, and Jessica's final tip? "Just have fun with your kids! Lifestyle sessions can be such a blast if you are just relaxed and having a good time with your family. The best photos are the ones where a family is just enjoying each other and having a blast together!"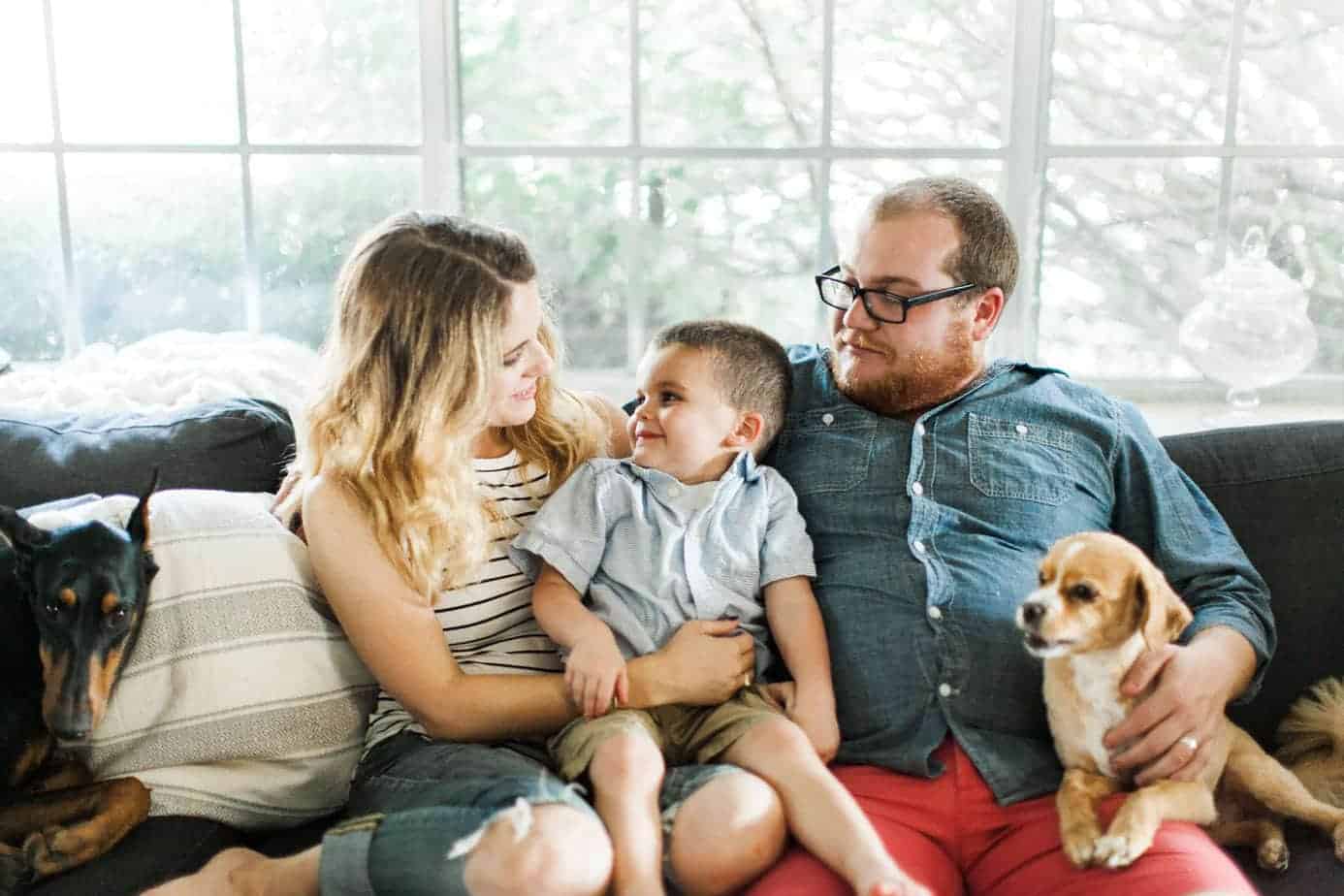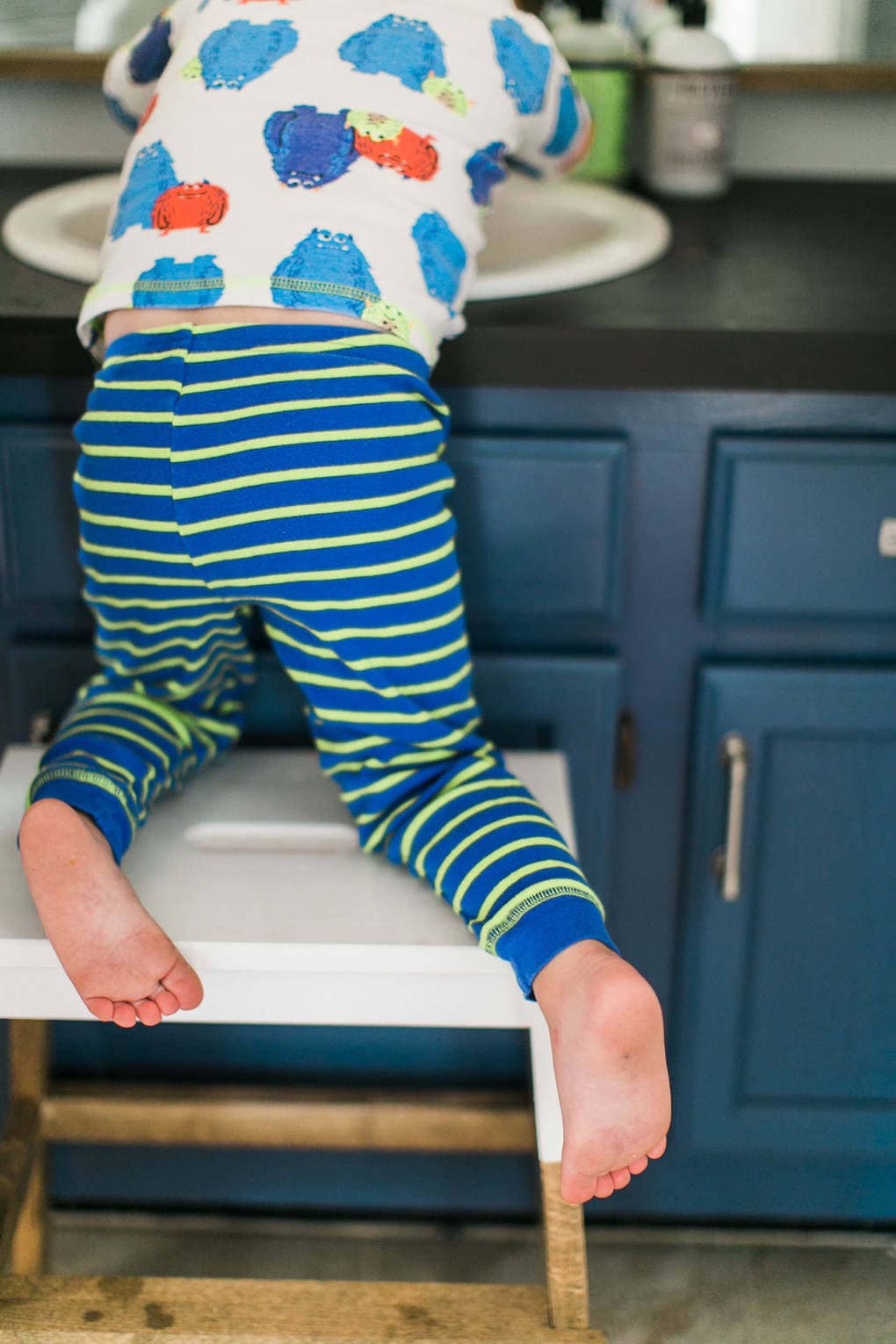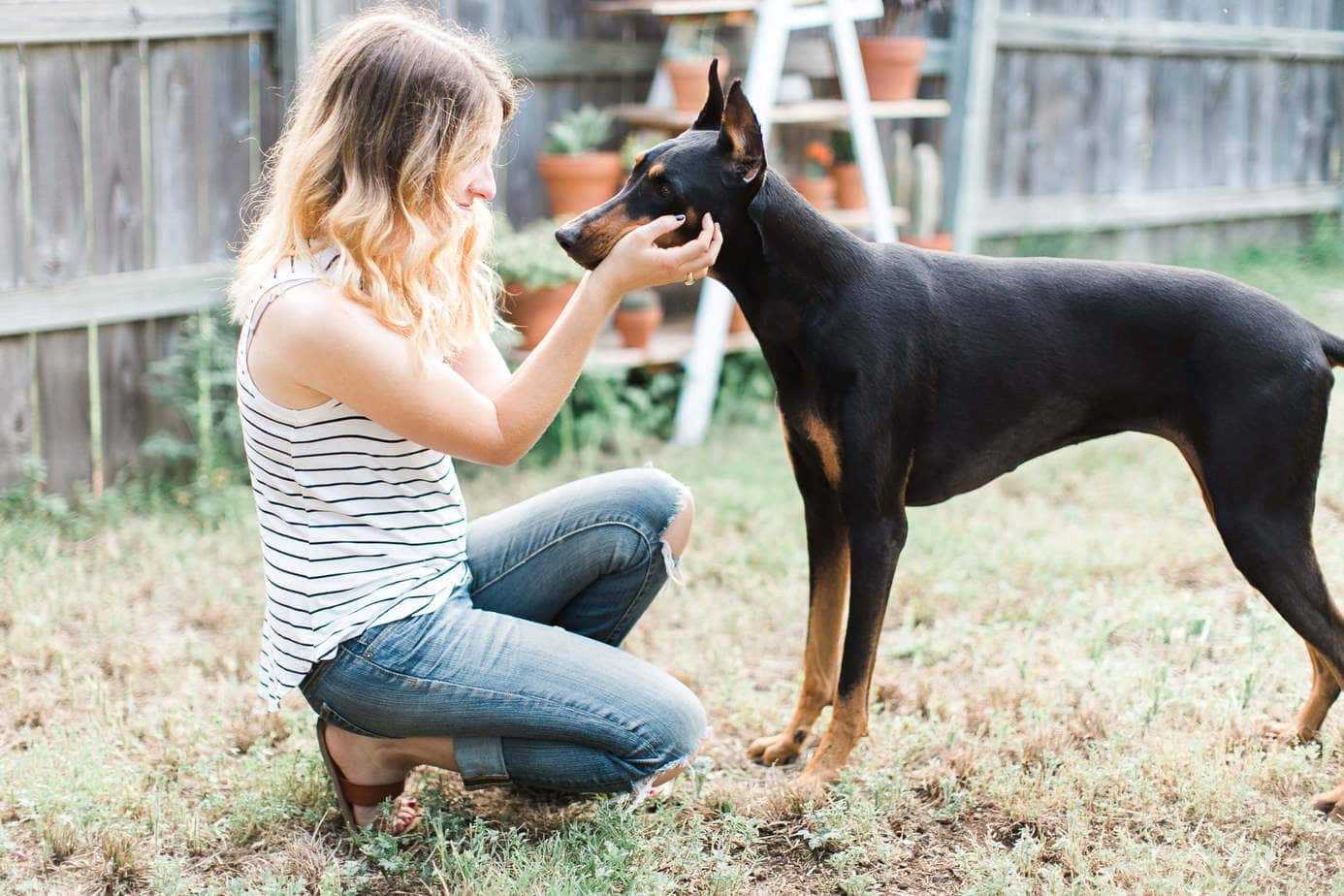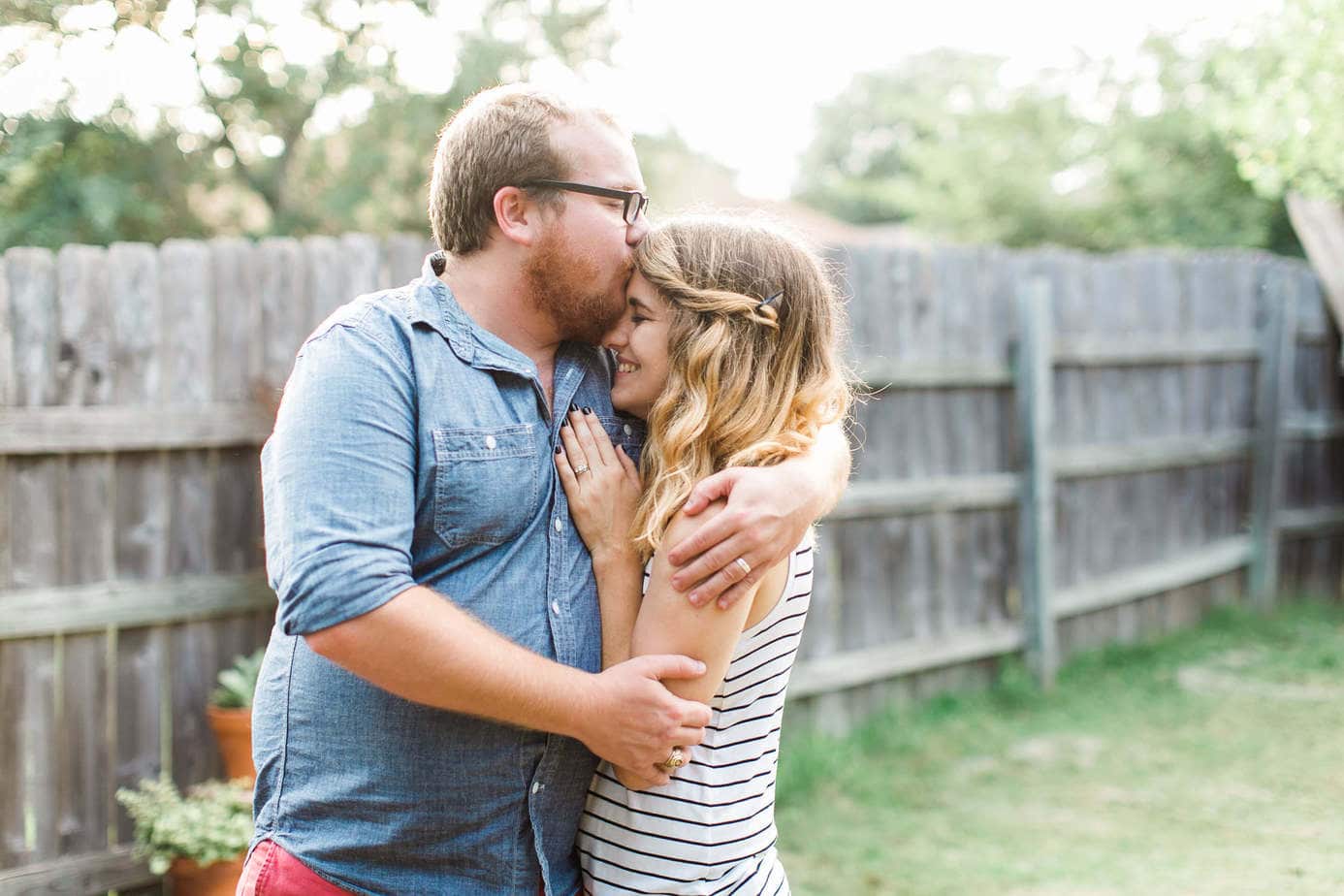 If you're local to the Austin area and want to schedule a photo shoot (for just about any reason), you should absolutely check out Jessica's website. She's so incredibly talented, and I can't say enough good things about her. And, if you're considering a family photo shoot – no matter where you live – I absolutely encourage you to do it. It's so worth the investment, and you'll cherish the photos forever.
When is the last time you had family photos taken? Do you have any great tips for family photo shoots to add?!