Our DIY Trash Can Cabinet
We recently turned an empty cabinet in our kitchen into a trash can cabinet so we could have a hidden trash can. It has made such a difference, and I can't believe we didn't do it sooner!
It seems the theme for the week is "Why haven't we done this already?"
I shared on Monday that we did a pantry door update to create some more storage and make our lives a little bit easier. And today, I'm sharing another little project that's going to make a big impact – and it just so happens to also be in the kitchen.
NOTE: We did this project again in our new home with a larger cabinet area. Check this post out for info on our other hidden trash can project!
How to Make a Trash Can Cabinet
Let's start out by looking at the "before" – we have an ugly plastic (tiny) trash can, and an empty cabinet right next to it (it's empty because we had been planning on doing this project and just hadn't ever gotten around to it).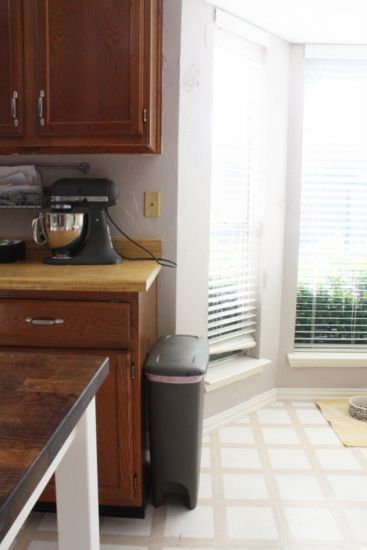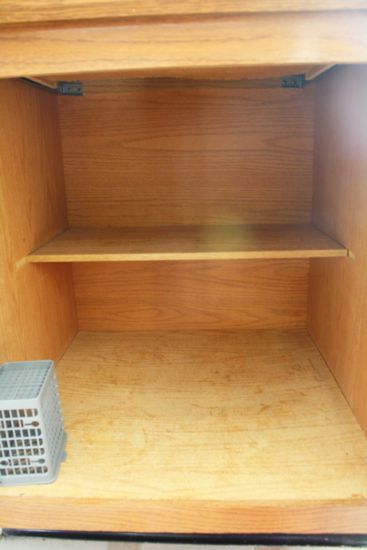 This post contains affiliate links. Click here to read my full disclosure policy.
Less than ideal.
So, yeah, we've wanted a new trash can for a while now, but we didn't just want to replace this trash can with a larger, better-looking one – we really don't have room for a larger trash can, and we'd much rather find a way to hide it anyways. So, we decided that an in-cabinet trash can was the way to go. And while we were at it, we figured we could get two so we can start recycling.
We debated building something ourselves and even did quite a bit of research on how to build a pull-out trash system for cabinets, but we had a hard time finding actual trash cans that would work with a self-built system. When we found an affordable system that came with two trash cans, we decided to just go pre-made on this one. It just so happened to be on sale this weekend, so we snatched it up and installed it Sunday afternoon.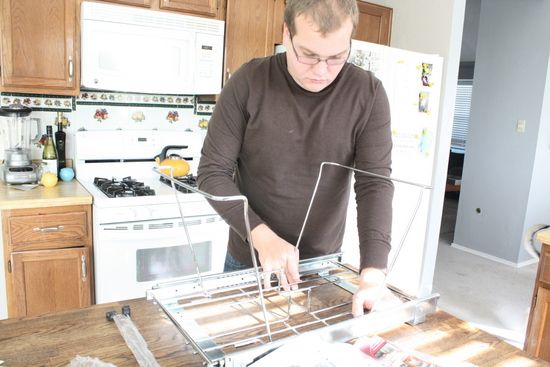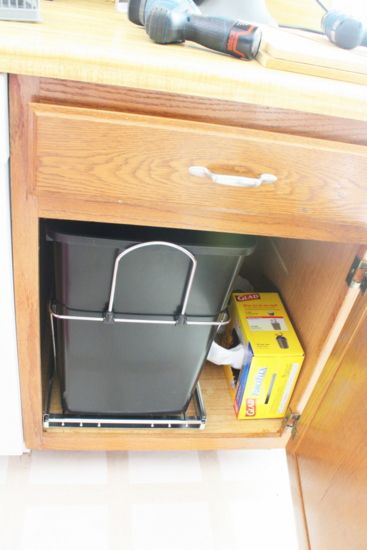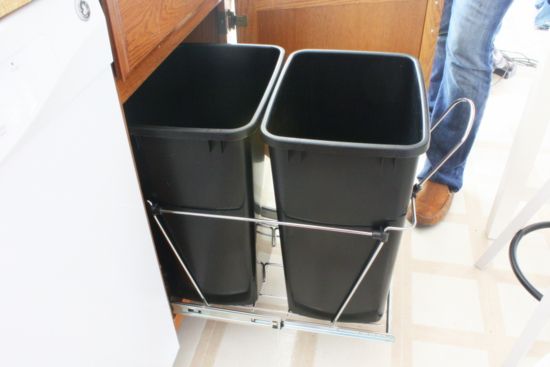 And oh my goodness, I love it. It looks so much better not to have that ugly trash can hanging out by the cabinets, and I'm excited to finally get to start recycling. The trash cans are still pretty small, but we're definitely used to a small trash can so it's no big deal – and since we'll be recycling, the trash will be pretty evenly split, which means it'll fill up a lot slower.
So, um, yeah – trash cans definitely aren't the most exciting thing in the world, but I'm pretty thrilled about this little upgrade. And I have to say, it's definitely made that little corner of our kitchen look significantly better!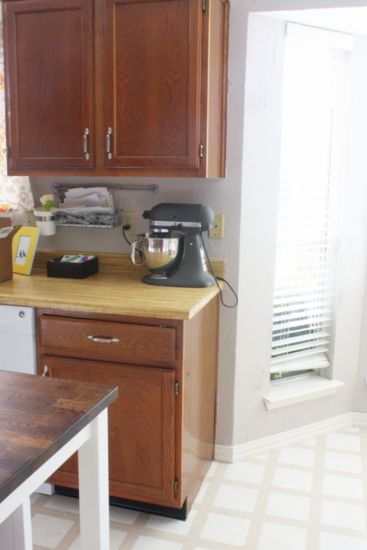 Ahhh, so much nicer, no?
What's the trash can situation in your home? They're definitely one of those things that are almost never pretty – but we have to deal with 'em! Anyone have a brilliant way of hiding theirs?