Oh boy, am I ever excited to share this with you guys today. This is an update that Corey and I have been talking about and planning for several months now, and we just hadn't gotten around to pulling the trigger on it until recently.
You see, there's this ottoman in our living room…
It has served us well over the last year and a half-ish, and it was one of our earliest furniture makeovers. We were so proud of it when we first completed it, but now that it's been living in our house for a good while, we were slowly becoming more and more disenchanted with it. The padded part ended up much thinner than we would have liked, and quite frankly I was getting sick of staring at all of that orange every day. It was a great idea in theory, but I don't think I'm one that can handle large pops of color in a piece of furniture that is such a staple in the room. Over time, it started to become just too much for me.
We originally had the idea to find a camel-colored leather ottoman with a ton of tufting. Basically, like a Winchester sofa in ottoman form. Only problem? That basically doesn't exist. Or at least, not exactly what we wanted, and typically not for less than $1,000. That's the problem with being both incredibly picky and incredibly cheap.
So, we finally gave up and started searching for other options. We knew we wanted tufting, and we knew we wanted something big and cushy. Beyond that, we weren't very specific. We looked at about a million and two options before finally falling in love with this guy from Amazon:
src="https://www.loveandrenovations.com/wp-content/uploads/2012/11/IMG_9057.jpg" alt="" width="550″ height="367″ class="alignnone size-full wp-image-14954″ />
Tufted, cushy, sexy legs – it's got the whole package! Now the only problem was choosing a color. There are almost a dozen different color options for this ottoman, so we definitely weren't going to be limited. Our first instinct was (of course) gray, but after some thought we realized that it would just be too much gray in our room – we have a gray couch and gray walls, so we definitely need some contrast in the ottoman. After a lot (a LOT) of debate, we settled on the beige. It's not quite as much fun as the teal would have been, but we're confident that we'll love it for years to come, and it'll go with the room no matter how we decide to change it in the future. Amazon told us it wouldn't be here until the end of November at the earliest, but we were in for a happy surprise when it showed up at our house one day last week.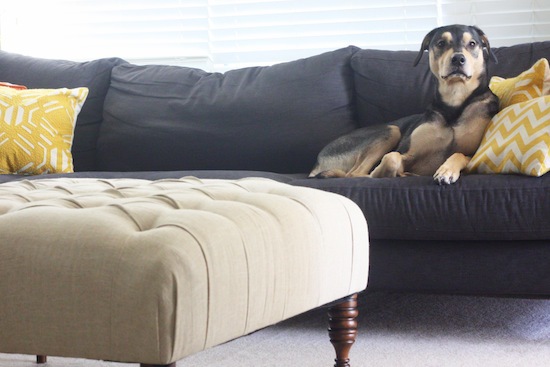 And once we set it up? It was love at first sight for me – it feels so much more polished and it layers right into the room beautifully. Corey likes it too, but is insistent that we find some ways to bring more color in now that the ottoman is gone. I agree – we could definitely use some bolder (and bigger!) pillows to add some more fun, but I think it's definitely getting there.
It's going to take us some time to layer in some more accessories to make the room feel more complete, but I think this new ottoman is definitely a step in the right direction. I love it!
Anyone else get a surprise delivery last week? How about changing up major pieces in your house – are you doing it too?