I have a thing for planners.
I get weak in the knees when I see a pretty planner, journal, or calendar, and I am more than a bit obsessive about keeping my life organized on paper.
On paper – you hear that? Not on my phone. Not on my computer. I keep my life organized with a good ol' planner and a pen.
I tried for a while to keep my schedule in my phone or on my computer, and I just get frustrated and miss the physical act of writing things down, crossing them off, and seeing it all laid out in a nice pretty way.
Maybe it's a problem. But if being addicted to my planner is wrong, I don't wanna be right.
Oh, and did I mention? I have two planners.
I know, I know. We've already established that I'm crazy. Stop looking at me like that.
*** UPDATE: I don't use two planners anymore! Click here to see how I solved all of my planner problems and now only use one planner for everything – and I won't ever buy another planner again!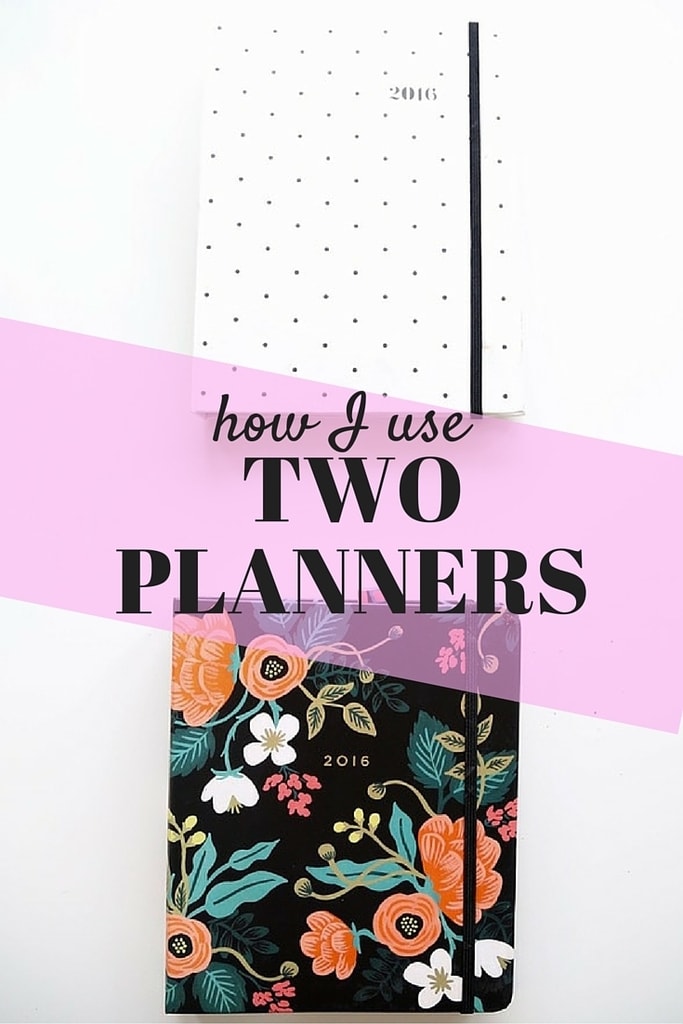 (This post contains affiliate links for your convenience.)
I'm currently infatuated with the idea of a bullet journal. They're gorgeous, so functional, and look like so much fun. The only problem? I know if I start using a bullet journal, it will consume me. I'll spend hours every night making it perfect and I'll neglect to actually accomplish anything because I'll be too busy making lists of the things I need to accomplish.
Does that make sense to anyone but me?
So, since I can't allow myself to have a bullet journal (maybe one day I'll be mature enough to handle it!), I've taken to borrowing bits and pieces from the bullet journal philosophy to use in my own planners. It satisfies my urge to organize all the things and makes my planners a little more personalized and useful for my individual needs. I thought I would spill some of my planner organization techniques today so you can see how neurotic I am it might be helpful to you if you're looking to get more organized!
* * * * * * * * * *
I have one planner that I use exclusively at work, and another that I use exclusively at home. This helps me to mentally separate the two a bit (which isn't easy when you're a teacher) and helps my planner not be completely overloaded with all of my to-dos from both locations.
Let's talk about my work planner first (It's from Rifle Paper Co.).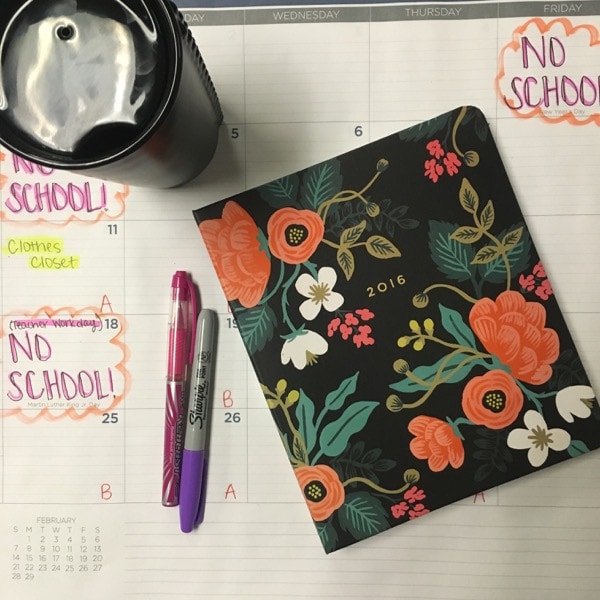 My work planner is all about efficiency. I need to be able to glance in the planner, see what is coming up and what I need to accomplish, and move on with my life. I need it to be simple, clean, and uncluttered. I color-code everything in my life, so in my planner, I use a black pen for all things that I need to remember or do at work, a pink pen for all personal reminders, and a green pen for when myself or my staff will be out.
There's nothing more to this planner than lists, a calendar, and to-dos. Clean. Organized. Simple. It helps me keep my mind clear at work, and I don't get caught up making it too pretty because there's not much to it. I've tried many different methods for organizing my work life, and this is by far the most effective for me. At work, my mind often gets cluttered and overwhelmed, so keeping my planner as simple and clean as possible makes a major difference for my sanity levels.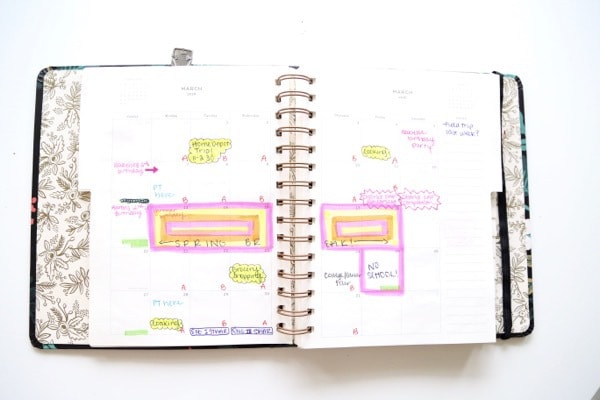 My home planner? That's another story.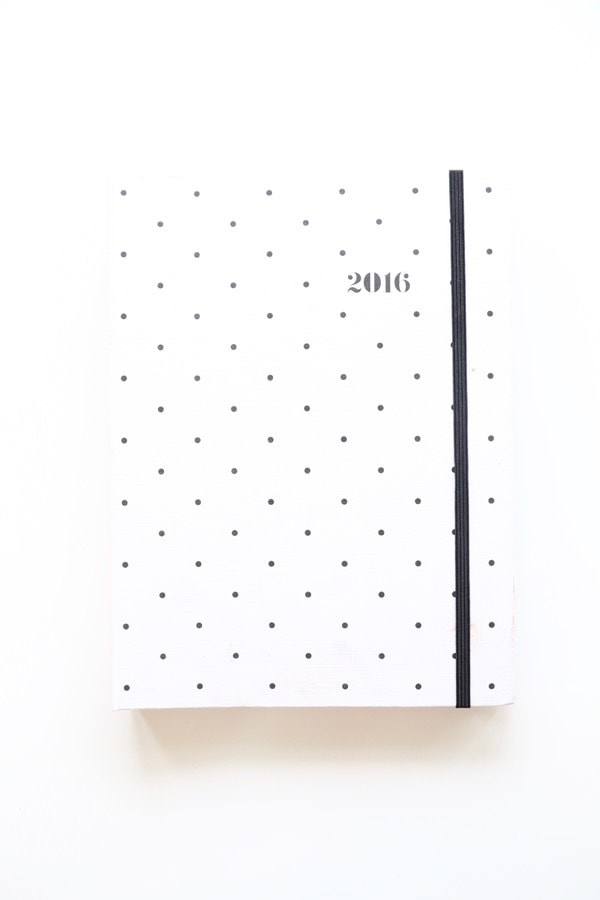 My home planner is all about color-coding, note-taking, and trying new things. I got this awesome goal-oriented planner from Target this year, and I'm loving it but I haven't quite landed on what's the most effective way for me to use it. I adore the weekly layouts with the goals, reminders, and to-do lists, but I don't really need to make a list of people to call/email each week, so I often find myself scratching that out to make my own individual to-do lists. I don't mind the chaos in this planner, because when I'm working at home I'm using the creative side of my brain which is naturally a bit more scattered!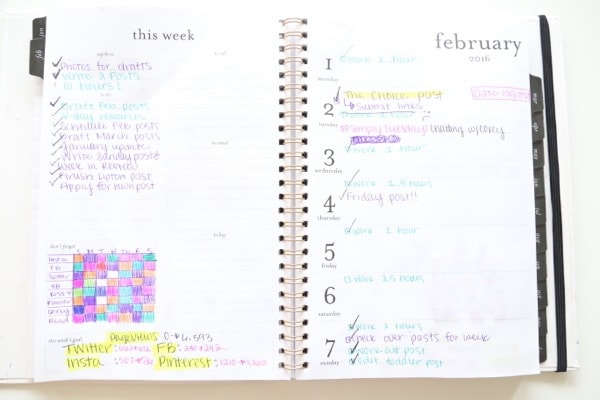 One thing I've implemented in this planner that I'm really loving is the daily tracker. I see this over and over in bullet journals and I really, truly love the idea. Each week in this little "don't forget" square, I make a grid with all of the things I want to make sure to do every day. Some of them are big and important like working on the blog, posting to Instagram, or making sure to spend quality time with Corey, and others are as small as remembering to give my husband a really good kiss every day. You know, the important things in life.
I've taken all sorts of liberties with customizing this planner – I even cross out the date each Sunday and write the date for the Sunday prior, because I have a hard time mentally getting past the idea that week start on Sunday, so it bothered me to have the first day on my week be Monday. So, I fixed that!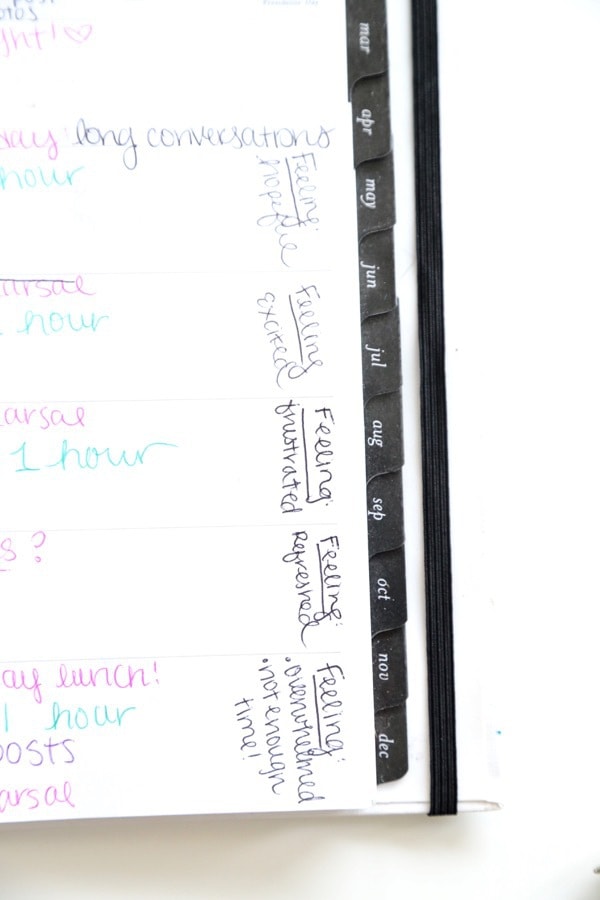 I've also borrowed from the bullet journal ideas of incorporating your thoughts, emotions, and experiences into the planner. I try to write down a bit each day about how I'm feeling, what I'm thinking, and what I accomplished that day. I just recently started playing around with this, and I find that I'm able to focus much more on work when I can quickly jot down "I'm feeling so overwhelmed today!" and move on, rather than stewing about how I feel overwhelmed and not actually accomplishing anything. It's still a work in progress, but so far it's working for me.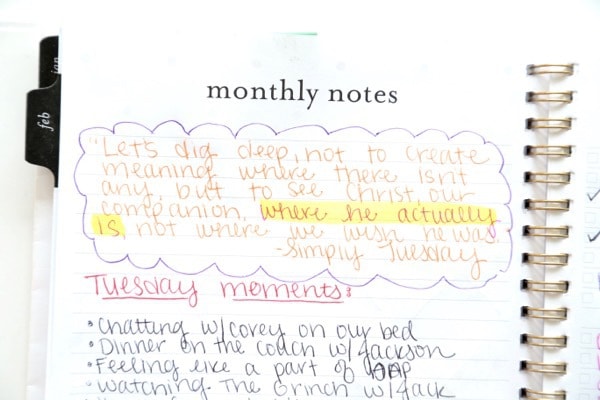 Another feature of this planner I love is the monthly goals page. It's a great way for me to see everything I'm trying to accomplish that month at a glance and I check in with this page frequently throughout the month to see how I'm doing in my progress towards my goals. I also have started to write down quotes, thoughts, and memories from the month.
I'll admit – I'm still a bit infatuated with the idea of a bullet journal and I won't deny that I might decide some day that I need to give it a shot. But for now, it's really working for me to borrow some of the ideas and make them my own, and I love that reading up on bullet journals has made me unafraid to "mess up" my planner and make it exactly what I need. It's also been very freeing this year to start using two planners – I operate so differently between work at home (work is very structured, systematic, and chaotic, whereas at home it's more about staying creative, working on writing, and organizing our day-to-day) that it really only makes sense to treat my planning for the two things differently!
How do you organize your life? Please tell me I'm not the only one who still compulsively needs to write everything down?!