This shop has been compensated by Collective Bias, Inc. and its advertiser. All opinions are mine alone. #VTechBaby #CollectiveBias
Recently, Corey and I decided to swap out our old audio-only baby monitor for one that has video capabilities.
I know what you're thinking. Our kid is two-and-a-half years old. Why in the world are we getting a new baby monitor at a time when most people aren't really using theirs all that much anymore?
Well, let me tell you about it.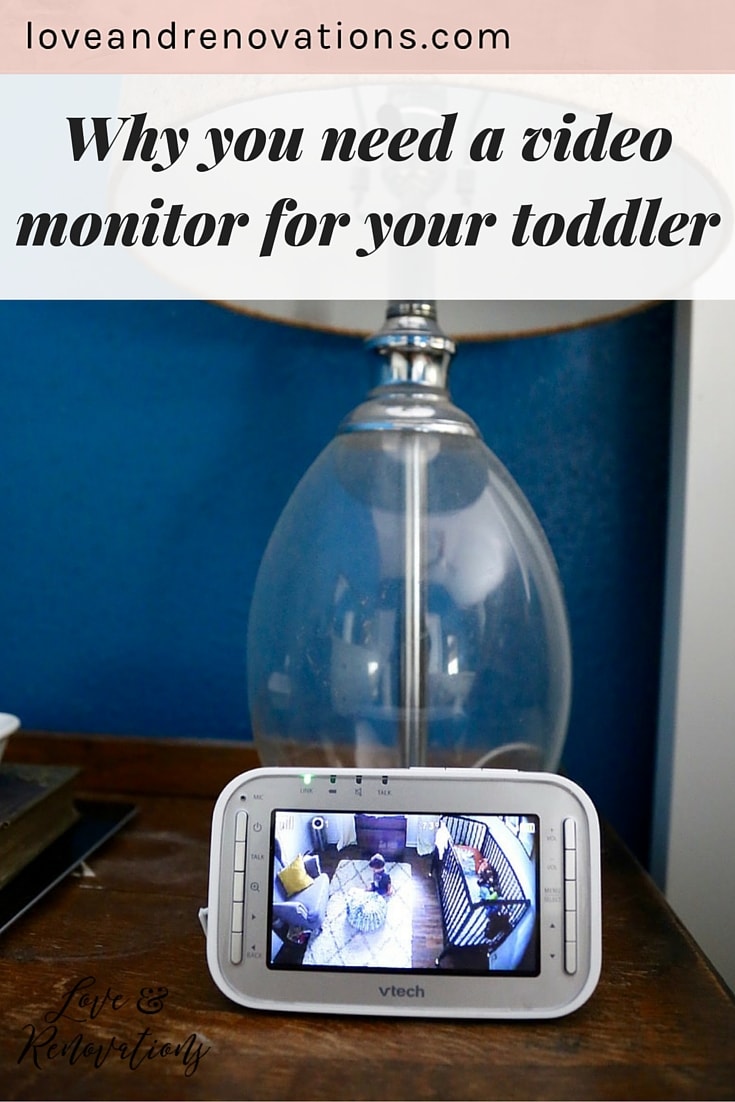 When we were first shopping for baby monitors before we had Jackson, we decided to go with a plain ol' audio only monitor because we worried that if we had a video monitor we would obsess over watching him all the time and never actually do anything while he was asleep (and looking back, we totally would have). We were perfectly happy with our non-video monitor when Jackson was an infant and before we were really allowing him any level of freedom, but as he has gotten older we had really begun to regret the fact that we didn't have the ability to watch him when he's in his room.
You see, I don't know if you realize this (hah!), but toddlers are wily little things. We'll put Jackson in his room for bedtime and 10 minutes later he'll start wailing for us – without the video monitor, we would end up rushing up there thinking something was wrong, only to walk in to see a smiling kiddo who hasn't quite made up his mind on what he's going to request from us. Or, sometimes we would ignore the crying only to come up a few minutes later and realize he's thrown all of his toys and blankets out of his bed and there was no way he was going back to sleep until we helped him out.
So needless to say, we jumped when we got the opportunity to try this monitor out. This is the VTech Safe&Sound VM342 Digital Video Monitor with Wide-Angle Lens and Standard Lens, and, you guys, we love it. I cannot even begin to tell you how helpful it has been to be able to peek in on him when he's supposed to be sleeping – we can tell if he's just doing normal winding down before bed (meaning, he's laying down and just talking to himself) or if we need to actually go in there (meaning he's standing up and throwing a dang party in his crib). That comes in particularly handy when we're busy on a project and have the monitor with us in the workshop (it's got a range of 1,000 feet so it works just fine in the backyard). It's also got the capability of talking to him through the monitor, which has meant we don't always have to trek upstairs if we need to tell him to lay down. We can see that he's standing up, tell him to lay back down, and make sure he actually does it all without leaving the couch. It's a marvelous thing, my friends.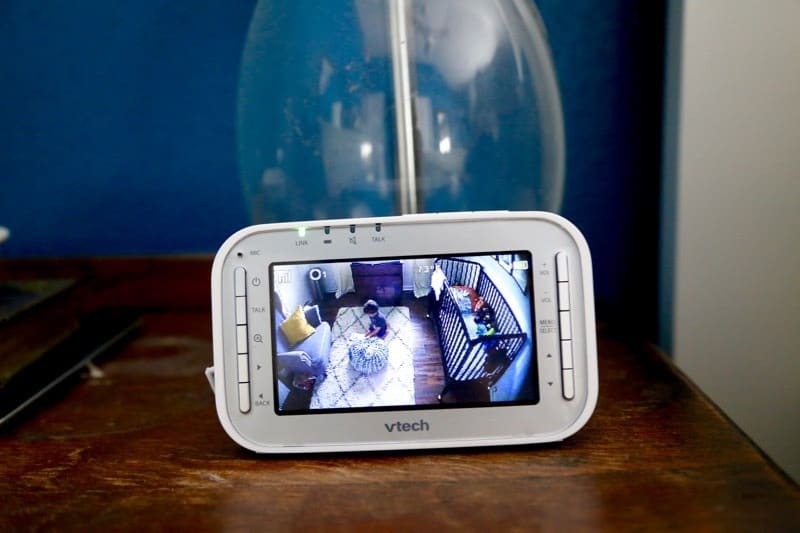 Another great perk to having the VM342 monitor is that we can allow Jack to have a little more freedom now. We're getting close to the age where we'll have to move him into a toddler bed (though I'll have to be dragged into that phase of life kicking and screaming because I love the crib) and he frequently likes to play alone in his room while I'm cleaning or doing other things upstairs. Before, I was constantly checking in on him and making sure that he wasn't climbing his bookshelves or anything crazy, but now I can just glance at the monitor to make sure he's playing safely and then go back to my business. I'm huge on promoting independence in toddlers and I really want Jackson to learn to play by himself, and having this video monitor has been a vital tool in allowing that to happen.
Oh, and? We can add on another camera. We don't have any plans for another child yet, but we've even talked about getting another camera to put in the playroom or in other rooms where Jackson might like to spend some time alone. It's easy to flip between the cameras, and you can even set it up to just continually flip back and forth between cameras or show them on a split screen so you can keep an eye on multiple rooms at once. You can do up to 4 different cameras, so even if we decide to put one in the playroom now that won't stop us from having one in a second baby's room down the line.
The monitor also came with a wide-angle lens for larger rooms or areas where you need to see more at a time. Jack's room is tiny so that's not an issue for us, but I imagine if we decide to install a second camera in the playroom, we'll want to use the wide-angle lens so we're able to see the whole room at once. It comes with a wall-mount bracket so we could have hung it up in a corner, but it fits really nicely onto one of the shelves in his room and doesn't even stand out all that much.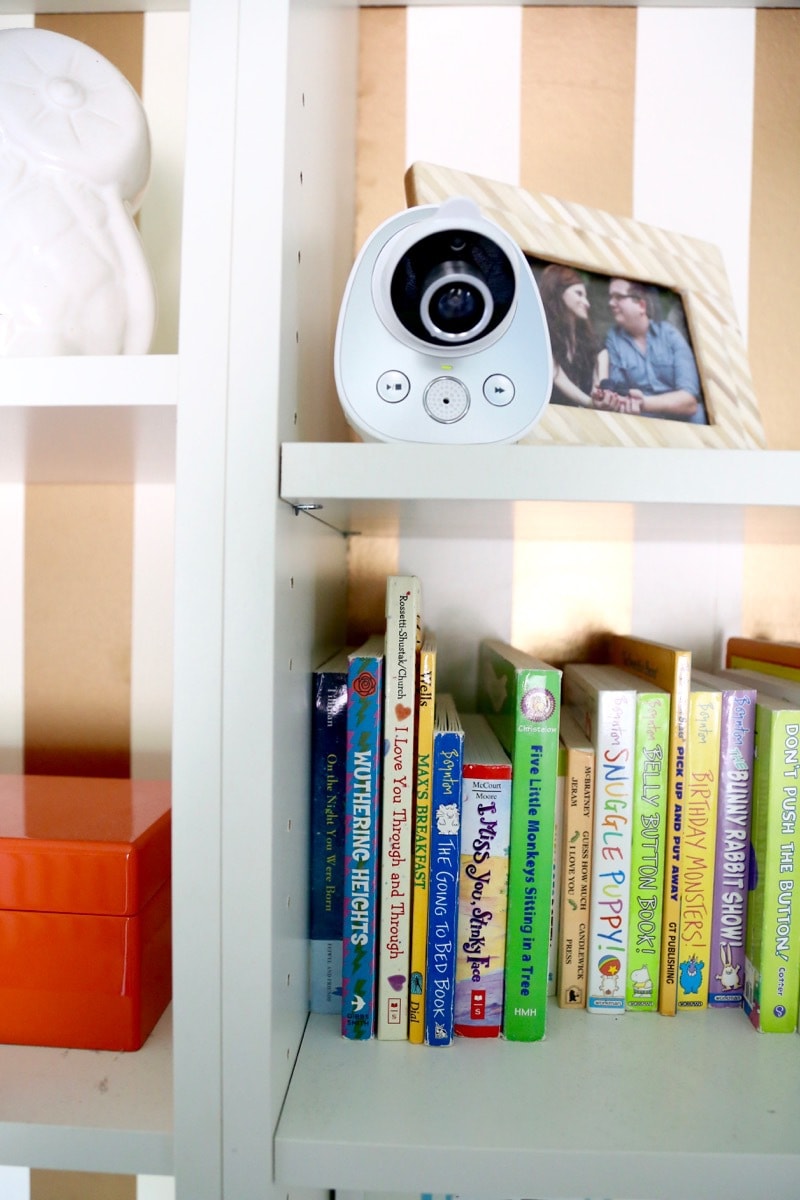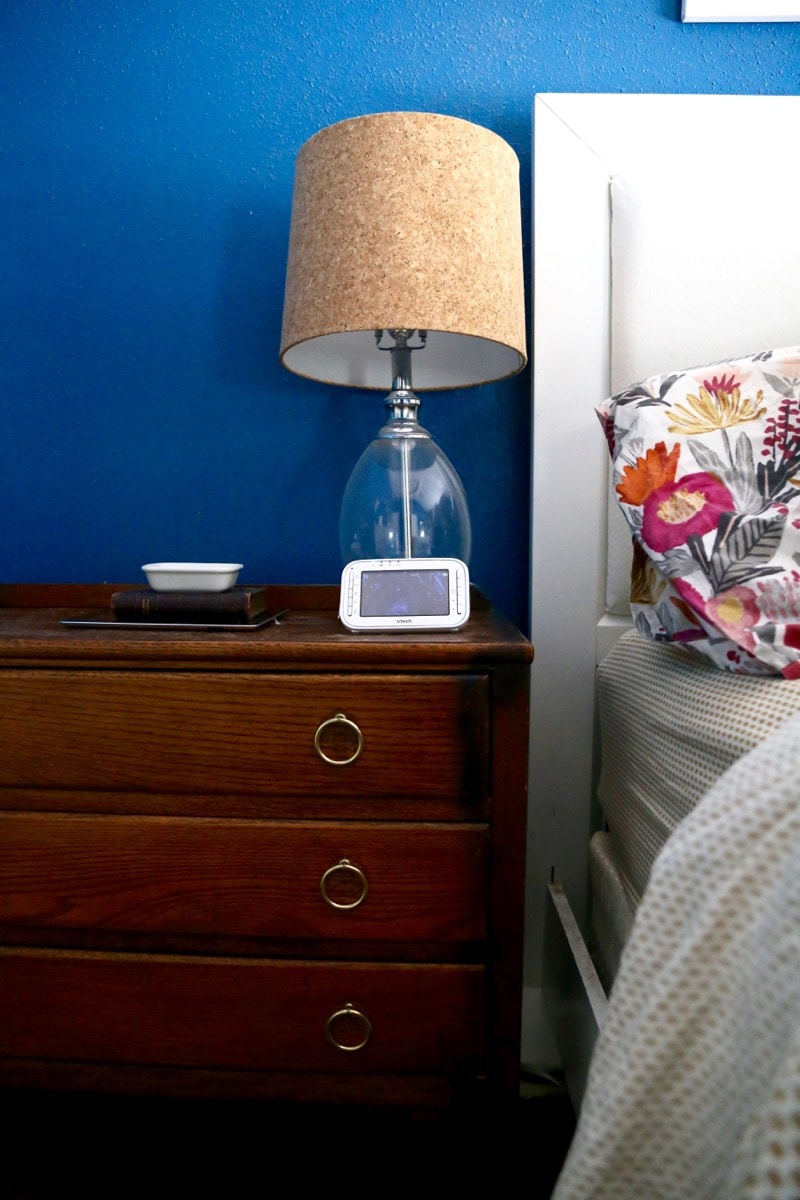 Jackson loves the video monitor too. It's pretty funny to install something like this when he's as old as he is, because he immediately noticed something new in his room and asked about it. When I explained what it was, he wanted to see the monitor part and was completely enthralled by the idea that we can see him when he's going to bed. Now, if he really wants us when he's in his crib at night, he'll stand up and look straight into the camera to talk to us – it's hilarious! The only downside to his excitement about the camera is that at first he thought it was his own personal camera and wanted to take it around the house to take pictures with it! We had some disappointment when I explained that it had to stay there, but he's over it now.
Overall, I can't say enough good things about the VTech Digital Video Monitor with Wide-Angle Lens and the peace of mind that it has given us now that Jackson is becoming a bit more independent. We can rest easy knowing that if we're hanging out downstairs and he says, "hold on Mama, I'll be right back" and starts climbing the stairs we can actually check to see that he's safe in his room rather than having to chase after him every single time.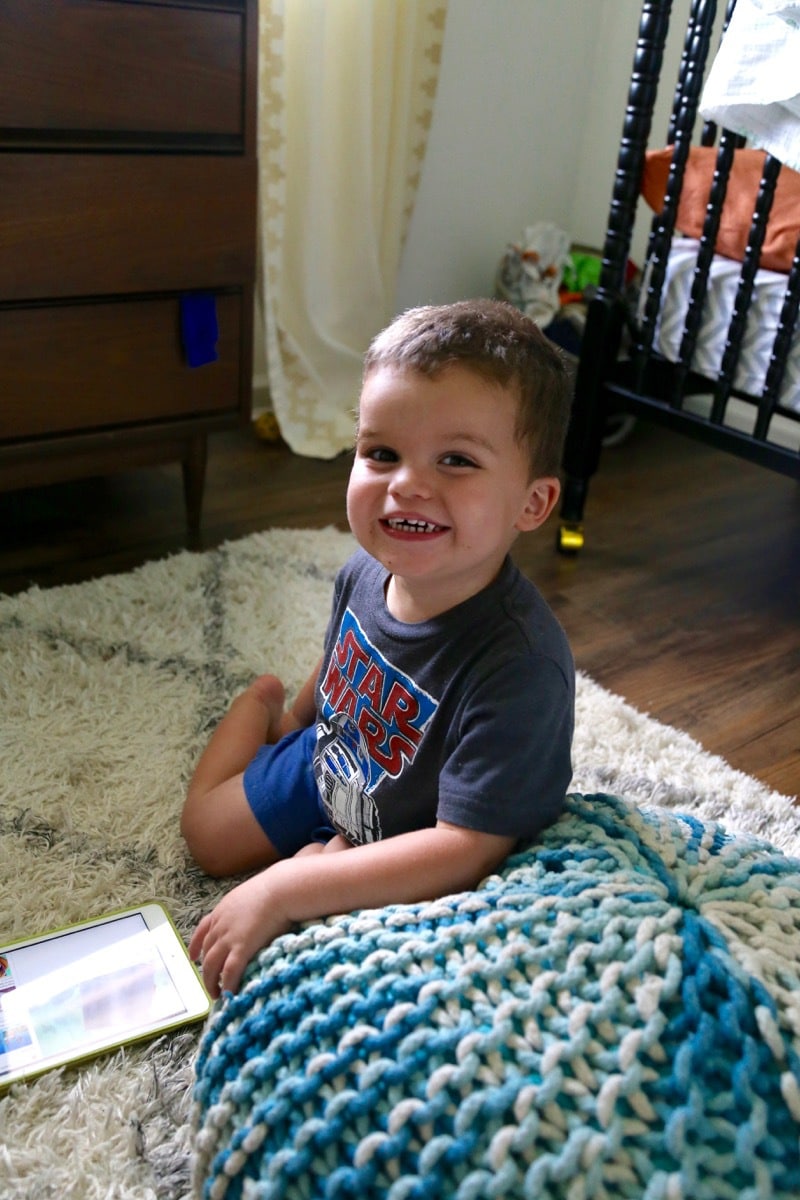 Jack's not complaining about the extra independence, either!
Do you have a video monitor for your baby or toddler?