It's time for another garage update ! And, yes, I think I'm just going to stick to calling it the garage. I've tried a few other things, but they just don't stick. So, garage it is! Remember how last week we chatted about the painted concrete floor (that I'm NOT in love with), and our beautiful rugs (that I AM in love with)?
Well, once we got the floor painted and the rugs in, it was time to fill the room up with some furniture. We started off with the Kivik sofa from Ikea.
(Note: I have not yet learned how to take photos in this dark room, and the lighting isn't finished yet, so bear with me as we finish up the lighting and I figure out how to take good photos in here!)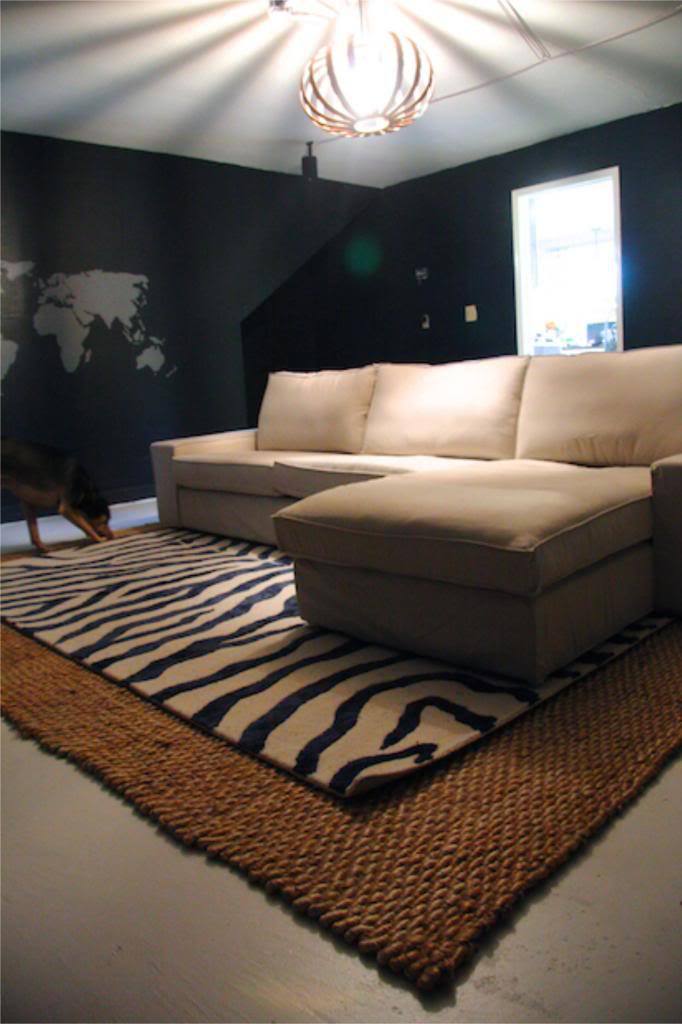 I know a lot of people complain about Ikea furniture, especially on home decor blogs, but I'm just gonna go ahead and say I love it anyways. This couch is beautiful, insanely comfortable, and CHEAP. Can't beat it. We opted to go with their plain ol' beige cover – there were several more textured options that we liked a lot better, but they were also much pricier. The cover that we got was on sale for almost 50% off, which means that we saved an insane amount of money and ended up spending less than $900 on this entire (GIANT) couch.
We were originally going to get the loveseat/chaise combination (it's slightly smaller than this one), but in the end, the sofa/chaise combination was less than $100 more, and we liked it a lot more. Plus, more room to stretch out!
I like the beige color in the room, and the fabric is insanely soft. We'll probably eventually upgrade to one of their nicer, textured options – just because we like them better, but for now this is great.
Next it was time to add in a coffee table. I've been drooling over the wood carved coffee table from West Elm ever since they released it, so it was a no-brainer for us to choose it.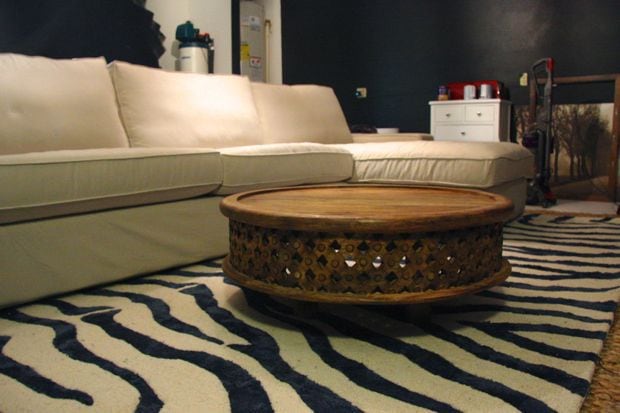 I love that it's nice and small so it gives us some extra floor space, and we desperately need some more textures and pattern in this room, so it layers right in.
We'll eventually probably bring down the chair that's currently in our reading room, but we didn't want to leave that room completely empty (and I actually use it as it is now!) so that will wait until we eventually turn that room into a nursery. For now, I think we've got more than enough seating!
As you can see, we also replaced the old lights with a much cuter option, though it hangs crooked. Annoying! We haven't figured out exactly how we're going to fix it yet, but we'll come up with something. I love the shadows it makes on the ceiling, though!
And, finally, we added a giant projector and dresser to hold all of the components (as some of you who follow me on Instagram may have already seen).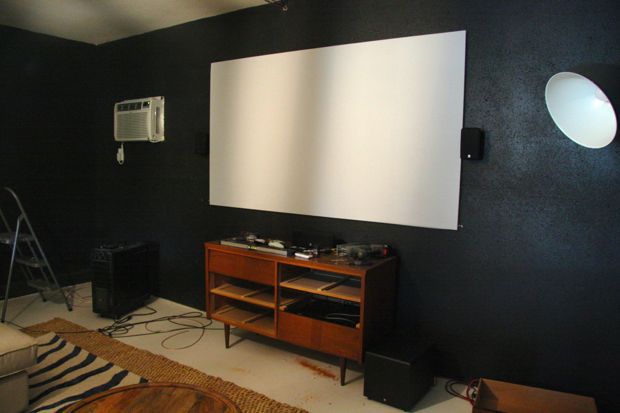 I can give more details on the whole setup and how it works later if anyone is interested, but for now let's just look. This is actually the dresser that used to be in our bedroom as Corey's dresser, but we've never planned on it being in there long-term, and we think it works nicely in here. We still have a few finishing touches to do on it (as you can see), but once it's all put together, we won't have to see any of the annoying components and it'll hold some of our movies and video games as well. Love!
So, that's where we're at right now with the garage. It's still a mess and needs lots of work, but it's starting to come together, and we've definitely been using it a lot! Next up we need to chat about the curtains we're adding to hide the water heater and water softener, then we have a few more furniture pieces to talk about, and hopefully we'll get around to accessorizing and adding in the finishing touches sometime over the next few weeks.
But, since we haven't gotten to any of that yet, here's a last look at what it's looking like as of right now: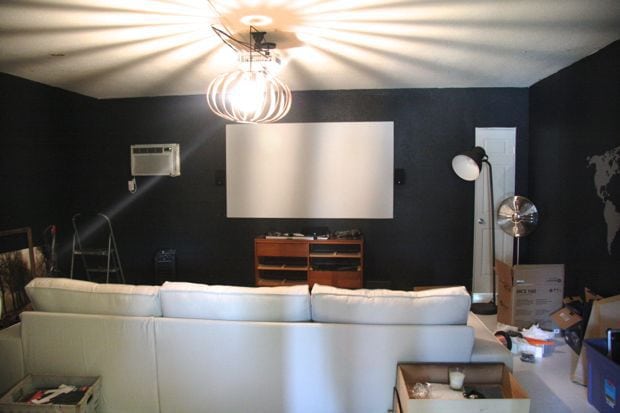 I know, it's a hot mess, but it'll get there eventually!
What projects have you been working on lately?