I survived, y'all! It was our first week back at work/daycare and all of us got through the week with minimal stress. A few highlights: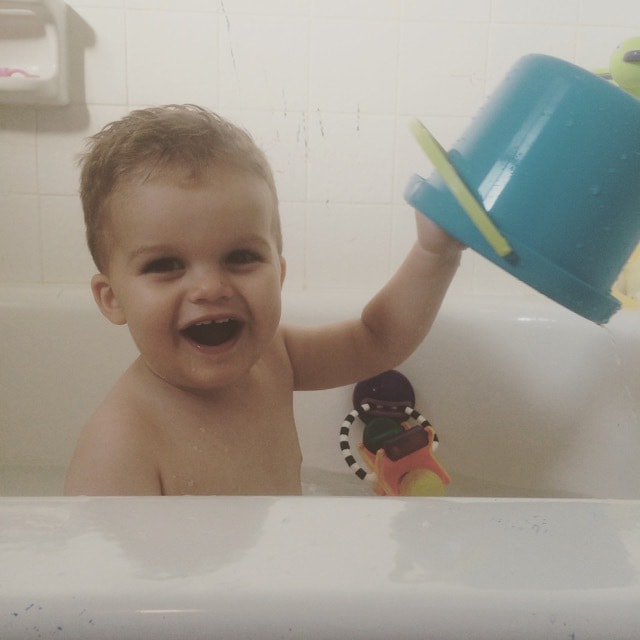 – Jackson has jumped back into daycare totally seamlessly and seems thrilled to be back. Absolutely zero tears at drop-off (even the first day!) and he's been happy basically all day every day. He's also actually NAPPED at daycare, which is epic because he's napping outside of a crib for the first time in his life (they use nap mats).
– It feels better than I thought it would to be back at work and back in the swing of things. I still miss summer, of course, but it feels good to flex my brain and push myself a little bit again (I can already tell it's going to be a hectic year!).
– Jackson's daycare teacher has been sending at least 2-3 photos of him every day. It's awesome to see his face throughout the day and it totally makes my day. I'm hoping she keeps it up!
– I've been doing yoga all week (I'm doing the 30 days of yoga challenge from Yoga with Adriene) and I'm loving it! It's not nearly as intense of a workout as I usually like to do, but I'm already seeing a huge difference in my posture throughout the day, and am finding myself more focused and attentive in general. It's been amazing!
– At one of our professional developments this week we did a bunch of "minute to win it" games. One of them was to stack three golf balls and have them stay for at least 3 seconds, and I was the only one in our group of 16 who managed to do it (and I think I was one of maybe three people on our whole campus)! Can this go on my resume?
**********
A few of my favorites…
– Rosé lemonade? Yes, please!
– I adore Mindy Kalig and can't wait to read her new book – here's a fantastic excerpt.
– I'm seriously considering doing this in our kitchen. I just need to decide on a color! I'm thinking black.
– Another book I'm really interested in reading is this one.
– Oh, and this one. Her first book is quite literally changing my life. I adore it.