Well, it's official – I'm a high school teacher and I survived my first week of school! What a crazy change from elementary and middle school. It's been a fun week, but I'm oh so glad it's the weekend. I need sleep!
Here are a few highlights:
– Jack has taken to asking to sit in our laps during breakfast and dinner. It's probably not something we should allow but it's so sweet that we usually just roll with it. I'm sure we'll regret that decision eventually but when he shouts out "Me! Sit!" you just can't say no.
– I fell asleep on the couch watching Survivor at 8:00 after our first day of school. Exhausted!
– Jackson is currently obsessed with some superhero figurines he has. There are two Batman toys, one Green Lantern, and one construction man Little People toy. He calls them all "Bat" and most nights lately they've had to sit on his windowsill all night long to watch over him – if we forget one of them, he lets us hear about it!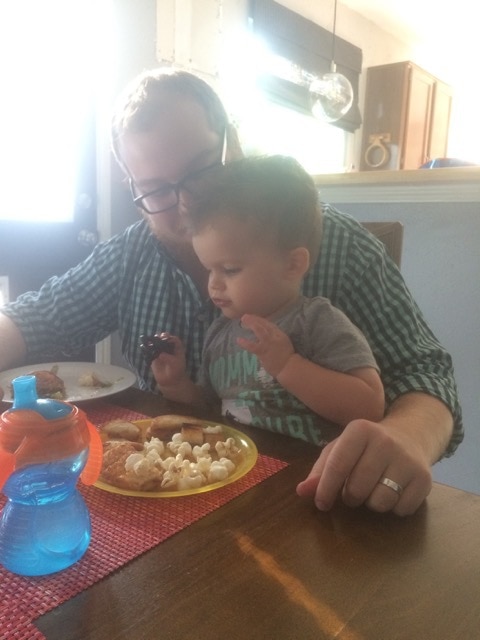 – Corey and I each ended up having to take a day off this week because Jackson got sick on Thursday morning. It wasn't great to take off the first week of school but I can't say I didn't enjoy spending a day cuddling with my baby!
– We went out for dinner and karaoke with some friends on Friday for a birthday – it was so much fun and it felt great to have a date night together! Also, how did I not know private karaoke rooms were a thing? So awesome!
***********
And a few favorites from around the web…
– This article was fascinating. Definitely not something I necessarily agree 100% with, but there's plenty to think about in there!
– This is incredible…but I can't imagine it tastes very good!
– I loved reading about this mom's take on natural "boy" instincts in toddlers. We definitely take the same approach as her!
– What a fantastic take on the "terrible twos".