Happy Saturday!
Corey and I are at the final day of the Haven Conference today and I can't WAIT to come back next week and share all of the amazing inspiration and things we learned with you! Last year, I left feeling so invigorated and like I could take on the world, and we had some really fun partnerships come from it with brands that we're still working with now. Connecting with brands gives me a really fun and unique opportunity to bring new and exciting projects and ideas to you guys that I might not be able to share otherwise, and I can't wait to see what comes out of this trip!
Be sure to follow me on Instagram if you want to see some peeks into the trip – I've been sharing things here and there on my stories, so you can feel like you're right there with me!
Here are a few quick links to things I've been swooning over lately – grab a cup of coffee and settle in for some Saturday morning inspiration!
Links I'm Loving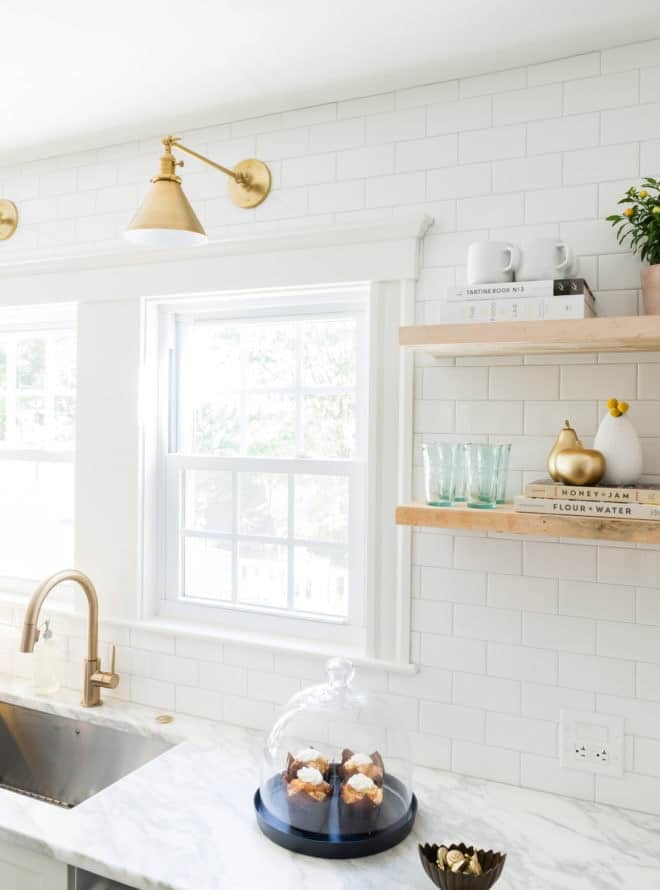 Image via The Effortless Chic
This fireplace makeover is just stunning! I'm dying to do something to our fireplace (it has so much potential, but is pretty boring right now), and this gets my creative gears churning. I feel like you don't see subway tile on fireplaces very often but it looks so good!
Concrete is so much fun to work with but I haven't gotten into it nearly as much as I'd like. I love this little DIY soap dish and it really gets me thinking about other things I could try with concrete. Maybe I'll spend some time playing around with a few ideas this weekend!
This is one of the most dramatic (and gorgeous) kitchen makeovers I've seen in a long time. Those bar stools are my favorite stools ever and all the gold accents make my soul so happy. Those lights above the cabinets? I need some for my bedroom. Amazing!
This DIY workbench is the stuff dreams are made of. I would kill for something like this in our workshop – so big, so functional, so organized! 
I love this summer home tour, and the photo where you can see all of the pink flowers out the window? It looks like it's straight from a magazine! I'd kill for a view like that! Also, I'm always jealous of people who can have that much white in their home.
This DIY wine rack is a great solution for a small space – and it's so cute! I love this idea for an apartment or a small kitchen, and it is so simple to make. Plus, I always love a project that's so customizable!
This little command center is the perfect way to get organized as we get closer to the end of summer and back to school time. We've never set up a family to-do list or calendar like this before, and I really think we should do that soon! I love how this looks, and it's so simple to execute (which is always a bonus).
I love the idea of these privacy planters. It's such a pretty way to add a little privacy and cover up a less-than-perfect spot in your backyard. I'm wondering how I can adapt this for our yard – wouldn't this look so cool with some vines growing up the lattice?!
What's been inspiring you lately? I'd love to see some of your favorite posts and DIY ideas!
Have a great weekend, friends