West Elm just launched their brand new baby and kids line – and it's adorable! Today, I'm rounding up a few of my favorite picks from the new West Elm baby products.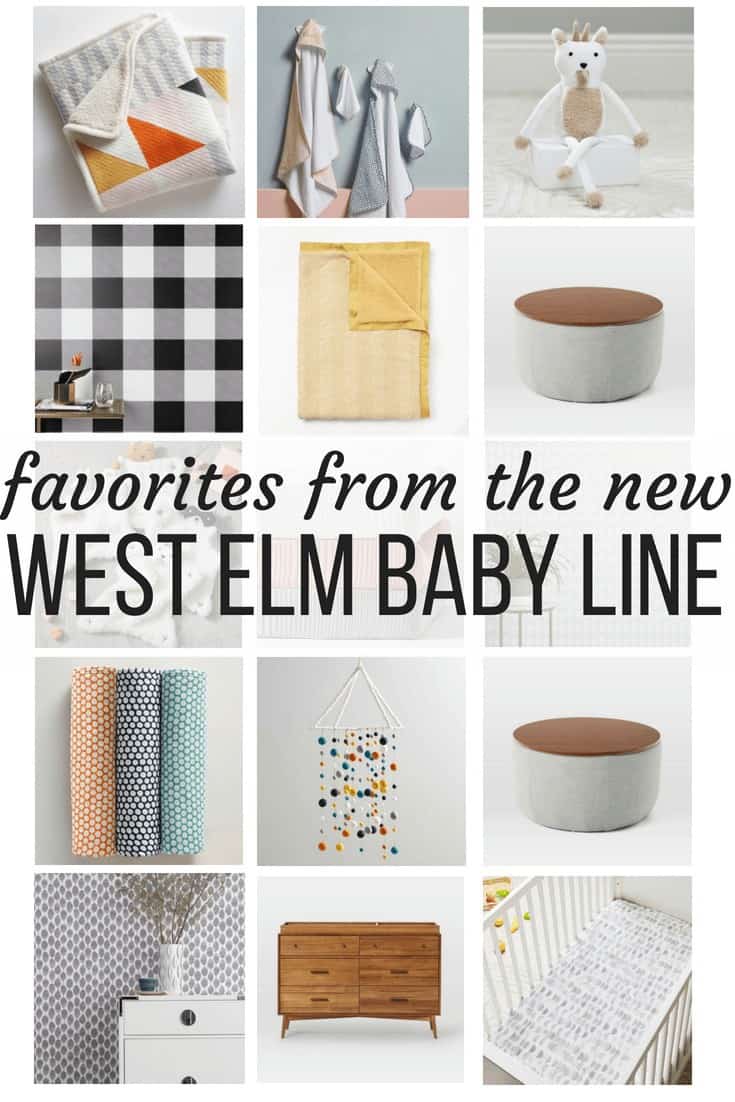 This post contains affiliate links. Click here to read my full disclosure policy. 
Did you see? West Elm just released their new baby and kid's line in collaboration with Pottery Barn Kids… and I want it all!
I've obviously had baby stuff on the brain a lot lately so this is pretty perfect timing for me, to say the least. I have been spending an embarrassing amount of time browsing their site and all of the new stuff, and I can officially say I'm head over heels in love with at least 75% of the collection. I want everything. Especially the incredibly cozy looking baby and toddler blankets. You can't have too many baby blankets, right?!
Corey and I are still deep in the planning process for the nursery, so I'm drawing a lot of inspiration from the gorgeous options West Elm has to offer. Some of it is out of our budget, as is to be expected with West Elm, but there are several pieces that are surprisingly affordable and are absolutely on my must-have list.
I'm sharing my very favorite pieces below – it covers everything from furniture to baby toys to wallpaper. Talk about a versatile line, no?! I'll drop all of the images below and then if you keep scrolling I'll share a few thoughts and what I'm thinking we'll be snagging for our little one!
West Elm Baby Favorite Picks

Adorable, right?!
I can't get enough.
I think just about everything in the entire West Elm baby and kid line is worth checking out, but I'm particularly drawn to the textiles. The patterns for the crib bedding are all so good, and I love the texture on the changing table pads. But, perhaps my favorite? Those cozy quilts!! The patterns on the front are gorgeous but that fuzzy backing is so good that I'm thinking I might need one for myself.
Here's a more detailed look at each piece – click the arrows to scroll and see them all:

Mmmm, are you convinced yet? So good.
If you haven't had a chance to check out the entire West Elm baby line, be sure to give it a look. There are tons of great options for baby and kid's rooms, and really even a few things that I'd put anywhere in my house!
Speaking of nurseries, I finally got ours all cleaned out and ready to go. I'm hoping to get started on painting it this week! I'm dying to put the crib together, but I'm making myself get the walls done first. I'll share an update as soon as we get it all done!
What are your favorites from the West Elm baby line?