Last week, I shared how our home has evolved over the five years we've been living here. Five years! It's absolutely insane to me how far this little home has come, and I'm so proud of all the progress we've made.
Over our last half-decade of homeownership, we've made a lot of mistakes. We've learned a lot of lessons. Our style has evolved significantly. Looking back, there are a few things I wish we would have known when we were first diving into owning a home, and there are a lot of things that we have learned over the years.
So, today I thought I'd share a few of the lessons we've learned in our first 5 years of homeownership. We definitely aren't experts and we still have a lot to learn, but we have absolutely learned a thing or two throughout this whole journey.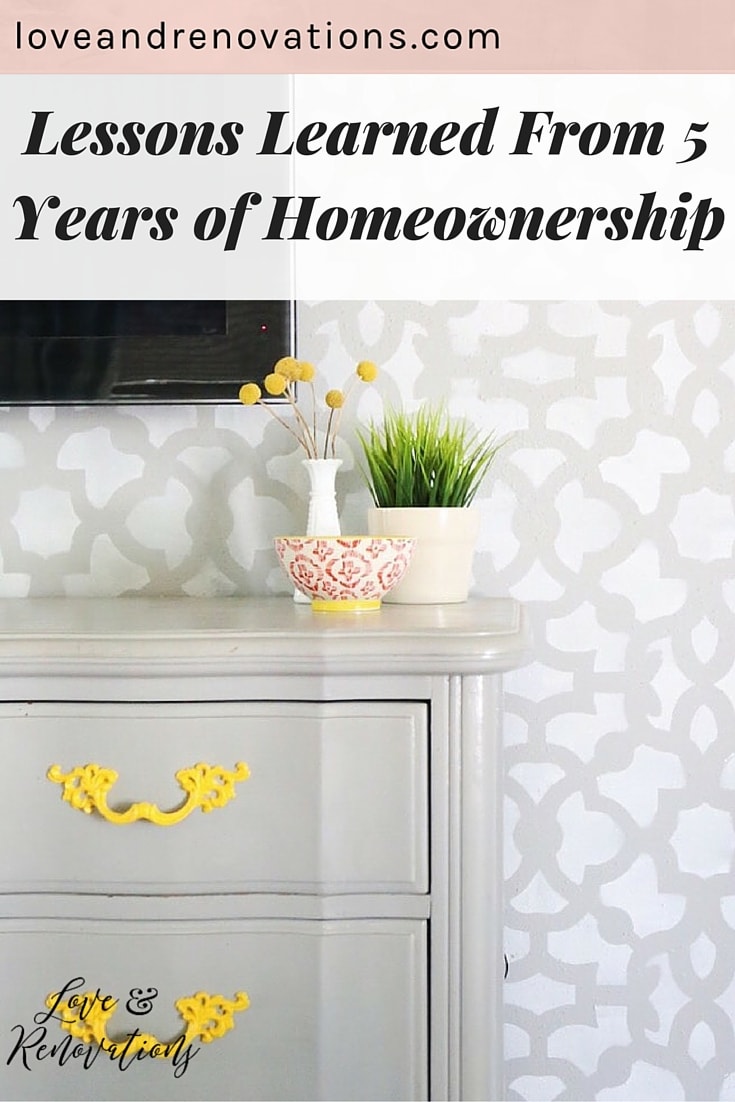 Being a homeowner is hard work. I'll admit, there are times when I long for the days where I could simply call up my landlord and alert them to an issue in my home and then wait for the problem to get fixed without having to lift a finger. It can be so draining to know that every single problem that pops up is ours to deal with.
Don't rush to get your home decorated. The biggest piece of advice I could ever give to someone who just moved into a new home is to take your time decorating. It's all so exciting and you feel like you want to make all the decisions right away, but that will almost certainly lead to decisions that you'll regret. If you slow down and live with your space for a little while before making any major changes, you're a lot more likely to think things through and make decisions that will actually work for you and your home.
Your style will change and evolve. The decisions that we're making for our home right now are not anything like the decisions we would have made for our home five years ago. I'd like to think that the changes we're making to our home now are ones that we'll want to stick with long-term, but realistically I know that in five more years our style will have changed at least slightly and we'll be making different decisions once again. For me, this is a great reminder that for the major fixtures and remodeling projects in our home it's best to go with something classic and timeless. We try to stick to only making trendy decisions on things that are easily changed like pillows, art, and curtains.
Take your time on all of your decisions! I cannot emphasize enough how important it is to take your time when you're making decisions about your home. There have been so many times that we've come up with an idea, decided to wait a few days to think it through, and then changed our minds completely. We've learned not to rush into anything and we always spend at least a week or so hammering out details and making sure we're certain we want to do something before we move forward.
Think about cohesiveness. When you start to plan what you're going to do in your home, it's a good idea to think about how everything works together. We didn't do a great job with this when we were first decorating our home, and now I'm having to go back and correct a few things. I've learned that, for me, it's important that things flow in my home and when they don't it starts to feel cluttered. In addition to that, once I started paying a bit of attention I noticed there were a lot of repeated colors and patterns throughout our home anyways. We use a lot of gray, blues, and yellows with a tiny bit of red/pink, and those colors seem to repeat over and over throughout our home. Once I recognized that and started to embrace it, things immediately began to feel more cohesive.
BUT! Don't be afraid to make mistakes! That being said…don't become so paralyzed by making sure everything "goes" that you don't take any chances! Your home won't feel like you if you don't dive in every once in a while and make a giant design mistake. We've all been there and it's okay. Learn from it, fix it, and move on to your next mistake. We've made plenty of decisions that I look back on and consider mistakes, but we're constantly learning from them and that makes it a good thing!
Don't jump into a project until you know you can finish it. If you ignore everything else, don't ignore this one. We've made this mistake a time or two before and I so regret it every time. I've talked a little about this on the blog before, but I've learned over time to never begin a project until I'm absolutely positive that we have the time and budget to see it all the way through. We made this mistake with our master bathroom and it's still nowhere near finished over two years later. Don't do this.
Repeat after me: It's just paint. It can be so intimidating to dive in and paint a room or a piece of furniture. But in the end, paint is incredibly easy and affordable to change – it's no big deal! We have a few projects we're currently thinking about tackling that are paint-related and I'm asking myself why in the world I didn't do them sooner! Paint makes such a huge impact, costs very little, and doesn't require much effort at all. And if you hate it? Repaint it. It's just paint.
Projects will almost always cost more and take more time than you expect. I feel like I'm continually learning this lesson over and over and asking myself when it will finally sink in. You will decide on a project, you'll make a budget, you'll have a timeline in your head, and then you'll throw it all out the window once you actually get started and run into seventeen different issues. It's unavoidable. Just accept it, roll with it, and laugh about it. There's no use in stressing over it. My best recommendation is to always intentionally overestimate both your budget and your timeline so you're less disappointed when you blow right through both.
Renovating a home takes time. Embrace that fact. Sometimes I find myself getting discouraged by how far along other people's homes are in comparison to mine. I feel like our home is a mess and that it will never get finished. In essence, I'm comparing my beginning to someone else's middle. Sure, we've been in this home for five years and that's a long time, but in the grand scheme of things that's nothing. We've got so much more time to make this home into what we want it to be, and there's no reason to stress about where we're at. We're learning to embrace the mess, embrace the imperfections, and embrace the chaos. This is homeownership – it's real, it's stressful, and it's not always pretty. And that's okay.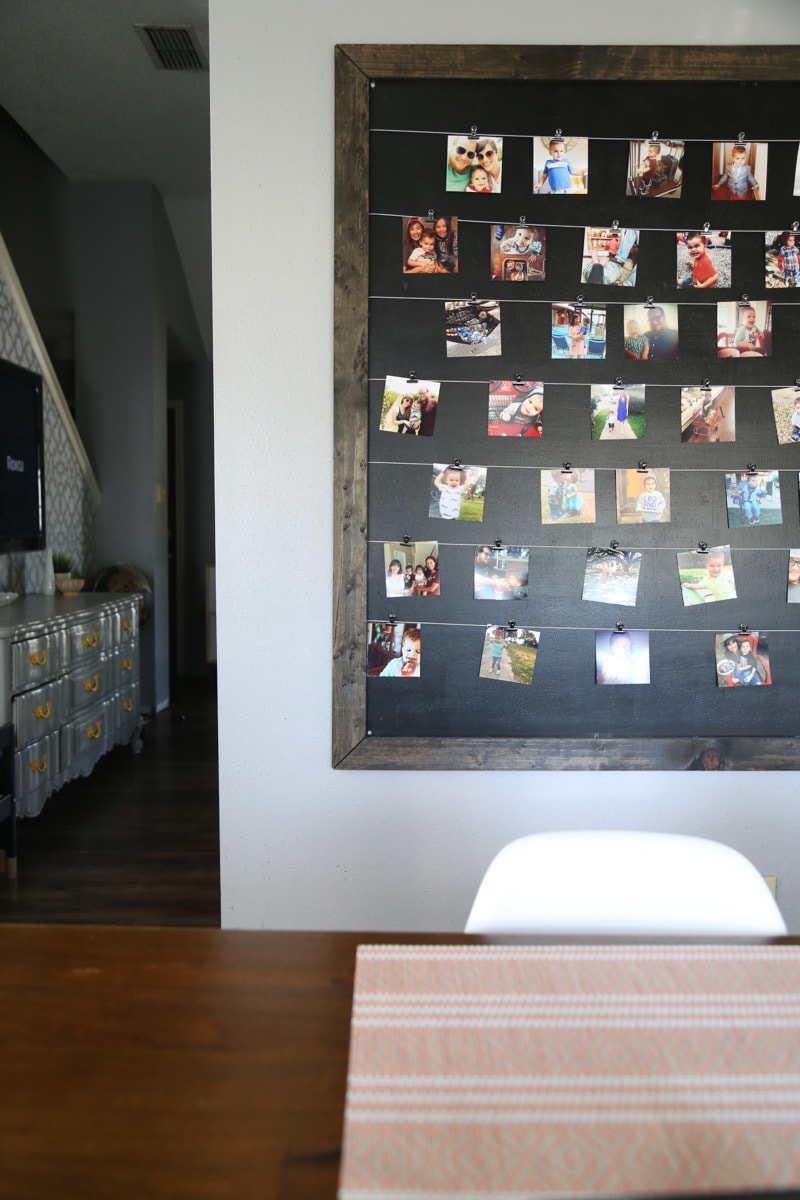 Owning a home has been way more fulfilling, stressful, and overwhelming than I ever could have imagined. But, no matter how much stress it throws our way, I can't imagine doing it differently. I love that I can knock down a wall if I want to and no one will yell at me (okay, Corey might yell at me for that one). I love that I have complete control over what our home looks like. I don't love that I have to pay for it every time something goes wrong, but I guess I can deal with it. Plus, I'm pretty sure a landlord would be much less tolerant of my random whims and painting sprees than my husband is!
What are some lessons you've learned over your years of living in your home?