We're all a little bit obsessed with IKEA, right? I mean, how can you not be? It's this giant wonderland of inspiration, home decor, and totally hackable products and it's all super affordable.
Plus they have free childcare.
Favorite place ever.
Because I'm so in love with IKEA, every once in a while I like to go wander around and snap a few photos of the new products that catch my eye. This post doesn't cover all of the amazing things that IKEA will be coming out with this season, just what I was able to spot in my local store. If you want to see some more inspiration and other products that will be coming soon, check out this page for some more details!
Are you ready to walk around IKEA with me? The lighting is awful, so the photos aren't always great, but it's always fun to see some of the new products they've come out with, and I left feeling really inspired and with a few new ideas brewing in my head! Plus, I feel like I'm shopping at my favorite place with some of my favorite people (you!), so that's always a win, no?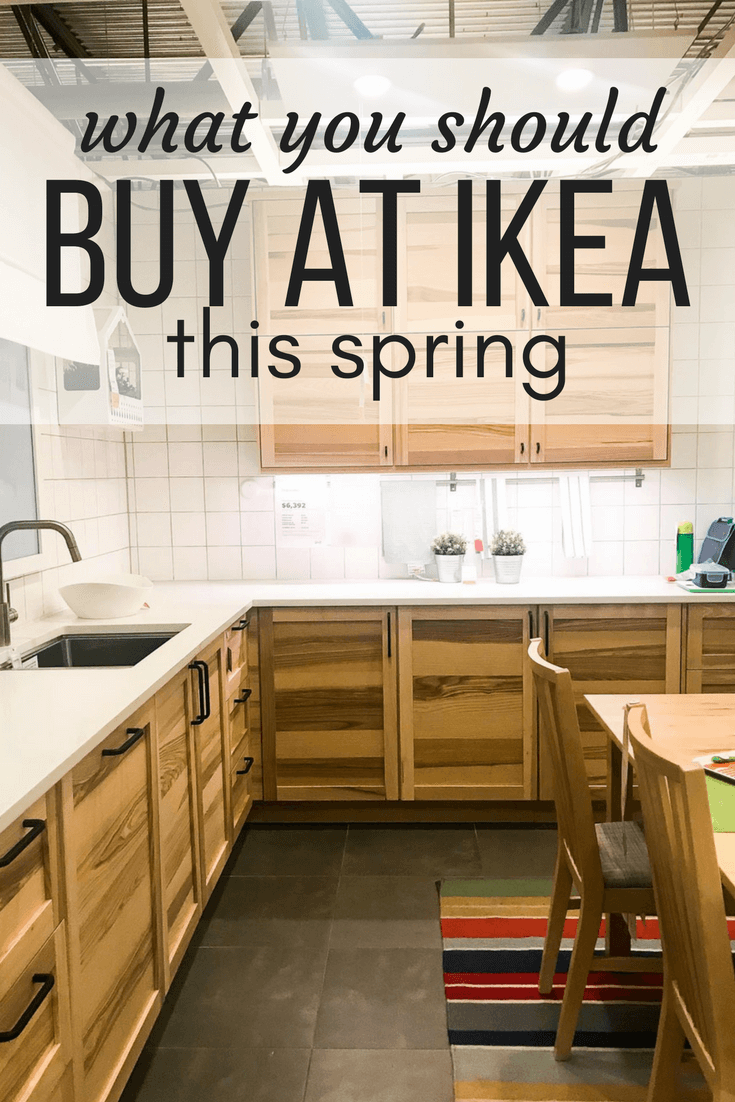 I'll admit – I haven't been keeping up on IKEA's product lines over the last couple of seasons, so I don't know how many of these things are actually new and how many things have been around for a while. But, I'm gonna guess it's safe to assume that a lot of you don't actually stay up to date on every single new product IKEA releases, so we'll be ignorant together. Sound good?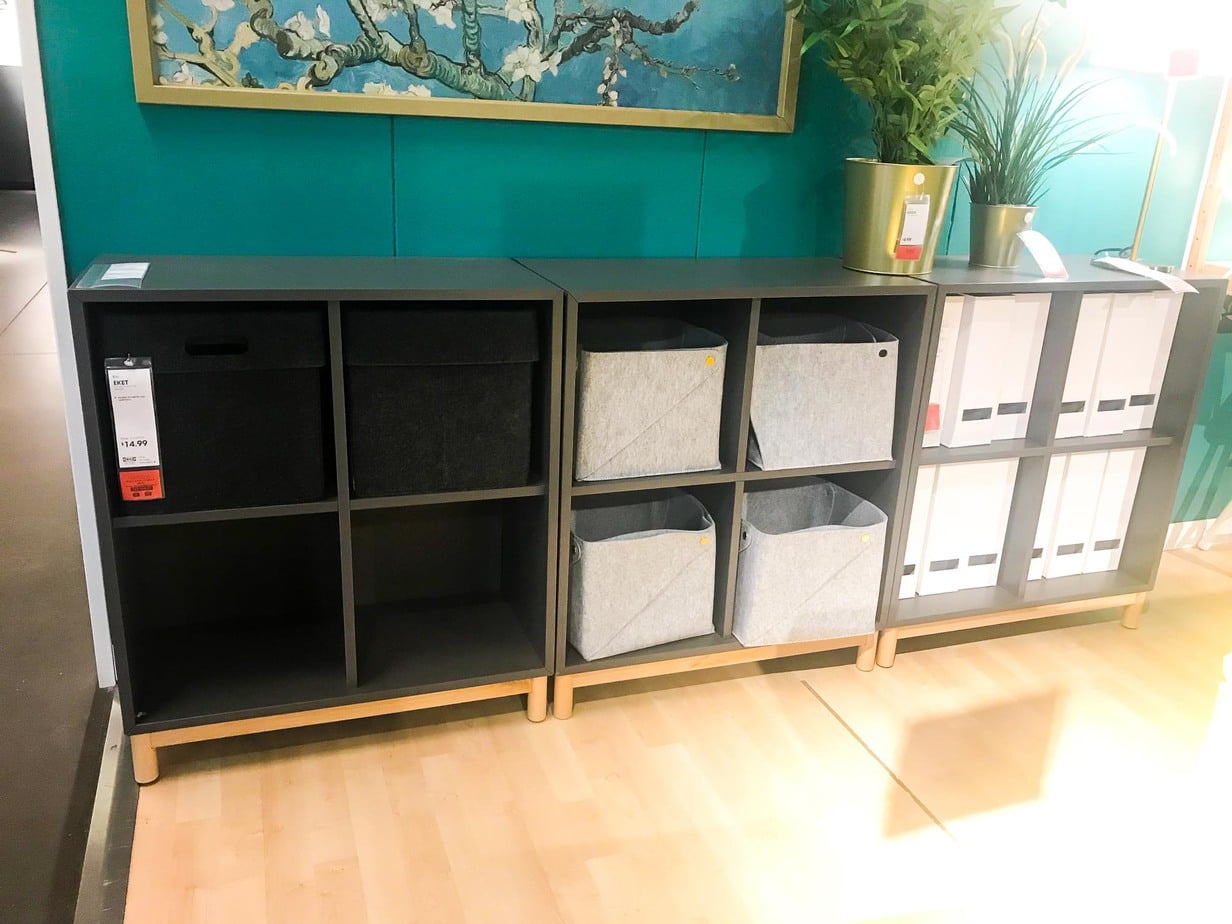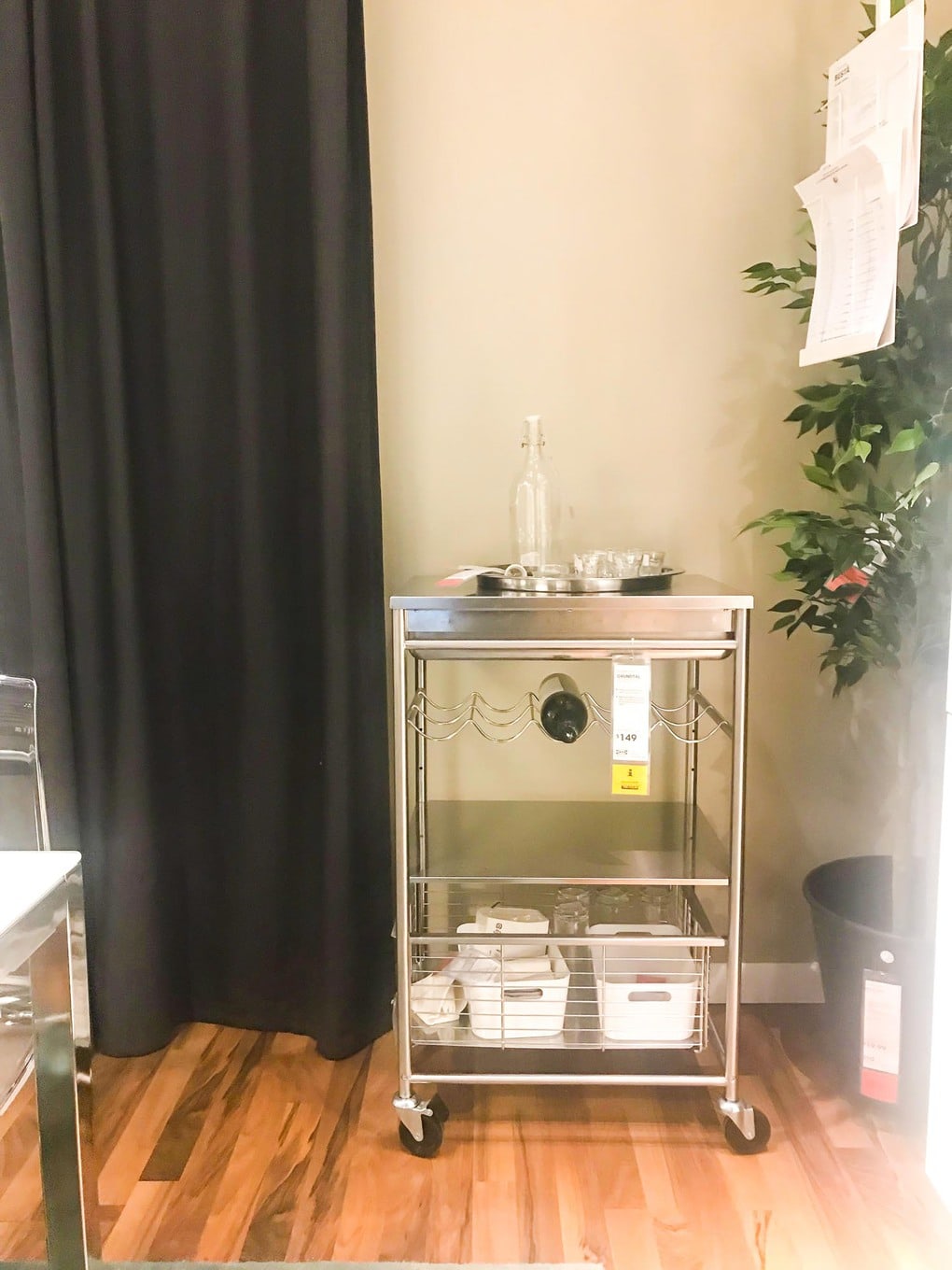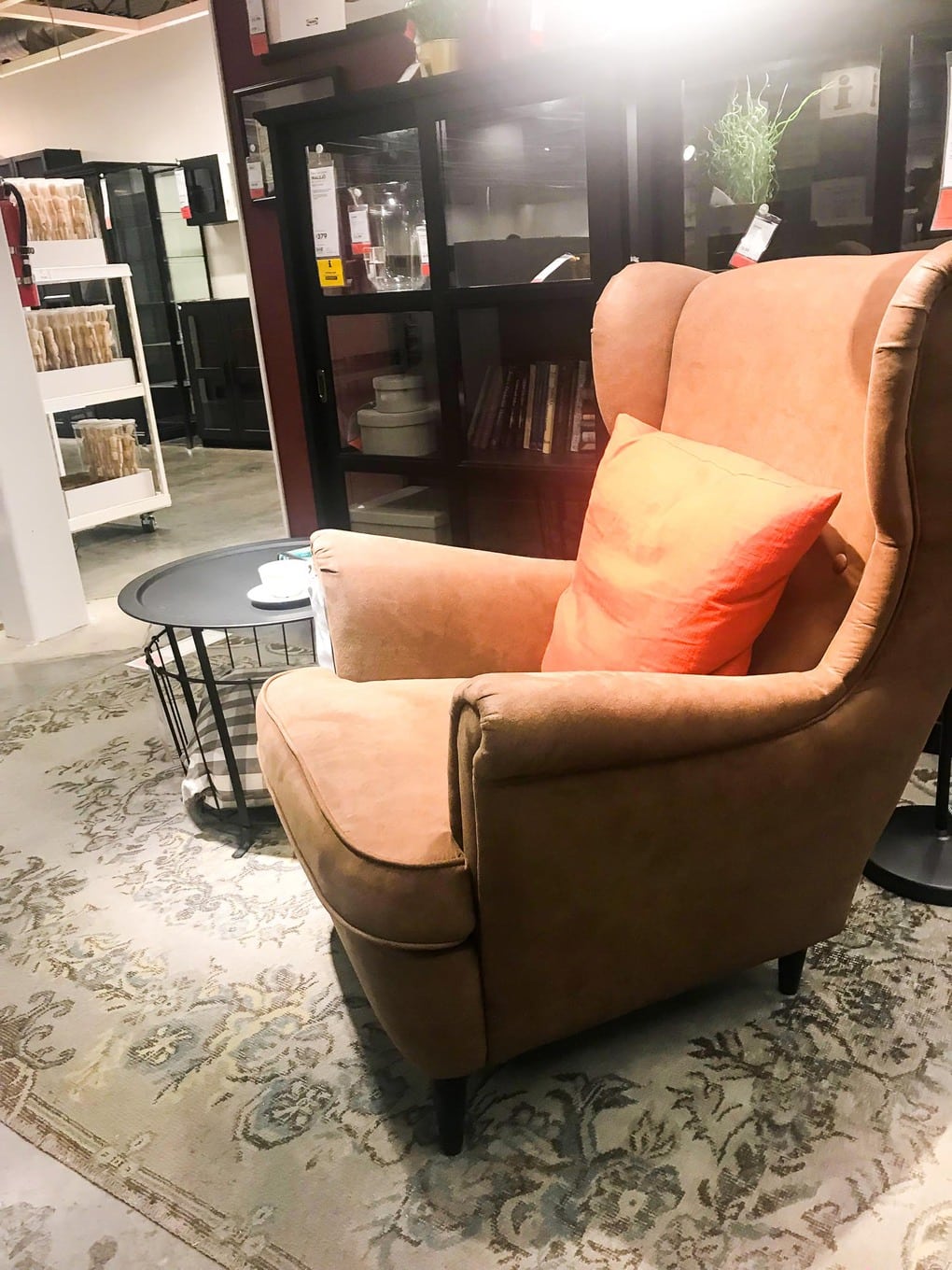 First up, I'm really loving the EKET line (this is what's pictured above). It's very similar to the well-loved KALLAX storage units, but it seems to be a lot more flexible in terms of how you arrange it and what you add on to it. My favorite part is that when you push two or three of the little 4-compartment units together, they really do look like one big piece. It's such an affordable way to add a ton of stylish storage to a space, and I love that there are a ton of color options. They also have door and drawer options that can be added on to this storage system, so you really can get super creative with it.
I think the GRUNDTAL kitchen storage cart has been around for a while, but I just loved seeing it all styled in a space. I love the industrial feel it has, and I'm always a huge fan of rolling storage carts. I think this would be a great addition to a smaller kitchen, and I'm even starting to brainstorm ideas of how else it could be used – like maybe in a laundry room that needs some extra storage!
Corey and I have this STRANDMON wingback chair in a different color, but when we saw this leather one in the store, it made me stop in my tracks. It doesn't photograph super well in this lighting (I tried to turn off the lamp but I couldn't figure out how), but I promise it's stunning in person. This chair is so cozy – I logged countless hours in it feeding Jackson when he was a baby, and it's currently hanging out in our living room (though we do eventually plan to replace it with a recliner). UPDATE: See what we ended up doing in our living room here.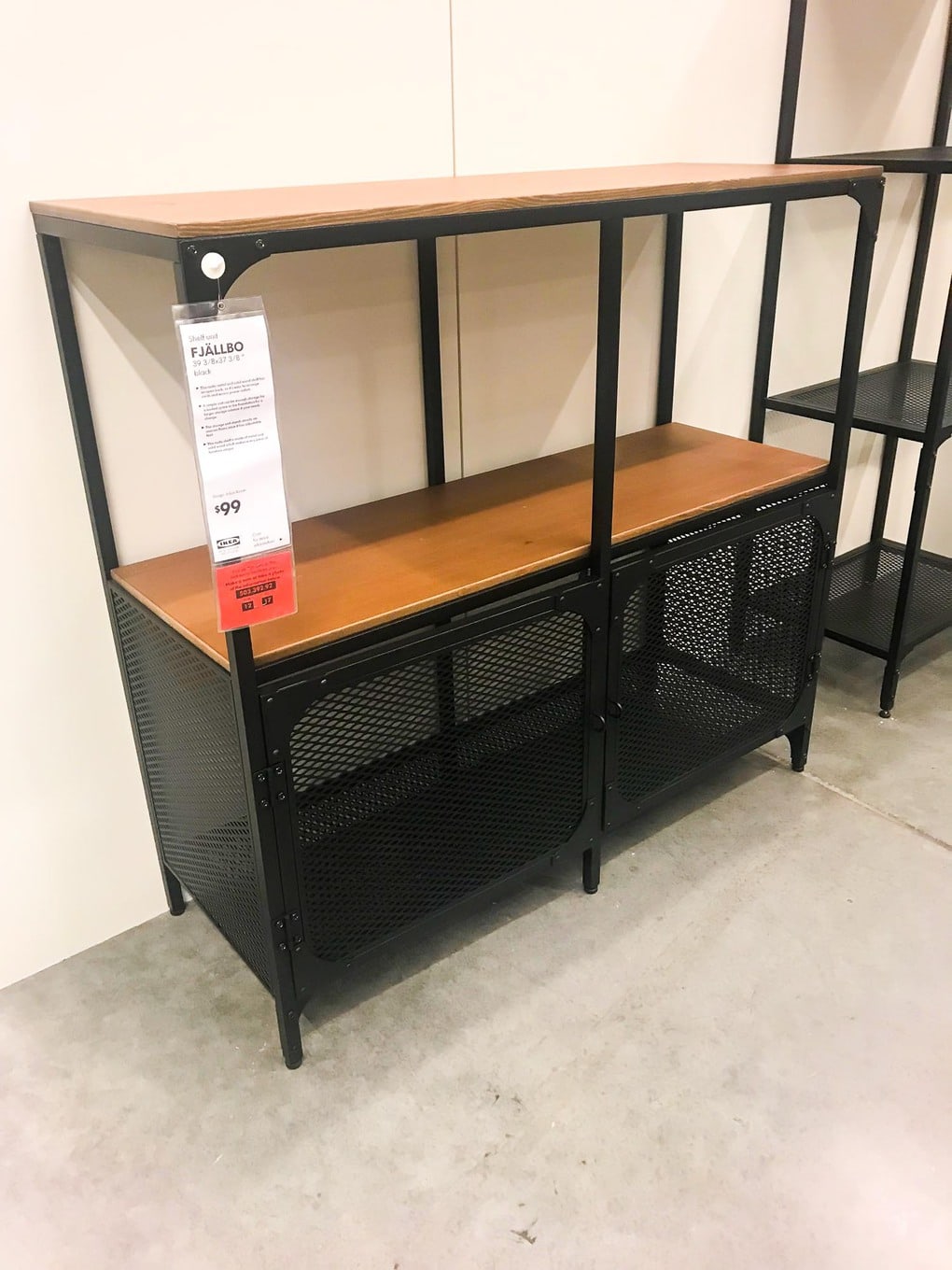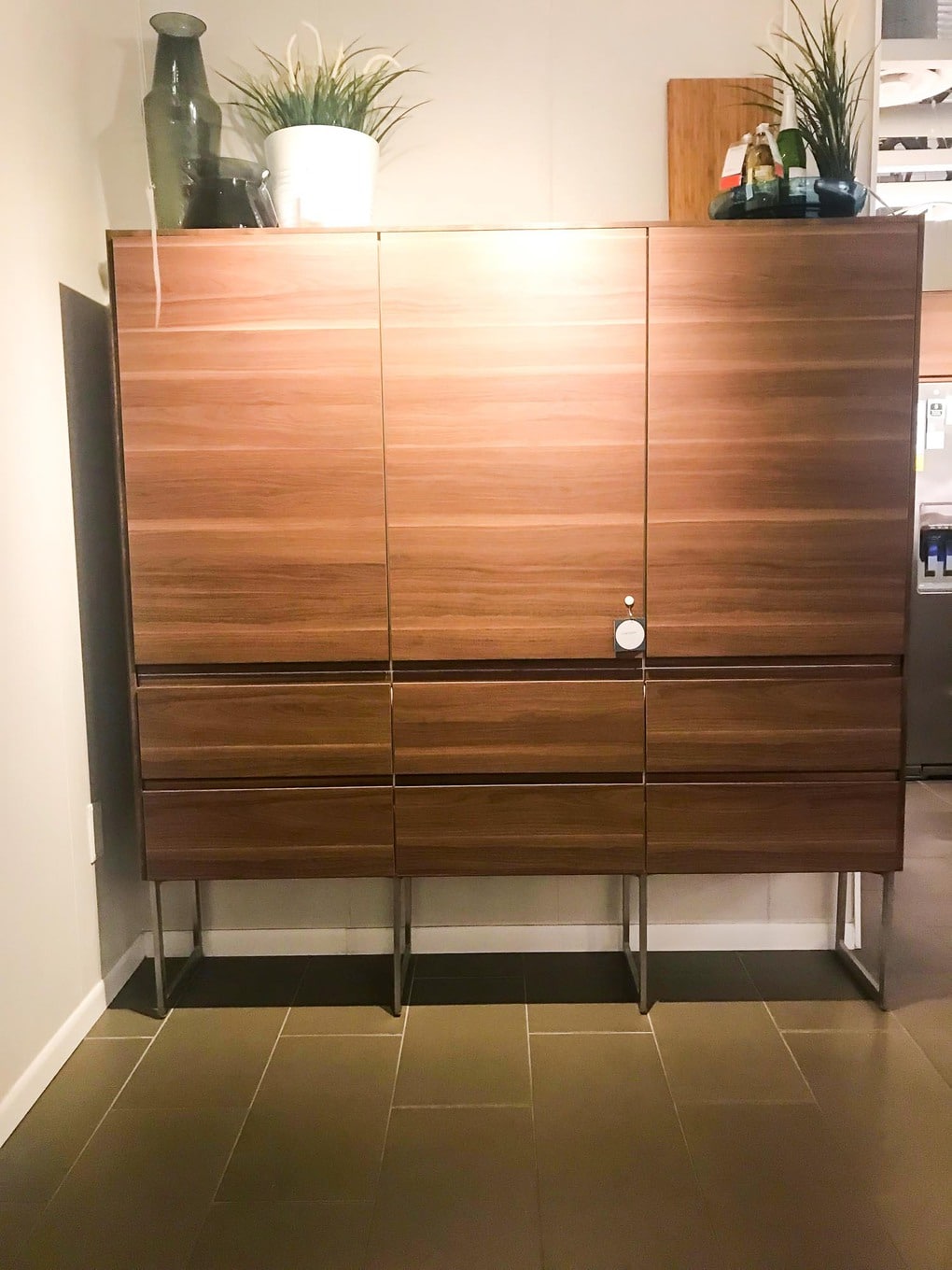 Let's round out the storage options with these last two beauties. I'm always a fan of an industrial touch, and this FJALLBO shelving unit is pretty fantastic. It's such a ridiculous deal for such a unique piece, and I think this would be an awesome addition to Jackson's room if we end up having the space for it.
And, finally, we've got this giant SEKTION cabinet (with VOXTORP doors) I'm not exactly sure pieces what this combination is made up of, but it was so large and gorgeous and would look so amazing in a big kitchen that can handle it.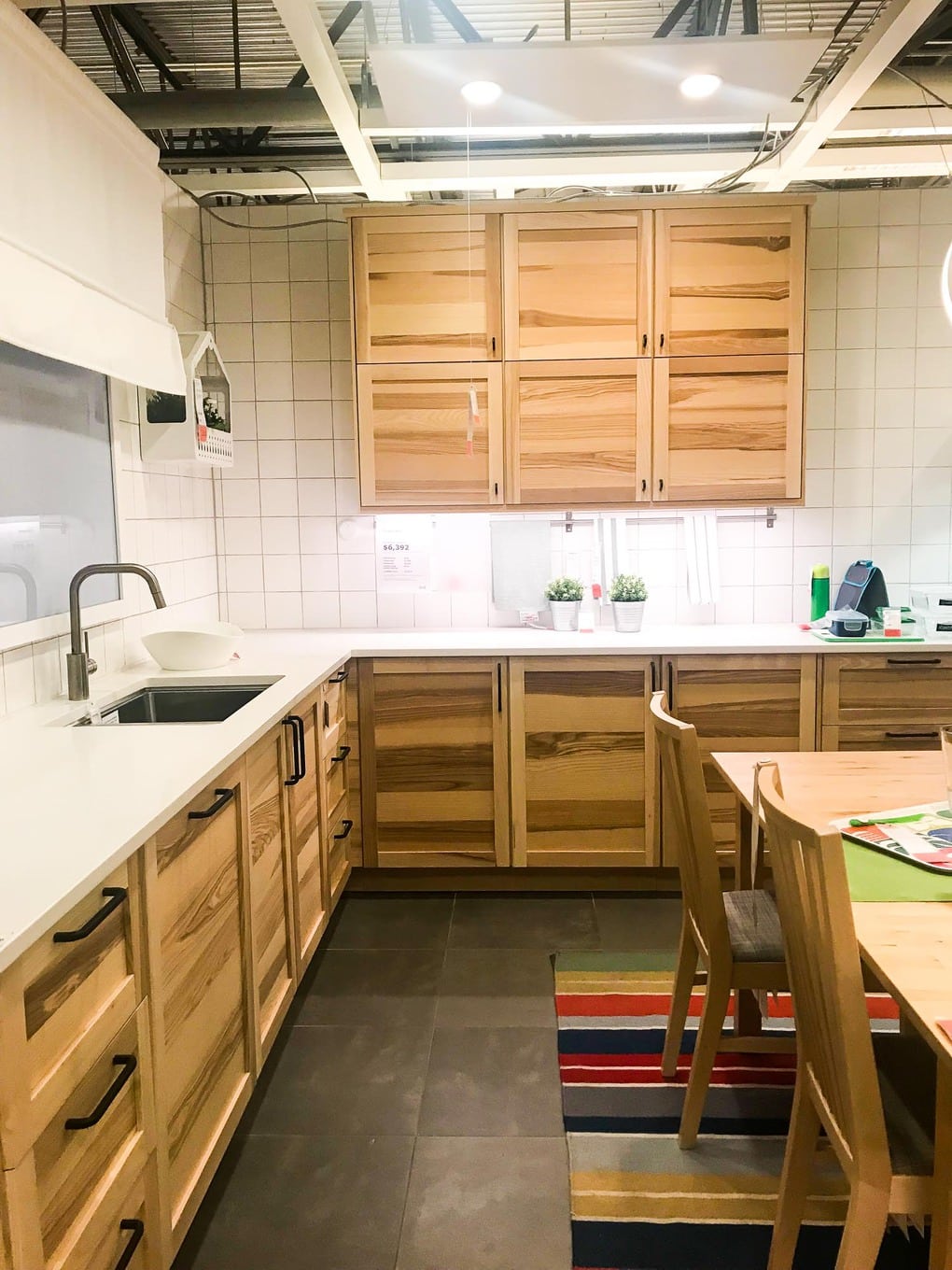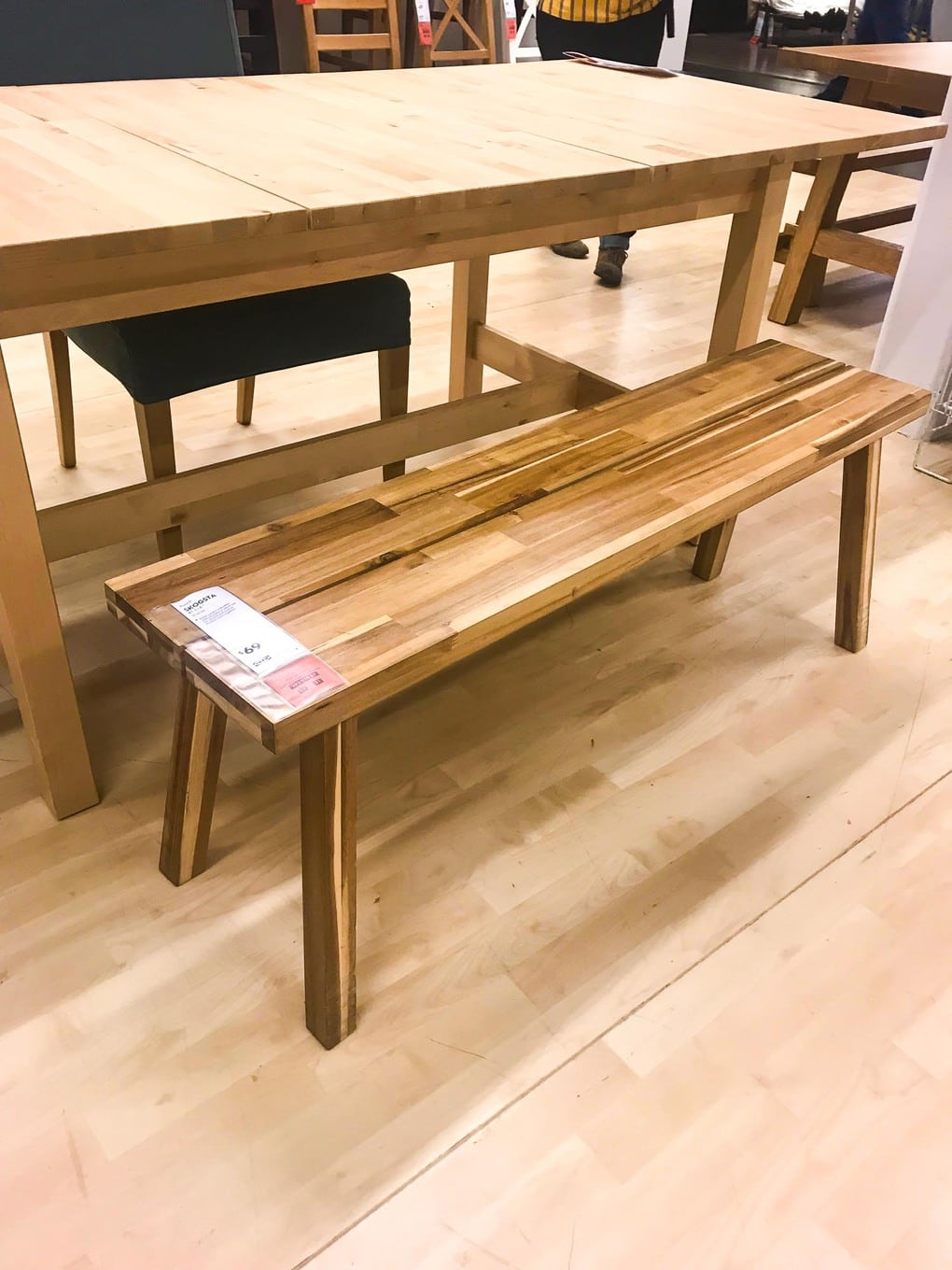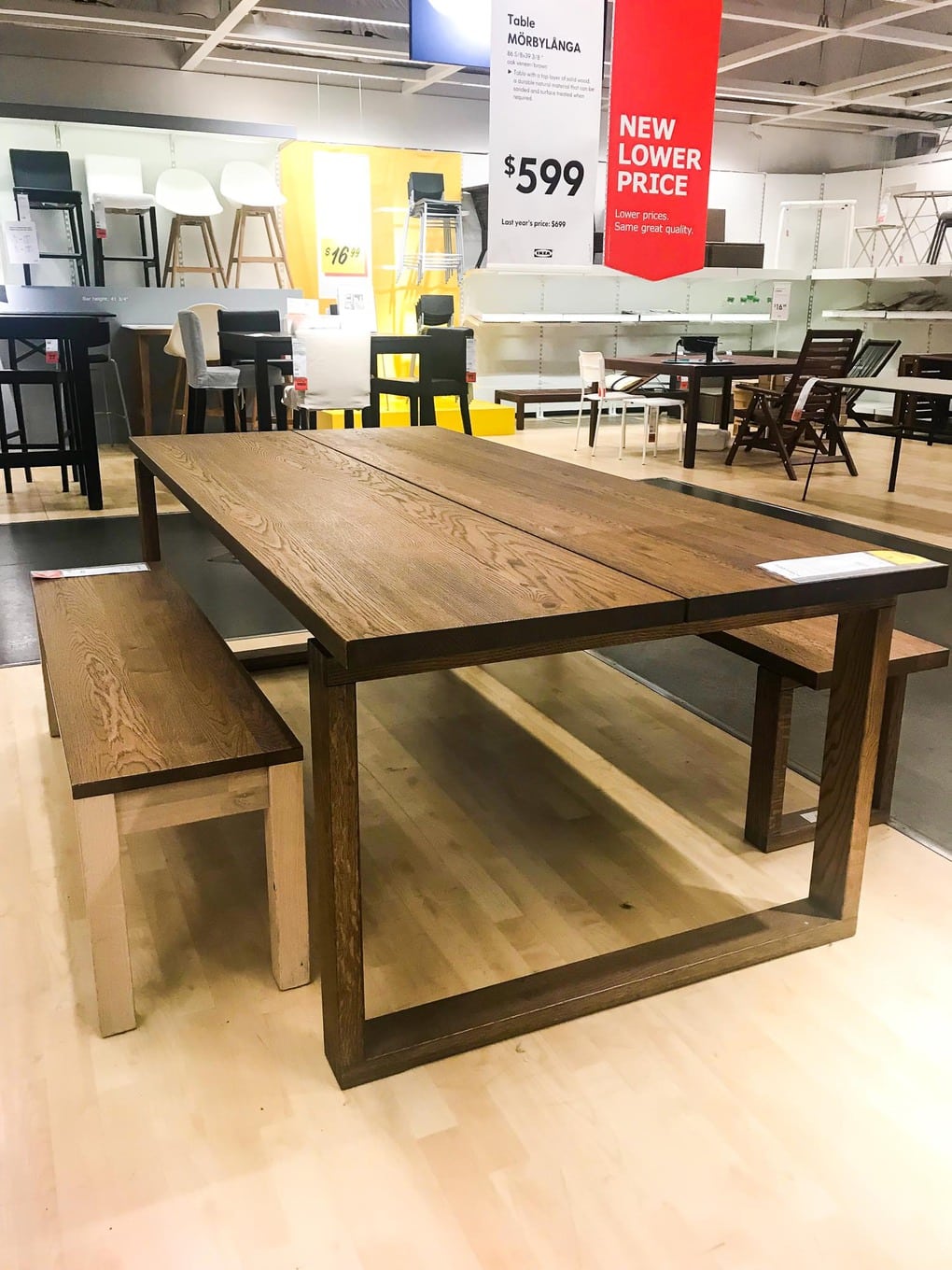 I think both mine and Corey's jaws dropped when we turned the corner into the kitchen section and saw this new TORHAMN cabinetry. I don't want to be obnoxious but can you even?! It's such a unique look and it really was pretty showstopping. We both agreed that we might get tired of it if we had this in an entire kitchen, but Corey said he'd love to use it somewhere else or maybe as a kind of feature wall in a kitchen, and I said I thought it would look great if you paired it with some black or white upper cabinets (or even just open shelving on top). I predict this cabinetry is going to be all over the place soon!
I also loved the SKOGSTA bench – it has a similar pattern and would be such a pretty addition to a dining room. I love the idea of a long bench instead of chairs – but I do wonder if it's practical? Either way, this is gorgeous and would even look great in an entryway or maybe in at the foot of a bed.
The MORBYLANGA table is one that's been around for a while now but I literally have to pause to look at it every single time I'm in the store. It looks so high end and gorgeous, and I don't think anyone would ever guess it was an IKEA piece. I like the benches they've paired it with, but I think this would look even better with some pretty upholstered chairs in a formal dining room – it's just so pretty!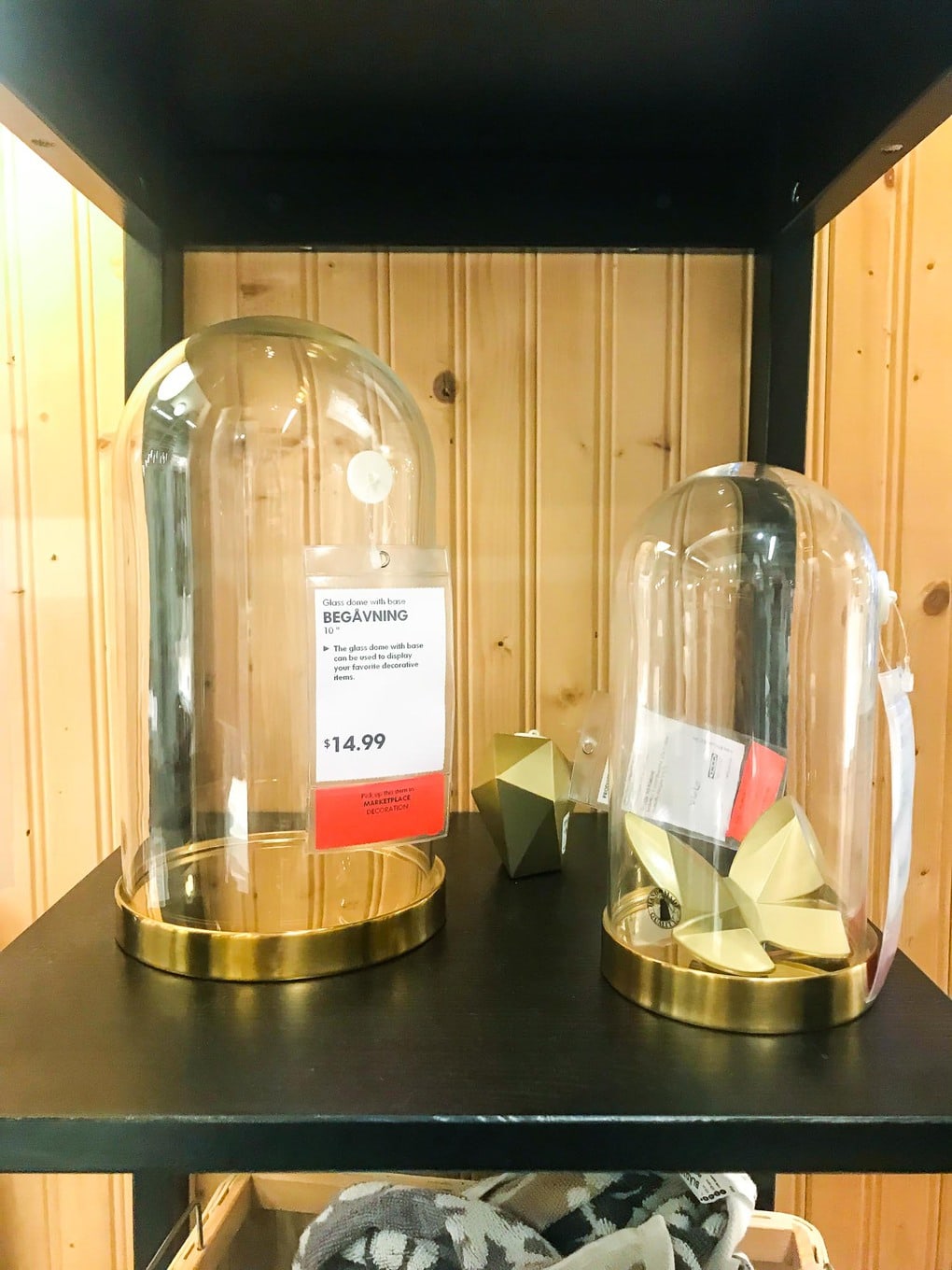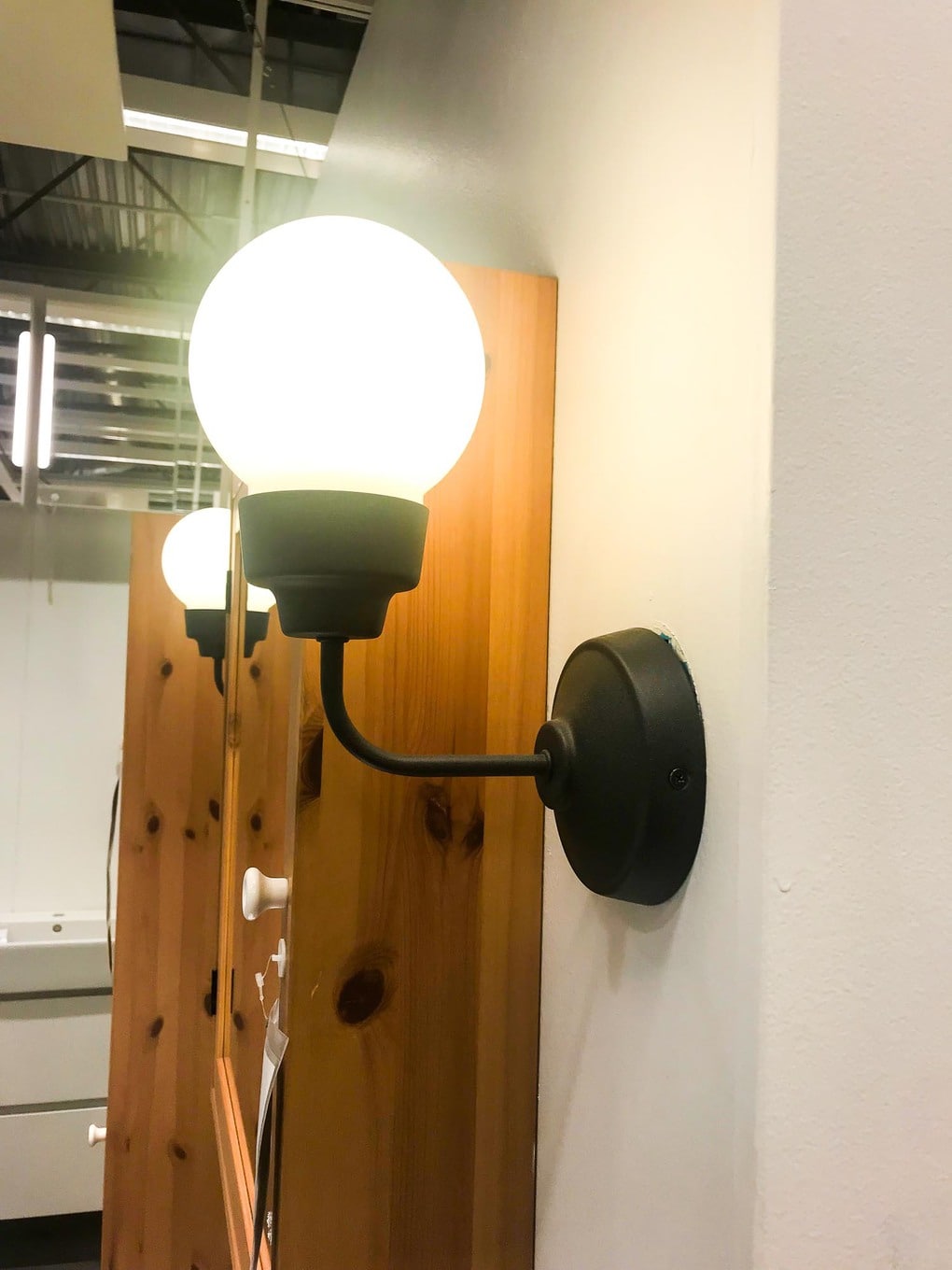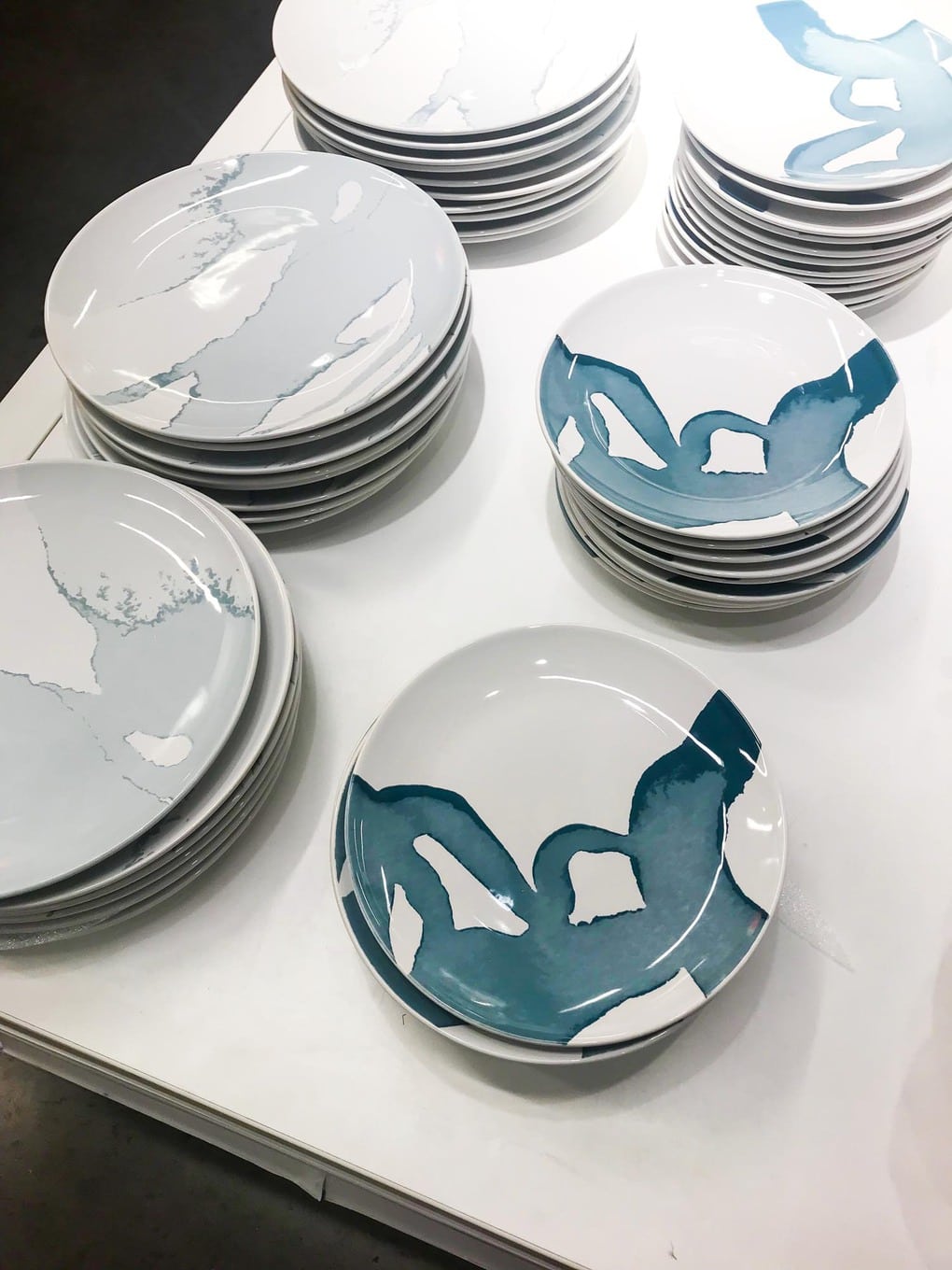 Okay, let's wrap up this post with a few smaller pieces that made me smile while we were there. First up, the BEGAVNING glass domes, the bathroom lighting (I can't find the name or a link, but they had a couple of different versions of it in store!), and the gorgeous BEHAGA dishes. All three of these look so much more expensive than they actually are, and I think they're just such unique and beautiful pieces. IKEA is really killing it in the dishware department lately (more on that in a second), and I wish this bathroom lighting would have been around when we were doing our master bathroom renovation!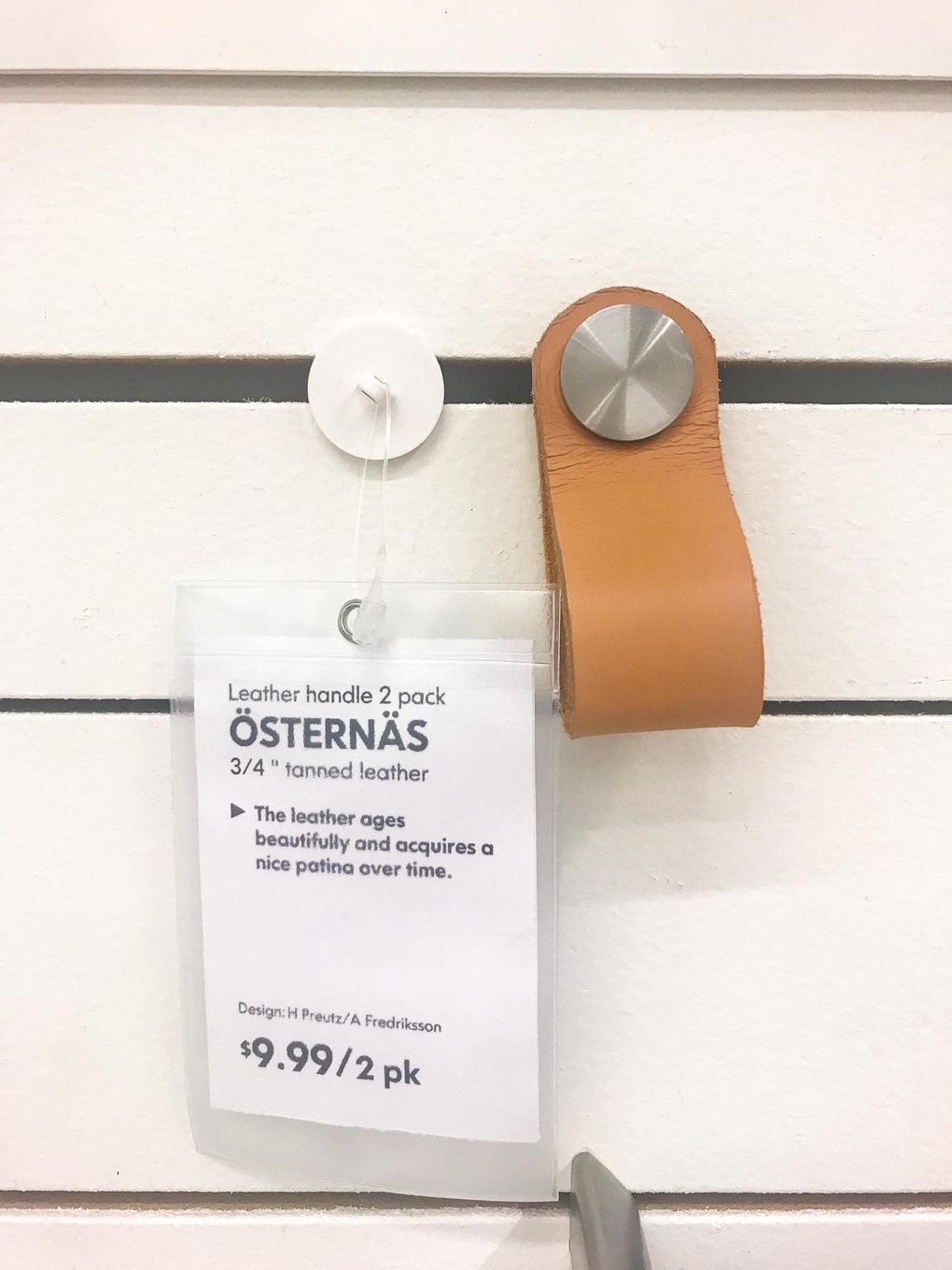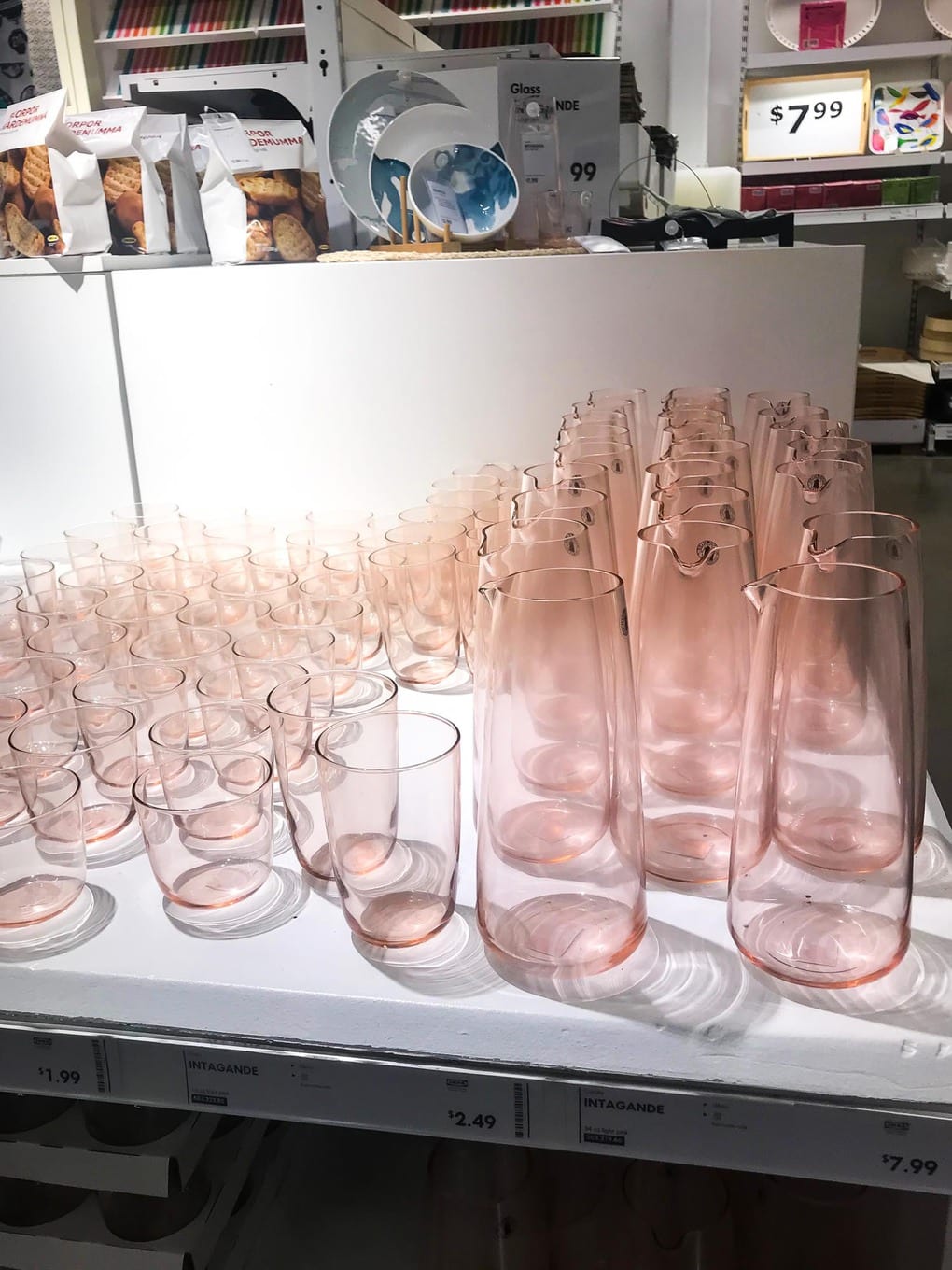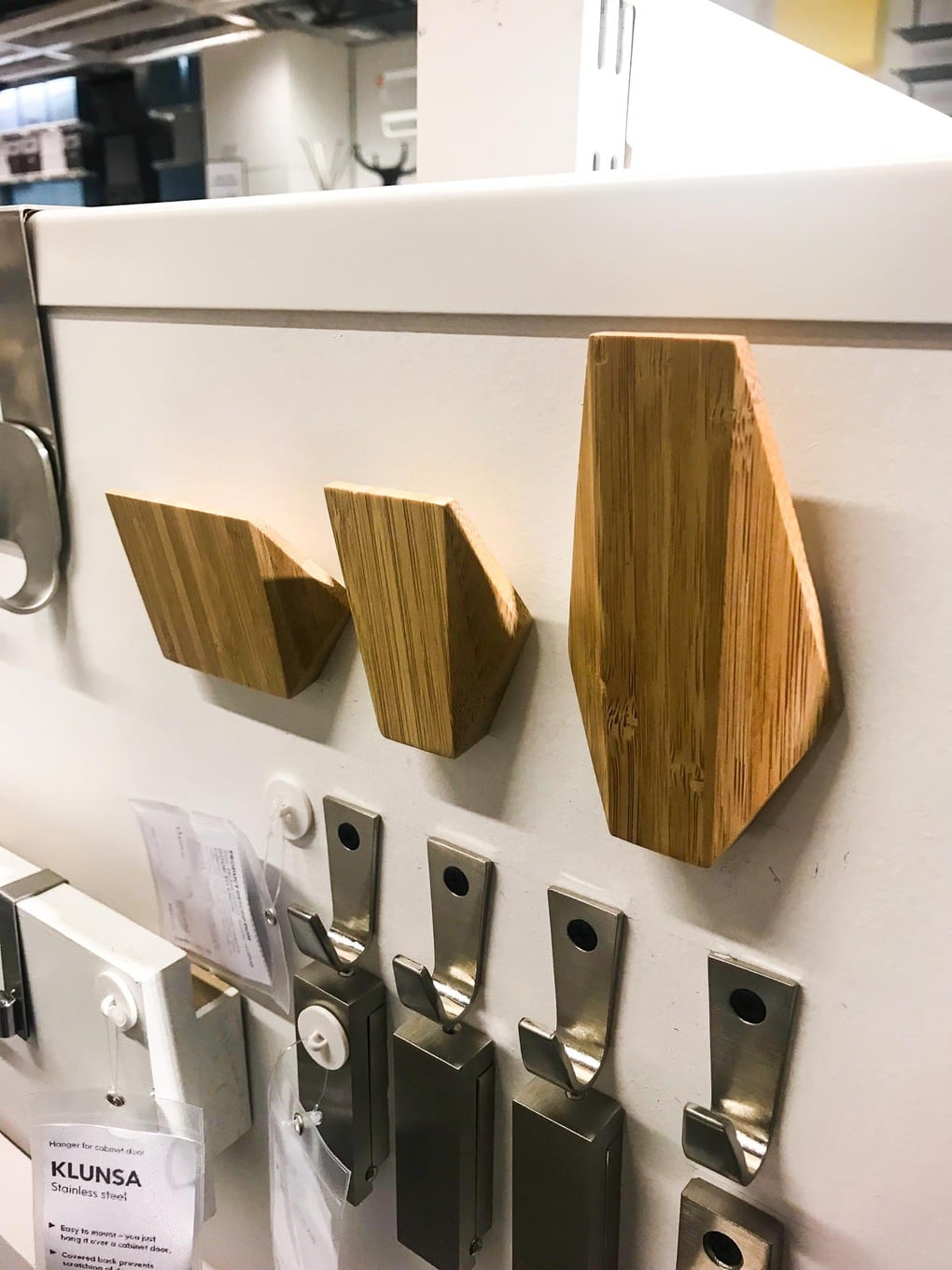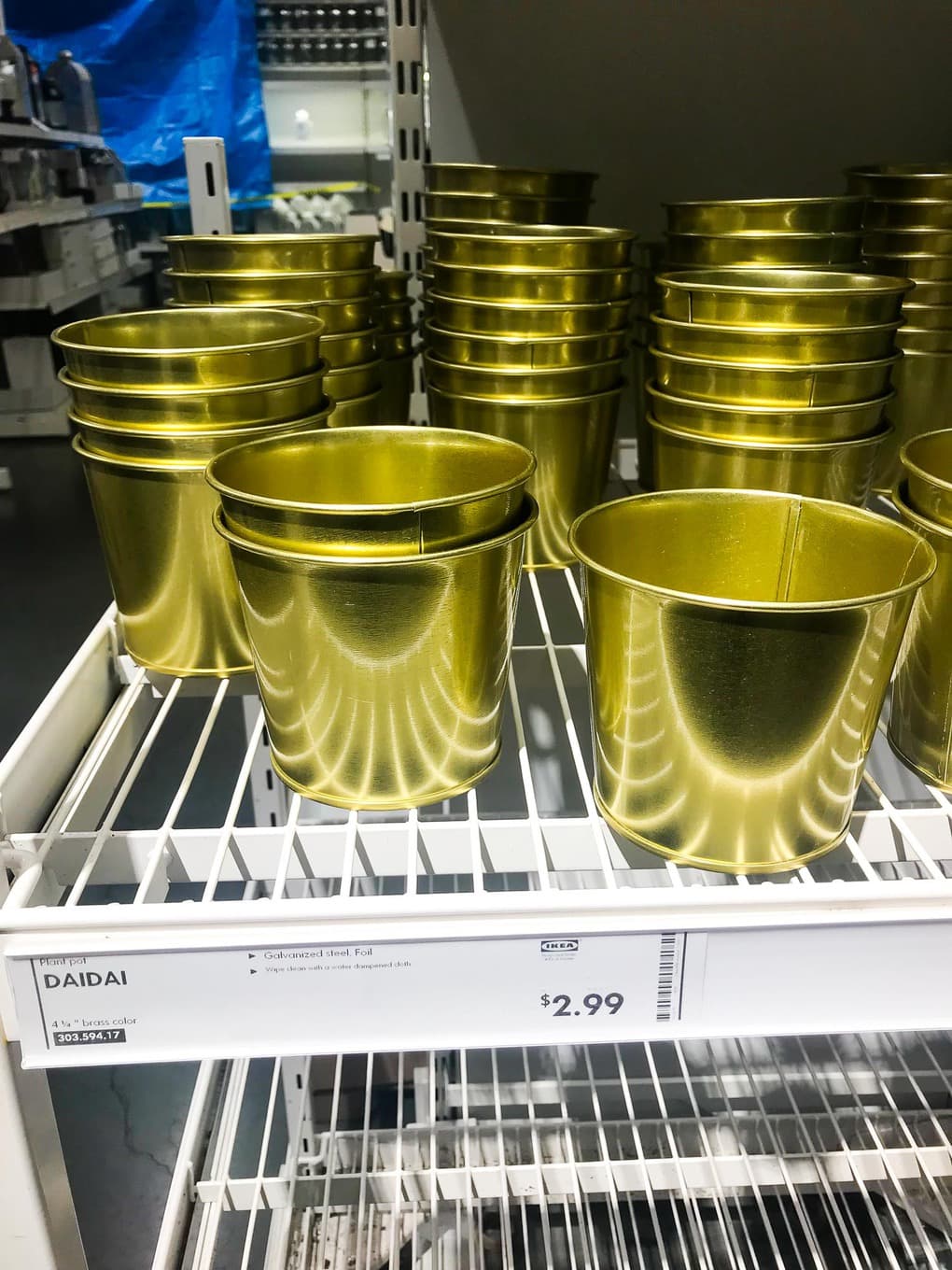 And here are the last few things I swooned over while we were shopping – the OSTERNAS leather drawer pulls, the INTAGANDE glasses and pitchers, the SKUGGIS hooks, and the DAIDAI planters. I don't even know where to start. I'm a huge fan of leather pulls, and these are such a great deal – they'd look gorgeous on a dresser or nightstand, or even on cabinets in a bathroom or kitchen! The pink glasses and pitchers were the perfect pale shade, and it's really hard to pass up that amazing price. And, of course, you know I can't resist a brass planter, right?!
Speaking of…I didn't get a great photo but did you know that IKEA has a brass kitchen faucet now? Yes they do, and it is so good.
So, that's my latest IKEA inspiration. As always, I left feeling really excited about a few new things and with several new ideas for projects to tackle. I didn't even touch on all of the amazing planters and gardening stuff they have right now, but just trust me when I say they've got some really great options right now!
Oh, and if you stop by IKEA to pick anything up don't forget to go by the As-Is section. We always stop in and while we don't always find anything, when we find a deal it really is great. We snagged this duvet cover that's perfect for Jackson's new room for just $10!
Happy shopping!
Want to see more IKEA-Related Posts? I've got you covered!