On Friday, I shared a link to this post that talked about making an actual, physical list of all of the things (small and big) that are saving your life.
The idea appealed to me on so many different levels. January and February are rough months as a teacher (or, maybe just as a human?) and it's not easy to get through them. Sometimes I get so caught up in the chaos, the stress, and the drama that I forget how many things I have going for me.
There are so many wonderful things, moments, and people in my life, and sometimes I don't recognize them because I'm too busy being stressed out.
So I decided to join in and share the things that are saving my life right now. These are all of the things that are keeping me sane, making me smile, and helping me to remember that not everything is awful in these long, cold, dreary months.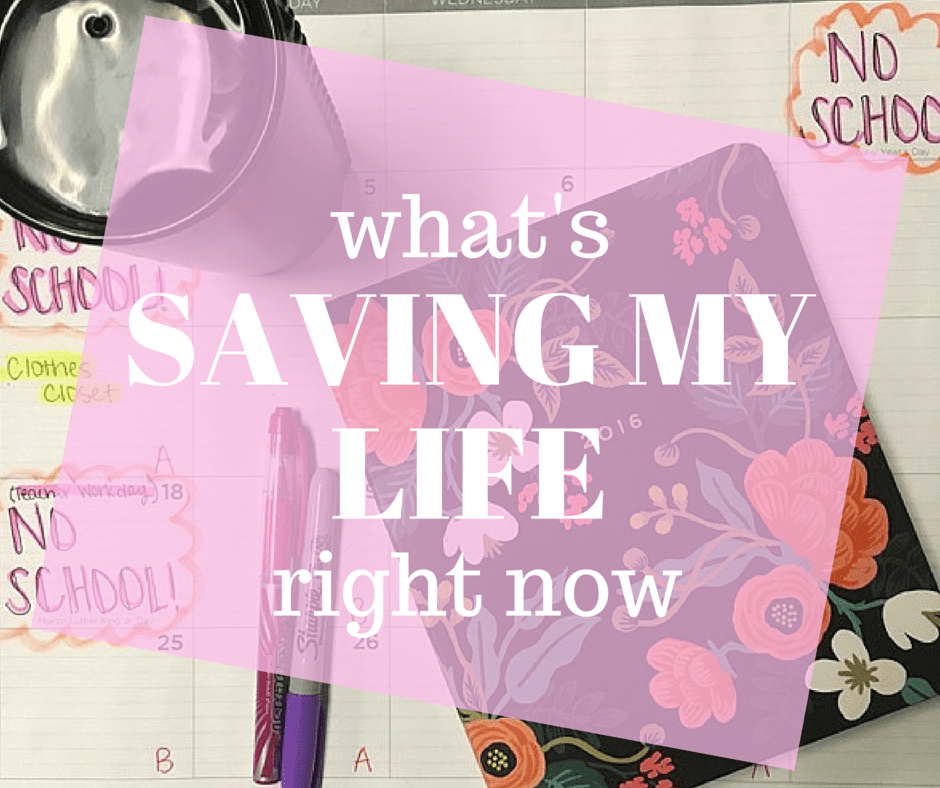 My planner. I've always been a paper/pen person – I can't keep my calendar on my phone or on my computer. I have to write things down if I'm going to remember them, and I've always taken my planner very seriously. I've been fighting the idea of a bullet journal for a while now because it seems like too much work, but the more I think about it the more I realize that I might just have to give it a shot soon. My planner keeps me sane.
Rituals. I've read so many articles lately on the importance of building rituals into your day, and I've really embraced the idea. I've always been a creature of habit, so this is a natural move for me, and I find that it keeps me so much calmer!
Tuesdays. I just finished reading Simply Tuesday on my Kindle, and I want to buy a paper copy of it immediately so I can highlight, take notes, and read it over and over and over. This is one of those books that I just need a physical copy of. It is amazing, and I have a whole new perspective on the most humble day of the week.
My new home office. I am sharing pictures later this week, but I can't tell you enough how much I love having a dedicated space to work!
Movie nights. Corey and I have been watching more movies lately and I'm loving it. There's something special about snuggling up on the couch with a snack for more than just a television show. Recently, we've watched Mission Impossible: Rogue Nation and Trainwreck – both were fabulous.
Pajamas. I have started to take pajamas more seriously lately. I have begun gathering some nicer lounge clothing and wearing it regularly, and I can't get enough. I'd wear them all day every day if I could. These are my favorite right now.
Family dinner. We had a couple of weeks in a row where things were so crazy that we rarely sat down at the table to have dinner as a family – it made me realize exactly how much I need that time. I love the entire process of cooking dinner together, gathering at the table, and enjoying it with my family.
Library dates. Jackson and I go to the library every Sunday afternoon and it's one of the best parts of my week.
Salads for lunch almost every day. I feel healthier, I stay more full, and it's delicious!
Instagram. I've been gathering so much inspiration from Instagram lately, and I love to spend 10 minutes here and there throughout the day soaking up all of the beautiful photos. This is far and away my favorite social media platform.
Daddy-son dates. It is so incredibly heartwarming to see my boys headed out together to spend some one-on-one time, and it gives me a really great chance to buckle down and get stuff done at home!
**********
What's saving your life right now?