There is just something about window treatments that make a room feel complete. After Corey installed everything for the nursery, he stepped back and immediately commented on how much more polished and decorated the room felt – and he was right.
I think window treatments might be one of my favorite additions to rooms – they just make such a huge difference!
But enough teasing, let's talk about how the room looks.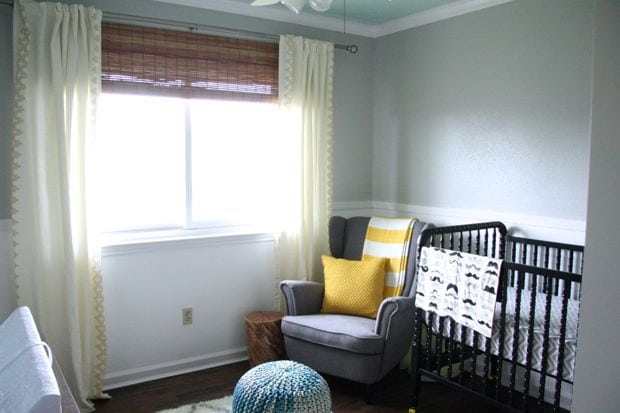 Mmmm. Love.
These curtains are actually the curtains that used to be in our master bedroom. We took them down when we bought our new duvet cover and have plans to get some simple white sheers to go in there instead. We had originally planned on getting something with a little more pattern for in here, but when we realized these curtains didn't work in our room anymore we decided to try them out in the nursery – and I'm so glad we did because I LOVE THEM.
We started off the window treatment in here with a blackout shade. It's the same thing we did in our bedroom, and we absolutely love the functionality of it. This room gets some serious afternoon light since the window is west-facing, so light-blocking shades are a must.
Next up, we added the bamboo shades. We are slightly obsessed with bamboo shades and I have a feeling they'll end up on just about every window in our home. These cover up the blackout shade when it isn't in use and give some much-needed texture to the room. They also off-set the dark wood floors and dark dresser a little bit, which is nice.
Finally, we've got the curtains. I'm so pleased with how they turned out – they are a creamy, off-white color that almost exactly matches the Billy bookcases across the room…before we installed the curtains, the bookcases looked a little dingy and yellow next to the bright white walls. But now that we have the curtains, it looks intentional and is all tied in together perfectly.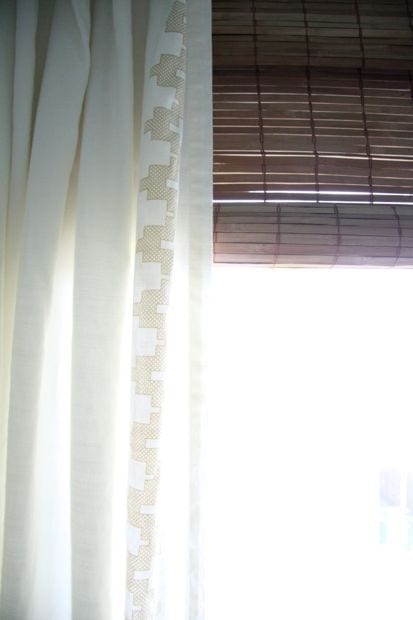 I love it when things work out that way, don't you?
We also hung a mirror above the changing table. It's a Threshold mirror from Target that we found at Goodwill a few months back and snatched up with absolutely no idea where we'd use it. It's been sitting around for a while and we finally decided it's the perfect piece for this room. It bounces around some light in the room, and I love the pretty shape and gold tone. It's just perfect all around.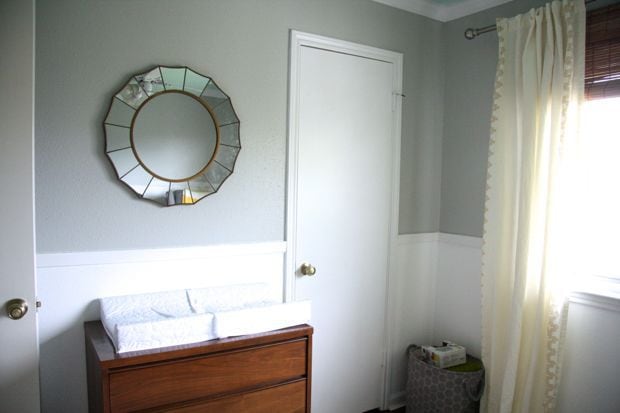 And that's where we're at right now! I still have lots of big plans in here for hanging stuff – we're going to do a 6-frame gallery wall above the crib, we just need to order the prints for it. It's going to be fabulous – just wait.
So what's left in here? I'll share the official to-do list:
Finish baseboards

Finish crown molding

Finish middle of wall trim

Caulk all

Remove box trim

Paint baseboards

Paint crown

Paint middle of wall trim

Paint door frames

Paint indowsill

Paint touch-ups on wall

Paint doors

Install shelving OR add small bookcase in closet
Install baseboards in closet

Hang curtains

New fan
Install new outlet covers
Reinstall outlet/light covers in bookcase
Doors for cabinets
Find a lamp
Fill/decorate shelving

Clean off stickers from crib

Crib mattress/liner/sheet

Changing pad

and cover
Organization for closet
Baskets for shelving
Organization for dresser
6-frame gallery wall above crib

Hang sunburst mirror
Whew! We've done a LOT and most of the stuff we have left isn't super vital – the room is more or less "ready" even if we don't think it's finished yet. Always a good feeling!
What's your take on window treatments? Anyone else as obsessed as me? What about to-do lists? Do you make them for your rooms and projects?