Looking for easy ways to get your family to spend more time outside? These wooden yard dice are easy to make, and perfect for playing Yard Yahtzee with the family!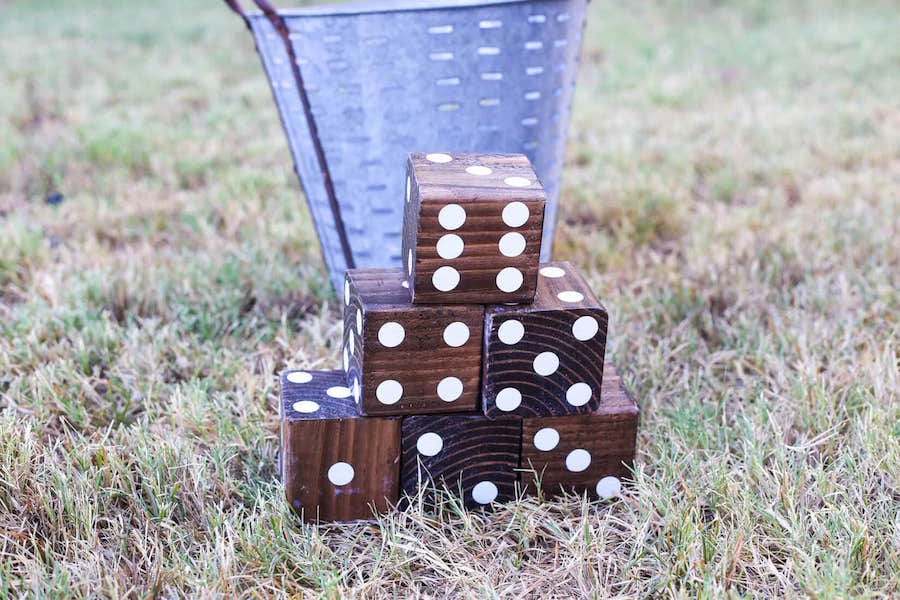 This post contains affiliate links. Click here to read my full disclosure policy.
Are you ready for yet another backyard post?!
If you've been following along this summer, then you'll know that Corey and I have been working really hard to whip our backyard into shape. It still needs a lot of help, but we've come a long way from where we were at the beginning of the summer and I'm so proud of how it's looking so far!
You can catch up on all of our backyard updates so far here:
We've still got a few things on the to-do list for the yard, but I wanted to take a quick break from the bigger stuff and share a few tiny little updates we've made. Like the DIY lawn games I've been working on! I'll share the other one later, but today we're going to talk about our new DIY yard dice. I don't know if you've ever seen these things before, but you can buy lawn dice from a bunch of different retailers for anywhere from about $25 (like this one) to almost $70 (like this one)! They're great for outdoor gatherings or those summer nights where the family is just itching to be outside, and they're so versatile because you can play a ton of different games with them.
My dice? Well, I already had all of the materials lying around my house, so I didn't have to spend a single cent. Does it get any better than that?!
The answer is no. No, it does not.
You may not already have the supplies on hand, but even if you don't, most of what is used is stuff that can be used for a ton of other projects, so you can save the excess for something else. These dice are really easy to make, and the sky's the limit for what you do with them – we use them mostly for Yard Yahtzee but I've got a great list of ideas at the bottom of the post for you!
So, let's chat about how it's done.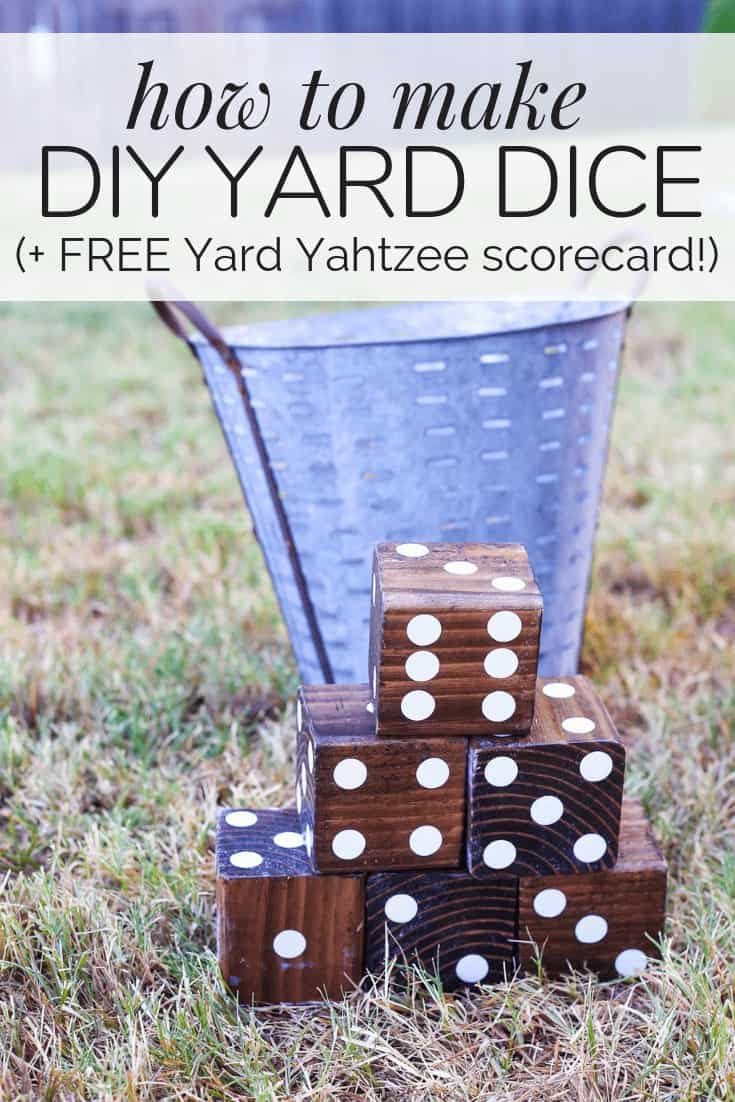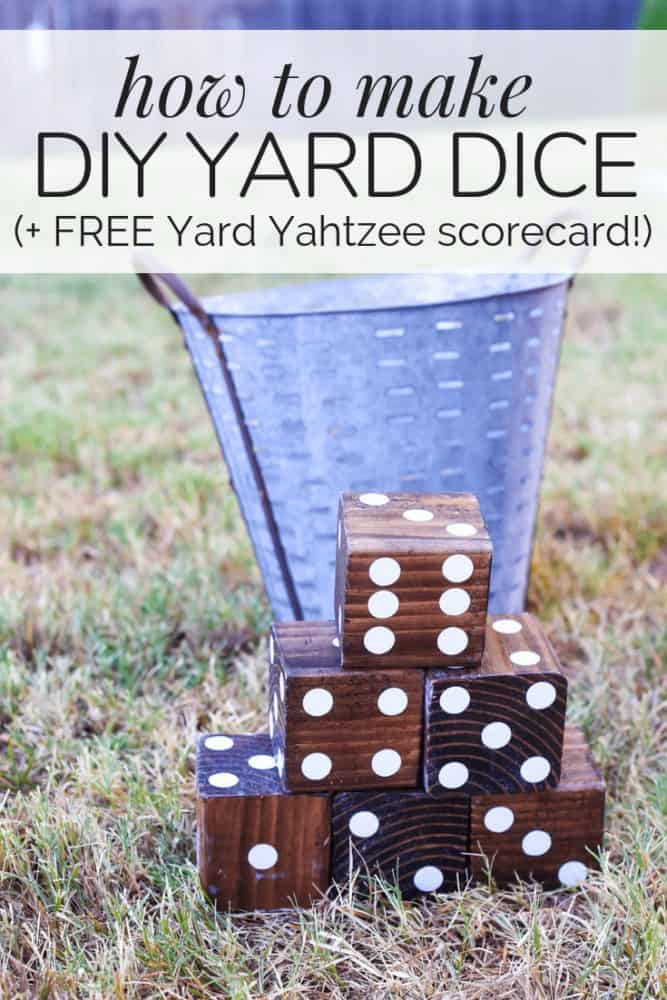 How to Make Yard Dice:
Materials:
– (1) 4X4 piece of wood – I used cedar. You'll only need about 2 feet to create a set.
– Miter saw (If you don't know how to use one, learn how to use it here!)
– Power sander
– Wood stain (this one is my current favorite)
– White vinyl
– Small circle punch (I believe mine is about 0.75″)
– Mod Podge
– Bucket to store dice
Instructions
The first thing you'll do is cut your wood down to create the dice. A 4X4 piece of wood is actually 3.5X3.5, so you'll cut your wood at 3.5″ to create a cube. I made 6 dice because that's a good number to play a big variety of games, but you could obviously make more.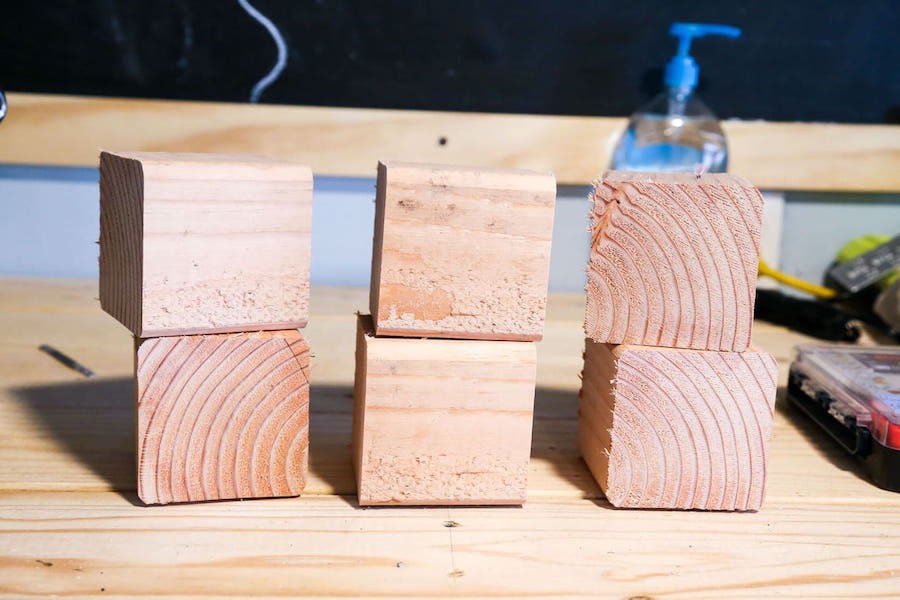 Sand your dice down. You want them to be smooth and easy to handle without getting any splinters. Pay special attention to the corners – they can be sharp!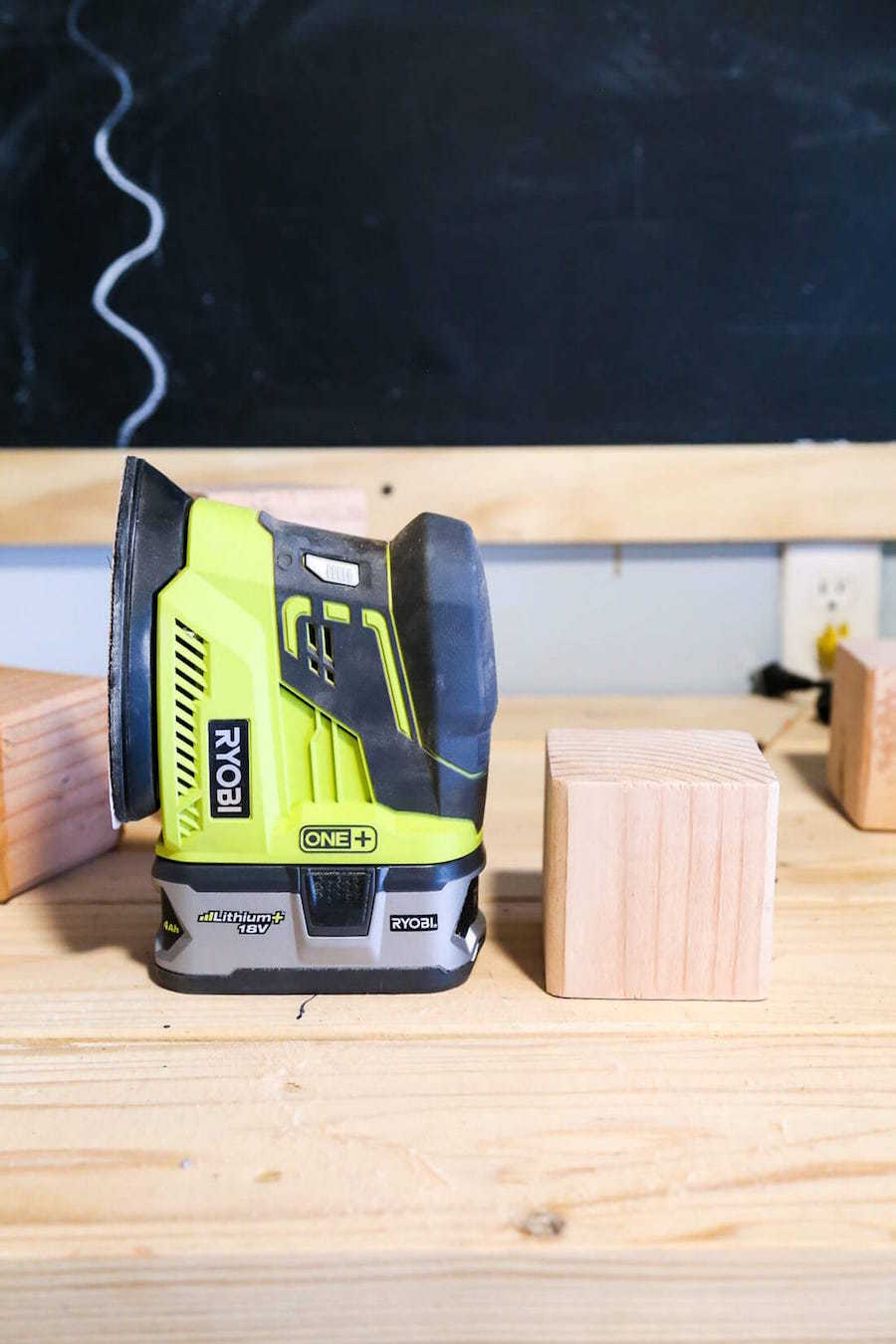 Once you've got your dice completely smooth, you're ready for stain. Stain all sides of the dice and allow them to dry completely – it just takes a few hours.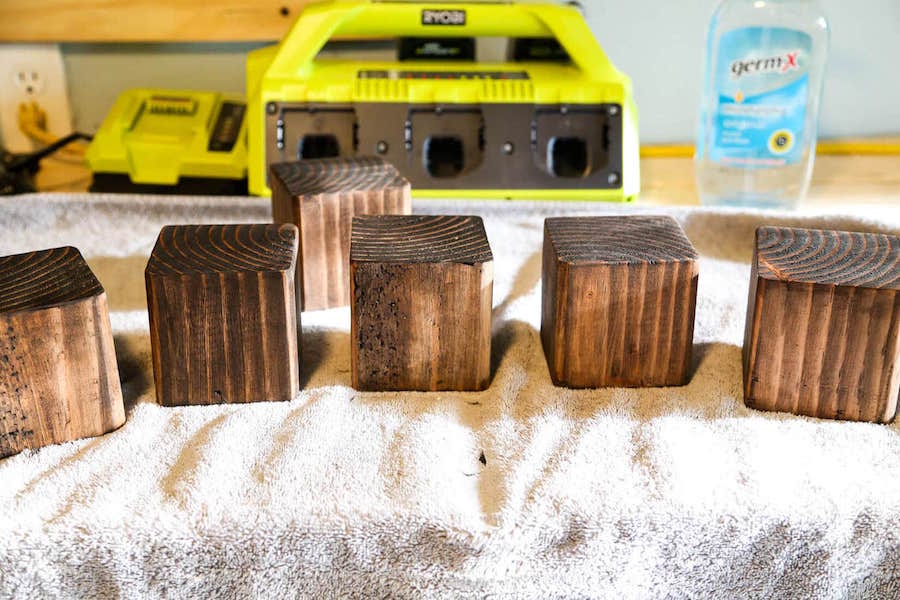 Use your circle punch to create the dots for your dice from the vinyl and stick 'em on. I just lined mine all up and did one side at a time – I also had an actual dice sitting next to me while I was working to ensure I put the dots on correctly.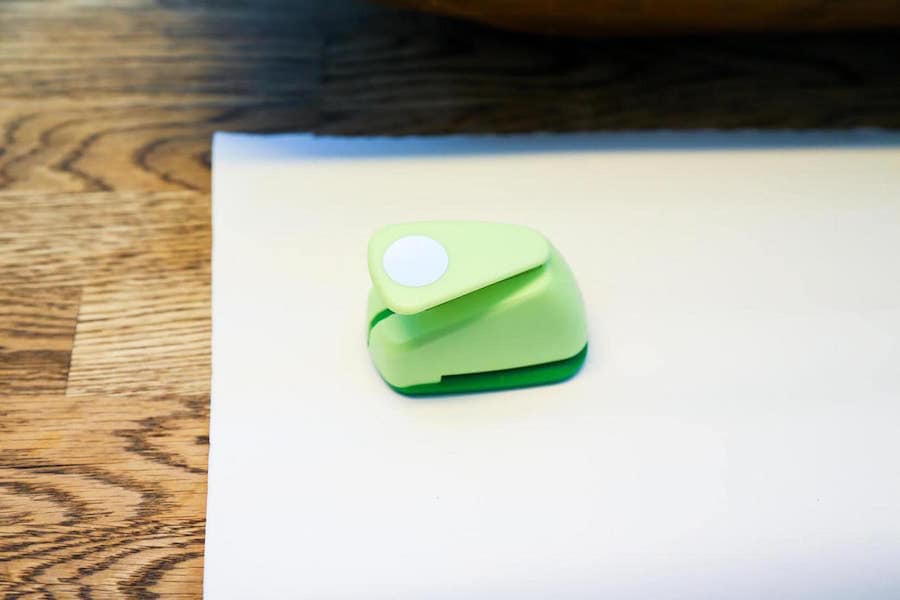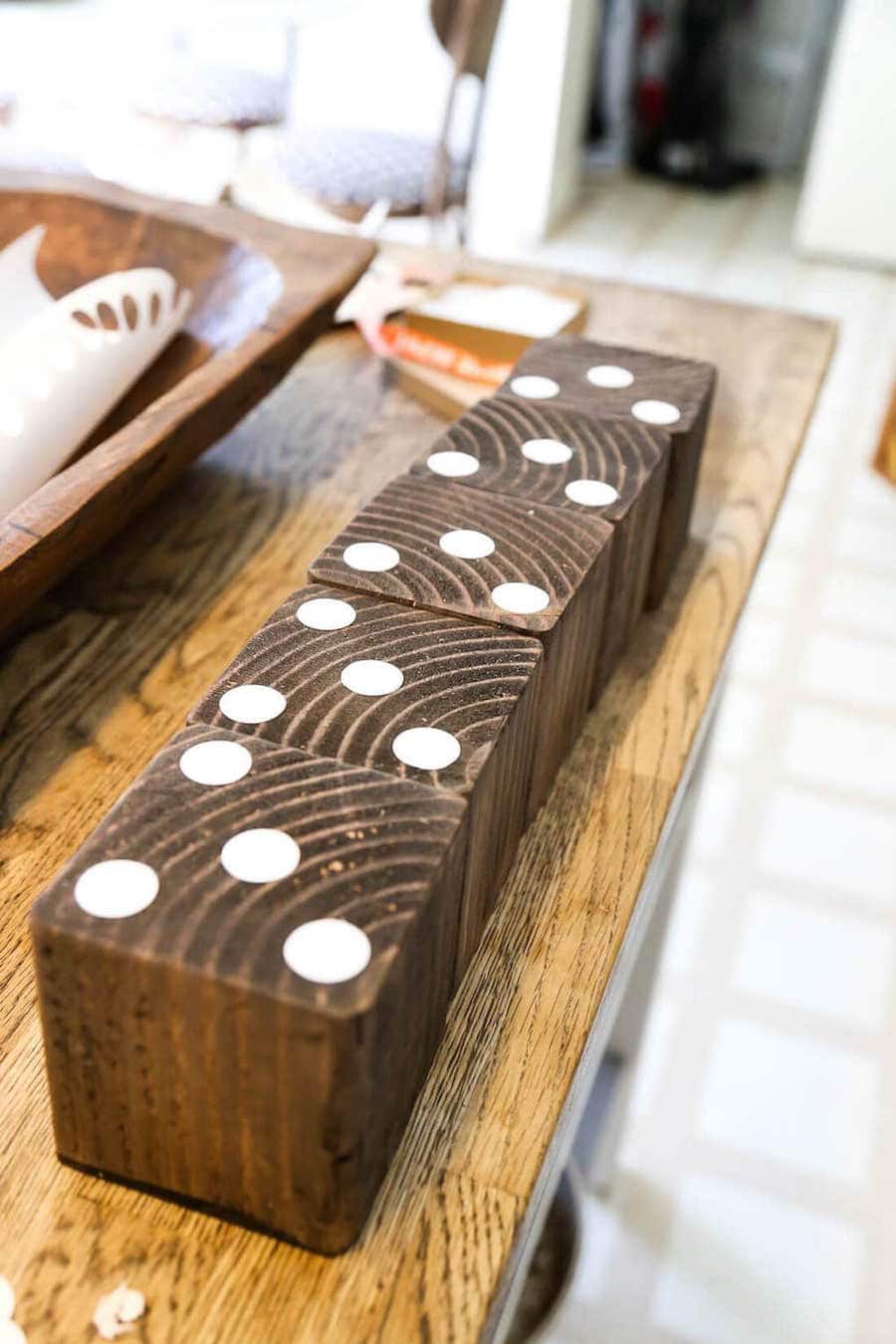 The final step is to seal it. You could use a polycrylic or something along those lines, but I wanted to be sure the vinyl didn't come off so I thought Mod Podge might be a better option. I did about 4 coats on all of the dice to ensure they were nice and protected. Full disclosure, though – I did learn that these can't be stored outside if your area gets as hot as mine. I had a couple of the dots peel off, so I brought them in. So far they're holding up okay other than that, but I may go back and do polycrylic at some point on top of the Mod Podge.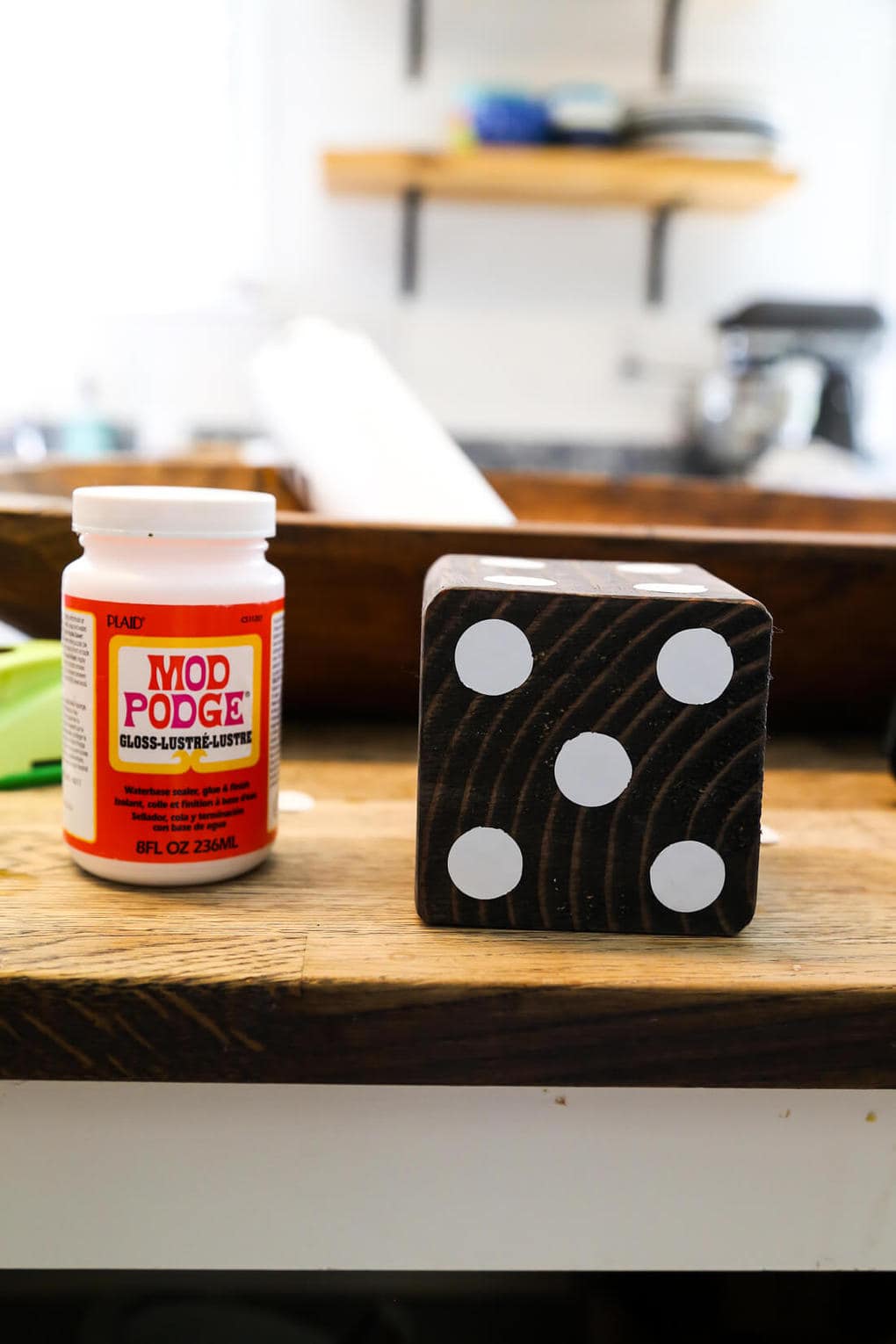 Then? Toss them all in a bucket and get to playing. We used an old olive bucket we've had sitting around for a while. I was going to use it as a planter but I think it may have found its best life as a yard dice roller!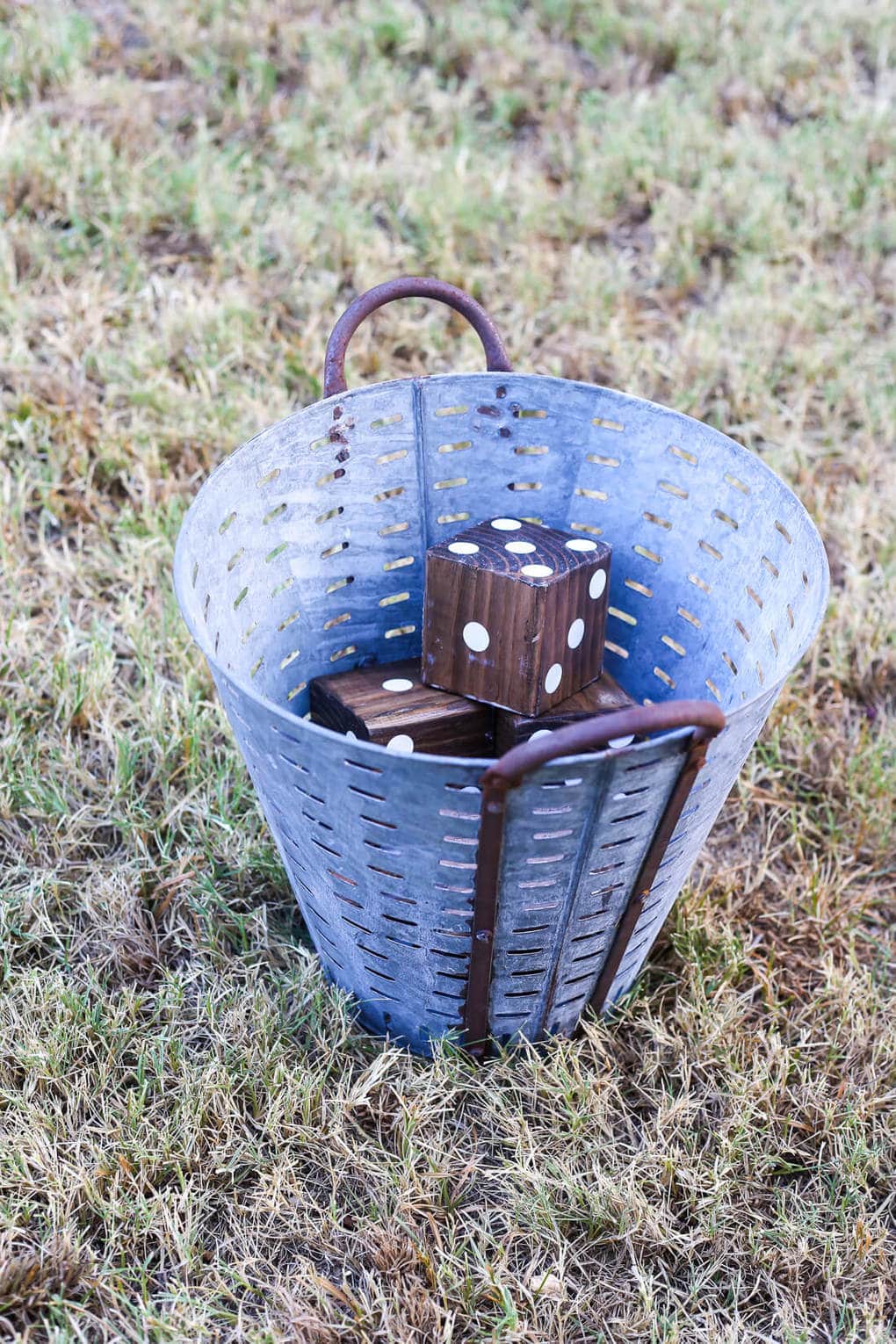 What Games Do I Play With My Yard Dice?
There are about a million different options for the games you can play with this little set of wooden yard dice. We typically stick to Yard Yahtzee and Farkle, but here's a great resource for dice games if you need any ideas. Jackson likes to roll them and find dice that match and then throw them into the bucket like it's a basketball game.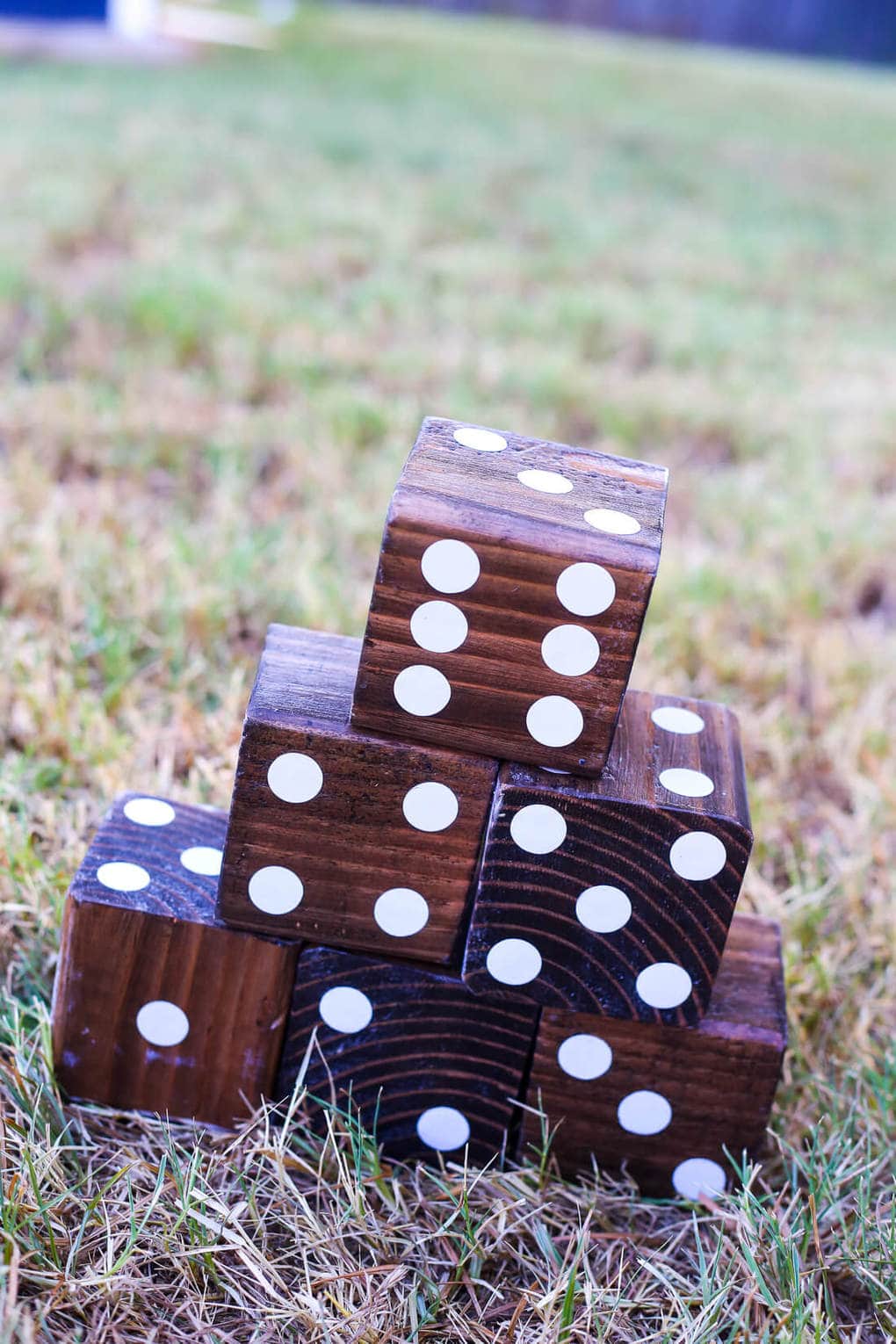 I have a feeling we'll be spending a ton of time outside this summer playing with our new wooden dice! What are your favorite family games to play with dice?