If you know me at all, you know that I do not have good home styling skills and that I don't decorate for the seasons (other than Christmas). As much as I'd love to be good at styling my home, I usually end up plopping an accessory on a shelf or table and leaving it there forever.
Basically, I have zero styling game.
However – I've really been wanting to change that. I'm always so jealous of people who have beautifully styled homes for fall or spring, and I've been wanting to learn how to decorate for the seasons for a while now. So, when my friend Meg from Green With Decor asked if I'd be interested in participating in her Fall Home Tour series, I jumped on the opportunity. I figured if I had a deadline to write a post about how I decorated my house for fall I'd have to actually do it. There are a ton of bloggers participating this week in sharing their homes, so be sure to stop by everyone else's tours for some serious fall inspiration. I promise, you don't want to miss it!
Ready to see what I've done in ours so far?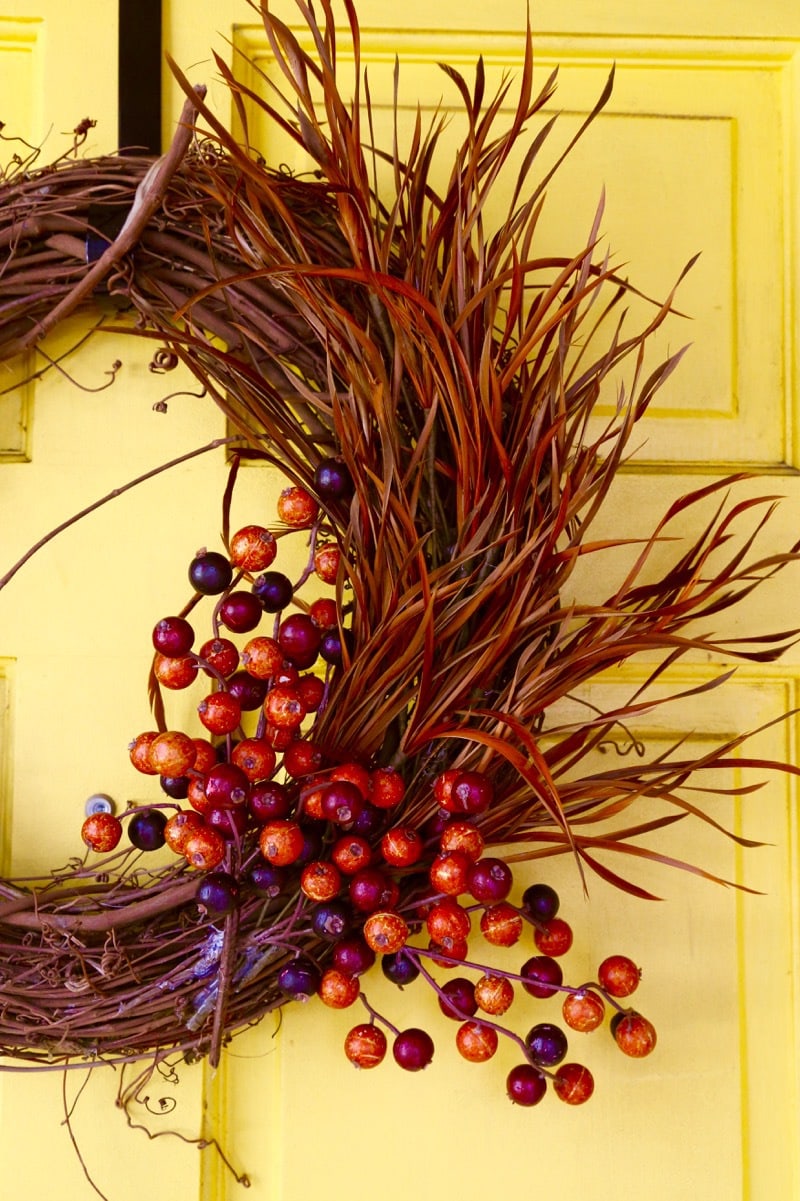 I started off with literally nothing to decorate my home for fall, so I had a bit of shopping to do. I tried to keep it affordable (thank goodness for Hobby Lobby and their constant sales) and I tried not to stress too much about it. I'll admit, I spent a bit of time browsing other bloggers' fall home tours on Pinterest and started to feel totally inadequate, stressed, and incompetent. But then I reminded myself that there's no point in comparing myself to them when they clearly have a passion and talent that I just don't – if it takes me more than 5 minutes to style something, I'm out. It needs to be simple, easy, and affordable – if it's not, I just don't have the patience for it.
So, here's my quick and easy fall home tour – my home does not look like a fall harvest exploded in it (although I love the homes that do!) but I think there are enough little touches to make a difference. If nothing else, it's a good start for my first year decorating for the season!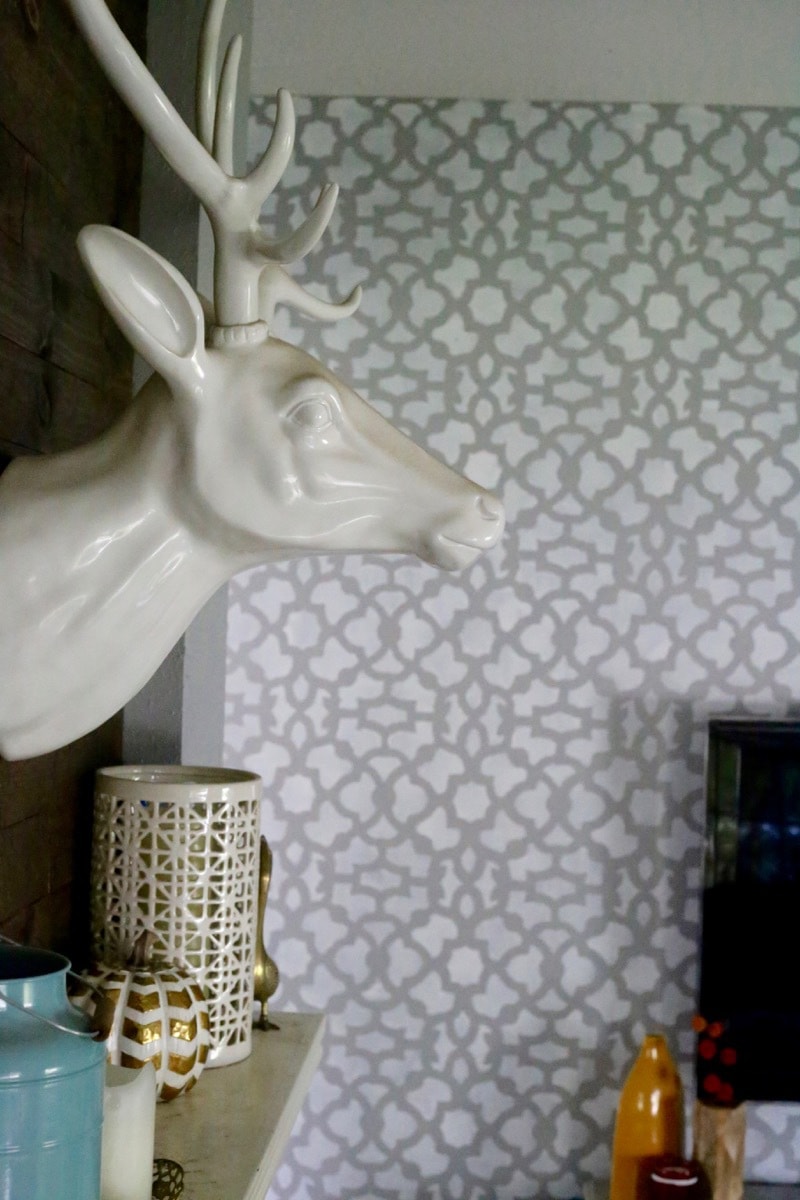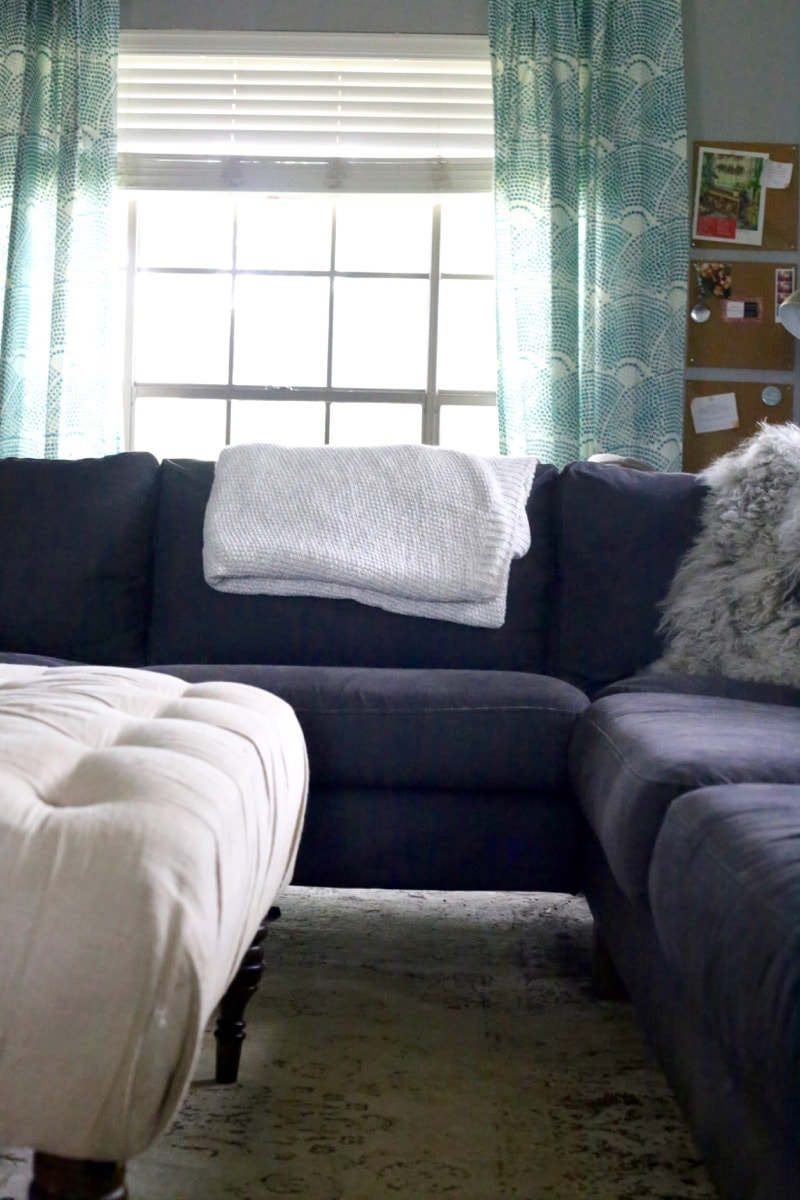 I bought a cozy, neutral blanket for our couch (we have a blanket there year-round because I'm constantly cold!) and some fun accessories. I've never been great at styling our sofa – I can never figure out how many pillows is right or what shapes to buy, but I love what we've got on there right now. I want to layer in a few more with some color, but this is a great start!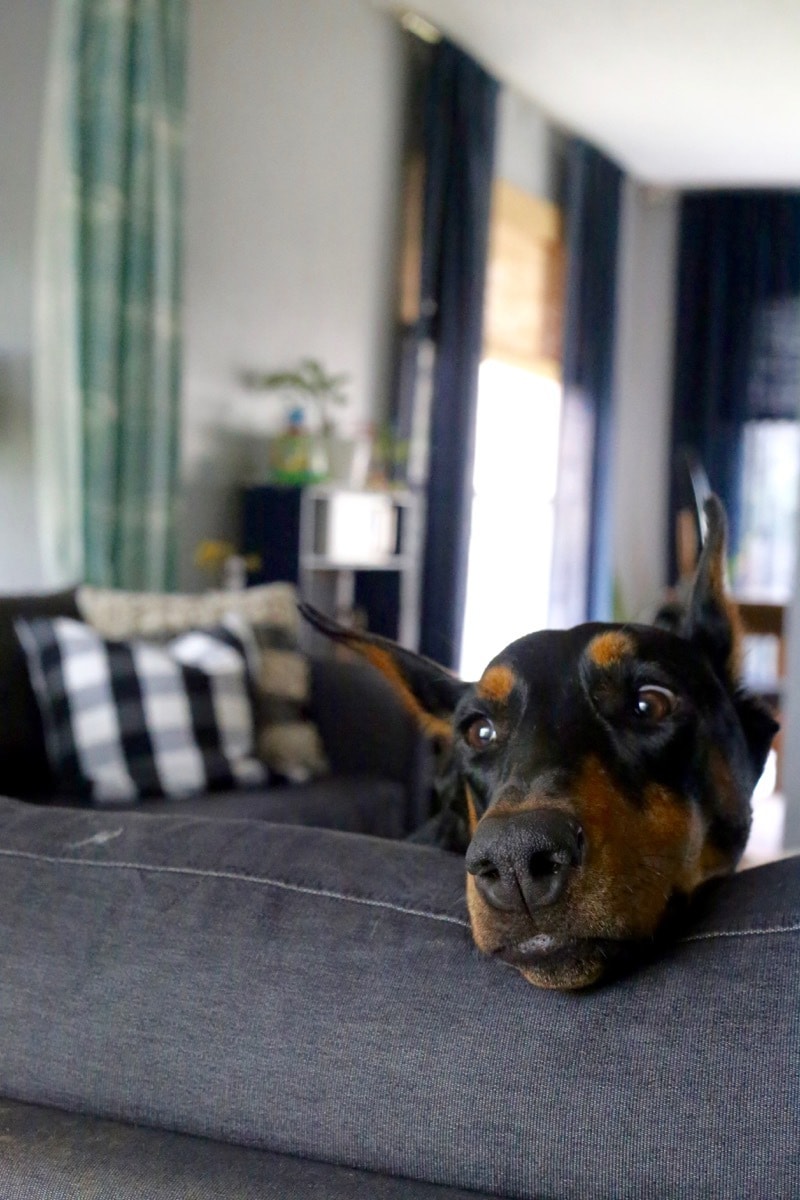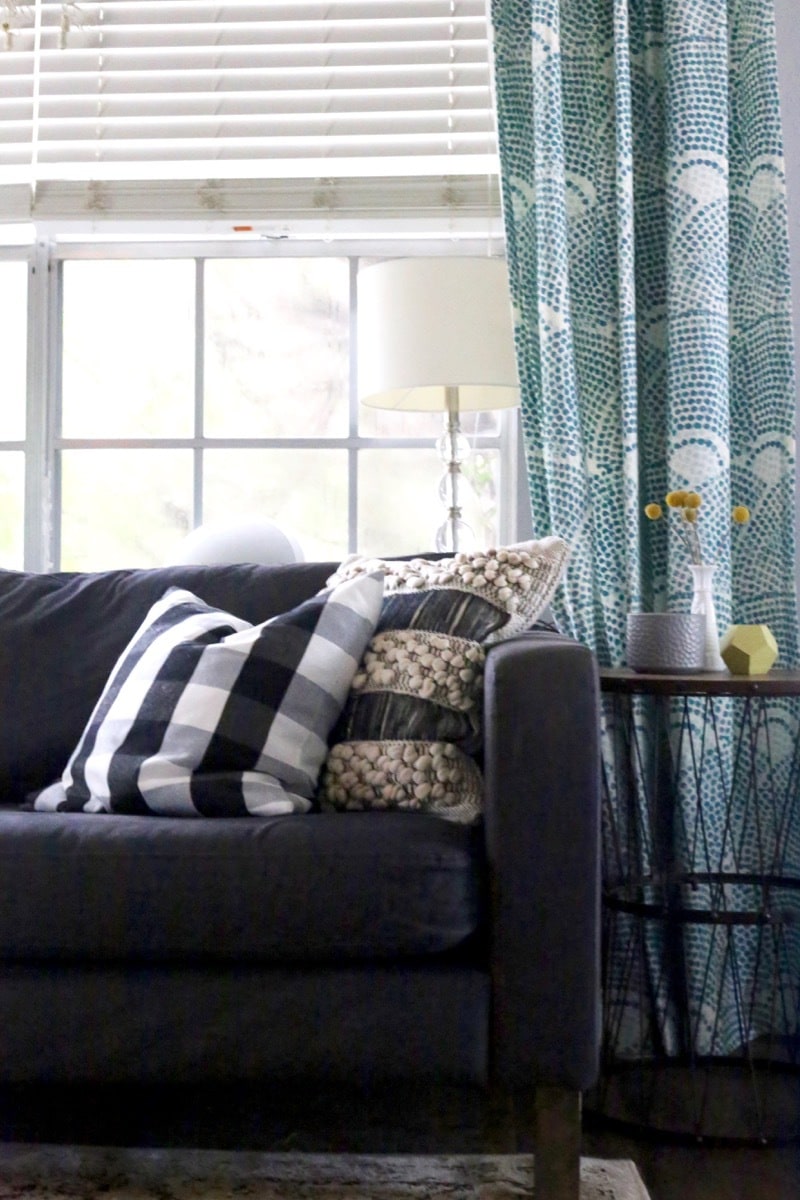 I tried to stick to neutral colors, lots of texture, and a little bit of fun.
That black buffalo check pillow looks way better in the room than I expected – I might go back and get another one! Or is that too matchy? The textured pillow is probably my favorite thing in the whole world – I bought two of them, and I think I could have covered the whole couch in them. Gorgeous.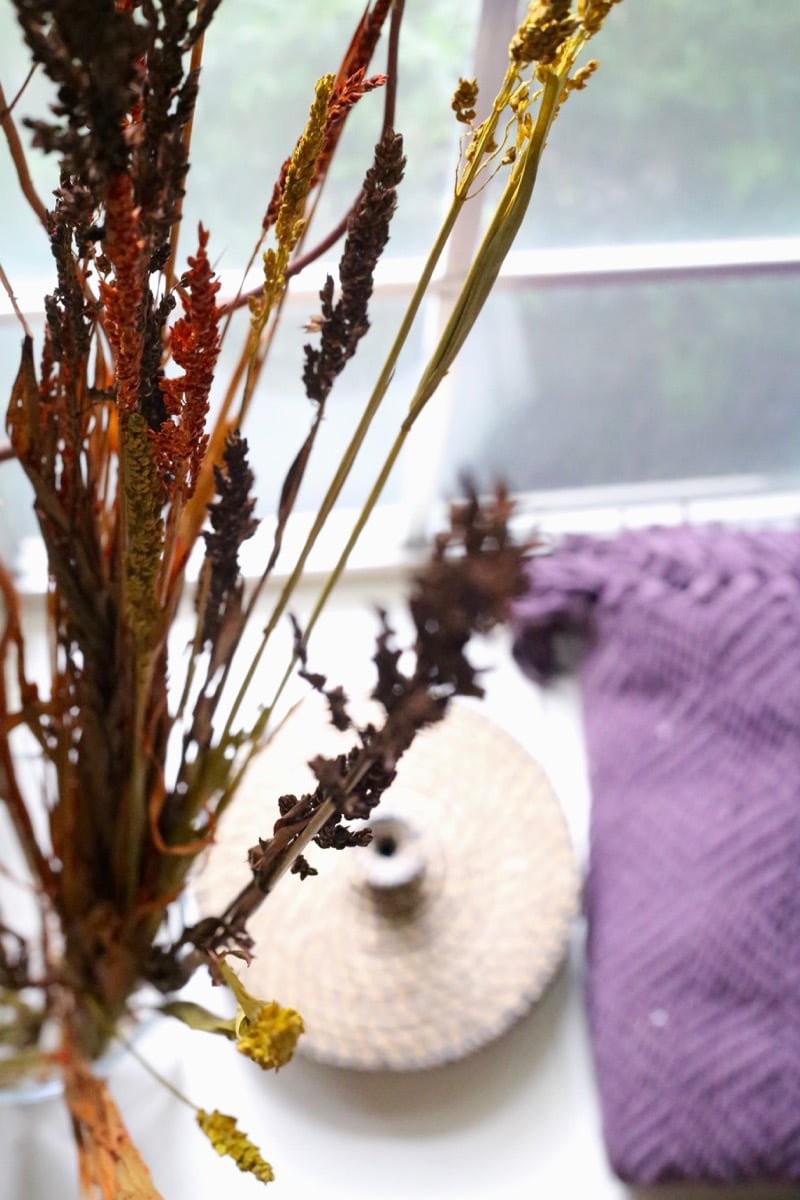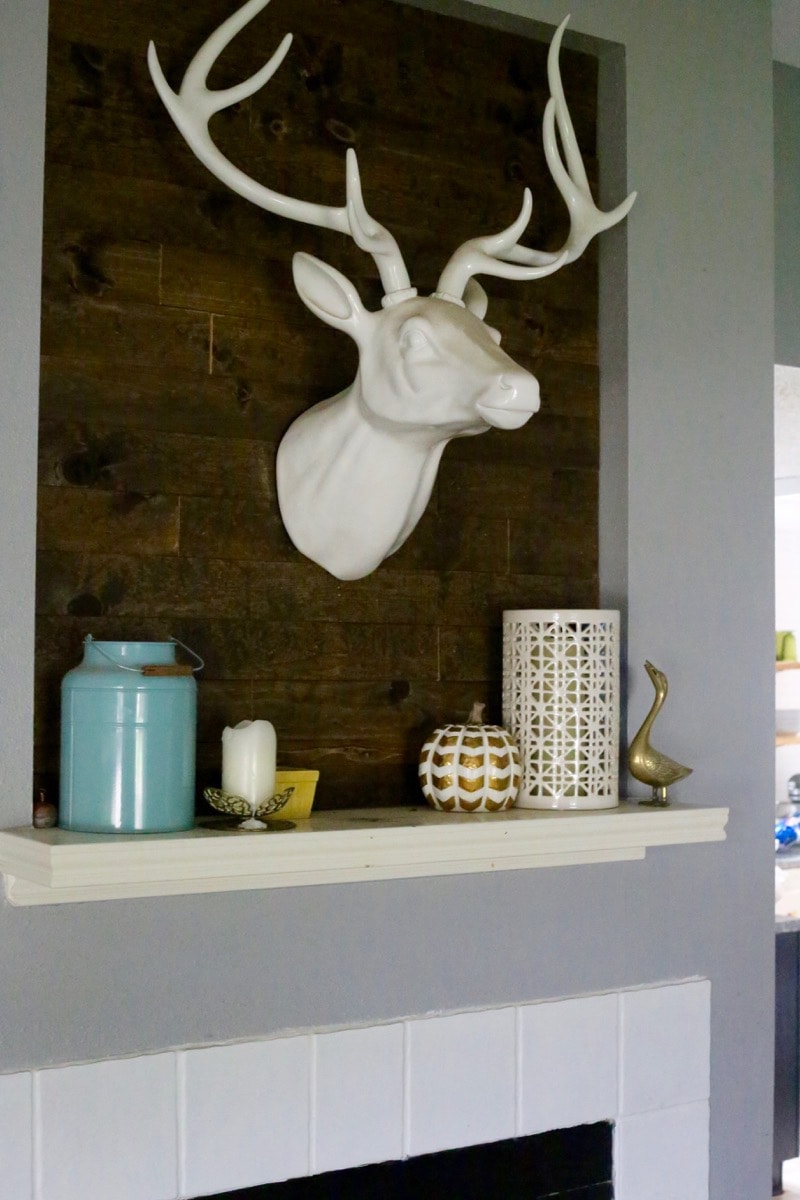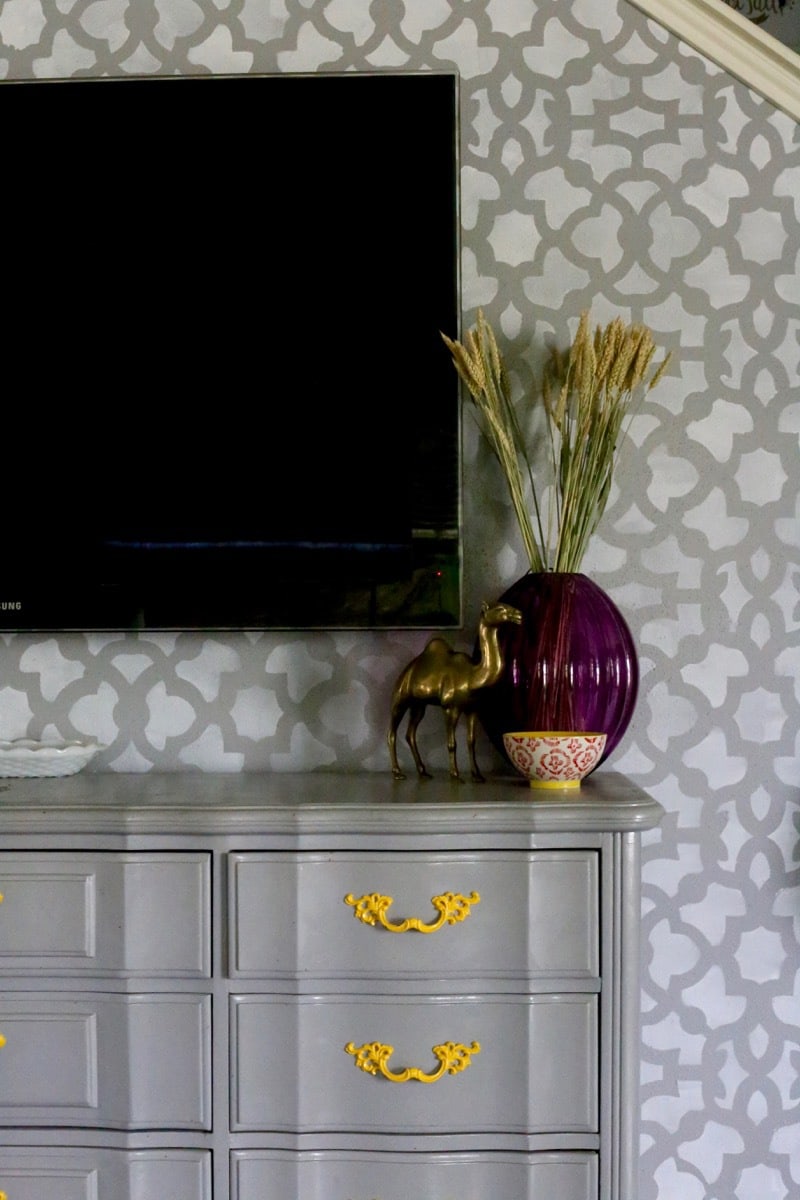 I especially love the faux wheat and grain stems – they're so realistic looking, and they add a definite fall feel without being cheesy. I also love the height they add! I have a hard time figuring out how to really get good layering going when I'm styling things and it often looks flat, so these nice tall stems are perfect!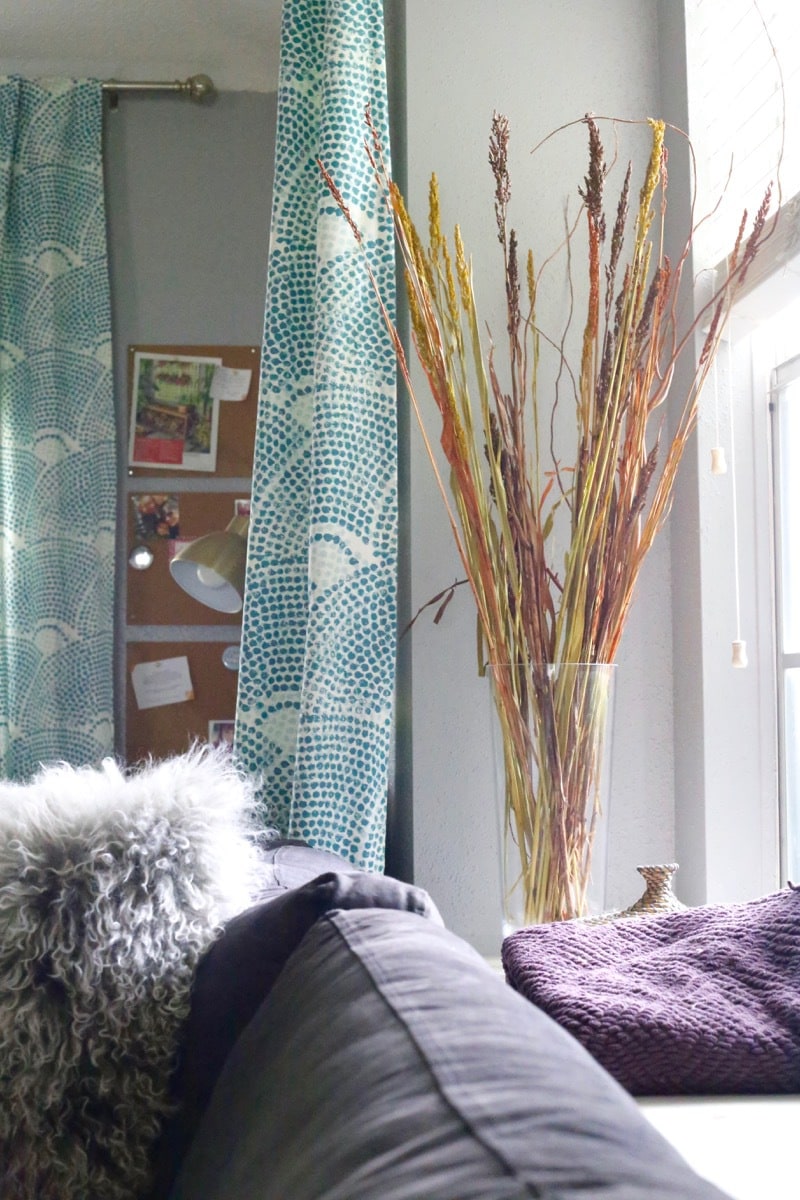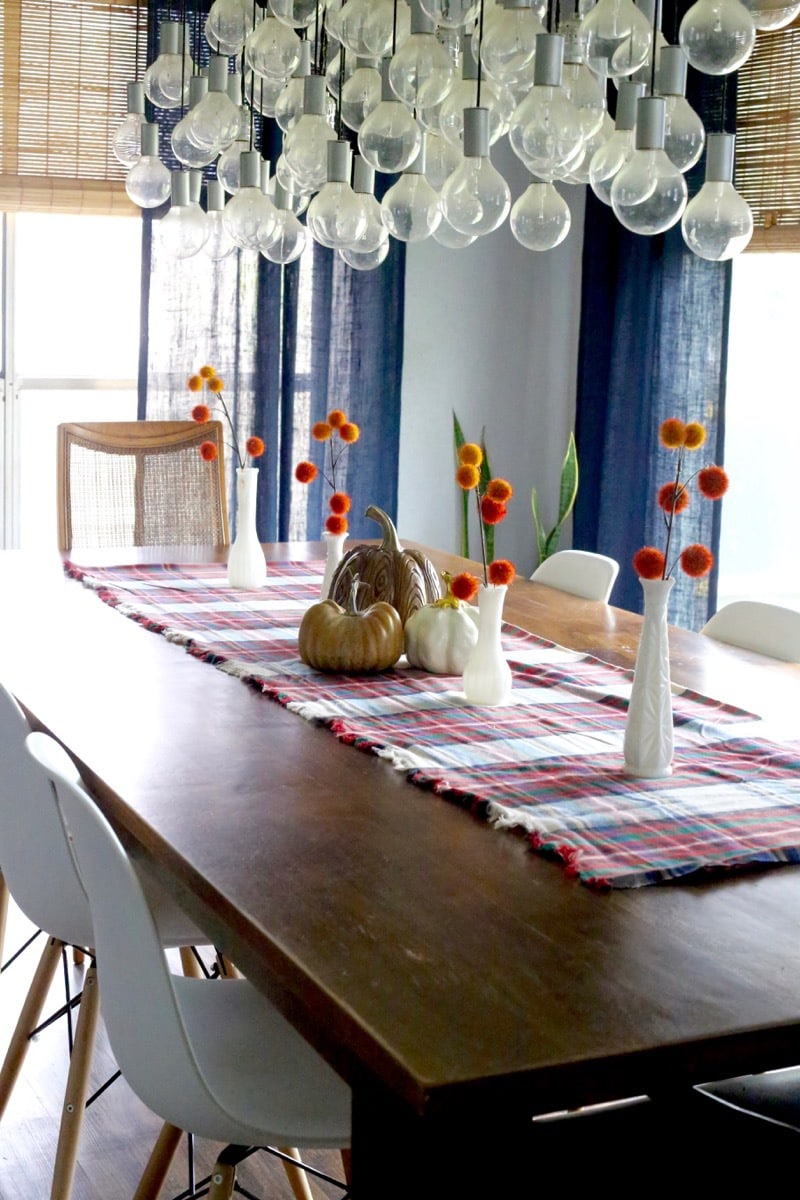 The dining room is always my favorite area to style. Maybe it's because it's a little more straightforward than other areas – there's a big table just waiting for me to decorate it and it's a little simpler to determine how much is enough and exactly how to style it. I didn't set the table for these photos, but I'll write a post later in the season about how we set the table for the holidays!
For this setup, I just grabbed a couple of yards of this pretty plaid fabric, folded it in half, and plopped it on the table. I told you – I'm all about keeping it low-key! I'll probably actually sew it into a runner at some point, but it works like this for now. All of the cute little pompom flowers are fake – thank goodness, because Jackson is obsessed and won't leave them alone!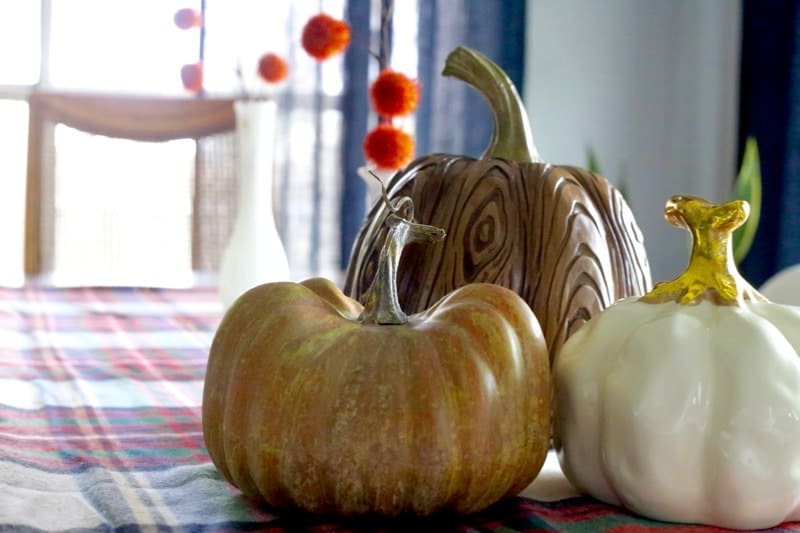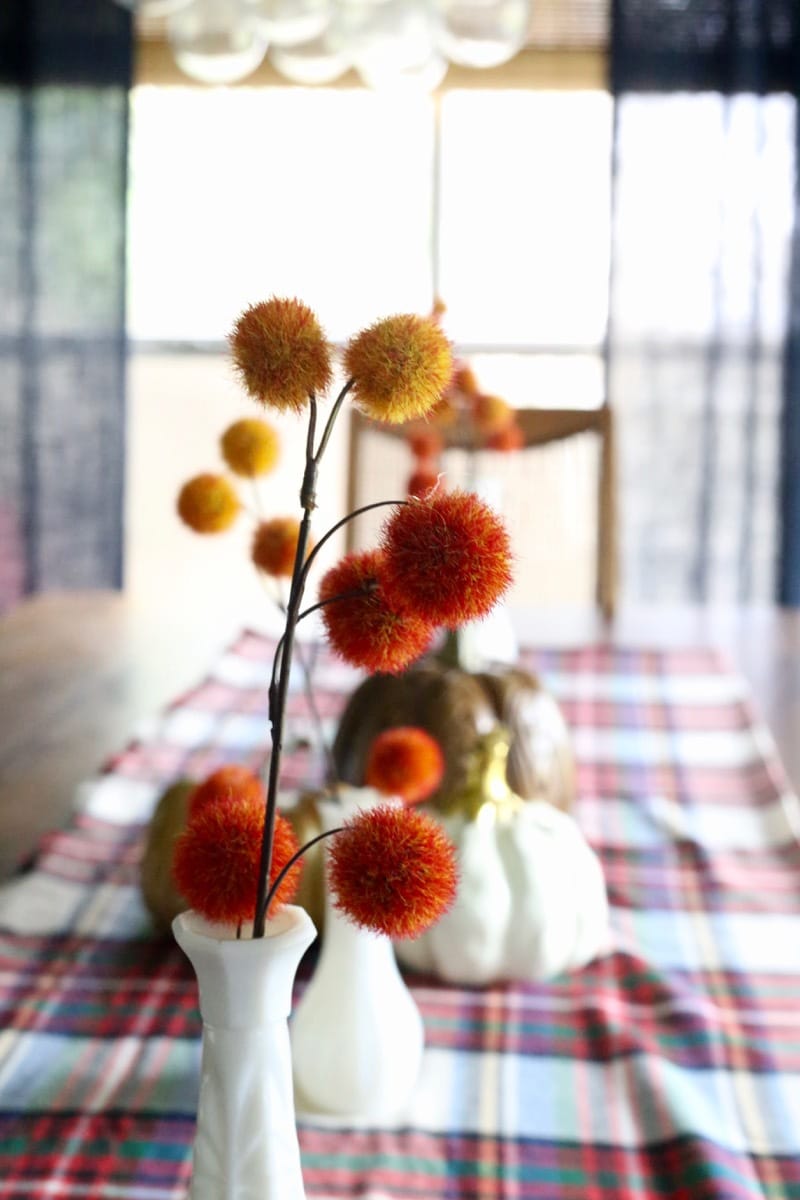 Later in the season I'll start buying some greenery from the grocery store to keep on the table – our grocery store sells big bunches of leaves and stems for just a few bucks in the fall and winter, and they look gorgeous on the table for Thanksgiving and Christmas (click the links to see how we used them last year!). I'm all about using cheap-o bouquets from the grocery store to make a big difference for not a lot of money. I like to split the bouquets among a bunch of different vases so they can make a maximum impact.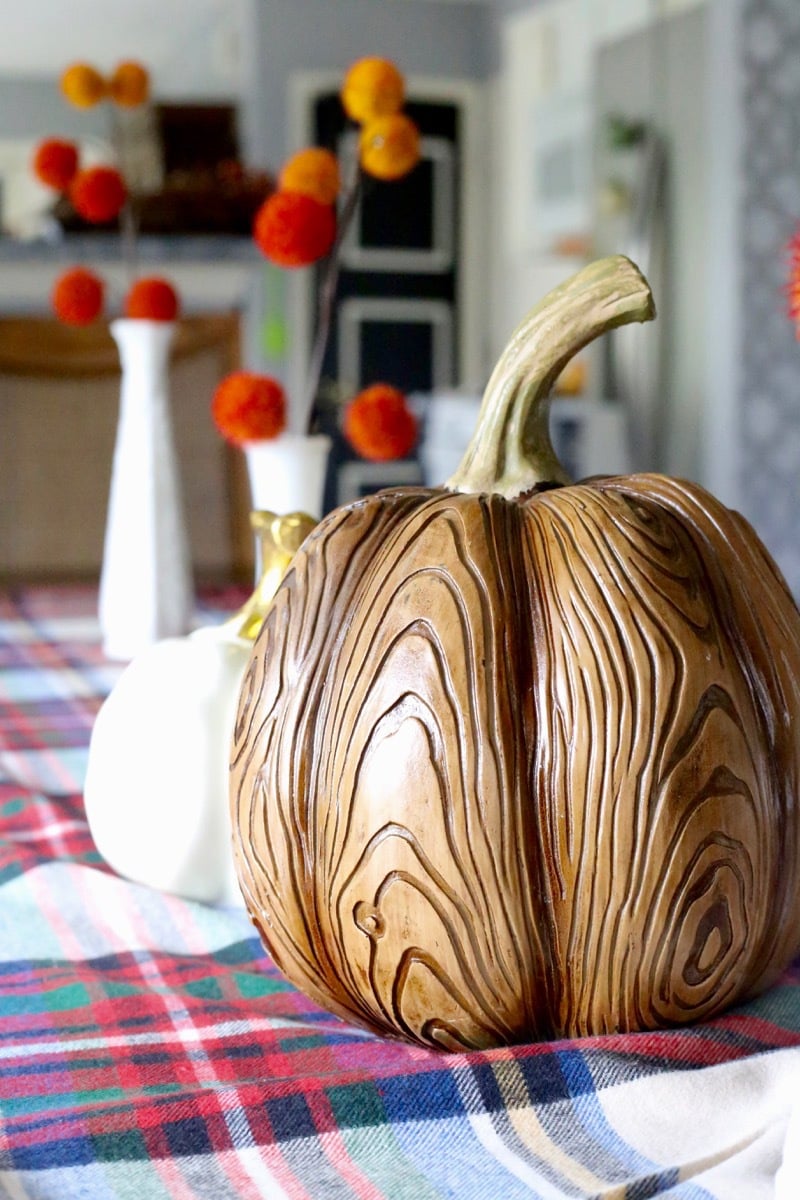 I think it's an okay first shot at decorating for fall, no?
Don't forget to check out all of the other amazing fall home tours this week – some of these ladies could be professional seasonal decorators – I look like a dang heart-eyed emoji over here.
Monday
Tuesday
Wednesday
2 Bees in a Pod – Vicki's house
Thursday
2 Bees in a Pod – Jenn's house
Friday
Do you decorate your home for fall?