The 10 Best Books I Read In 2022
I love to read. Like, a lot. I had a goal of reading 30 books in 2022, and as of right now I'm at over 40…and there's still a couple of weeks left in the year! So, I have a feeling I'll add one or two more.
Before I had children I could easily get through a book (or more) a week. Reading has always been my favorite thing to do before bed, or on a lazy Saturday afternoon. I started sharing some of my book recommendations with you over on Instagram earlier this year, and it was always really popular. So, I figured I'd do a quick wrap-up of the best books I read this year.
I read a variety of genres – historical fiction, thrillers, memoirs, romance…I'll try just about anything! So, this list has a pretty broad scope of topics and genres. There's something for everyone!
My 10 Favorite Books from 2022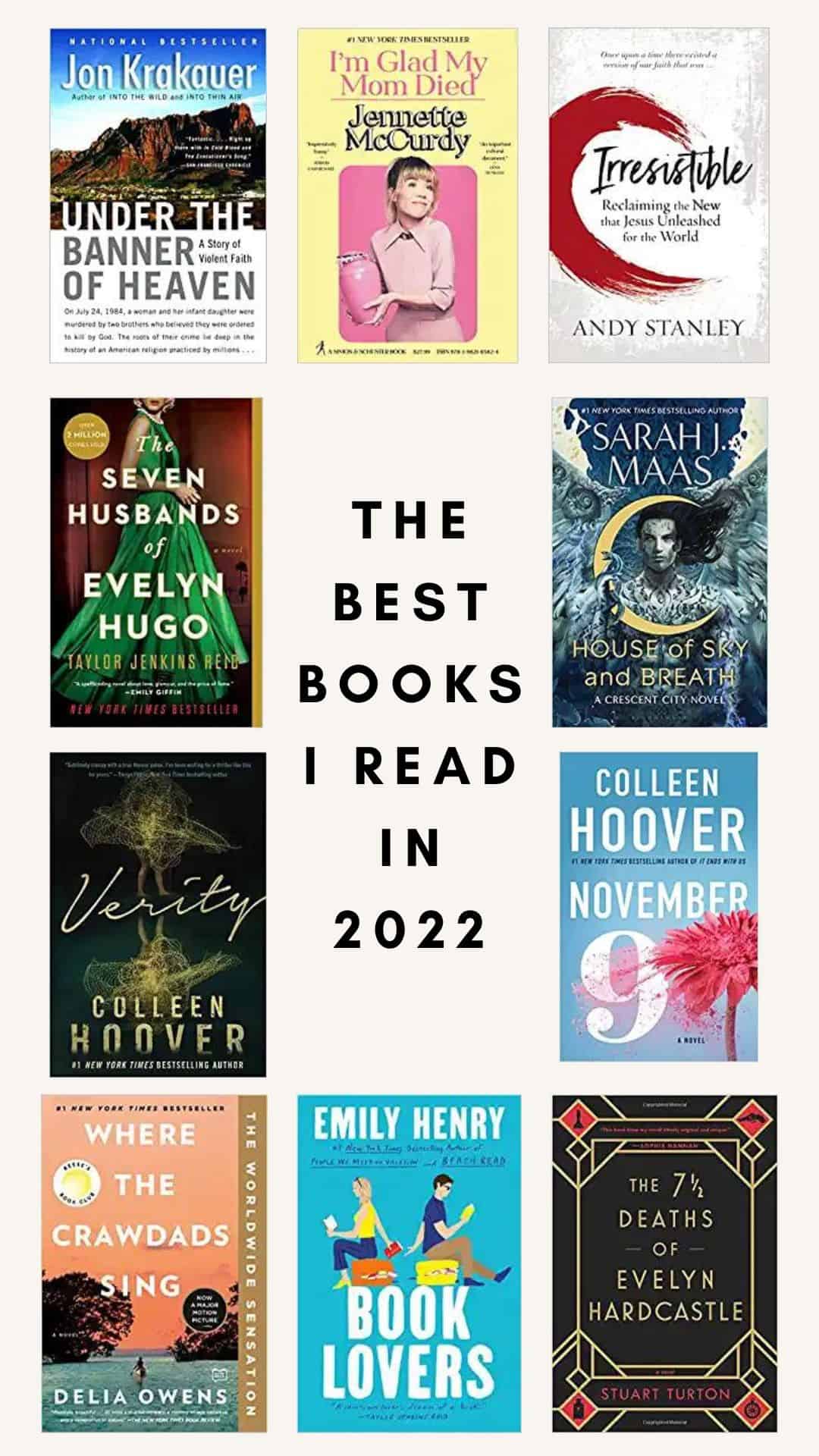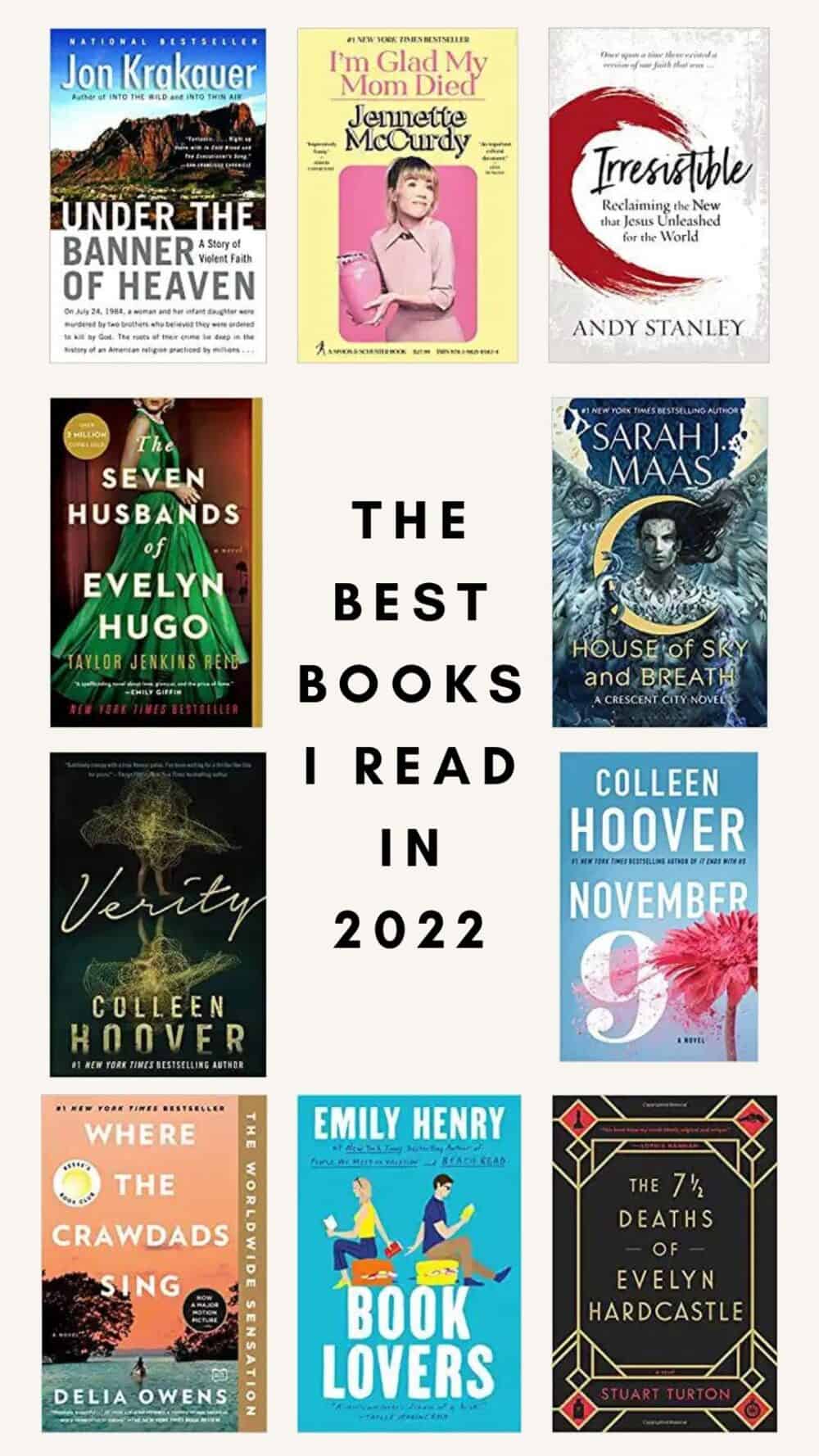 1. Verity
Oh boy – what a wild ride this book was. I wasn't sure what to expect going into it, I had just heard it was intense. And isn't that ever the truth! Verity is about a struggling author who is hired to ghost write the remaining books in a series that a very famous author can no longer complete. Let's just say chaos ensues.
This book is dark, so be prepared for some hard-to-read chapters. But, if you can handle the darkness, it's an incredible story, and I promise you'll be thinking about it long after you're done.
2. house of sky and breath
This book! Oh my goodness! I only recommend this one if you're already familiar with the A Court of Thorns and Roses series (which you should be – it's my favorite of all time), and if you've read the first book in the series.
It's a lot of reading to catch up on but I promise it's worth every second.
I continually rave about this book to anyone who will listen and I'm counting down the minutes until the next one comes out. Must read!
3. where the crawdads sing
I know, I'm late to the game on this one. But, wow, what a fantastic and compelling story this was. It's about a woman who has lived in isolation in a swamp for basically her entire life. A man from the nearby town dies and suddenly all eyes are on her. It's devastating, heart-wrenching, sweet, and riveting all at the same time. The movie recently came out on Netflix, and it's fantastic as well!
4. The 7 husbands of evelyn hugo
This book tells the story of an aging (former) A-list actress who hires a young journalist to finally and completely tell her whole life story.
It's a great read, and I couldn't put it down. Evelyn's story is absolutely mesmerizing, and there are so many unexpected twists and turns that kept me on my toes. I absolutely loved this book, and I can't wait to see what Netflix does with the film adaptation they recently announced!
5. Under the banner of heaven
After finishing Hulu's adaptation of this book earlier this year, I immediately tracked down the book to learn more. I can't speak highly enough of this book and I was shocked at how much I didn't know about the topic! It's a non-fiction book that tells the story of the origins of the LDS faith, along with a look at the more modern (and sinister) crime spree committed by some members of the FLDS community.
It was such a wild and unexpected story, and I consumed this book quickly and couldn't stop talking about it for weeks.
6. Irresistible
Speaking of non-fiction books about religion…if I had to pick just one book as a favorite out of everything I read this year, it's this one right here. It was recommended to me by someone at our church when I brought up some issues I have had in the past with church experiences.
In this book, Andy Stanley takes a brutally honest look at Christianity and where it began…and how we've gotten things wrong since. I recommend it for literally anyone who calls themselves a Christian, but I also think it's a fantastic read for non-believers as well. Especially if you identify as someone who has had negative experiences or connotations with church in the past. This is a book I see myself reading over and over (and over and over) again because it's just so powerful and I learned so much.
7. the 7 1/2 Deaths of Evelyn Hardcastle
Y'all! I was so delightfully surprised by this book. I got it from my library simply because I saw it had a lot of positive reviews and I liked the cover. That's it. I knew absolutely nothing about the story so I went in fully blind. And…holy cow. What a story!
I had so much fun with this book and I won't even summarize it for you because I'd love it if you also go in blind. It's more fun that way, I promise. If you enjoy fast-paced and exciting books with some twists and turns, you'll love it.
8. book lovers
I don't read a ton of romance-y books, but the next two on the list are some of the lighter, more sweet books I read this year. And honestly, I loved them so much! This is a book my best friend from college recommended, and I'm so glad she did.
Picture the typical Christmas movie. High-powered, career-focused man or woman (who usually has a significant other) is forced to go to some small town where they happen to fall in love with the first stranger they come across. But…what happens to that significant other back home? The one who is also career-focused, not at all interested in small towns, and suddenly lost their partner? This book explores that in a really fun way and I loved every second!
9. november 9
I got into reading more of Colleen Hoover's books after I fell in love with Verity. That one is definitely unique from the rest of her books, but this one is probably the one I enjoyed the most aside from Verity! It takes a look at the relationship between two people who meet up every year on November 9th.
It's definitely more of your typical love story, but it's sweet and engaging and not at all boring or too expected. If you want something light to read over the Christmas break, this is a great option!
10. I'm Glad my mom died
And finally, the book I absolutely devoured in about 48 hours. This is a memoir by the actress Jennette McCurdy (of iCarly fame) and it's powerful in so many ways I can't even begin to describe. Her writing style is incredibly captivating and I had a hard time putting this one down.
This book explores her career, how she got into acting, and her very complicated relationship with her abusive mother (who died in 2013). I was absolutely mesmerized by the entire book and have been recommending it to everyone I know!
If you want to see some honorable mentions or other books I've read prior to this year, click here for a big ol' list of all my favorite books!