Hi, friends! I'm back! You might remember that about two months ago I told you I'd be taking some time off from the blog to settle into life with two children. The majority of the content you've seen on the blog in the last 8-ish weeks was written back when I was pregnant in a frenzied "do all of the things before the baby comes" state.
I'm officially back "at work" as of today, and it feels good to be productive again. I've been slowly easing myself into work over the last few weeks, trying to take care of a few things here and there and even working on projects (which you'll have seen plenty of sneak peeks of if you follow my Instagram stories!). I wanted to just pop in today and say hello and give you a little update of how things are going now that we're a family of four.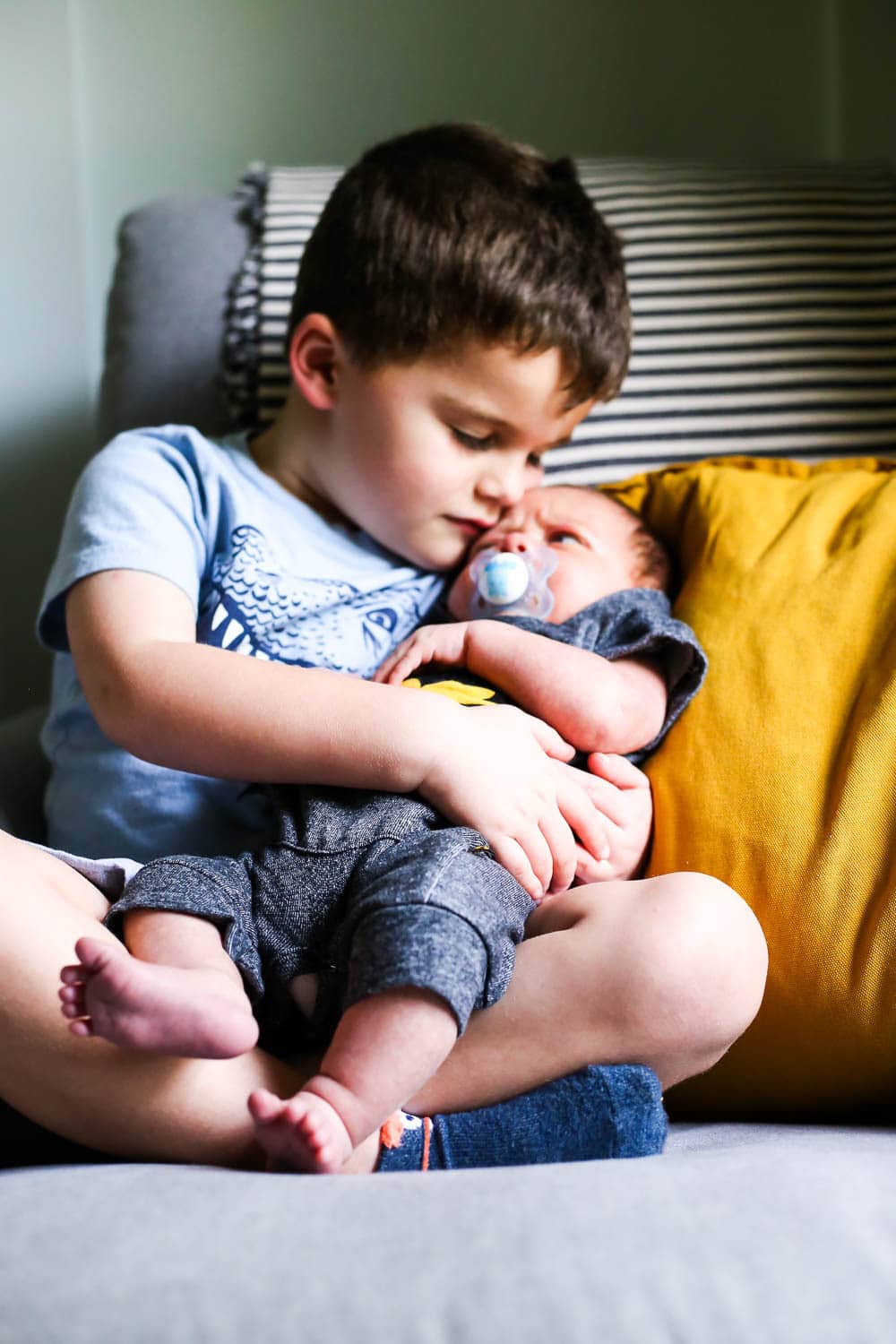 I really struggled to adjust to being a mom when Jackson was born almost 5 years ago. I felt like I was destined to be a mom, I was so incredibly in love, and I was so happy to have him, but I felt such a loss of identity for the first year. It seemed that I only existed to keep this tiny little human alive, and I couldn't even remember what it felt like to just be me. Right around his first birthday, the fog lifted and I slowly began to feel like an actual, functioning human again. Leading up to Grant's birth, I was very worried I'd have a similar experience – I had a chat with Corey to remind him of the potential hormonal outbursts and how anxious I'd likely be feeling, and I prepared myself to spend a few months feeling a bit lost at sea once again.
But, the feelings never came. Sure, I have my nights where I check Grant's breathing 17 times before I can go to sleep because what if he just stops? And sure, I don't remember the last time I took more than 10 minutes to get ready to leave the house, or the last time I actually went through my evening face-washing and tooth-brushing routine at anything other than a breakneck speed (because I wouldn't want to waste a single second of sleeping time!). But, it's okay. I feel fine. I know this time around that this newborn phase is just a phase and things will go back to normal sooner than I expect.
I don't know if I had a minor case of post-partum depression with Jackson or if it was just typical adjusting-to-life-as-a-mother stuff, but I can wholeheartedly say that the adjustment from one child to two has been leaps and bounds easier than it was the first time.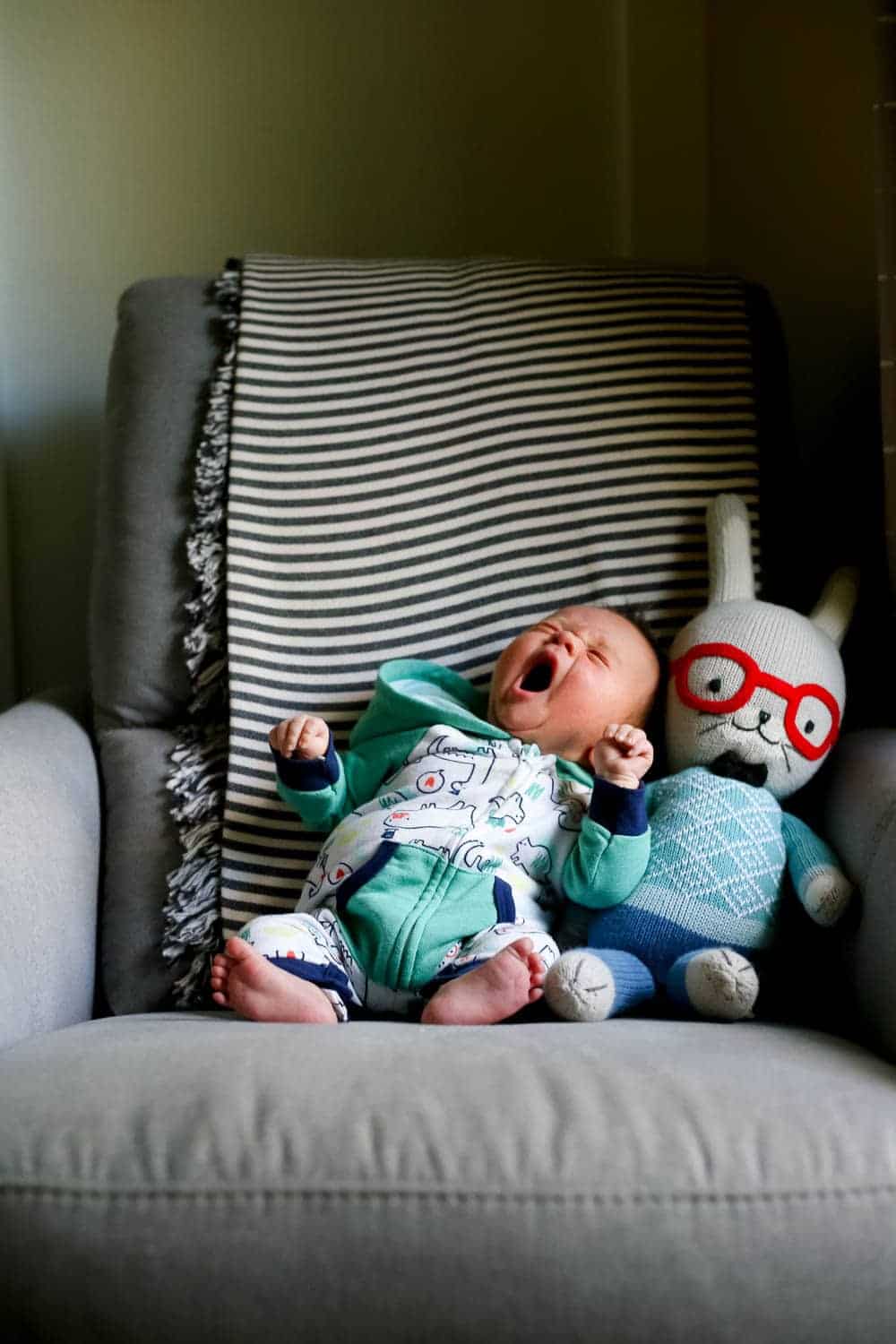 Grant is going to be two months old next week, and so far I can definitely say he's what you'd call an easy baby. I've got him napping in the crib at least twice a day most days (the rest of his naps are on my chest because why in the world would I pass up on at least a few snuggly naps?), he's consistently waking up only once a night, and we haven't had any feeding or health issues. I know we're incredibly lucky to have it so easy, and I feel thankful every day that this transition has been so smooth. Jackson absolutely adores his little brother, and so far we haven't had any jealousy or behavioral regression. Of course, I know we aren't out of the woods on that one yet – things could change once Grant is more mobile and can actually mess with Jackson's stuff!
I know things haven't been too exciting on the project front around here (babies will definitely put a cramp in your renovation budget and time), but we've got a few really fun projects coming up this month that I'm so excited to share. We just finished a big fireplace makeover that I can't wait to show you (you can see all of the previews I've shared in the "Fireplace" highlight on my Instagram profile), and I promise at some point soon I'm going to throw up some fall decor and snap a few photos – it won't be up long since the blog world tends to move onto Christmas as soon as Halloween is over, but I won't be able to resist at least decorating my new mantel for the fall season!
Thanks so much for all of your love and support while I stepped away from things for a while. It feels good to be back!