Need some help getting your to-do list under control? This daily to do list printable might just change your life – and get you organized for good! 
*****
Hey y'all! Just a reminder, I'm away on maternity leave for a few weeks and I'm having a few friends share some guest posts while I'm gone. Today, Emily from Small Stuff Counts is sharing a daily to-do list printable for all of us organization nerds. You're going to LOVE it!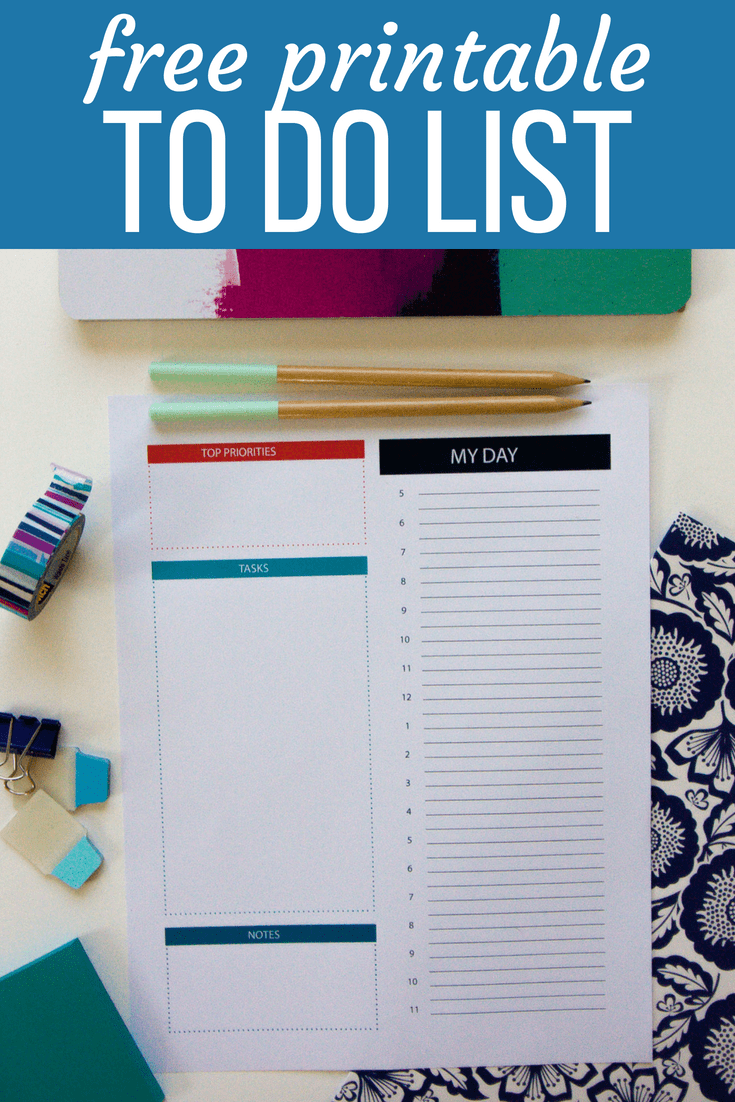 Hey there, Love & Renovations readers! I'm Emily from Small Stuff Counts and I'm delighted that Amanda invited me over to chat with you today! If you visit my blog, it won't take you long to figure out that I am obsessed with organization and time management. I'm always working to find ways to be more intentional with my time so I can spend more time on the things that I care about most.
This may sound incredibly nerdy to you, but I love the few minutes I spend creating my daily to-do list every morning. What can I say, I'm a huge list maker! It's a chance to look ahead at my day and prioritize the most important tasks.
Do you ever wake up instantly feeling frantic because there are so many things to do that day? Those are the mornings when I'm super tempted to dive right into specific tasks because I feel like there's no time to waste.
But when I remind myself to pause and create a daily task list, it gives me a chance to evaluate everything I have going on and create a game plan. Having a plan in place with clear priorities makes me so much more relaxed even if it's a very busy day!
If you are feeling overwhelmed with all of the to-dos on your plate right now, this post is for you. You'll learn my strategy for creating daily to-do lists and I have a special gift for you–a free printable to-do list!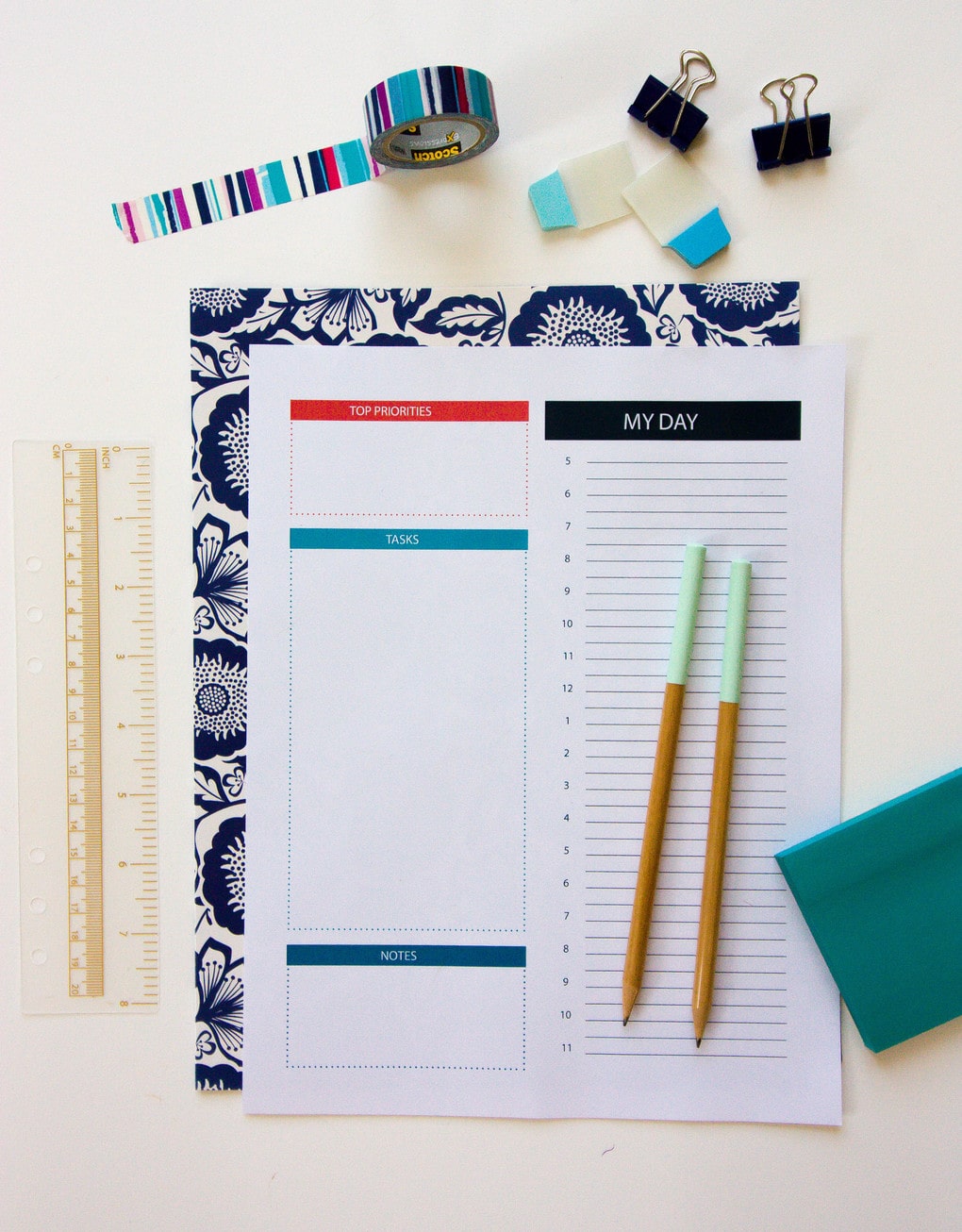 Creating An Organized Daily To-Do List
Between my office job and the constant things to do at home, my to-do list is neverending! And I imagine you have no shortage of things to do, either. But how do you keep track of everything?
Remembering absolutely everything is near impossible and making sense of a pile of sticky notes isn't a very good use of your time. But don't worry, because I have a better way! I'm here to tell you all about my process for organizing tasks.
1. Create A Master Task List
The first step to organizing your to-dos is to compile them all in one place. I like to call this my master to-do list. I store mine in a Google Doc, but Evernote or the notes app on your phone will work as well.
This master to-do list is an ongoing, neverending list of all of the things you need to do in the future. It does not need to be fancy so keep it simple. Create a few bolded headings for categories like "Cleaning" and "Errands". Then add in bullet-pointed tasks under each category.
Whenever something pops into your head that you need to do, immediately add it to your master to-do list. This is why I recommend a digital list because it makes it super easy to access on your phone when you're out and about.
You'll seriously love having everything in one central place. This makes it super easy to keep track of things that need to be done and ideas of things you'd like to do when you have time later on. Without a master task list, it's far too easy to get caught up in the frenzy of putting out fires and jumping from task to task as you think of things.
Here's a peek at my master to-do list (I have one for personal things and one for work tasks):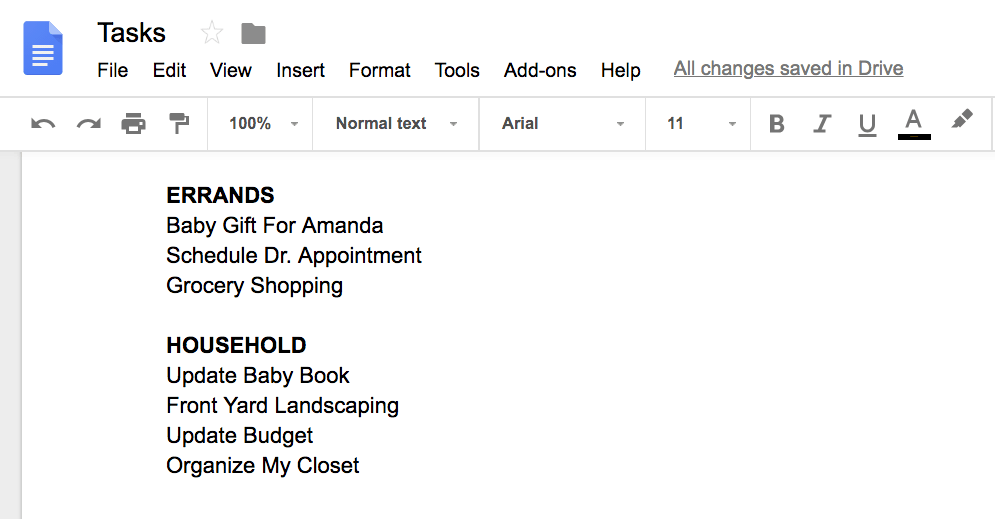 Create A Daily To-Do List (Free Printable!)
While a digital list is really convenient for tracking those master to-dos, most people enjoy a paper daily to-do list because it feels so good to cross things off as you complete them. Plus, spending a couple minutes writing tasks down helps commit them to memory and gives you time to slow down and really think about your to-dos for the day.
You can plan your to-do list for the day on a plain ol' sheet of paper, in a notebook or in a planner. Or you can download the free daily to-do list printable below!
I love this printable because it helps you organize everything you have going on for the day and gives you space to time block your day.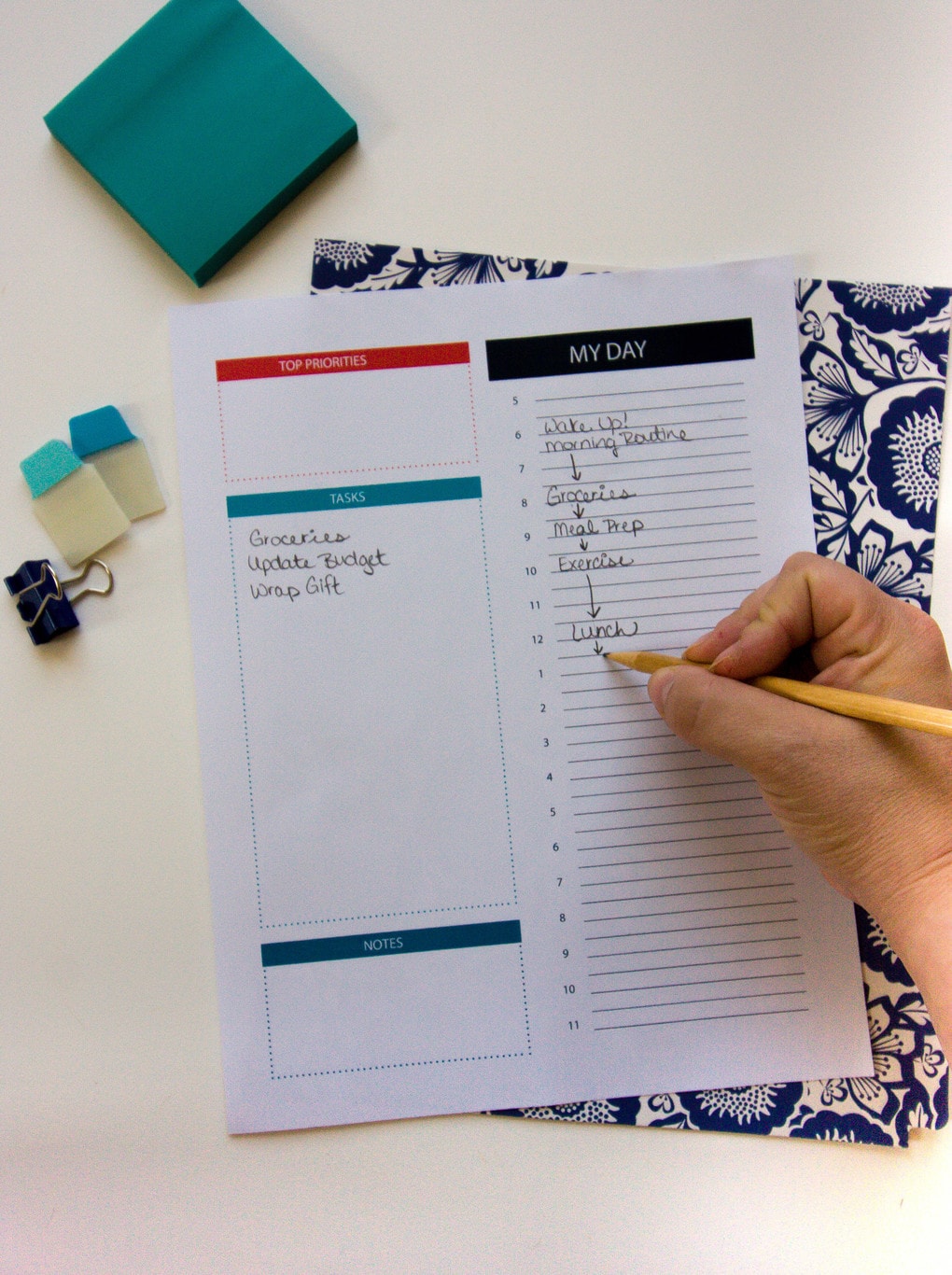 Now you may be asking why you should bother creating a daily to-do list when you already have everything compiled into a master list. Here are a few reasons:
Your master list is super overwhelming. It's more of a space to brain dump your thoughts as opposed to the daily to-do list, which is a great place to actually prioritize the most important tasks.

Taking a couple minutes in the morning to write down your daily tasks will help you slow down and intentionally plan out your day.

Filling in the time blocking section of your daily to-do list printable will force you to be realistic about how much you can accomplish. (I'm guilty of being overly optimistic most days!)

It's super satisfying to have that paper list to check off as you go about your day. And it's a great feeling to finish it all and toss it in the recycling bin at the end of the day!
Update Your Daily To-Do List Each Morning
Devote a few minutes to creating your to-do list for the day every morning. This gives you a chance to review your master task list and truly prioritize the most important things to do today. You'll also want to transfer over any undone tasks from the day before to your new list.
This free printable includes space for time blocking your day so you can plan out exactly when you want to do each task. Start by filling in any appointments, meetings, and time-specific tasks and then fill in the gaps with the remainder of your tasks for the day.
Taking the time to plan exactly when you want to do everything helps you really decide how much you can accomplish and gives you a solid plan for your day. Obviously, things won't always go as planned (do they ever?), but at least starting with a plan gives you something to work toward!
And while you're getting organized for the day, go ahead and delete any completed tasks off of your master list! Now isn't that a good feeling?!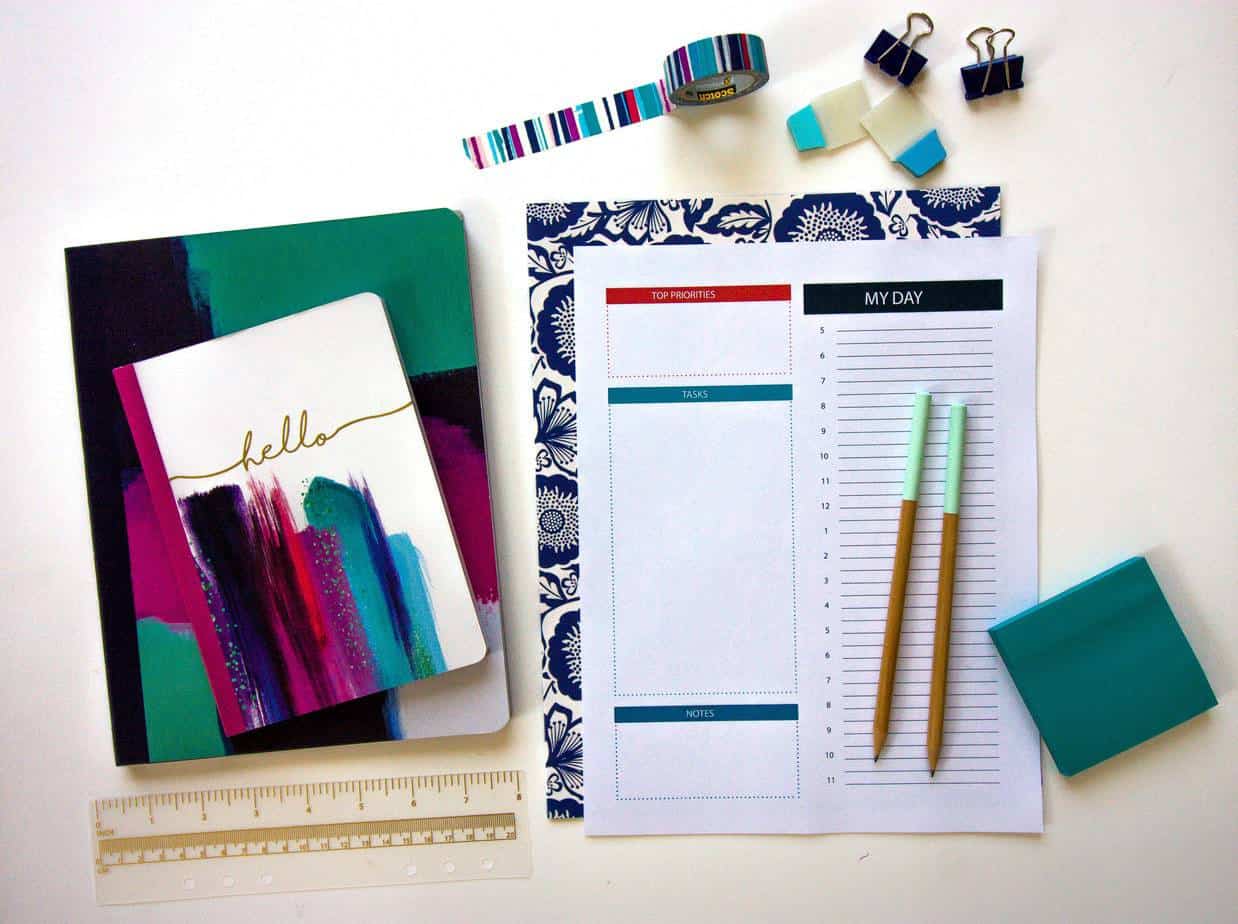 I hope strategies and the free printable to-do list help you! No more struggling to remember what needs to get done, and no more letting things fall through the cracks. If you're diligent about updating your master list and making daily to-do lists, you'll be well on your way to using your time more efficiently!
I could chat about to-do lists and managing your time all day long, so if you'd like more guidance on being intentional with your time you're welcome to check out my free Organize Your Week e-course! And you should know that I'm obsessed with organizational printables, so you'll find plenty more in my free printables library.
How do you keep track of your to-do list? Let us know in the comments!
Thank you to Amanda for inviting me over today, and thank YOU for reading!
Emily Counts is the blogger behind Small Stuff Counts, where she teaches women how to create beautiful, organized, thriving homes. She wholeheartedly believes that DIY projects don't have to be huge – even the small stuff counts! She is a lifelong Iowan and currently resides in central Iowa with her husband and daughter.