5 Not-So-Pretty Things We're Obsessed With
We all have them in our house. The things that are not great to look at – downright ugly, even – but we love them dearly and can't imagine life without them.
Often, we ignore those things when we talk about home design. Because, we want to talk about the pretty stuff, right?!
Well, today's the day we show them some love. I'm sharing 5 of the ugly-ish things in our house that I love with my whole heart. Because, they deserve a moment in the spotlight too, right?!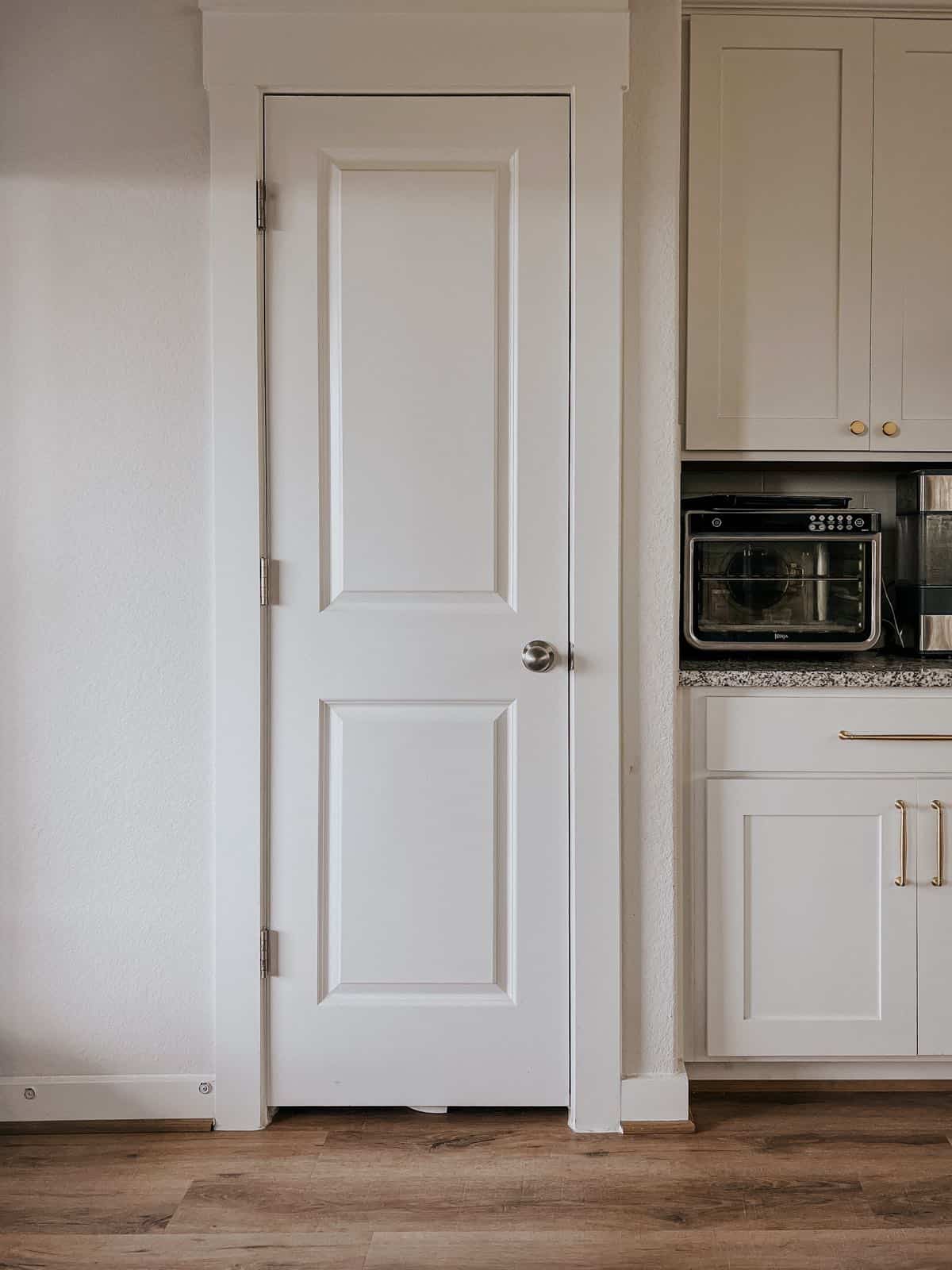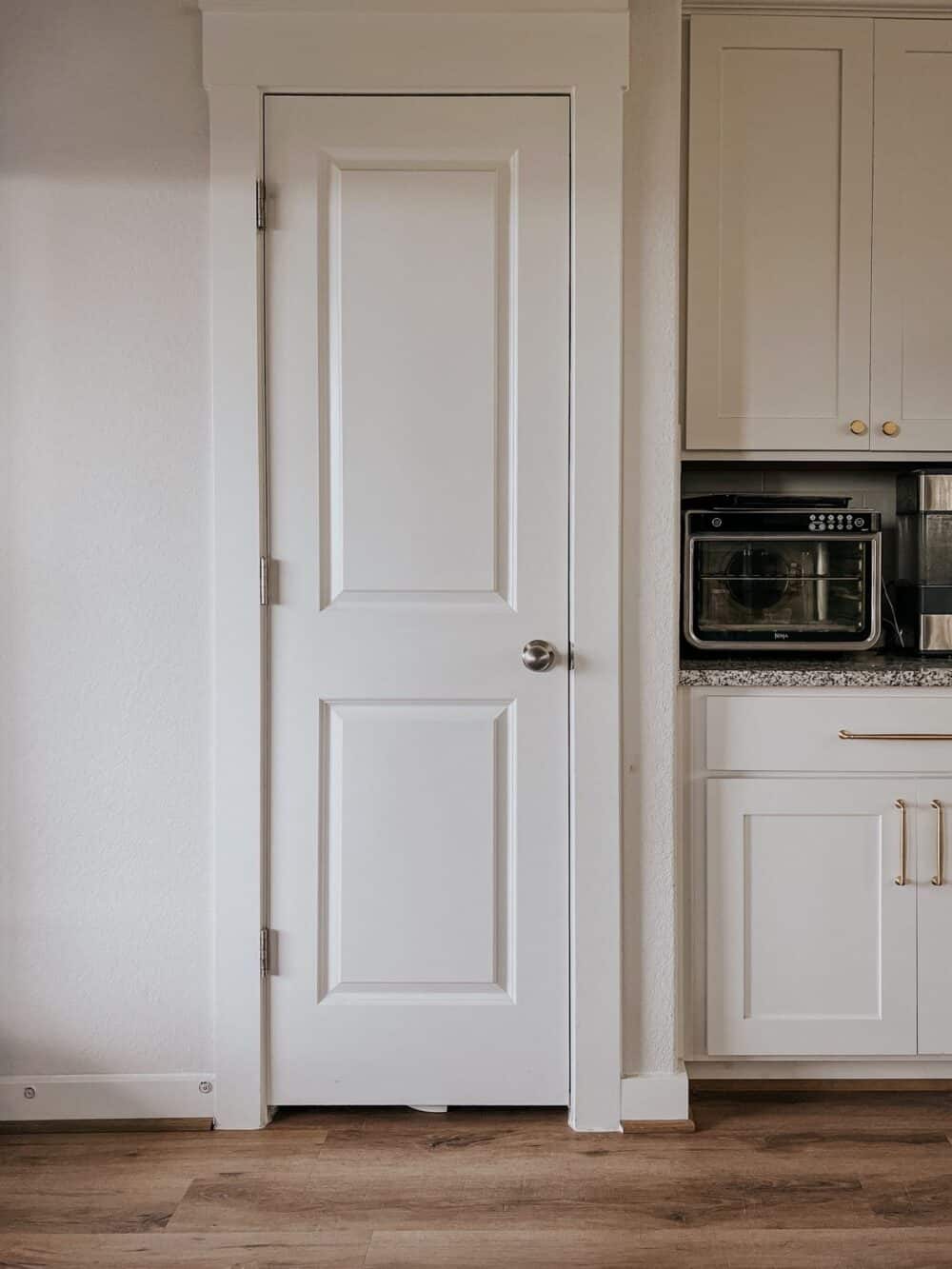 I was skeptical when Corey wanted to buy this thing, but he's the main chef in our house, so I try not to argue too much when it comes to food.
My goodness am I ever glad we got it! We use this thing daily – literally. It completely replaced our toaster and our air fryer, and added so much functionality to our kitchen. It can bake, too, which means it's added oven space on busy days like Thanksgiving and Christmas!
And another thing? The air fryer feature on this guy is the only way we've found to properly re-heat french fries and pizza. It adds the exact right amount of crisp, and brings it all right back to life.
I rave about this thing to anyone who will listen and have successfully convinced a few friends to buy one (and they're full believers now too!). it's the best and every kitchen needs one!
Someday when we convert this entire area to cabinetry, I'll have an appliance garage area where this will live. But for now, he lives proudly on the counter because I can't live without him.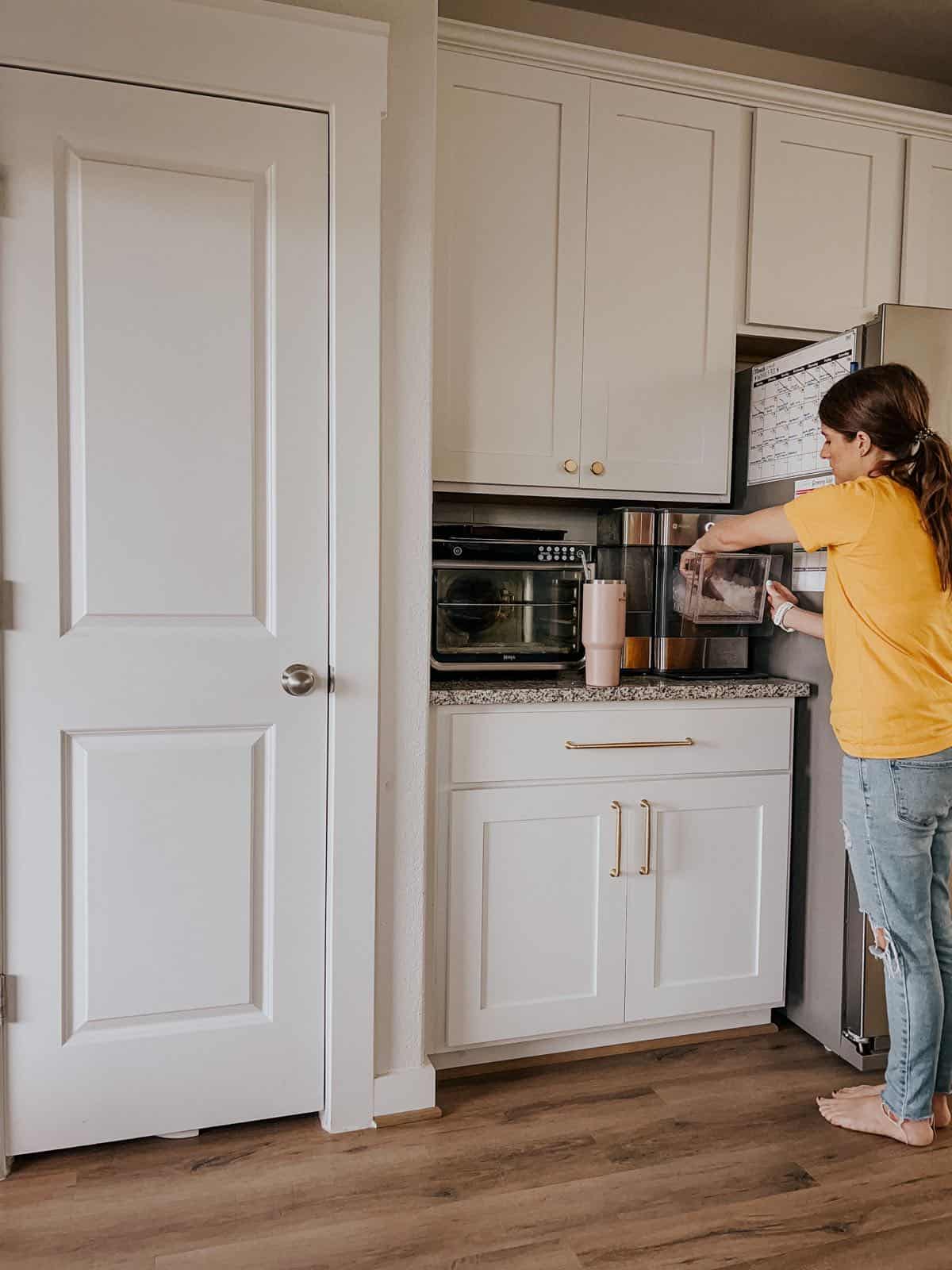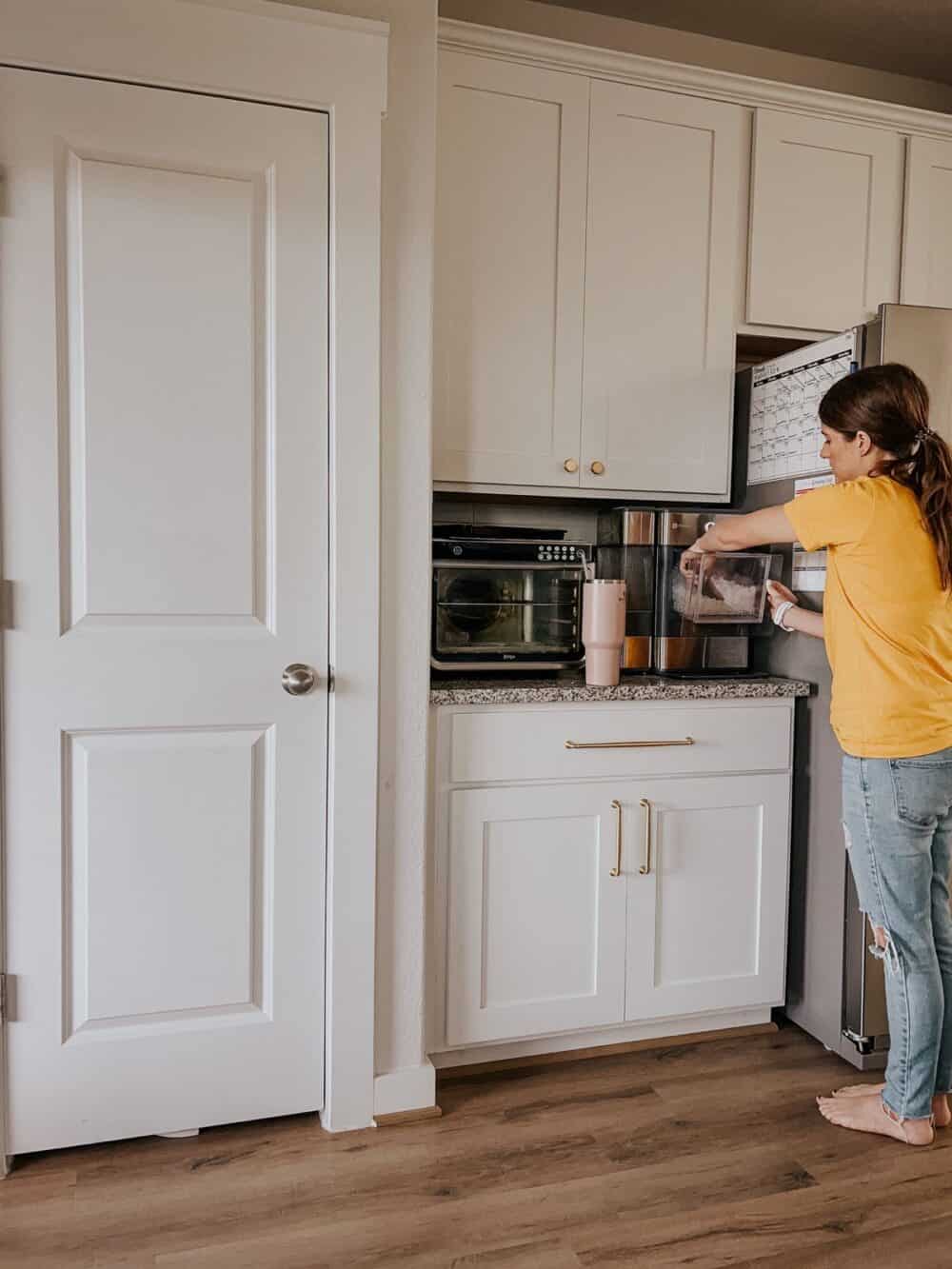 The place of honor right next to our Ninja Foodi is another not-so-cute piece of machinery I can't imagine life without: my pebble ice machine!
We actually got this through a bit of a fluke. My parents got themselves one a while back, and when it arrived, it wouldn't work. They reached out to customer service and they ended up sending them an entirely new machine. My dad was convinced he'd be able to get this one working again, an lo and behold, he did! So they gave us the "broken" one, which is still chugging along just fine.
I find that I drink so much more water when it has the "good ice", and it's way easier to fill my huge Stanley cup with this than it is to fill it from the fridge ice machine!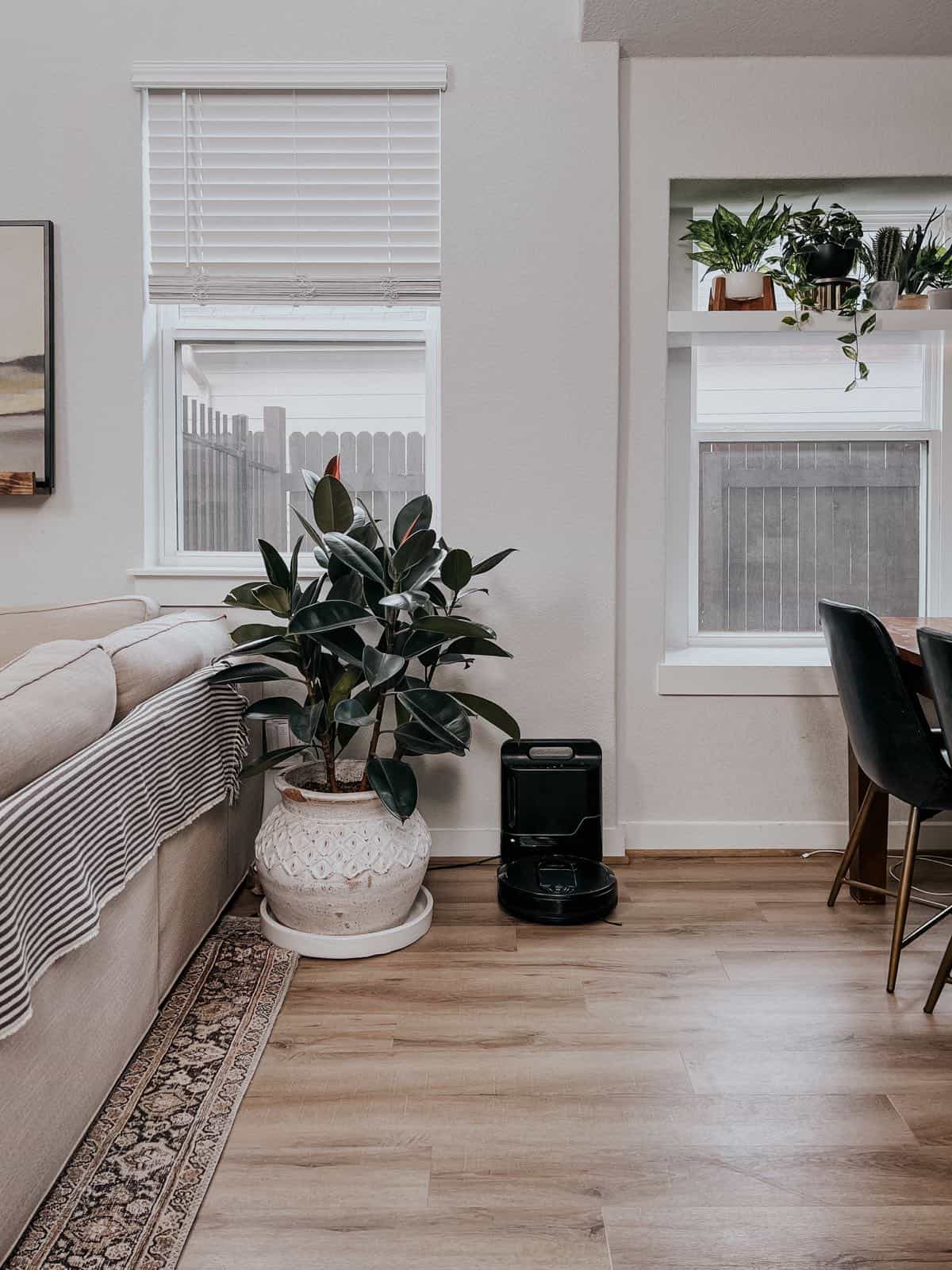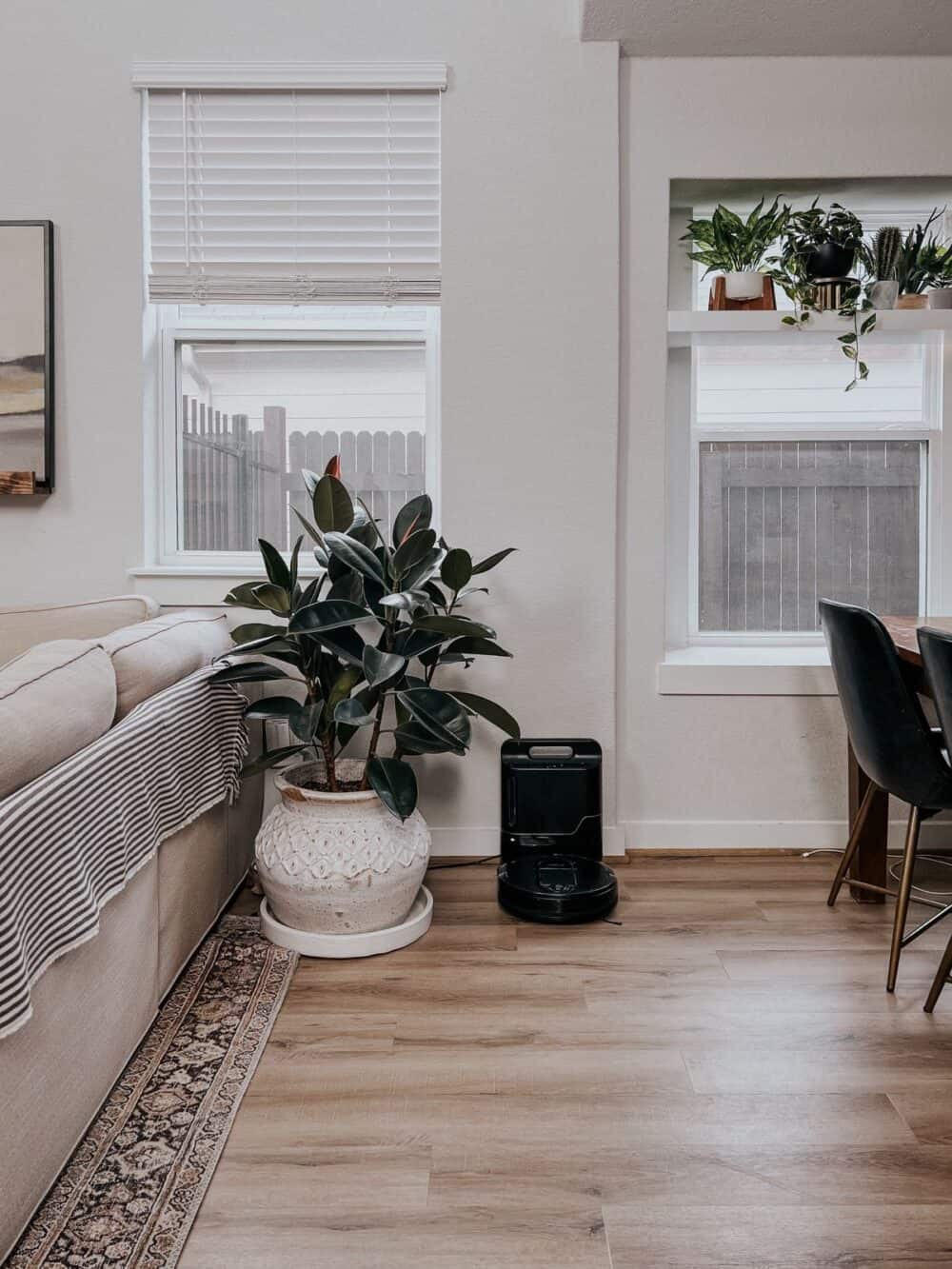 I first started using a robot vacuum right when we moved into this house – and man, it's a game-changer! We got this super fancy self-emptying one, and it's worth every penny. I love that I only have to empty it out once a week or so, because goodness knows I'd never remember if I had to do it daily.
I also love how detailed this guy is with the error codes. If there's ever a day it does run, I can pop into the app and quickly see exactly what was wrong. For example, I've forgotten to leave a lamp on and it told me it didn't have enough light to run at night!
We also have this Bissel mop/vacuum combo – we stopped using it because we thought it wasn't working, but I actually think it was the aforementioned lighting issue. Whoops! This one is great if you want the option to mop on occasion too – I'm always really impressed by that feature and how well it works!
Our robot vacuum sits behind our couch and kind of in-between the living and dining rooms. It's not hidden at all, and I'm not even mad about it because it saves me so much time!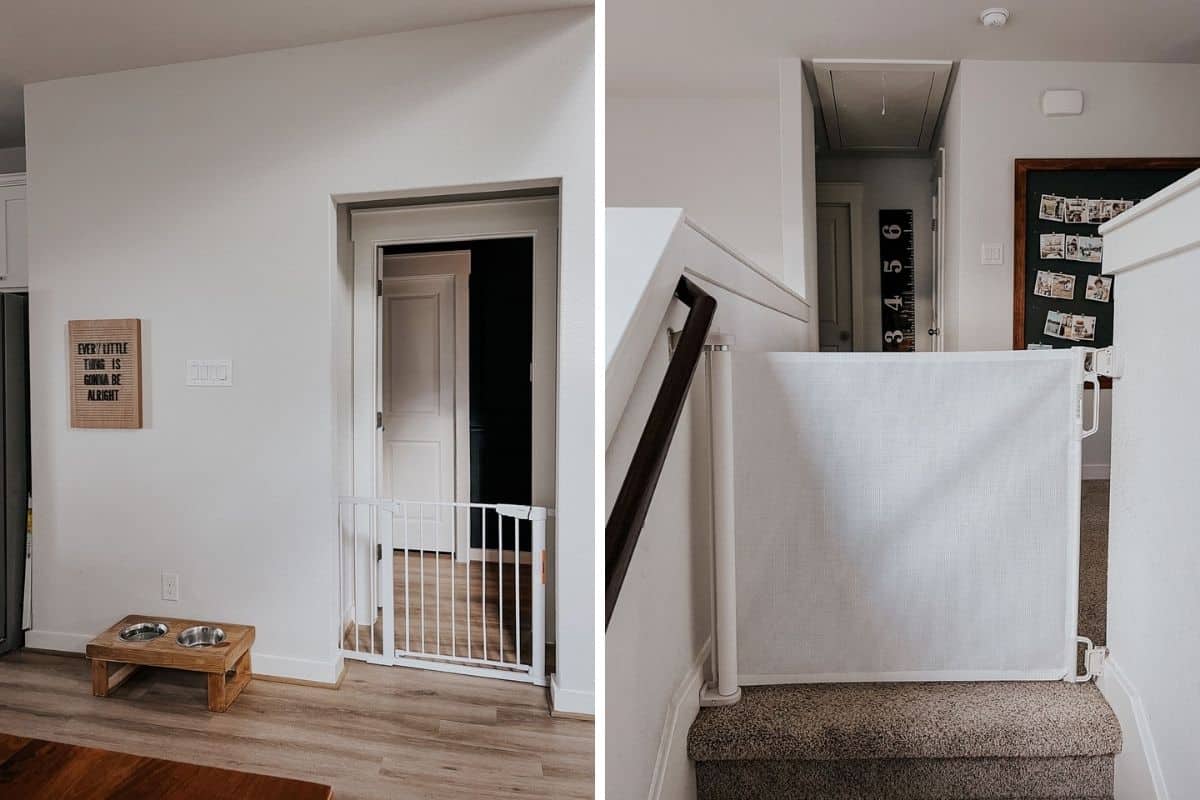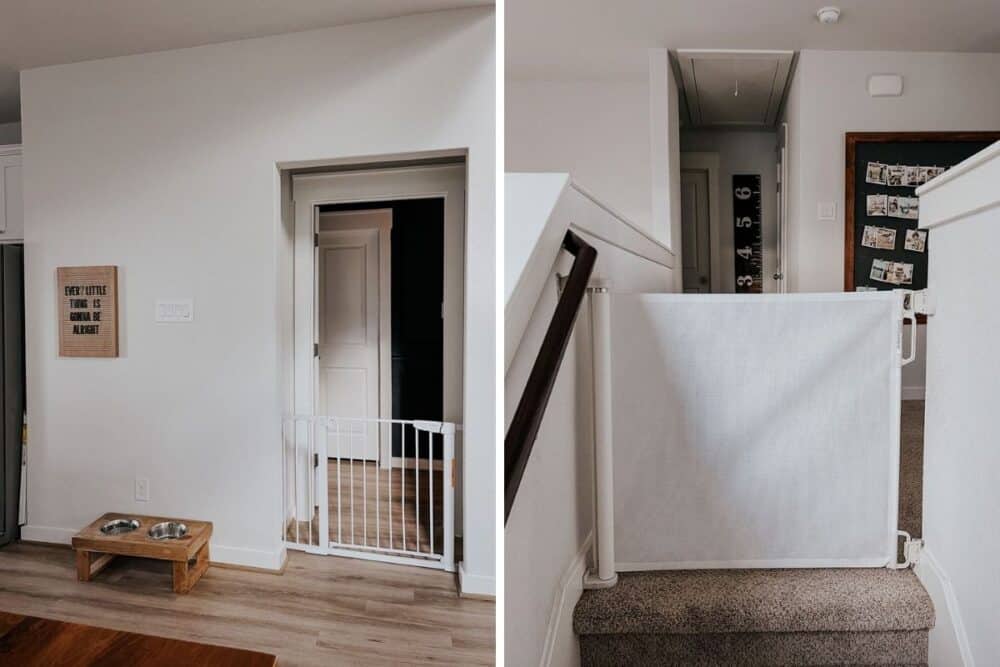 Now, these actually aren't really particularly offensive to look at, but I still wouldn't consider them home decor. Our retractable baby gates are the best I've found, and were such a big help when we first moved into this house and Grant was still learning stairs!
We don't use them all that often anymore, but it's really nice to have them when we need them. We have one at the top of the stairs and one at the bottom, and I honestly don't see us ever taking them out. We have (and will always have) dogs, and we honestly use them more for the dogs than the kids these days! It's lovely to be able to keep the dogs upstairs or downstairs if we need to, and I just love that I don't have to find a place to store the gates when they're not in use!
We also have this baby gate as a more temporary measure – our doberman, Hadley, isn't allowed in our bedroom but she tries on the daily. We wanted something really easy and quick to open and close, and this fits the bill perfectly! It's ideal for a space where you need to go in and out often and want it blocked off all the time. Although, I'll note that Grant (3) has been able to open it since we installed it…so maybe it's not the best for keeping clever toddlers out of a space!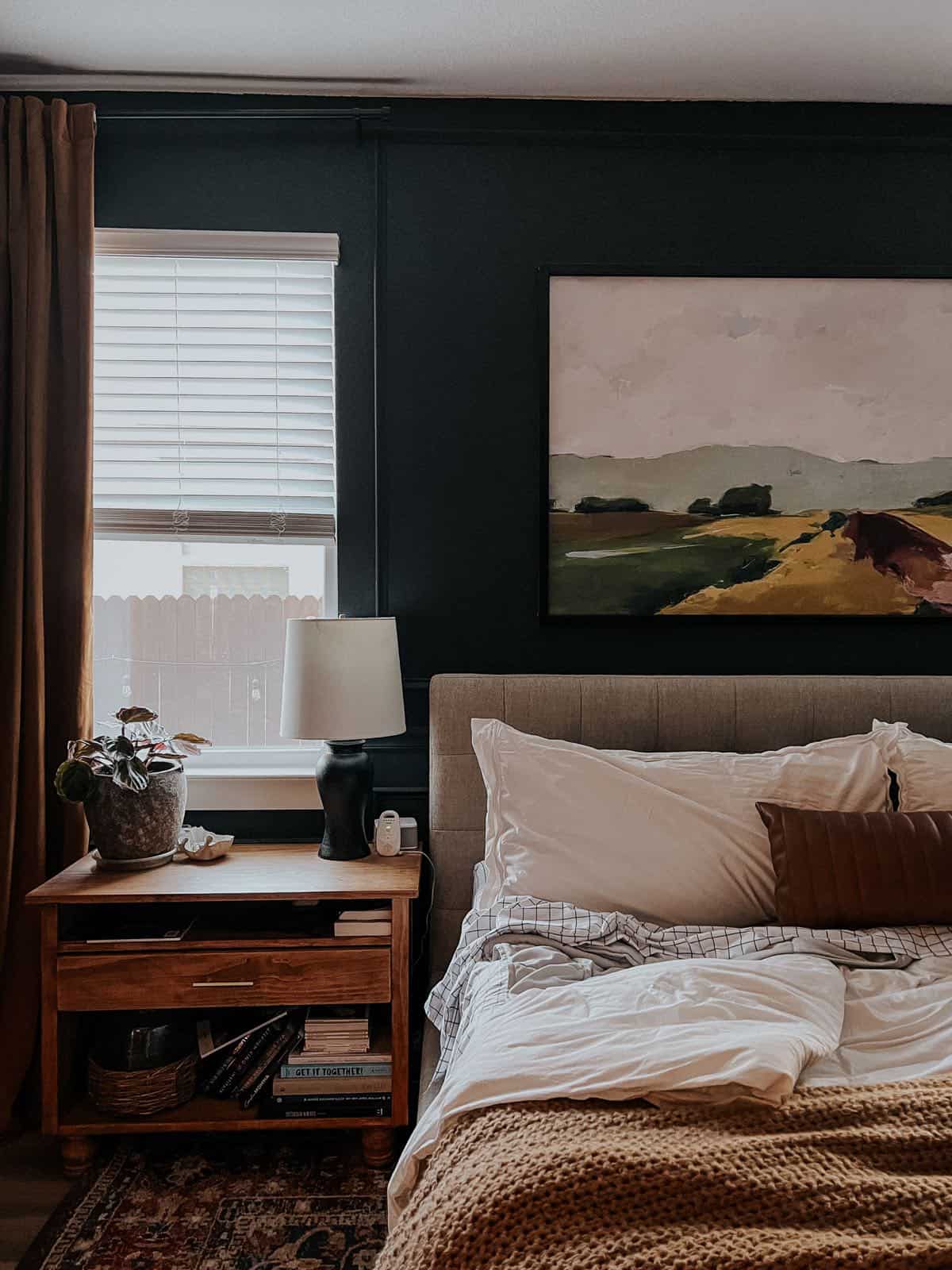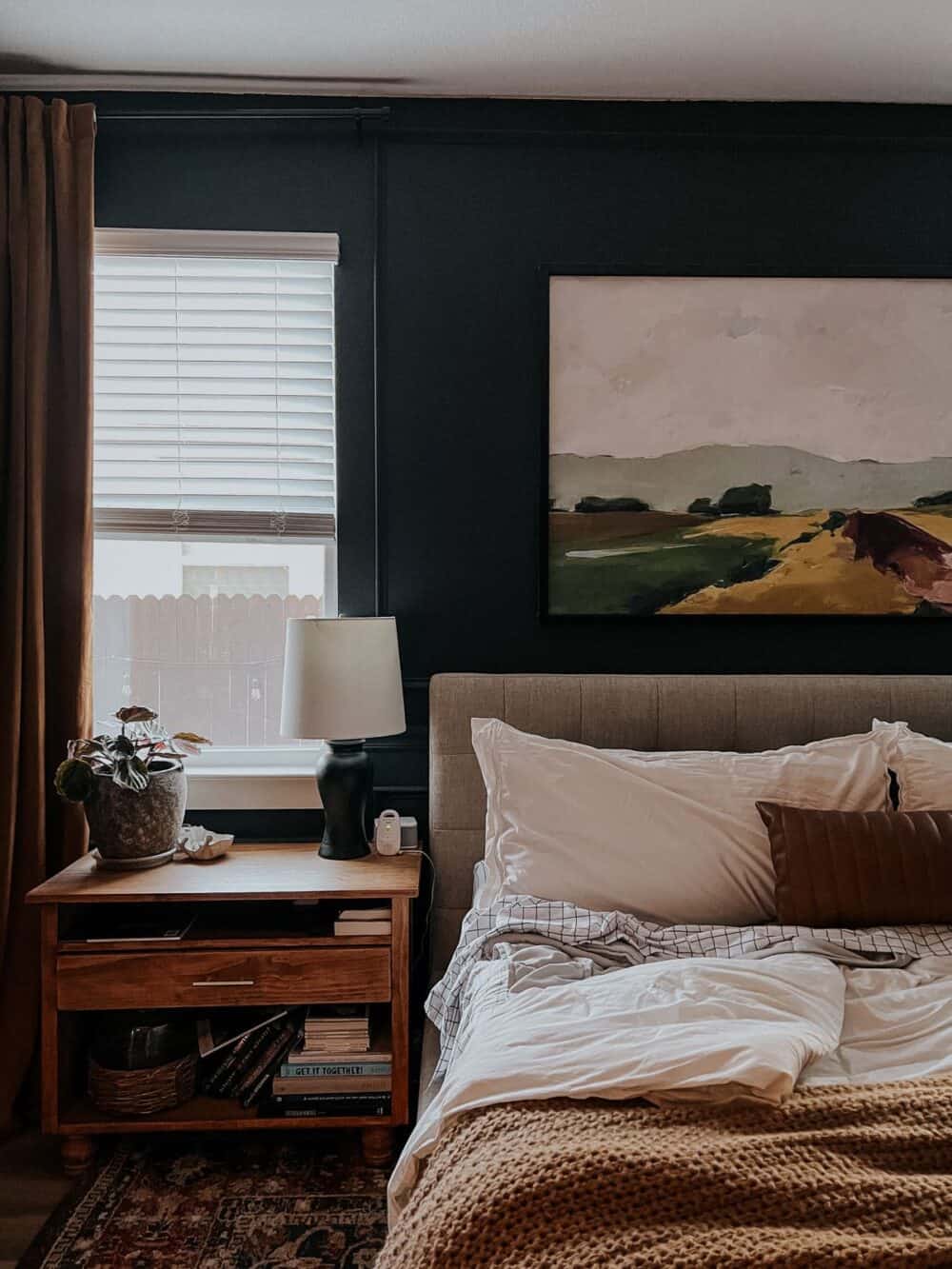 Technically, these aren't super visible in our house, but they certainly affect how our bed looks when it is made! Corey and I each have a weighted blanket that lives between the sheets and the comforter on our bed. They always make things look a little lumpy and wonky when I make the bed, but I wouldn't have it any other way.
Honestly, we cannot sleep without them. At all. As in, I'm known to bring mine with me on trips. I even brought it camping!
Sleeping with a weighted blanket has absolutely changed my sleep, and now when I climb into a bed without one I kind of feel like I'm floating away! It helps me feel cozy and tethered and calm and I will never again not have one. In fact, I could probably sleep with two!
And there you have it. Five simple things in our house that don't necessarily make things look any better, but they certainly improve our lives on the daily!