Grant's Dinosaur-Themed Room Reveal
Over the last couple of months, I've been working hard on taking Grant's super cute nursery and transforming it into a big kid dinosaur-themed room that will (hopefully) last him for years and years to come.
I wanted something that feels sophisticated but still playful. Something that I could see him using as a teenager, but that also fit where he's at right now. Of course, he may decide in a few years that he wants a space themed bedroom or something and we'll have to throw out my ideas about keeping this long-term…but a mom can dream, right?!
If you have missed any part of this room transformation, here's a quick catch up:
And that brings us to today – the finished product!
Of course, I'll note, I don't ever think any room in our house is truly finished. I'm calling this finished for today because I'm done working on it in earnest for the time being. But, over the next few months I plan to keep an eye out for a cute wood (possibly vintage) mirror to hang on the wall across from the door. I'm also still mulling over what kind of rug I'd like to add in here – because I do want one! And, of course, the shelves will be ever-evolving!
But, for now?
It's done, and I love it.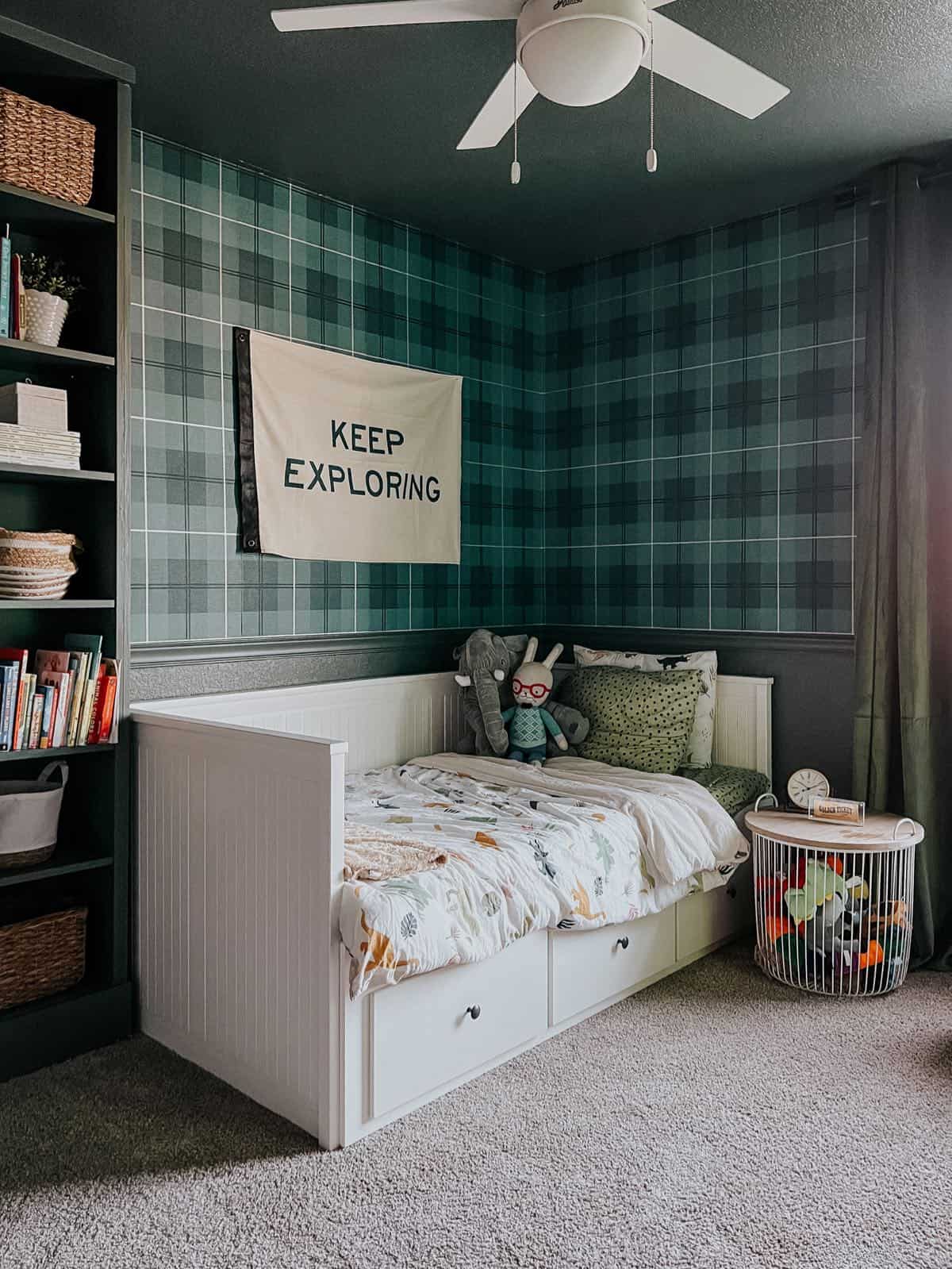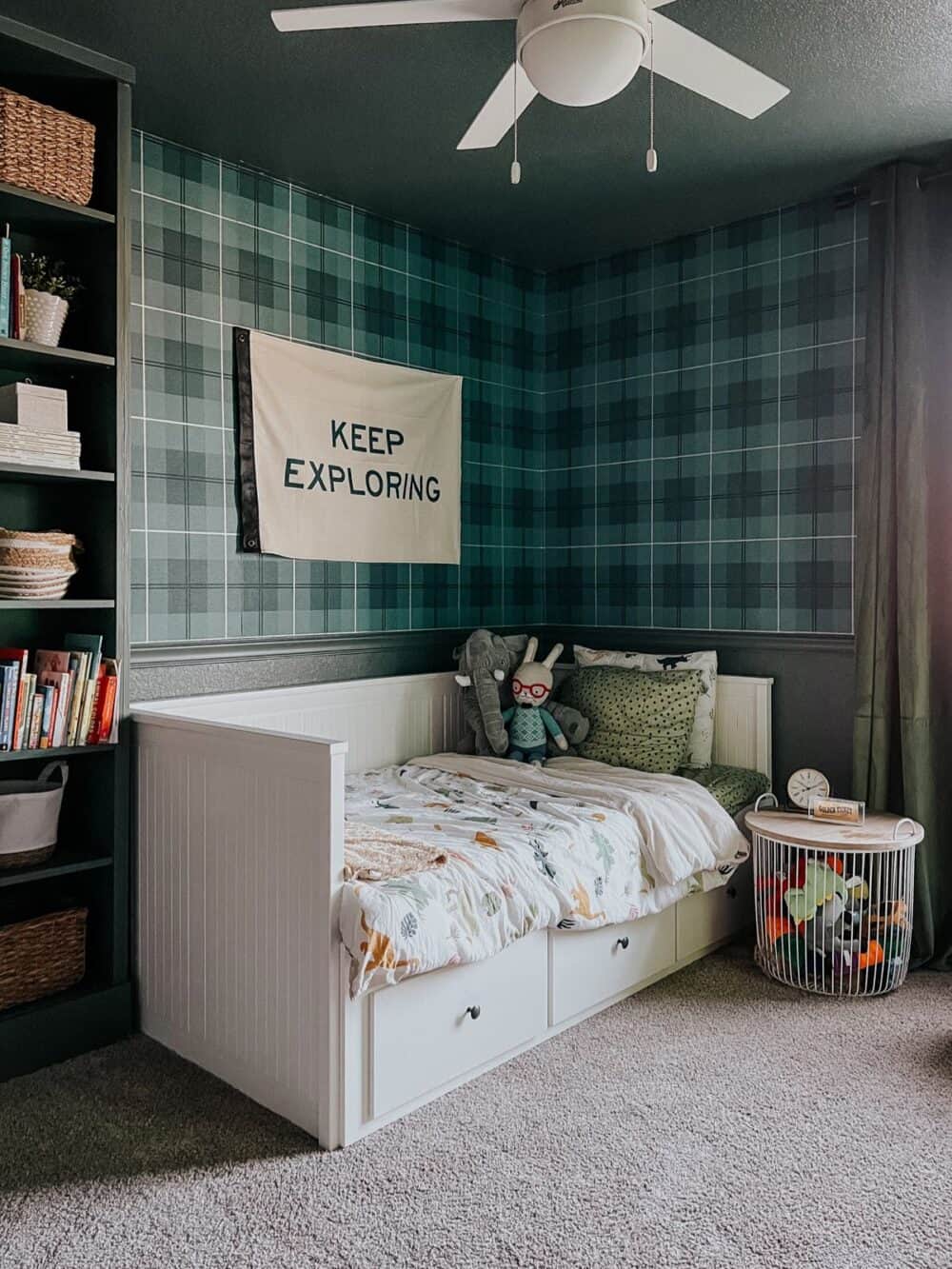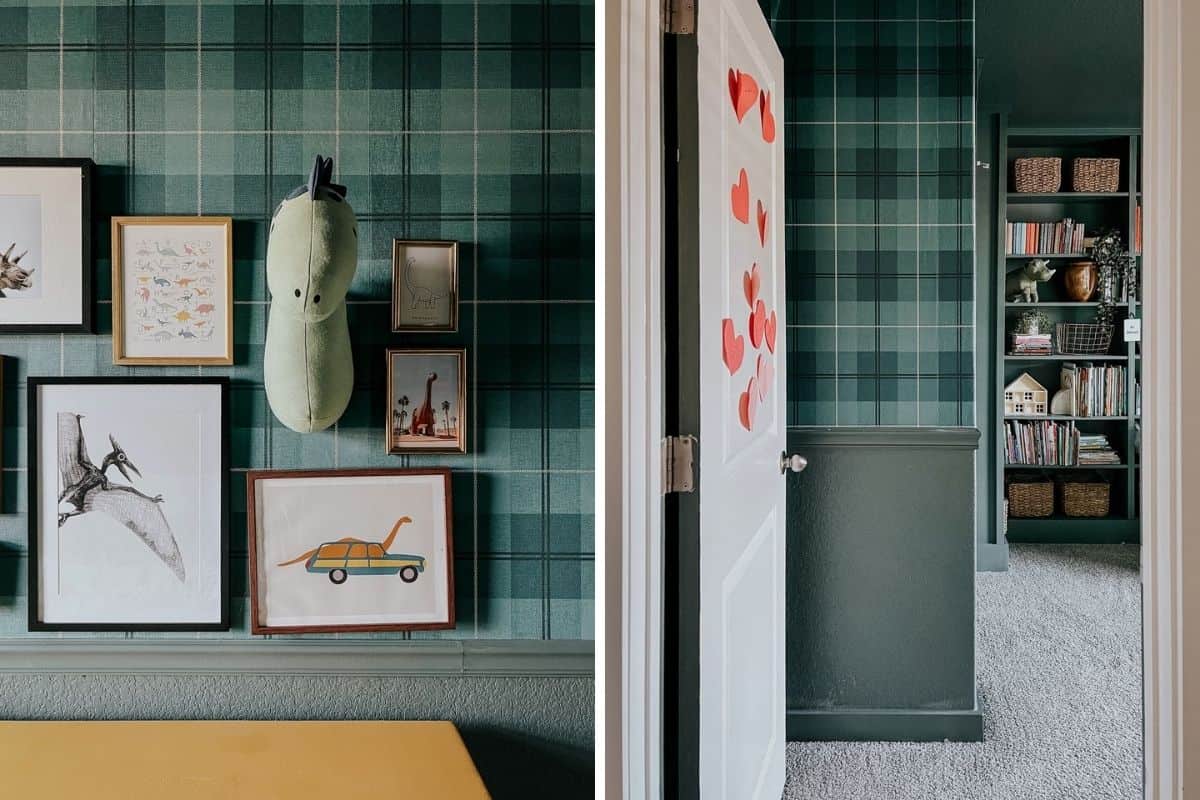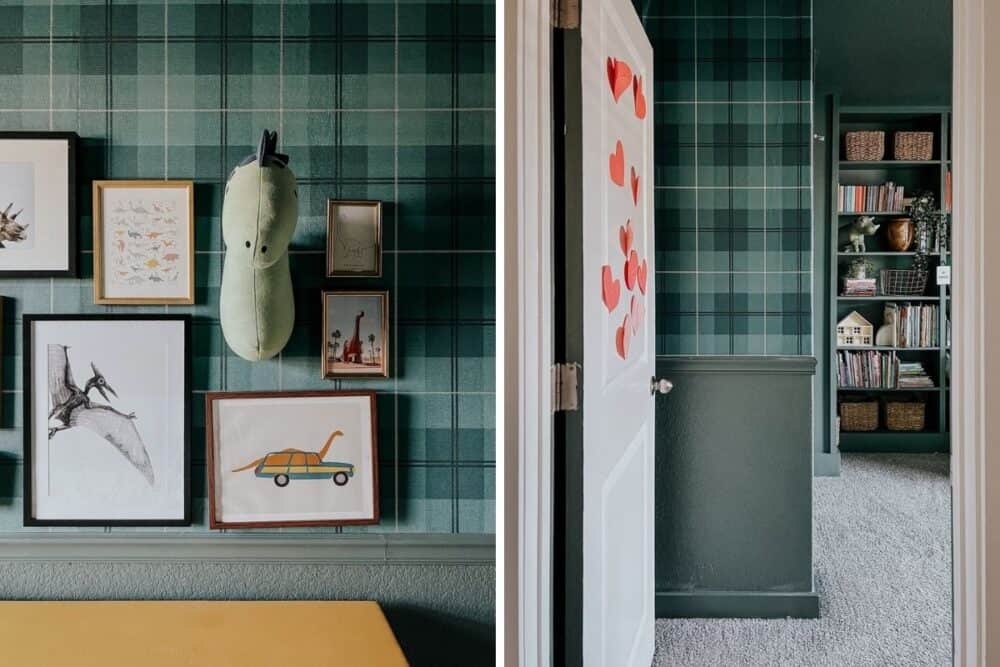 Grant's dinosaur-themed room
When I first started on this room, I had no idea it would end up being this massive of a transformation. The green walls and plaid wallpaper were part of a last-minute pivot thanks to supply issues at IKEA, and I'm honestly so grateful it happened.
I mean, now that the room looks like this I have a hard time imagining it any other way!
The green plaid wallpaper makes the entire space feel cozy and warm and like a big hug. Someone on Instagram said it looks like it's a place Richard Gilmore would settle right in for some work, and I loved that comparison. Of course, without a bit of intention and planning, the whole thing could easily start to feel too grown-up. This is a room for a three year old, after all.
So, I added in a whimsy-filled gallery wall with all sorts of funny dinosaurs. I really wanted it to feel unique so I specifically searched for mostly funny and friendly dinosaurs. It feels so playful, and it really does a lot to make it feel more like a kids' room.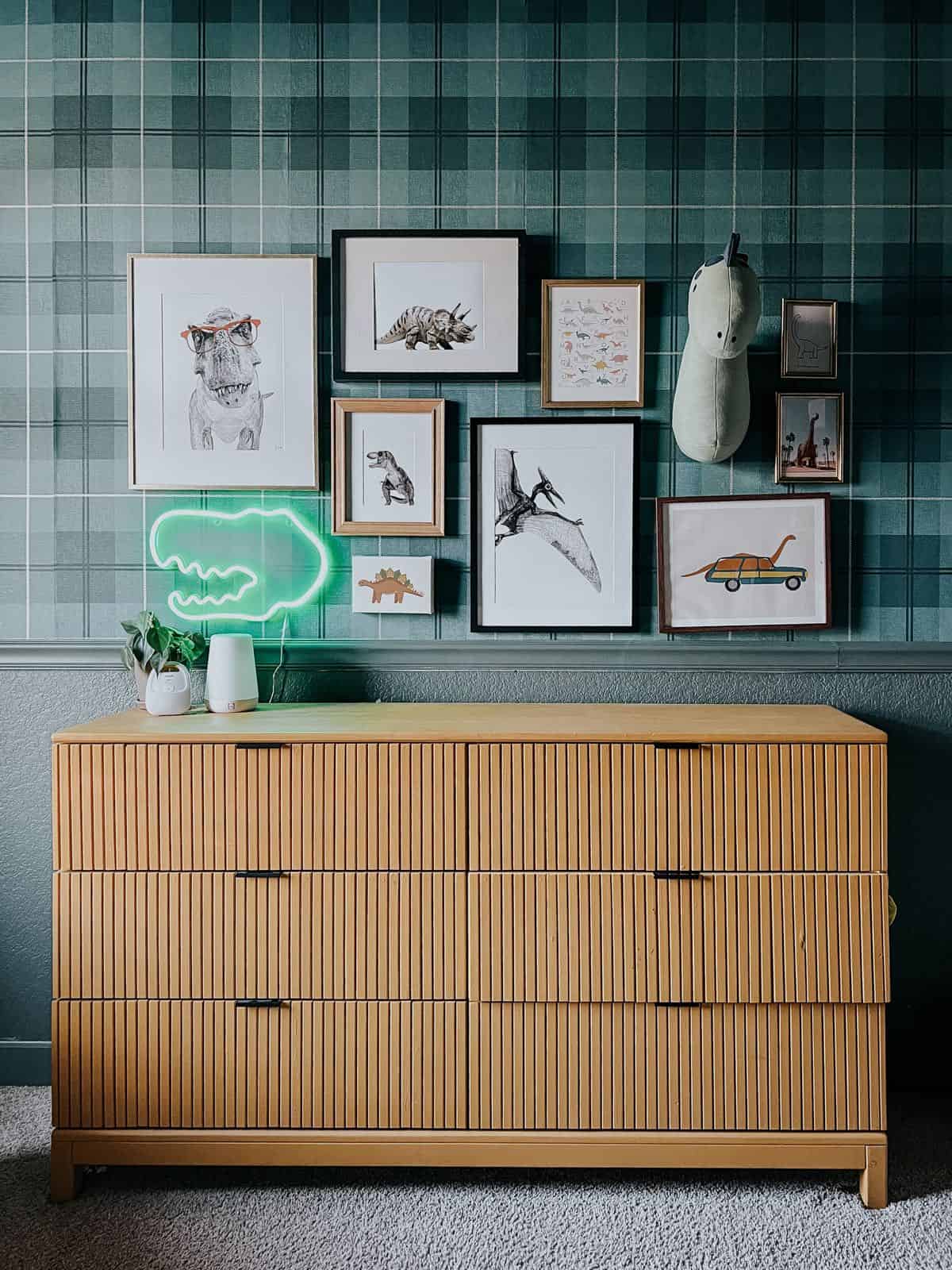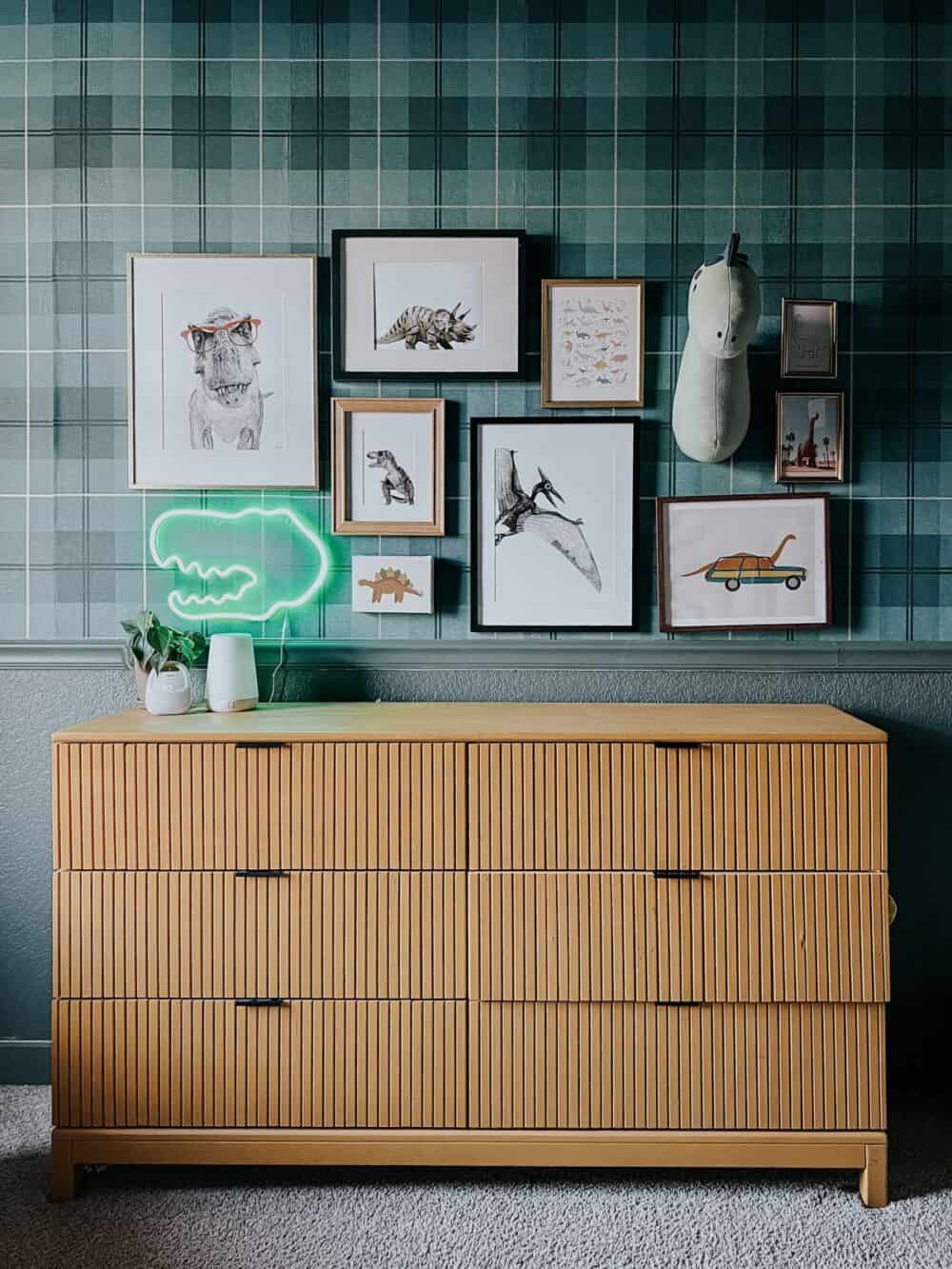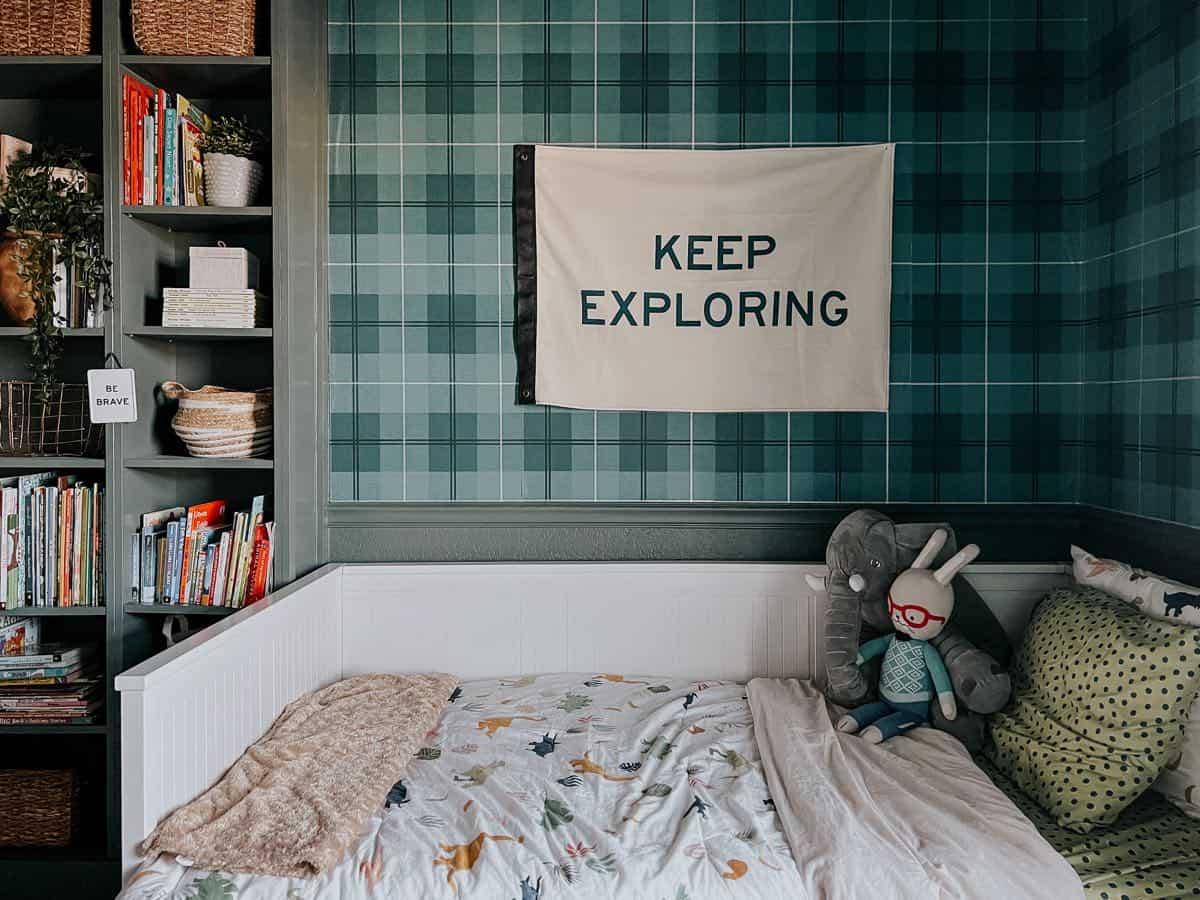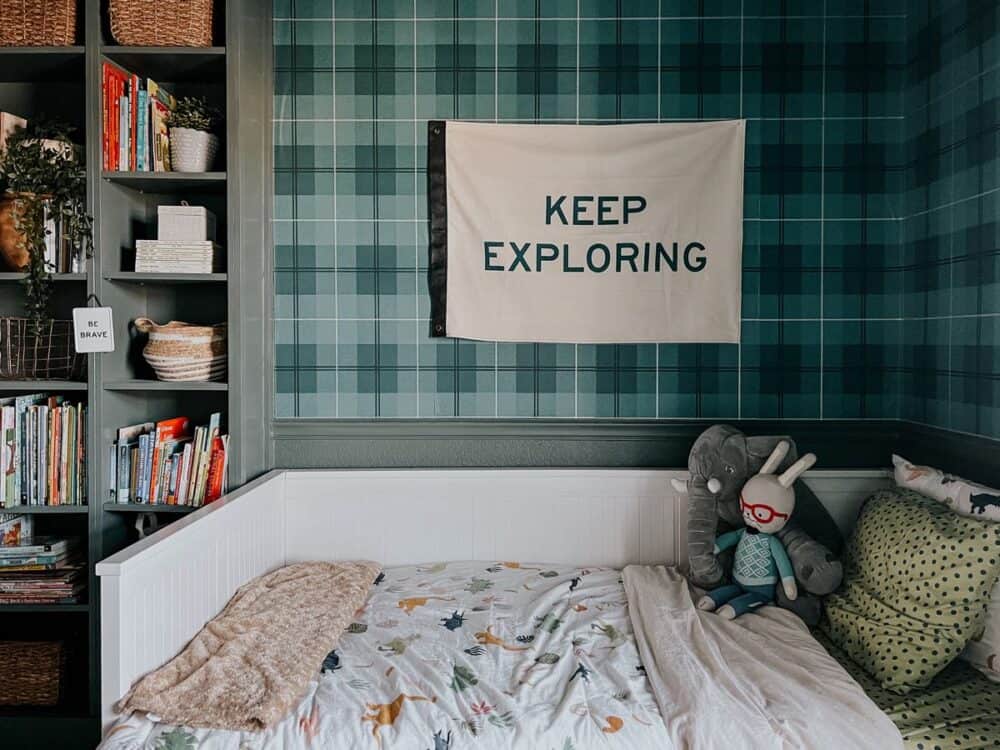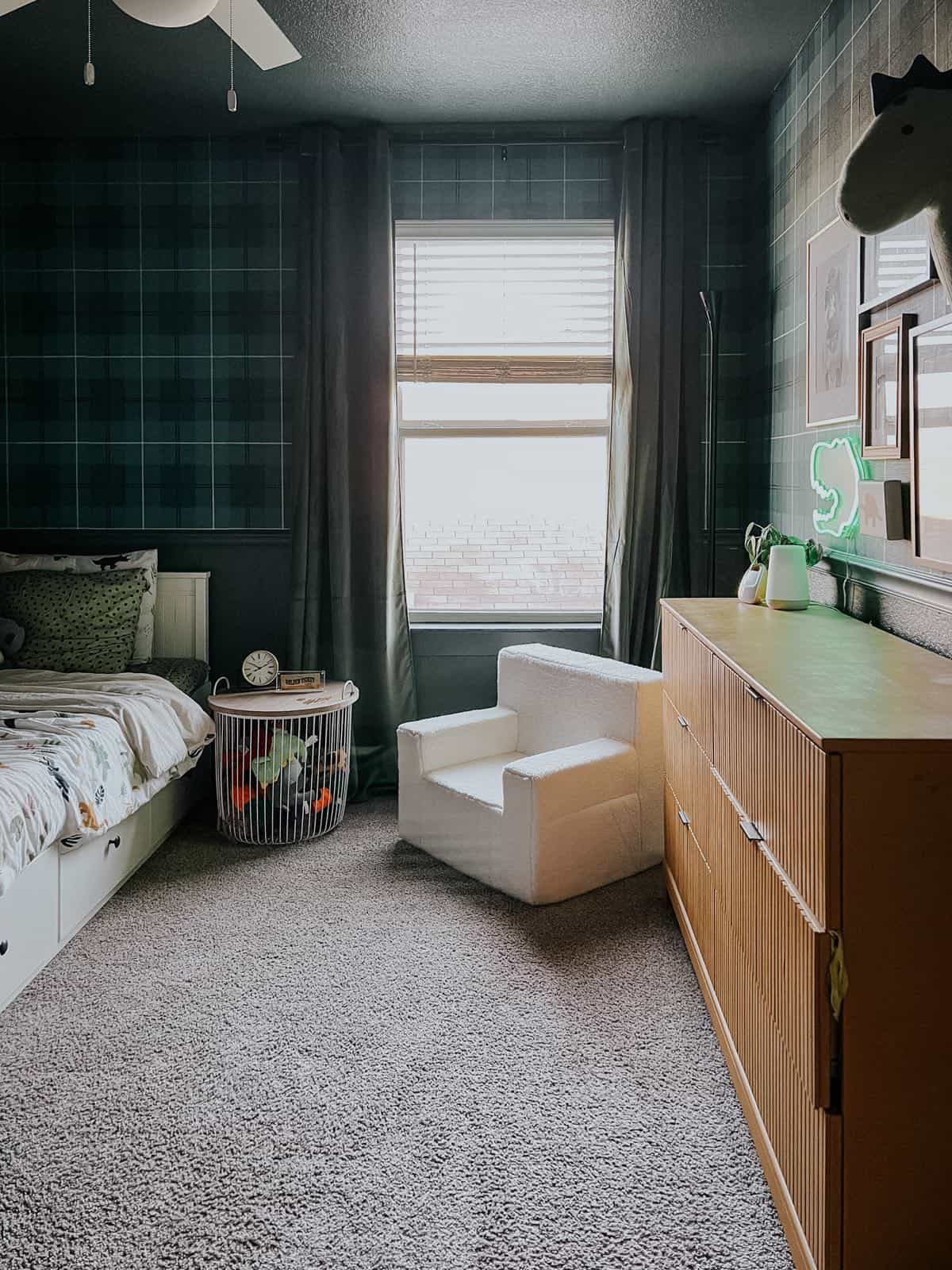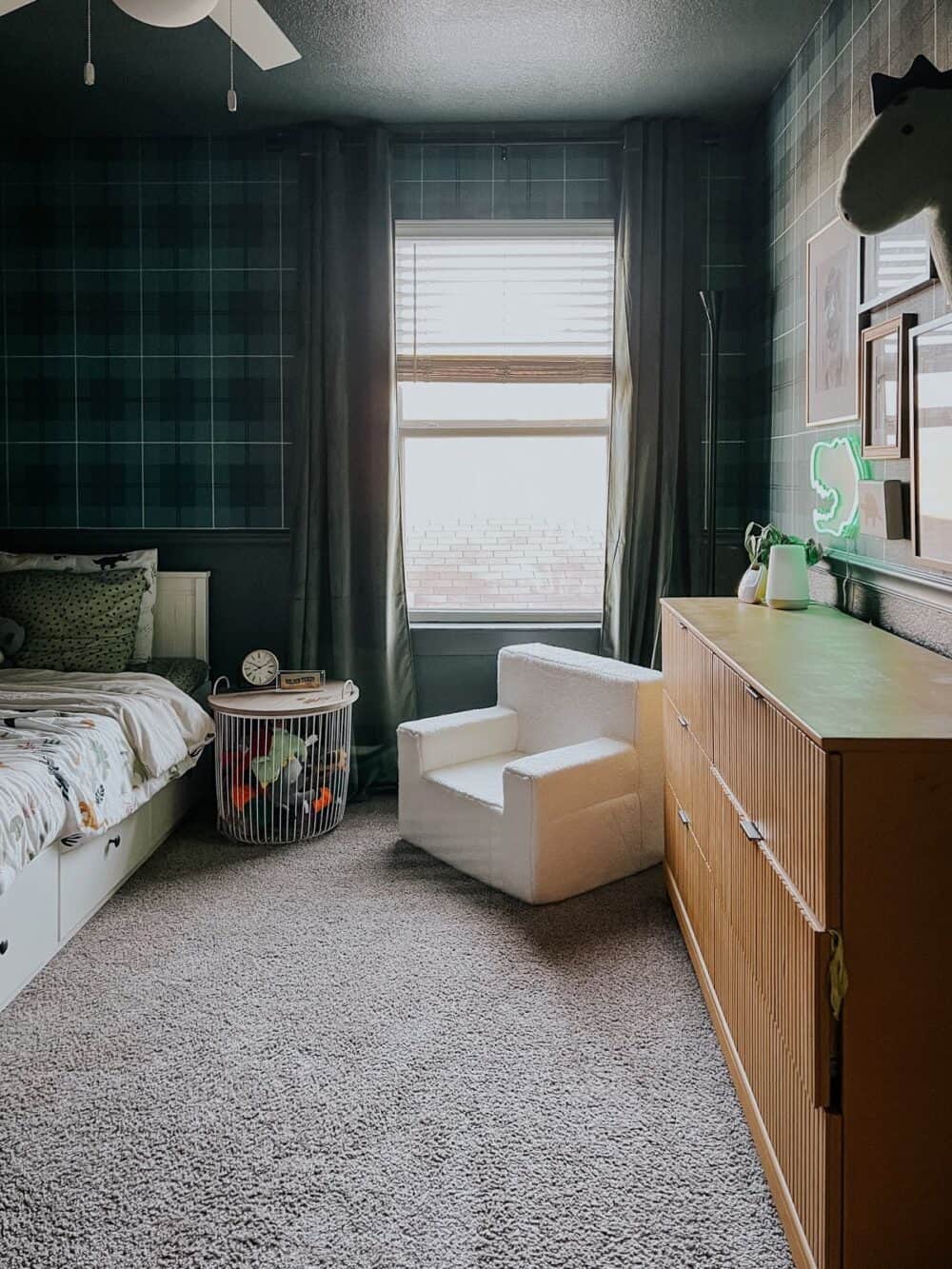 I love that it'll be easy to swap out pictures and pieces of the gallery wall as he gets older, so it'll be ever-changing. If he ever gets tired of the dinosaurs, I'll be able to switch things up without taking everything down and starting from scratch. Which is important, if you're working on top of wallpaper!
bookcase details
Of course, the true star of the show in here is the built-in bookcases. I'm always a huge advocate for adding built-ins when you can, because it makes a room feel so elevated and intentional. I took a really long time planning these bookcases out, because I wanted to be sure they'd work for him long-term. For example, if he ever decides he wants a full-sized bed in here, it was important that it would have a good spot.
This was the only layout I could come up with that would easily allow for different sizes of beds in the future, and I'm really happy with how it looks. I was able to utilize some dead space in that corner and really maximize the storage in his room, and I have a feeling it's only going to get more handy to have as he gets older!
Because he can't reach any of the upper shelves anyways, I took the opportunity to bring in a ton of our books from around the house to store in his shelves. We had some books in the game room, and I even pulled a bunch of books out of Jackson's room to give him more space for LEGO displays.
Also, a little secret – all of the baskets except for one are totally empty! Grant doesn't actually have all that much "stuff" yet that he wants to keep in his room. Almost all of the kids' toys are stored in the play room, so really the only thing they keep in their own room are their personal treasures and toys they'd like to keep separate. One basket it filled with some of his own stash of LEGOs, but that's it.
I love knowing that we have all of this extra empty space just waiting for him to need it. In Jackson's room we spent a lot of time trying to catch up and create solutions! So, as he grows and wants to have more things in his room, it will be really lovely to have all the systems already in place and ready to go.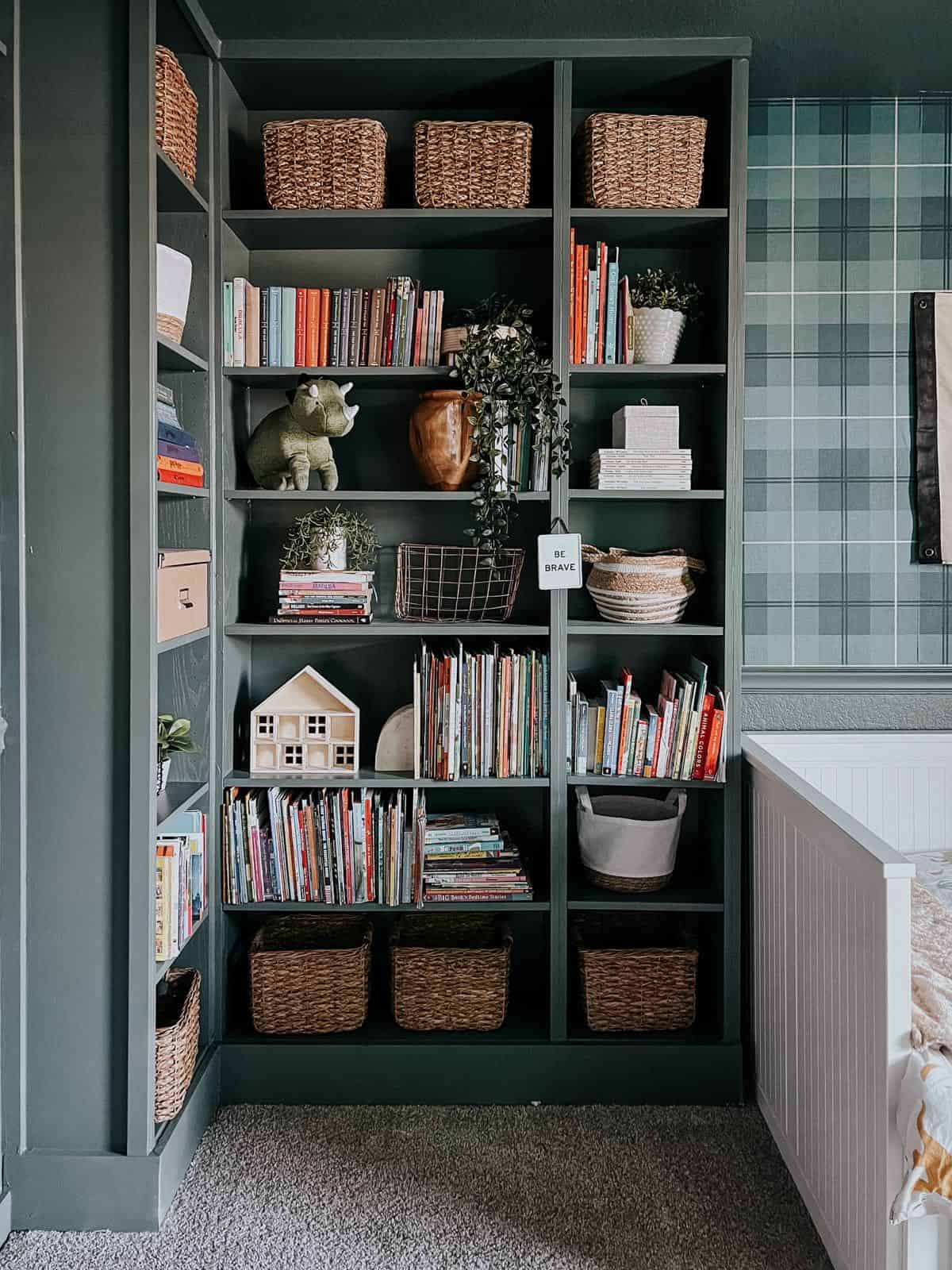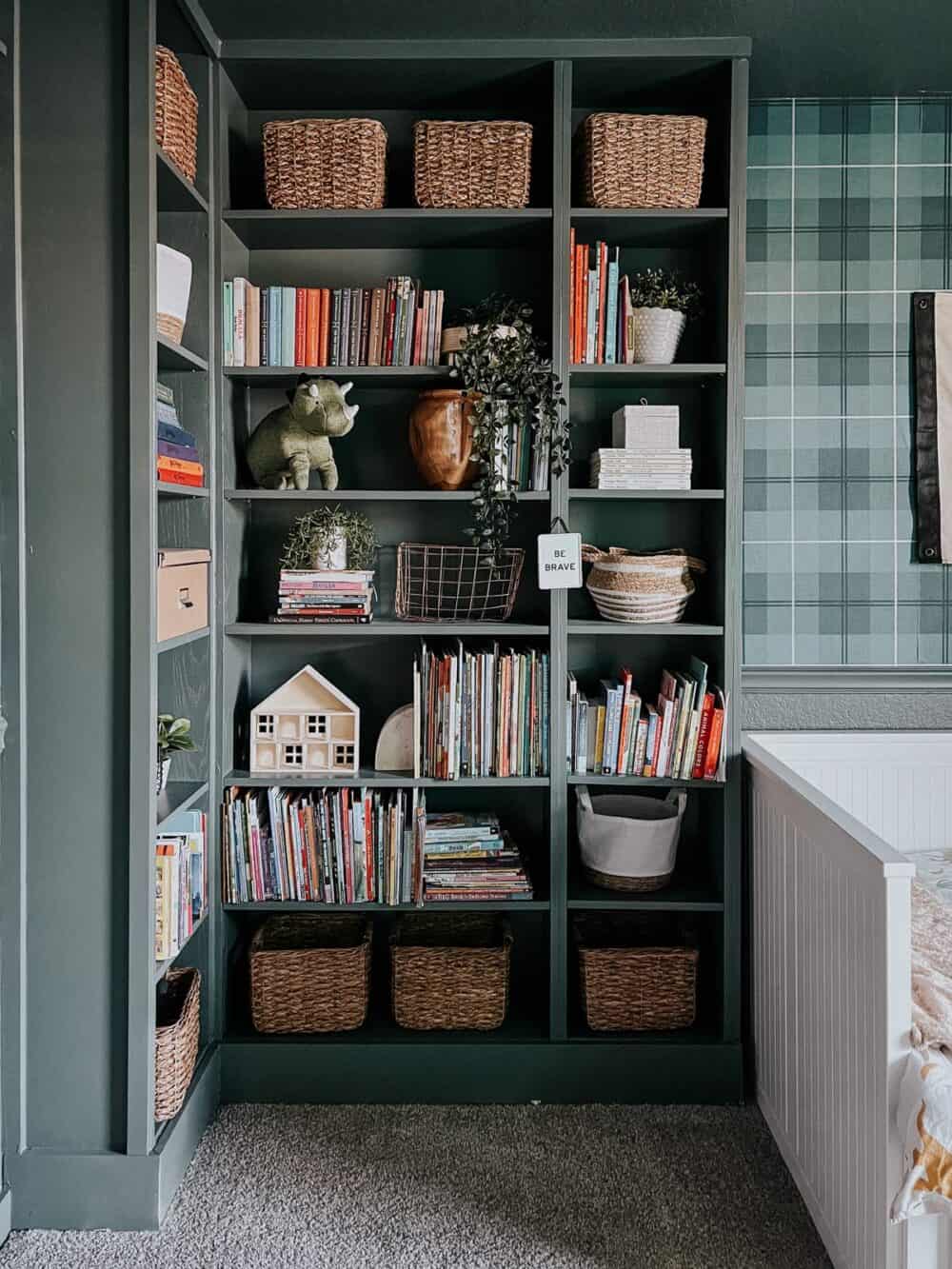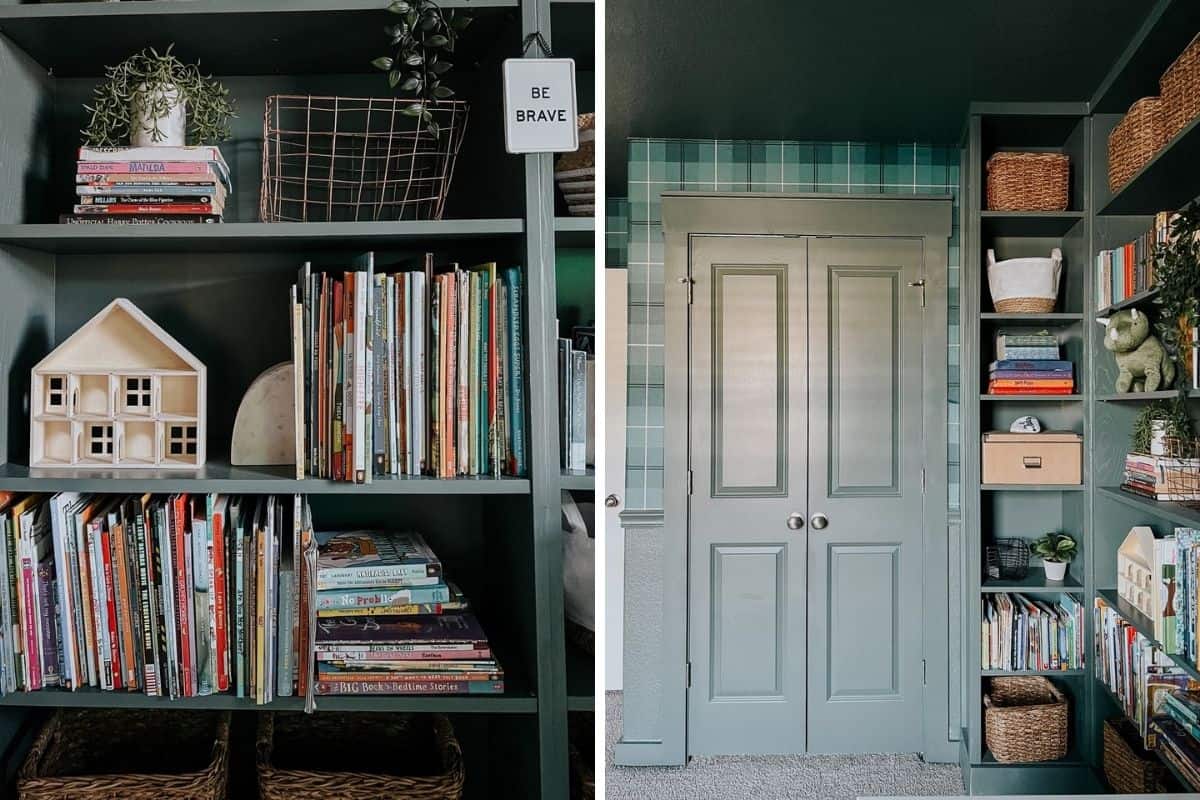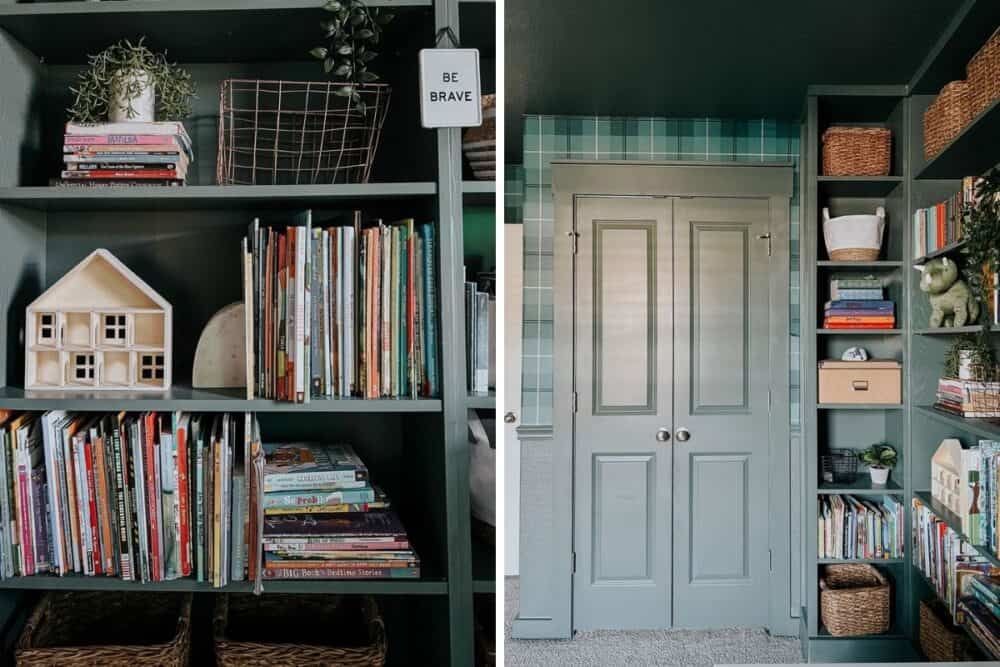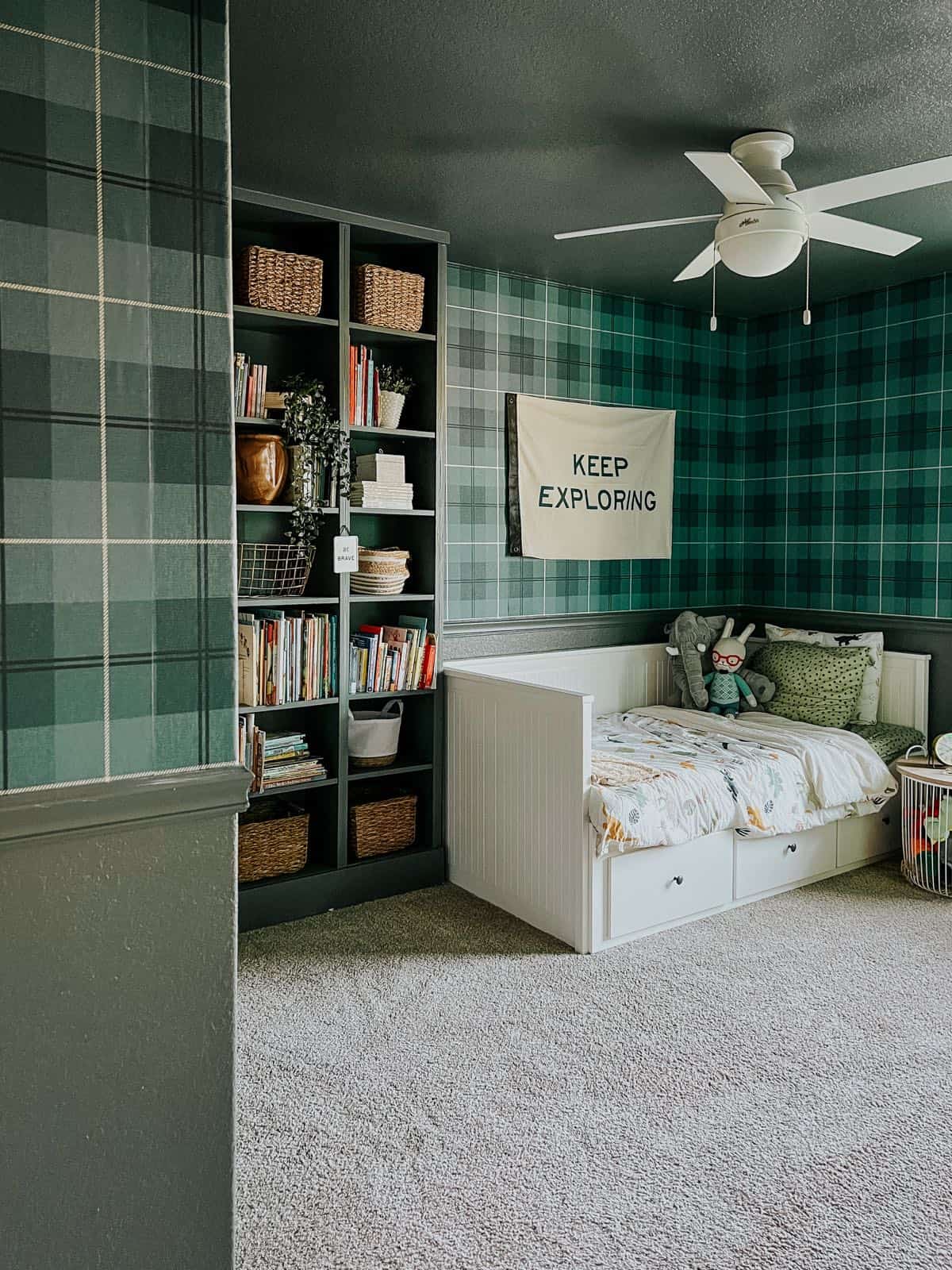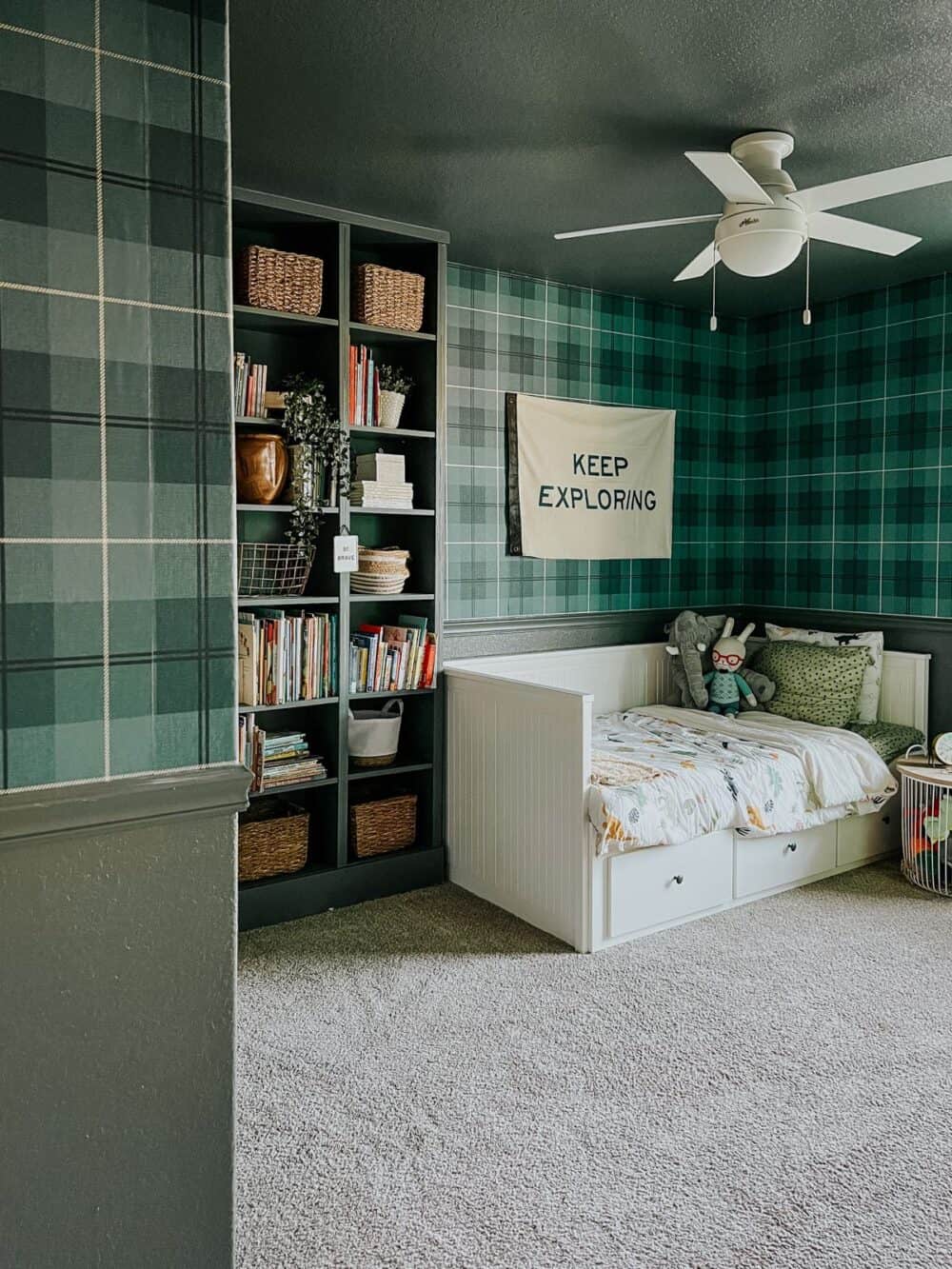 I know kids rooms evolve a lot over time. Heck, Jackson's room has been through two versions in the 2.5 years we've lived here! But, I have a hunch that I've created a space that will be able to evolve with him. I'm prepared to admit I'm wrong on that later if I need to, but I truly think this room is going to be with us for a nice, long time.
If nothing else, those bookcases aren't ever going anywhere. I can promise you that.
sources
Gallery Wall Sources