5 Life-Changing Bathroom Products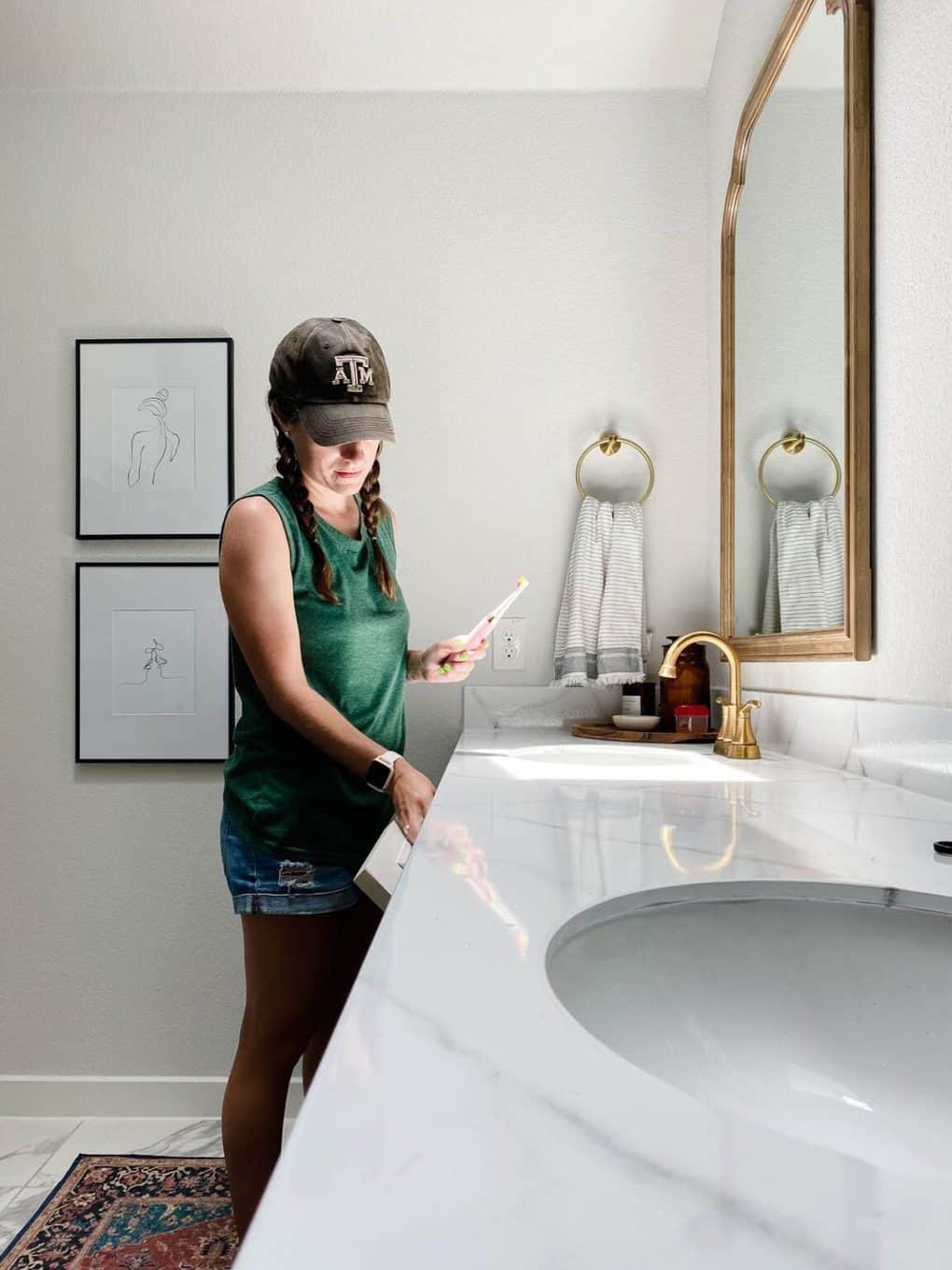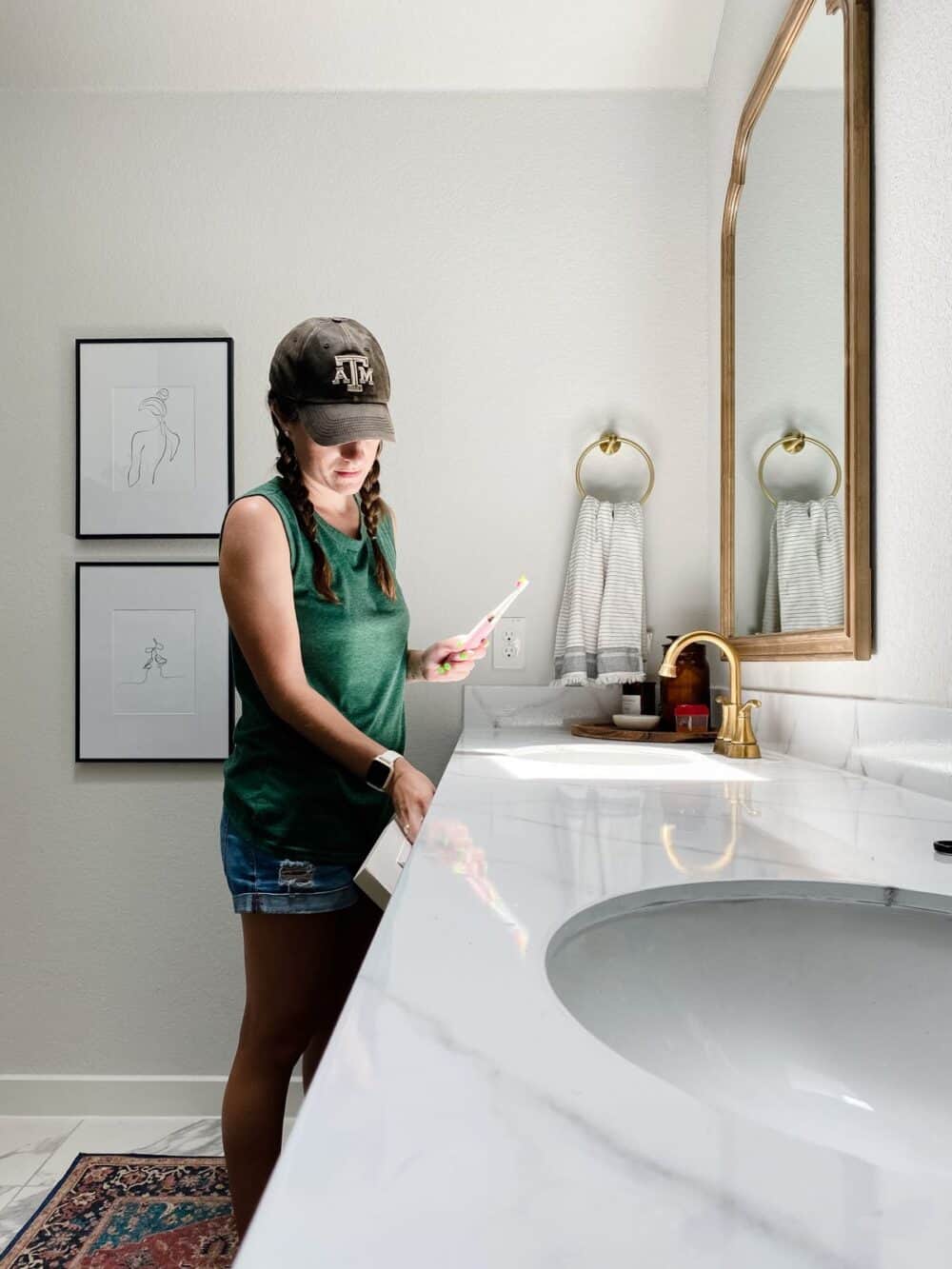 Last week, on Instagram, I shared a new little gadget I got for the boys' bathroom to try and cut down on some of the mess we deal with in there on a daily basis.
I don't think I've ever seen so many people hit "purchase" on an item that quickly – we were all equally obsessed with it right away, and I had the most fun hearing from y'all as yours came in!
While this little thing is my newest life-changing bathroom tool, it's not the only one I have! So, today I thought it might be fun to highlight five random things we've purchased for our bathrooms to help keep them clean and organized. Everything is under $30, and they're all items we use and love!
5 cool bathroom gadgets I LOVE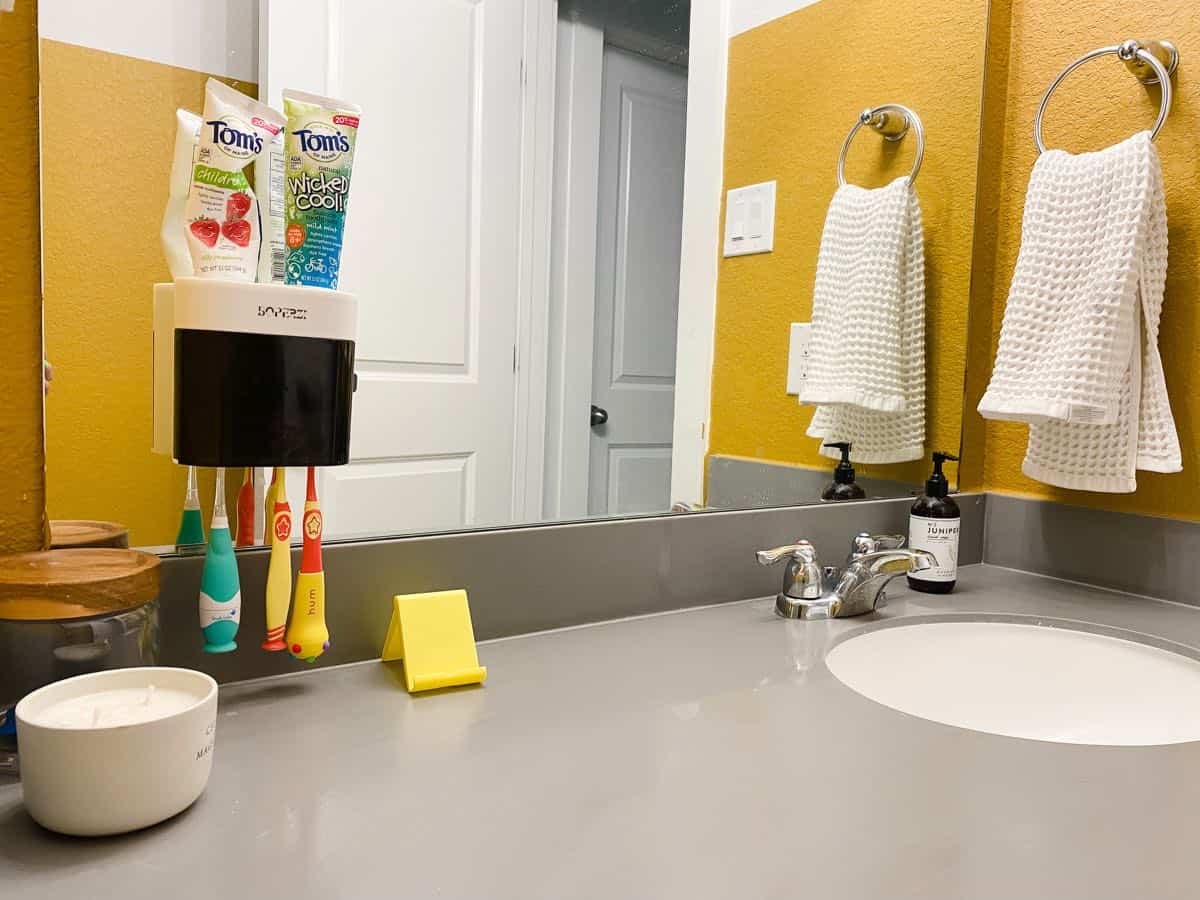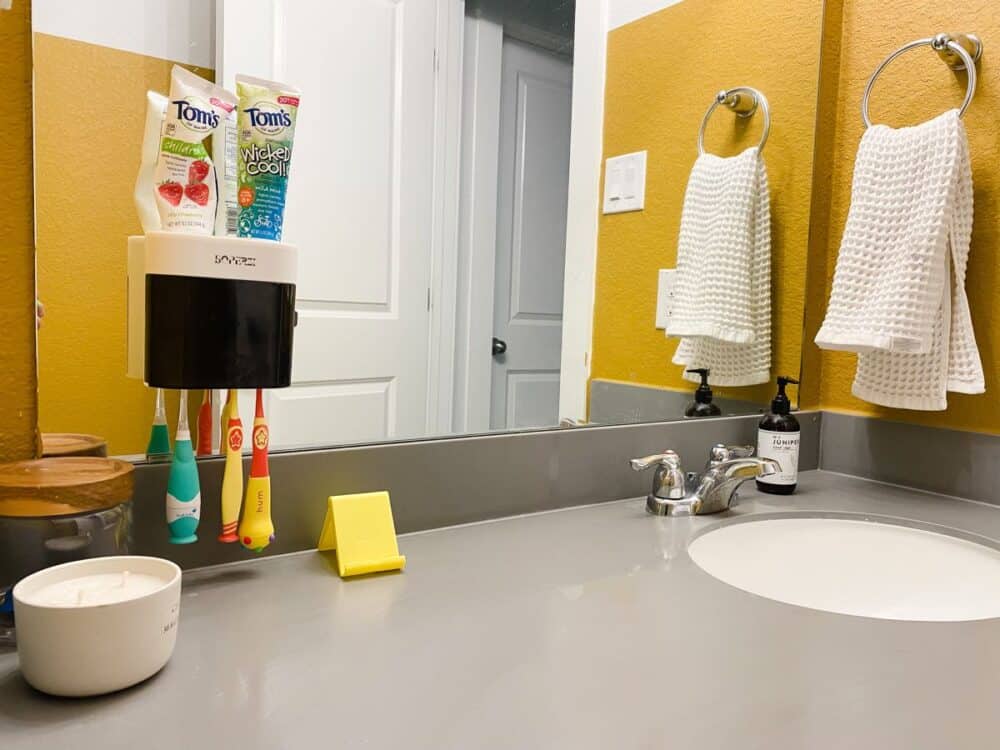 Kids' Toothbrush + Toothpaste Holder
This is the product that started it all. I got tired of having to dig around for their toothbrushes every night in a drawer that was full of spilled toothpaste, wet toothbrushes, and general grossness.
I tried cleaning the drawer regularly, and it just kept coming back again and again. So, I grabbed this toothbrush holder that has a built-in toothpaste dispenser and it's a game-changer. The kids love it, Grant can get his own toothpaste from it, and things stay so much cleaner.
It's obviously not perfect – we've still got water drips on the counter and toothpaste all over the sink…but it's a good first step, right?!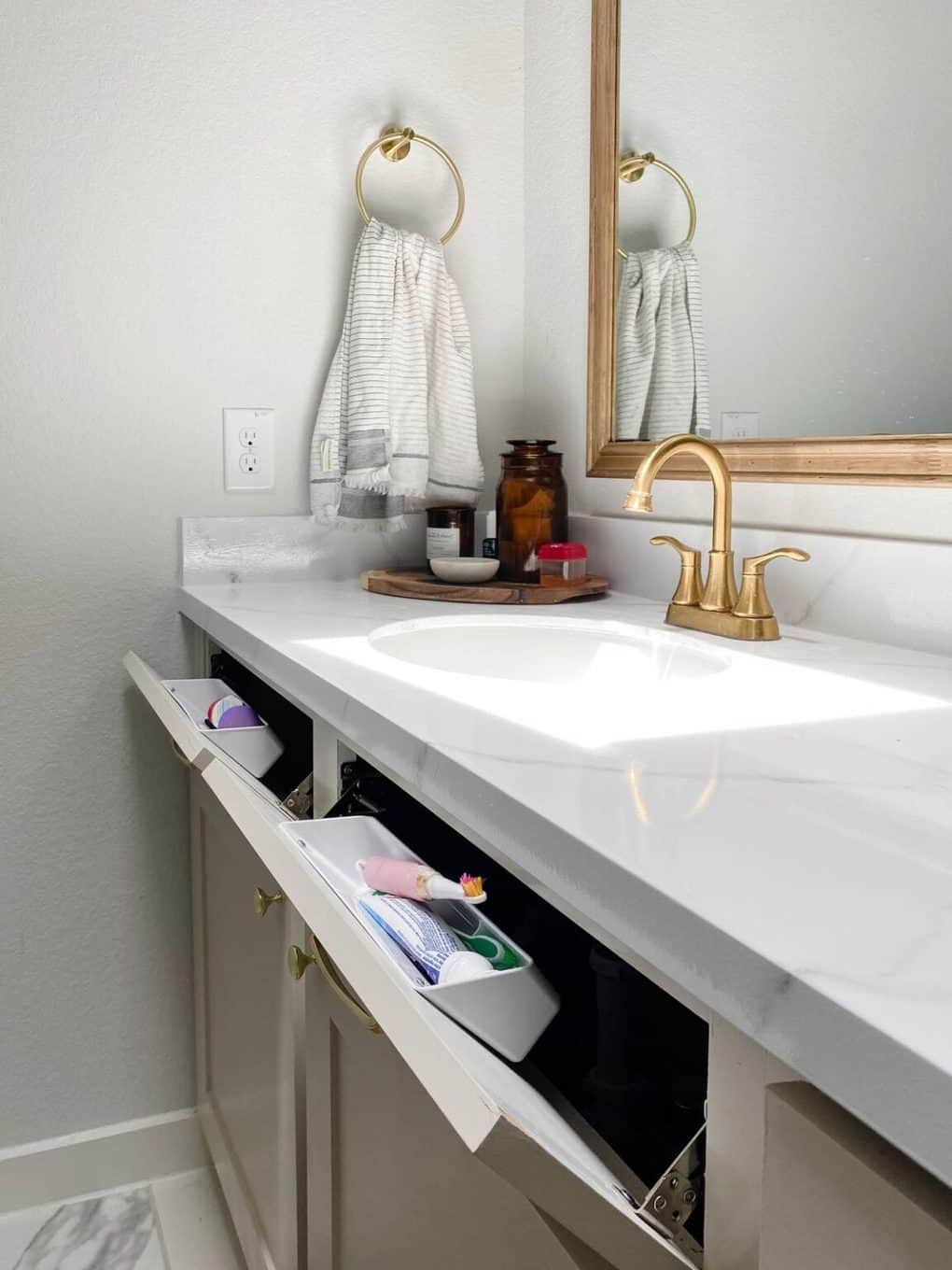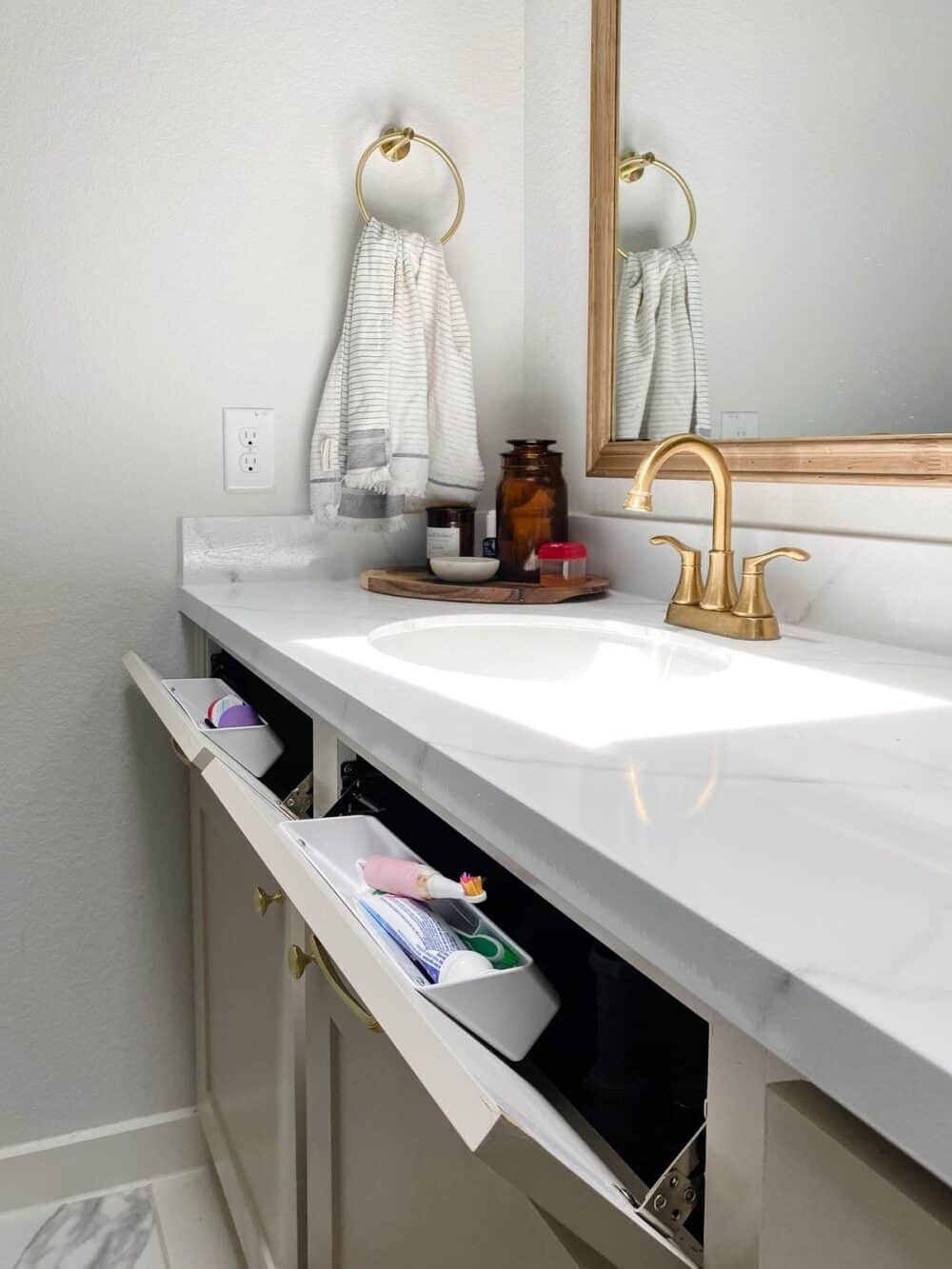 A Tilt-Down Drawer Front
Once you've got a good solution for the kids' toothbrushes, it's time to get something for the adults! Corey and I recently added these tilt-down drawer fronts in our bathroom and they're such a great way to store our toothbrushes and toothpaste.
We each have two, so I keep my toothbrush and toothpaste in one, and a few other essentials like my makeup sponge and some tweezers in the other. It's a really helpful way to keep things organized and off the counter, and it makes really great use of an otherwise dead space!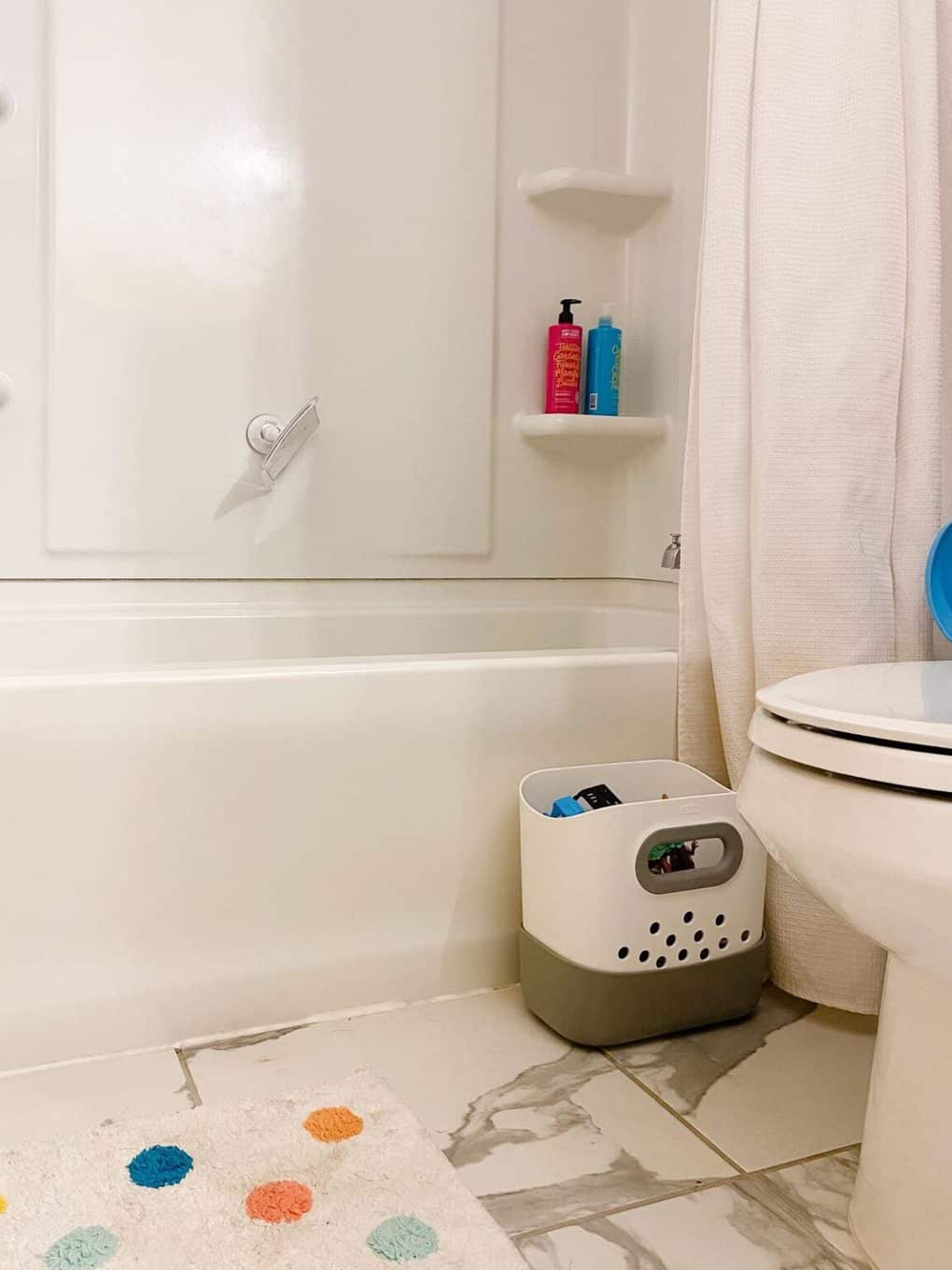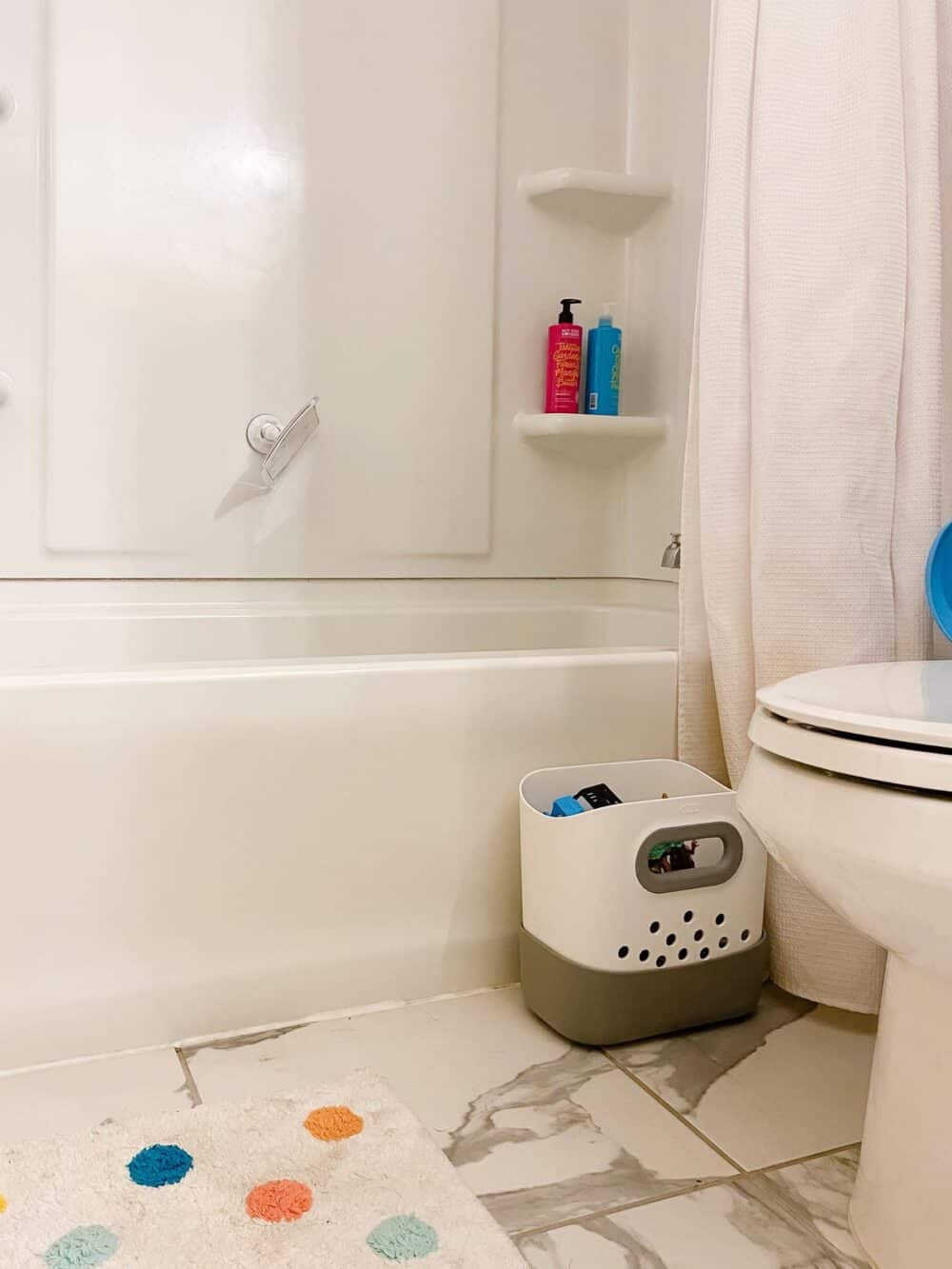 Bath Toy Storage
I've tried a ton of bath toy storage options over the years and this bath toy storage bucket is by far the best for us so far.
Why do I love it so much?
It has a little handle up top that makes it really easy to scoop toys out of the bath before you drain the water
There are holes all along the bottom so water doesn't just sit in the bucket and make everything gross
There's a little stand for it to sit on so that as toys continue to drip, you don't have to deal with that water all over the floor
It's actually cute!
We love this thing so much, and it's been a really huge help for us since we're at a point where one boy loves to have all the toys in his bath and the other prefers to only grab one or two.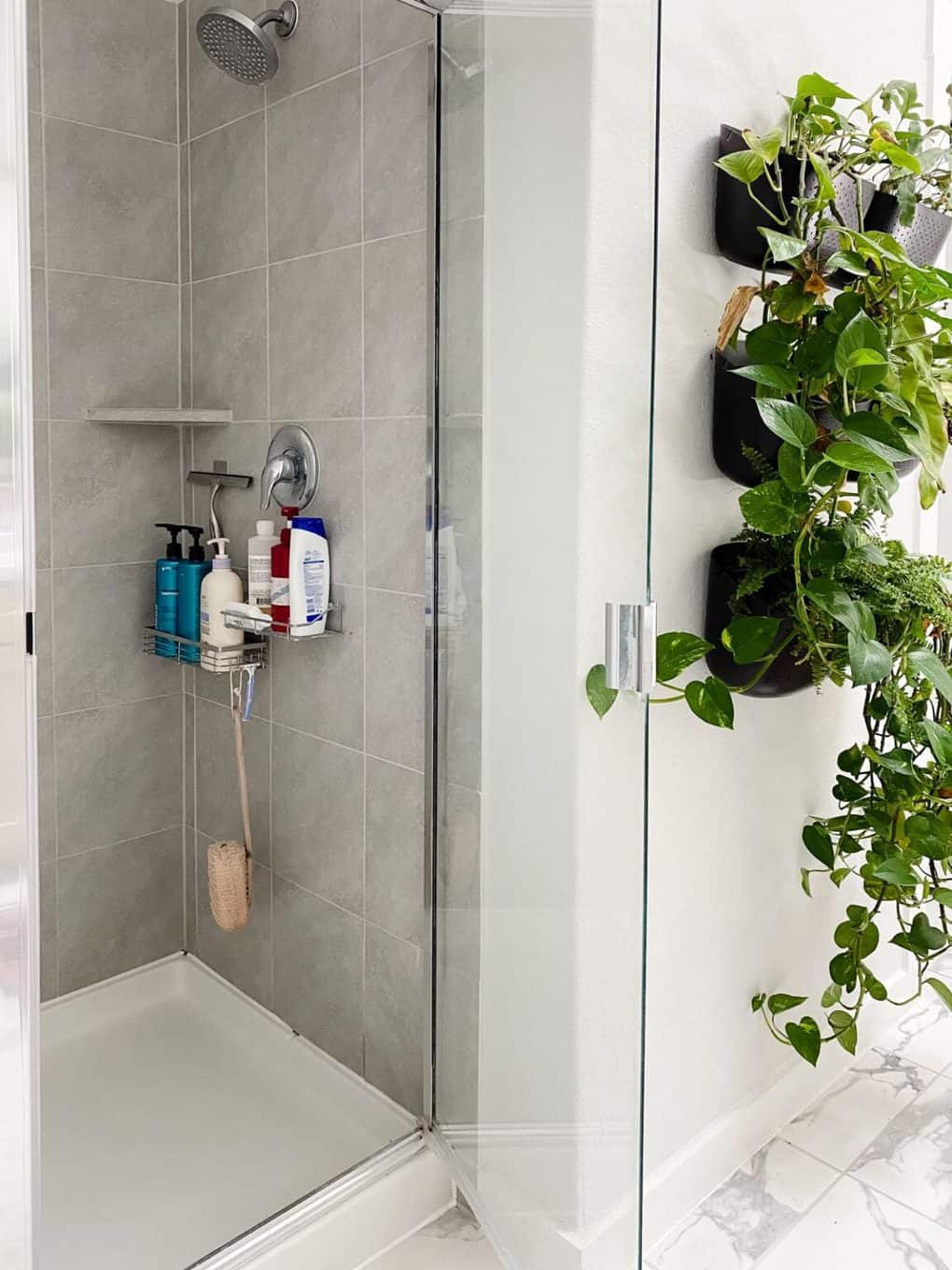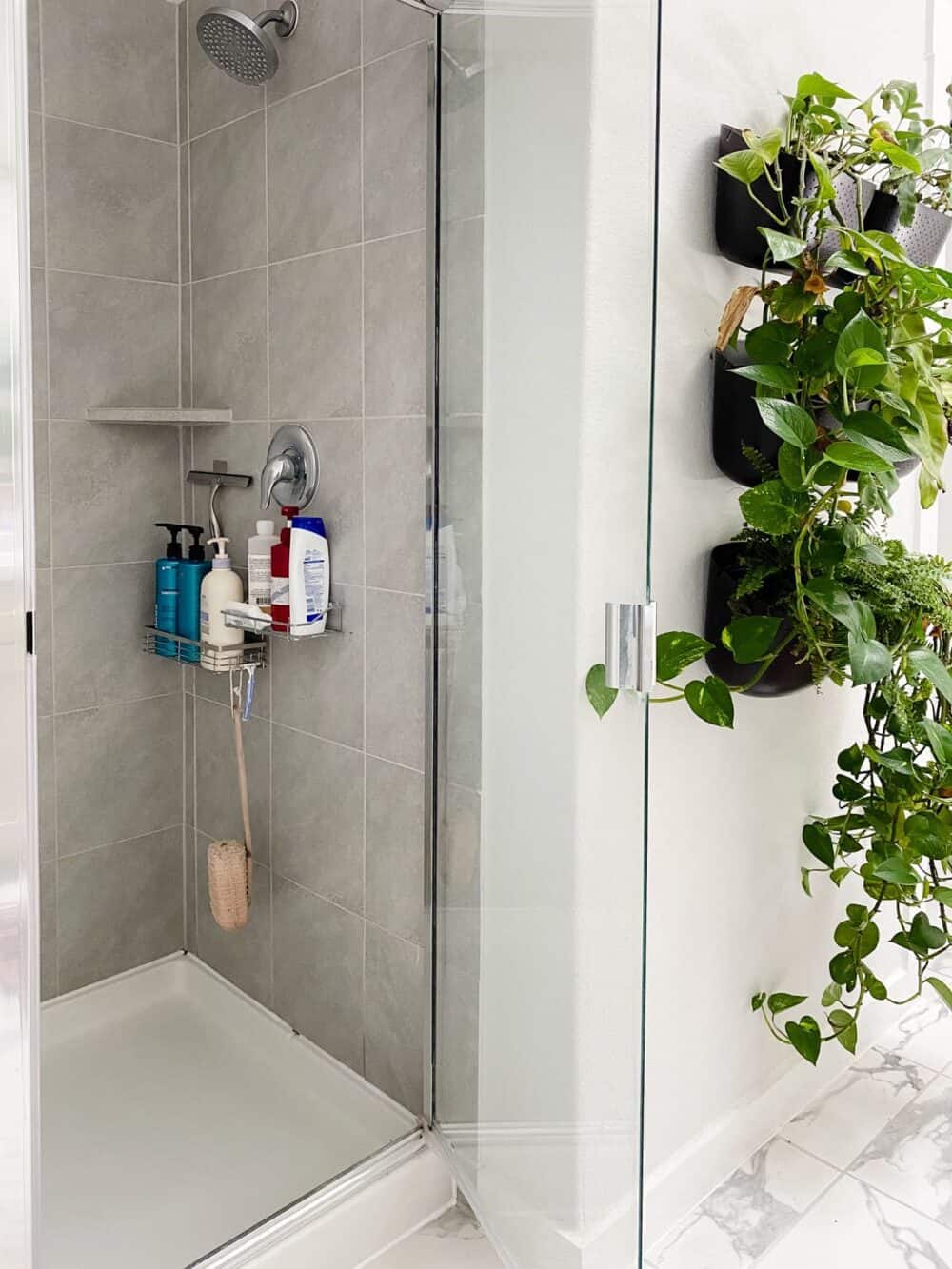 The Best Shower Storage
In this house, we really struggled with where to store things in our shower- we don't have any sort of niche or ledge to set soaps on, and I really can't stand the look (or functionality) of the storage things that hang over the shower head. They sometimes fall, they are such an eyesore, and I'm just generally not a fan.
After struggling with a few different options, we ended up trying these wall-mount shower caddies and they've held up so so well for us. They're so easy to install – there's a sticker that attaches them to the tile – and they'll never fall off. We've used them for well over a year now with absolutely no issues, and they're the perfect solution until we're able add a niche down the line!
I also love that they're nice and streamlined so they don't really stand out in the shower. They sit really close to the wall, and I barely even notice them. Two of the little shelves easily hold all of our soaps and shampoos.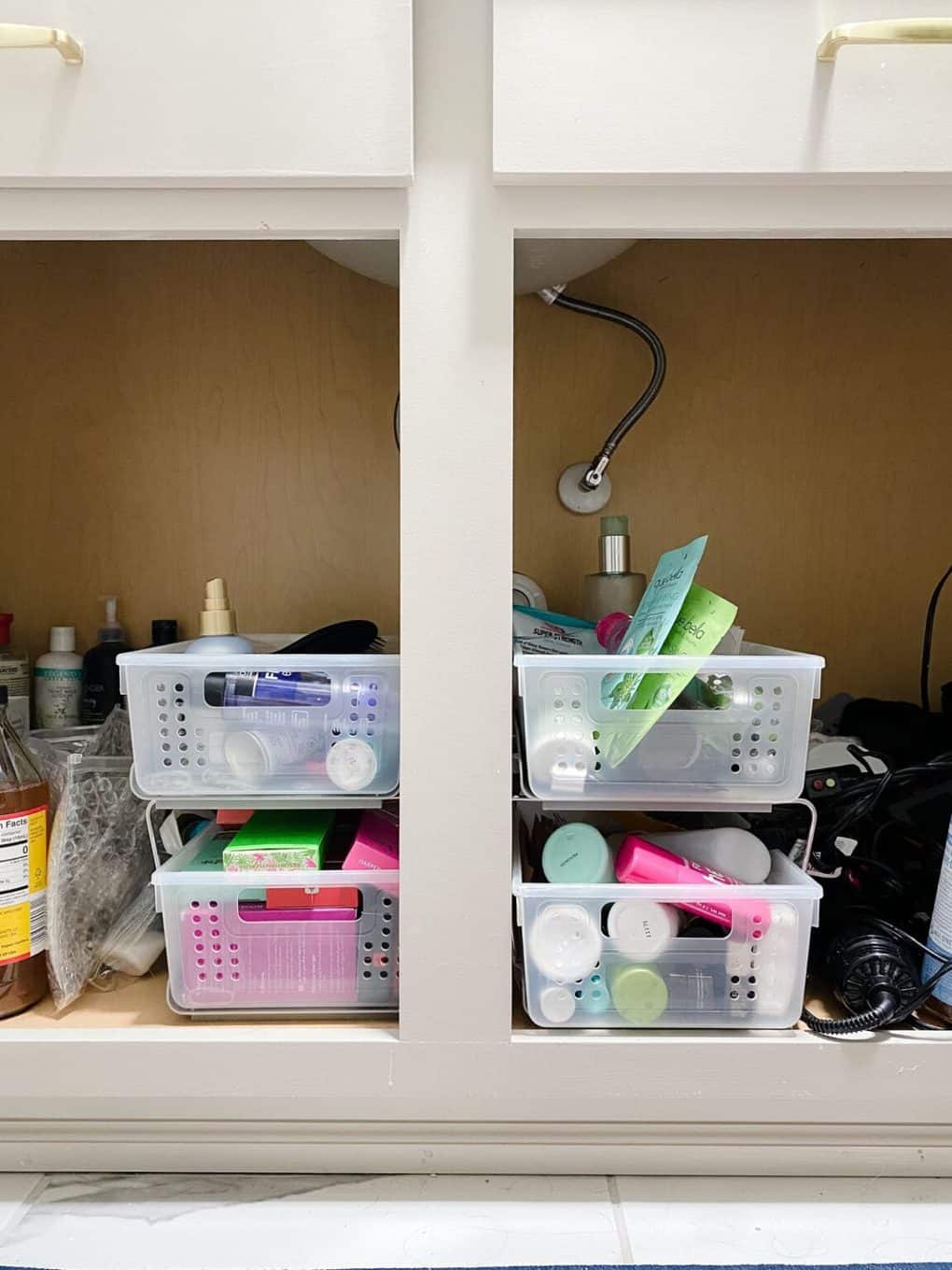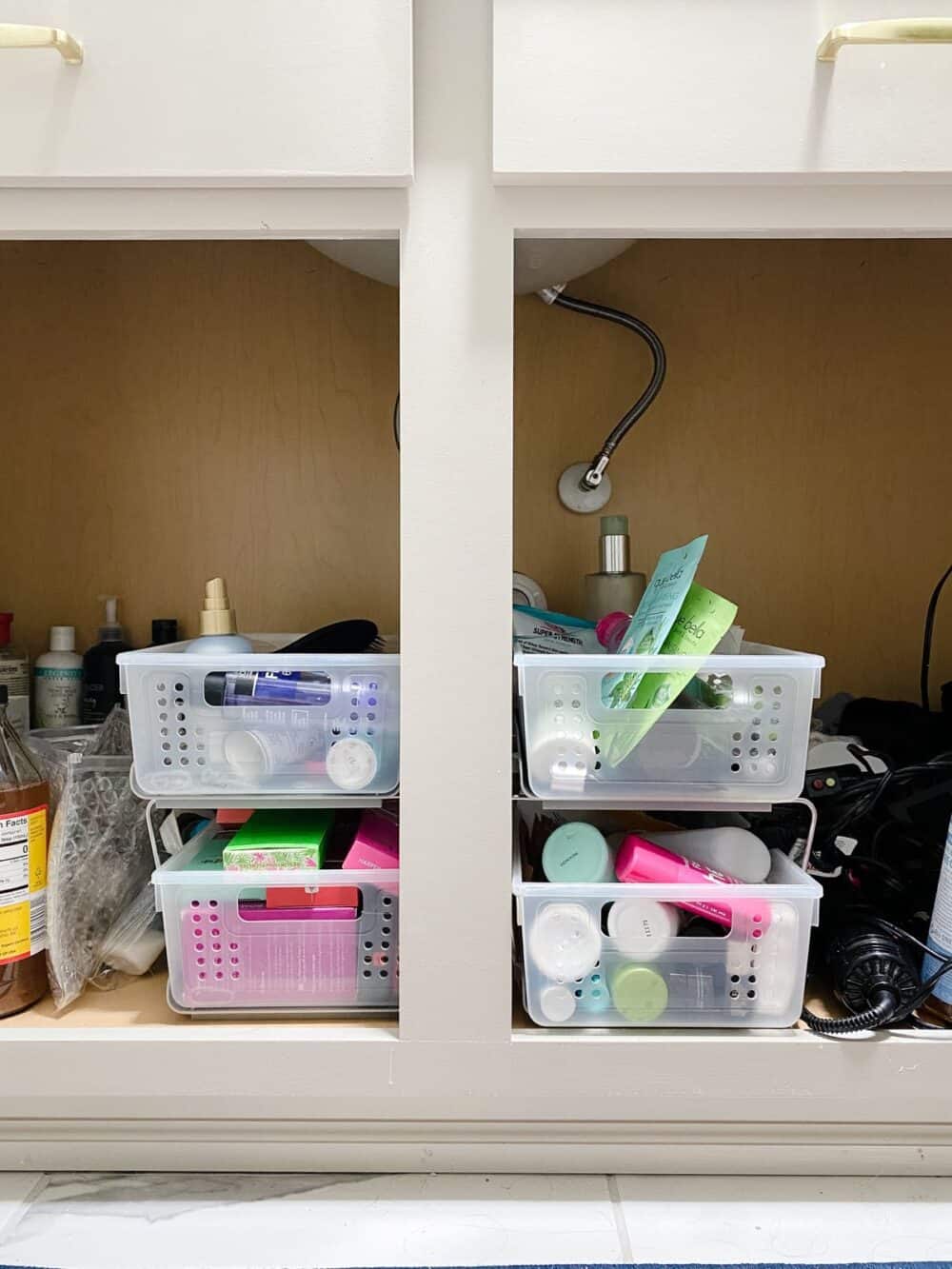 Two-Tier Slide Out Baskets
And finally, these little slide-out baskets are the MVP of my vanity cabinet. I don't have any built-in shelving or drawers in there, so I really had to get creative with adding some storage solutions.
These baskets hold so much stuff, and they slide out really easily. I keep all of my everyday items in the top one and I can just pull it out and set it on the counter every morning and evening, then put it back up. It solved the issue of having tons of things all over my counter or constantly bending over to get stuff out of the vanity, so it's a major win for me.
I love these so much, in fact, that I bought a second set a couple of months after buying the first one! Between the four baskets, they hold the majority of my toiletries, and it's so easy to keep organized.
SHOP THE POST

And those are my favorites for storage and organization in the bathroom!
I'm dying to know – do you have anything amazing to add to the list?!