You guys – my child is about to turn three years old. I've been trying to pretend like it's not actually going to happen, but January is here and that means his birthday is only a few weeks away. I want to cry a little bit every time I think about Jackson turning 3, but it's time to face the facts and acknowledge that it's coming whether I like it or not.
Currently, Jackson still sleeps in his crib. He's (thankfully) never tried to climb out of it, and has seemed really content staying in there, so we haven't pressed the issue at all. But we're reaching a point where it's kind of annoying (especially when he asks to go to the bathroom 2 seconds after I put him in the crib…every single night). Corey and I are ready for him to transition to a big boy bed, and Jackson's pretty thrilled at the prospect too. He has taken naps in big beds a few times when we're at other people's houses, so we feel like the transition should be pretty smooth – it's just a matter of getting it done!
Jack got quite a bit of new stuff for his big boy room for Christmas, and I figure his birthday this month is the perfect time to get the rest of it – I've been gathering ideas for a while now, so I thought today I'd share some of my favorite big kid rooms from around the blogosphere.
Get ready to be inspired!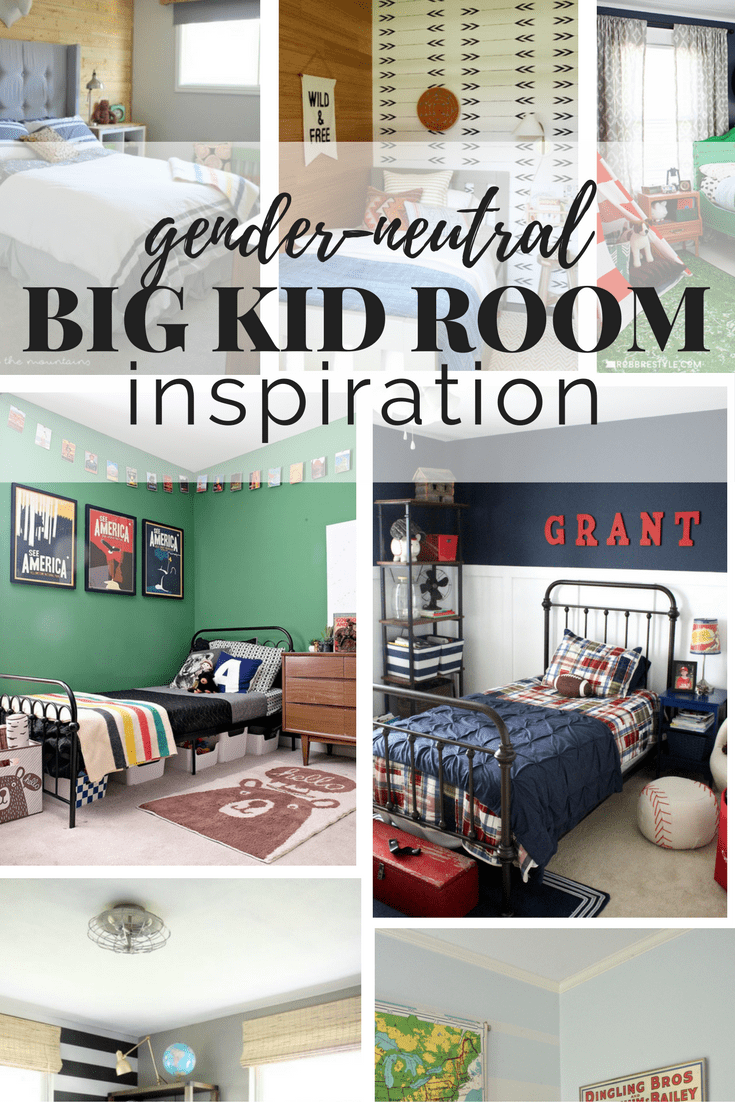 Please remember to pin individual images from the original source!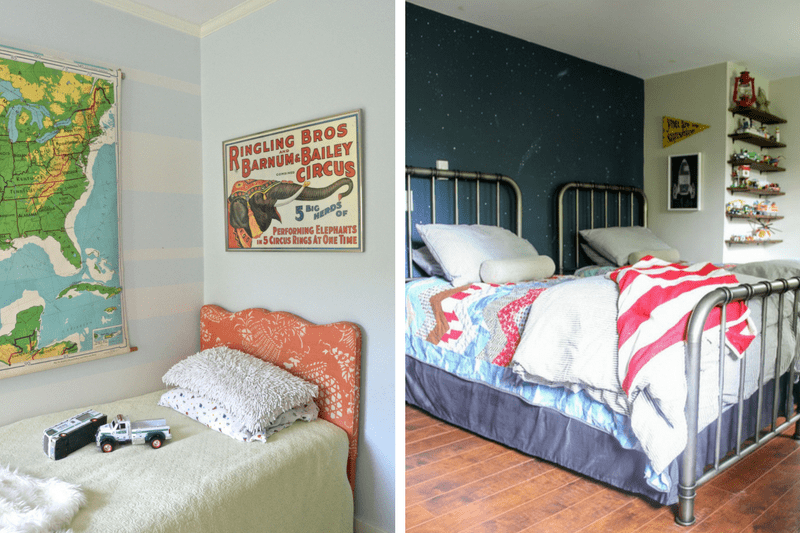 Ciburbanity // Bright Green Door
I've been agonizing over how I want to decorate the walls once we switch things up in Jackson's room, and I'm loving the giant map idea! That vintage circus poster is adorable too – sometimes all you need are a couple of big, punchy art pieces and you're good! I also love the night sky feature wall – it's so gorgeous. Something like this wouldn't work well in our house thanks to our awful textured walls, but it's still so inspiring! Also, do you see those sweet shelves in the background? SO cute!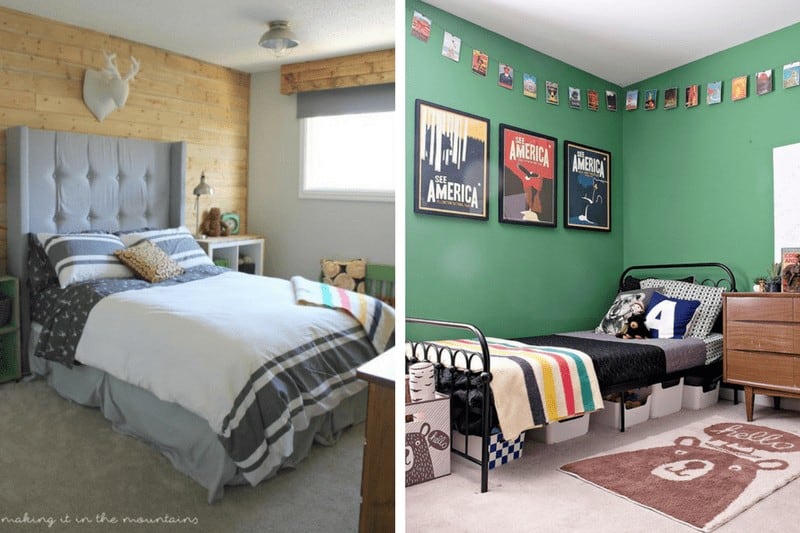 Making it in the Mountains // Boxy Colonial
How gorgeous are these rooms?! I love the wood paneled wall and the deer head above the bed – it gives the room a really nice rustic feel without going overboard. I'm also loving that bedding – it's similar to the one we chose for Jackson's room, and I really like how it looks with the natural elements and more woodsy decor (which is the general direction we're heading!). I'm obsessed with those green walls from Boxy Colonial – we won't be repainting Jack's walls, but aren't they beautiful? There are some really punchy colors and bold graphics in that room, and I really love that it feels decidedly like a kid's room without being too cheesy.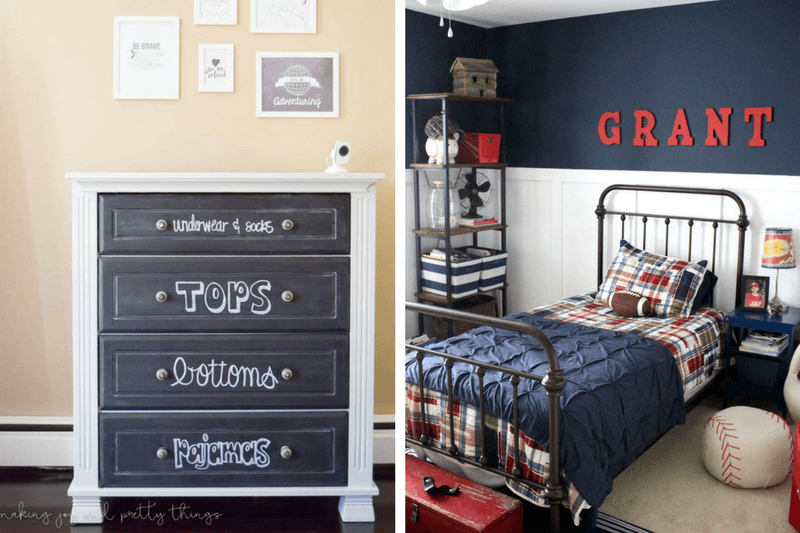 Making Joy & Pretty Things // My Life From Home
How adorable is that dresser?! I don't plan on painting Jackson's dresser, but this is definitely inspiring me to get creative with his closet and do something that will be functional for him to use but also really cute. The rest of that room is adorable and so kid-friendly – you definitely need to check out the other photos! I'm also loving the room my friend Amy did for her son. Jackson's room has two-toned walls as well, and I love how sophisticated she made it look. I'm also a sucker for using kids' names in the decor for the room – it's just too cute.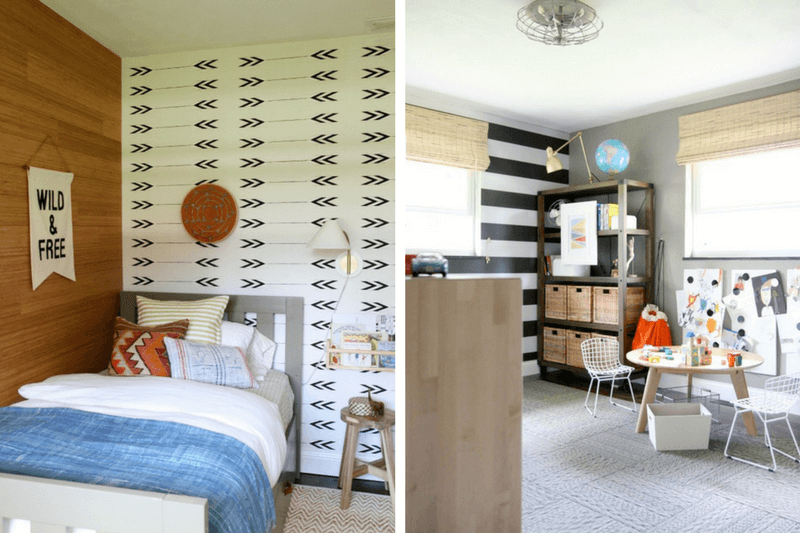 House Tweaking // House Tweaking
Can you tell I love Dana's style – especially when it comes to kids' rooms?! I love the cozy feel of the rooms (both of these are about the same size as Jackson's room) but they're not short on style at all! I love the idea of a little art table and display area – I don't know if that would work in Jackson's room, but it sure is adorable. I'm also really drawn to the faux-wood-paneled wall in her daughter's room – it adds so much warmth to the room!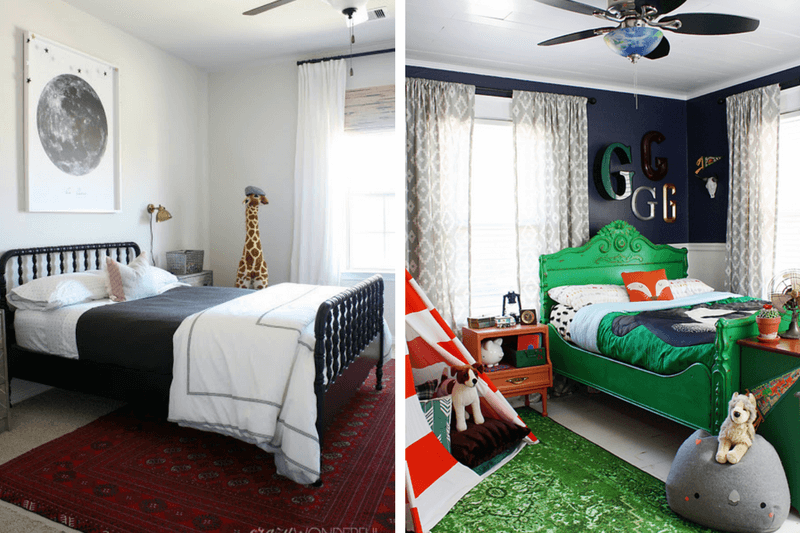 Crazy Wonderful //  Robb Restyle
I'm a sucker for a good Jenny Lind-style bed (that's what Jackson's crib is!) and if money were no object that's absolutely what we'd be getting for his bed. Instead, I think we're going to shoot for something with a similar feel – but this glossy black is exactly what I'm envisioning for his room! I love the simple decor in here, and I love the moon print – the sheets we're getting for Jackson's bed have the phases of the moon on them…so cute for a bedroom! I also am so encouraged by the room that Robb Restyle did – Jack is getting a teepee for his birthday but I didn't think there was any way we could fit it into his room…this photo gives me hope! I'm still not sure it'll work with his built-ins, but I'm definitely going to give it a shot now.
We're in full-on makeover mode for Jackson's room right now, so I'm really excited to come back and share when we're all done! I recently snapped a few photos of what his room looks like right now to capture the memories, so I've got a post coming up soon with those. And then, I'll be back soon to share the full plans for his room and a peek at what we've done so far!
I guess letting him grow up is okay if it means I get to re-decorate his room, right?!
Bright side, my friends.