How to Make a Bathtub Tray
Looking for a really simple and beautiful DIY bathtub tray? Look no further! This simple project is going to add so much relaxation to your baths, and will only take a few minutes to assemble.
I have a confession to make.
I have an addiction. It's bad. I can't think about anything else – it's consuming my time, my energy…basically my whole life. Corey and Jackson are feeling pretty neglected, my house is a wreck, and nothing is getting accomplished.
And I don't even feel bad about it. I've turned into a monster.
What am I addicted to, you ask?
Baths. Can't stop, won't stop.
Are you a bath person? I never used to be – I just couldn't get behind the idea of laying around in dirty bath water, I couldn't ever get comfortable, and I'd get bored. I was always too afraid I'd drop my phone or my iPad to bring them with me, and if I brought a book to the tub it inevitably got wet. And don't even get me started on bubbles. How in the heck are you supposed to actually get them off you once you're done bathing?!
But, no longer. I'm officially a bath convert and I cannot get enough. Ever since we finished our bathroom renovation, I've started taking baths on the regular. And with this new bathtub tray? Well, it's just about impossible to get me out of there.
(I still don't like bubbles. You can't change my mind on that one.)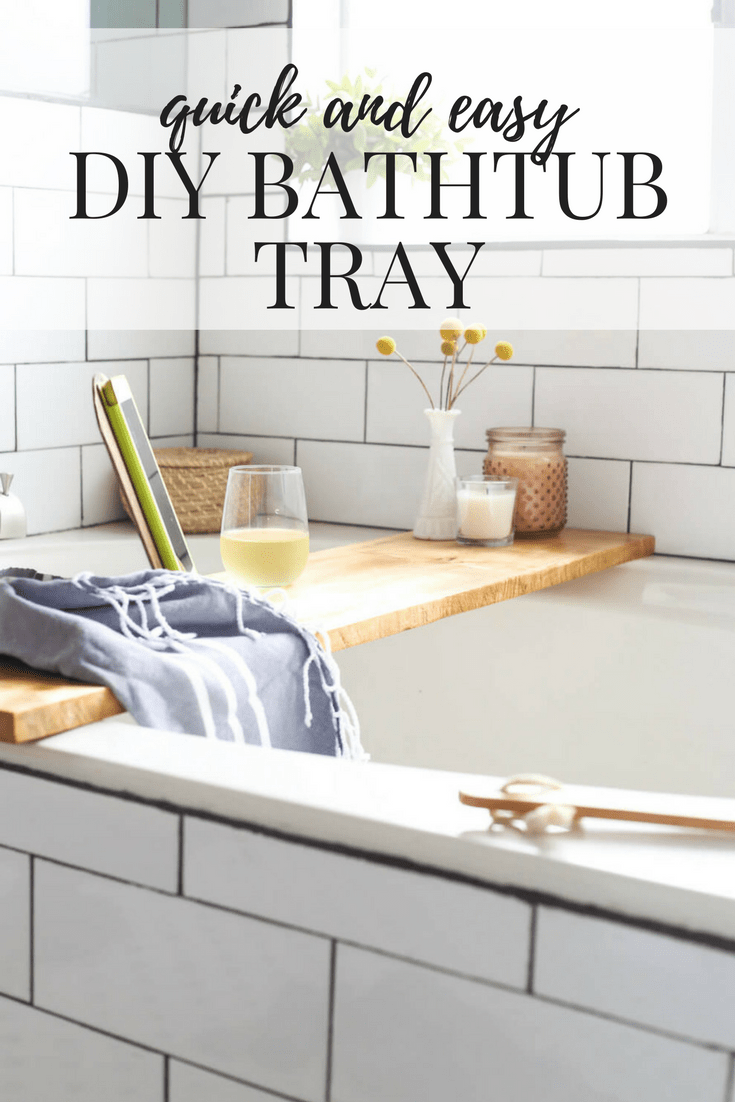 How do you use a bath tray?
You may be asking yourself, why do I need a bathtub tray? What's the point?
Let me tell you.
Is there anything better than a long bath with a glass of wine, some candles, and a good book?
The answer is no. No, there is not.
With a bathtub tray, you've suddenly got a spot for all the essentials. My favorite thing about this new setup is that I don't even have to hold my tablet anymore. Before, I was always afraid of dropping it, and my arms sometimes got tired from holding it up in the tub. #firstworldproblems
But now, I can plop my iPad on the stand and put the whole thing on this cute little DIY bathtub tray and the only thing I have to worry about holding is my wine glass. Score! Y'all, I'm seriously a little worried that I'm never going to get anything done again because I want to spend every second of my free time in this exact spot.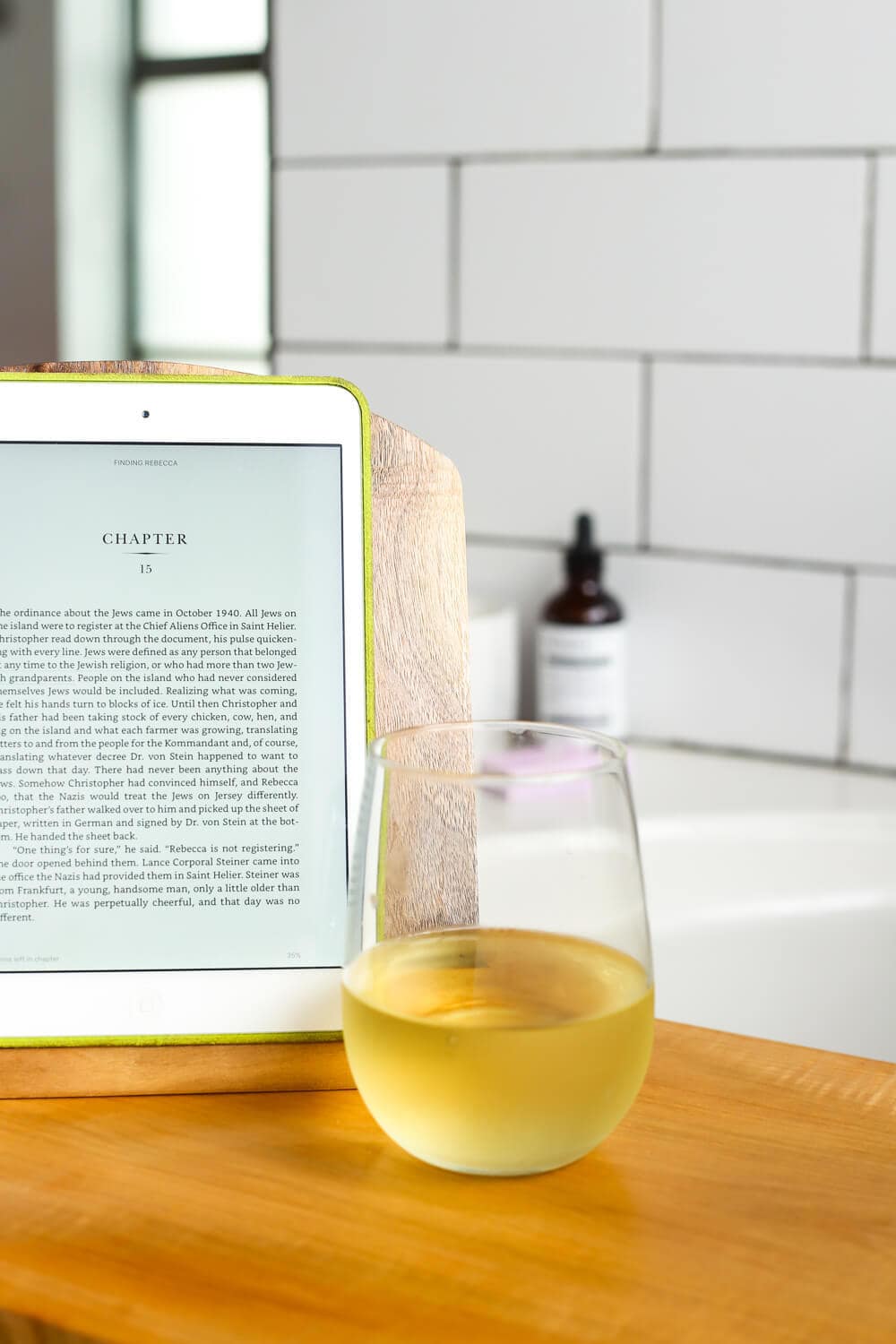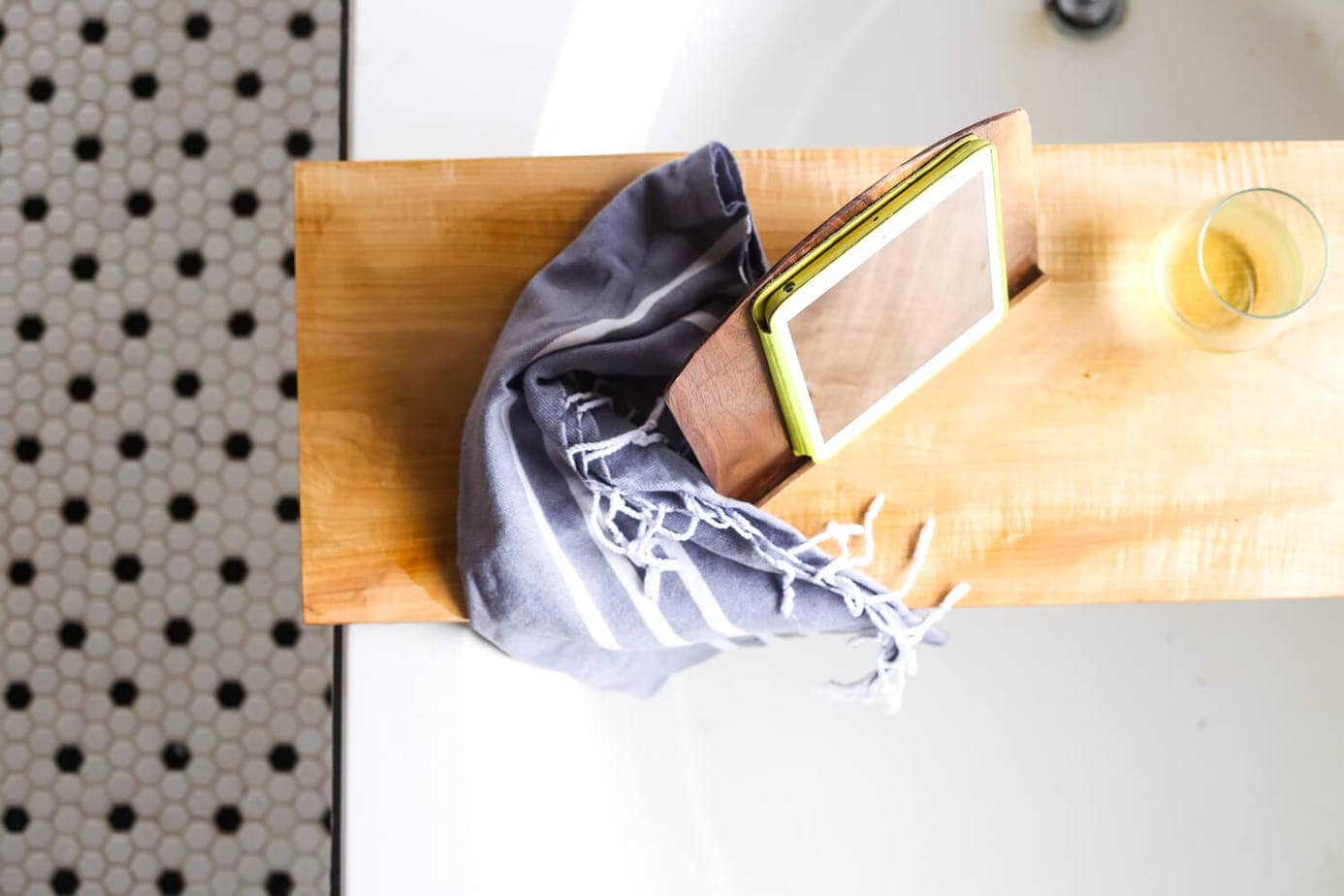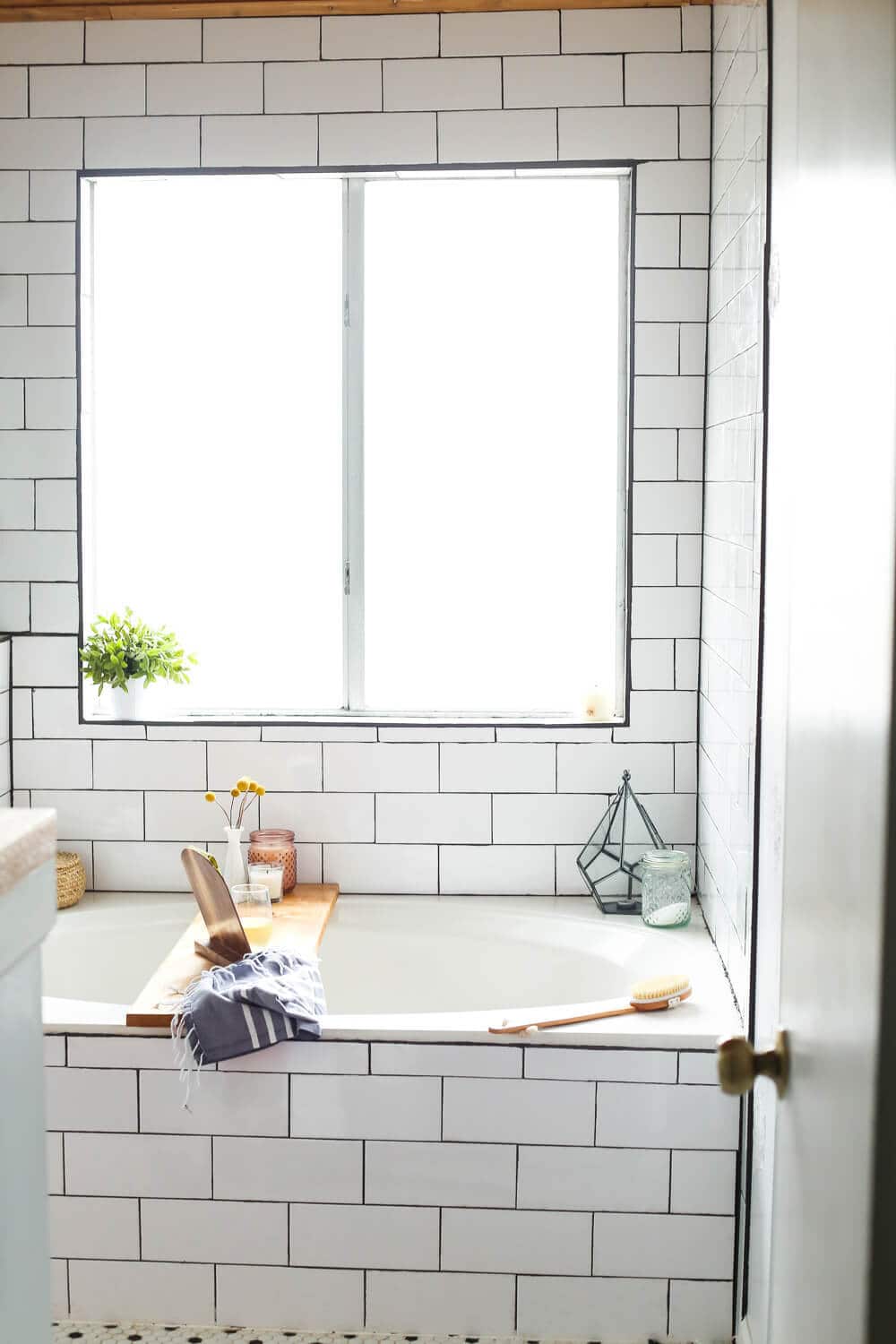 You want one, don't you? You know you do. And guess what? You can make it. Seriously – all by yourself. You can do it! This is probably the simplest project ever, it will take you no more than a couple of hours and it'll cost you less than a trip to the movie theater (although, let's be honest, these days a freakin' car payment costs less than going to the movies).
How to Make a DIY Bathtub Tray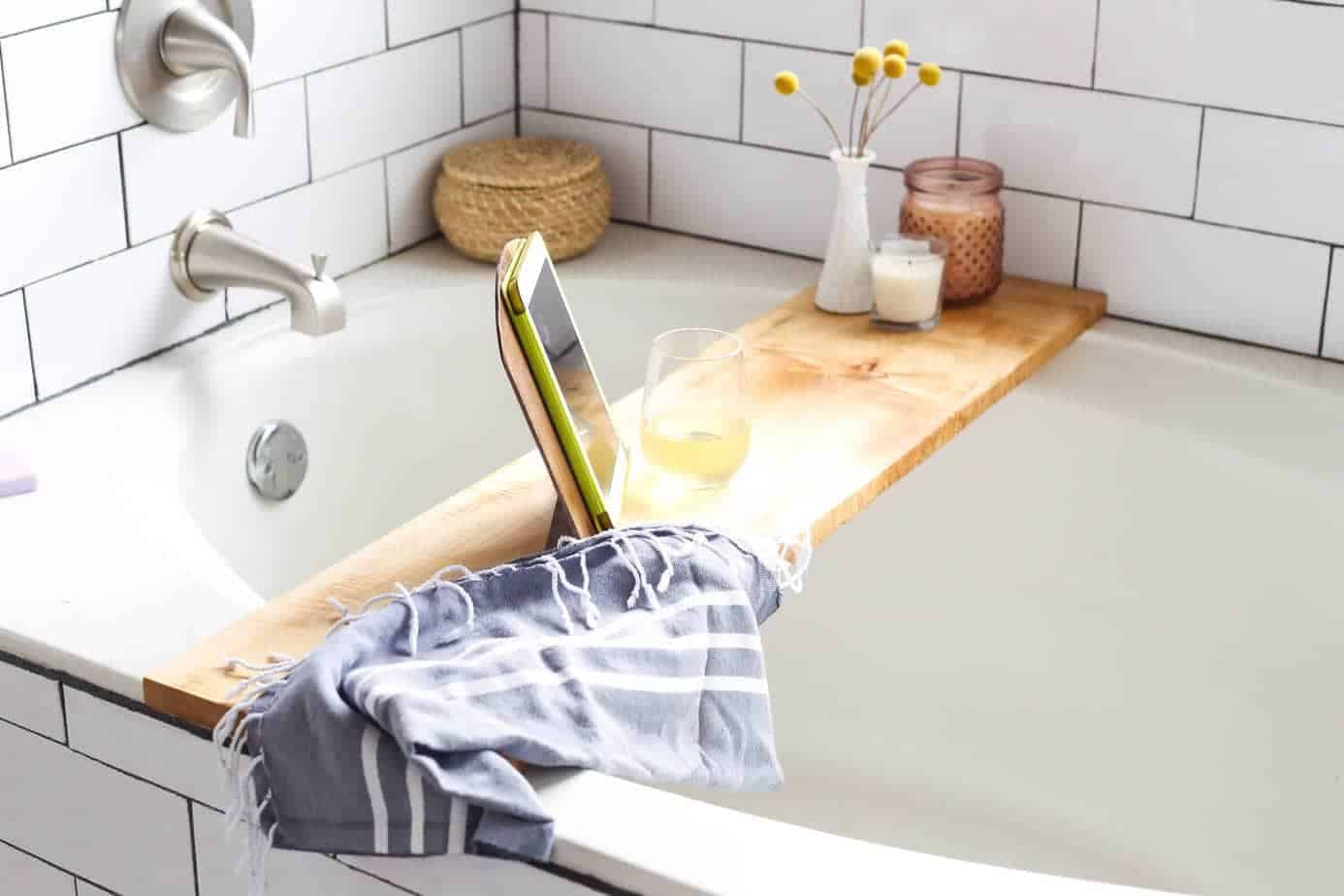 This post contains affiliate links. Click here to read my full disclosure policy.
Materials Needed:
1 1X12 board, cut down to width of your tub (we used curly maple, but any wood will work here)
Nails + nail gun (we love this one) *NOTE: You could use a drill if you don't have a nail gun!
Sandpaper + power sander (or you can do it by hand)
Shellac (this is what we used)
Instructions:
Start by measuring your bathtub at the widest part. You'll want to go from the wall (or if your tub floats, the outside edge), all the way to the outer edge of the tub. I had mine hang over the side by about an inch, but you could have it be flush with the edge of the tub if you prefer.
Next, measure from the outside edge of the tub to the inside edge on both sides. You're looking for where to put the supports on the bottom so the tray doesn't slide around – basically, you want to know how wide the sides of your tub are.
Once you've measured, cut your board down to the appropriate size. If you don't have the tools at your house, you can easily have it cut at your local home improvement store when you pick it up – it's usually free!
Cut two small pieces of wood to use as feet (you can use scrap wood here, doesn't need to be pretty!)
Using your second measurement (the width of your tub sides), attach the "feet" to the tub tray using wood glue and a nail or two. (NOTE: Alternatively, you can screw these into place with a drill!)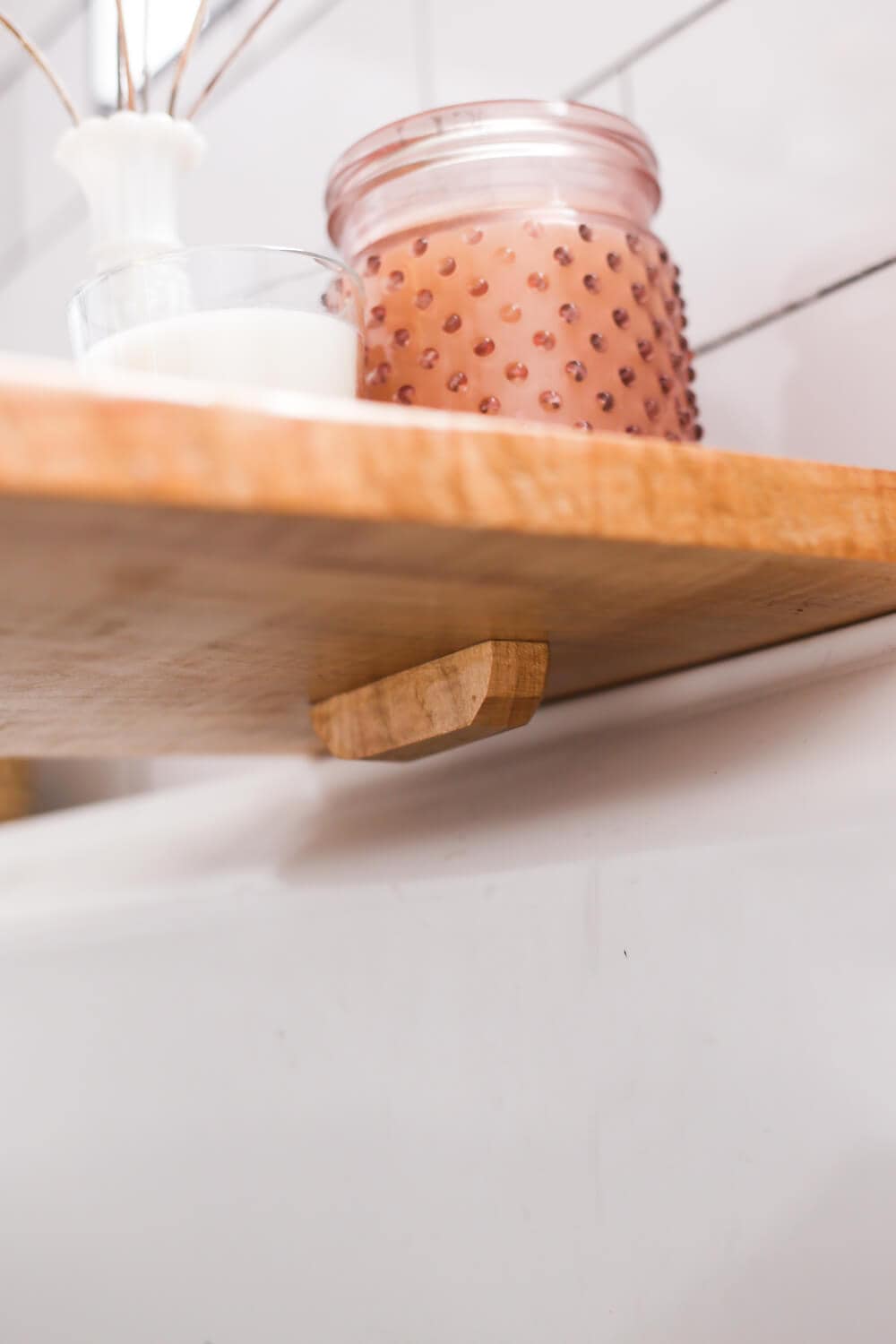 Once your glue is dry, give the whole bathtub tray a good sanding so that it's completely smooth (you wouldn't want to get a splinter while you're reaching for that glass of wine!).
Finish it off with a couple of coats of shellac, doing a light sanding in-between each coat. The finish should be completely smooth, so just run your hand over it a few times to make sure you've sanded enough.
And that's it!
What should I put on my bathtub tray?
Anything and everything!
It's great for holding a glass of wine, your book or tablet, your soap, or some essential oils.
You can add a small vase of flowers for some decoration, or a little hand towel to dry off before you flip the pages of your book. You can put a jar of bath salts, your washcloth or loofah, or even some snacks.
Seriously, it'll hole anything. And at the end of a long day, there's nothing better than a little tray to hold all of your bath essentials for you.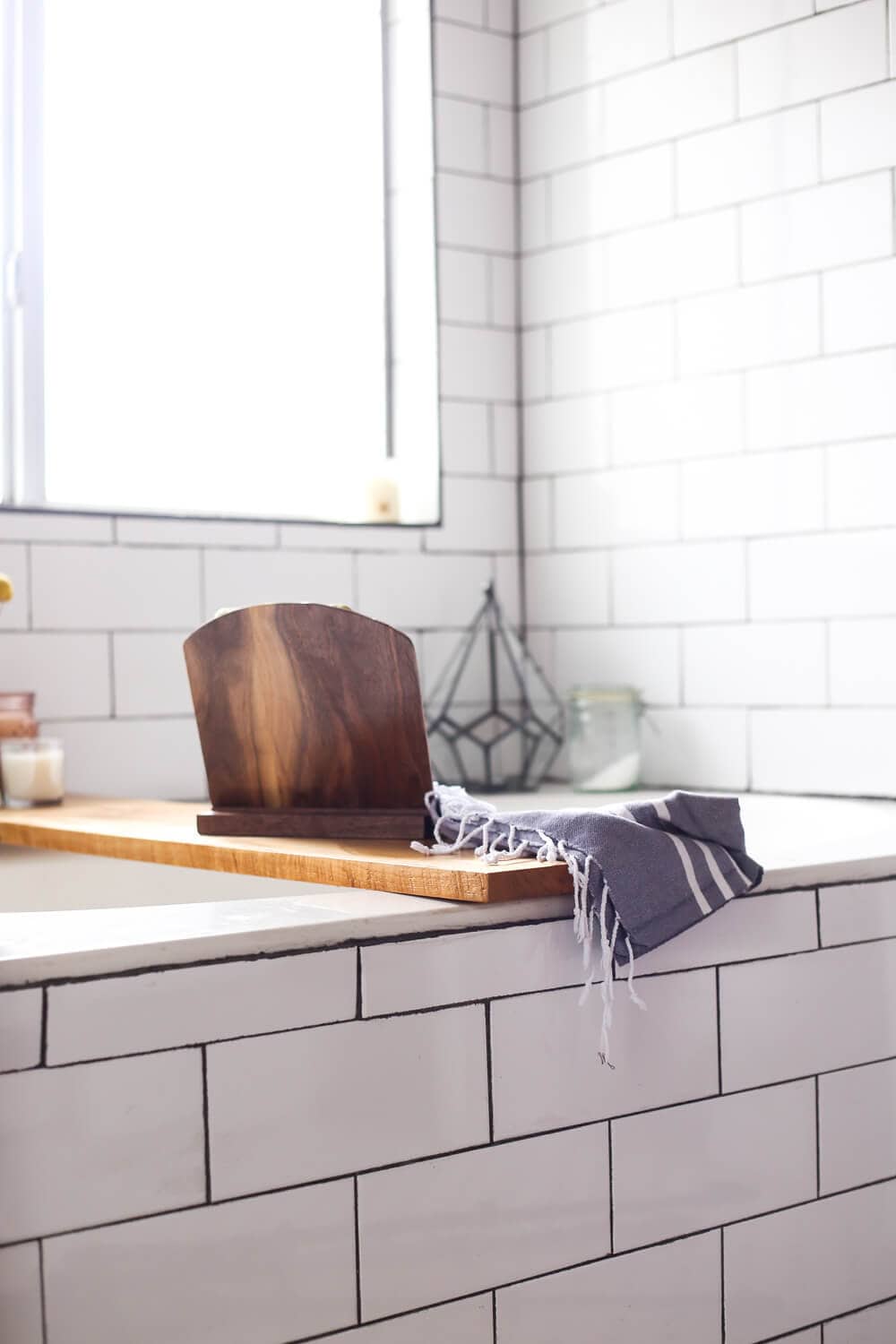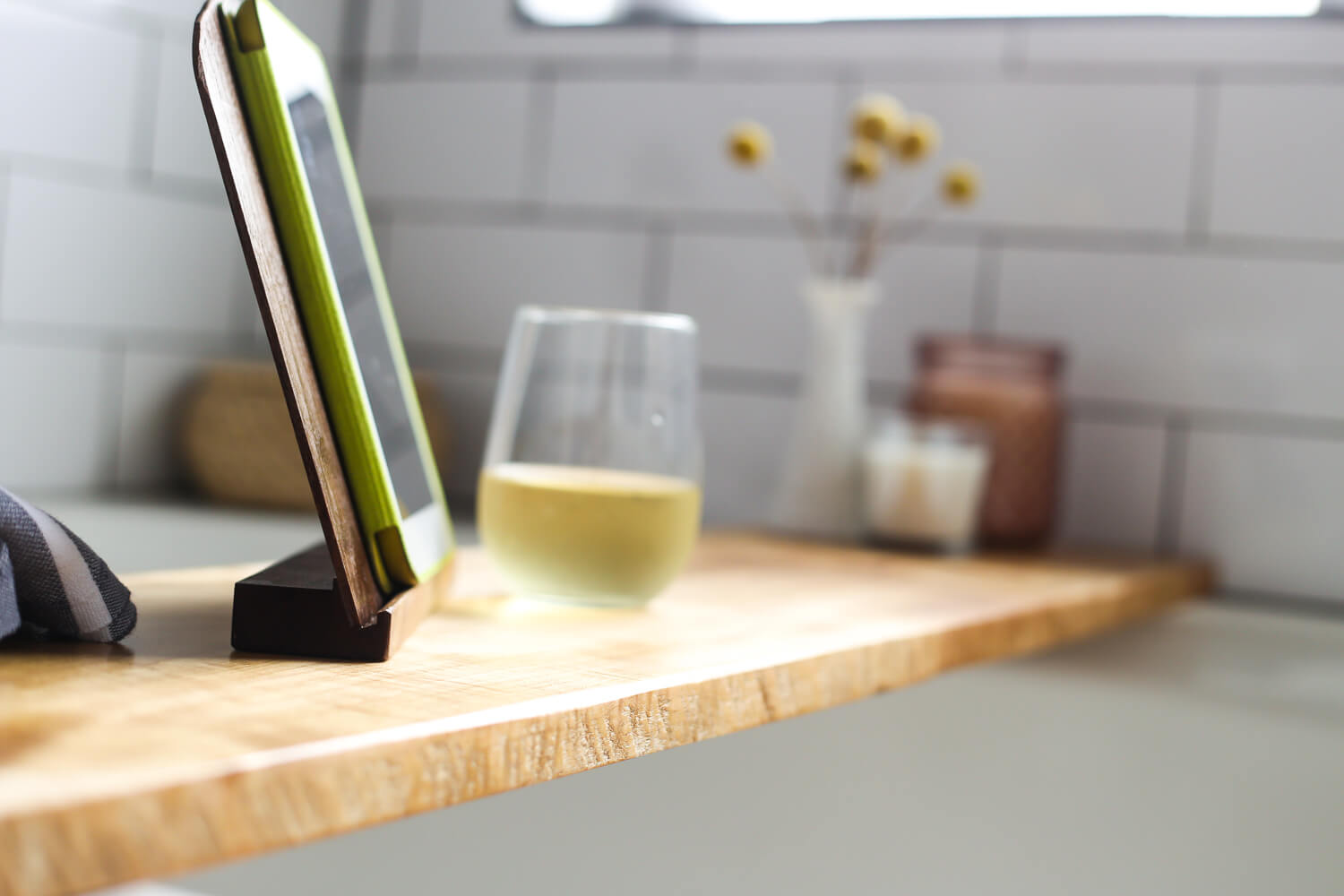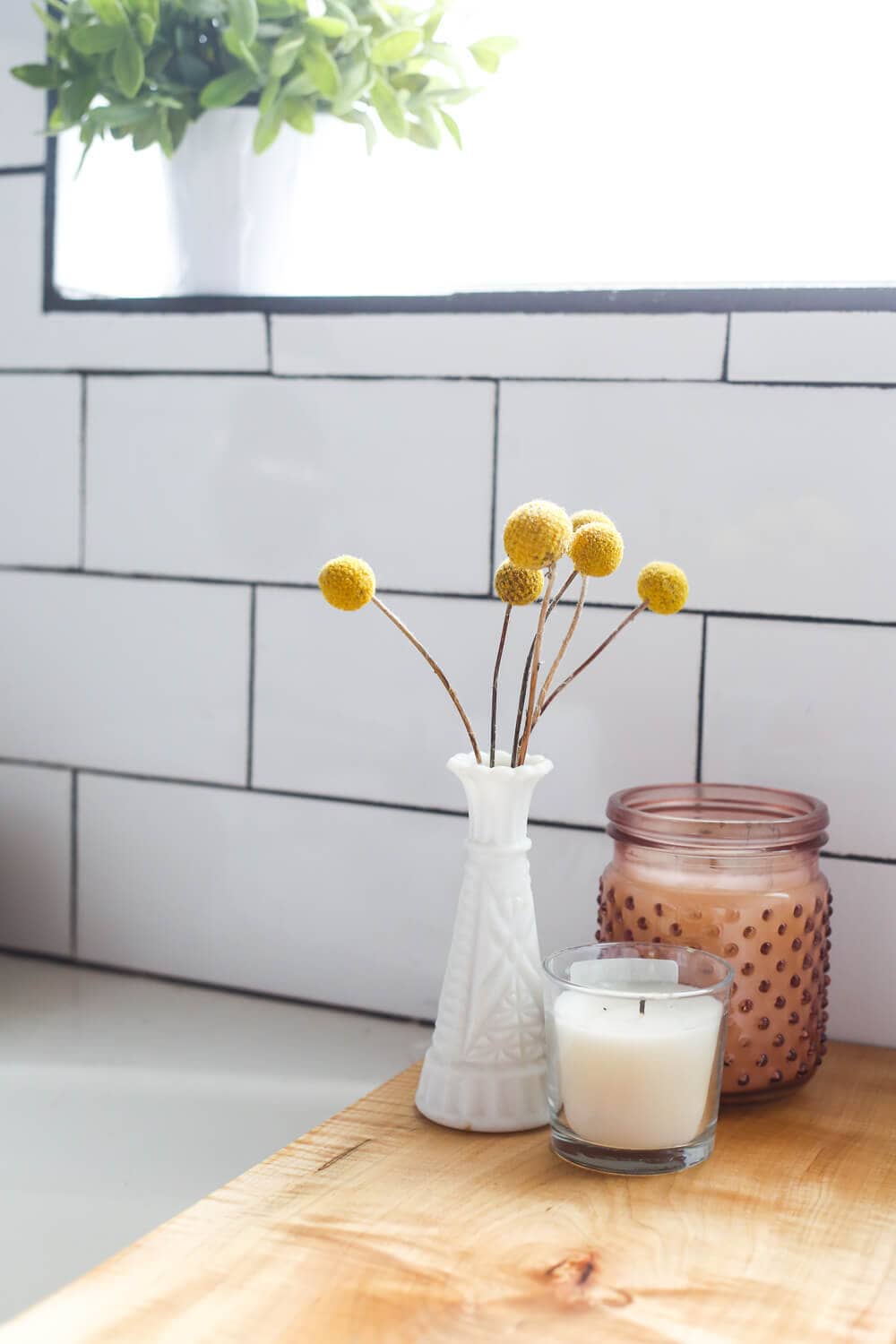 Just try not to get addicted. It's tempting. I would know.
A few pro tips to avoid complete addiction: try setting a timer to remind yourself to get out of the tub within a reasonable time. Maybe place a family photo on the edge of the tub so you don't forget you have a family to attend to. Have your spouse check in on you at regular intervals fill your wine glass make sure you don't fall asleep.
Or, you know, just give into it and embrace the obsession.
That's what I did.
Where can I buy one?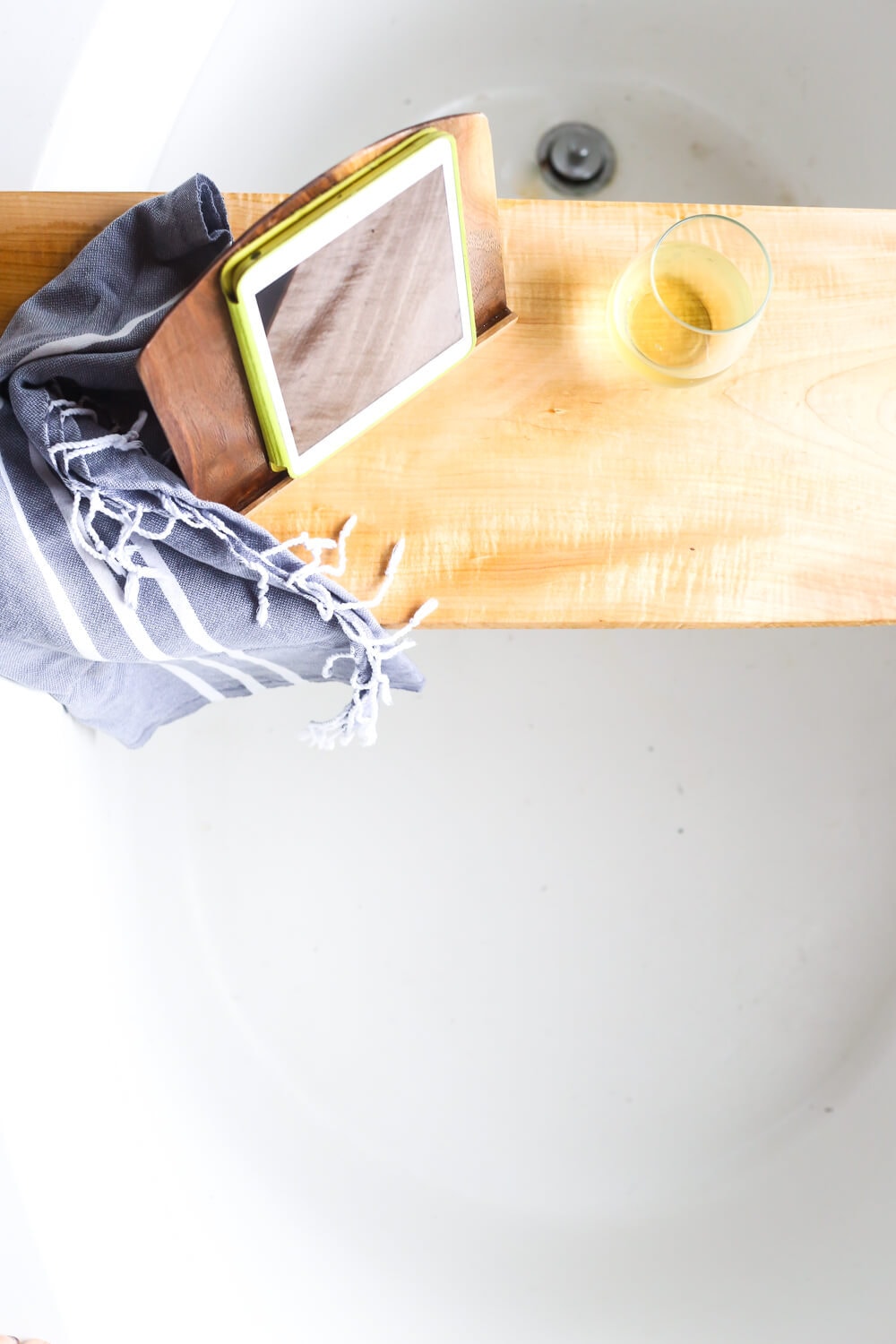 Don't feel like making your own bath caddy? No problem! There are tons of beautiful, budget friendly bamboo bath trays out there. You could even get a bathtub caddie with compartments and slots to hold everything you need. Some of them even have a wine glass holder built in. Score!
Here are the best bathtub trays for all of your self-care essentials:

While I have your attention – any great book recommendations for me? I can't figure out why, but I seem to be flying through a lot more books these days…