Love the look of Anthropologie's hardware but hate the high price tag? I made these jute-wrapped Anthropologie knock-off drawer pulls for just a few dollars! 
One of my absolute favorite things about Anthropologie is their hardware – they have the most amazing cabinet pulls, doorknobs, and hooks. If I had the money, I would fill my entire house with their unique and creative hardware but unfortunately, they cost a small fortune.
Luckily I've learned how to get a bit creative when I see something I love, and I figured how to DIY my own version of my favorite jute-wrapped cabinet pulls from Anthro!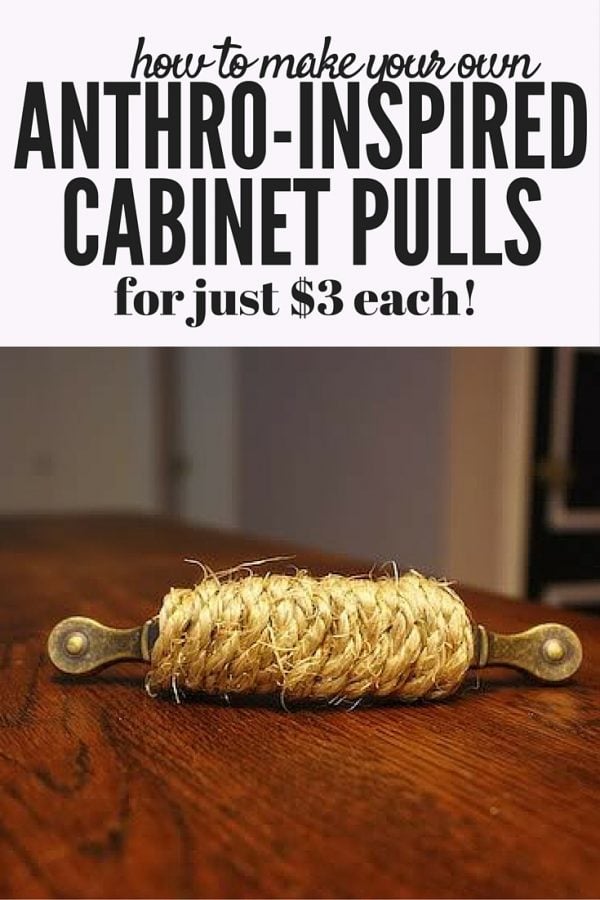 I created these little guys to use on the Craigslist china cabinet I made over recently – they need something with some texture and fun, and this fit the bill perfectly.
Let's start at the beginning – when Corey and I were looking for hardware for the china cabinet makeover, we wandered into Anthropologie to scope out what they had. Like I said before, we have always loved all of their hardware options, so we were hoping to find something unique and fun that would work for the piece and wouldn't cost an arm and a leg.
We were immediately drawn to these gorgeous, nautical jute-covered pulls, but at $12 a pop, they were a bit too expensive for our taste.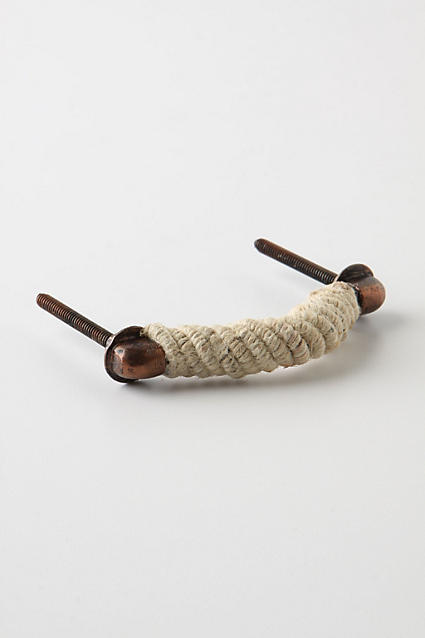 I told Corey that I was pretty confident I could re-create these at home (for much cheaper), so we headed out to track down what we'd need.
DIY Anthropologie Knock Off Hardware
We got some jute rope at Hobby Lobby for $3.99 – it has way more than we needed, so I have some leftover for another project. I also could have gotten it for even cheaper if I'd had a 40% off coupon! We didn't see any plain pulls for the base at Hobby Lobby that we liked, but we found some perfect ones at Lowe's for about $2.50 a pop.
This is probably the easiest project I've ever done – promise. Here's how it works:
Step 1: Cut Jute & Attach with Super Glue
Cut a piece of jute to about 18 inches or so. I just eyeballed it based on what I thought I would need. Attach it to the handle with super glue (hot glue will not stick to the handle at all, so super glue is important!).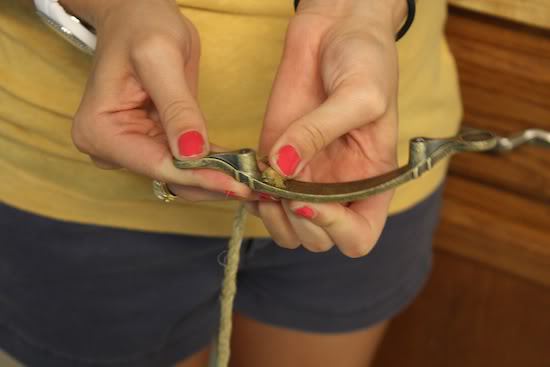 Step Two: Wrap Rope Around Handle
Pull the rope around to the front and add some more super glue. Press and hold while it dries.
Pull it back around again and add super glue to the handle, then add some hot glue to the rope that you already have glued down – press it together for a few seconds.
Continue wrapping around, adding super glue to the handle itself and hot glue to hold the rope together. You could just as easily use super glue for the whole thing, but it's a bit pricey and I always glue my fingers together, so I used hot glue whenever I could!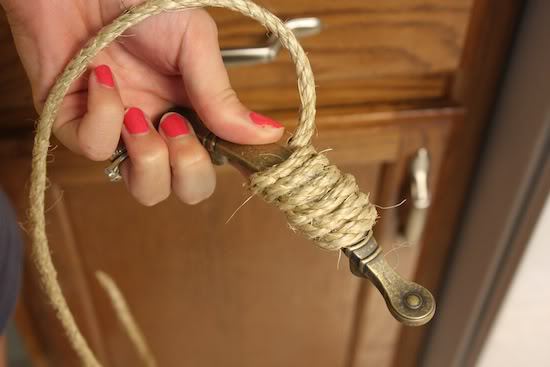 Step Three: Finish Off at the End
At the end of the rope, I just used a combo of super glue and hot glue (to make sure it really stuck) to attach the end of your rope to the back of the handle…and voila – you've got a super cheap jute-covered handle!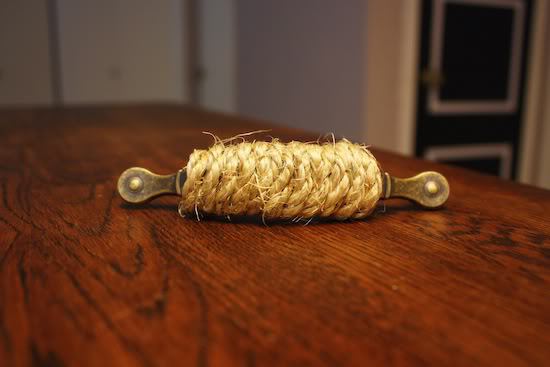 And here's a reminder of how awesome they look on our china cabinet: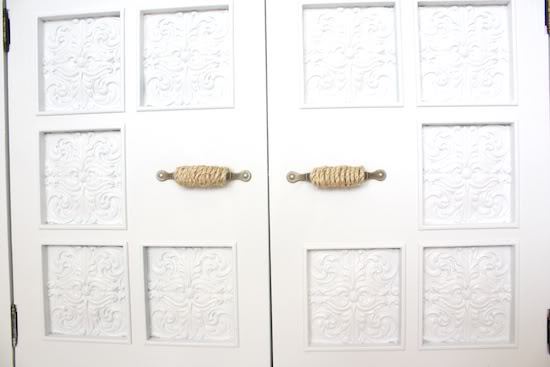 I love them! And I love knowing that if I see something in the store that I absolutely love but can't afford, sometimes it's entirely possible to re-create the look for a fraction of the cost.
Have you knocked off any of your favorite store products lately?