DIY Multi-Bulb Dining Room Chandelier
I've always had a thing for lighting – there's just something about a big, impactful chandelier that makes my soul happy. When we moved into this home, we inherited what is quite possibly the most hideous light figure that has ever been placed on this earth. No exaggeration. It's awful.
So, once we were settled and ready to start making some changes, the dining room chandelier had to go. We knew we didn't have the budget for the fancy chandelier of my dreams, so we decided to tackle the problem head-on and make something ourselves.
We're nothing if not adventurous.
It took a lot of time and planning (and a lot of crazy looks from the poor employees at Lowe's), but we did it and survived to tell the tale. And today, I'm gonna tell you all about how to accomplish this look on your own.
And guess what? It costs less than $300.
Seriously – we spent about $250 from start to finish for this project. And we ended up with this: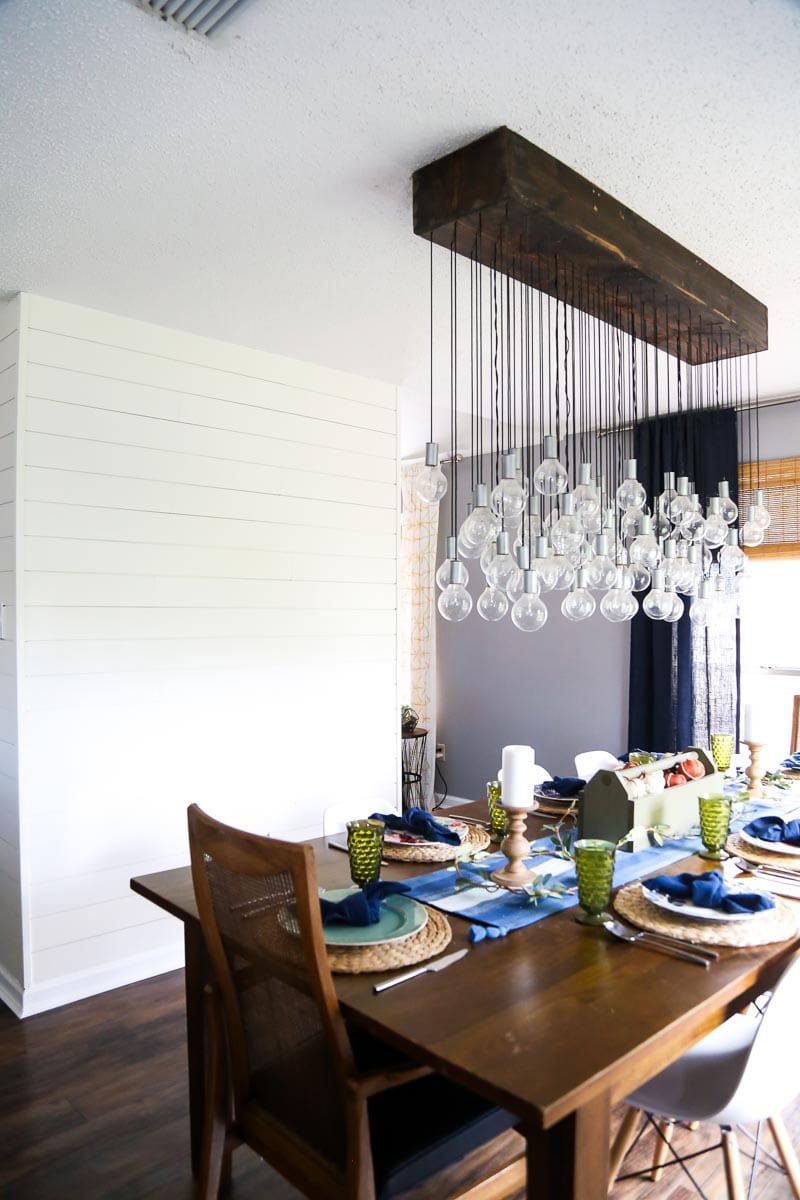 This post contains affiliate links. Click here to read my full disclosure policy.
Trust me. You're gonna want to see this.
Let's get to the explanation.
DIY MULTI-BULB CHANDELIER
Materials Needed:
Tutorial:
We started off with a 6-foot 1″ X 12″ – we cut it down to 5 feet, because that was the size we felt worked best with our dining room table (which is 9 feet long). If you choose to do this on your own, any length will work, you just may have to adjust the number of light bulbs accordingly.
We had an idea of how many light bulbs we wanted to do, but we wanted to see how they lined up on the board before we actually made anything official. We lined up our lights on the board to see how many across we could feasibly fit, and we ended up deciding that four light bulbs filled it up just enough without being too crowded. (Keep in mind, the lights are going to hang from different heights, so even though they look a bit bunched at this point, they won't once the light is complete.)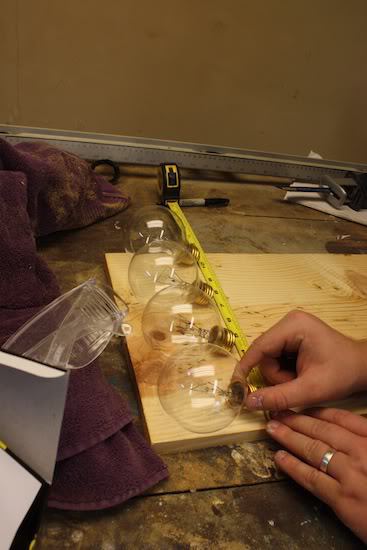 Then, it was time to mark off for our holes. We started 1 inch in from the edge and marked every 3 inches after that (so we had marks at 1″, 4″, 7″, and 10″).
We made marks on each side of the board, then used our straight edge to draw four lines running all the way down the board.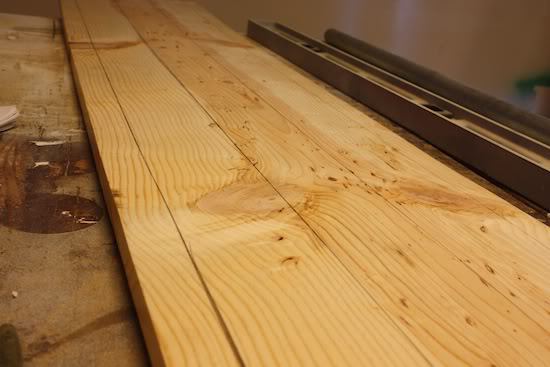 Next it was time to mark the rest of the rows and figure out where the working lights would go. Our bulbs were 3 inches across, so we decided that 20 rows of 4 lights would work best. We went down each line and marked every 3 inches to indicate where the rest of the lights would go.
Then came the part that hurt our brains a little – deciding where the working lights would go. We had decided on 20 rows of 4 lights, which meant there would be 80 light bulbs. Obviously, we weren't interested in having 80 working light bulbs – that would be not only entirely too bright, but I don't even want to think about how much it would have cost us to buy 80 light sockets. So, we decided that 10% of the lights would work, meaning we needed to mark spots for 8 working lights.
I'd love to give you some awesome method for figuring out which lights should be working, but it was a lot of trial and error for us. We played around with a bunch of different configurations (marking them with a pencil) until we found one in which they were all nicely spaced and looked pretty random (even though it totally wasn't) and we marked where the lights would go by circling their dot with a sharpie.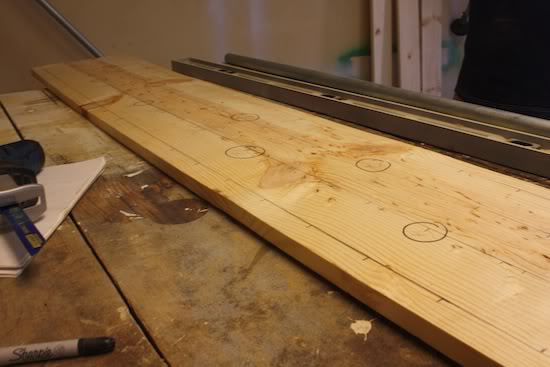 Then, it was time to construct the box. We wanted something with a nice, large base that would camouflage the fact that the light socket hole in our ceiling is wildly off-center. We also needed room for a ton of wires since we would have 8 working lights, which meant we needed it to actually be a box that had some space from the ceiling.
We played around with some different measurements and decided that having it hang down about 6 inches from the ceiling looked the best, so our next step was to construct a wood box (the final dimensions ended up being 60″ long, 11″ wide, and 6″ tall for those of you following along at home).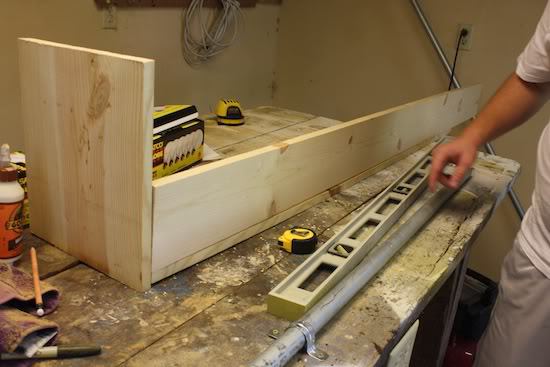 Corey used our Kreg Jig to create pocket holes to keep it all together, and we also used wood glue to make sure it was nice and secure. I don't have a lot of detailed photos of the process of putting the box together, but through the magic of the internet, let's skip the box-building and go straight to the completed product: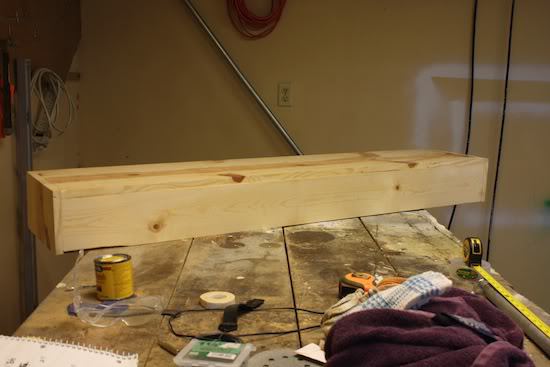 Yup, it's a box. It was time to stain, but first we wanted to make sure that the box actually worked in the room – we didn't want to get all the way through and realize it looked ridiculous, so we brought it inside to check the dimensions in the room.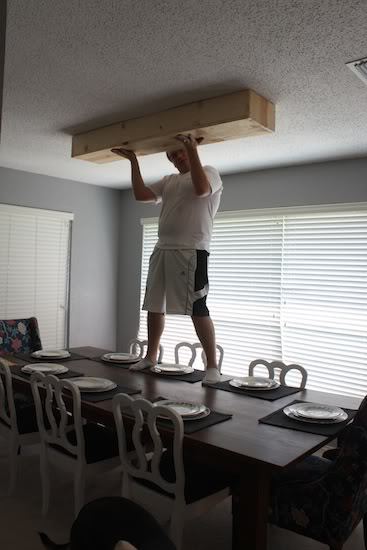 Looks good! So, after sanding it down to make sure all of the edges were smooth, it was my turn to step in so I could stain it. I used my trusty Minwax stain in Dark Walnut (pretty much the only color I ever use). Two coats later, we were good to go.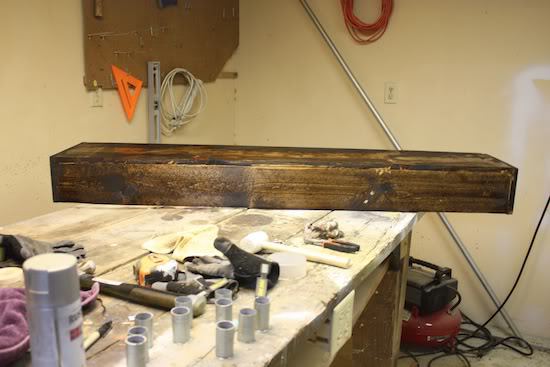 Then came the fun (or really awful, depending on how much you like being tortured) part.
We had to hang it.
We used a couple pieces of scrap wood that we cut down to fit perfectly inside the box, and then we mounted them to the ceiling. The hard part was figuring out where exactly they should go. I won't go into too many details because I'm not the math person in this relationship and it kind of hurts my brain to think about it, but we basically hung them so that the finished box would be centered on the table both lengthwise and widthwise. It took a lot of measuring, leveling, and a little bit of cursing (isn't that an important part of any DIY project?) but soon we had 'em hung.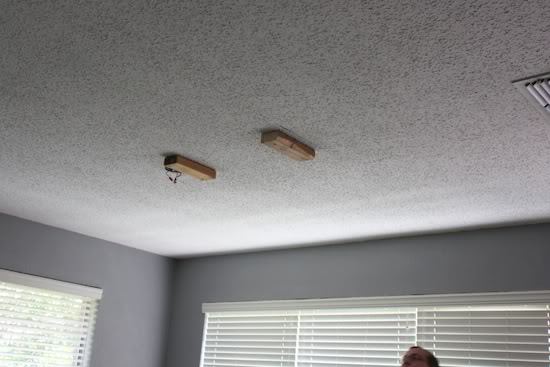 (You can see the sadly off-centered light socket hole on the left side of the photo.)
Then, it was time to hold our breath and hope that we had hung them right so the box would fit over them (they had to be perfect since they were cut to fit exactly into the box – if they weren't even with each other or if they were hung slightly crooked, it wouldn't work).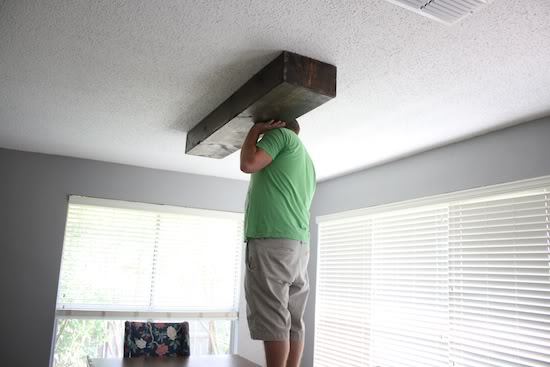 It fits! Of course, we couldn't actually hang it yet since there weren't any, um, LIGHTS on it, but we're getting to that.
Next up it was time to move onto the more fun parts.
As I mentioned before, we have 80 light bulbs on our fixture but only 8 of them actually light up. So, 8 of the lights are hung with a light socket and wire, but the other 72 didn't need to be, and we had to figure out an alternate solution for them (since we weren't about to spend a million extra dollars on light sockets and wires that we didn't need).
We figured out that the light bulbs just so happened to fit perfectly into 1-inch electrical conduit (the same stuff we used to make our DIY curtain rods), so we decided to see if we could make some faux light sockets out of that. For reference, here's what our real light sockets looked like.
We made our faux light sockets 2 inches long to match the length of the real ones as closely as possible. We started by using our reciprocating saw to cut the conduit to 2″ lengths – 72 of them, to be exact.
Hey, I never said this was a quick process.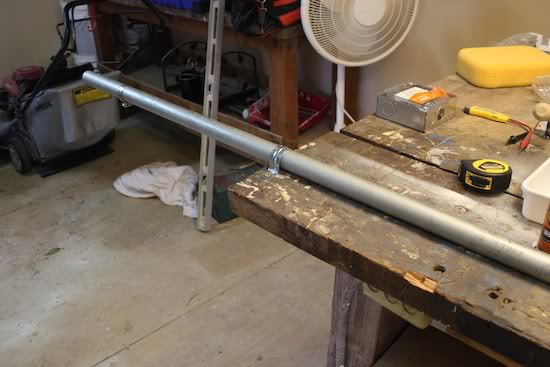 (As you can see, we used an electrical conduit strap to attach the conduit to our work table while Corey was cutting so the conduit wasn't bouncing all over the place while he tried to cut it. Simple, but effective!)
Once they were all cut, our little faux light sockets were looking like this: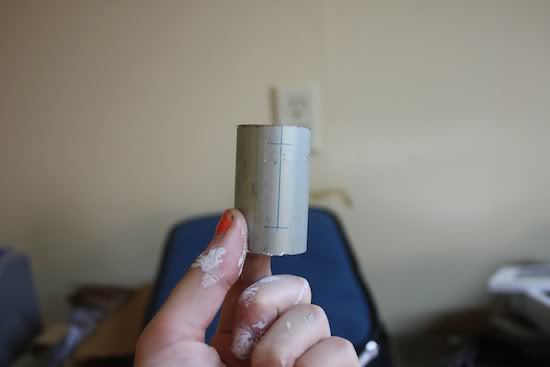 But they needed a top. Obviously, the light bulb would go on the bottom part, but we needed something on the top so they could be attached to the rope that we bought to hang them from (we'll get there in a second). So, one night while we were watching television, we laid 'em all out…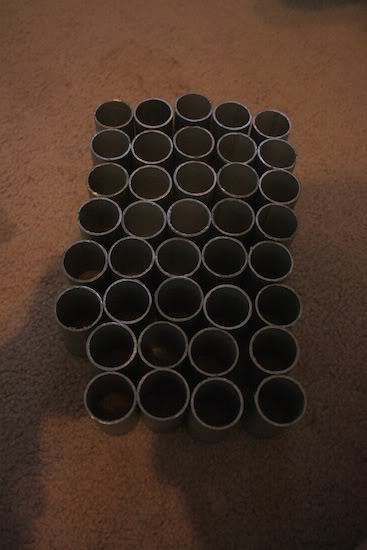 (This isn't all of them, just the ones I was working with)
And we grabbed our materials and got to work! We used 3/4″ knock out seals for the top, and we needed the pliers and hammer to get them in there, and the super glue to make sure they didn't go anywhere. Here's a closer look at the knock-out seal so you can get an idea of how it worked.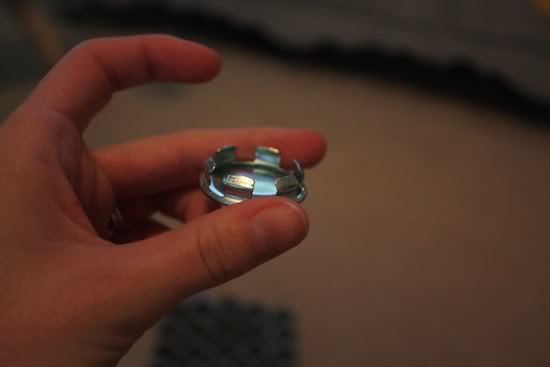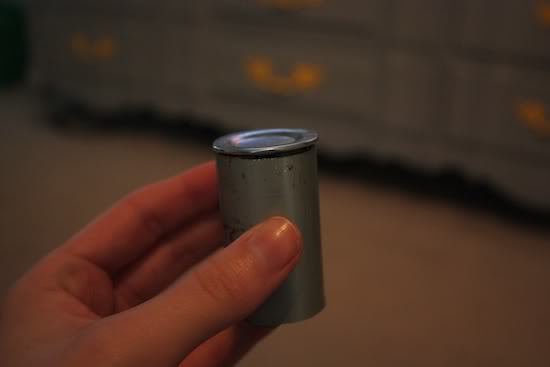 Voila! Just like that, we had little faux sockets. We drilled a hole in the top to be able to string the rope through…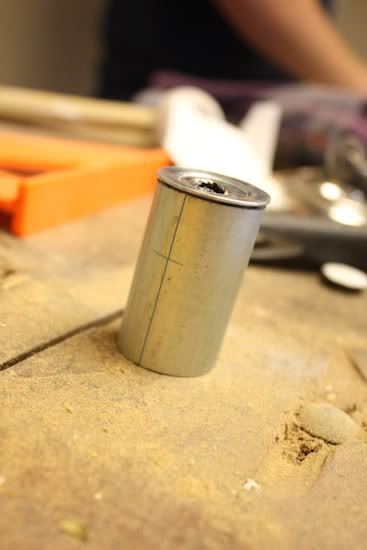 And then we spray painted all of them. This was a slightly unnecessary step, but the conduit and the knock-out seals are slightly different colors, and the conduit has some writing and random lines on it, so we decided to go ahead and spray paint them a metallic silver so that they are nice and uniform.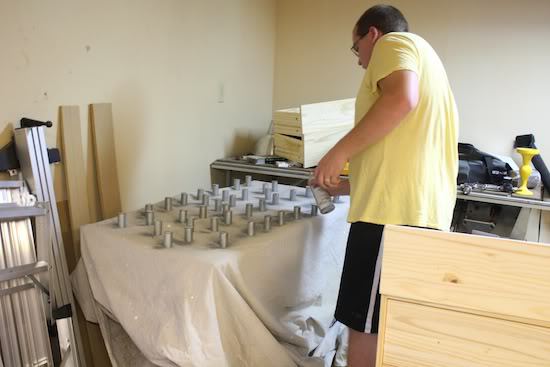 Once we were done with this step, it was time to piece it all together.
We knew that we wanted all of the lights to hang from varying heights, so we had to figure out exactly how we wanted to do it. We decided on five different lengths, with the longest being 3 feet and the shortest being 2 feet. You can see the breakdown in the photo below a little more clearly, but what we chose to do was:
– 20 at three feet long
– 15 at two-and-three-quarter feet
– 20 at two-and-a-half feet
– 15 at two-and-one-quarter feet
– 10 at two feet
This was a bit of a random decision and there was no real method to it other than it just felt right to us. Once we decided on the lengths, I drew out a map of the light on a piece of paper and we color coded it so we could ensure that all of the lights fell in a random pattern. Here's what it looked like: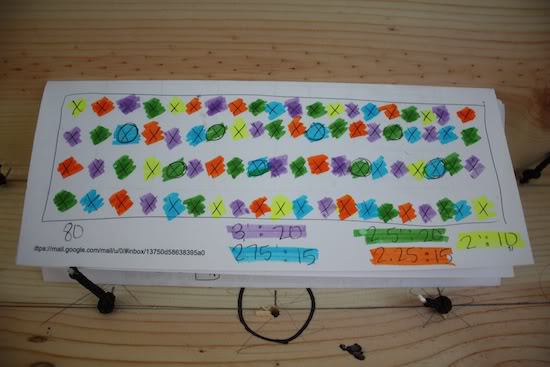 Remember, the circled X's are the ones that will light up. We decided that we wanted the lit ones to all to be towards the middle of the light rather than on the outside edges, and we didn't want any of them to be the longest or shortest length – beyond that it was random.
This was definitely a process and it took quite a bit of time to figure out how to do it, but with a lot of patience we ended up with a light that looks like it was completely random, which was the goal, so it was worth the effort!
We bought the thinnest black rope that we could find for our faux wire – our actual wire is a vintage-style braided wire, so we wanted to match that as closely as possible. This is what we ended up with: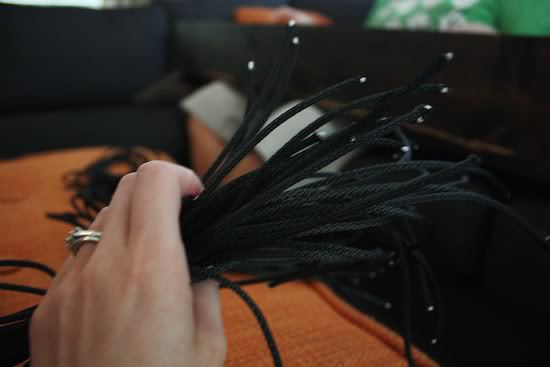 For reference, here's what our real wires look like.
I cut the rope to the right sizes and made piles of each length, we burned the edges so they wouldn't fray (and so we could actually get them in the holes), and then we were ready to put them into the light. We plopped down on the couch, put the light box in our laps, and got to work.
All there was to this part was to push the appropriately sized rope through the pre-drilled holes and tie a knot. We had our little map sitting in the box the whole time and we each worked from opposite ends working to the middle.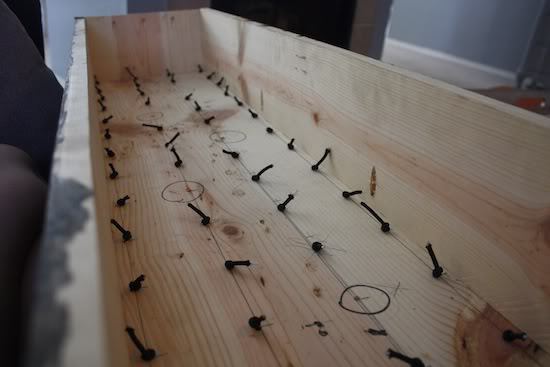 As you can see, we left the circled ones alone for now because those are where the working lights would go, which means those holes need wire.
Once we got them all in, it was time for the wiring.
DISCLAIMER: Before I explain what we did here, I want to make it clear that neither of us are electricians, and we're fully aware that our method wasn't necessarily the "right" way to do things. My husband is pretty comfortable working with electricity and we felt confident in our method and used this light safely in our home for over 5 years with no issues before we moved out. However, if you decide to try this at home please know that we are not responsible for any issues you have and I fully recommend having a licensed electrician help you if you don't feel comfortable handling it yourself.
Here's a little diagram I made of how the light wiring worked for us. Again, there are different ways you could do it, and this is just the route we chose to take.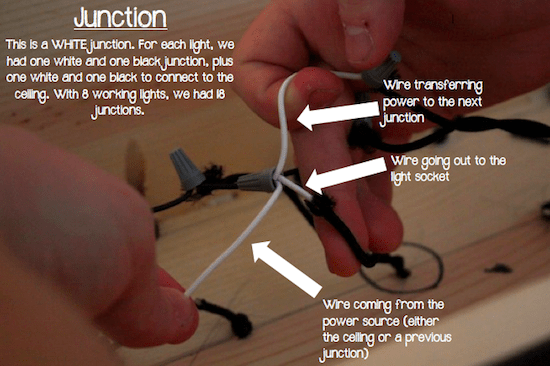 And for a little perspective, here's a zoomed out photo so you can see how they all connected a little better. Even though it's not pictured here, you should use a junction box for each connection to prevent any electrical issues.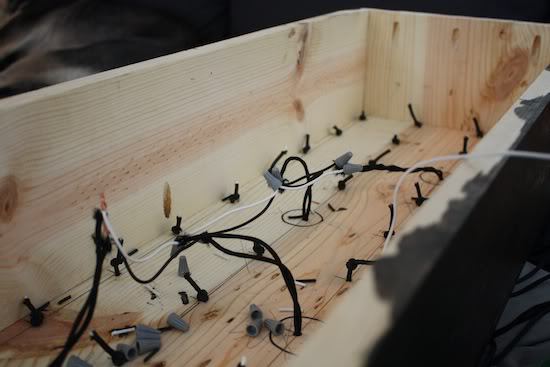 Clear as mud, right? It's a bit confusing, but once you get doing it you can start to make sense of it!
Once it was all wired and ready to go, we brought it into the dining room to get it up on the ceiling. Corey had pre-drilled pilot holes in our box in the exact spots where the mounting pieces would be, so all that was left to do was drill the box in and hope it didn't come crashing down (spoiler alert: it didn't, although we totally spent a good three days with our couch cushions on the dining room table just in case!)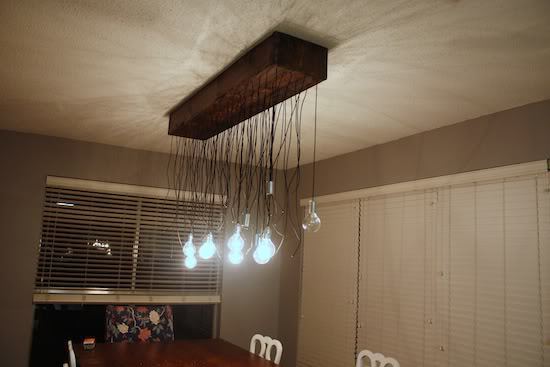 It worked! At this point it was late (as you can see by how dark it is outside!) and we went to bed. The next day we came back to it to finish up…you see, we had a whole box full of these: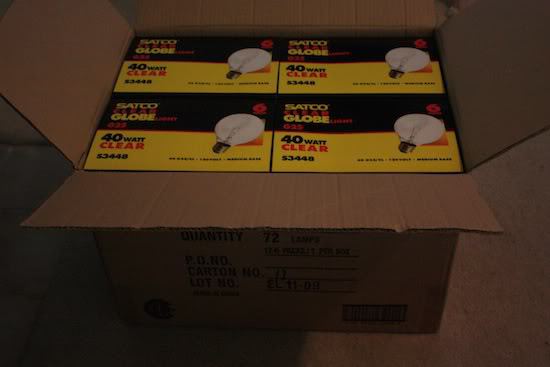 And they needed to be added to the light!
I did most of this next part on my own, so I don't really have any photos, but from here on out the process was incredibly simple: I just stood on the table and grabbed a faux socket, strung the rope through it and tied a knot. Then, I grabbed a light bulb and put a few dots of super glue on it, then pushed it up into the socket and held it for a few second while the glue dried. Then I (slowly) let go and admired my handiwork!
There were a few sockets where I had a hard time getting the light to stick into the socket, but with a little extra glue and a lot of patience I managed to get them all in there. I was careful not to add more than a few dots of glue in each socket because I wanted to be able to pull the light back out relatively easily if necessary.
Turns out, it was a good thing we were careful with the glue, because once we were done and stepped back, we realized that there were a few areas where several lights were all hung at the same height in a grouping, because even though we had planned the ropes to all be at different heights it was impossible to keep all of our knots the same size so the lengths weren't exact. But it was no problem to pop the light back out, tie the knot a little higher on one or two of them, and see how that looked. We played around with it until we couldn't see any areas that looked funny, and then we were done.
You ready to see? If you've actually stuck around for all 2,700 words of this post (geeze, I talk a lot!), then you totally deserve it. And if you just scrolled to the bottom to see the photos, then I totally don't blame you, and you deserve to see it too. Let's get to the pretty part.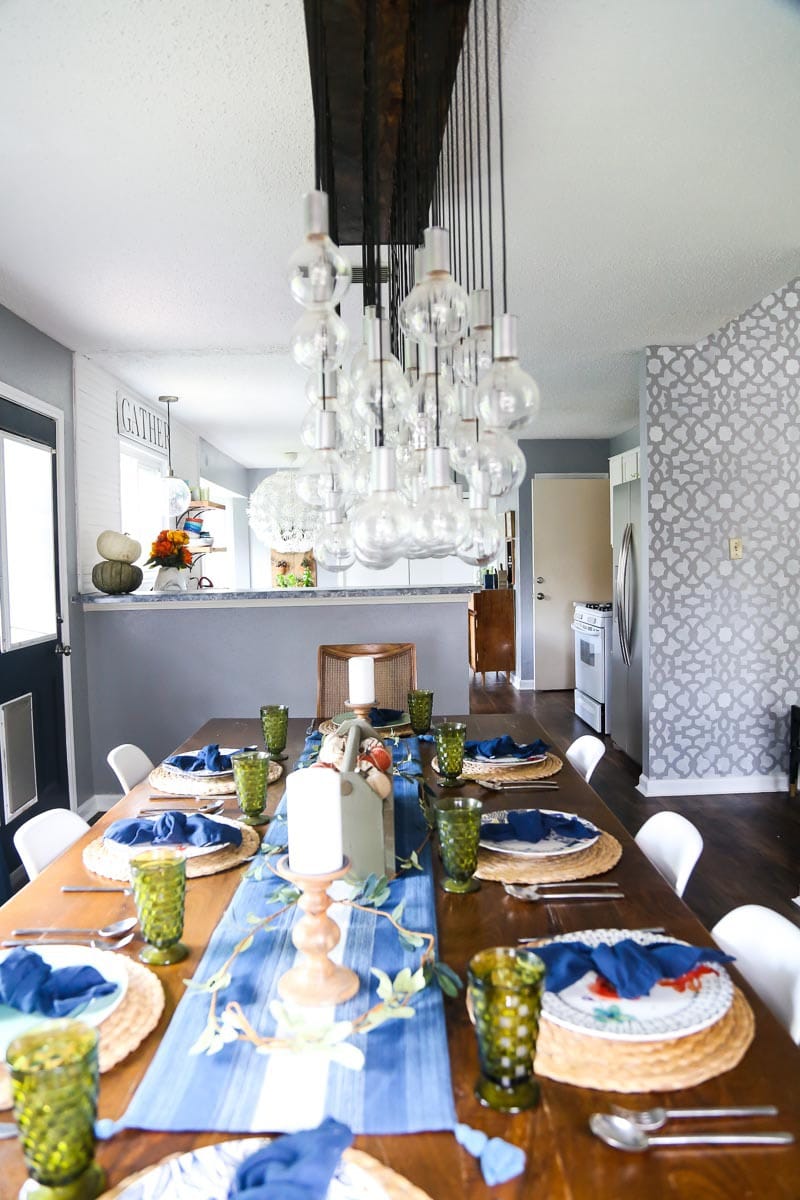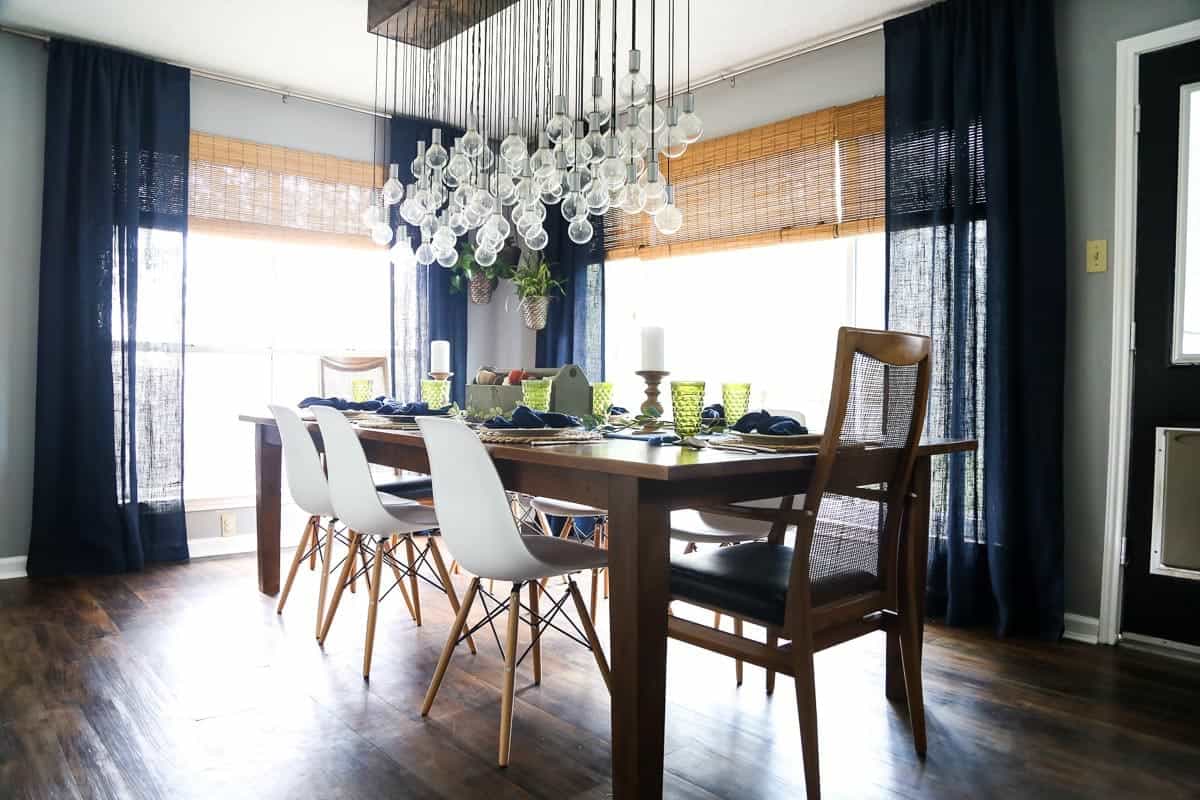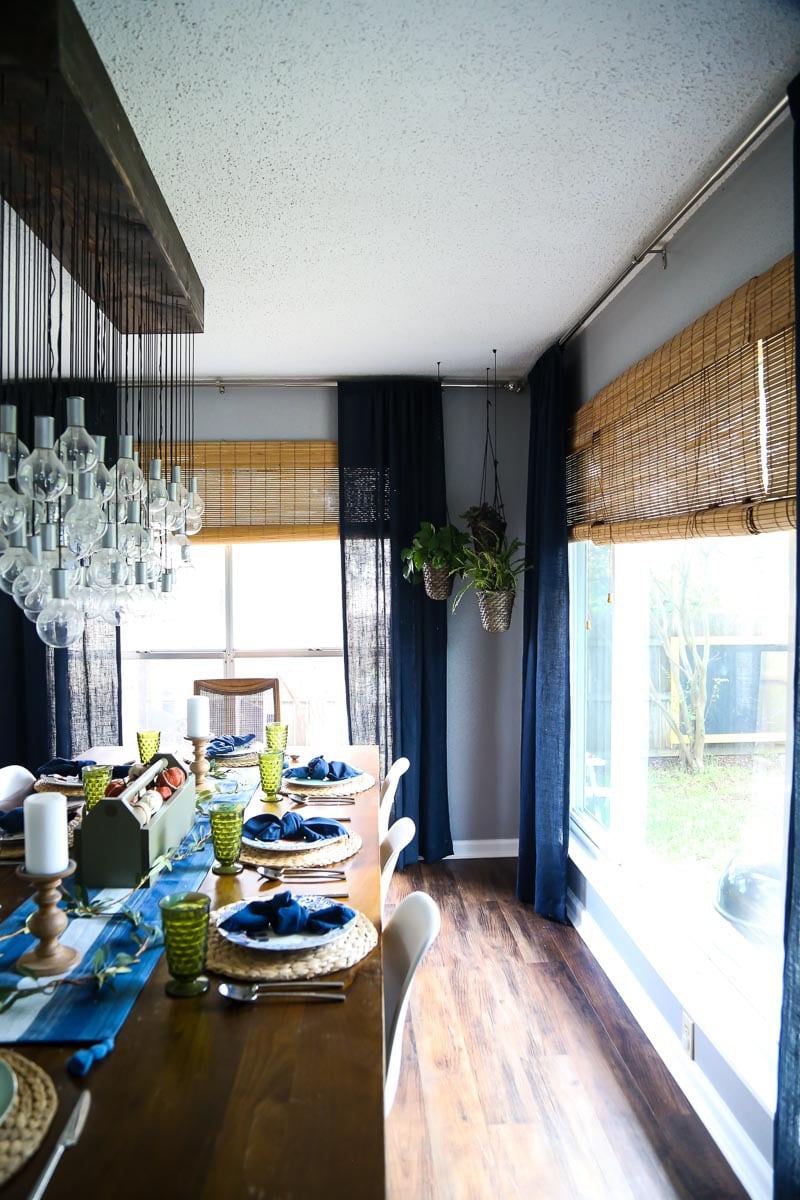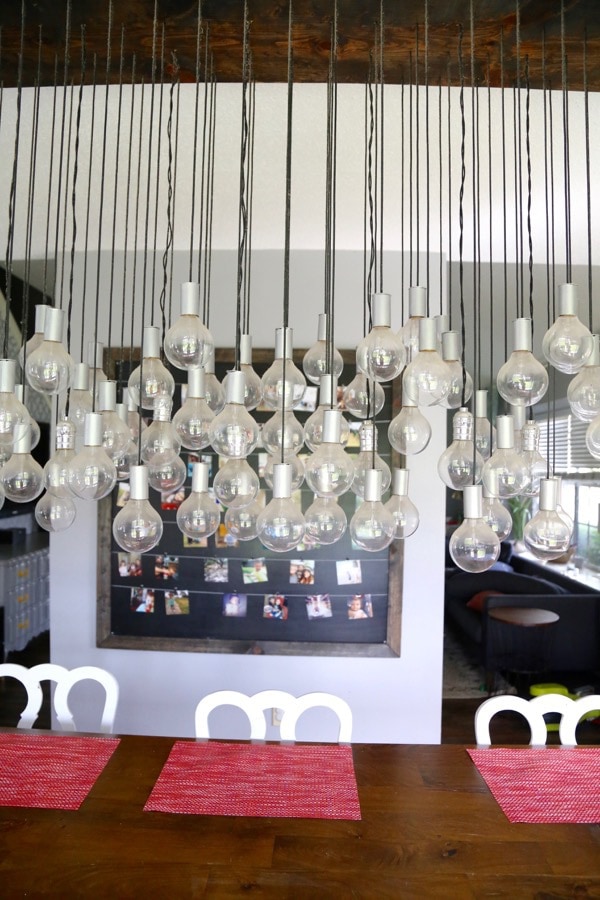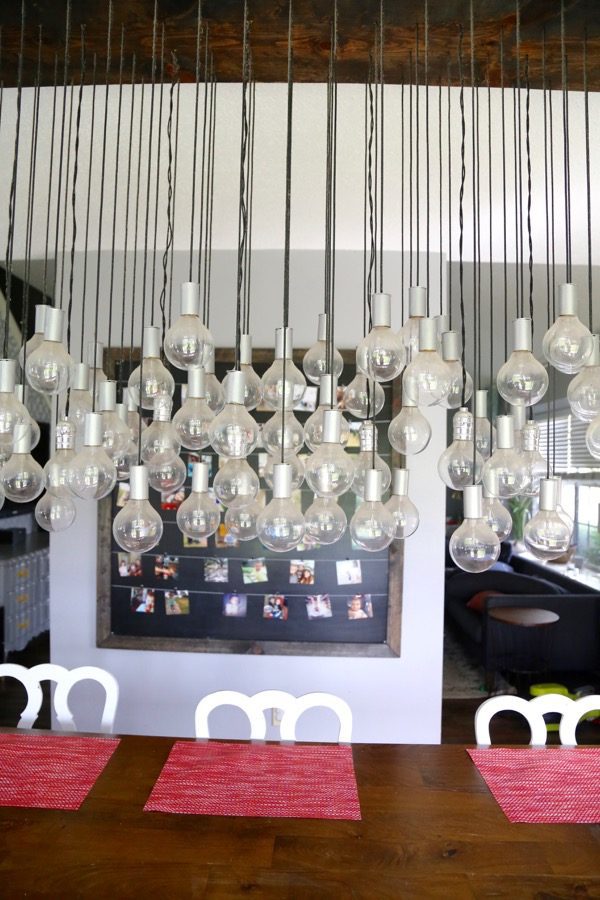 We are so in love with this light.
It's exactly what we wanted, and we love that it's completely unique and something that absolutely no one else has. We constantly catch ourselves just staring at it while we're in the living room watching television, and we can't get over how perfect it is for us.
We also love how it looks from underneath – we tossed out a lot of our original ideas because we thought they would look bad from underneath while you're sitting at the table, but this guy looks just as pretty from under it as it does from the side!
And, of course, we love the how it looks when it's actually turned on. The light from the 8 bulbs that actually work bounces off of all of the other lights, and there's an illusion that the whole thing is just glowing. It's impossible to capture in photos, but just know it's beautiful! I'll have to have you all over for dinner someday so you can see how it looks in person!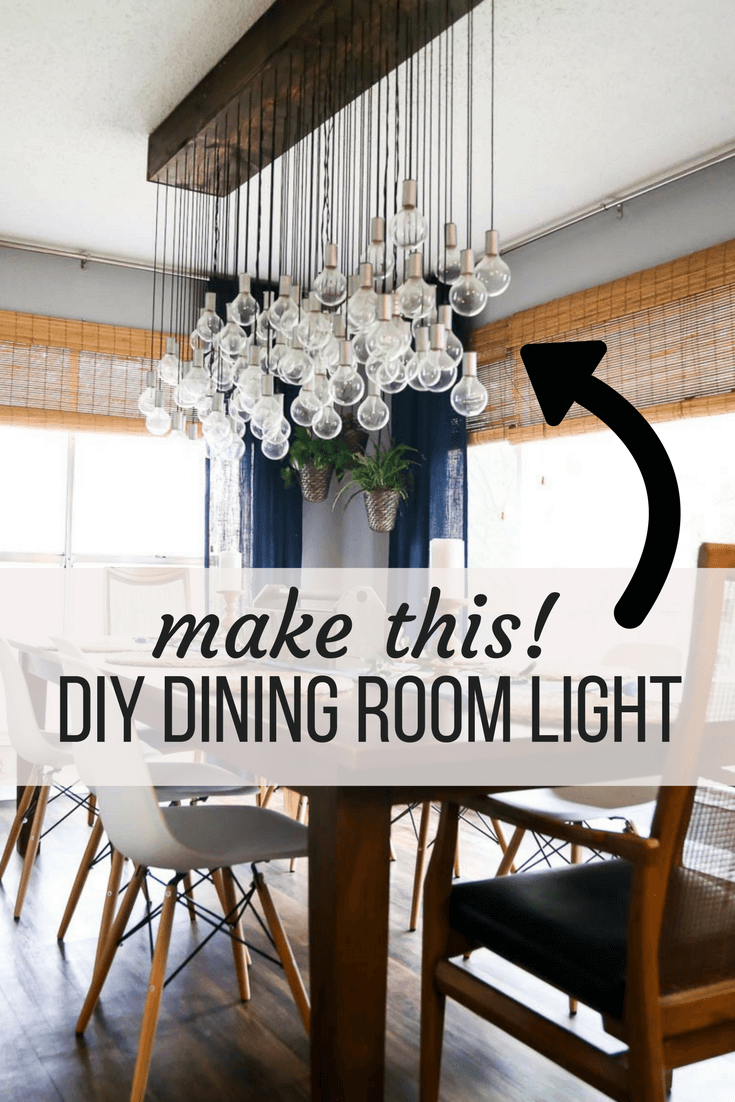 Yup. I think we'll keep it.
This project was time-consuming, a bit overwhelming at times, and not for the faint of heart, but I promise that if you stick it out you'll end up with an epic light fixture that everyone who comes to your home will ask you about. Seriously – every single time someone comes over I get asked where it's from, and we're able to proudly say we made it ourselves. Now if only I could muster up the energy to replace every light in our home with something this gorgeous!
If you could create your dream one-of-a-kind light fixture, what would it look like?
Want more easy & affordable DIY ideas?