With the camper playhouse coming along, I've started to think about what else we can add to the yard to make things feel special for the kids.
They love playing outdoor games and we've somehow never managed to build cornhole boards for the family.
So clearly, it was time!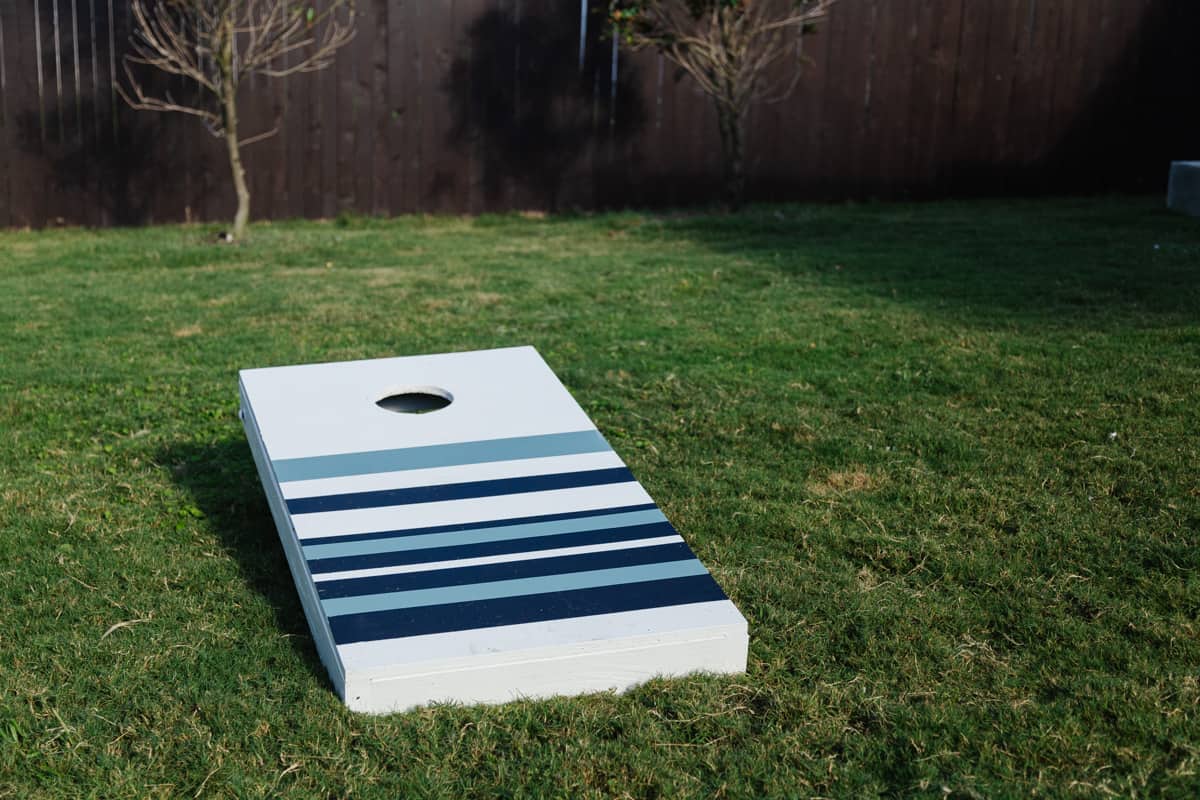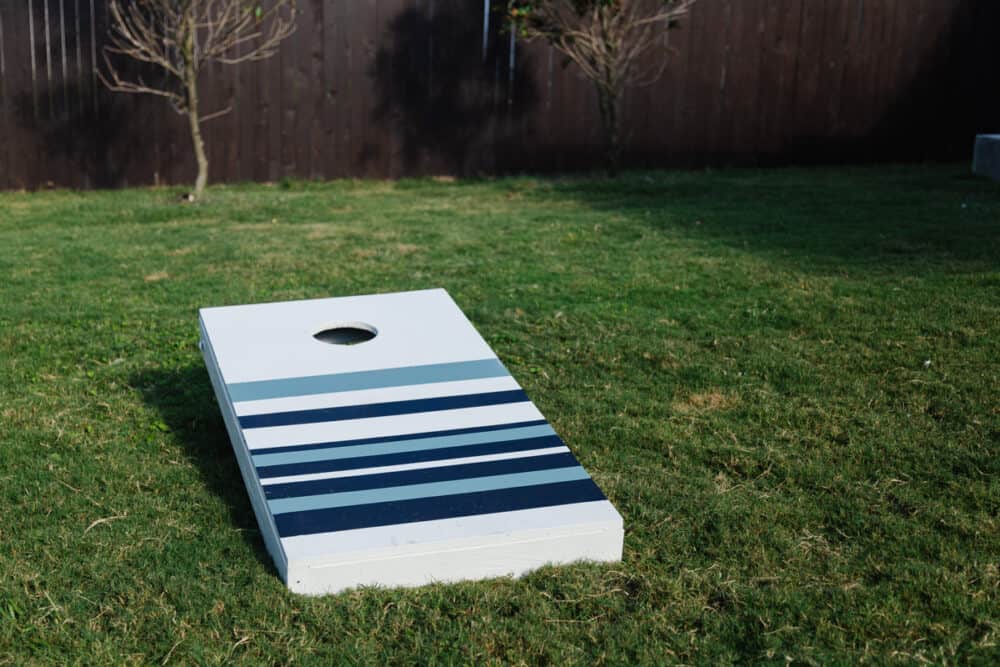 Making DIY cornhole boards is a super simple and classic project – it's perfect for beginners! We've been having a blast with these over the last couple of weeks, so today I'm sharing all the details on how to build them yourself.
This is an easy afternoon project that you only need a few tools and some super basic DIY know-how for. Here are a few posts that might give you some background knowledge if you're unfamiliar with power tools!
HOW TO BUILD DIY CORNHOLE BOARDS
Materials Needed
(4) 2x4x8 pressure-treated boards
(2) 1/2 sheets of exterior-grade plywood
Exterior screws + drill
Paint
Step 1: Create Cornhole board Bases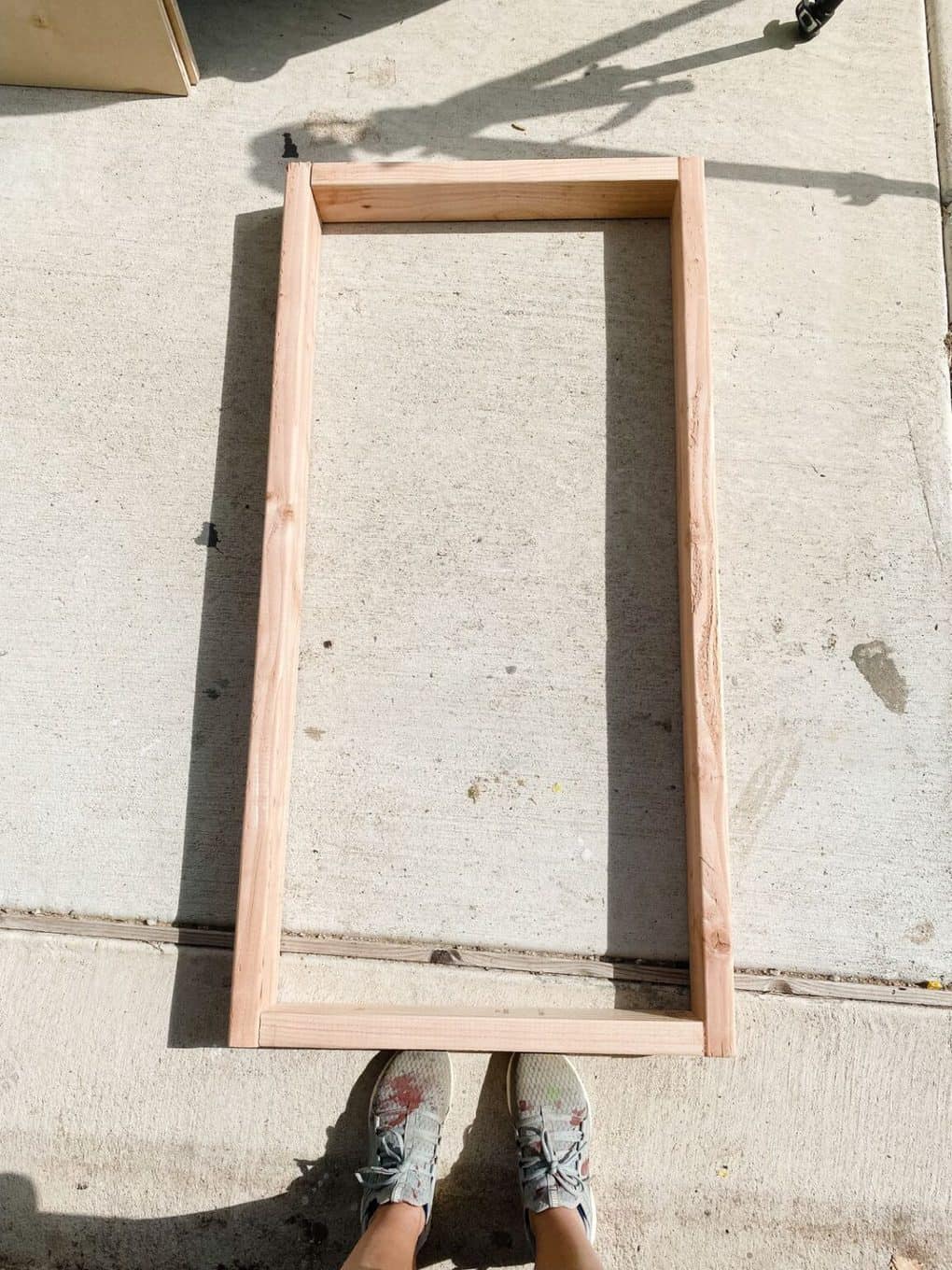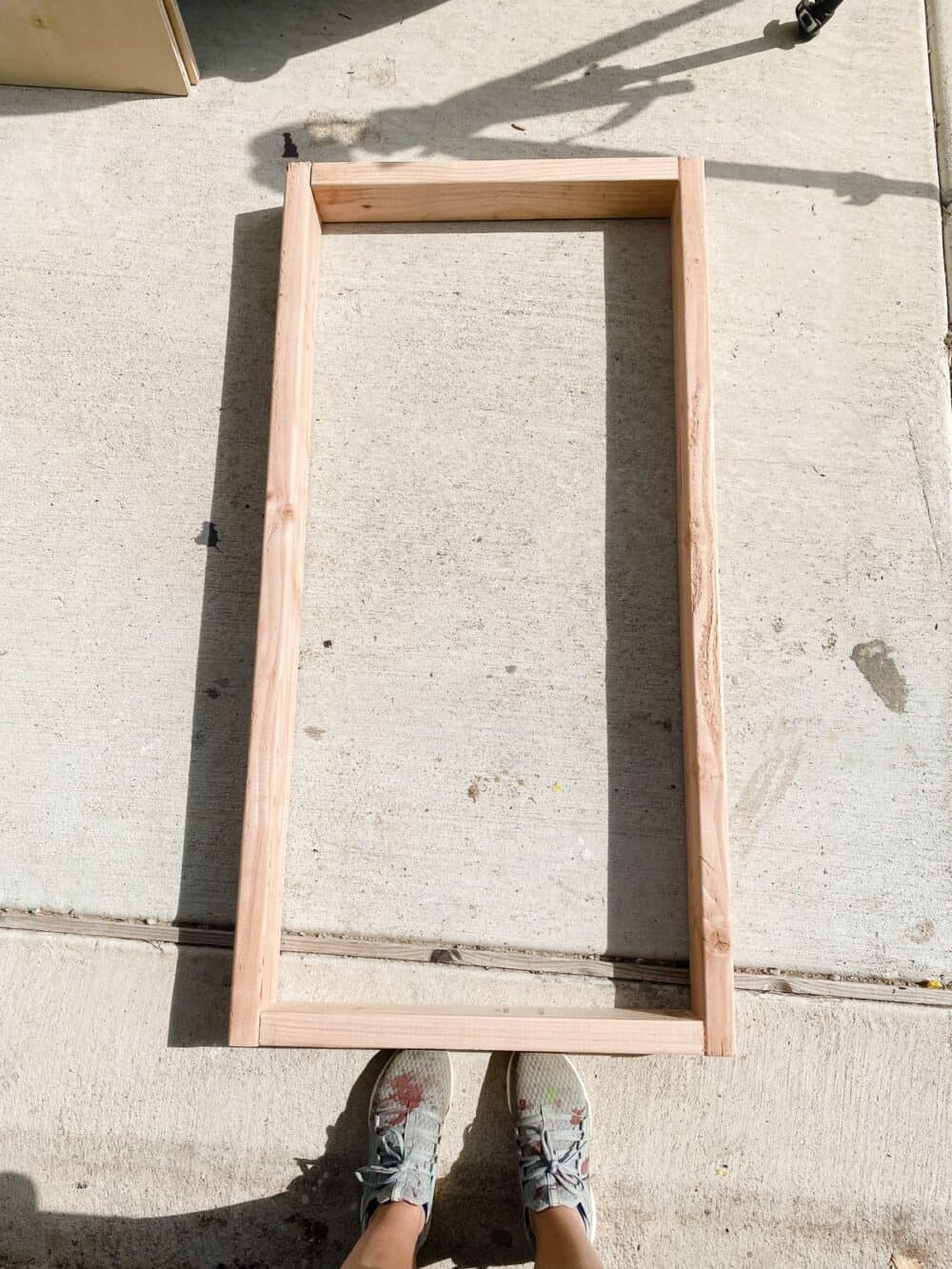 Start by cutting four 48″ lengths from your 2x4s, and four 21″ lengths.
This will be what you use to create the bases for both of your cornhole boards. Use your drill and screws and form two rectangles, using two 48″ lengths and two 21″ lengths for each rectangle.
Be sure to put the 21″ pieces between the 48″ ones so that the final dimensions of your rectangle is 24″ x 48″.
Step 2: Attach Top, drill hole
Now, grab your half sheets of plywood and attach them to the bases you've created. They should fit perfectly on top. Just attach them using your drill and screws.
Once the top is on, you're ready to create the hole! Grab your hole saw bit and attach it to your drill, then measure and mark the center point of the top side of the cornhole board (12″), and 9″ down from the top. This should be the center of your circle. Place the bit centered on that point and drill a 6″ hole.
Go ahead and sand the edges of the hole while you're working on it, so it's smooth and ready for paint!
step 3: Create legs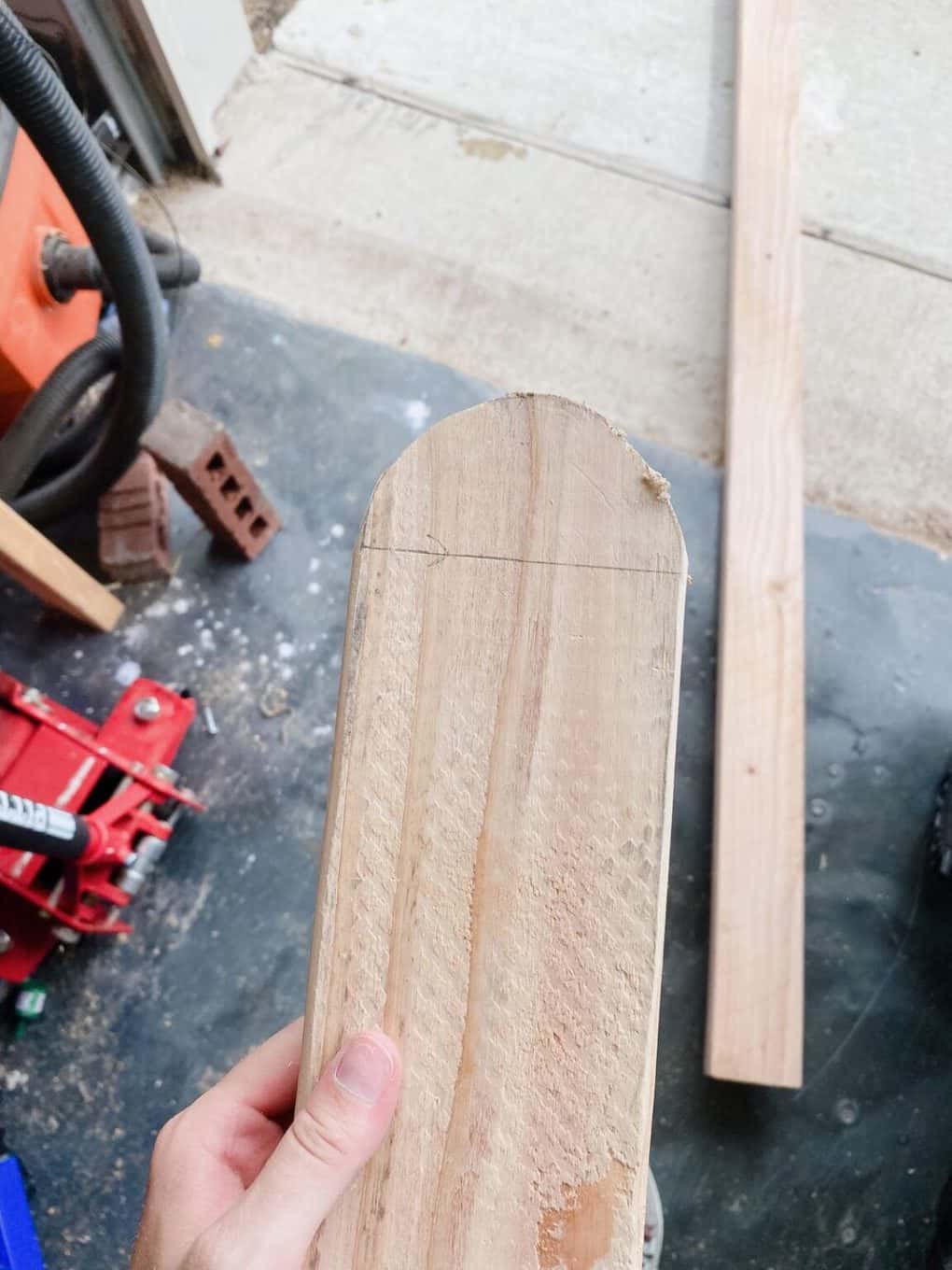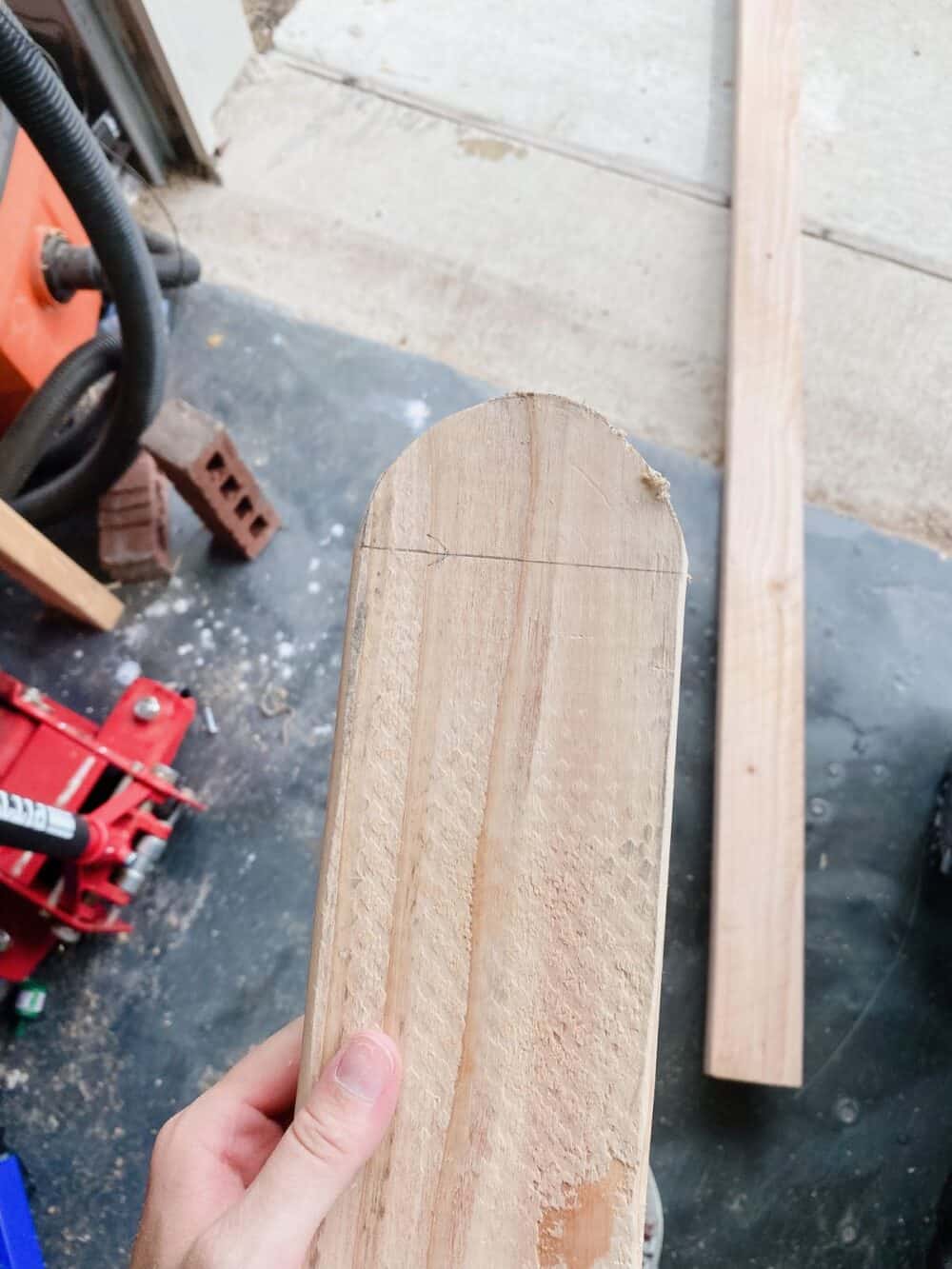 Now, it's time for legs!
Cut four pieces from your 2×4 to 12″. Use your miter saw to cut a 30-degree angle on one side of each of the legs.
Next, grab a roll of painter's tape or anything you have that's round and about the same size as the 2×4. Use it to trace an arc on the end of the leg that isn't angled. Once you've got it traced on, use your jigsaw to cut a half circle on the leg.
Finally, take a minute to sand it down and smooth it out before attaching it.
Step 4: Attach legs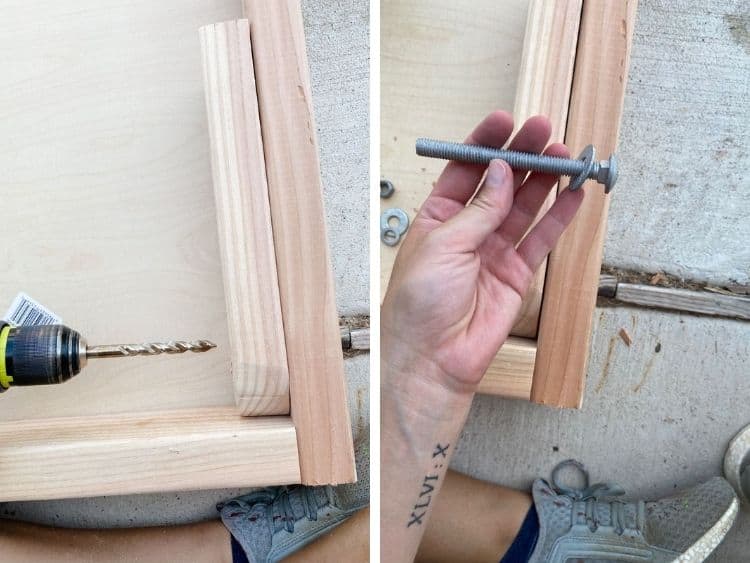 Drill a hole in each leg (using a 3/8″ drill bit) centered widthwise and about 1 1/4″ down from the top. Set the leg in the top of the cornhole board base, where you want to attach it, and use the same drill bit to drill through the side of the cornhole board.
Attach each leg to the frame using the carriage bolts, adding a washer between the leg and the base, and also between the leg and the nut. Thread a nut onto the bolt and tighten it, then test the leg to make sure it moves freely.
At this point, you may need to pull the leg back off and sand down the top a bit to ensure it rotates easily.
Step 5: paint and finish Your DIY Cornhole boards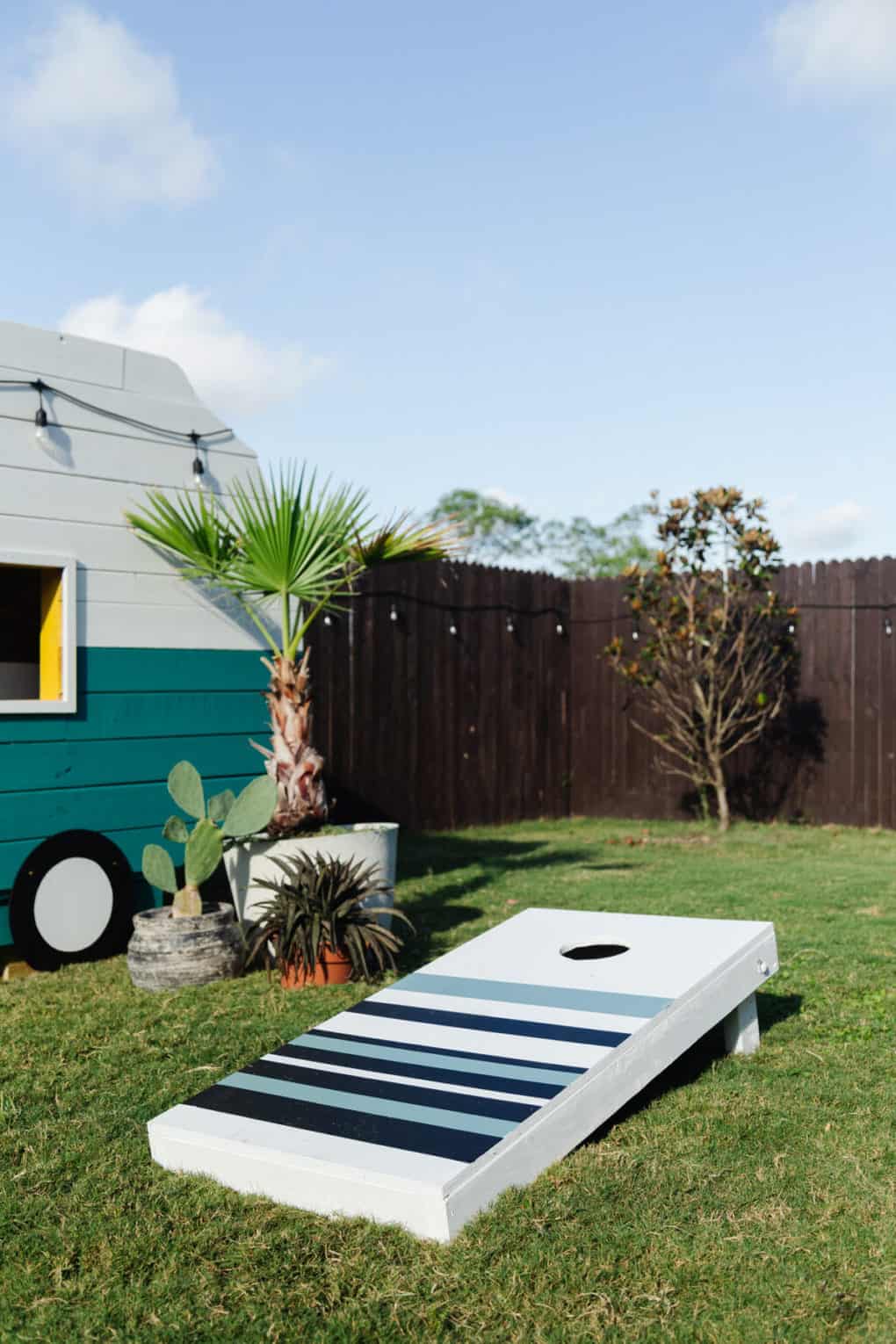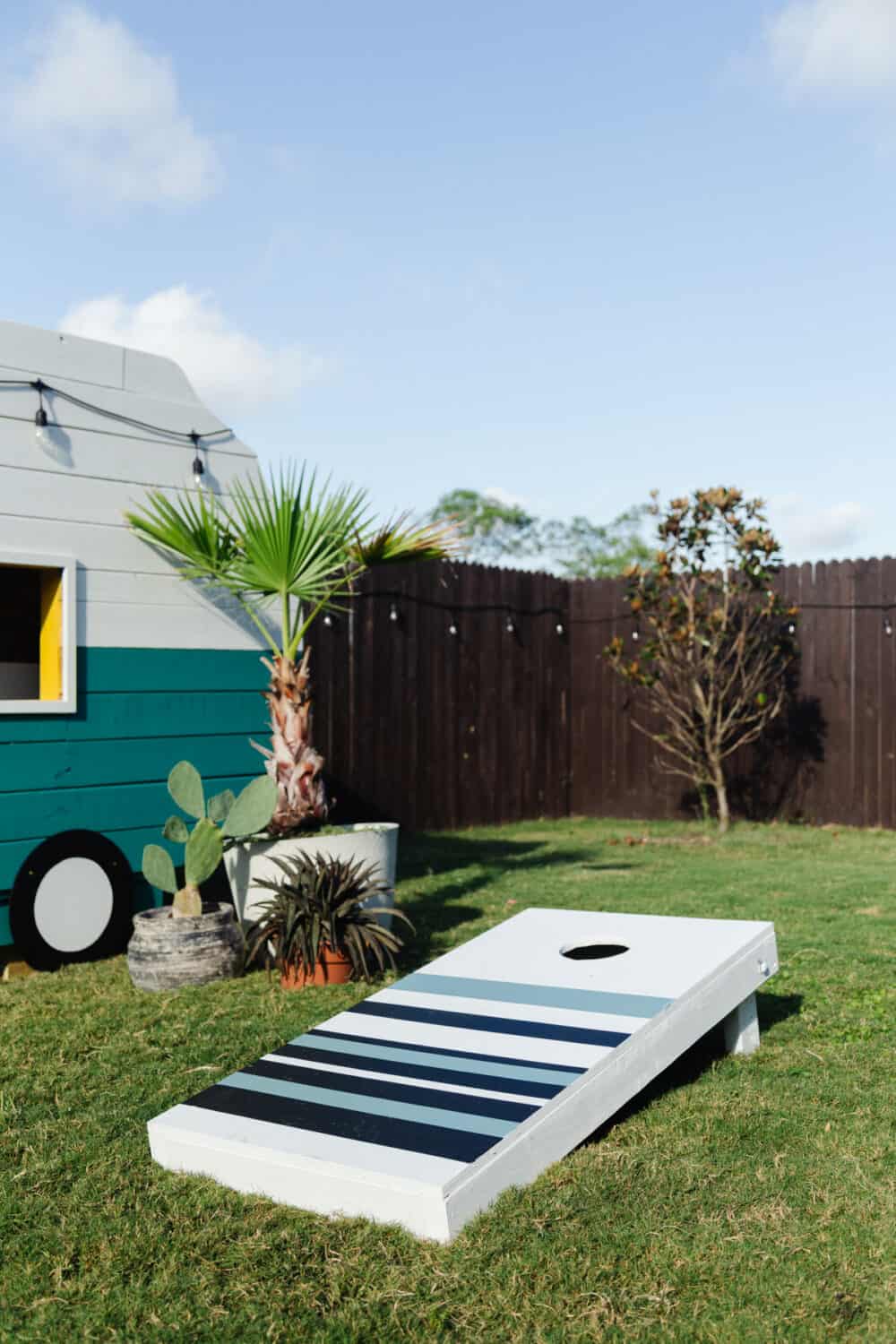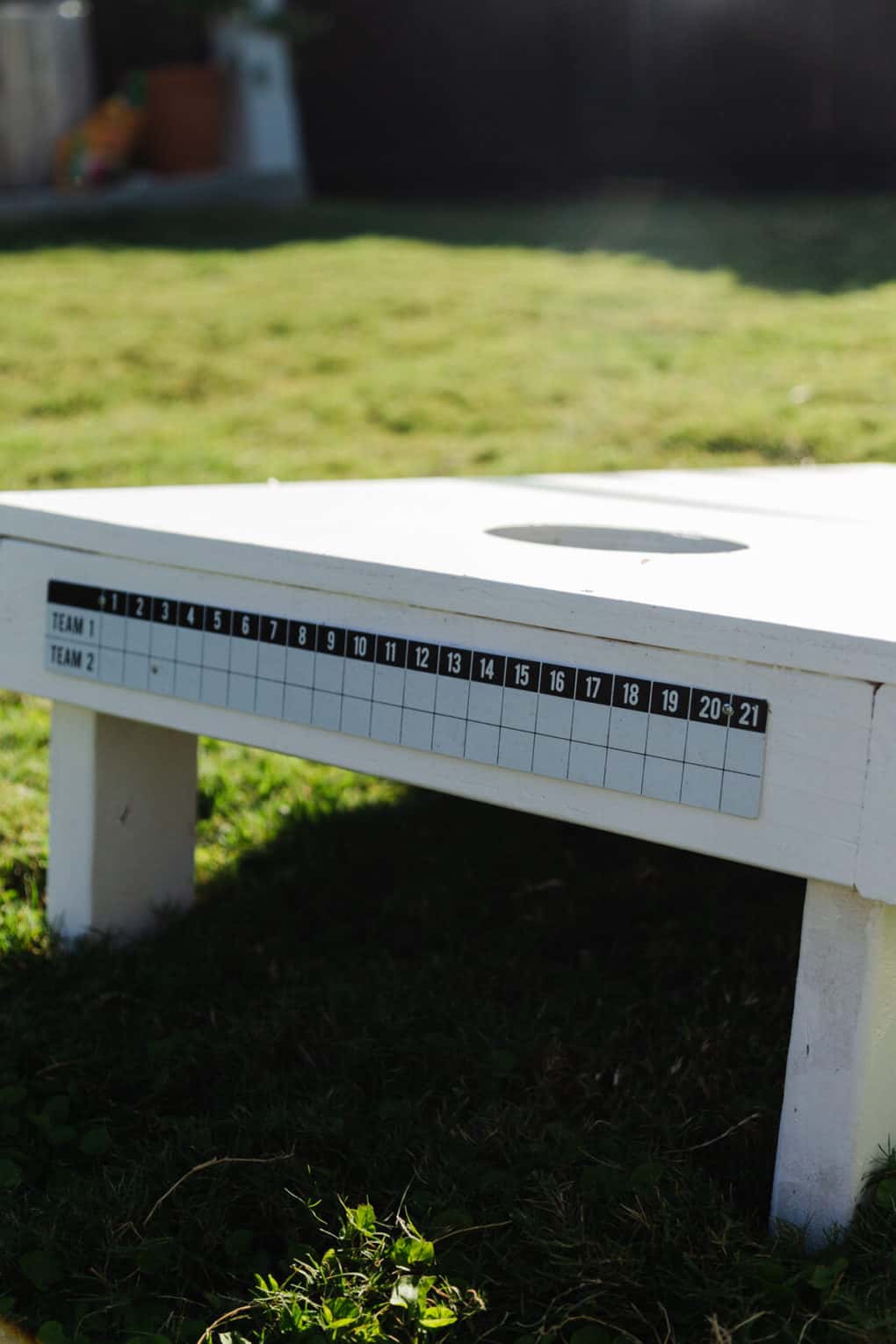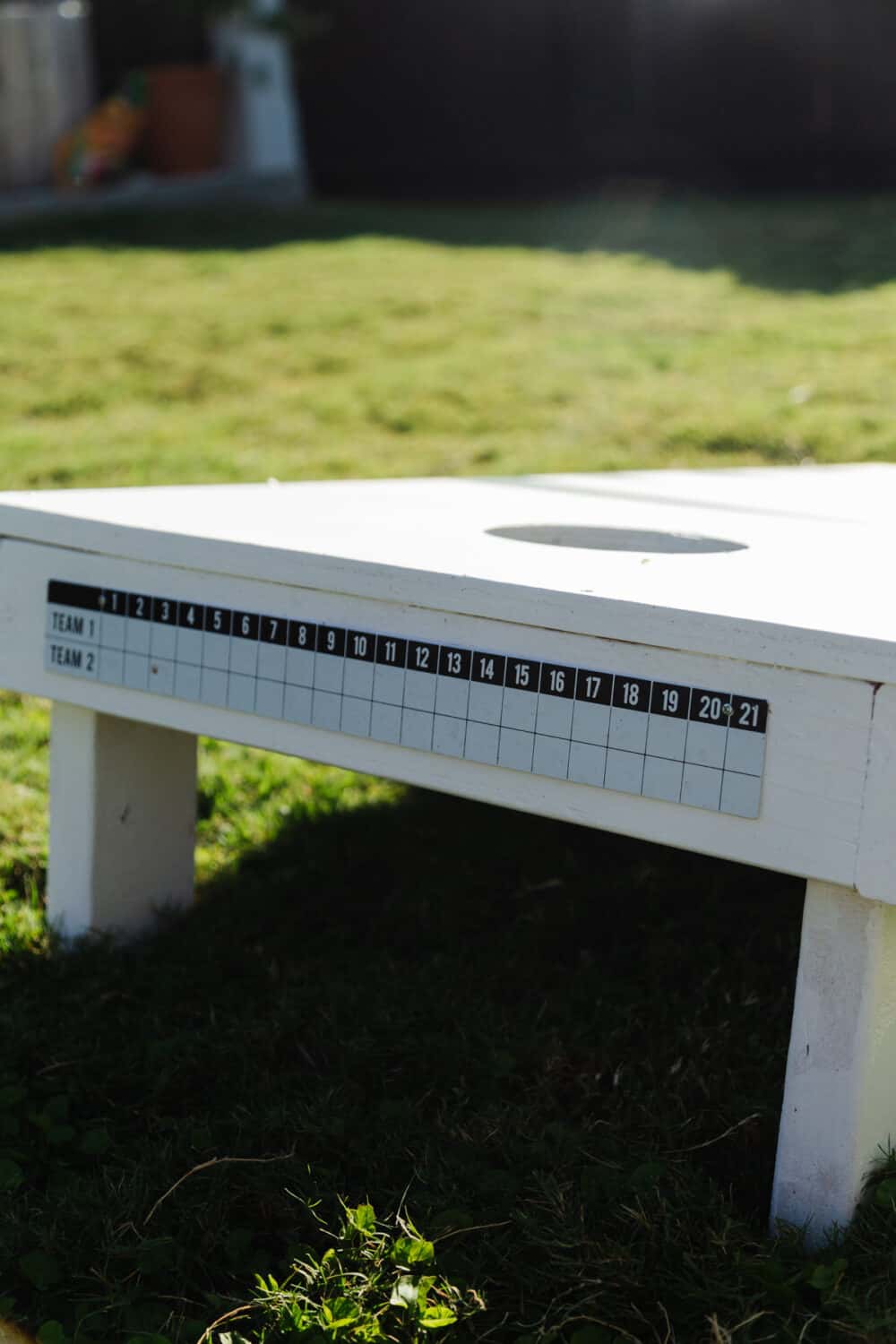 With all that done, you're ready for paint!
I painted my boards white and added some blue and black stripes (the blue color is Dragonfly by Behr).
Once the paint dried, I added these cornhole board scorekeepers – it's the perfect way to keep track of the game!
And just like that, you're done! The boys have been loving having these boards and I think we'll get a lot of use out of them…especially once we get that camper done!
Don't know how to play cornhole? The rules are simple!
cornhole rules
Click here to see the official cornhole rules if you want to take things seriously. Otherwise, here's how it work:
Set up your cornhole boards facing one another, about 27′ apart if your backyard is big enough. If not, just do what's comfortable for your yard.
Each team stands by their cornhole board and alternates throwing their four bean bags at the hole of the board across from them.
You get 1 point if you get your bean bag to land on the cornhole board.
You get 3 points if you get your bean back into the hole (or manage to knock a previously-thrown one into the hole).
At the end of each frame (or set of four bean bags thrown), you determine who got more points and subtract the other team's score from that to get their score for the round. For example, if one team scored 7 points and the other team scored 5, the first team would get 2 points for that round (7-5).
Play until one team reaches 21 points!
Of course, you can also just take turns throwing bean bags into the hole sand make your own rules up as you go.
That's half the fun, right?!
other lawn game ideas