Have you ever wondered how to cover a lampshade that just doesn't suit you? This DIY lampshade makeover is a super simple project that will give your boring lampshade a totally new life!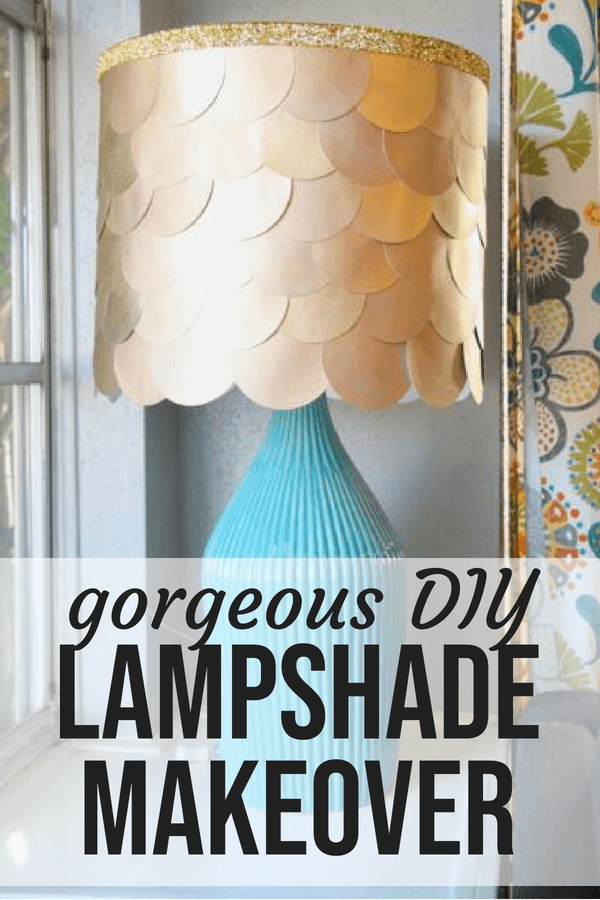 Lamps can be tricky.
Can I get an amen?
They're often extremely expensive. It's hard to find one that you really truly love. And, once you do find a lamp that you like you often have to pair it with a lampshade that's just kind of, well, blah.
I mean, don't get me wrong – sometimes a plain ol' white lampshade is just what you need to complete a space. But sometimes you want something a bit more fun. Something with some pizzazz.
Something gold and sparkly.
I wanted something a little more fun than the traditional white lampshade for the new blue lamp we got for our living room, so I decided to jazz it up with a fun gold fishscale treatment. I'm really pleased with how it turned out, and it was such an easy project! Today, we're going to chat all about how to get it done if you want to try something similar in your own house!
Easy DIY Lampshade – How to Cover a Lampshade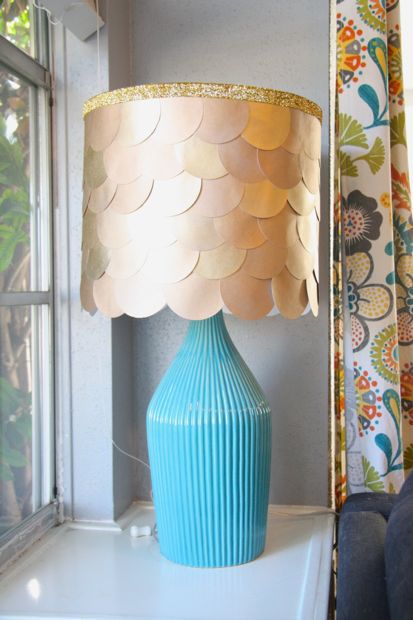 This post contains affiliate links. Click here to read my full disclosure policy.
Materials:
Step 1: Prep Your Paper
On the scrapbook paper – if you can find gold scrapbook paper, obviously just get that. But, I couldn't find any when I was looking at my local craft store, so I just grabbed white and used some gold spray paint to color it. It worked fine and I was able to get the exact color I wanted, which was nice. It'll be much easier to just buy it in the color you want, though. I used 12 sheets for my lampshade – you may need more or less depending on what size lampshade you use.
As I mentioned, I sprayed the scrapbook paper with the gold spray paint – I was shocked by how quickly it dried and how nicely the spray paint worked with the paper. Apparently, you really can spray paint absolutely anything. I let it all dry for about 30 minutes before working with it – that's all it took! I ended up using two different brands of spray paint on the paper – every brand has a slightly different tint, and that ended up creating a bit more dimension in the finished product – I sprinkled in some of the lighter gold circles with the darker, more bronze ones. I think it was definitely worth the extra effort of using two different colors!
Once my paper was all painted and dried, I used the paper punch to cut out a ton of circles. I was able to get 9 circles out of each page, and my lampshade took 12 sheets (so, about 108 circles) to cover it.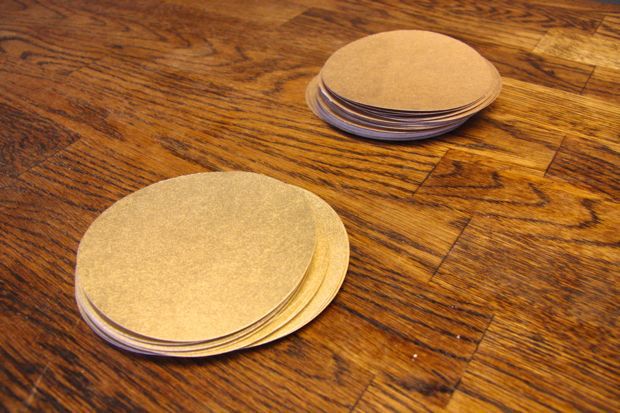 Step 2: Attach paper to lampshade
Then? You get to gluing! This part was tedious, but incredibly easy. I overlapped my circles on either side by about half an inch, but that's optional. I started at the bottom and did one row at a time, just eyeballing the placement until the whole thing was full. I also alternated which way the circles were overlapping on each row, to keep it from being too uniform and "perfect" – if you want a more uniform look, though, make sure you overlap the same way every time.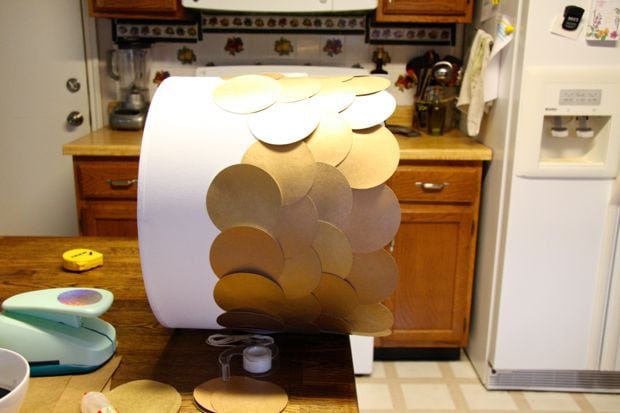 Then, I attached my shimmery gold ribbon to the top to clean it up (since even after you cut the excess off, you won't have perfectly straight lines). Originally, I had planned on also trimming down and adding a border to the bottom of the shade, but I ended up liking the look of the scallops on the bottom, so I left it as-is.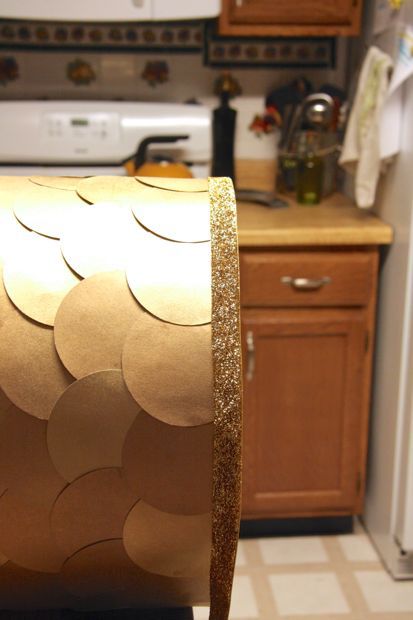 I'm really pleased with how this turned out, and I'm really impressed with how quick and easy it was to throw this project together! Who knew a DIY lampshade would be so fun and so simple to make?
Now, of course, it's got my brain churning with all of the other ways that I could give a lampshade a fun makeover. You could do patterned paper, a different shape, you could paint a pattern … so many choices!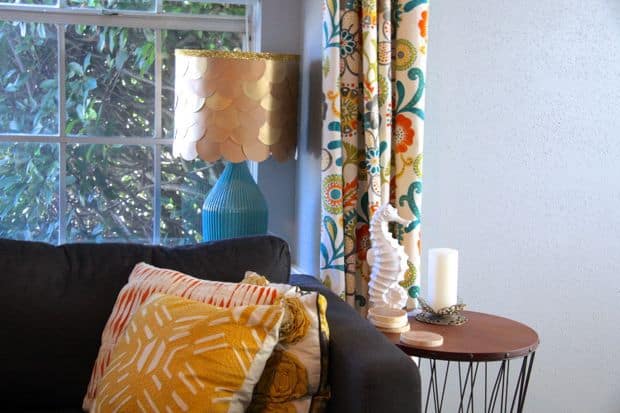 I'm in love!
I'd love to hear if you have any other genius ideas for how to create a DIY lampshade – what would you do?!