Vinyl Plank Flooring Review
We installed Lowe's luxury vinyl plank flooring in our nursery and I wanted to share a vinyl plank flooring review to let you know what we think about it, how it was to install, and if we'd do it again.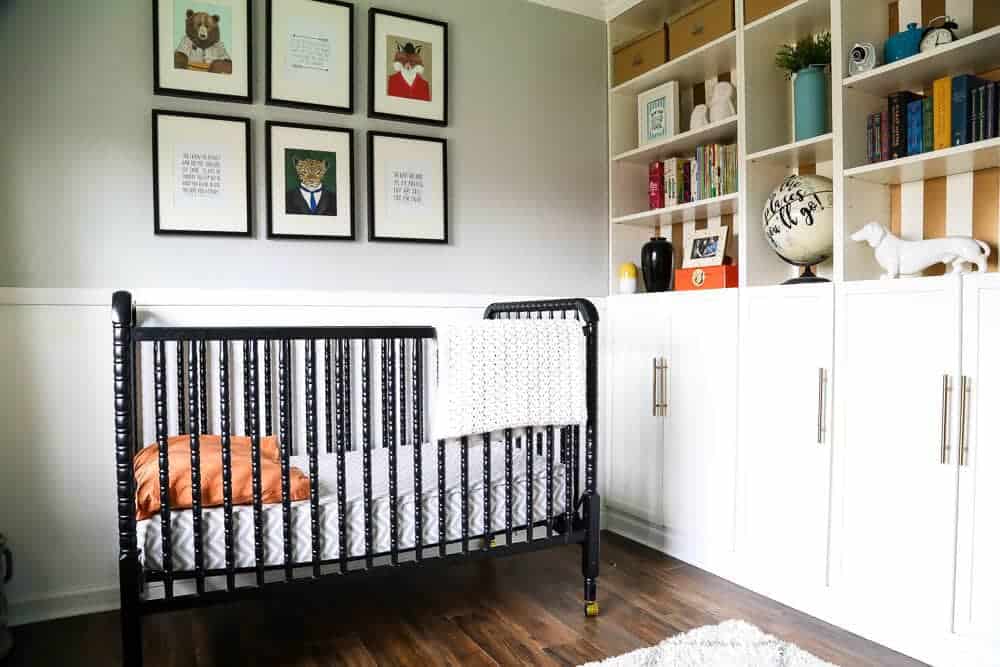 Um, before I get started can I just gush for a second?
I am obsessed (OBSESSED!!!) with the new vinyl plank flooring in our nursery. I love, love, love, love it and I'm so excited to get rid of the nasty carpet in there. I cannot wait to start ripping up the carpet in the rest of our house because I think this flooring will look fabulous everywhere.
Okay. Now that that's out of the way, we can talk details about the new flooring in our son's nursery.
Corey and I have known since the day we moved into this house that we wanted to eventually tear out the carpet and install wood (or faux wood) flooring. That was a no-brainer.
But deciding what kind of flooring we would use was a completely different story.
There are about a billion different options when it comes to wood/faux wood flooring. We considered each and every one of them at one point in the decision-making process, but in the end, the choice was pretty obvious.
Our Flooring Options
Hardwood: gorgeous, amazing, wonderful, but expensive. It also scratches easily (hello, we have three dogs) and can be easily damaged by water.
Engineered hardwood: can be just as beautiful as the real thing, but is cheaper. Also can scratch pretty easily, also not water resistant.
Laminate wood flooring: not quite as pretty as the real thing, but is way cheaper. Still has the scratching issue, though it's not nearly as significant as the other two options, but will bloat up and be completely ruined if water sits on it for too long.
Vinyl plank flooring: doesn't look like exactly real hardwood, but can look pretty damn close and definitely doesn't look like vinyl. Is incredibly affordable, doesn't scratch easily (and is very easy to replace if it does), and is completely water resistant.
Can you see where I'm going with this?
Why We Chose Vinyl Plank Flooring 
It may be a controversial decision for diehard fans of real wood, but the right choice for us was definitely, without a doubt, the vinyl plank flooring. We were iffy about it at first as well, but my sister recently installed it throughout her entire house and once we saw it in person the decision was sealed – it looks absolutely gorgeous and I would never guess that it was vinyl if she hadn't told me. And you can't beat the cost – about $1 a square foot.
There are about a million other reasons I could use to convince you that luxury vinyl plank flooring is awesome, but I'll just let the photos speak for themselves for now.
(Oh, and for those of you who I am sure are curious why water resistant flooring is such a big deal for us: one of our dogs (Cullen) is a stubborn jerk sometimes, and will often refuse to go to the bathroom outside before we leave for work. And he promptly pees on the floor as soon as we leave for work. Which means there are days where a pee puddle may be sitting on our floor for upwards of 10 hours while Corey and I are at work – and we have no guarantee that it wouldn't damage anything that isn't resistant to moisture. So that's that.)
Okay, let's get to the good stuff.
Vinyl Plank Flooring Review:
First up – this is the flooring we chose. Scroll to the bottom of this post for WAY more details on this flooring, how it holds up, and other FAQ's! 
The first part of the process was tearing up the "baseboard". I use quotation marks because the baseboards throughout our house aren't actually baseboard – they're trim pieces being used as baseboards, which is why they're so puny. We also discovered in this process at they are installed under the carpet instead of on top of it, which makes them a good half inch or so shorter than they would be if they were installed differently. So yeah, they're ridiculous.
It was surprisingly easy to get them up – I went over the top with a utility knife and Corey went behind me with a 6″ spackle knife and pried them off the wall – it went quickly, and within about 30 minutes we had the whole room done.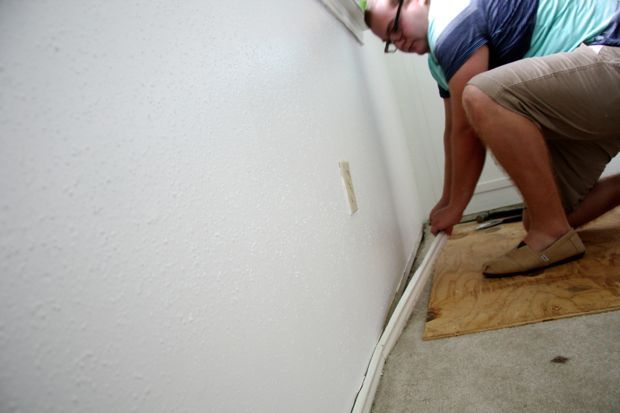 From there came the super rewarding job of ripping up the carpet and the disgusting pad underneath. Our carpet pad wasn't glued down at all, so this process was the easiest part of all – we just pulled the carpet away from the tack strips and picked up the pad and we were done.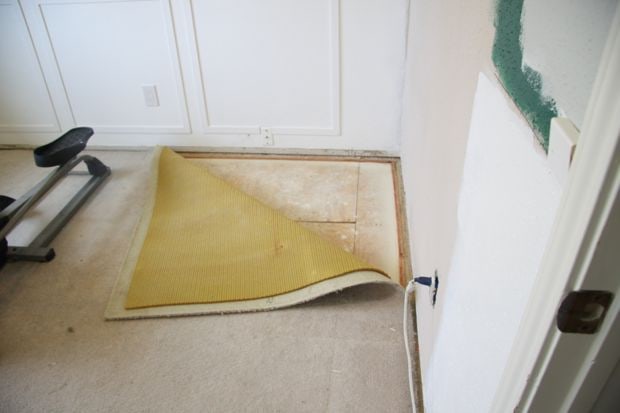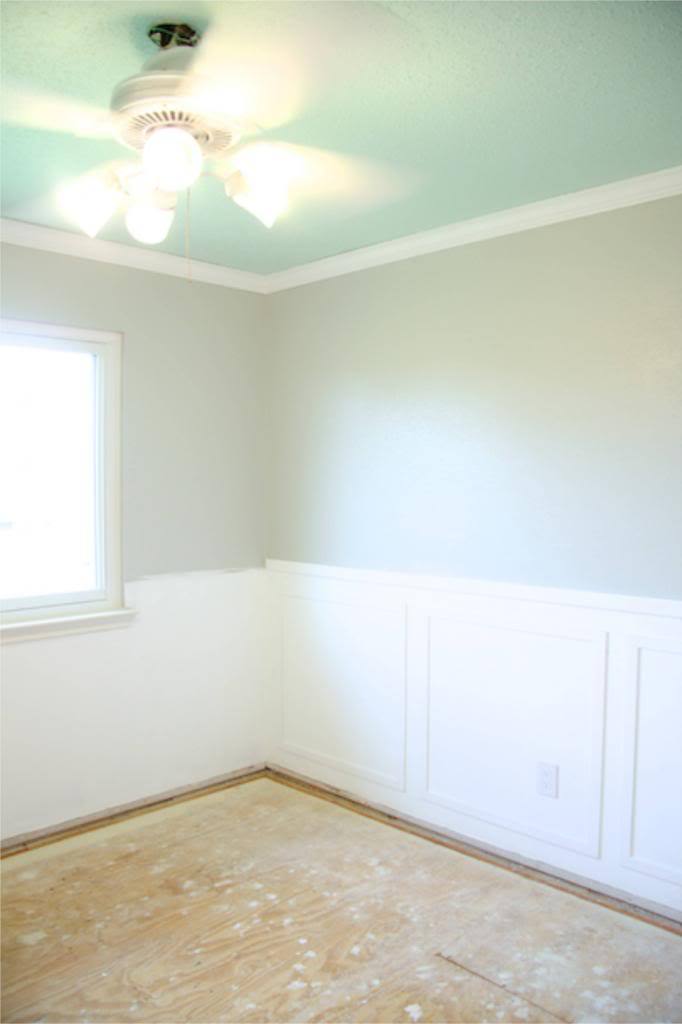 Bam. No more carpet.
Next, Corey used a prybar and a hammer to pull up the tack strips while I went around the room and started cleaning. Prep work is the most important part of installing this flooring, and the subfloor has to be squeaky clean for the install to be perfect.
I scraped the entire floor to pick up any lumpy pieces of paint or wall texture, vacuumed with our regular vacuum and our handheld vacuum, swept the floor, vacuumed again (with both vacuums), swept the floor again, used the regular vacuum one last time, and then carried the handheld around with me as I was installing the floor to pick up any stray pieces of dust that I missed the first 6 rounds of cleaning the floor.
It was a blast, let me tell you.
With the room finally clean, it was time to install the floor. It's a super difficult process that consists of many steps…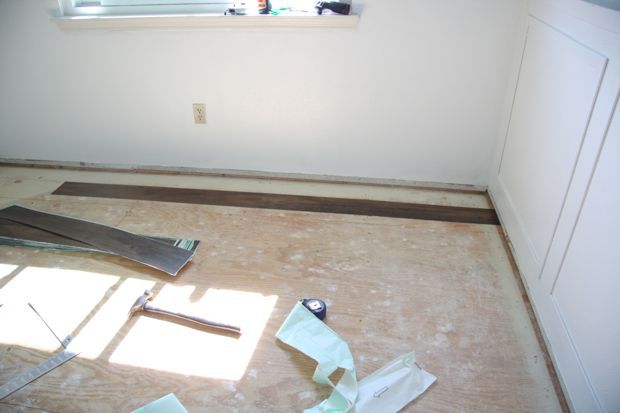 How to Install Vinyl Plank Flooring
 Make a chalk line near the back wall so you can ensure your floors are straight (we did it about 6 inches – one board – away from the wall, and went back to do that row later).
Peel the backing off the floor.
Stick the floor against the chalk line.
Repeat a bunch of times until you have a new floor.
SERIOUSLY. This stuff is peel and stick. It took me less than an hour to install the entire first box (about a third of the room) by myself. So, so simple.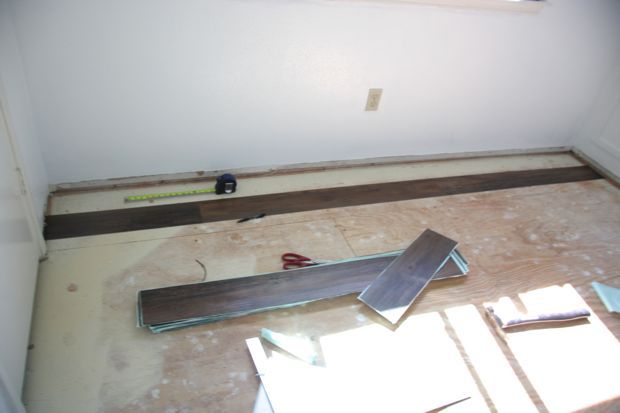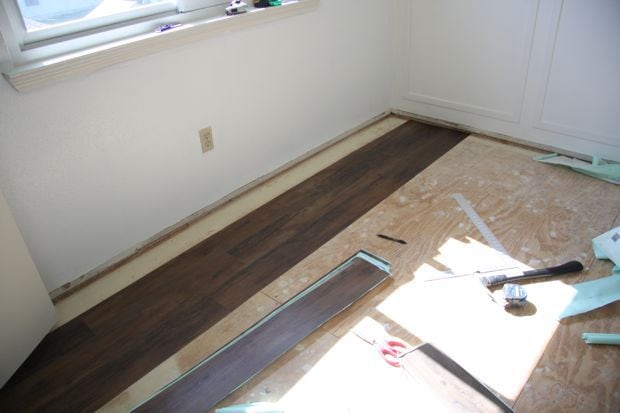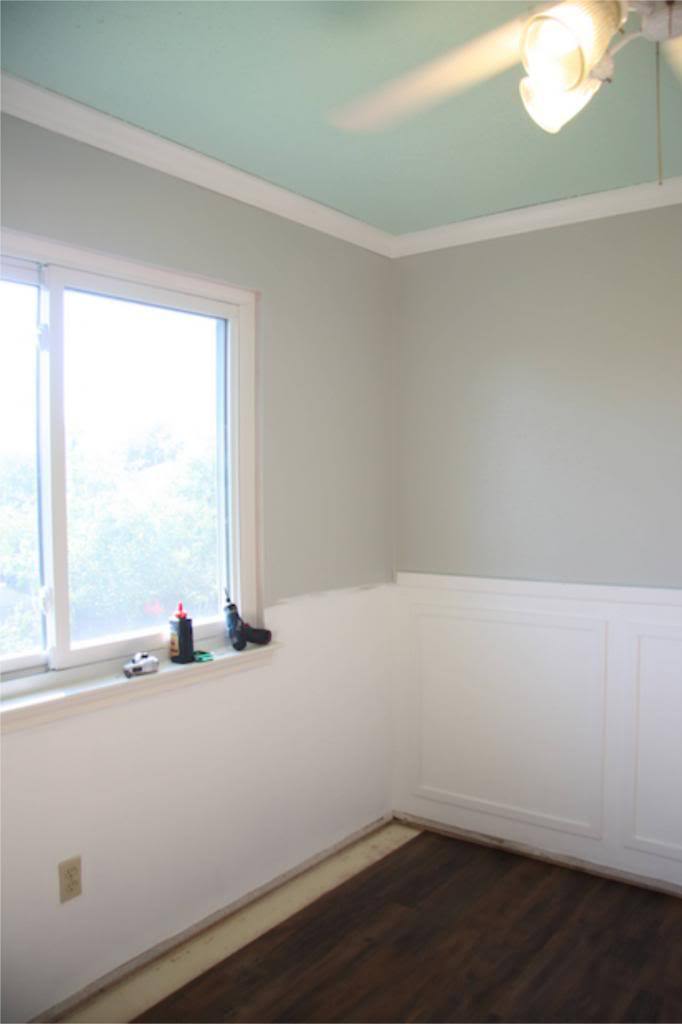 I would usually get up after every two or three planks and walk around on them a little to make sure they had a good stick, but other than that there's nothing to the process – it's that simple. For the ends of the rows, I chose to do a 3-step stagger – I started with a full board, then used a half board, a 3/4 length board, and then another full board. It keeps the pattern random enough that it doesn't look like a noticeable pattern, and it's easy to maintain as you're installing the floors.
Another quick note – cutting the boards with this stuff is also way easier than any other wood floor option – I just measured what length I needed, used a square to draw a straight line on the backing, and then used my utility knife to score it…then I just folded it until it snapped. Super simple! On some of the smaller cuts (like up against the far wall where I had to cut off 1/8″ all the way down each board!), I just used scissors to snip off what I needed – both methods worked well, I just liked the satisfaction of breaking the boards in half after using the utility knife!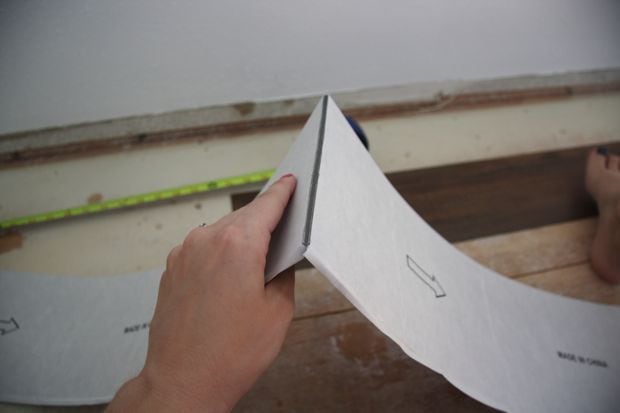 You ready to see the finished room? Brace yourself because it's awesome.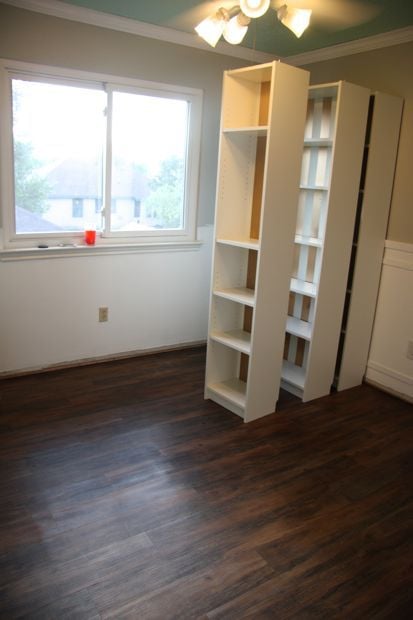 Swoon!
I'm in love with this floor. I think it works really well with the colors in the room, and I'm happy we chose a floor with a slightly gray undertone – the wall color brings it out a lot and makes the floor look even better. The whole room just feels so much cleaner and brighter without carpet, and I love how this stuff feels underfoot.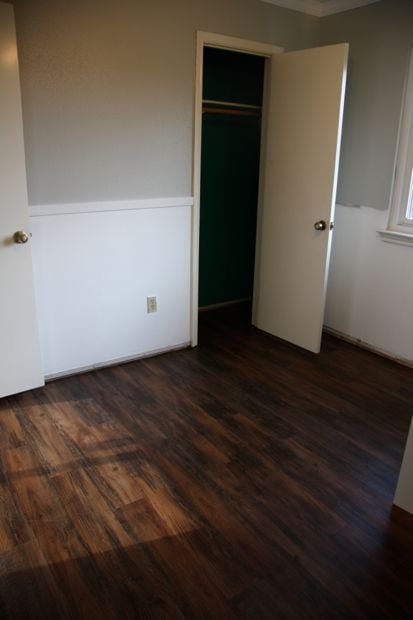 Next up (hopefully soon!) is installing new baseboards and re-installing the bookshelves (and crown molding that we had to rip up). Then we'll be trimming out the window, finishing up the trim around the room, and then we'll hopefully tackle the closet after that. It's all coming together!
UPDATE: See the full nursery reveal right here!
Want More Info on Vinyl Plank Flooring?
I've talked a lot about our luxury vinyl plank flooring over the years. Here's a quick lineup of all of the posts I've written and these will hopefully answer and any all questions you might have about what kind of flooring we have, where all we installed it, and how we feel about it years down the line!
What kind of flooring do you have (or want)? Anyone else have vinyl plank floors?