Want a bar cart update? Of course you do.
Because who wouldn't want to feast their eyes on this beauty again?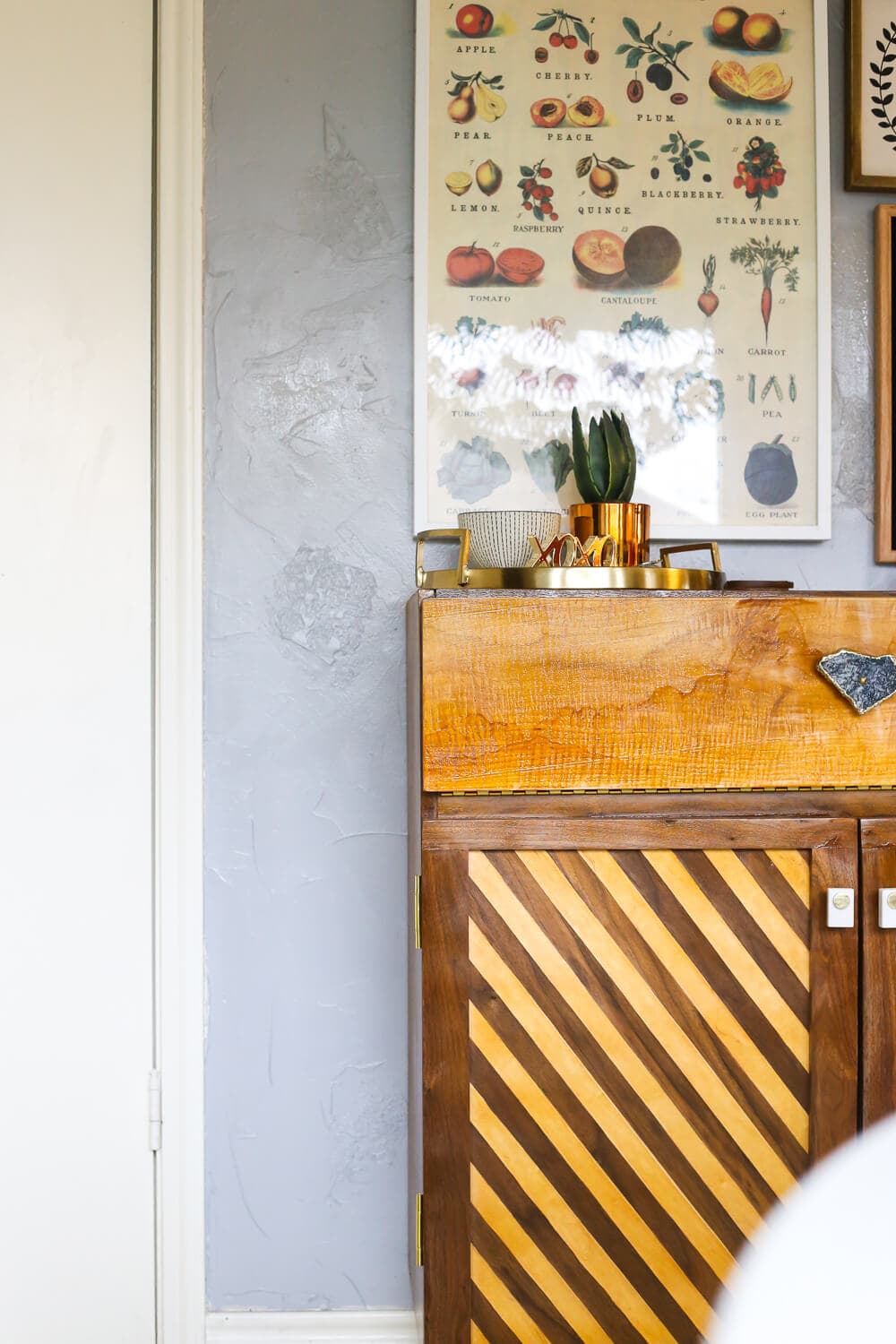 Mmmm. I'm still swooning over it. We've had this bar cart living in our kitchen for several weeks now and we are totally loving it. It might have less storage than the china cabinet ever did, but it's so much more organized and I find myself actually using the things in it rather than just shoving them in there and hoping everything doesn't come falling back out.
I promised I'd come back and give you guys a look at what I decided to hang above it, and today's the day.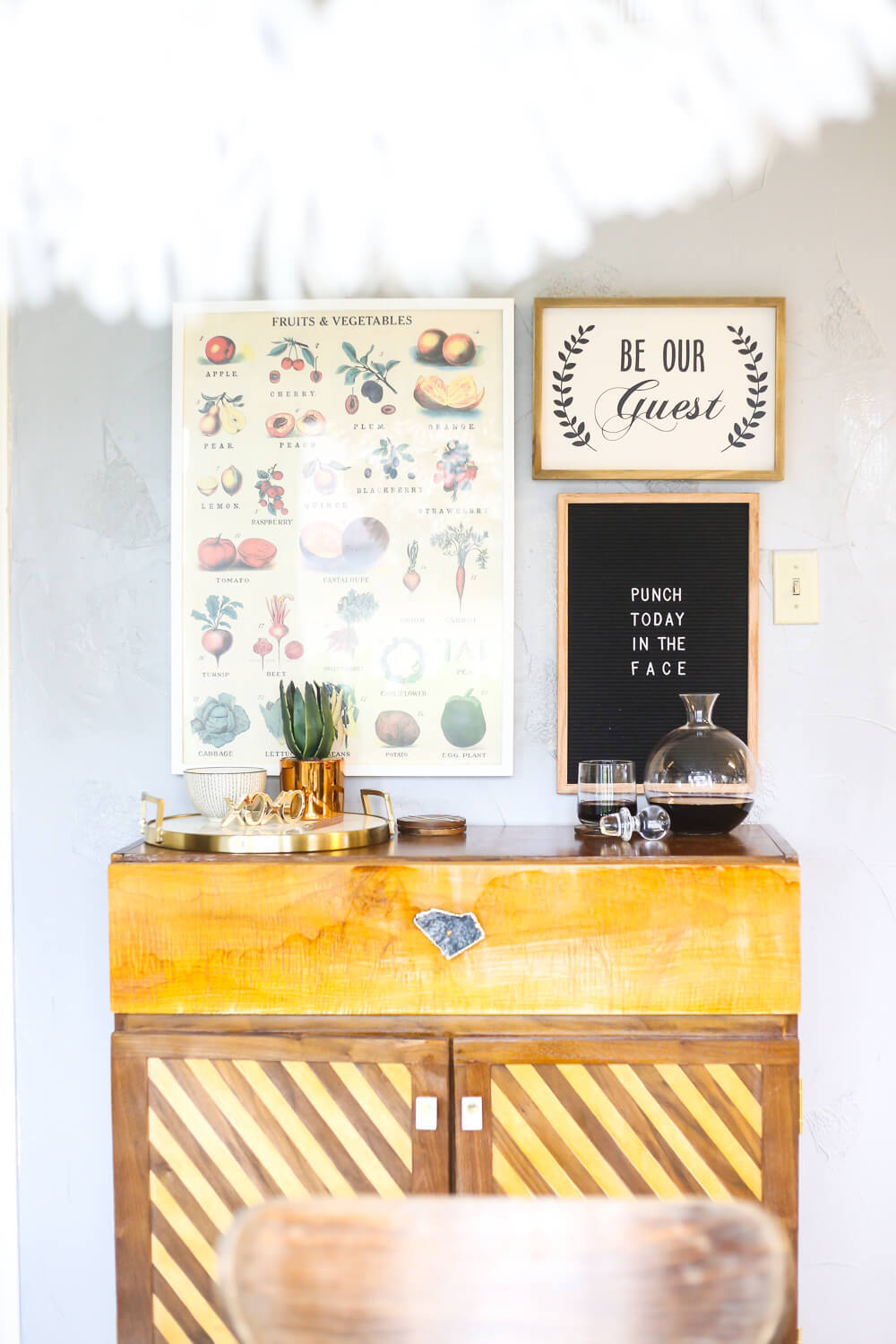 (This post contains affiliate links. Click here to see my full disclosure policy.)
The bar cart is such a big focal point of the kitchen now, I wanted something pretty visually dynamic and eye-catching to go above it. I'm so used to a giant china cabinet there, and a big blank wall above the bar just felt so bland. Luckily, I had this adorable vintage vegetable poster that we snagged at Magnolia Market for about $4 a while back (you can find similar ones on Etsy!) and it filled the space really nicely.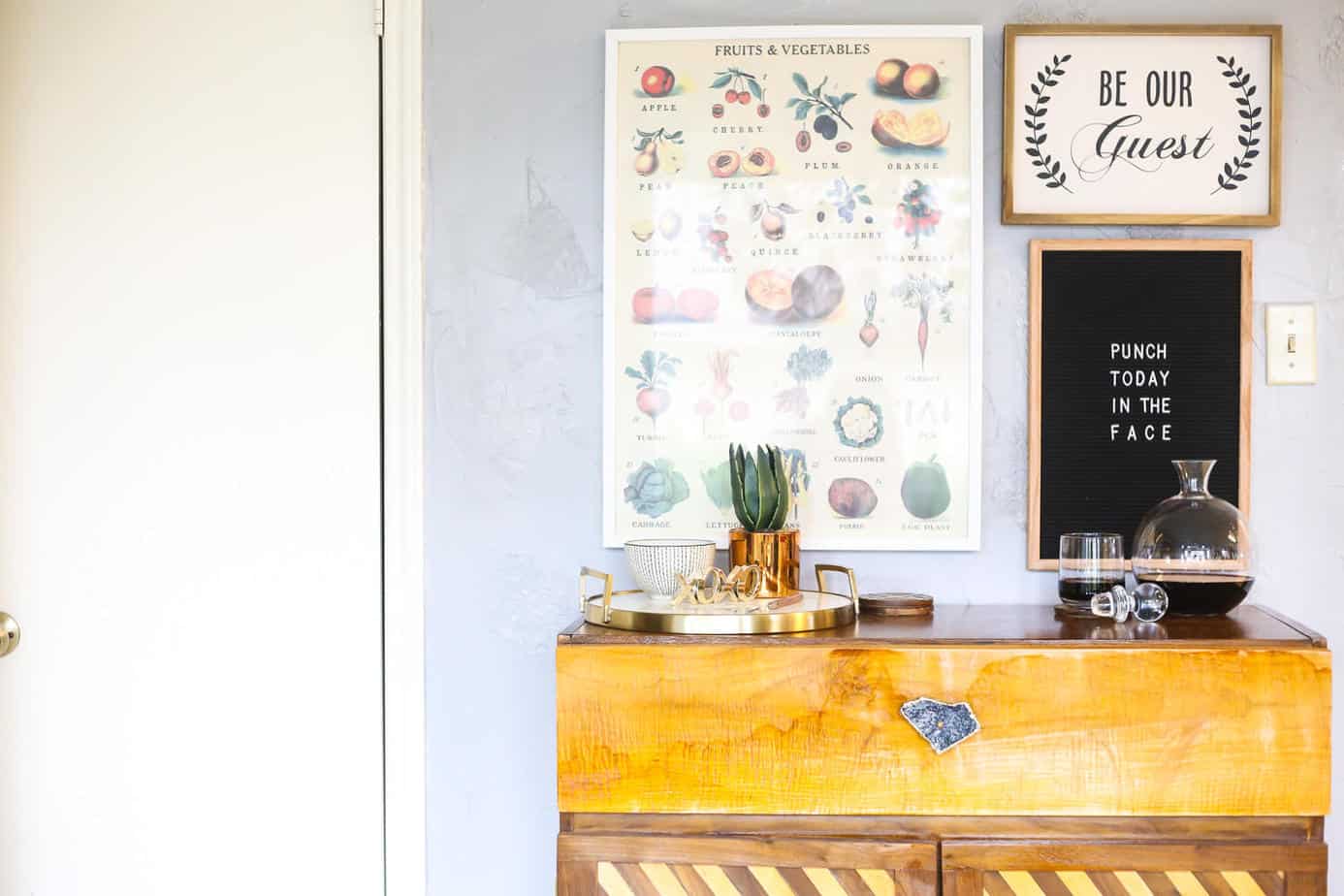 This is also basically the perfect spot for our letter board (which, by the way, might be my favorite thing I own. It's ridiculous how much joy it brings me). I feel like bar carts are all about being a bit sassy, and since it's in a main walkway of our house I see it all the time and can change it out on the regular. My goal it to switch it up at least weekly to keep it nice and fresh.
Is it embarrassing to admit I have an entire Pinterest board dedicated to letter board quotes?
It is? Okay, I don't. Just a hypothetical question.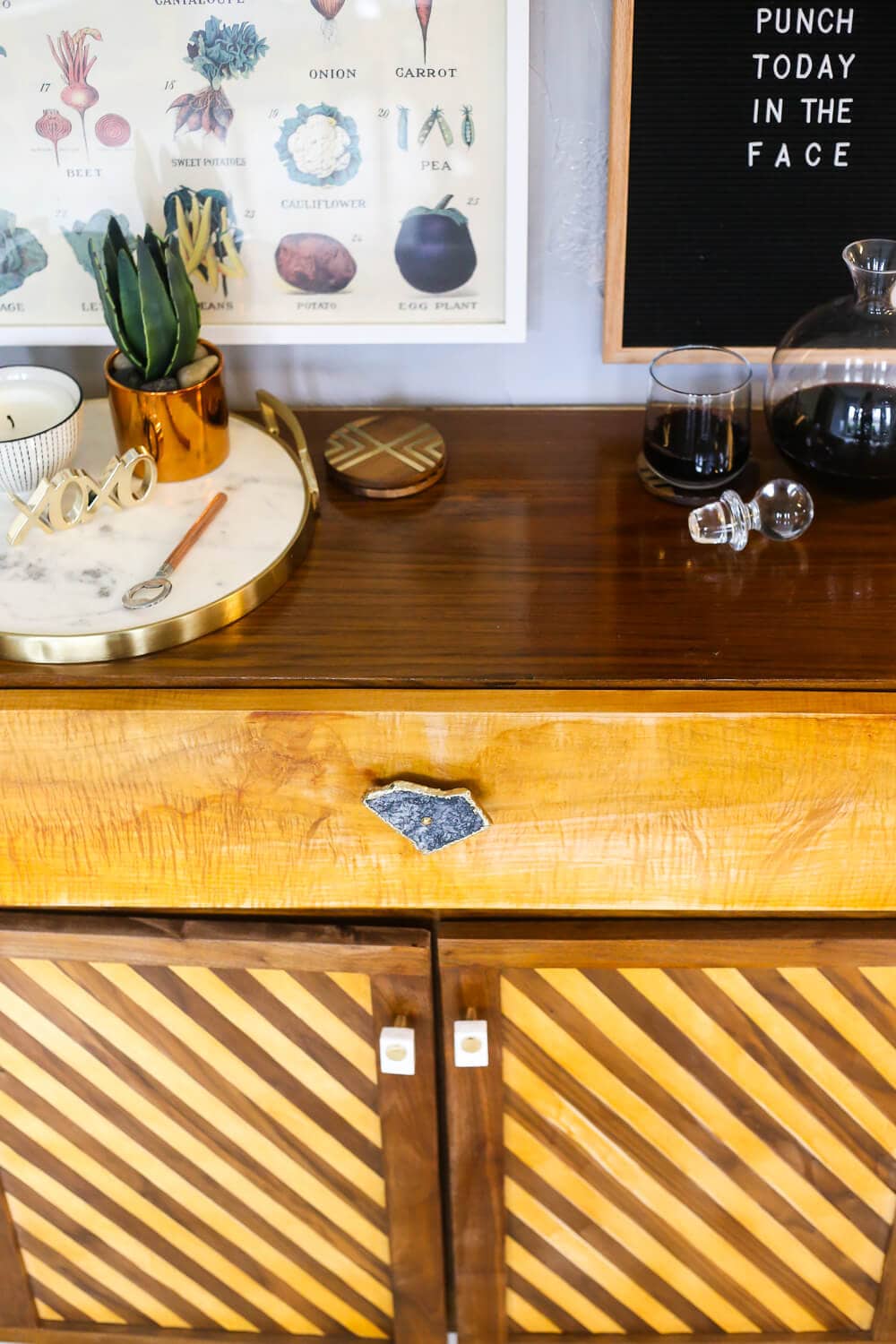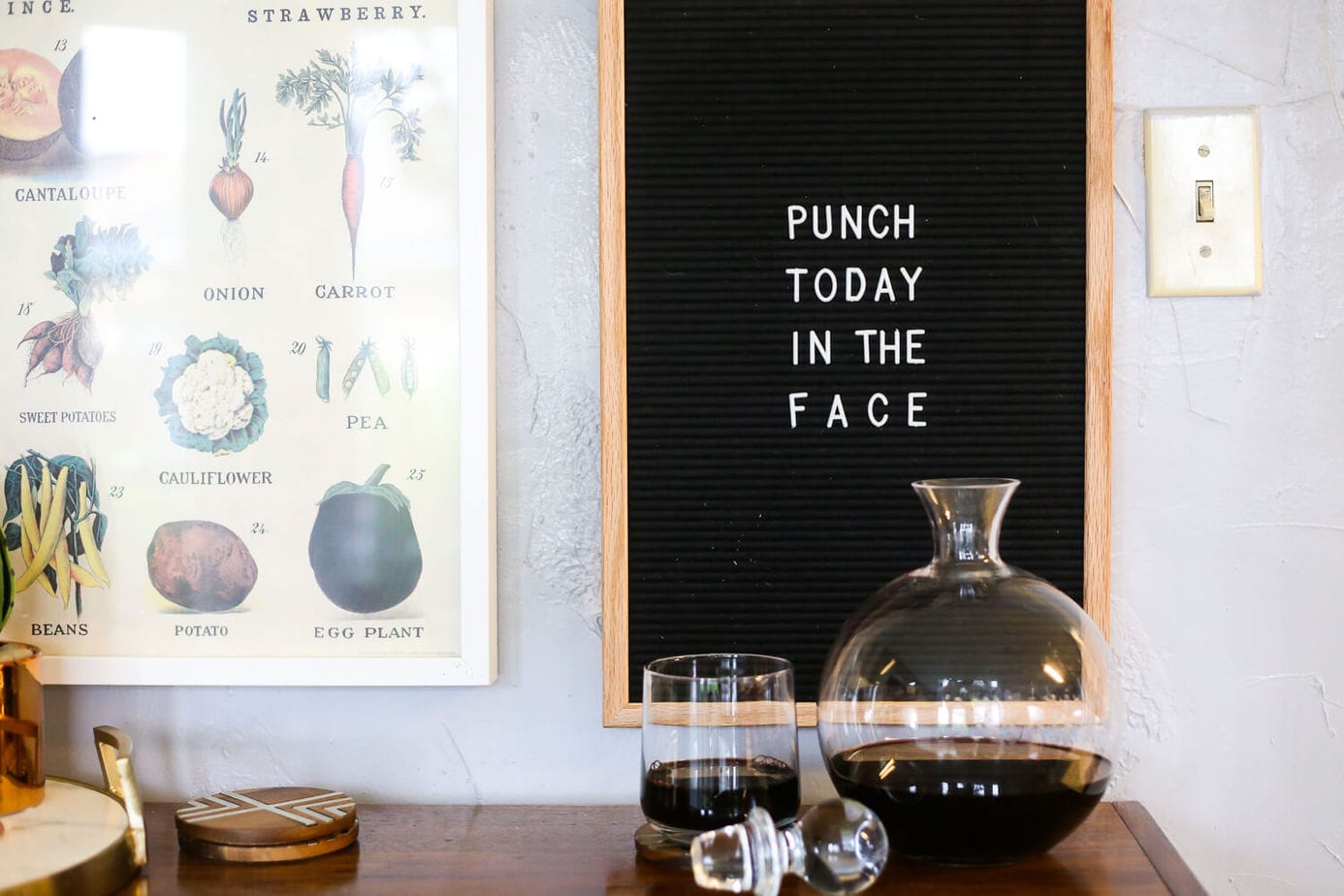 Anyways, the bottom line is I'm obsessed with the thing and I love having it front and center like this.
Can we talk about that cute "be our guest" art? I wanted something small-ish and horizontal to go above the letter board and round out this little gallery wall. I considered making something myself but I'm feeling a little in over my head with all of the art I'm planning right now, (I'm currently doing a gallery wall in Jackson's room AND in our room, thinking about revamping our staircase gallery wall, and working on a DIY art piece for our entryway. Simultaneously. Because I'm crazy.) so I decided to just buy something instead.
I found this little guy at Hobby Lobby – their art game is on. point. lately, and with a 40% off coupon, it was less than $15! If you want something similar, I love this printable piece on Etsy!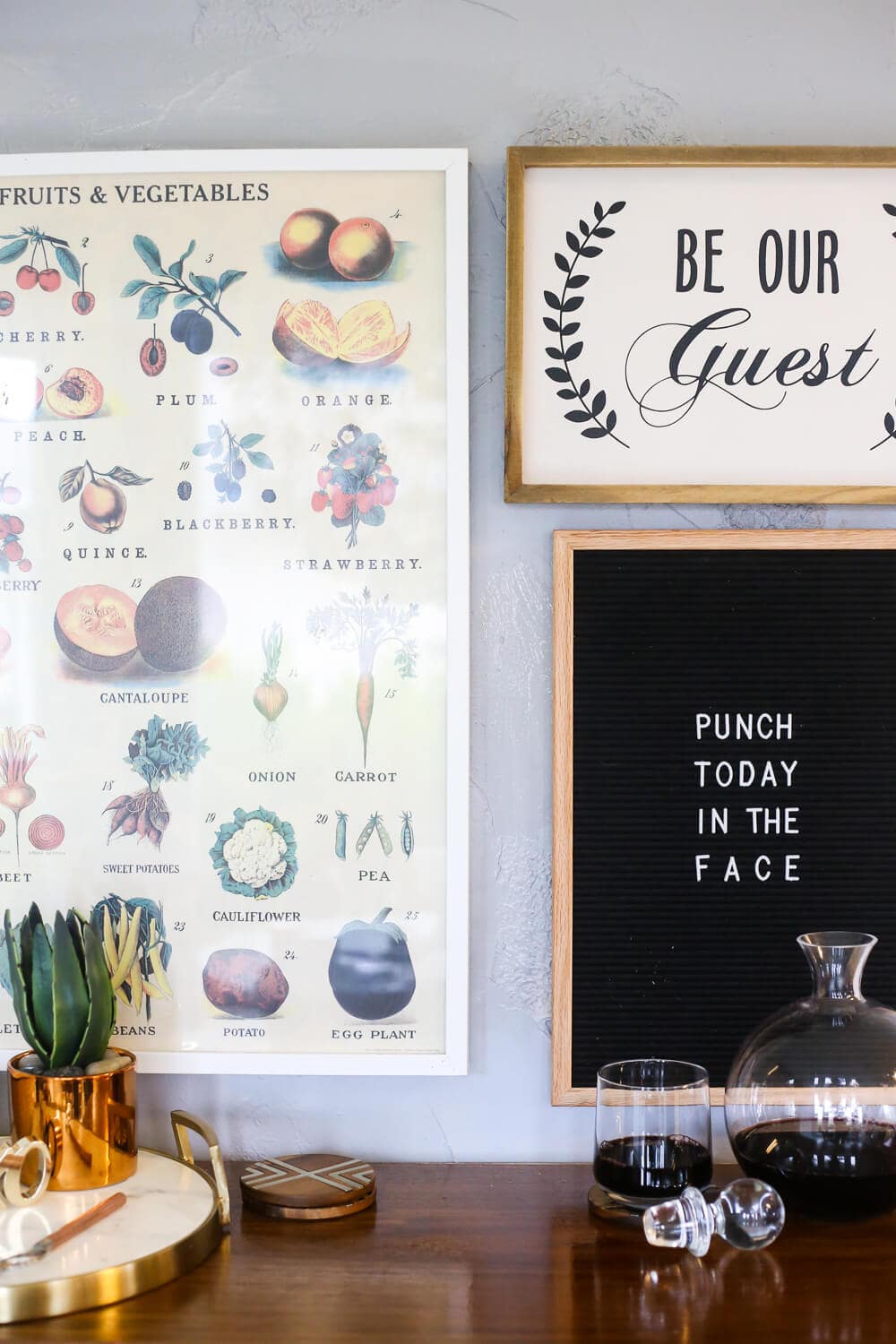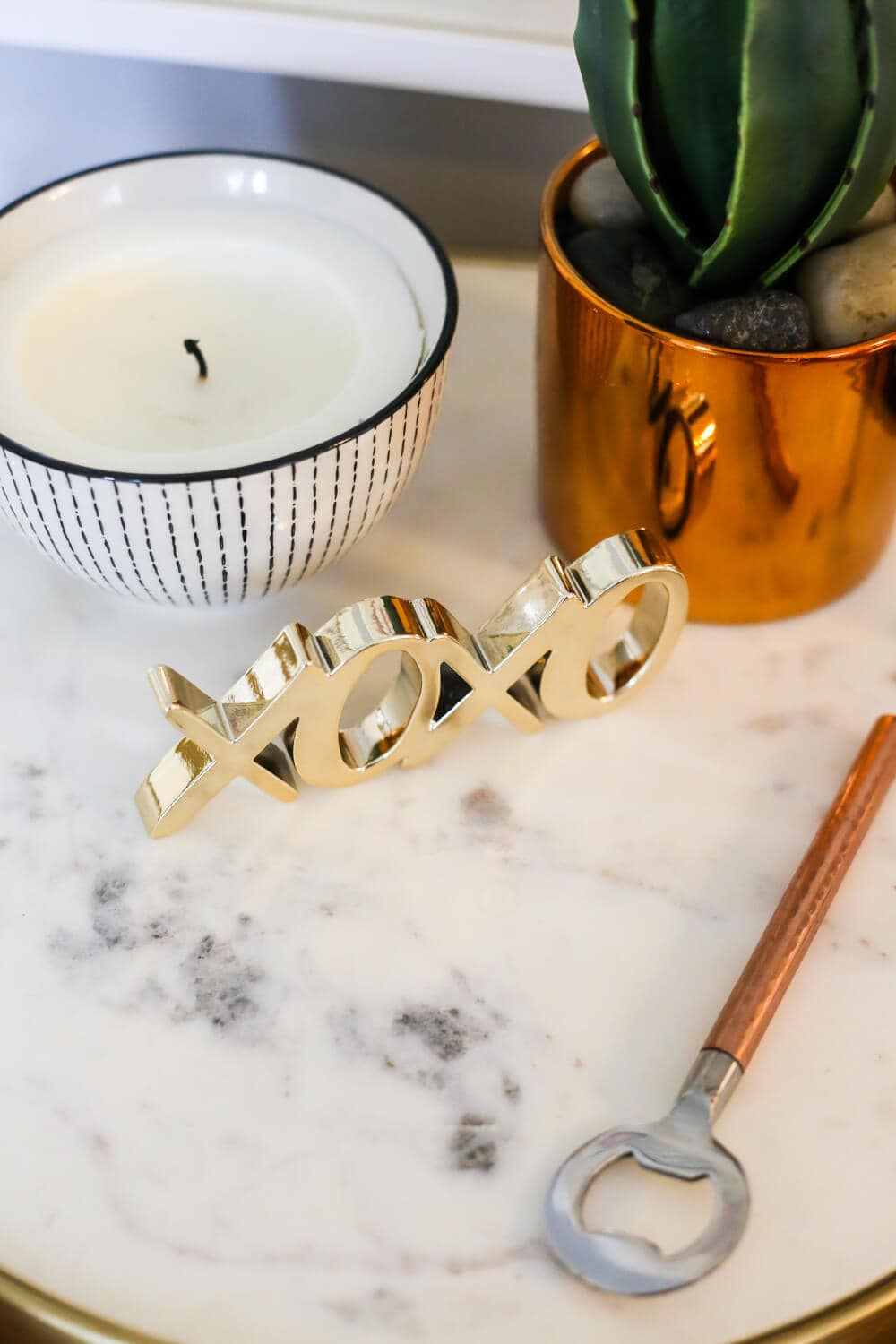 Oh, and can we have a true blogger confessions moment here?
After we moved the china cabinet I realized that there were a few spots on this wall that never got painted very well. I guess I knew they'd be covered up, so I didn't try very hard. #slacker. Well, I clearly needed to fix it because they were painfully obvious, so I headed out into the workshop to grab the leftover paint and patch them up really quick.
Only problem? I found four different gray paints, and none of them were actually labeled.
Whoops.
I grabbed the first one and tried it out…way too dark! The next one? Too light! The third one seemed to do the trick but as I was taking these photos I realized that it isn't quite an exact match.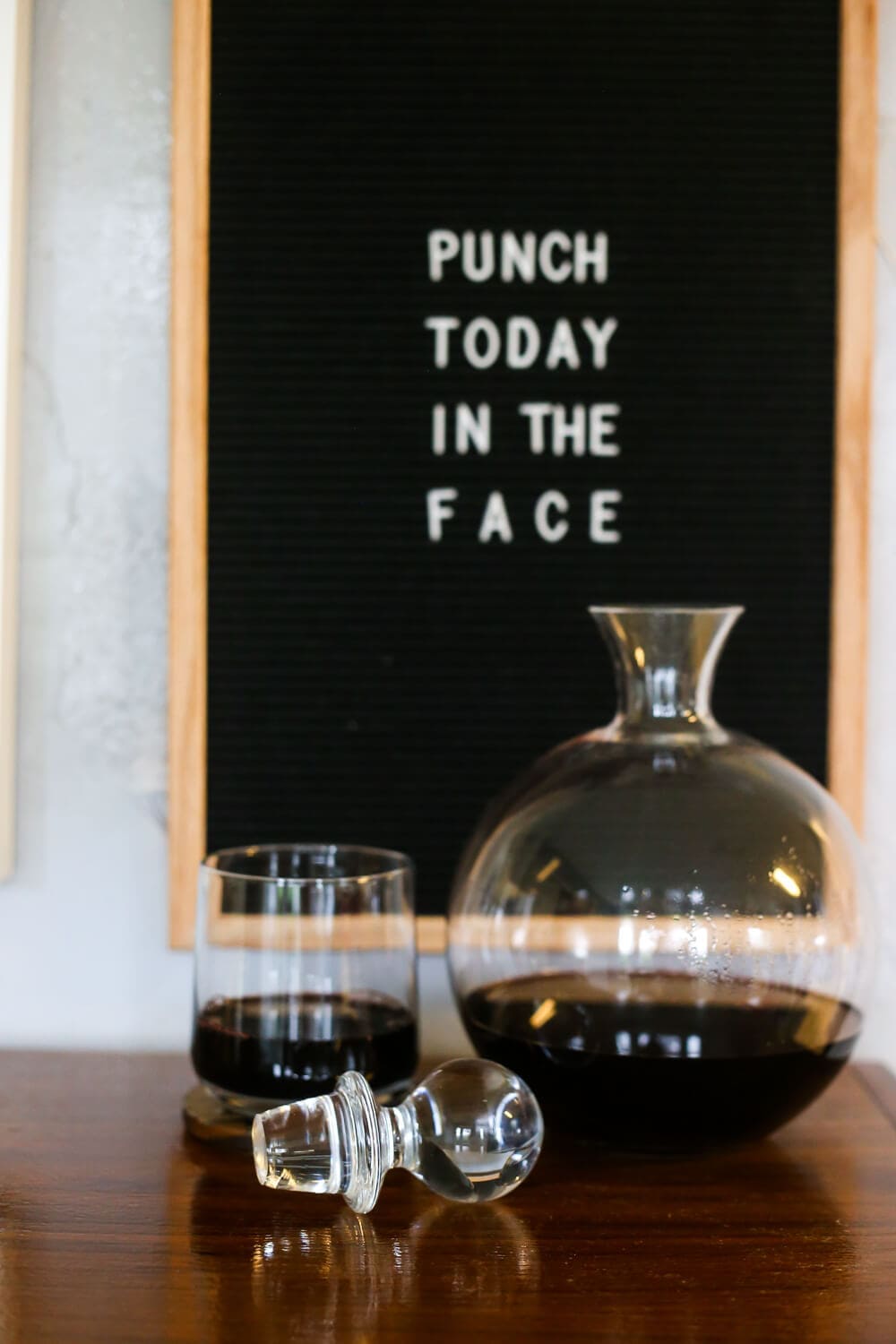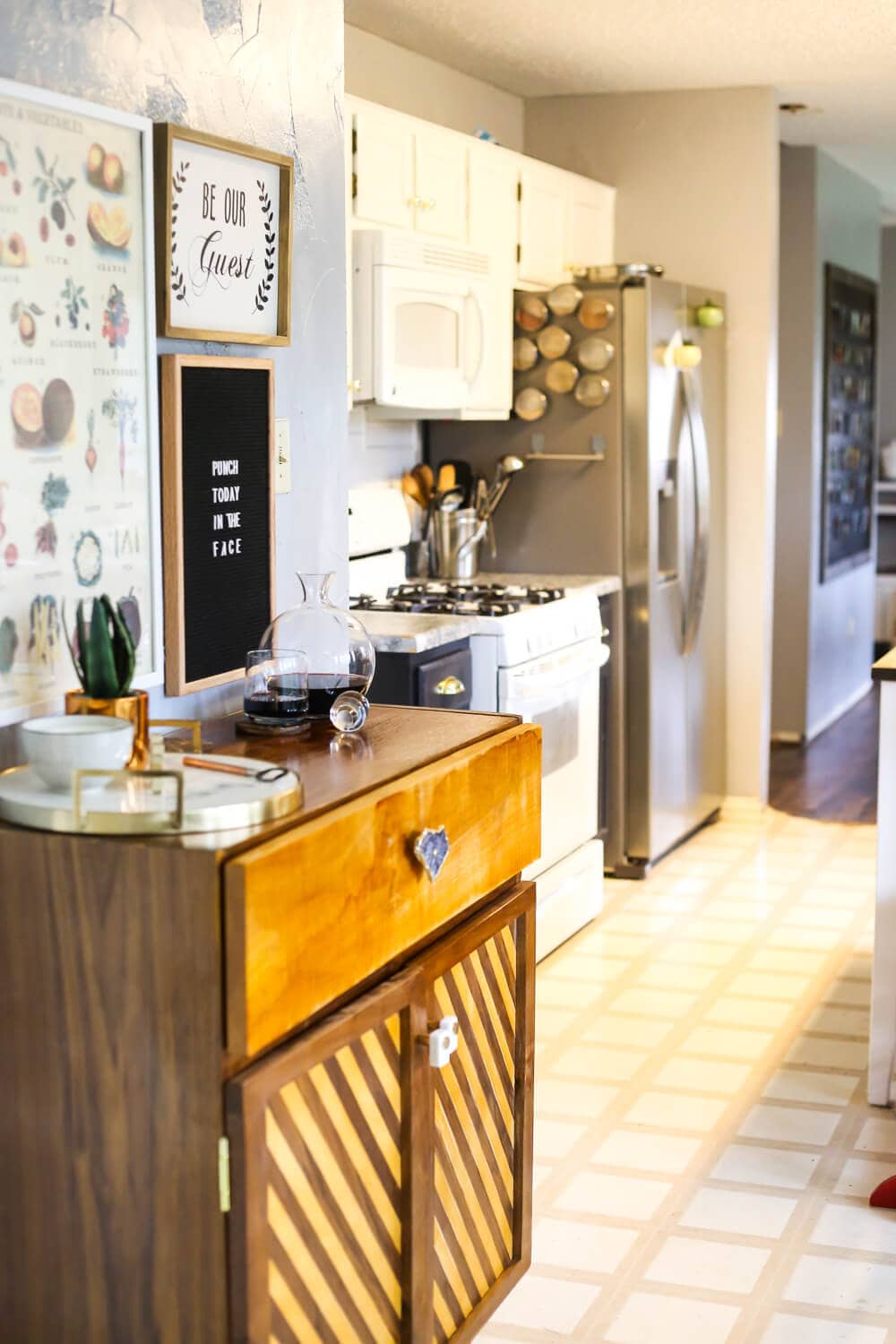 Don't look too closely. You'll see the spots.
I still have the fourth one to try, but the lid is a little warped and I can't seem to get it off. I'll either get Corey to help me with it sometime this week, or I'll just live with splotchy walls for the rest of my life.
I mean, it's not that obvious.
I might look like I have it all together sometimes, but let this serve as a reminder that bloggers can be a hot mess too.
We're just good with Photoshop.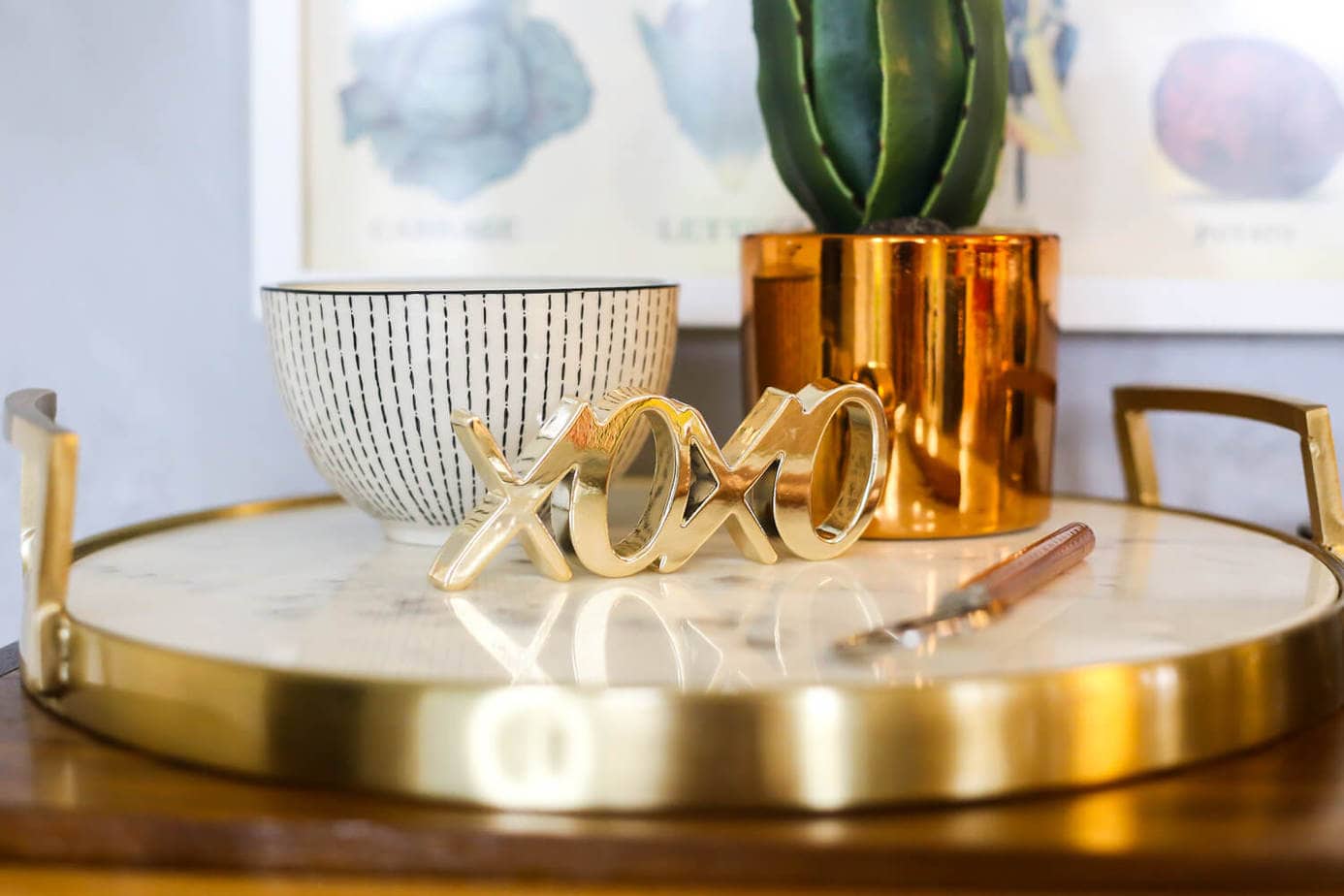 Anyways. I don't even know where to go from there. Are you embarrassed to be my friend now?
Or maybe you have splotchy walls too?
It's okay. I still like you. Come on over and I'll pour you a drink.
(The walls are even less noticeable after a glass of wine or two.)
Pssst: If you want some art inspiration for your kitchen, here are a few of my favorites!

What's your favorite source for art? I'm looking for a lot right now!