We finally transitioned Jackson out of his crib at almost 3 years old and into an IKEA toddler bed – well, technically, it's just a plain old IKEA bed frame! We used the IKEA TARVA bed for his room and it's the perfect option for a toddler's room!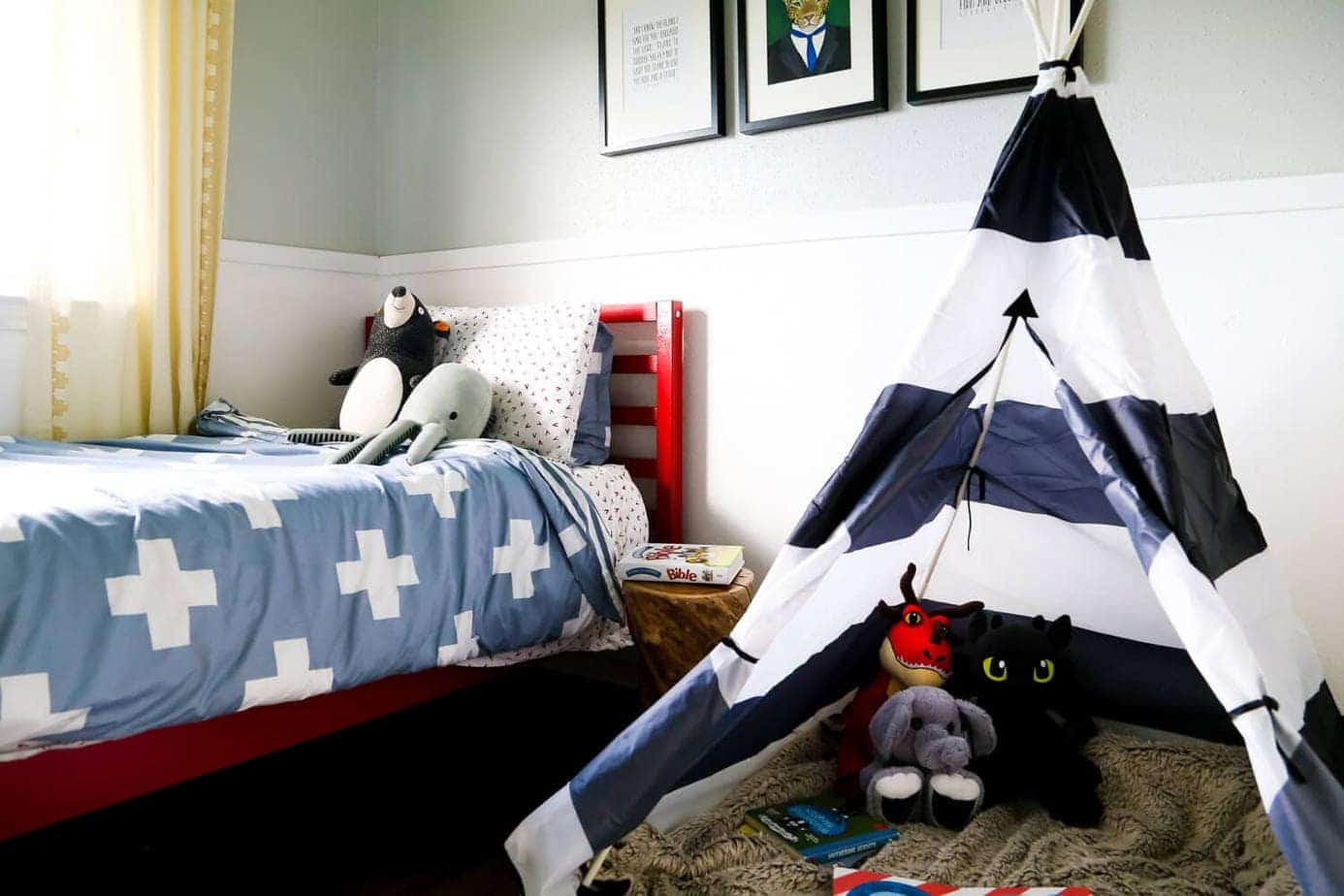 Can I just be honest with you for a second? I dreaded the transition to a big boy bed. Like, I was terrified of it. For the last year or so, every time I pictured us moving Jackson out of his crib I had visions of him wandering the house in the middle of the night, falling down the stairs, or somehow managing to drown himself in the bathtub.
I'm not always the most rational person in the world, but I sure do have a good imagination.
But unfortunately, we really can't keep our child in his crib for the rest of his life, and we knew at some point we'd have to face the inevitable fact that it was time to move on from the crib. I thought I would have to be dragged into this transition kicking and screaming, but by the time it got here I was actually more than ready. Jackson never tried to climb out of his crib, but I've been annoyed with the whole crib thing every since he got potty trained this past summer – I feel like most nights as soon as I lay him down in bed he's asking to go to the bathroom, and three-year-olds might look tiny but they sure are heavy. I also began to daydream of the day when he would wake up on a Saturday morning and we could just use the monitor to tell him he could come into our room, rather than one of us having to actually get out of bed to go get him.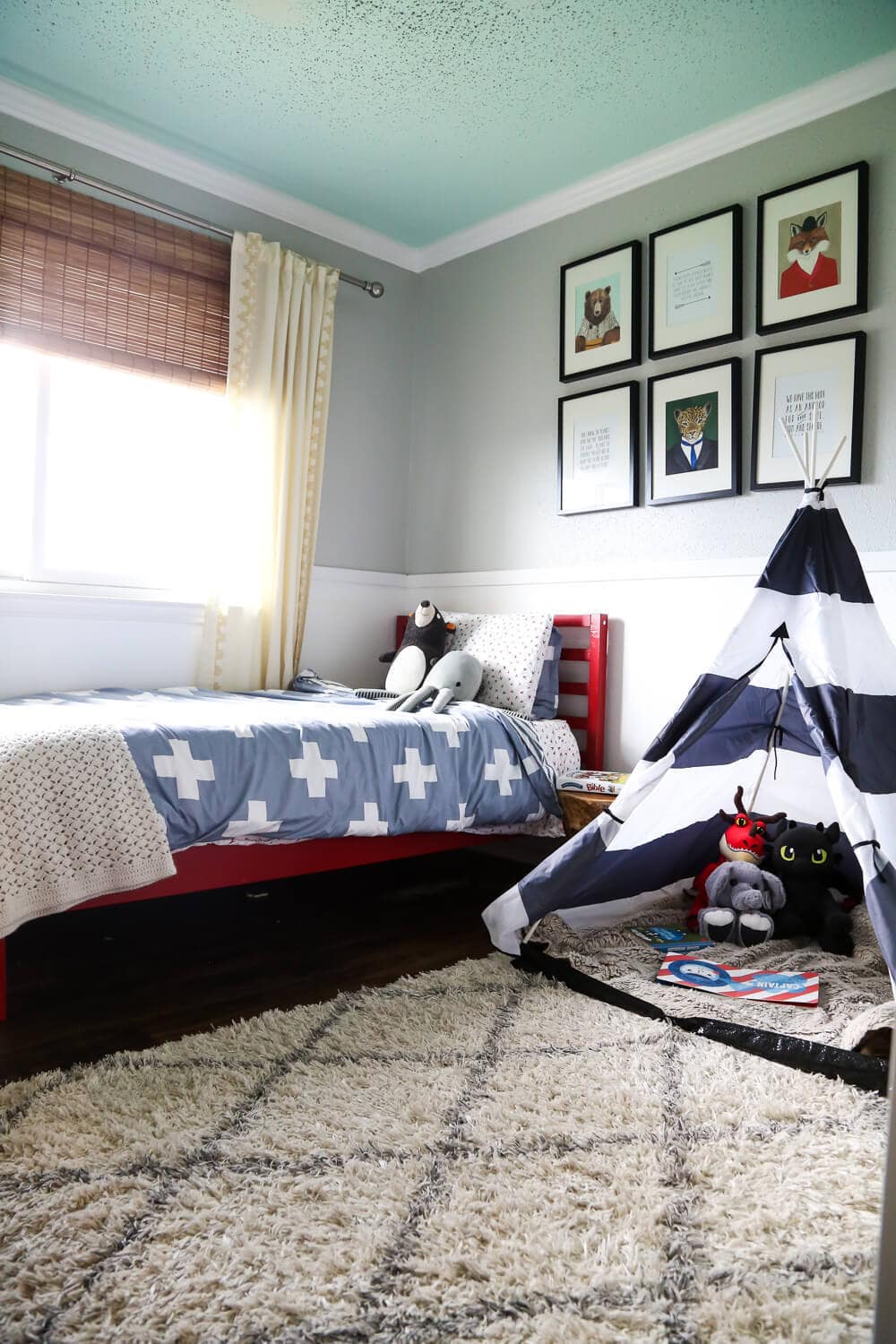 This post contains affiliate links. Click here to see my full disclosure policy.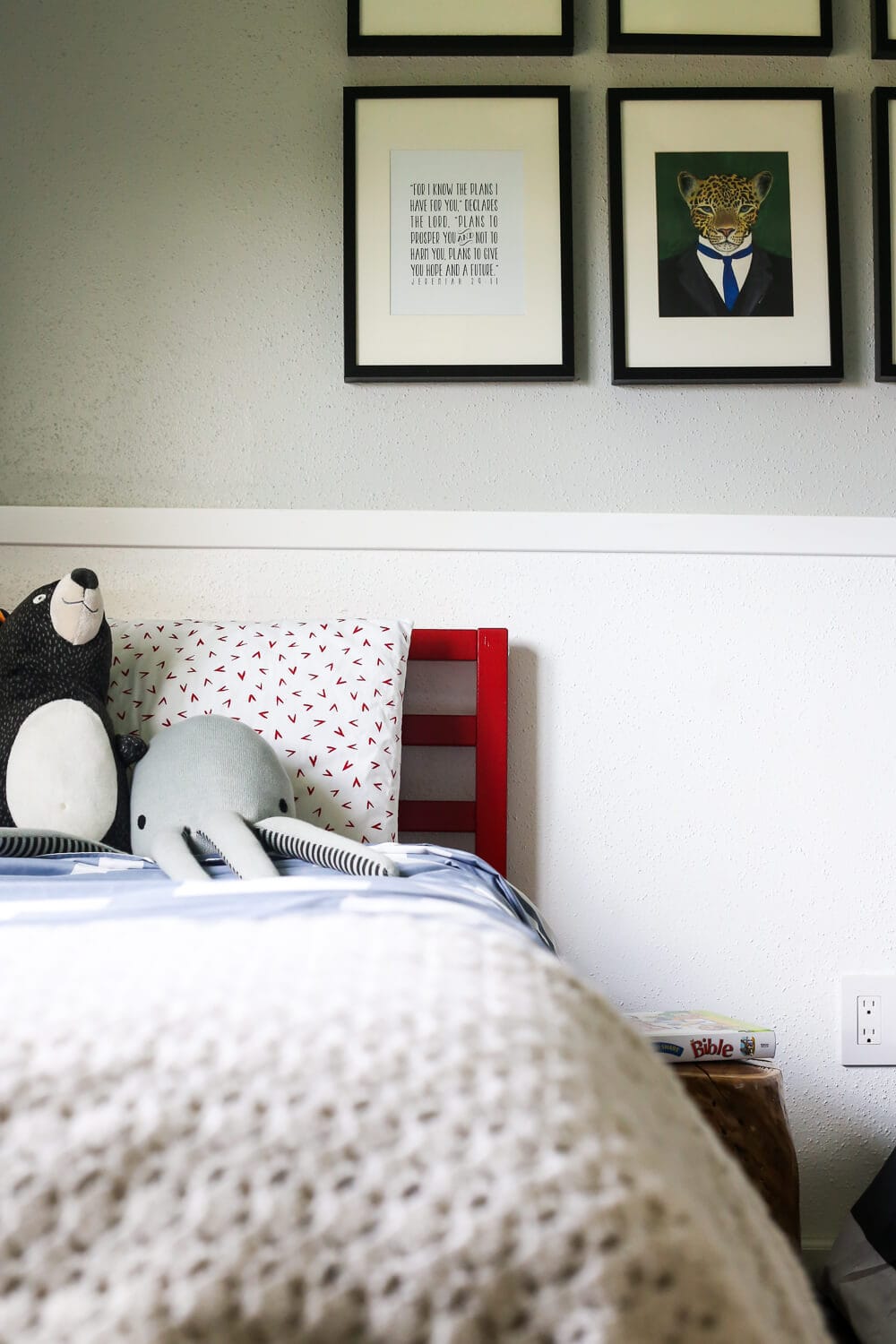 What? We're lazy. Don't judge.
So, all that to say by the time we actually made the decision to move Jackson into a big boy bed, we were all definitely ready for the change. I began to get excited about giving his room a miniature makeover and even rounded up some of my favorite inspiration on the blog a few weeks back. I had it all designed in my head, and I knew exactly what the room would look like.
We made the decision to go ahead and do it right at the beginning of the year, so I was all set with my plan – I'd paint the bed black since we loved his black crib so much, we had some cute polka dot bedding picked out…we were good to go. I was literally walking out the door to pick up the bed from IKEA when I mentioned to Jackson what I was doing. He said, "Okay, but let's not paint the bed black."
Record scratch.
Well, crap. Three-year-olds actually have opinions on these sorts of things, don't they?
I asked what color he wanted, and without hesitation, he shouted, "red!" Of course, red didn't go at all with any of the bedding I picked out and was about to purchase. Just lovely. So, I grabbed the bed and duvet insert and went back to the drawing board on the bedding. Thankfully, with a bit of searching and creativity, I landed on this beauty. I love it with my whole heart, and it's actually better than what I was originally going to use in his room. I guess Jackson has okay taste after all.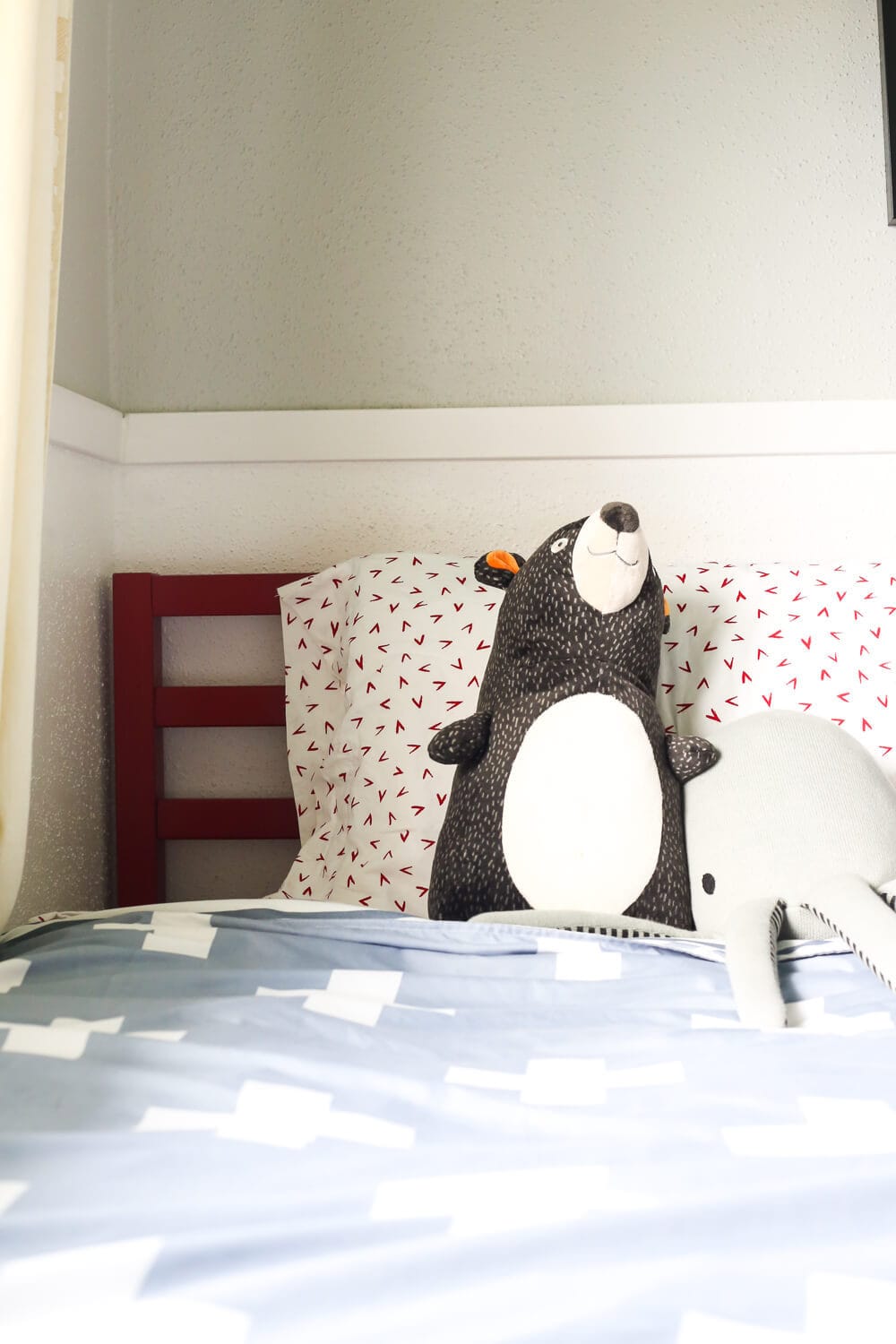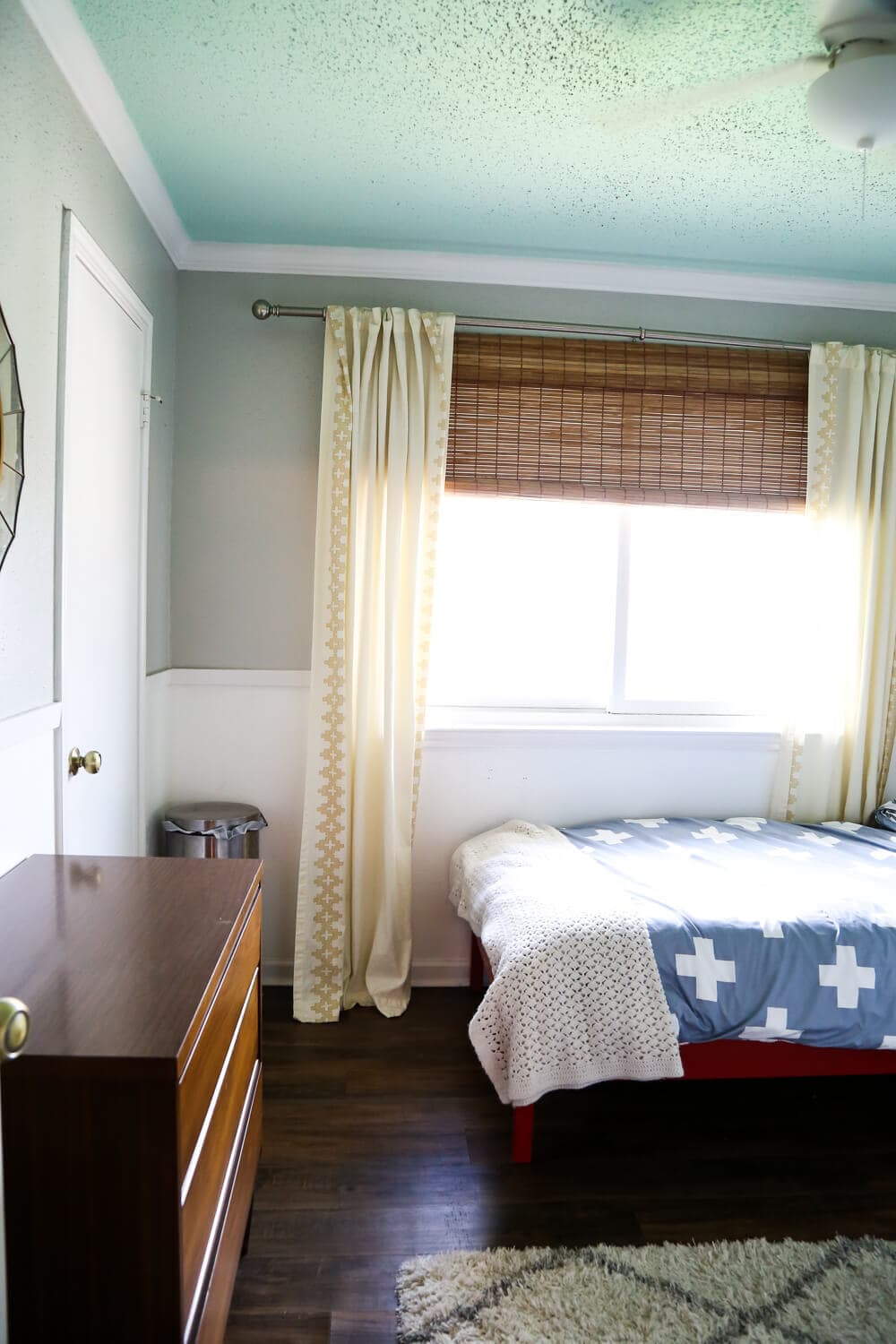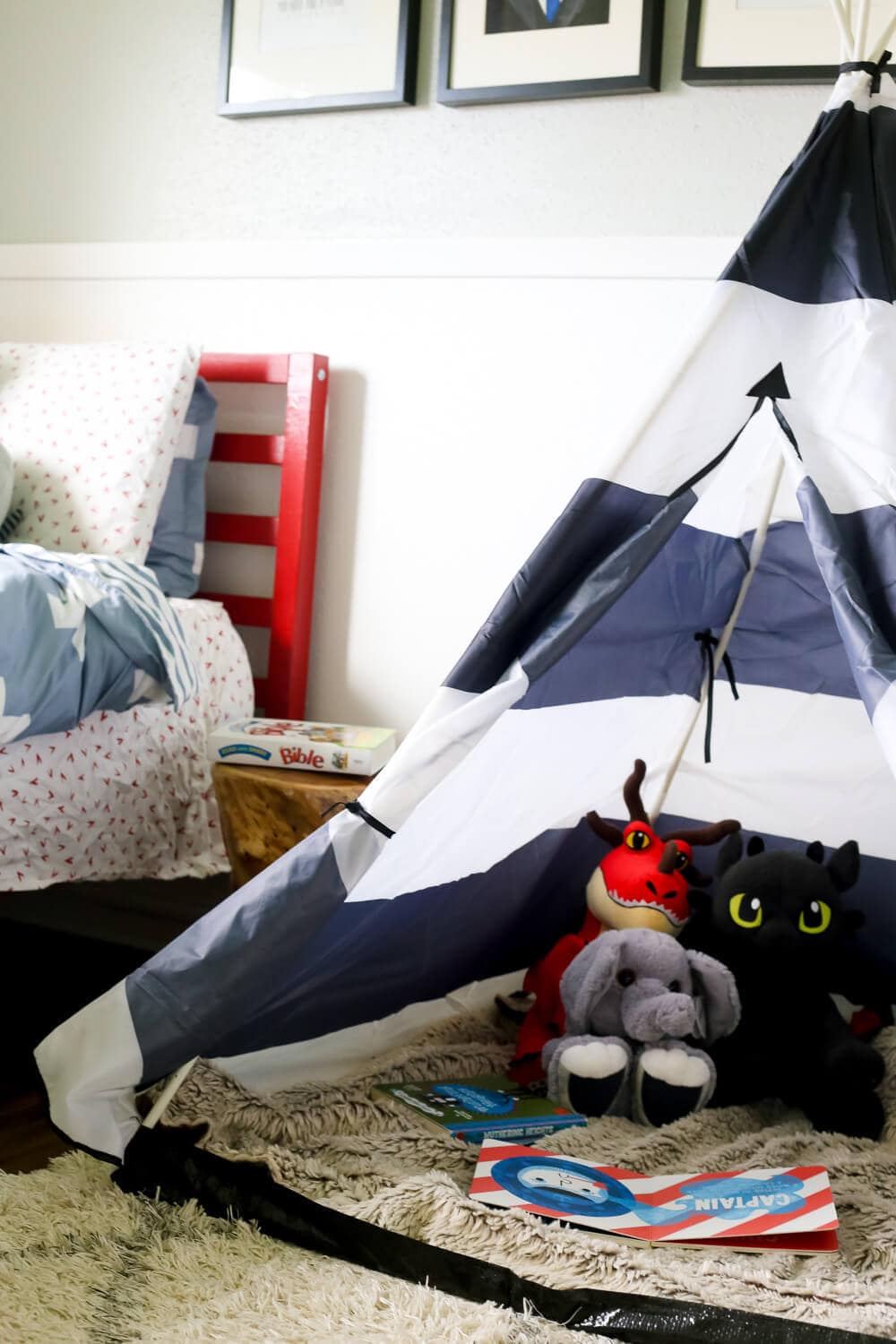 Our IKEA TARVA Bed
We searched far and wide for a bed to use in his room, and in the end, we decided to go with the IKEA TARVA bed in a twin. Our original plan was to find something on Craigslist, and we were really dedicated to that plan but despite me checking every single day for weeks we just couldn't find anything we loved. We were both holding out for something in a similar style to his Jenny Lind crib, but without the Jenny Lind price point. One night I was feeling particularly frustrated, and I was browsing IKEA's beds for the millionth time hoping something would stick out at me, and I paused at this one to stare at it for a while. I felt like it had some potential, but I didn't love it as it was.
Corey happened to look over my shoulder and casually mentioned, "That one's not bad. I could turn those headboard pieces on it with my lathe."
DING DING DING. Jackpot.
As soon as he brought up the idea, I was sold. I loved the idea of it being partially handcrafted, and we were both excited to get the general look that we were going for at a price we could stomach. Of course, once we got the bed in our house and pulled it out of the box, Corey quickly realized that the rails aren't square like we thought which means they're impossible to turn. We debated swapping them out for square pieces that he could turn but at this point, we had been hyping up the idea of a big boy bed to Jackson for weeks and he was asking about it literally every day. I felt bad for pushing him off even further, so we decided to just paint the dang bed and call it a day.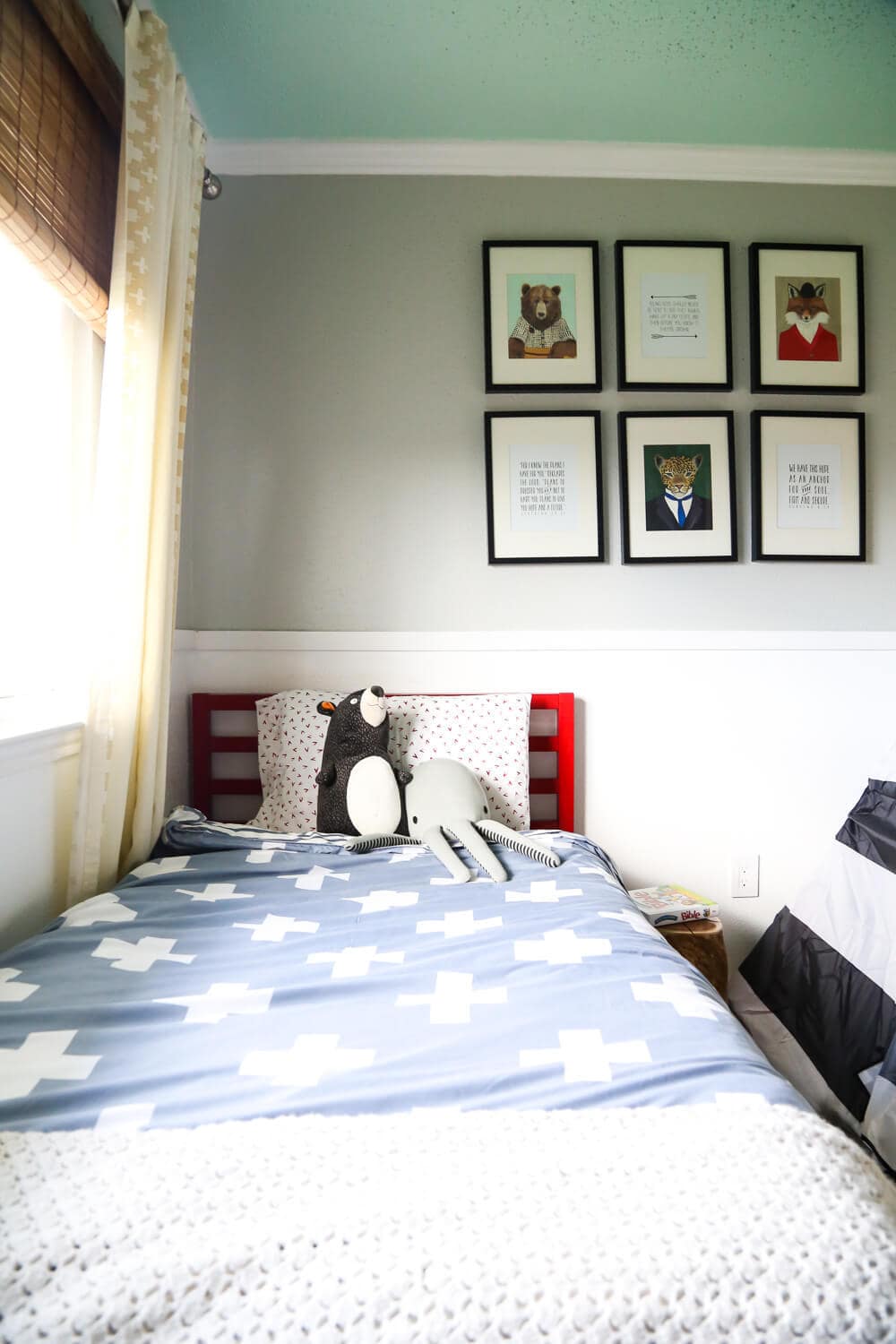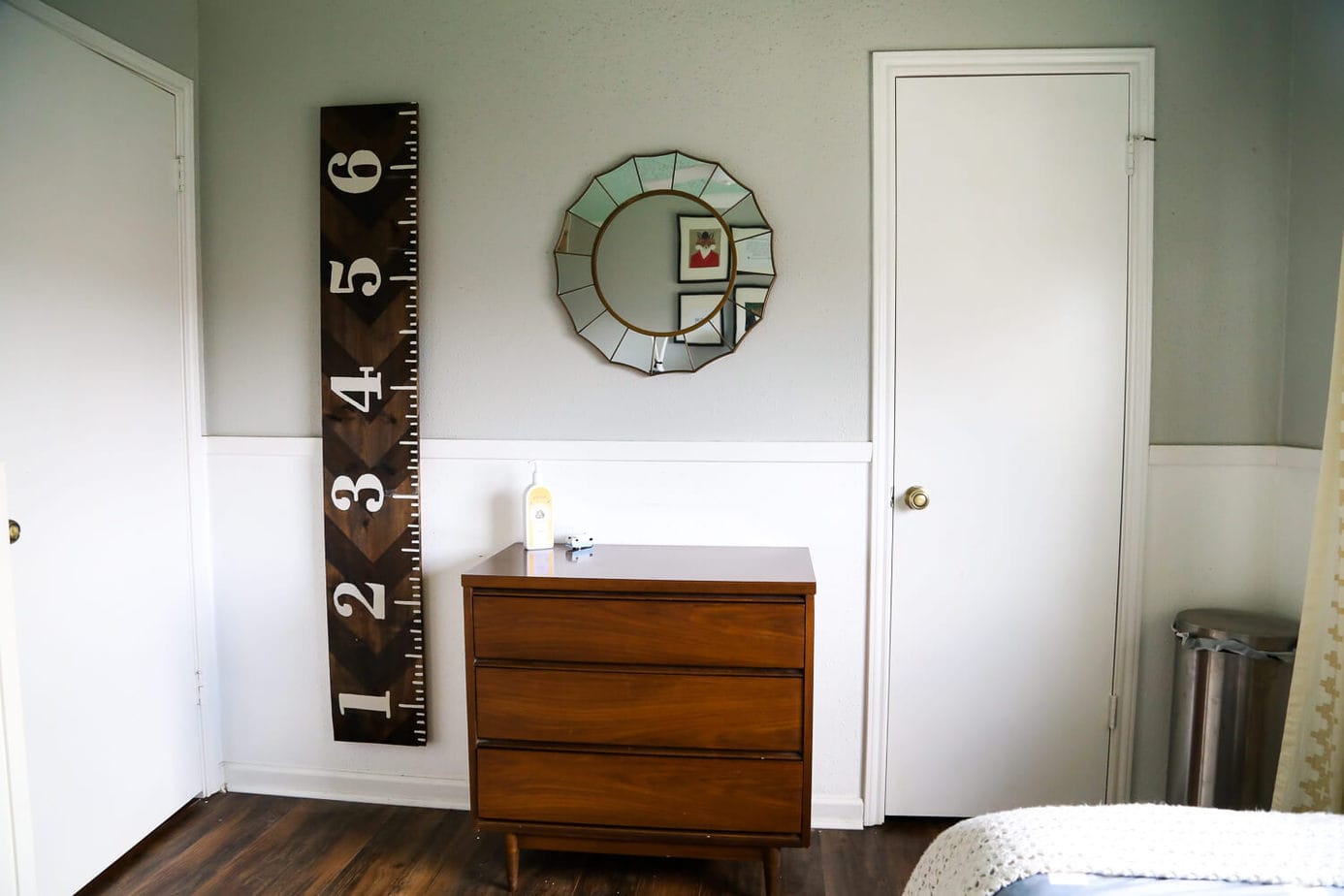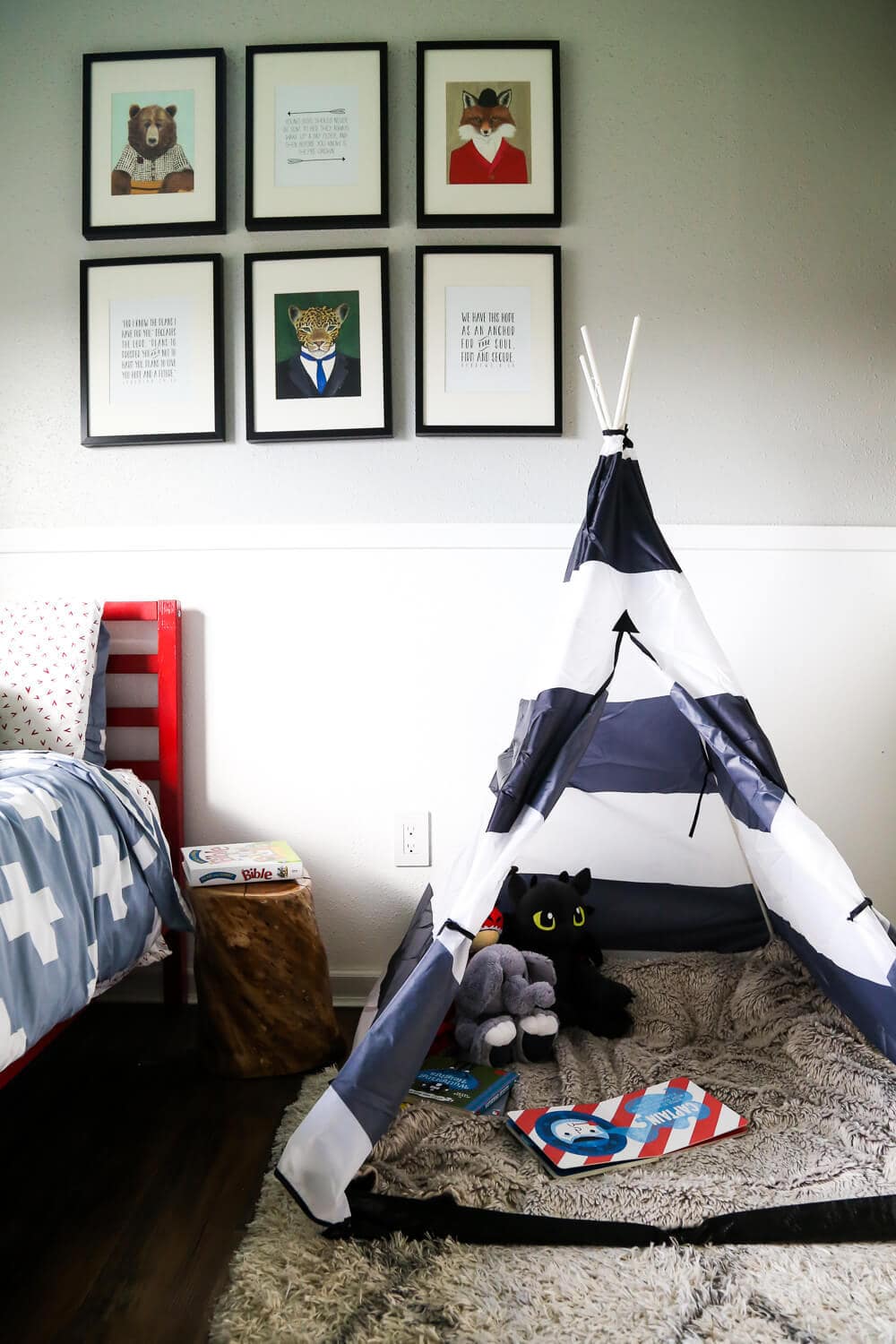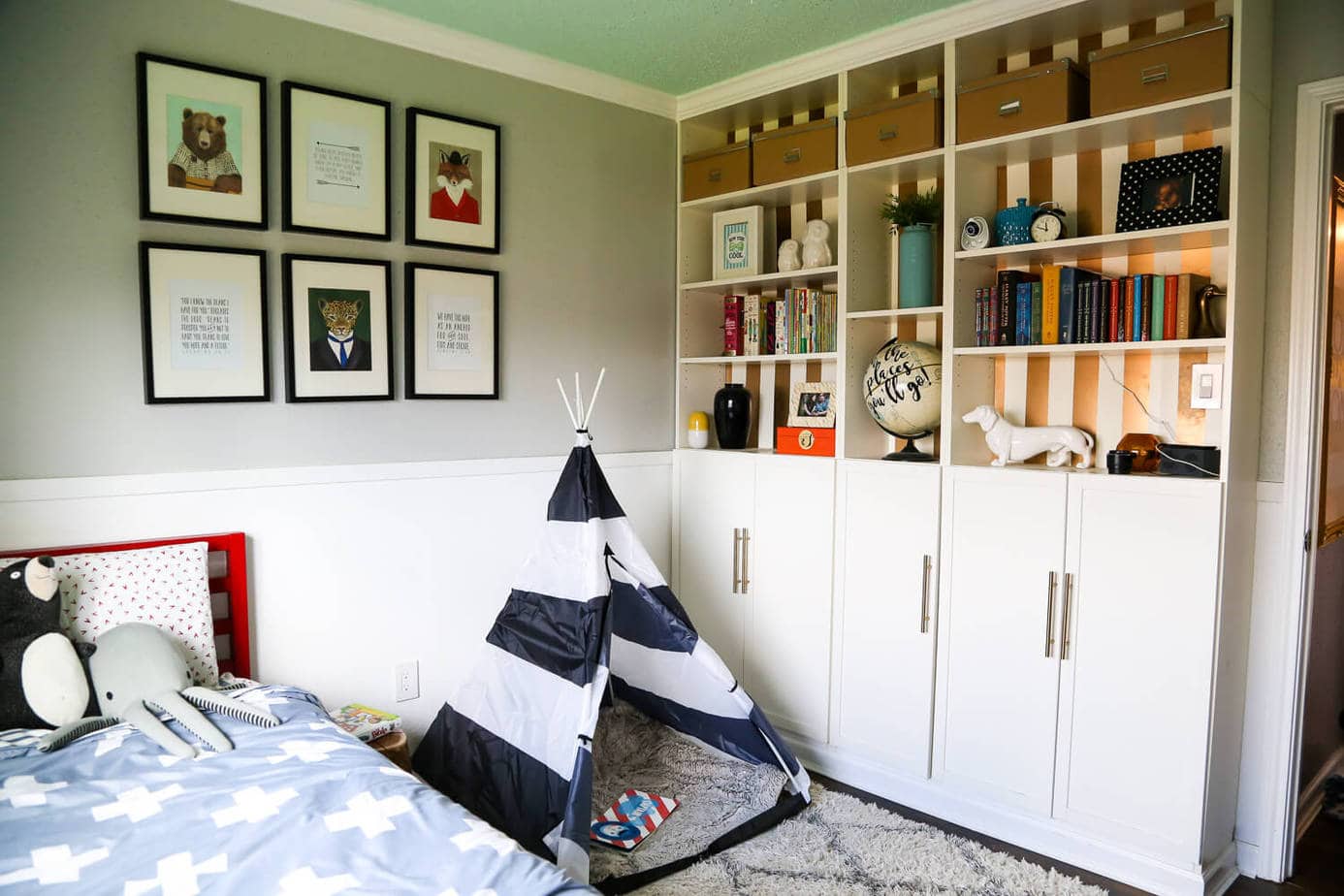 I think it turned out okay.
The room is still far from finished – we have a few things left to pick up and switch around in there so we'll have to leave you hanging there. But, of course, I'll be back to update when we're done…and I do have a quick mood board I whipped up to give you an idea of the direction we're going. It's whimsical, colorful, and full of fun – just like my little Monster.
UPDATE: See the completed big kid room right here! 
Click on any of the images in the collage below to go to the retailer's website for more information!