Looking for ideas for a welcoming (but simple) fall front porch? Here's a peek at our porch this year – including some fun DIY fall decor ideas!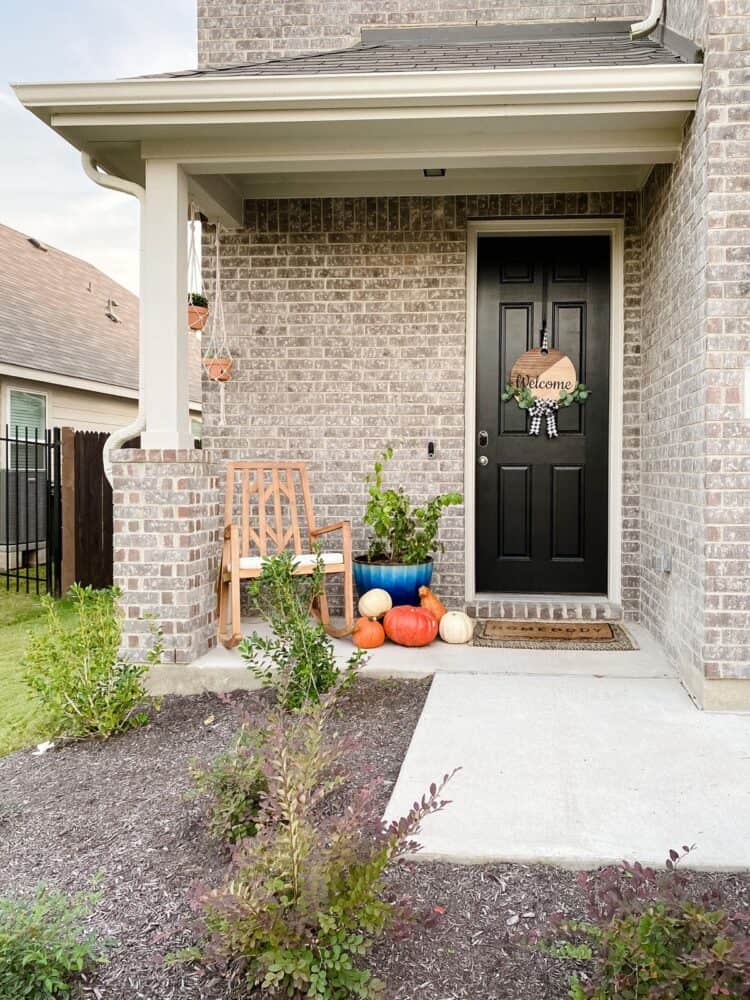 I'm not one to go all out when it comes to decorating for the fall season. I'm more of a Christmas girl and I tend to save my enthusiasm for that. But, I do like to do a little something to welcome my favorite season of the year!
This year I decided to get crafty with it – I wanted a fresh wreath on our door, but I couldn't find one for sale anywhere that I liked. So, I used my X-Carve to help me make a DIY fall door hanging. I love how it turned out, and it really does feel very fall-like to me without being too over the top.
You can watch the whole project unfold over on my Instagram highlight – including some tips for how you can make one yourself if you don't have an X-Carve! It was a really fun project to get creative with, and honestly a lot easier for my not-so-crafty brain to handle than traditional DIY wreaths usually are!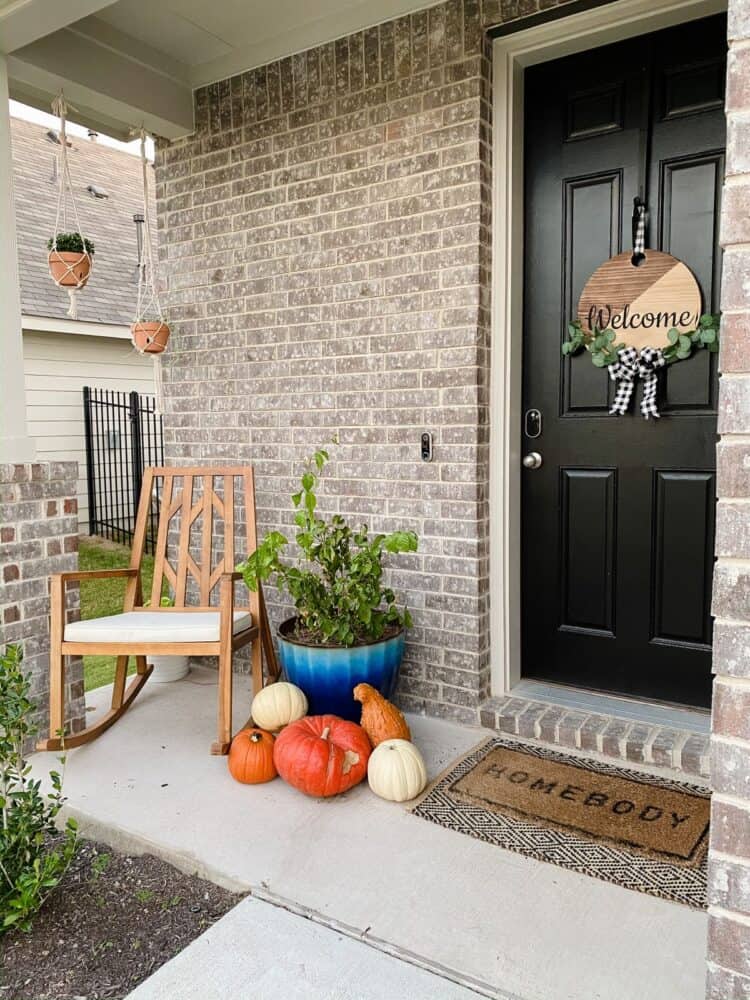 I just used my regular old wreath hanger and some ribbon to get the wreath up on the door, but I did add a Command Strip at the bottom of the door hanger to help prevent it from banging up against the door every time we open and close it. So far it has worked like a charm, so I'm calling it a win!
The other little DIY project that I did for the front porch this year was making a couple of macrame plant hangers! I felt like the porch needed a little something hanging behind the rocking chair, so I grabbed a couple of plants and whipped up these rope hangers for them. This is another project I did exclusively over on Instagram stories – you can click here to see the highlight and follow along with making your own!
I'm definitely not a very crafty person when it comes to this sort of craft, so just know that if I can do this, you can do this! I just watched a ton of YouTube tutorials, read a bunch of different blogs, and then forged my own path to make them. They're not perfect by any means but I think they're pretty dang cute, and I love the texture they add to the front porch!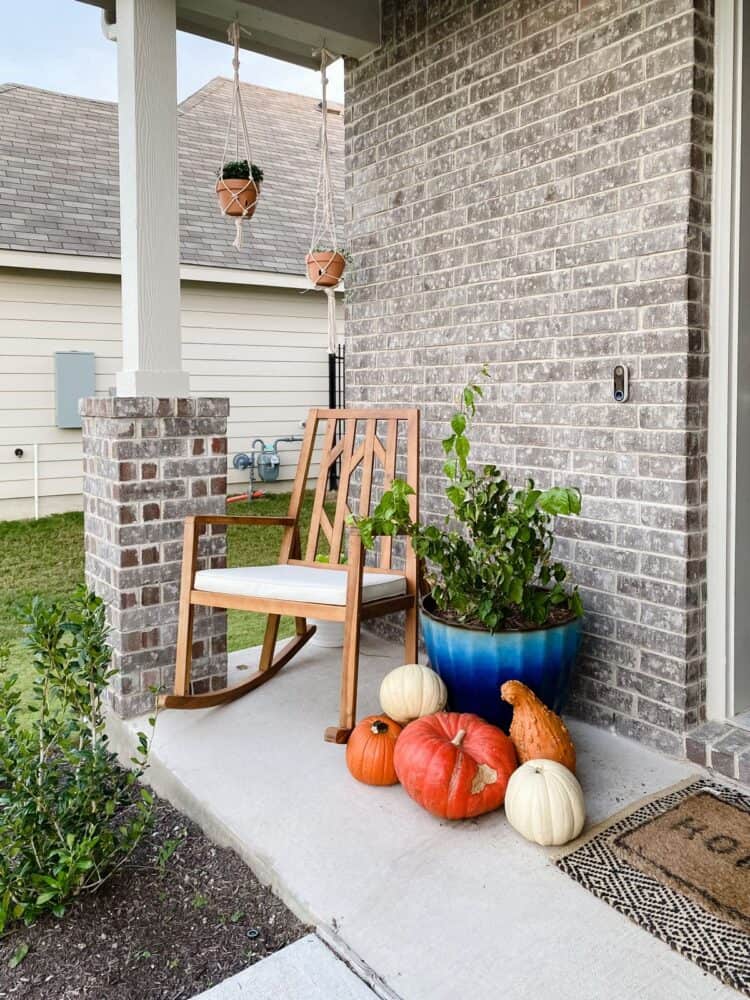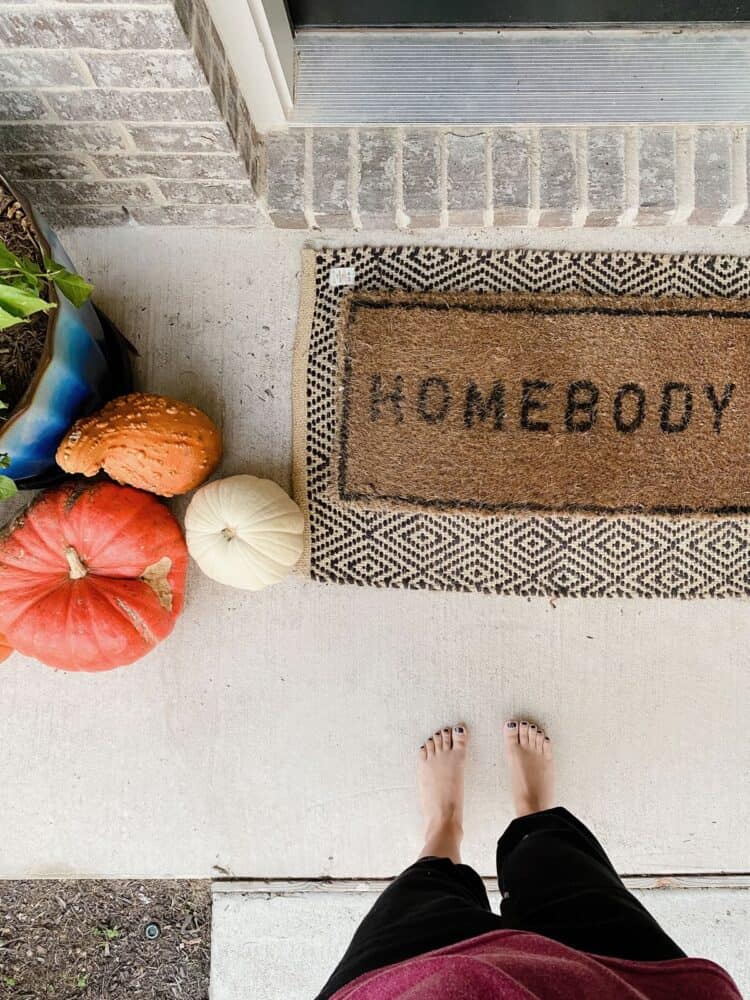 The only other little touch I needed to really make the porch feel like fall was pumpkins! Because, honestly, is it even fall if you don't have a bunch of pumpkins scattered all over your porch?
I love a wonky looking pumpkin – the knobby-er (is that a word?), the better, so I got a few wart-covered pumpkins and stacked them up on the ground. And, friends, that's all I did to create a cozy and welcoming fall vibe at our front door!
Sometimes the simple, quick projects are just as satisfying as the huge ones, if you ask me. There's just something about walking up to this cute little door every day (or, you know, on the rare occasion I leave my house), that gives me all the fall cozy feelings and makes me so happy.
Of course, next year is going to be the year we finally get our crap together early enough to decorate the exterior for Halloween. We've never done it, and I never think about it until it feels too late and too cumbersome to go out, find some decor, and figure out how I want to style it. But, I plan to shop some clearance decor this year and make a plan early so that next year I can delight my children with a really fun exterior for Halloween.
It's gonna happen.
Just, maybe, remind me next year that I wanted to do it, ok?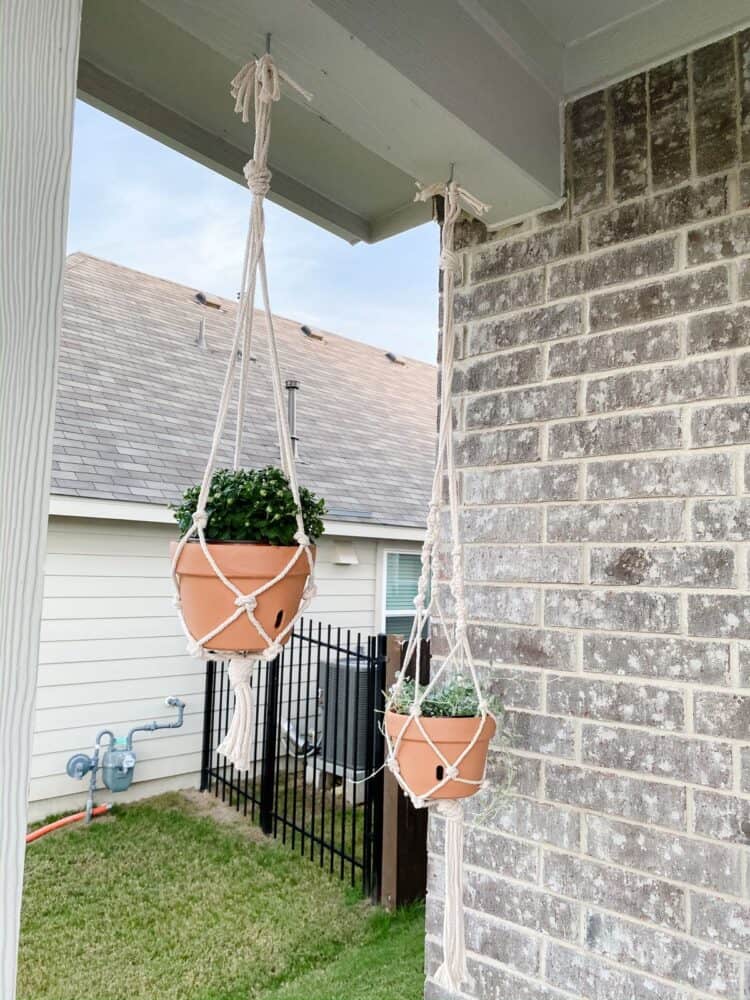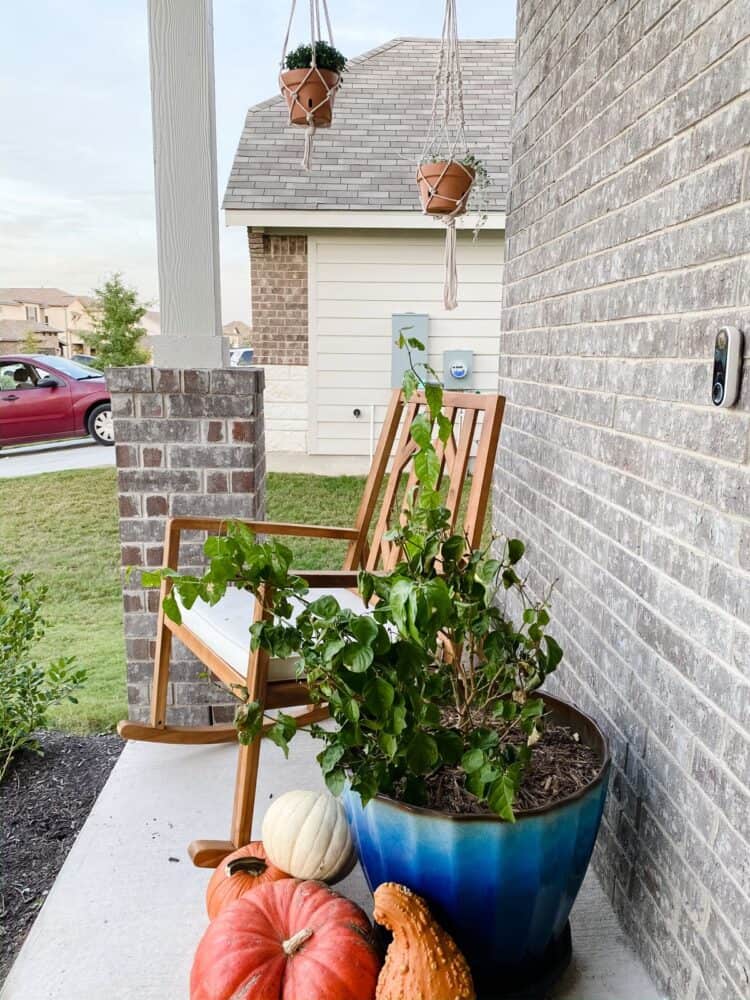 For now, I'll just be over here snuggled up in a cozy sweater (even though it's still in the 80's) and soaking up the fall goodness on my front porch.
Do you decorate your front porch for fall? Are you a "small touches here and there" kinda person or do you lean more "pumpkin explosion"?