Welcome back to another round of the Back to Basics series! Don't know what I'm talking about? This is a fun little series where I get together with some of my blogging friends and we all share our best tips and tricks related to one basic concept in home decor, DIY, or entertaining. So far, we've talked about summer tablescapes, back to school organization, and styling an entry table. Today? It's all about the flowers.
Now, I'll admit – I'm not great and floral arrangements. It's never been my strong suit, despite my best efforts. I find that I don't always have the ability to create a bouquet that's as beautiful as it is in my head, and I'm always slightly underwhelmed with what I create. However, I've done a lot of practicing and I've certainly learned a thing or two over the years about how to arrange a simple bouquet, so I'm sharing the wealth today.
Maybe let's not call it a "wealth" of knowledge though. More like a smidge. I'm sharing a smidge of knowledge. Because that's all I have.
But thankfully, a smidge is all you need to create a beautiful bouquet. I promise.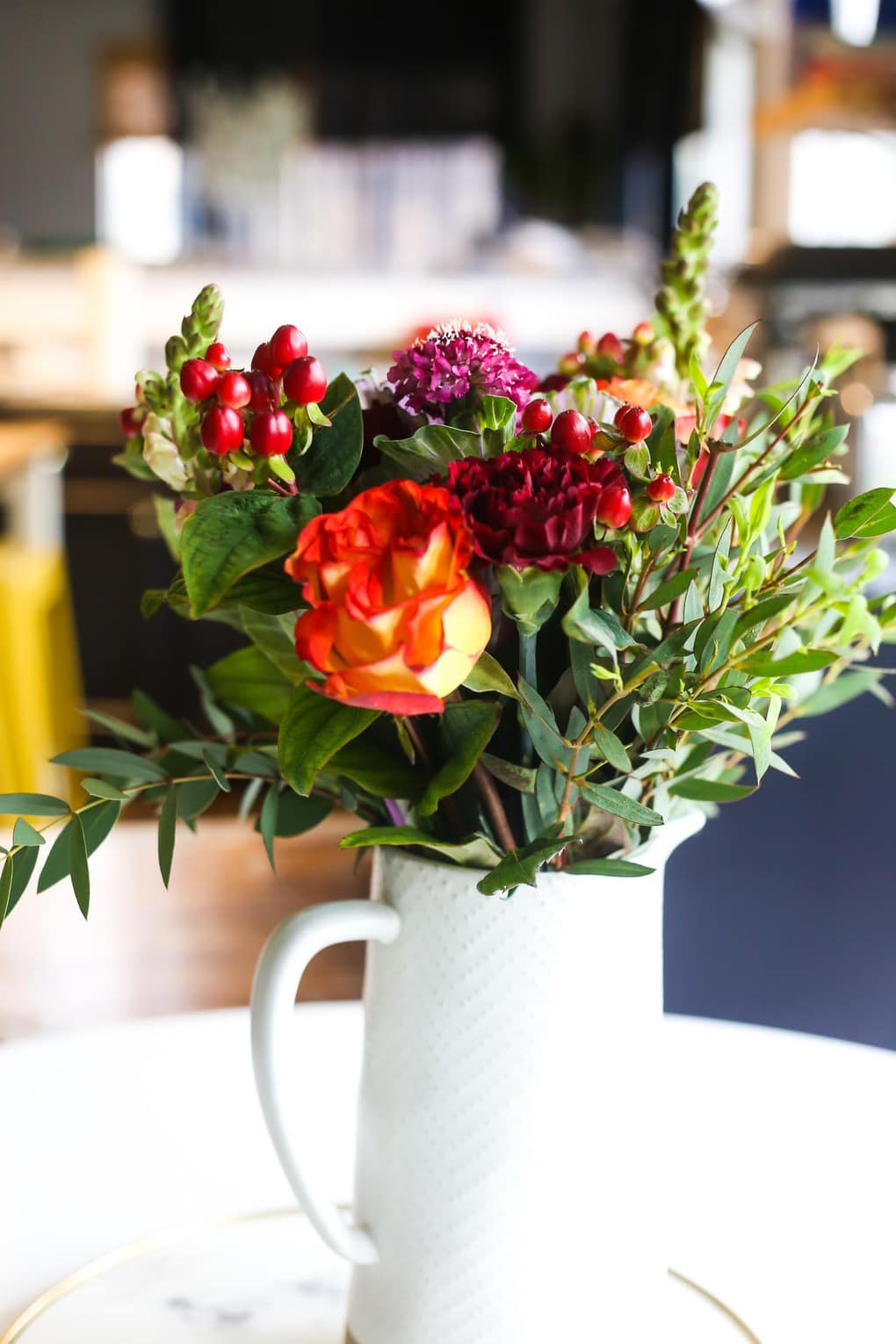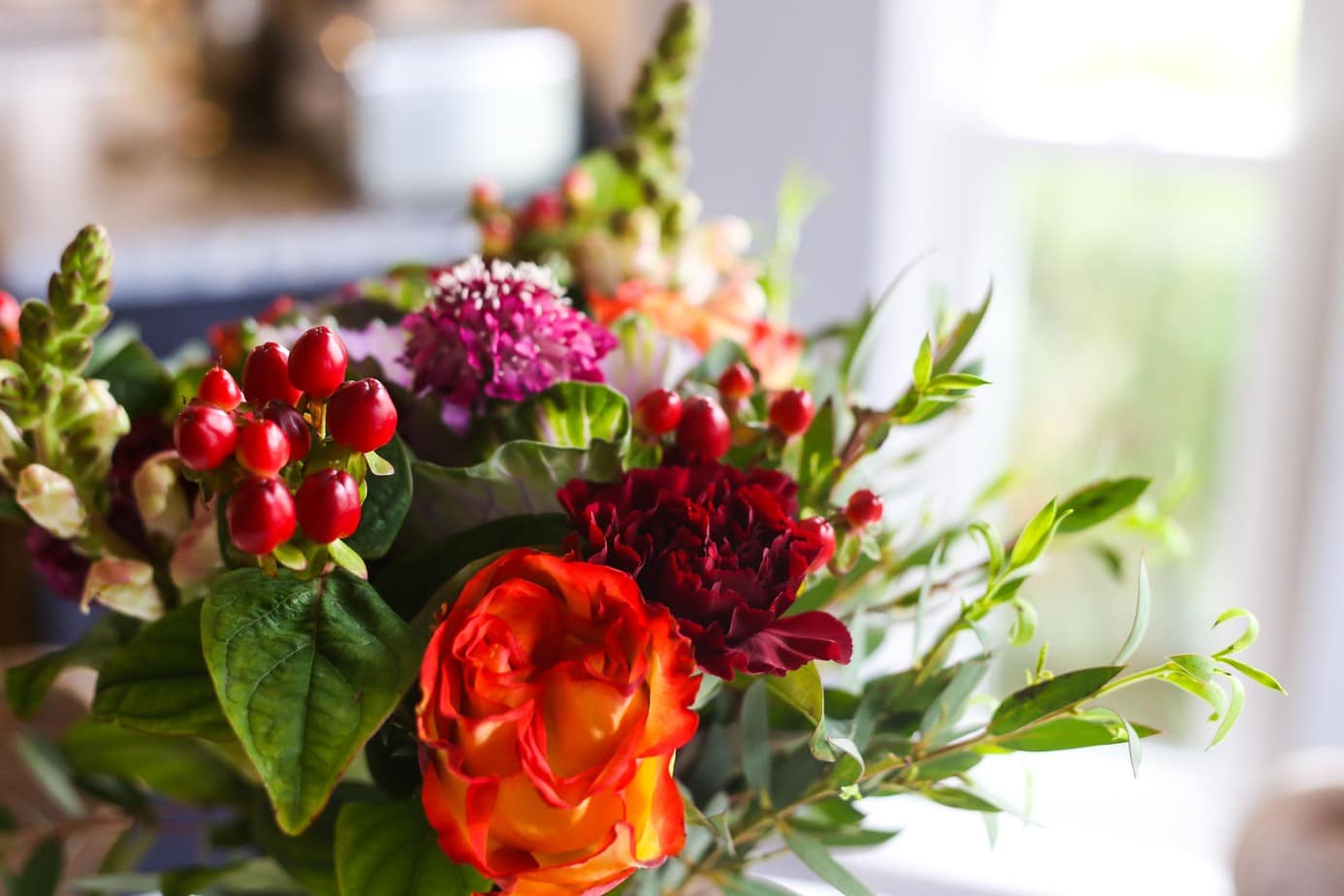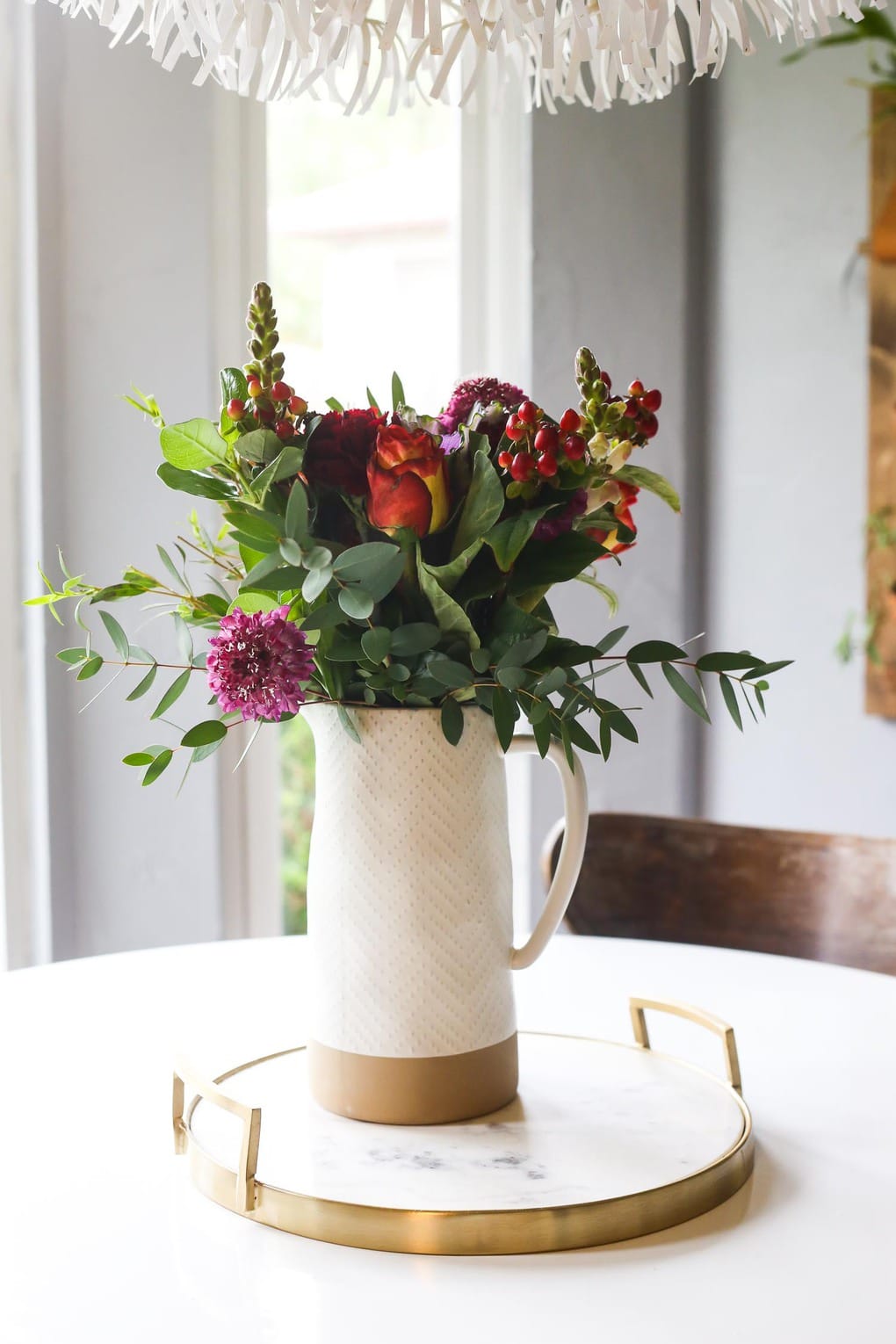 This post contains affiliate links. Click here to read my full disclosure policy. 
Now, let me disclose – I did not put together this amazing bouquet (as much as I'd love to claim credit!). I really wanted to participate in this round of Back to Basics, but things have been absolutely crazy with our big move coming up (so soon!) so I decided to reach out to my favorite flower company, The Bouq's Co., to see if they'd like to help out. I figured they'd put together something more gorgeous than I ever could, and then we can learn from their amazing talent. They graciously sent over a bouquet (this is The Harvest bouquet) for us to analyze and learn from.
Are you taking notes?
Let's dissect this thing.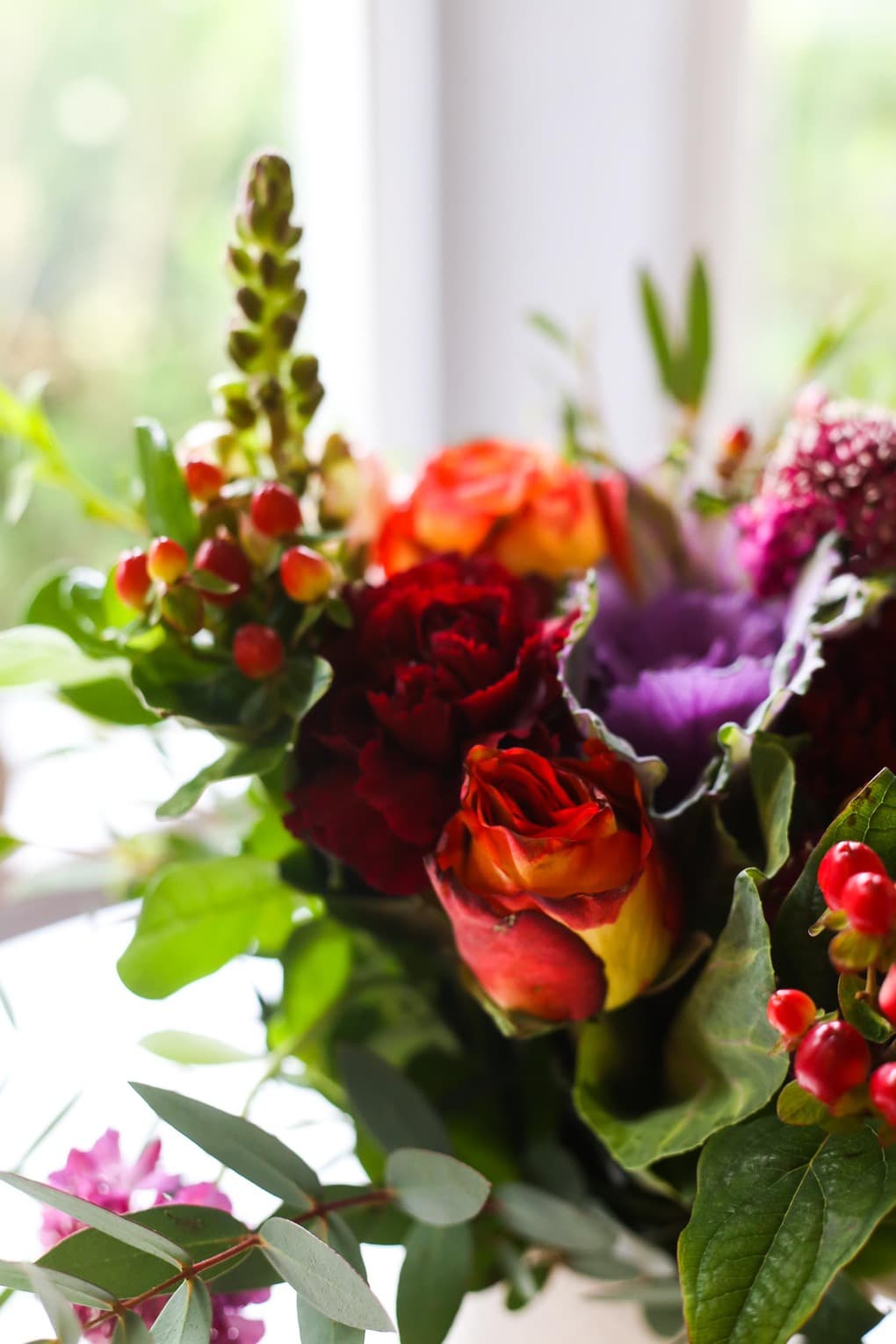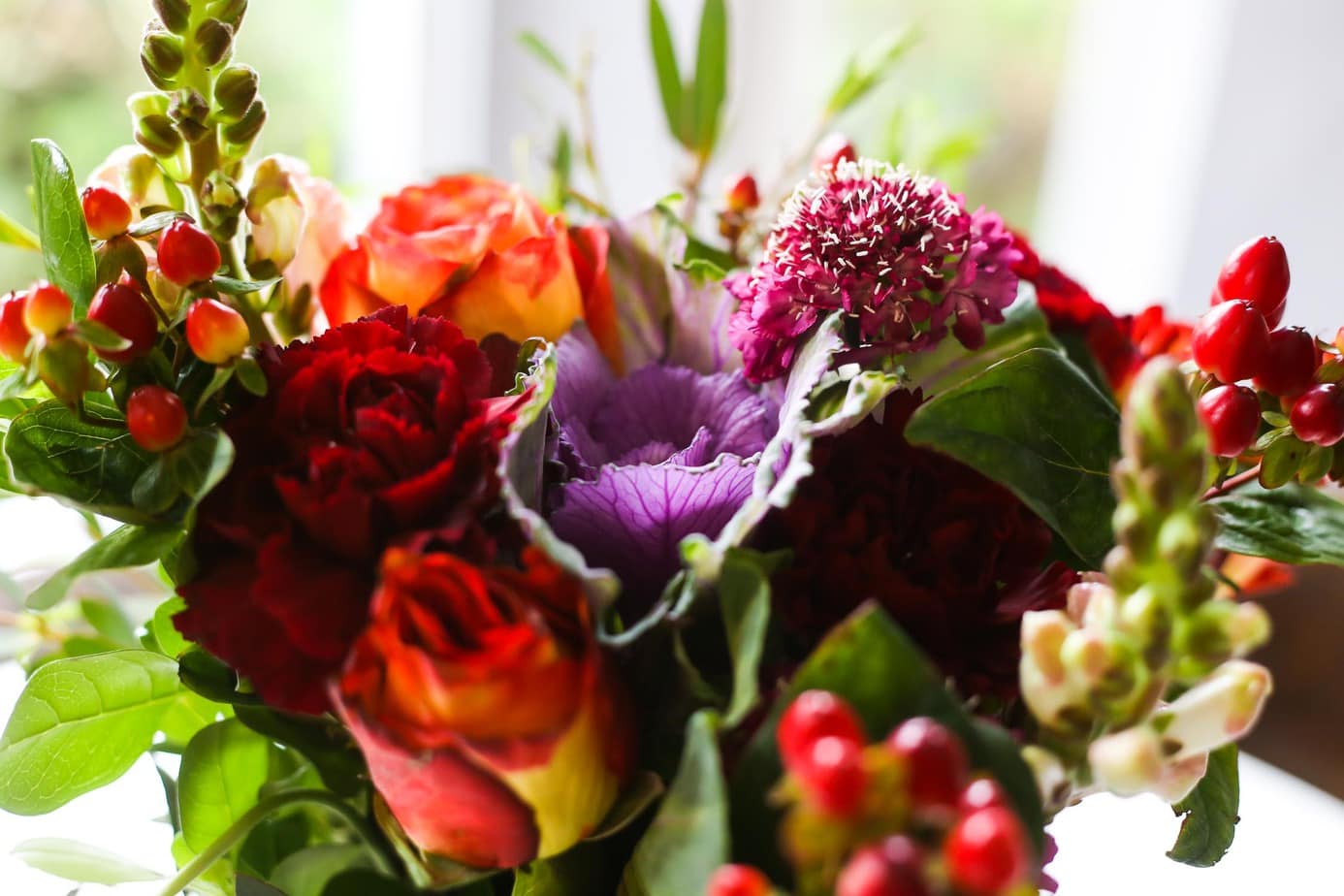 Start with the greenery. This is the first step for basically any bouquet you put together, but I find it especially important for fall bouquets. I don't know about you, but this time of year makes me crave lots of texture and pretty natural leaves – so I always focus more on the foliage than the flowers for my fall arrangements. Some of this will come from grabbing some actual greenery (I love eucalyptus for fall arrangments!) but don't discount the power of the leaves already available on the flowers you're using. Some of the prettiest greenery in this bouquet goes right along with the flowers.
Add the big flowers next – choose whatever you want the focal point of your arrangement to be and begin to add that to the bouquet. You can use florist's tape to gain more control over the arrangement (I've never done this, but have always wanted to try it), but just take your time adding your big flowers. And remember, this doesn't have to just be one type of flowers. This arrangement has more than one "focal point" flower – it's up to you if you want to do just one or more. Just pay close attention to the colors and textures you're using – you want a good variety, but you want it all to feel as if it coordinates. This bouquet has several different colors and textures in it, but they're all warm, fall colors so it works really well.
Fill in the gaps. Now, you'll go back in and add more flowers, filler pieces, and smaller accent greenery to your arrangement. For me, this is my favorite part – in this arrangement, it's all about the berries. They add so much texture and a really fun pop of color. I also love that they provide a different shape and a little more structure to the arrangement – anything hard like this always adds a really interesting element to an arrangement.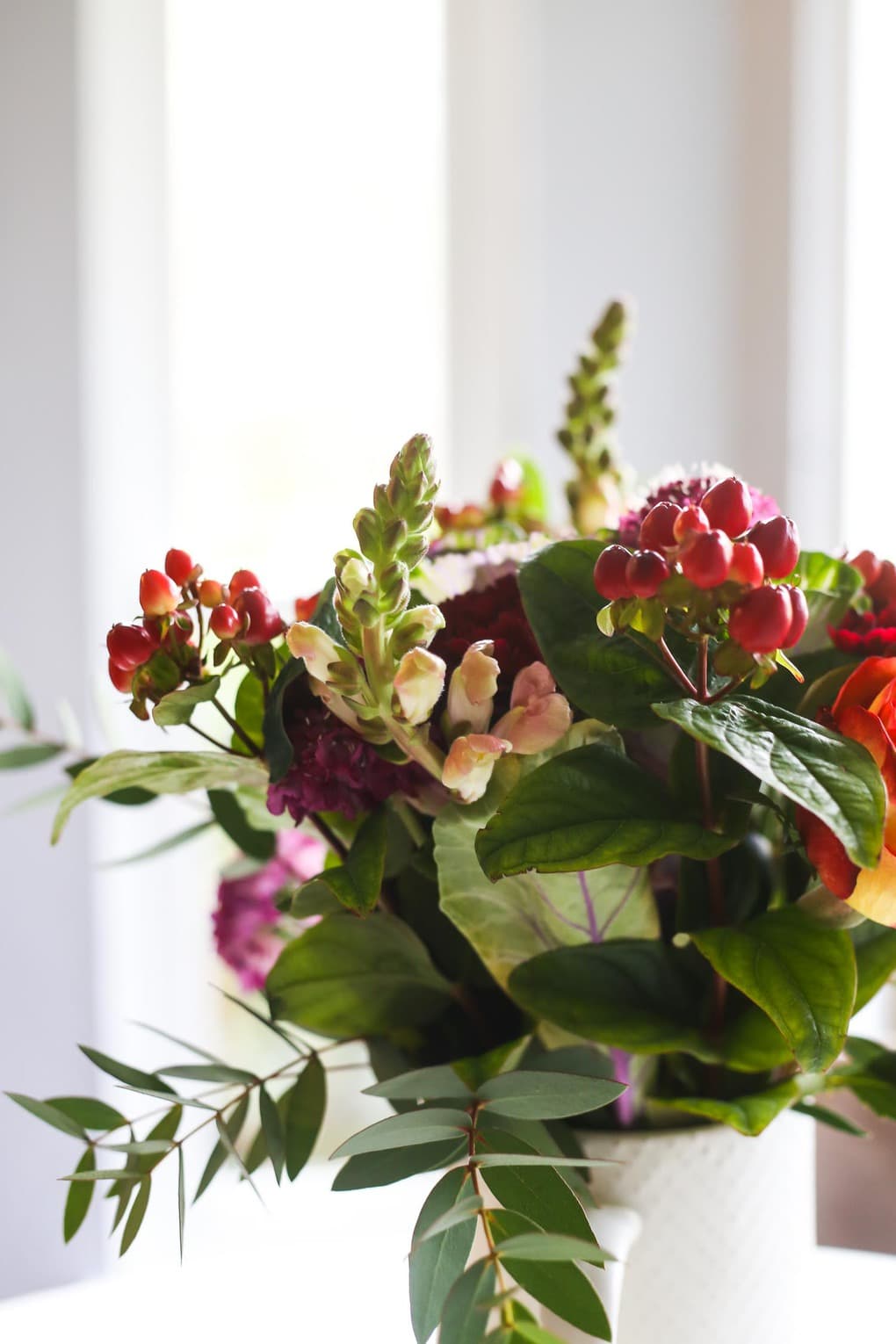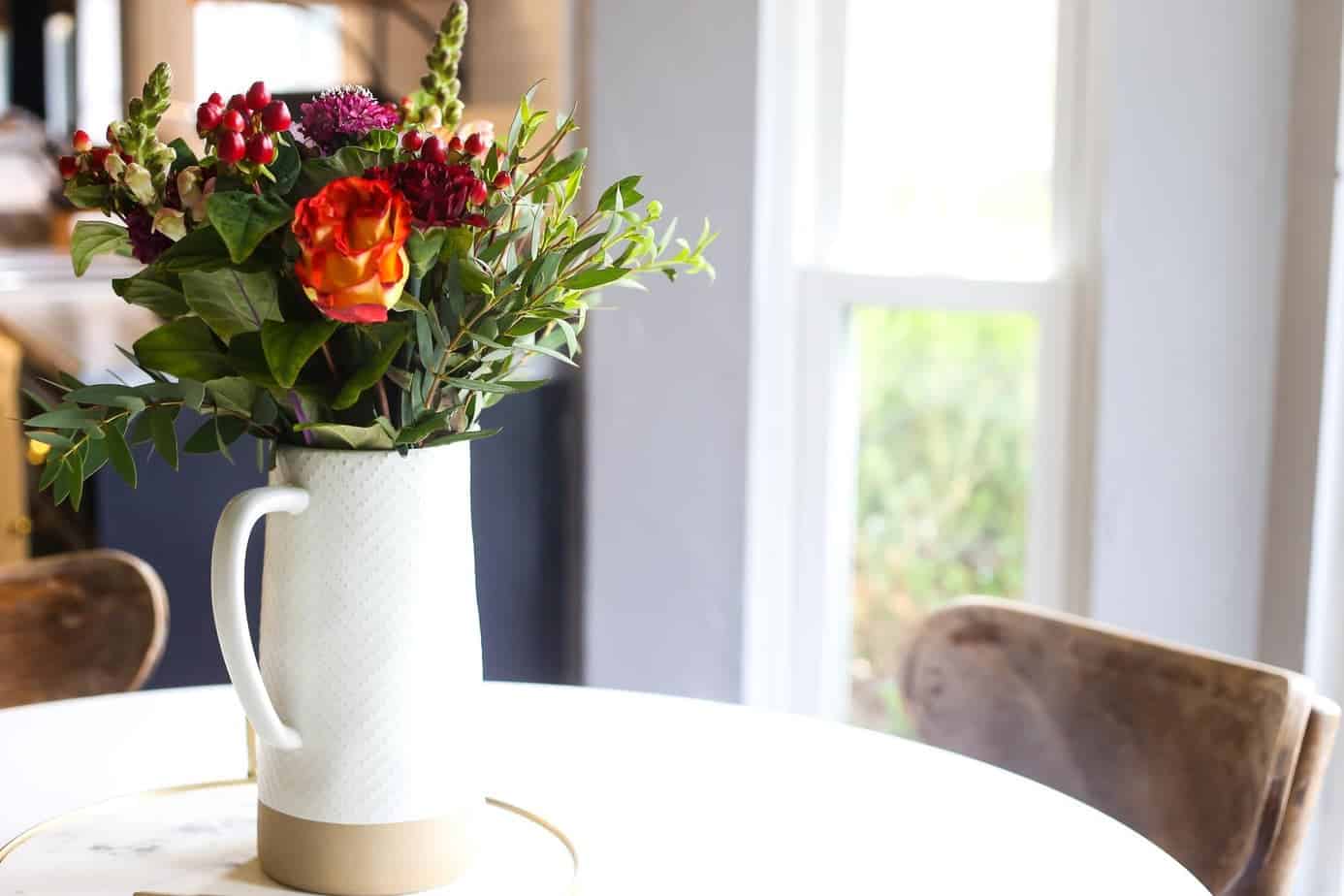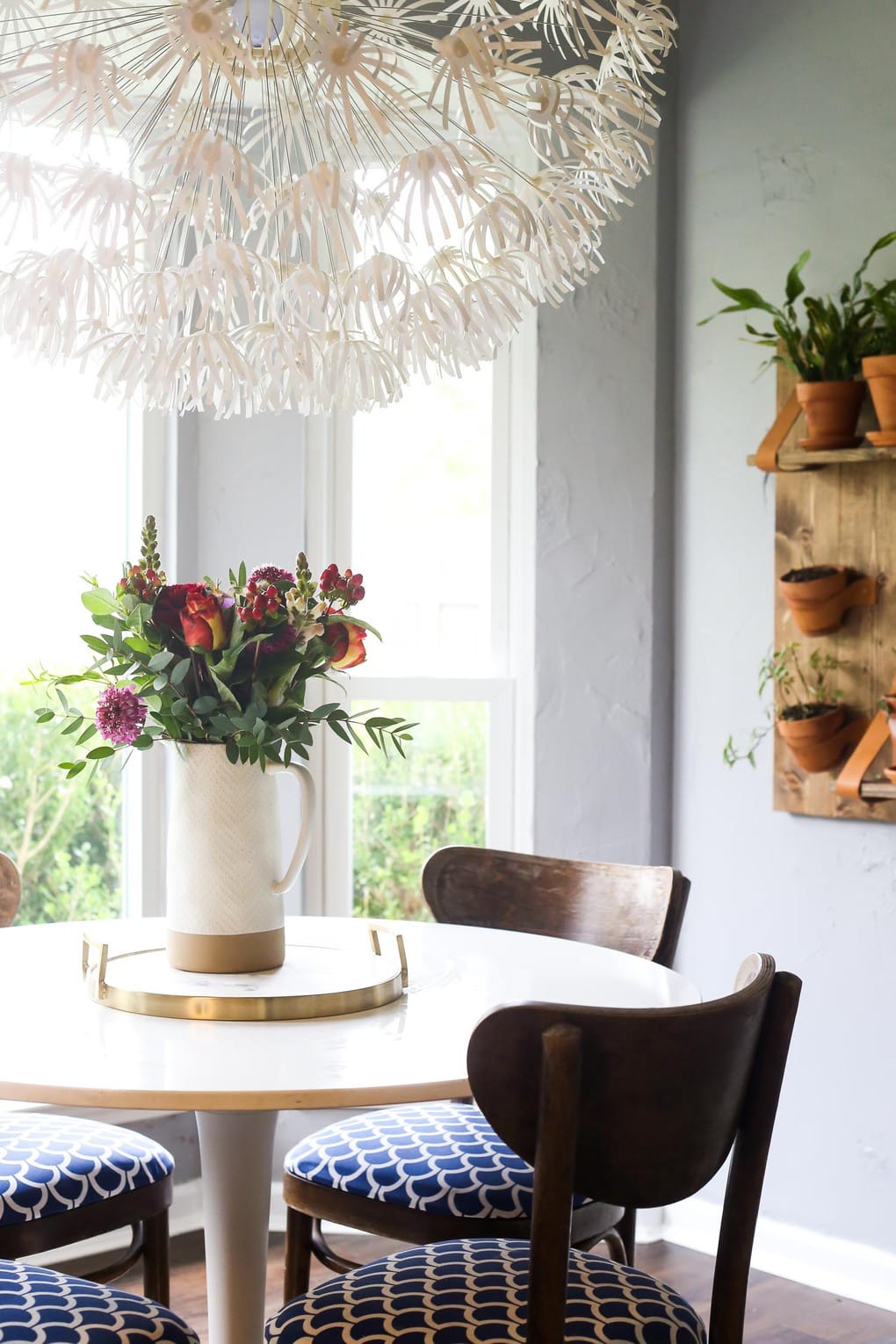 My final tip? Be sure you have a killer vase to put your flower arrangement in. This is something I haven't been great at over the years – I used to have a ton of vases but somehow they've all slowly disappeared. I've been working on intentionally collecting a few beautiful vessels to put my flower arrangements in, and this one is the current favorite. It's the textured stoneware pitcher from the Hearth & Hand line at Target and I can't get enough of it. I love using pitchers for flowers – you can use them for their regular purpose most of the time, which means they aren't just sitting in a cabinet being useless when you don't have any flowers in the house.
If you want more tips on arranging a gorgeous, simple floral arrangement, be sure to check out the other blog posts! They probably all have a little more knowledge than I do.
Oh, and if you're a flower genius (I know a lot of you are!) please feel free to drop your best tips below! I love learning from y'all!