If you have a toddler, know a toddler, or have ever in your life been around a toddler, then you know that they're independent little creatures. On a day-to-day basis I swear to you I hear the phrase "I do it!" at least 7,369 times.
Or, at least, it sure feels like it.
I'm all about promoting independence in little ones, and I absolutely love to watch Jackson figure something new out. He's recently learned how to put his own shoes and socks on, which is not only totally rewarding to watch, it also means I can now lay out his clothes and go finish getting ready while he gets dressed entirely by himself.
Why in the world would I not want to encourage the heck out of that?!
So, we work pretty hard in our house to give Jackson plenty of chances to flex his little independence muscles and try new things. This isn't new to us – last year around this time I talked about how he was already doing chores. It can be really easy to forget to involve him in our day-to-day cleaning and routines, so Corey and I have learned to be really intentional about giving Jack opportunities to do things himself.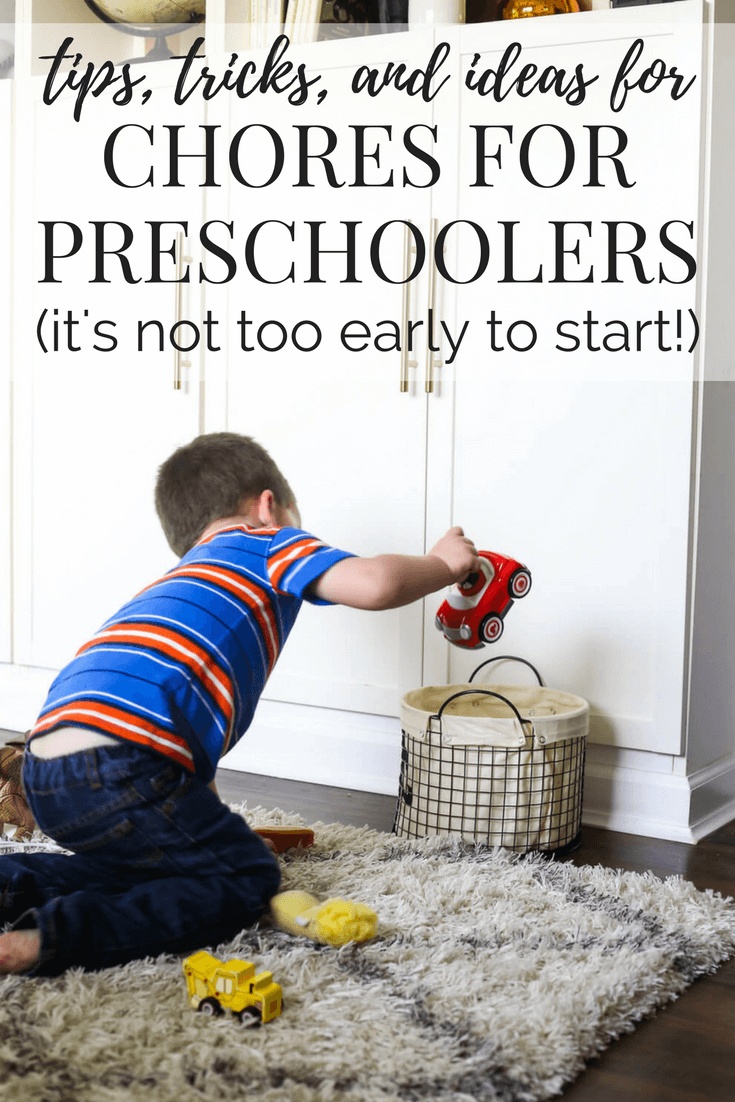 This post contains affiliate links. Click here to read my full disclosure policy.
Now that Jack is getting a little older and more capable, I wanted to share a little update on what he's doing now to help around the house. Most of the current skills we're working on are just building upon the same things he was working on a year ago, but there are a few new things in the mix!
He cleans his room and his toys. When Jackson was very young, we established the hard and fast rule that if he wants to get a new set of toys out, he has to clean up what he has been playing with. So at this point, Jack knows that if he's done playing with his Legos and he wants to pull out the trains, all of the Legos have to go back in their basket first. Does that mean he never throws himself on the floor screaming because he just doesn't want to clean up? Absolutely not. Still happens on a regular basis. But we never waver in the rule, and over time he has gotten better and better about just cleaning up without any complaints. Ever since we transitioned his room to a "big kid room" earlier this year, we also have been working on having him be more independent in cleaning his room. Of course, we've had a few "shove everything under the bed" attempts, but for the most part he's pretty good about cleaning up. We try to make it a habit of picking up each night before bed so it never gets to be too much, and it creates good habits from the start!
He feeds the dogs. Jackson loves being in charge of this task, and we always talk about how great he is about making sure his dogs are taken care of! We keep our dog food in a bucket in the pantry, so all he has to do is fill up a big cup and take it over to their bowls. I'll add the caveat that at least a few times a week we end up with a full cup of food on the floor instead of in the bowl, but Cullen loves to eat off the floor (he feels like he's getting away with something) so we just roll with it.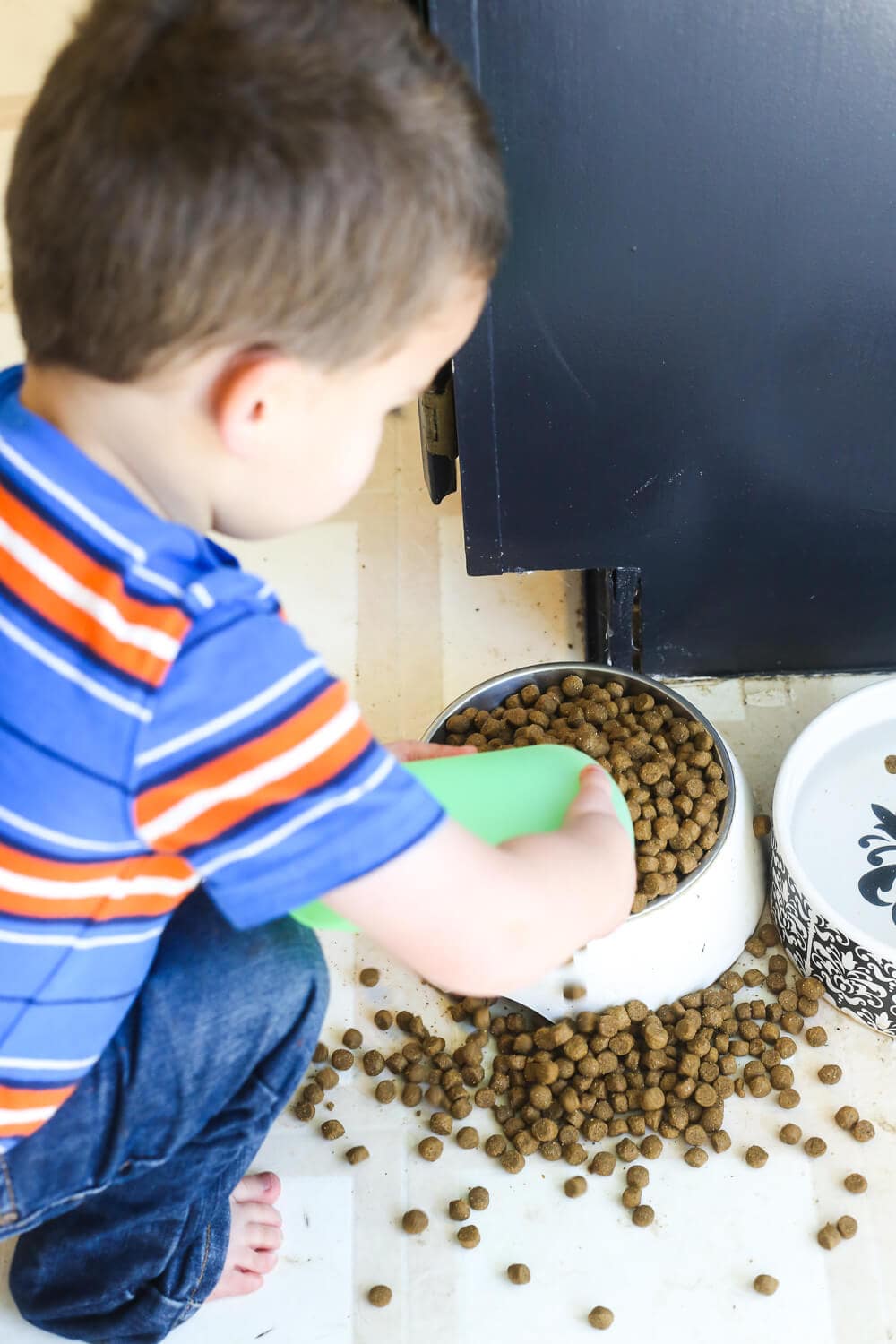 He lets the dogs in and out. As soon as Jackson learned how to open the back door we took full advantage of it – if the dogs need to go outside or come back in, he's in charge. It's basically the best lazy parenting hack ever – I'm teaching my kid what it means to take care of animals and I also don't have to get off the couch. Win-win.
He cleans up after he eats. Done with dinner? Take your plate and cup to the sink. It's a simple concept but it's one that most people I know seem to forget to explicitly teach their toddlers – you get in such a rush to get ready for the bath/books/bed routine after dinner that you just gather everything up yourself. But, for the last year or so we've been working with Jackson on taking his plate into the kitchen when he's done eating – at first we had to walk with him and do everything hand-over-hand, but now he can carry it into the kitchen, dump any scraps in the trash, and put it in the sink. Next step? Getting him to clear my plate too.
He's learning to wash his hands and brush his teeth. Jackson is fiercely independent and he desperately wants to do everything by himself. Of course, some things he can't quite do on his own yet. We're working on making some accommodations so that he can do more things by himself, and in the meantime we still provide a little bit of help with things like hand-washing and teeth brushing. Right now, he's able to pretty much wash his hands by himself in the upstairs bathroom because he can turn that faucet on by himself – sometimes that means he spends five minutes with the water running getting every last piece of dirt off of his hands (and his face, and his arms, and the counter), and that's fine by me. With tooth brushing, we'll usually let him do the first round by himself and then we go back in to get the rest. I don't know if I'll be able to trust him to brush his teeth by himself until middle school. Actually, scratch that – I've taught middle school boys, they're a mess. College?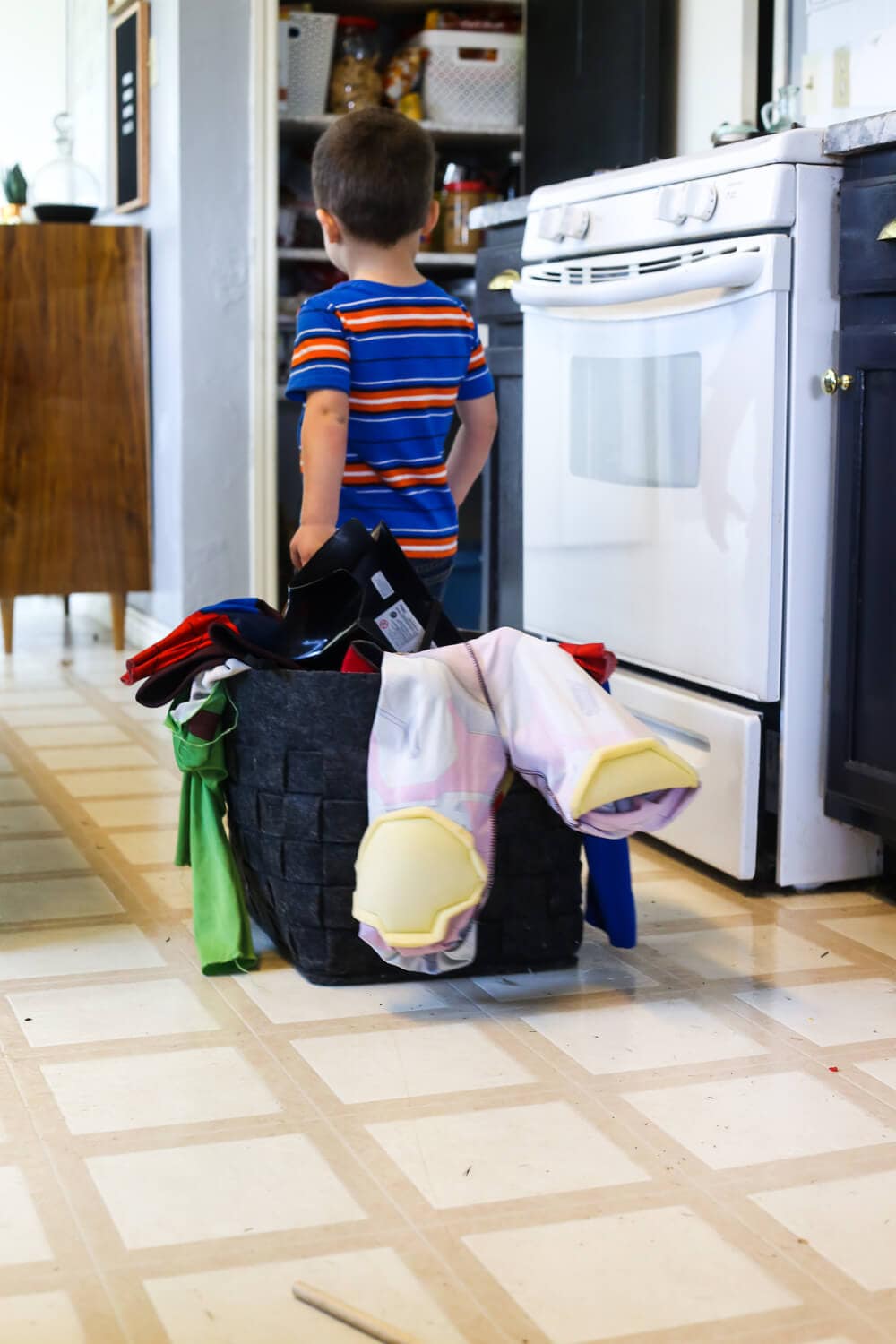 He gets himself dressed. Oh the happy dances that were done in our house the first time Jackson managed to get himself dressed by himself. This is something he's wanted to do for a long time but some of the intricacies of removing his shirt and putting on a new one were just slightly out of reach. He finally seems to have mastered it in the last couple of months, though, and he absolutely loves being in charge of putting his clothes on and taking them off. He can even do socks! And shoes! And, once again, I get to go do other things while this is all happening. Independence is lazy parenting gold.
He gets snacks for himself. We have a little white basket in our pantry that holds all of Jackson's snacks, and all of his cups, bowls, and plates are within his reach. That means if he wants a snack from the pantry, he's perfectly capable of grabbing it himself. Now, with that comes the fact that we had to teach him to ask before just eating a snack (thankfully most of the pantry snacks need to be opened by an adult anyways), but luckily he's pretty good about that. He's also just recently gotten tall enough to use the water dispenser in the refrigerator, so he's been working on getting water for himself too. He can't open the fridge yet (thank goodness!) but I keep a big platter of easy-to-access fruit on the kitchen island that he knows he can have anytime he wants.
He helps load and unload the dishwasher. If you're going to work on this with your toddler or preschooler, be ready to let go of any expectations you have for organized cabinets. #fairwarning. Jackson loves to help unload the dishwasher, and I usually put him in charge of food storage containers, his dishes, and the silverware. All of those things are in spots he can easily reach, don't have to be too terribly organized, and aren't breakable. Plus, it makes the job go by faster for me! He also loves to try to help load the dishwasher, but if we're being totally honest that usually devolves into him trying to climb into the dishwasher to spin the various mechanisms while I constantly tell him to move so I can put the dishes in there. Just keepin' it real.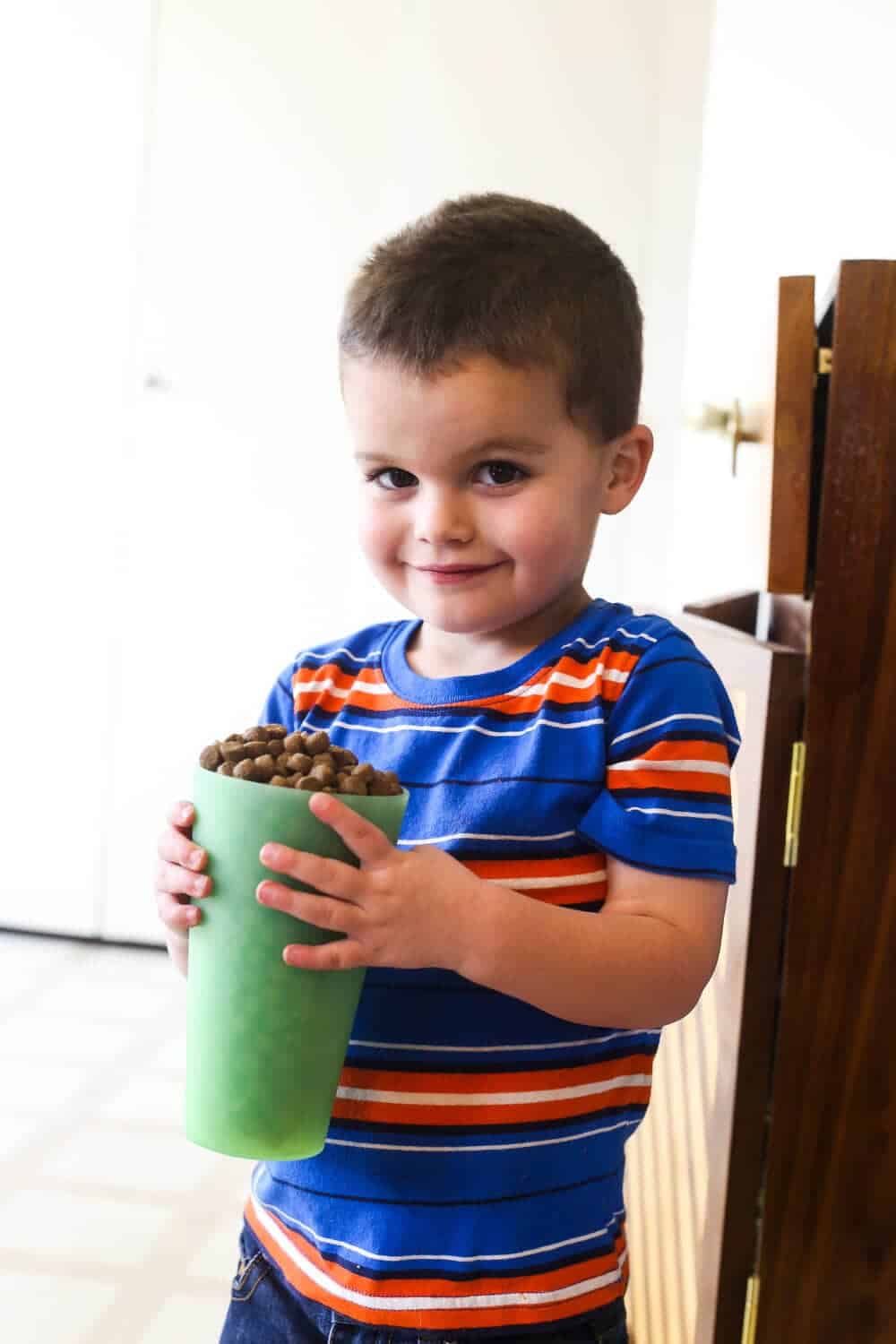 He helps with basically any chore or activity I'm doing. Aside from the all the other things that Jack does on a near-daily basis, he also just loves to be involved in anything I'm doing. I can't even tell you how many times he asks to help me on a daily basis, and while sometimes I'm tempted to sigh and tell him to go watch Frozen instead, I always try to slow down and remind myself that he will never be this helpful again in his whole life. Soak it up, mama! One of my biggest missions as a parent is to teach Jackson that he needs to be an equal partner in maintaining and cleaning his home, and that can start right now. So he often helps me do laundry (he's great at pulling clothes out of the dryer and putting them away), dust, sweep, cook, clean the bathrooms…there are very few chores around the house that he can't help with in some capacity. A lot of it is just about letting go of control a little bit (I still wince every time he asks to crack eggs for me, but he's actually pretty dang good at it at this point!), looking for creative ways to get him involved, and savoring the experience of working on something with him. Oh, and reminding myself that the sooner I teach it to him, the sooner he can do it himself, and the sooner I can just watch Netflix and eat Oreos while he does the cleaning. What? I know that's your ultimate goal in life, too. Don't deny it.
When all else fails, I let him pretend to clean. Some days he's to silly to actually be useful, or I just don't have the patience to let him help me clean. On those days, Jackson loves to get out some of his toy cleaning supplies while I'm working. He has his own broom, and we've filled an old cleaning spray bottle with water so he can "dust" the house while I work. It's perfect for those days where we're all a little cranky but he still wants to be involved, and we're still working on the same skills! I've linked to a few of our favorite toy cleaning supplies (and a few that are still on our wish list) below!
What are some chores your kids do around the house?