IKEA MASKROS Light Review
Our breakfast nook is full of IKEA inspiration! We recently added the ever-popular IKEA flower light – the MASKROS and wanted to share a quick review.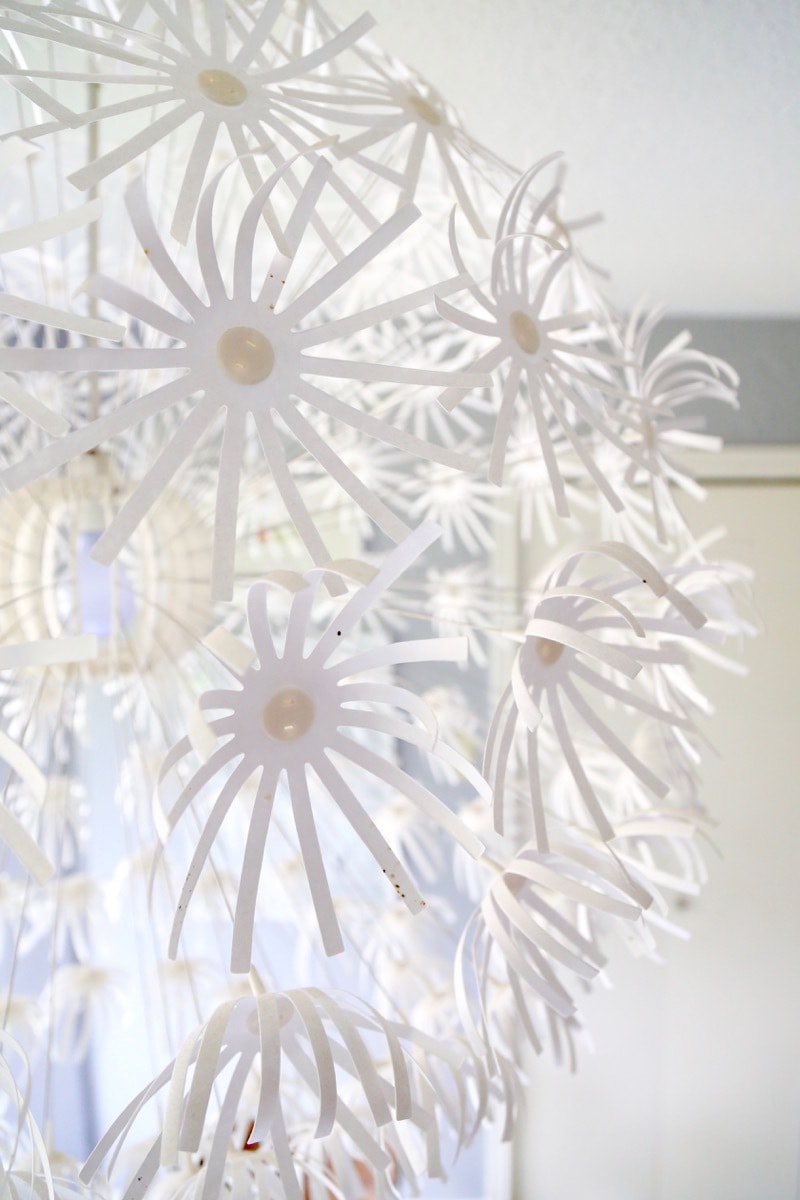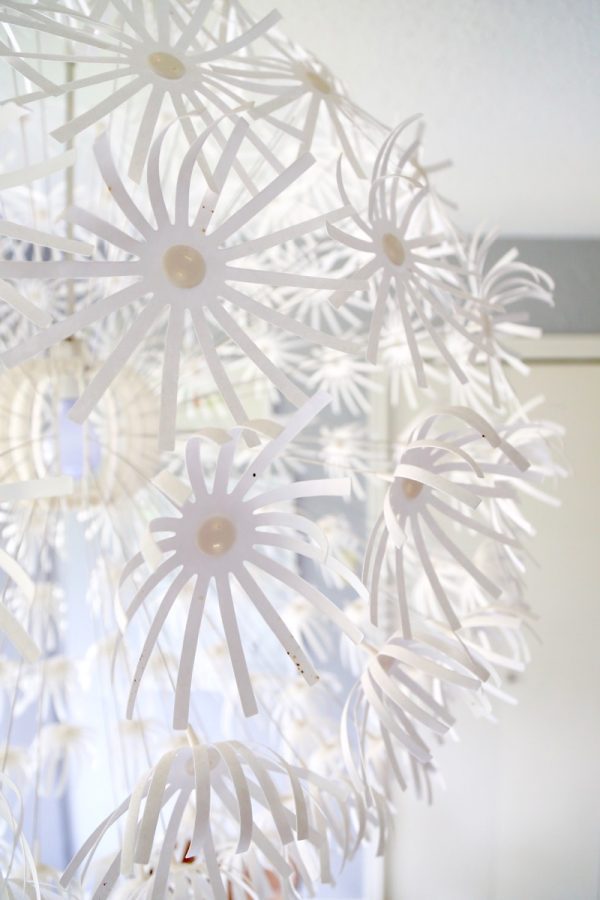 This post contains affiliate links. Click here to read my full disclosure policy. 
Corey and I been working for a while to find a light fixture for our breakfast nook that really fits the direction we're wanting to go in this room. We wanted something fun and impactful that would make a statement, but we didn't want to spend a ton of money. Corey and I tried to tackle it on our own and make something, but it was a big fat failure (despite our very successful attempt at building a dining room chandelier). Apparently, success at one light fixture does not translate to success in another.
We had a very specific vision for what we wanted to put in here – we wanted something large and orb-shaped with a lot of texture. We also wanted that would coordinate with (but not compete with) the big chandelier in our dining room, which is right across the room. Thankfully, with a bit of research and a lot of patience, we landed on the absolute perfect light for this space. It's big, it's gorgeous, and it adds a ton of character to this blank little nook – the here's where you can snag one on Amazon.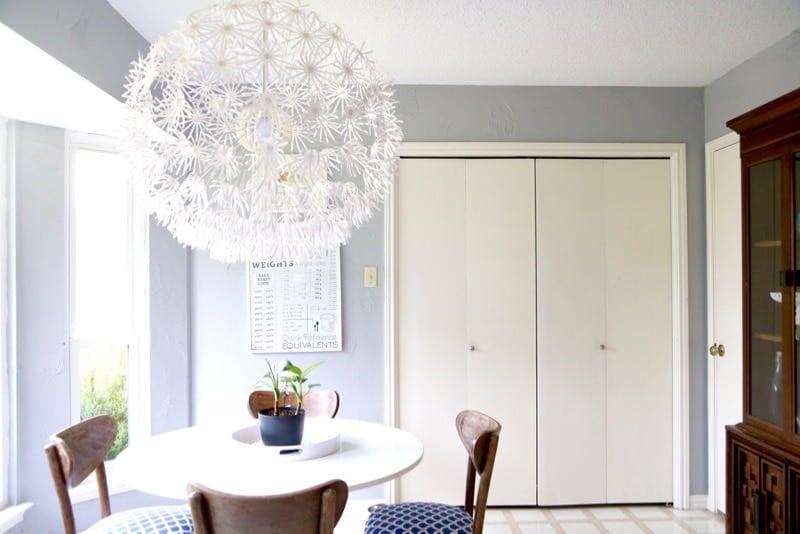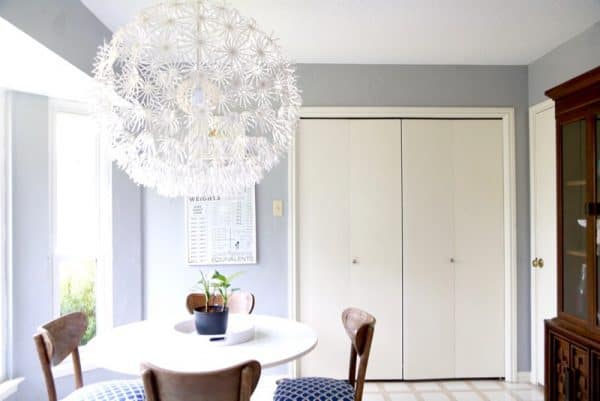 IKEA FLOWER LIGHT: A Review
We are so in love with this light. It's affordable, beautiful, and makes a huge statement (here's a link to the light on IKEA's website, and here's where you can snag one on Amazon if you aren't near an IKEA). There's a smaller version of the light as well (here's a link to it), but we went for the gold and snagged the large one. It checked off all of the boxes on our wish list – it's huge, it adds some texture to the room, and it mimics the orb-shapes in our dining room chandelier very nicely without detracting from it at all. It's basically perfect. The one downfall of this light? You have to put each individual flower on it…one at a time.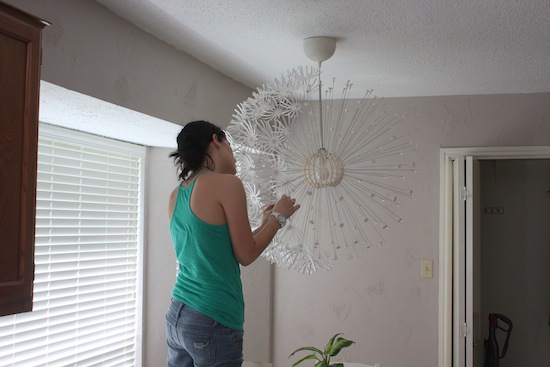 In case you're wondering, there are 160 of them on the large version. It's tedious, to say the least.
We were nervous when we first started installing it that it was going to be too big for our small little nook, but once it was all done we fell in love. The nook is open to the rest of the kitchen and there's really nothing else over there, so it actually fills up an otherwise blank space very well. It packs just the right punch and it adds some fun texture to the room too. I get a little giddy every time I see it.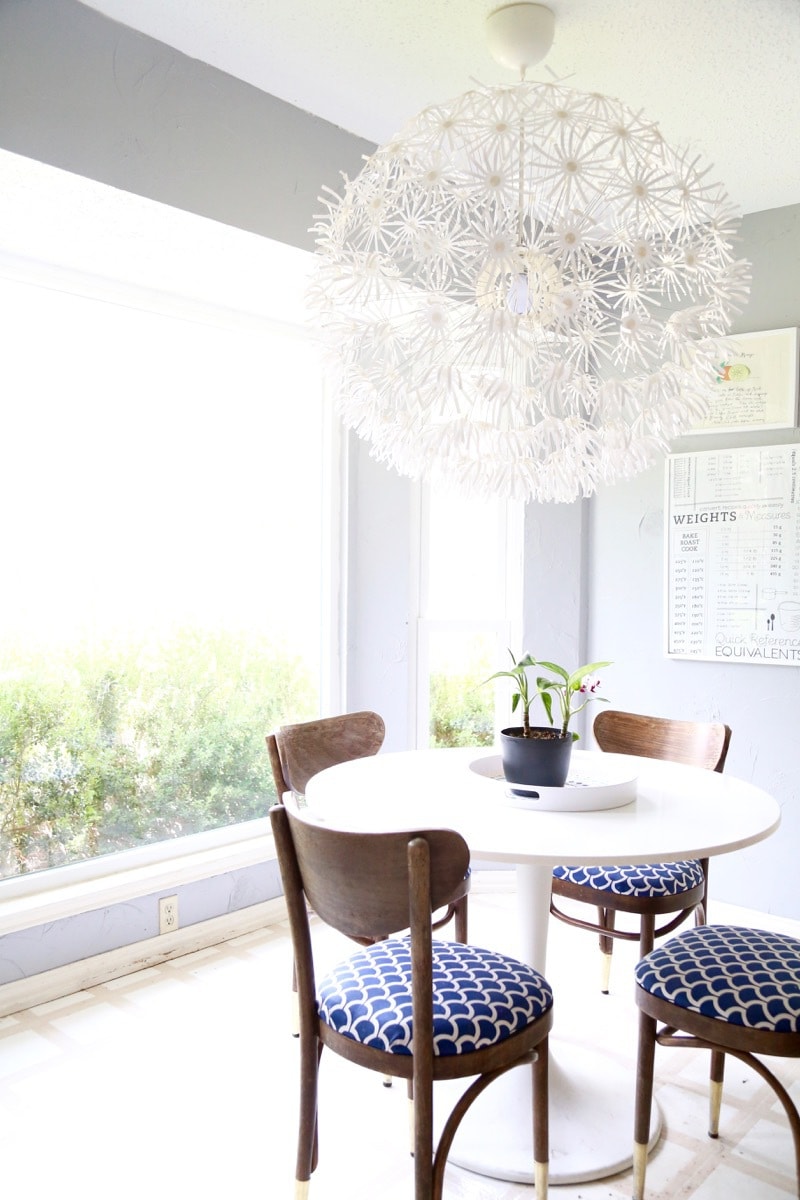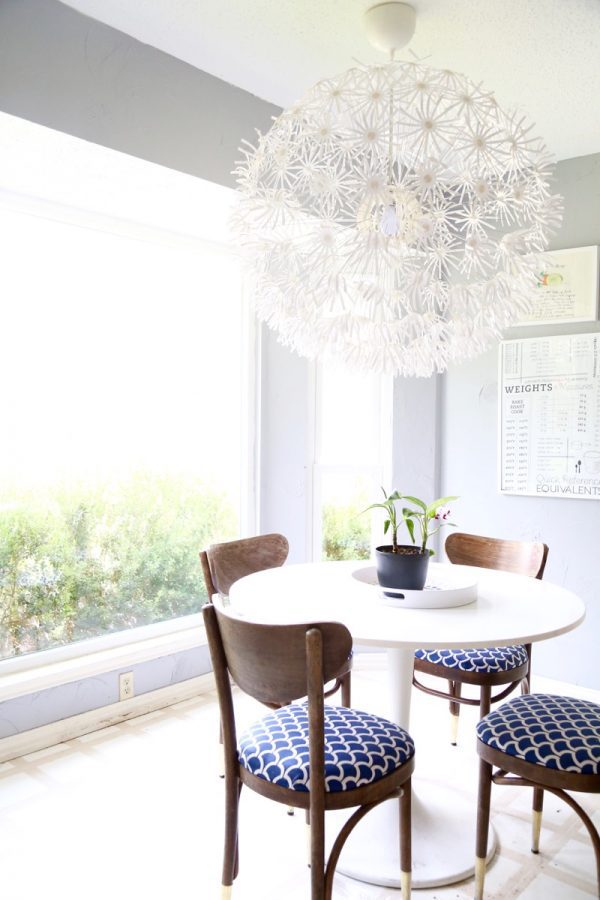 We briefly considered doing something to customize the light a bit – I love this version, as well as this gold-painted one but in the end, we decided we love it just like it is. I'm always a fan of light, bright colors in the kitchen, and this plays off the dark colors of our chairs perfectly. I'm still considering going back and painting the base and the cord gold for a fun little pop of color, but for now, I think it's pretty perfect.
I'm so pleased that we decided to go this route for our breakfast nook, and I think this light completes the space nicely. Of course, between this light and the one we have in the dining room, it's going to be hard to figure out how to replace our fluorescent light without making this whole room way too busy. We'll need something nice and simple so it doesn't compete with all of the other awesomeness in this room!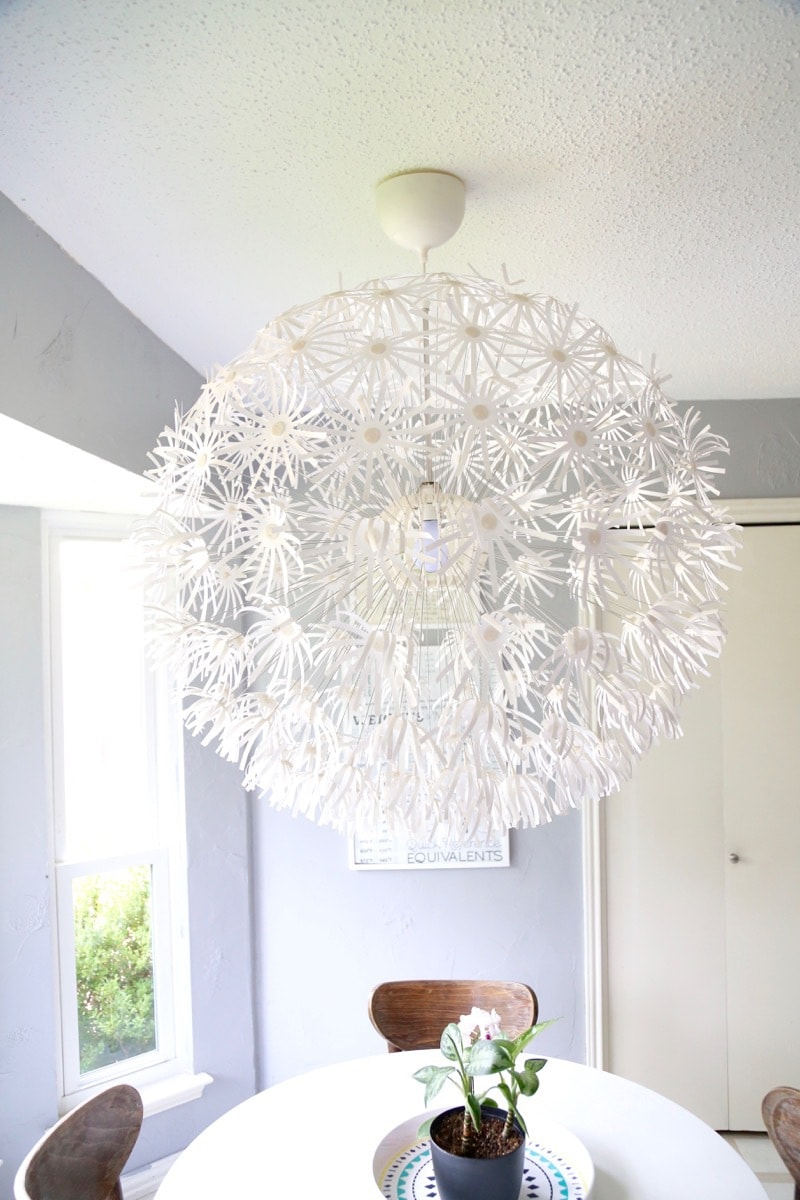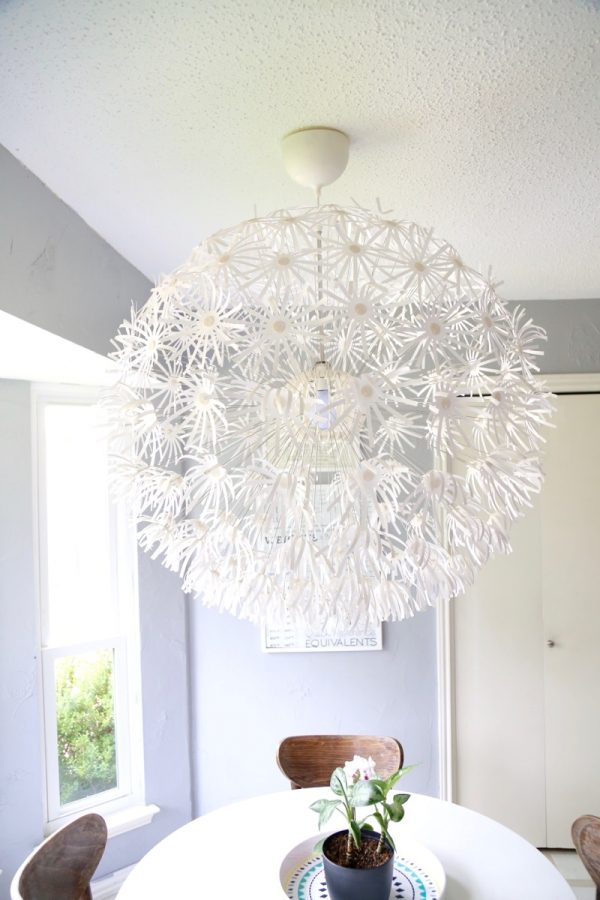 If you want to consider hacking one of these for your home, here are a few ideas to get you started:
5 Ways to Hack the IKEA MASKROS Flower Light
IKEA MASKROS Frequently Asked Questions
Update: We've had this light for a few years now, so I wanted to share a quick update with some of the most frequently-asked-questions we get about this light. Hope it's helpful!
Does it give off enough light?
A lot of people are concerned about the amount of light this gives off – especially since there's only one bulb. We find that the amount of light the MASKROS gives off is just about perfect for our breakfast nook. We get plenty of natural light in here, so that definitely helps, but even at night, I find that this light gives off the perfect warm glow without being too much. I also love the fun pattern it casts on the ceiling!
What are the flowers made of?
The flowers feel like they're made of a thick paper – kind of like a really thick cardstock. I was a bit concerned at first about how sturdy they'd be since they aren't made of something a little more durable, but we haven't had a single issue with any of the flowers, so I guess it works!
Have you had any of them wilt?
Over time gravity will definitely take its toll on some of the flowers. The flowers that are at the top of our light look a bit flat now, while the flowers on the bottom have wilted a bit and the petals aren't laying quite as open as they used to be. It doesn't look bad at all, and it's really only noticeable if you look closely, but the petals definitely won't stay exactly where they are when you first hang the light.
Would you buy it again?
Absolutely! I think this is a perfect light for a casual breakfast nook, a kid's room, or really – anywhere you want to put it. Almost everyone who comes to our home for the first time compliments us on it, and we constantly get questions about where it's from. I wholeheartedly recommend it and would definitely buy it again for another home.
Want more IKEA inspiration and ideas? Check out these posts!