Happy Monday! I know I've been promising you guys a peek at the new bar cart that Corey's building for us, but it's taken a little longer than we expected so you'll have to hold your horses a bit longer.
Sorry.
I promise I'm just as antsy as you are to see it.
Since the bar car isn't ready and I have Christmas on the brain 110% of the time now, I thought today might be a fun day for a little roundup of Christmas decor ideas and projects. There is too much inspiring Christmas goodness floating around the internet for me not to show you some of my favorites. There's quite a lot happening here, so grab a cup of hot chocolate, settle in, and get ready to be seriously inspired!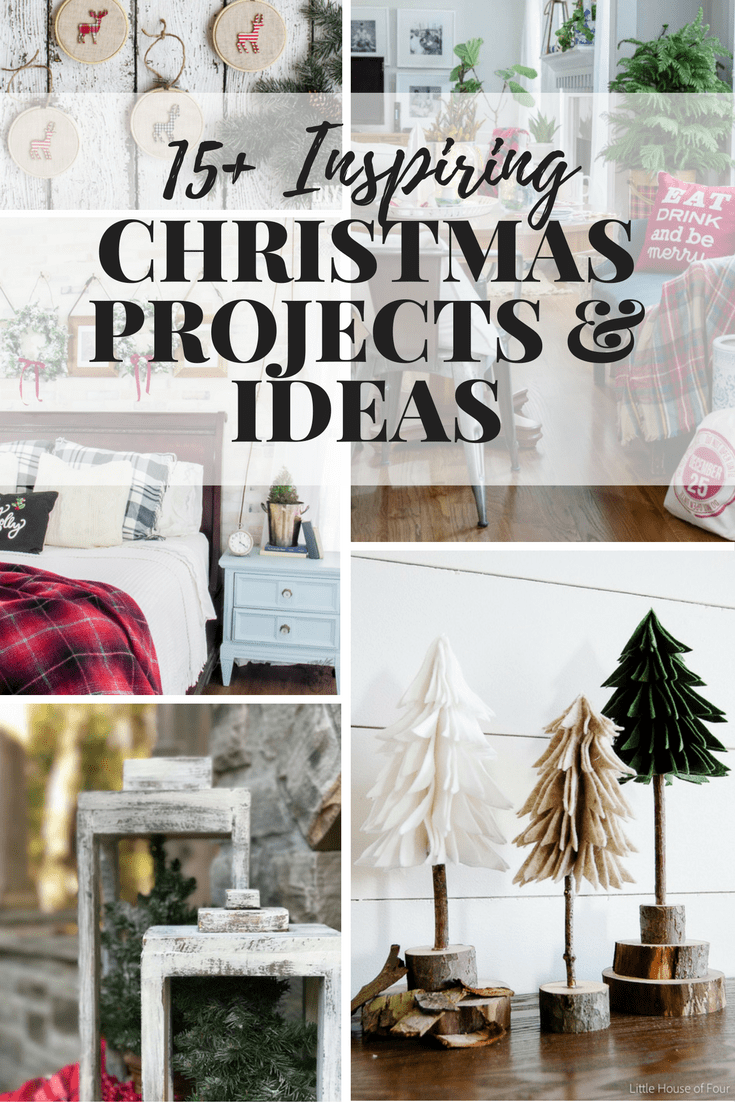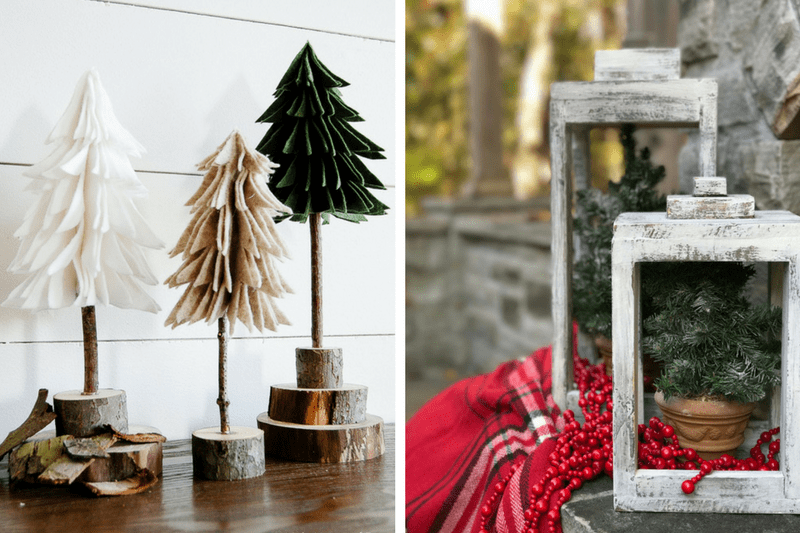 Little House of Four // The Chelsea Project
How adorable are those little felt trees? It's such a fun idea, and you know I love some good, rustic decor around the holidays. I'm seriously inspired by these and I want to make a whole set of them to go on the shelves in Jackson's room! Stay tuned because a post may be coming your way if I find the time to make it happen! I also love those DIY lanterns – I always see cute little lanterns in the stores this time of year, and I always want to buy a few but they're so dang expensive. Can you believe it has never even crossed my mind to make my own? Genius!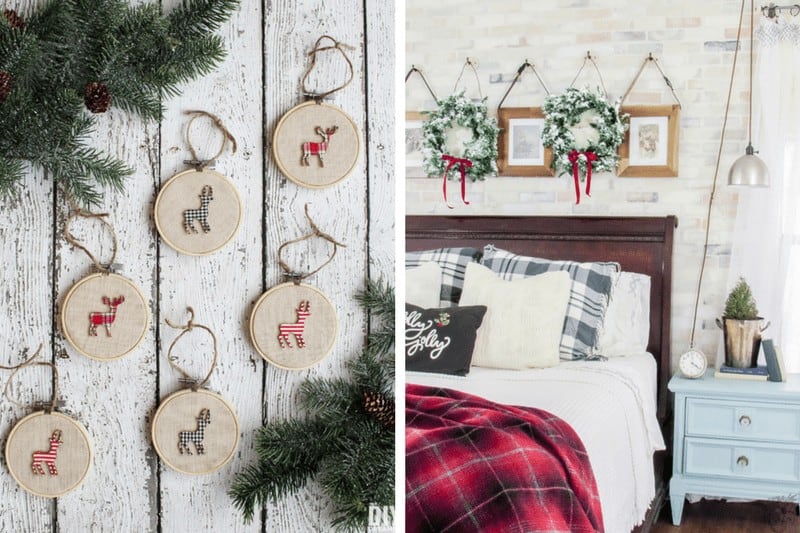 The DIY Dreamer  // Pocketful of Posies
Holy cow, those DIY deer ornaments are too cute! I'm swooning over them, and they'd look so cute on the tree in our kitchen. Such a simple (yet amazing) idea! I think my favorite part is that they're all patterned…I can't get enough stripes, plaid, and buffalo check this time of year. Oh, and can we talk about those wreaths on the right?! Those are made from an old garland and I'm in love with them. We never really decorate much in our room but this would be such a fun (and simple) idea!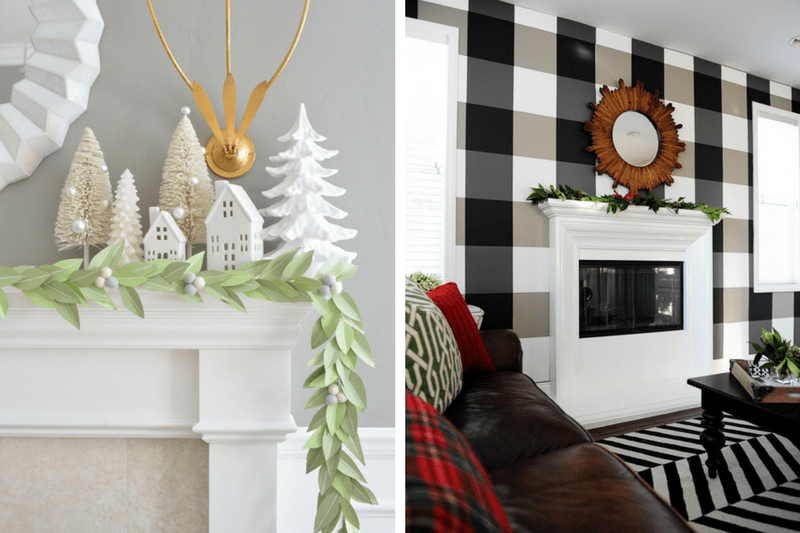 Centsational Girl // Pink Peppermint Design
I cant get over this DIY paper leaf garland from Kate. I saw it when I was scrolling through my blog reader and I seriously stopped in my tracks with my jaw dropped – the colors are perfect, it's so pretty, and it looks amazing on the mantel! I want one of my own! And speaking of amazing…would you believe me if I told you that buffalo check wall is a DIY project made with nothing but paper and tape?! I'm still not sure if I even believe it. It looks so beautiful, and how easy is that for a huge, statement-making piece around the holidays?!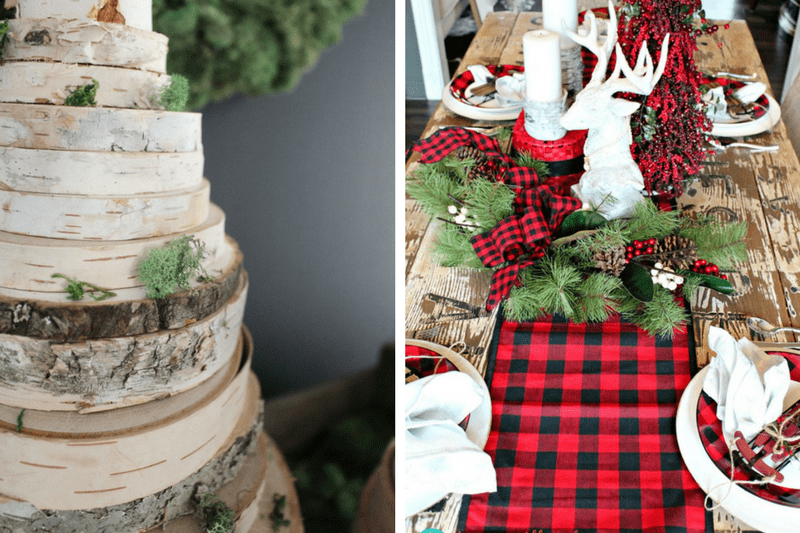 2 Bees in a Pod // The Magic Brush, Inc.
I always love wood slice trees, and this one is no exception – the bark and the moss and the wood grain…I'm in love! I want to go hunting around my parents' land and see if I can find a good stump or branch to make something like this. It's such an easy project but my goodness it looks amazing. I also love the rustic, bright feel of that tablescape from The Magic Brush – the patterns, the texture, and the color just make me so happy!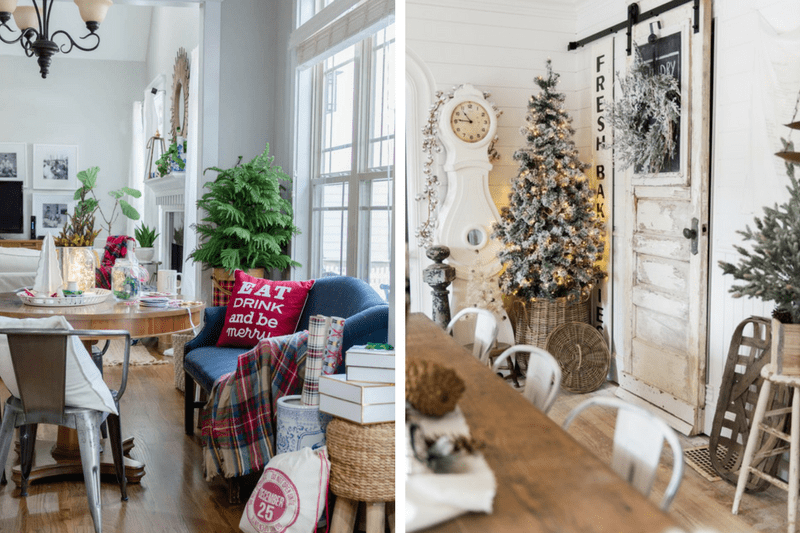 The Home I Create // Liz Marie
I always have a hard time decorating the kitchen this time of year, so I'm constantly on the lookout for posts that will give me some inspiration, and this one from The Home I Create is perfect! She does such a good job of making the kitchen look festive and cozy, and I'm drawing a lot of ideas from this post. And, of course, I can't talk about Christmas decor and leave out Liz Marie. Her home is currently undergoing tons of renovations but that hasn't stopped her from creating a dang winter wonderland at her house. I swoon every single time she posts about her holiday-decorated home!
Thirty-Eighth Street // Lovely, Etc.
How adorable is that Christmas tree advent calendar? I absolutely love this idea and I especially love that it will still look cute even as you take off each day – some advent calendars start to look so boring! Corey and I were really drawn to the black and white decor this year when we were shopping for Christmas stuff to add to our collection, but it doesn't really go with anything else we have so we passed…but I really love the look! And um, that tree from Lovely, Etc.? I'm swooning! I am such a huge fan of putting banners/words into Christmas trees. It's a look I feel like I'd struggle to pull off well, but when it's executed right it just looks so fabulous. Maybe I'll give it a shot next year!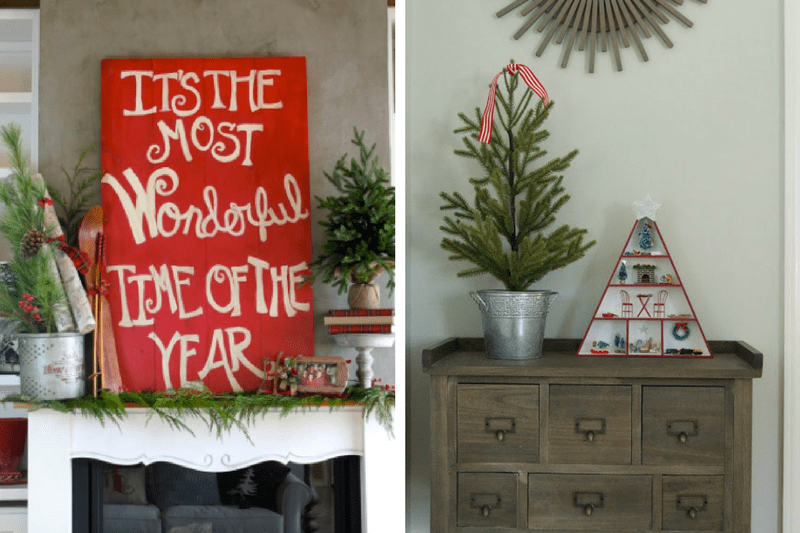 Design Dazzle // Little Bits of Home
How adorable is that fireplace? I love the DIY sign, and all of the greenery is making my heart happy. There are few things in this world that I love more than good old red and green Christmas decor. It's just so fresh and classic and cozy. And that little miniatures display? SO CUTE! I have an infatuation with miniatures and dollhouses, so this is right up my alley. This would be such a sweet display for a kid's room, and I'm seriously considering giving it a go next year for Jackson's room – he would have so much fun playing with it!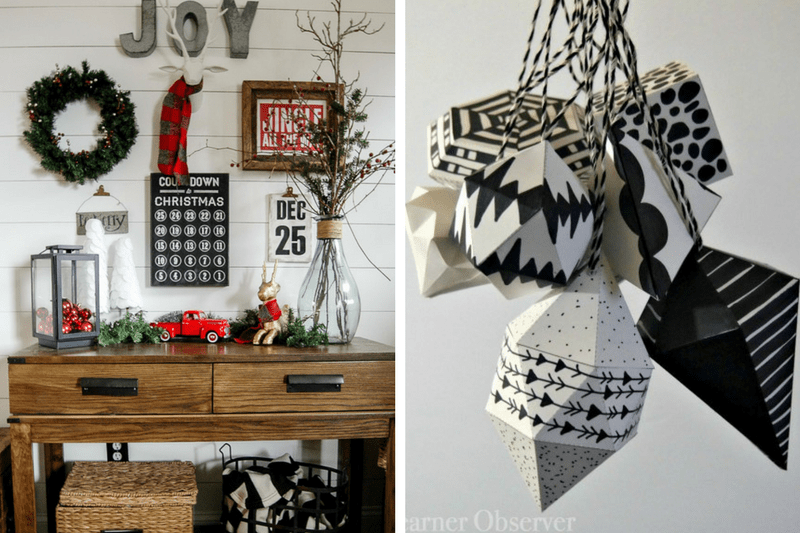 Little House of Four // The Learner Observer
 Everything about this Christmas home tour from Little House of Four is perfect. I absolutely love how the whole house feels, and I was so inspired after browsing through it. I especially love the little Christmas tree sign in the kitchen – I've been thinking about making something similar for my kitchen (we'd swap out our other sign for it during the holidays) and this gave me a push! I don't know if I'll knock it out this year, but next year for sure! And, of course, those black and white ornaments have my heart all aflutter. It's not a style that would ever work in our house but I am so in love with it! These are a DIY project, and they are so, so cute.
Whew – that's it! How inspired are you feeling right now? I seriously want to go out and do all the Christmas projects now! I wish this season was twice as long so I could squeeze in all of the things I want to do. But then, I guess it wouldn't be as special, now would it?
Which one is your favorite? What Christmas projects are still on your to-do list?