You guys! Have you noticed? It's Christmastime! I am so excited. I've said it a million times, but I swear I turn into a human version of Buddy the Elf as soon as Thanksgiving is over – I walk around humming Christmas songs, screeching over Santa, and smiling like a maniac.
It really is the most wonderful time of the year.
One of my (many) favorite things about this time of the year is getting my home all decorated for the holidays. I pause at the top of the staircase every single morning just to soak up the view.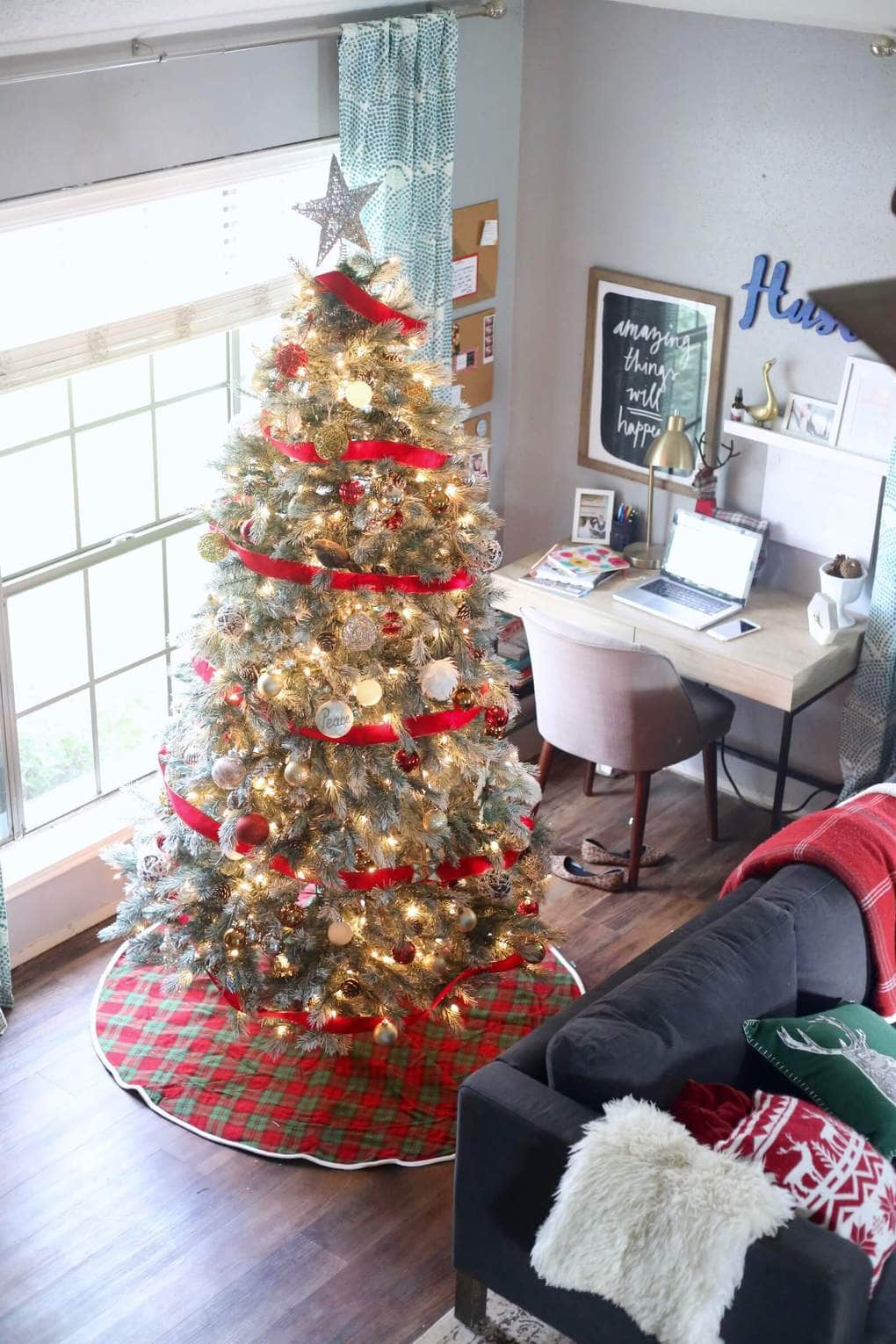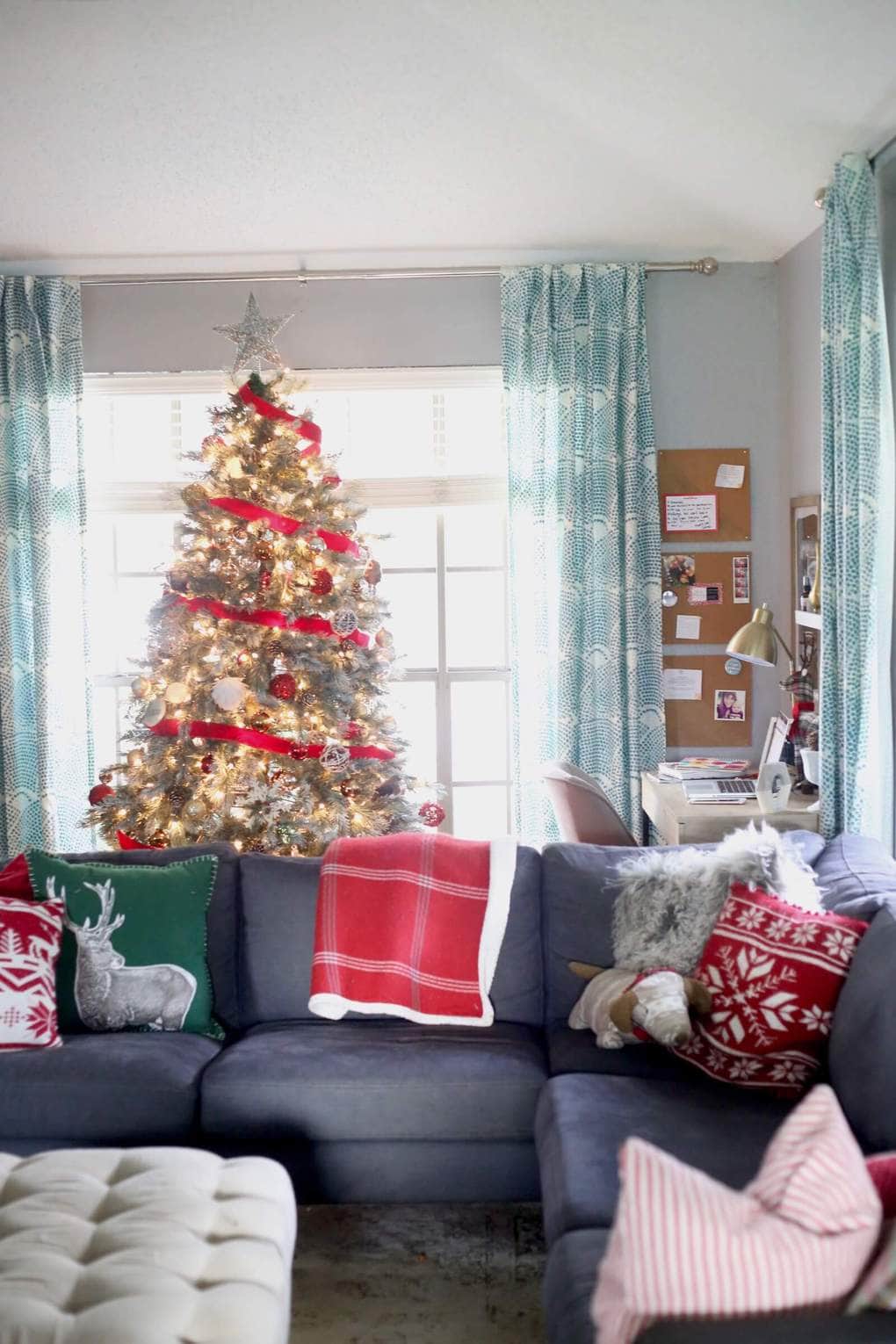 I always love sharing some photos of our home this time of the year – it's so fun to see it all dressed up for Christmas, and I love looking back through the years and seeing how our decorating style has evolved.
I'm a big traditionalist when it comes to Christmas – I'll never be one of those bloggers who has a new color scheme or theme every year for Christmas. There's something absolutely sacred about pulling out the same ornaments year after year. I remember as a child how important it was to me that the same ornaments and decorations got used every year, and as an adult it still fills my soul with joy to pull out the same beloved decorations and using them over and over. I even wrote a post about it last year! But, that doesn't mean our home looks the same every year! We always add a bit to our Christmas collection, and I try to mix up how I use the decorations each year so nothing feels stale.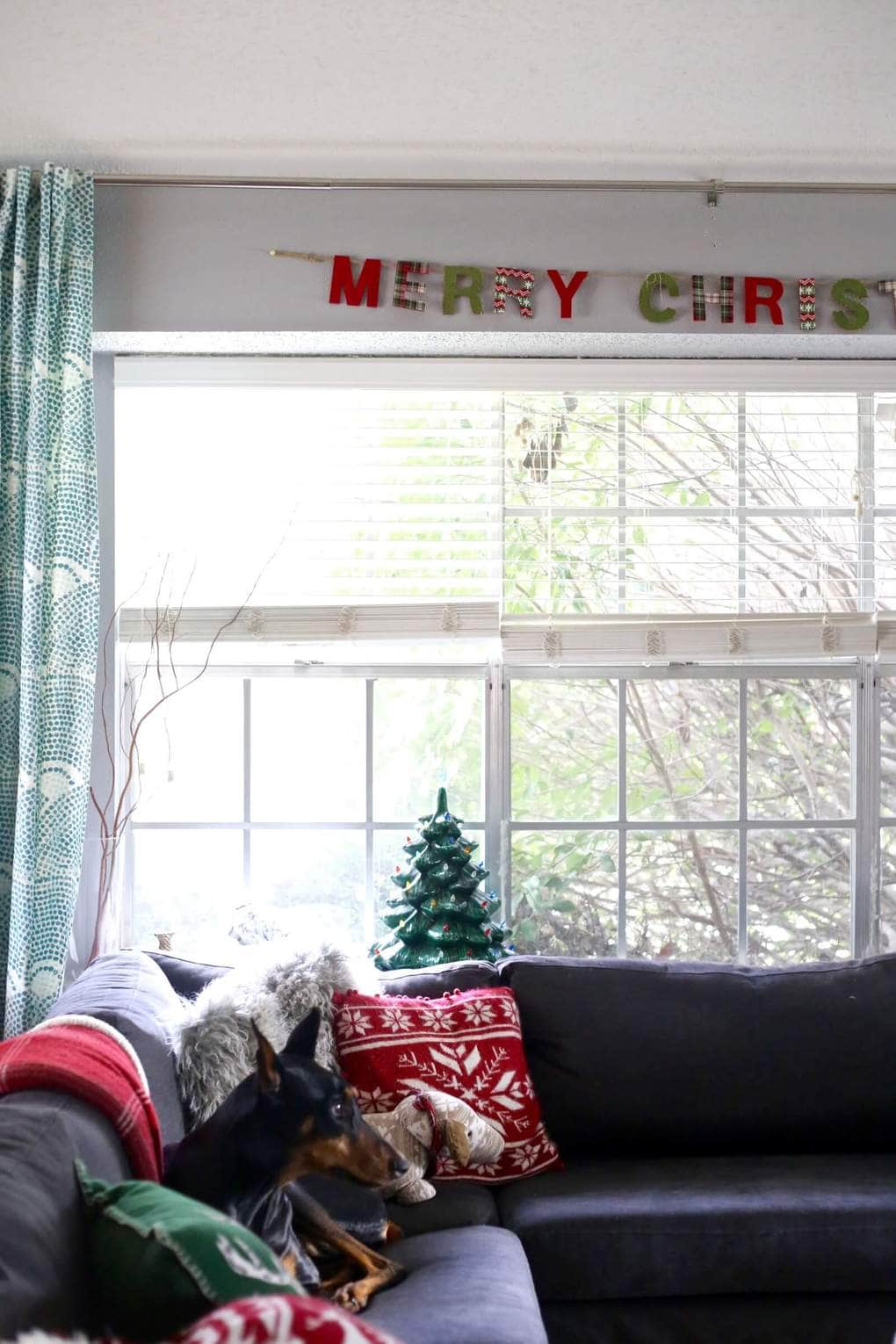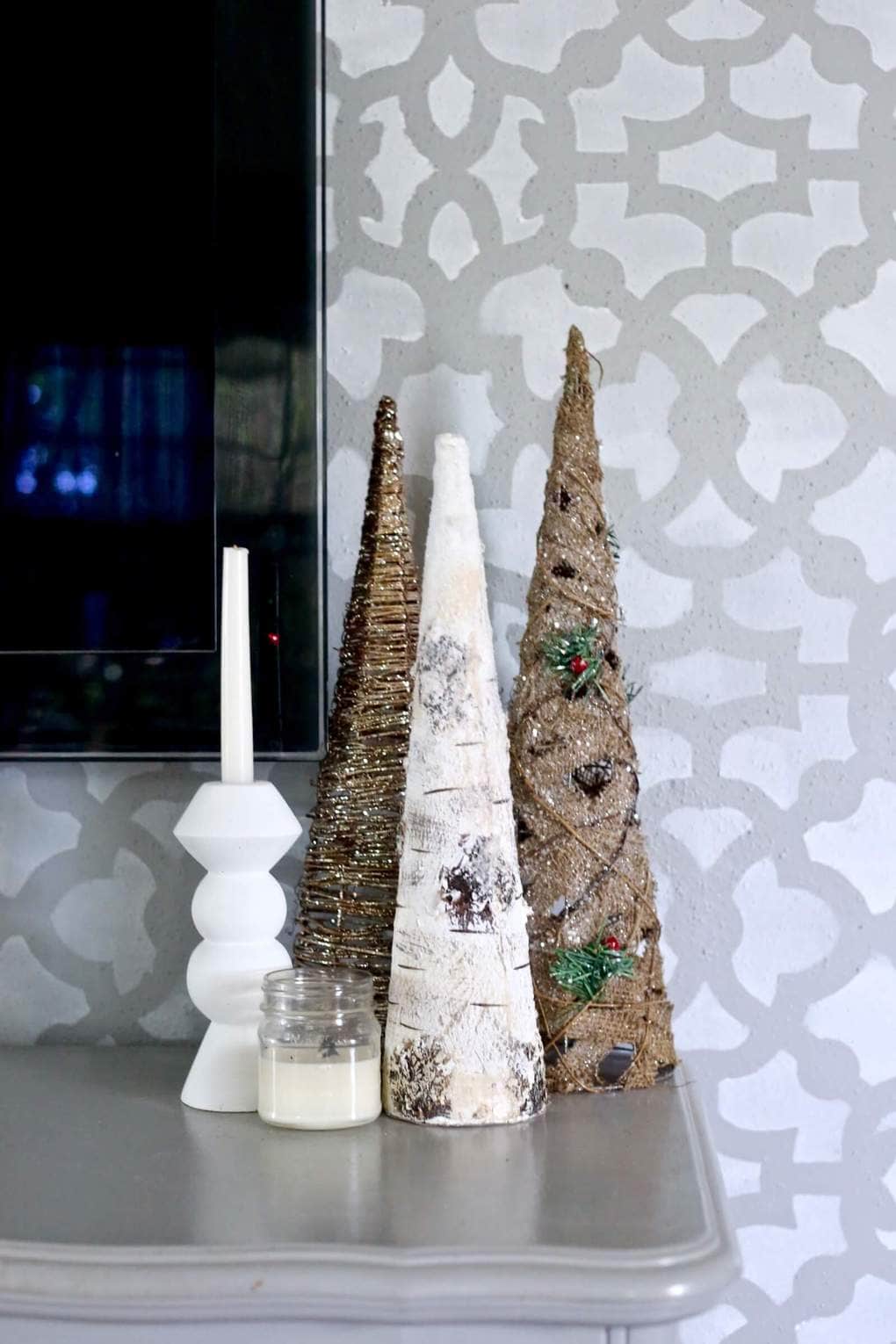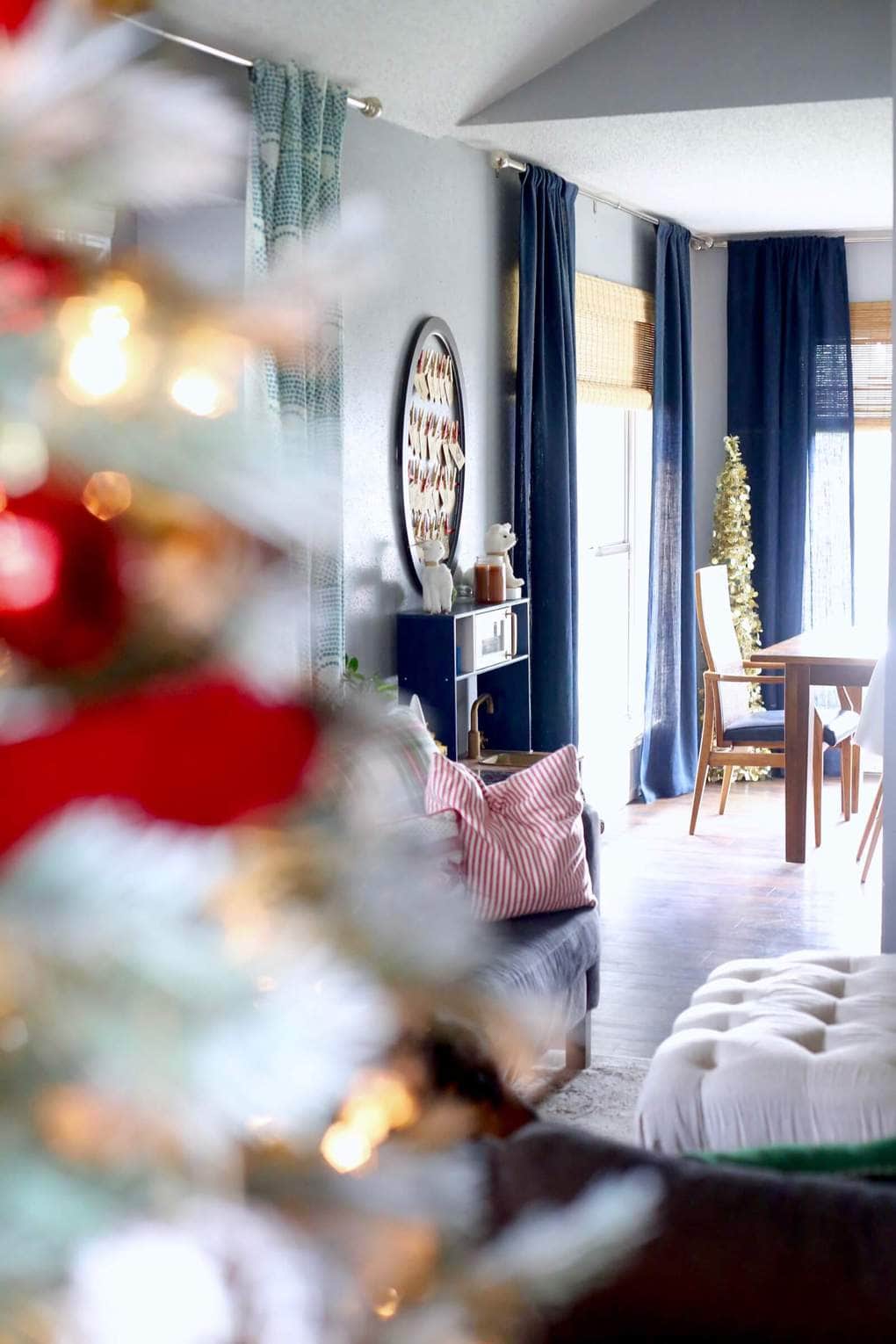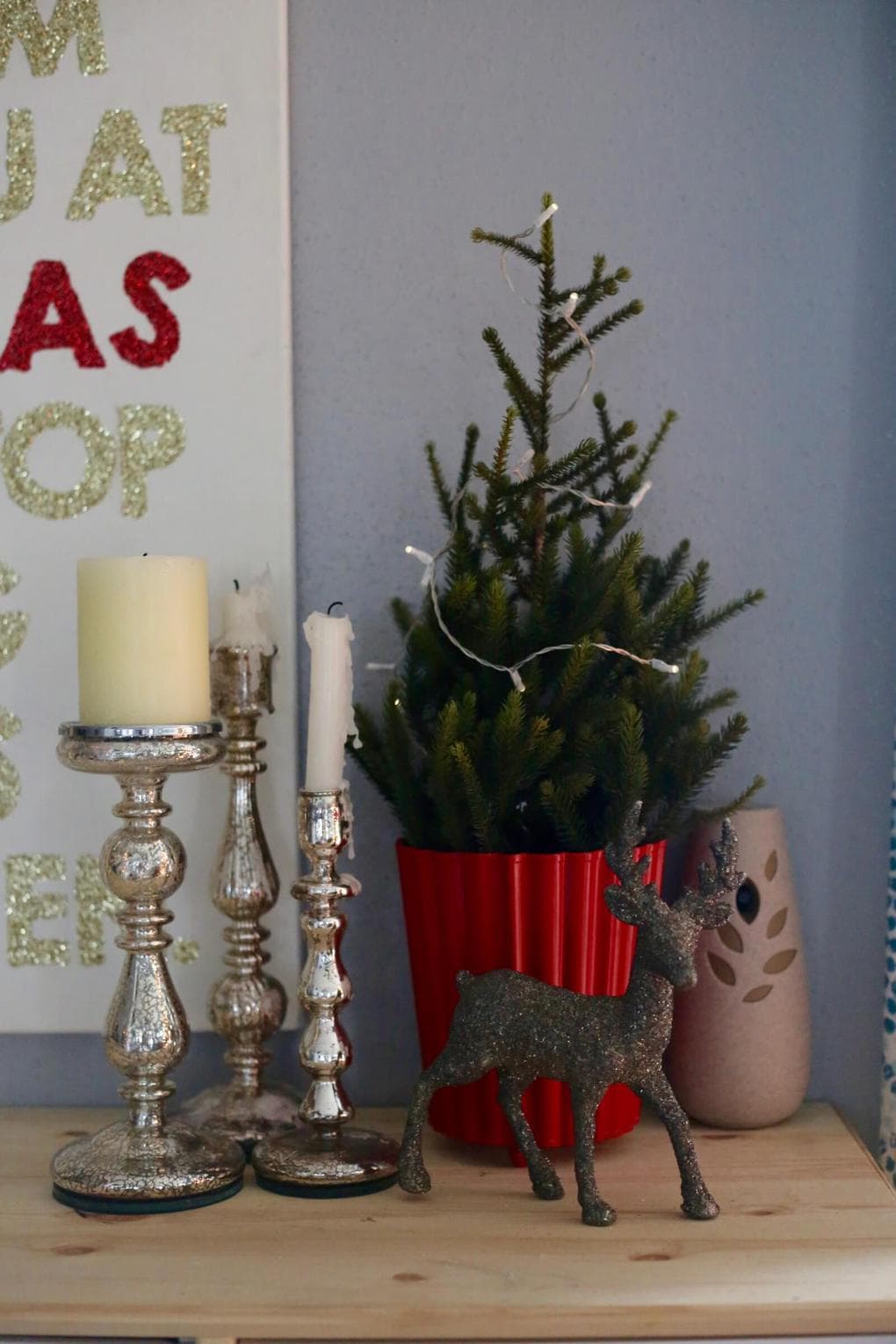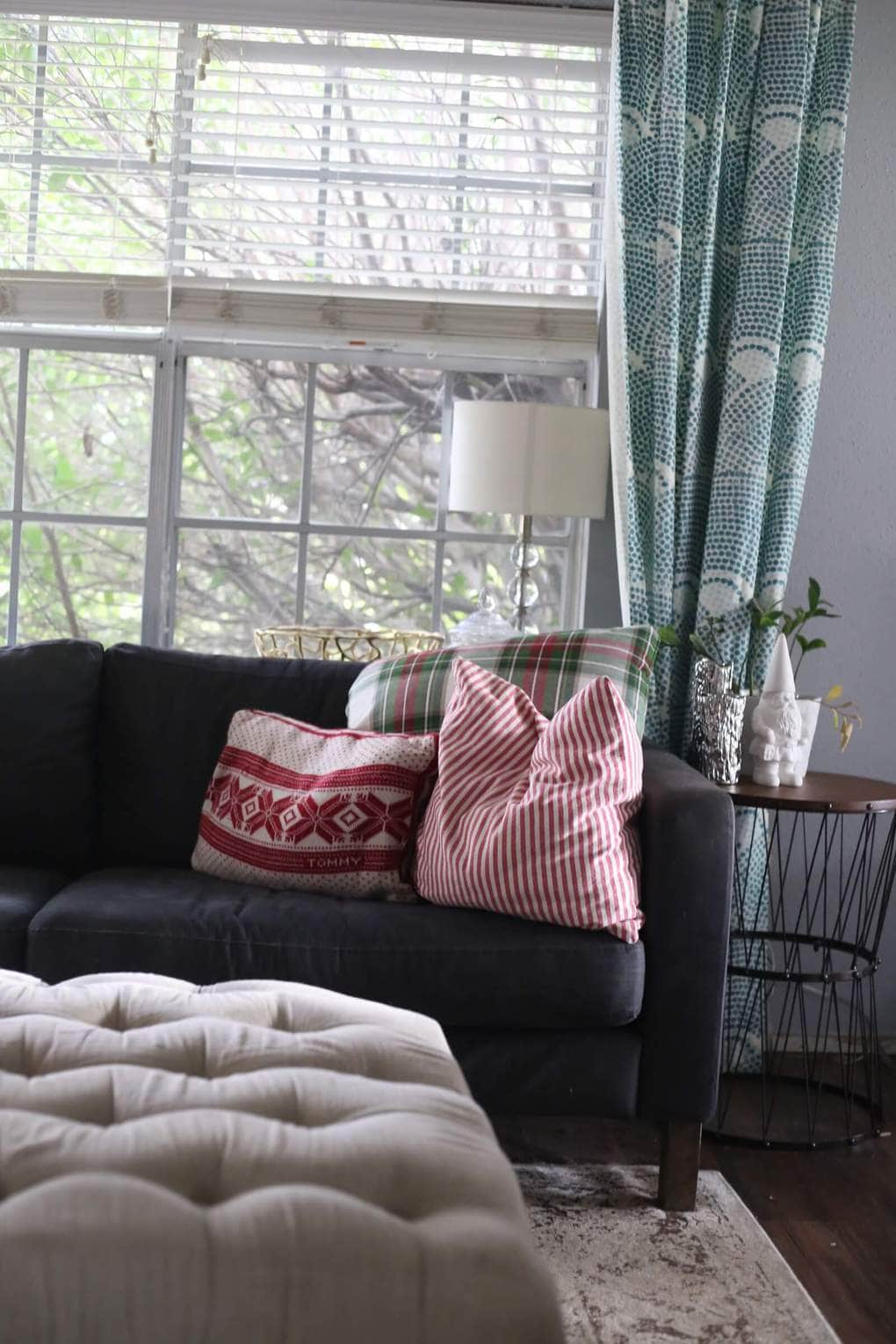 I call the general theme of our Christmas decor "rustic glam" – there are a lot of natural elements, pinecones, and plaid, but with a healthy dose of glitter and sparkle. We stick to the traditional red and green color scheme, with a nice mix of silver and gold in there too. All of our Christmas decor has a very specific feel to it, and I don't see it ever changing because it makes me way too happy.
I'm sorry, but blue and purple are just not Christmas colors.
(Don't kill me.)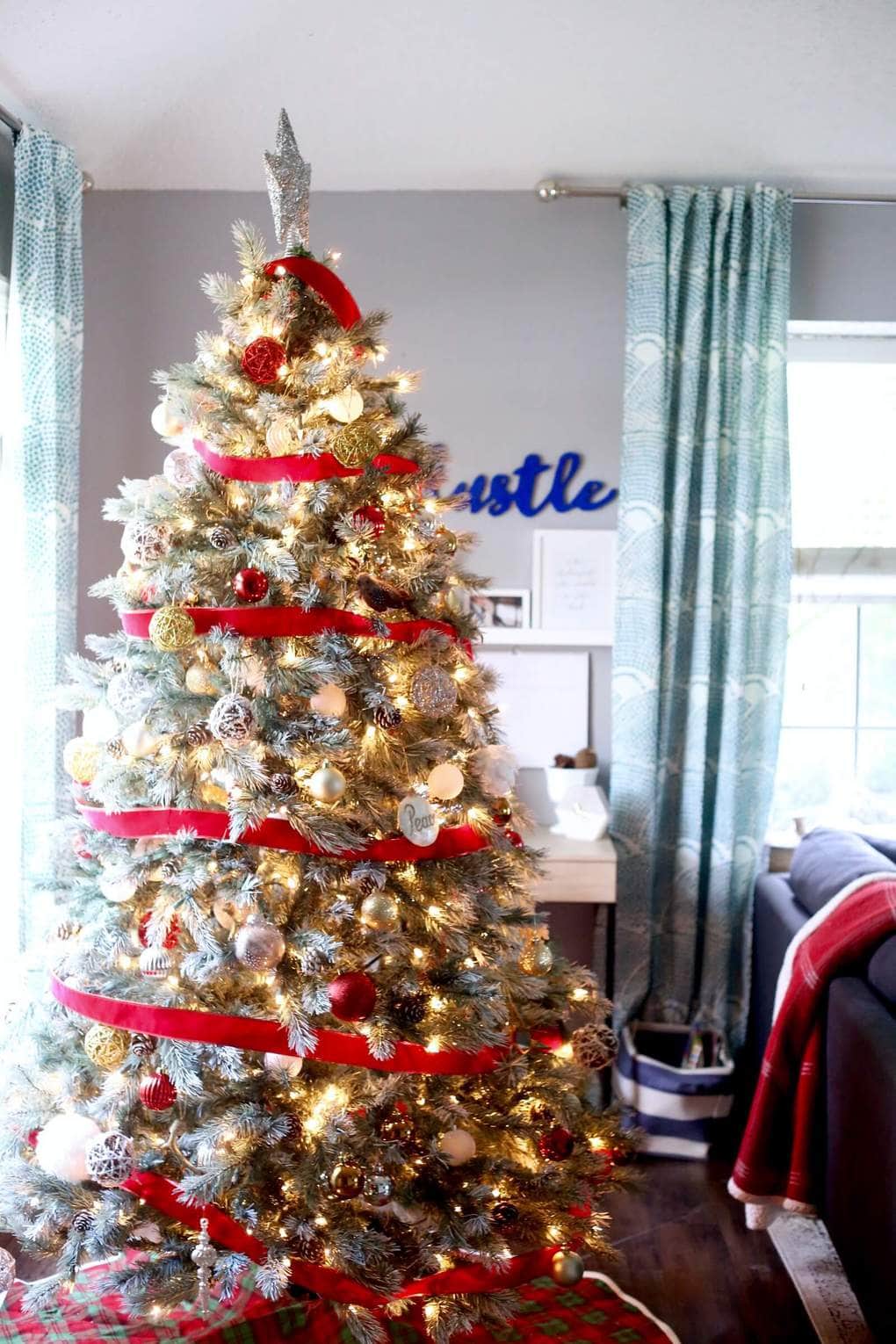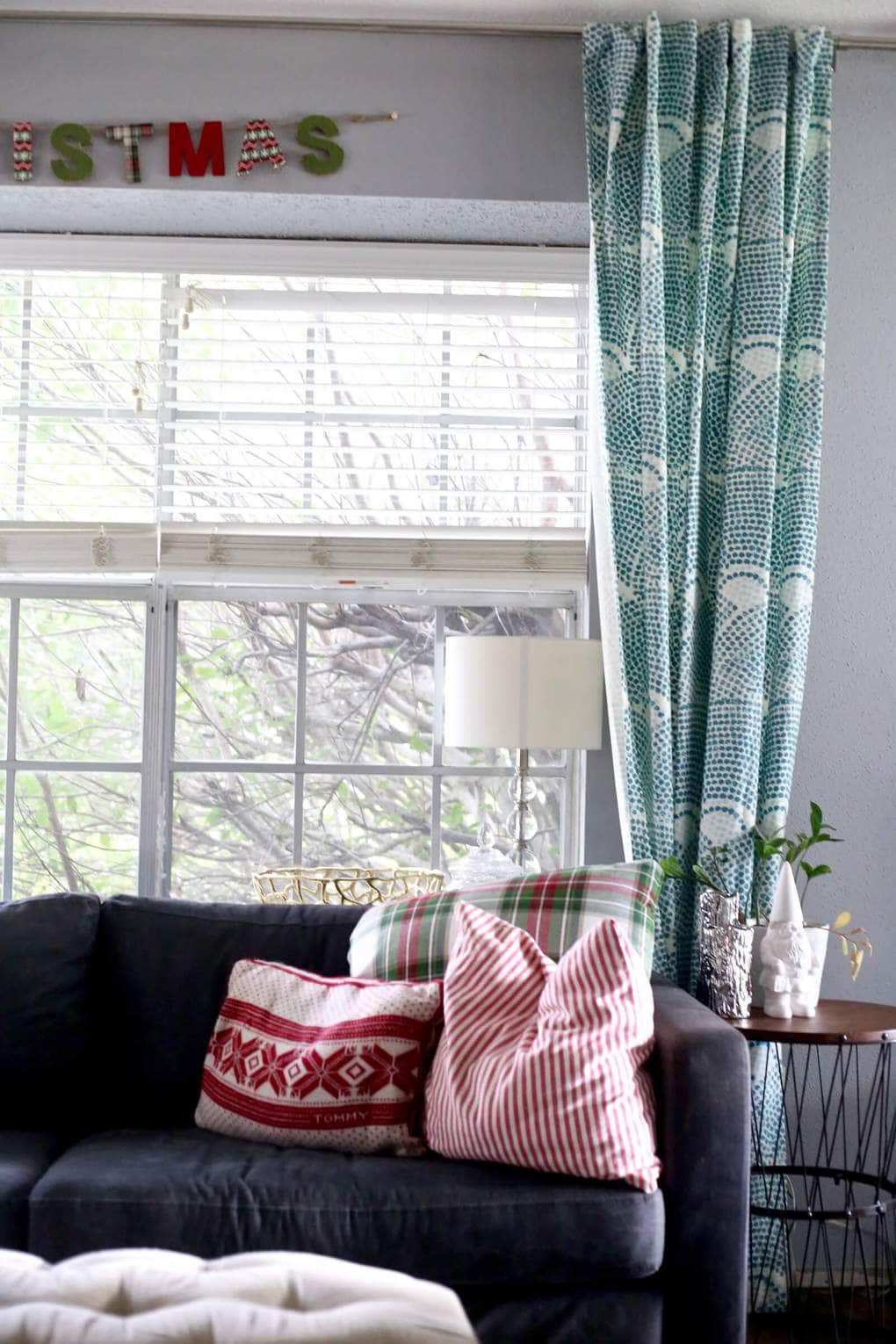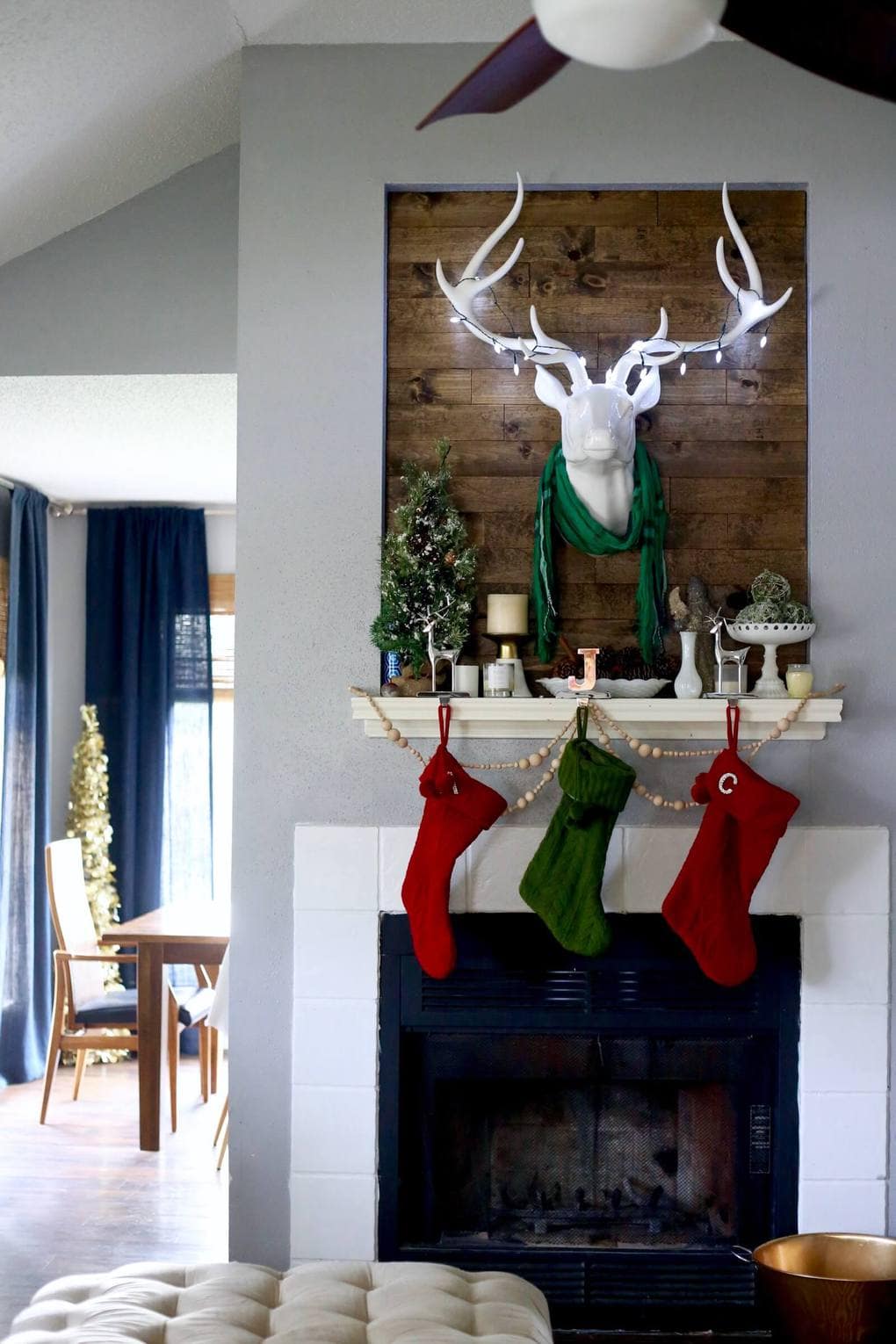 My favorite thing to decorate every year is the mantel. It doesn't ever change too much because nothing makes me smile more than our big deer all dolled up in a scarf and twinkly lights. He's the star of the show this time of year, and I wouldn't have it any other way.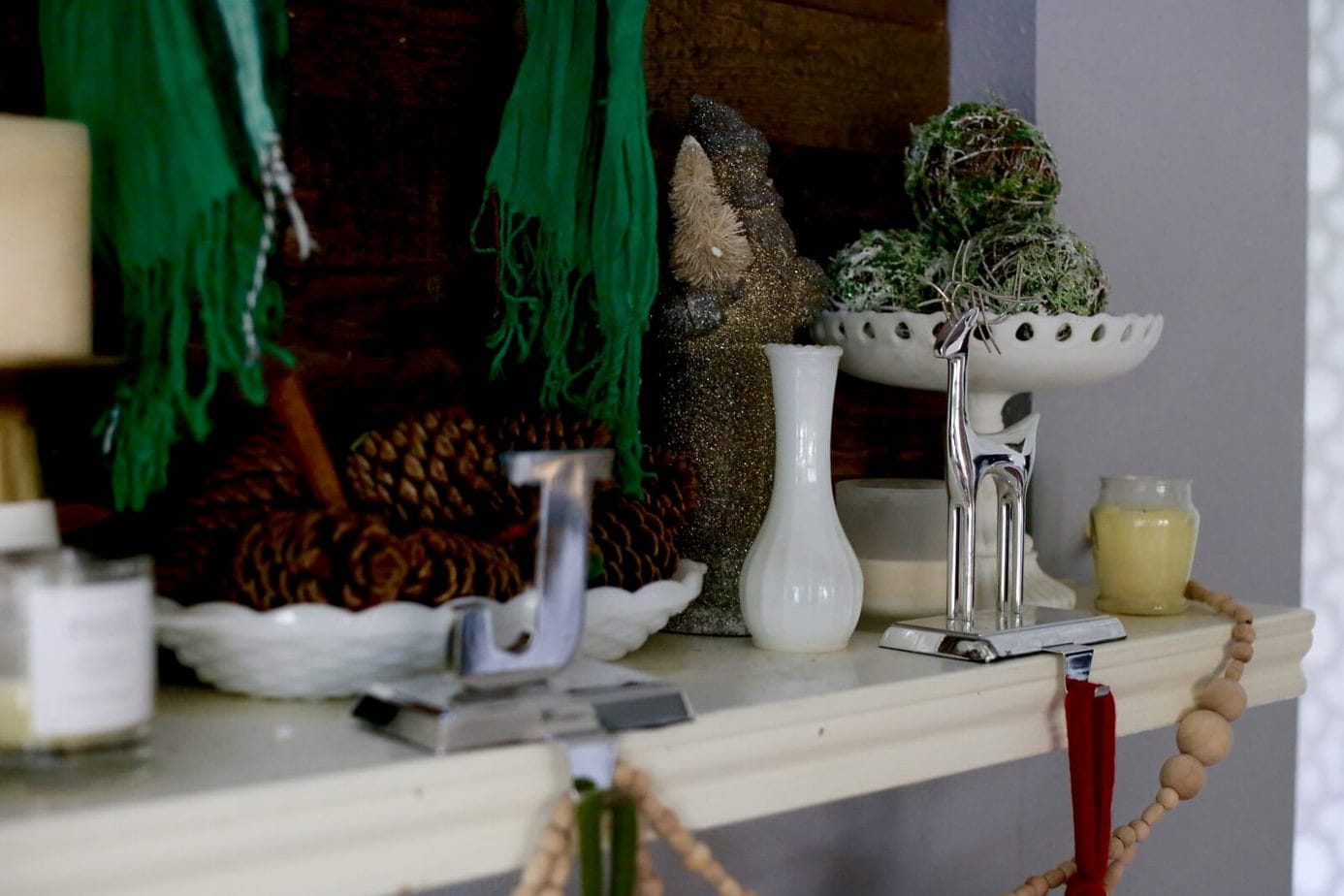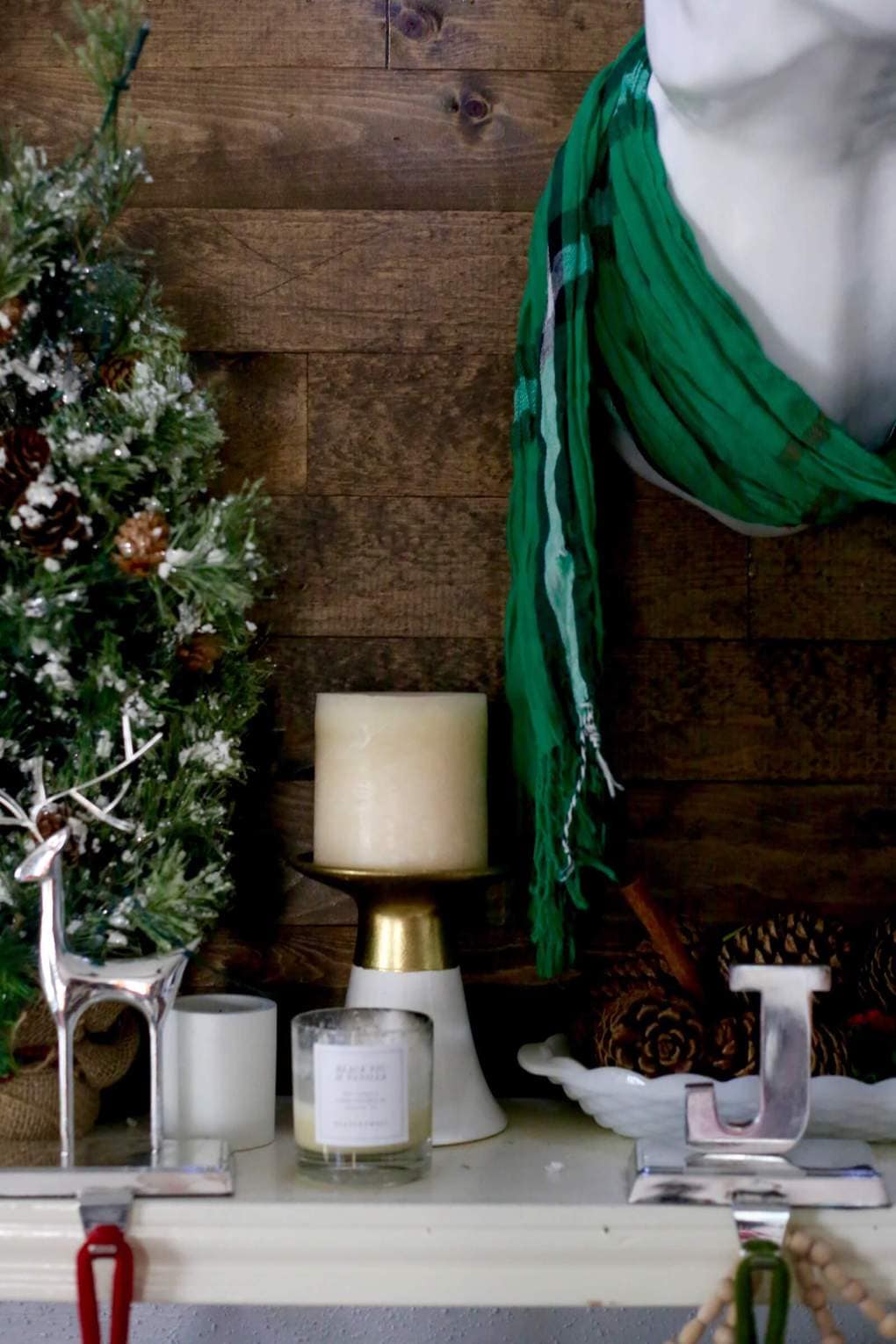 Although, come the end of December I really start to miss that scarf.
I should get another one, shouldn't I?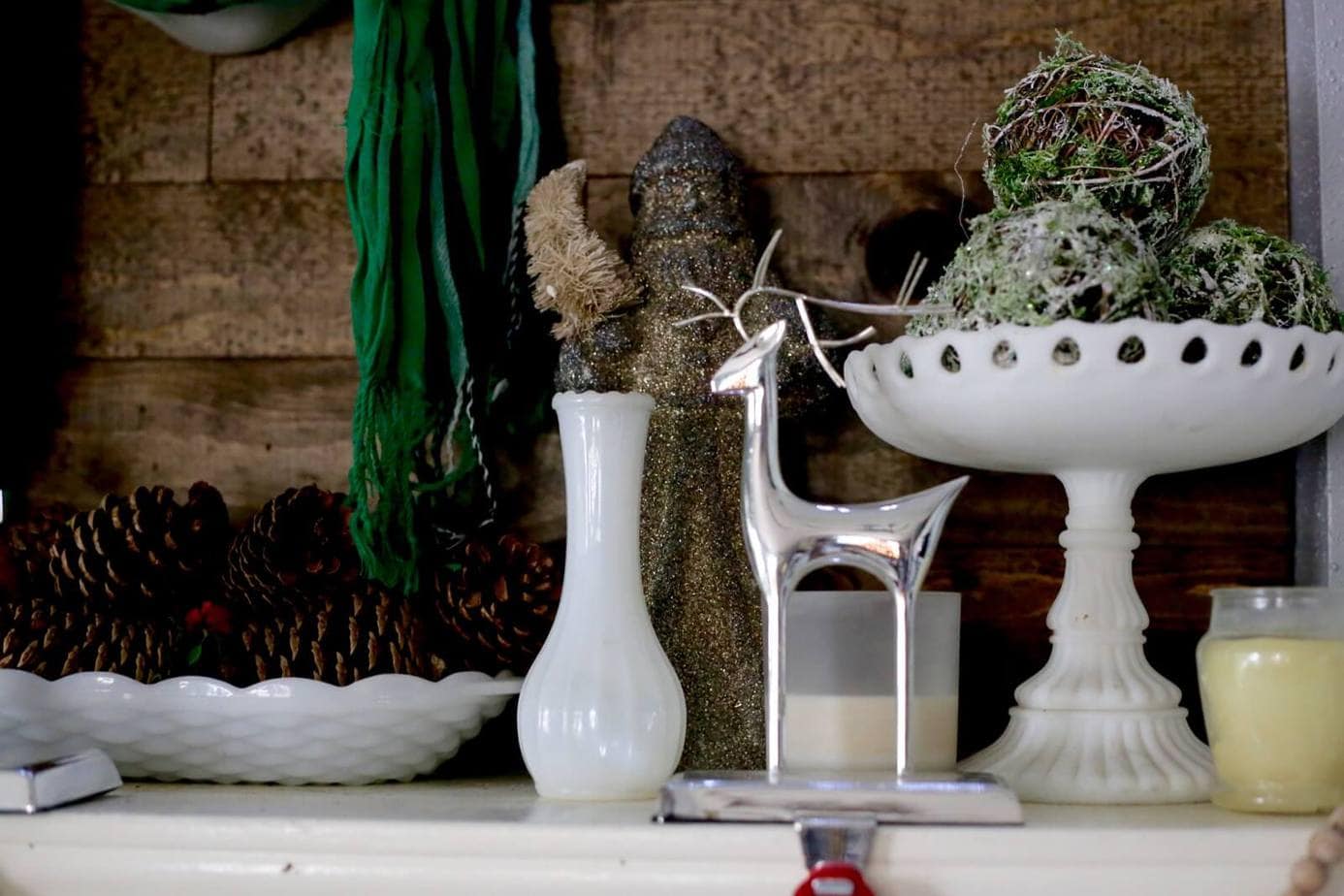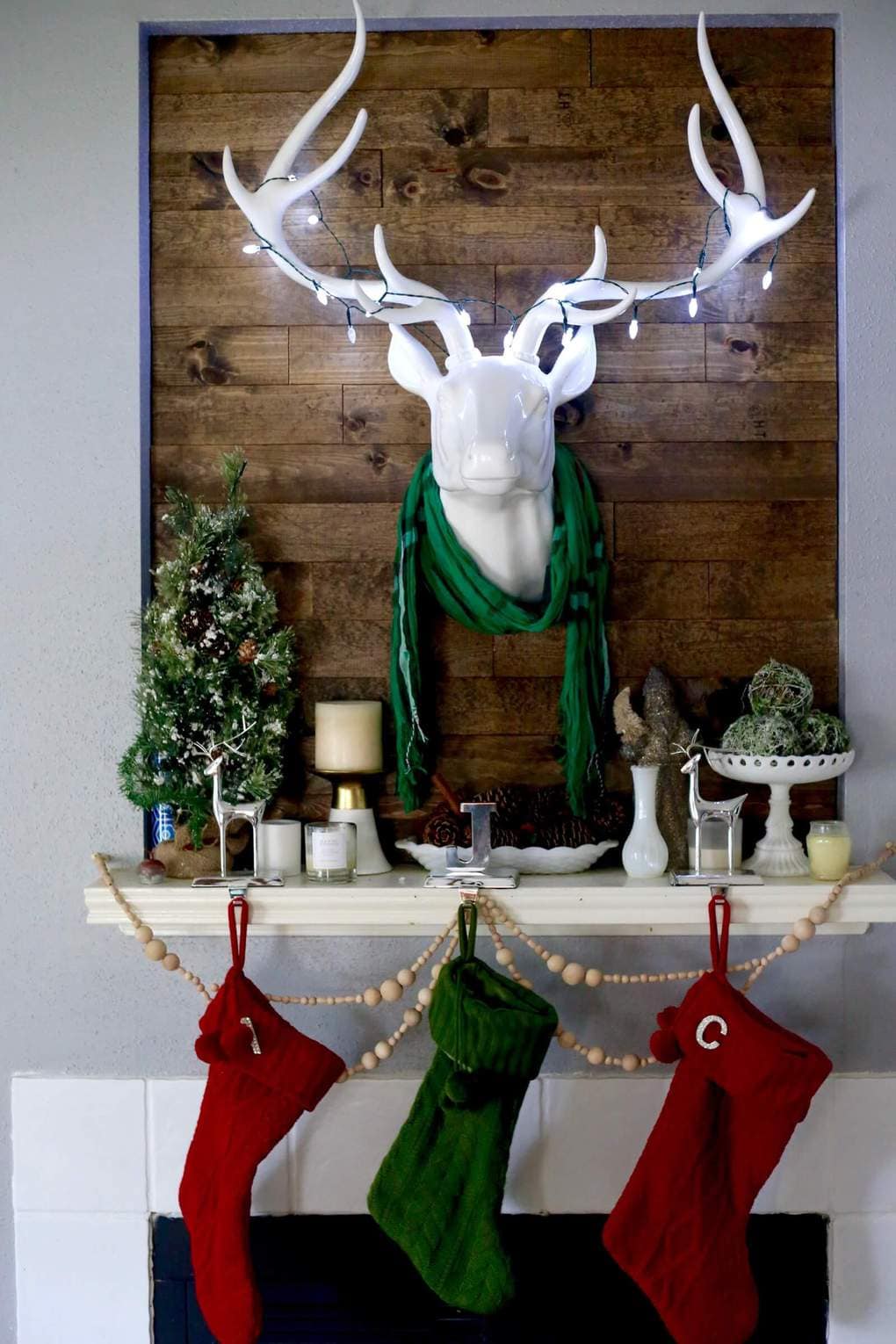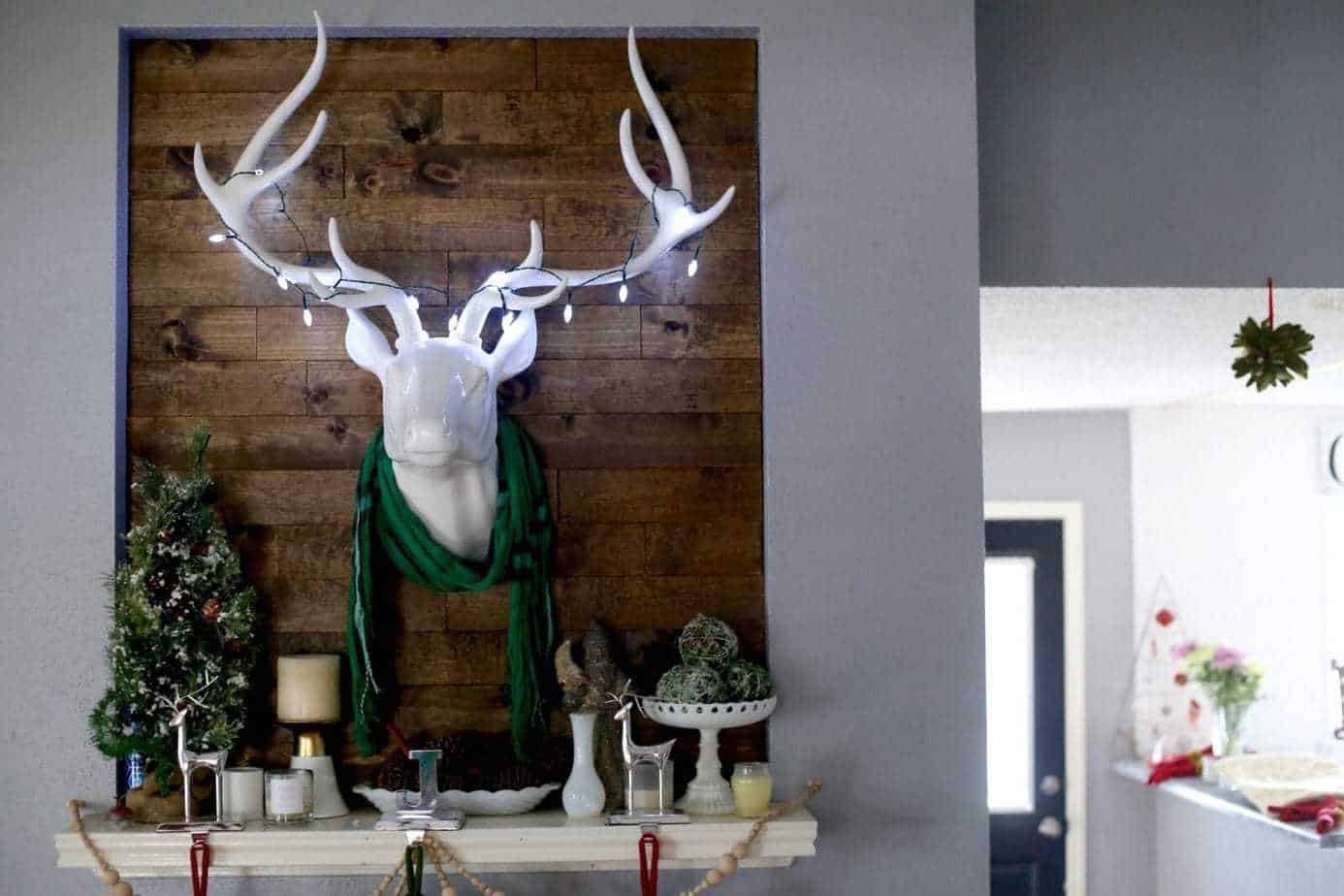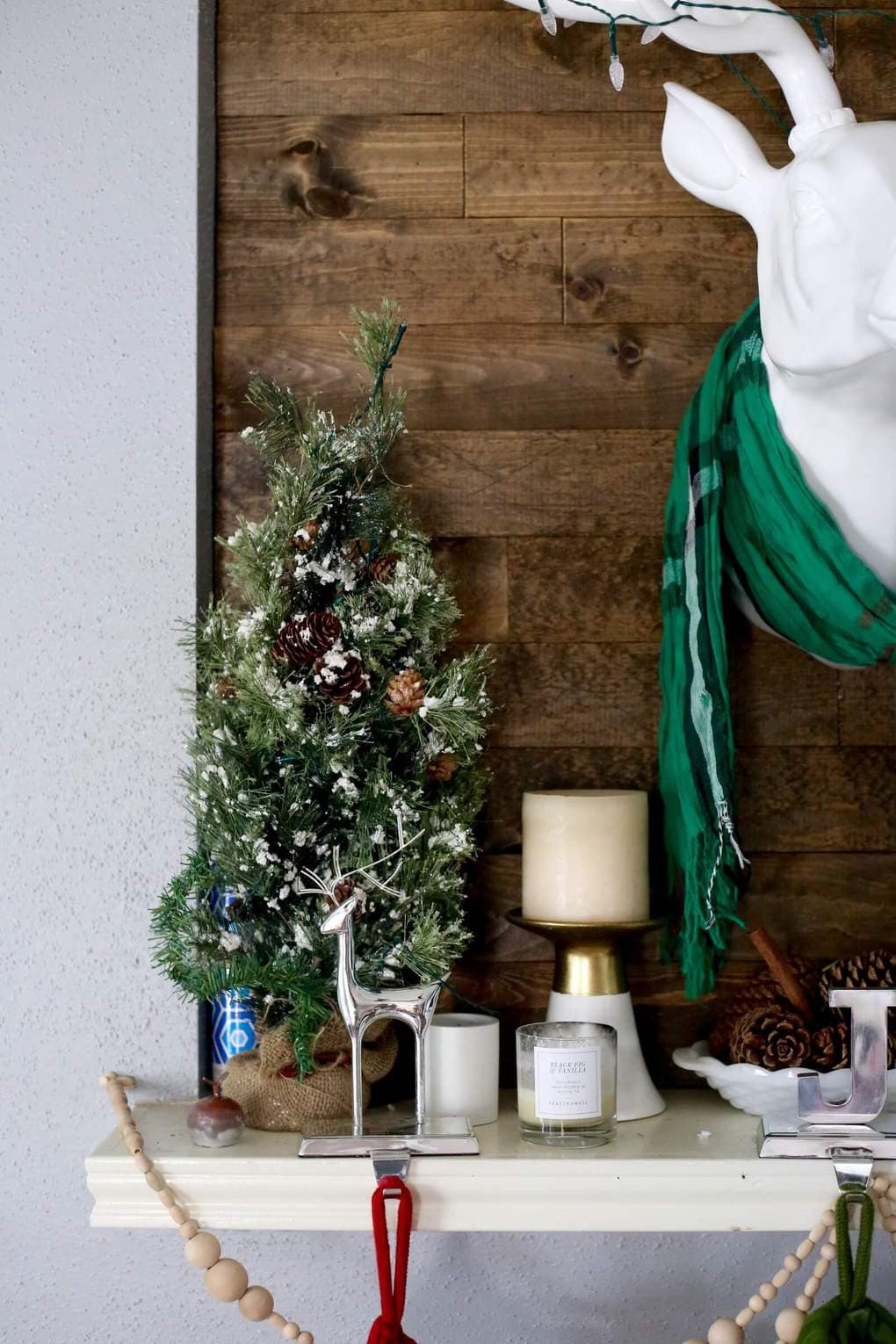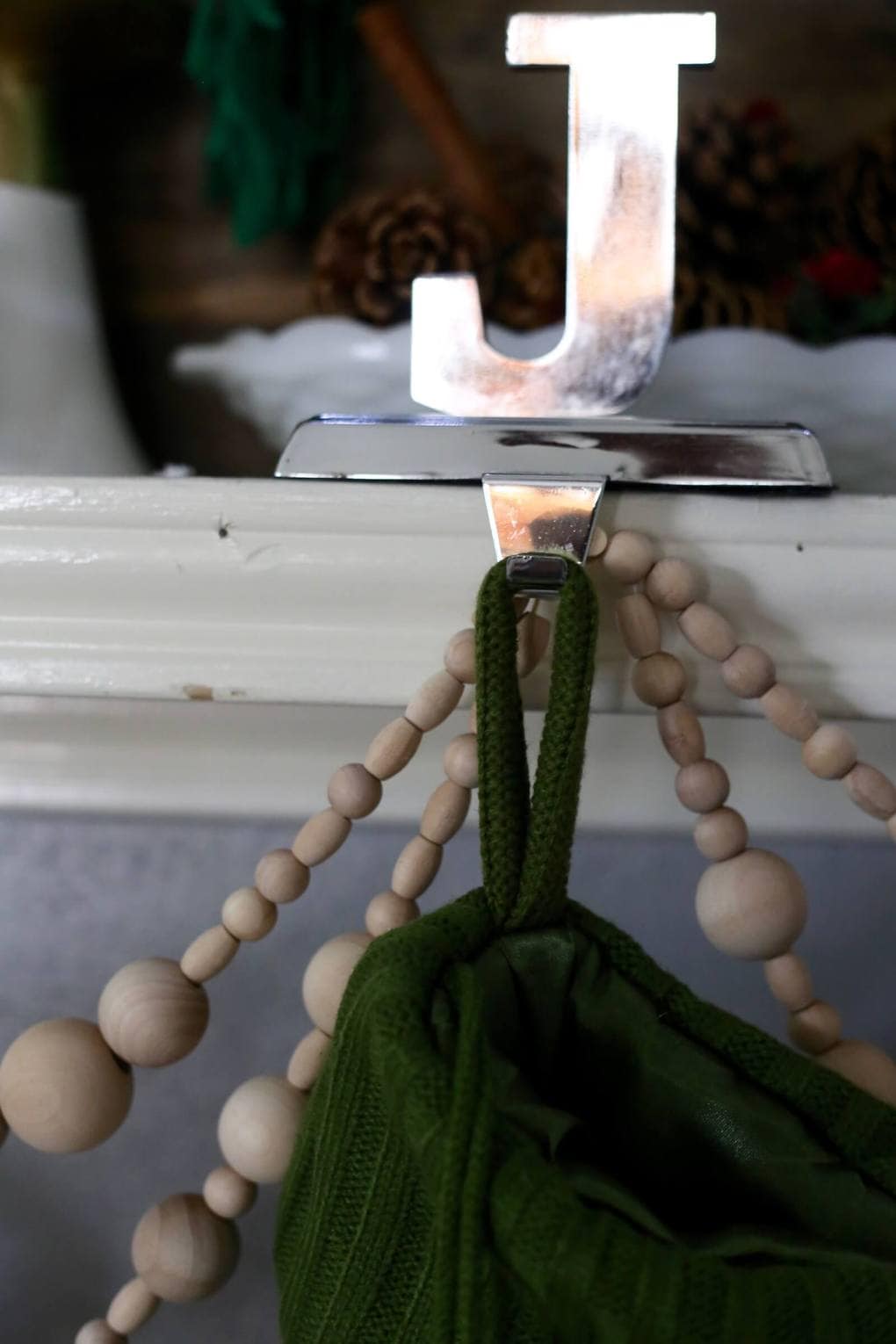 Oh, and let's address the elephant in the room lately. I've mentioned here and on Instagram a couple of times that we have multiple Christmas trees. We've gotten a lot of questions about it lately, so let's just lay this on the table:
We have five Christmas trees.
Yes, I said five.
FIVE.
(I know. We have a problem. We're looking into joining a support group.)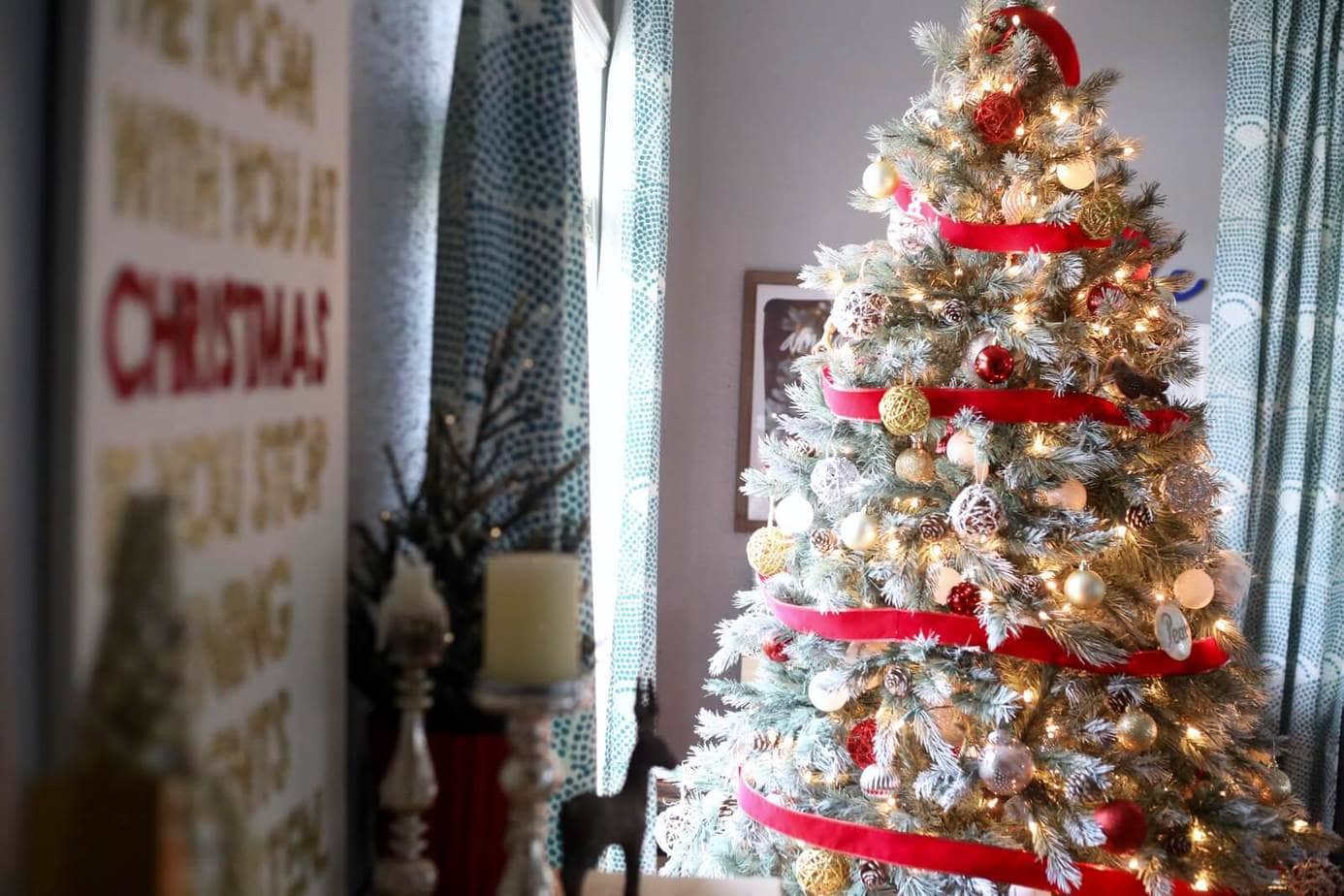 A lot of you are wondering where in the world all of our trees go, so let's do a little tour of the trees. First up, you've got the main tree in the living room. It's where we put the presents, it's the one that is our "official" tree. I have a post coming up soon with way more photos of it because we actually got all new ornaments for it this year (and I LOVE them), but here it is. It was the first major Christmas-related purchase we bought when we moved into this house five years ago, and it is still going strong. We'd like to upgrade to a taller tree at some point soon, but this little guy gets the job done for now.
Next up, we have the kitchen tree. It's a skinny little 6-footer and it is so perfect for this little corner of the room. It brings a lot of cheer to the kitchen, and it's a little more eclectic. This is the tree where all of our heirloom ornaments and homemade ones go.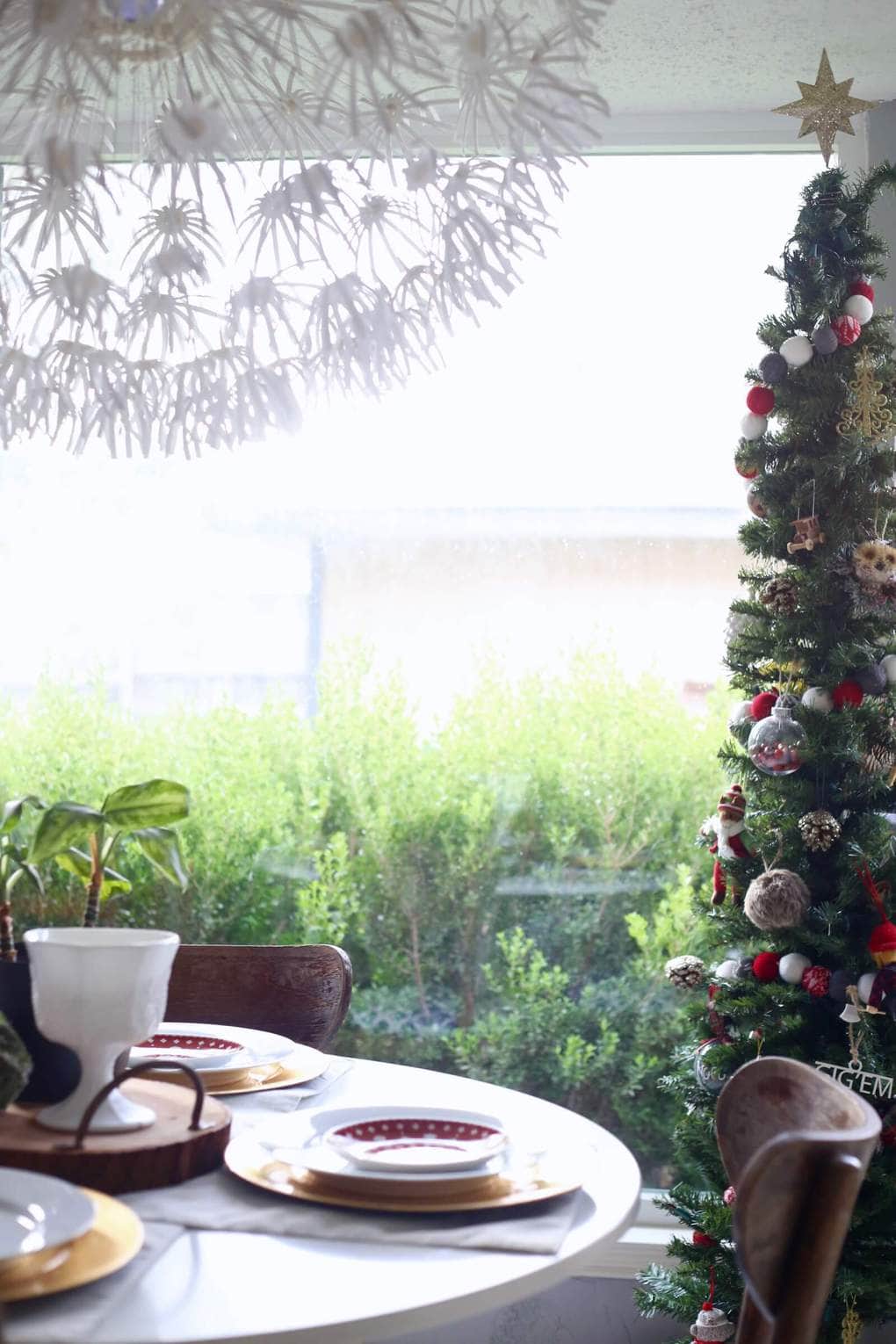 We've also collected a few quirky ones over the year that don't really fit in with the main tree but make us smile…like this little guy that looks exactly like Corey that we found at Target this year.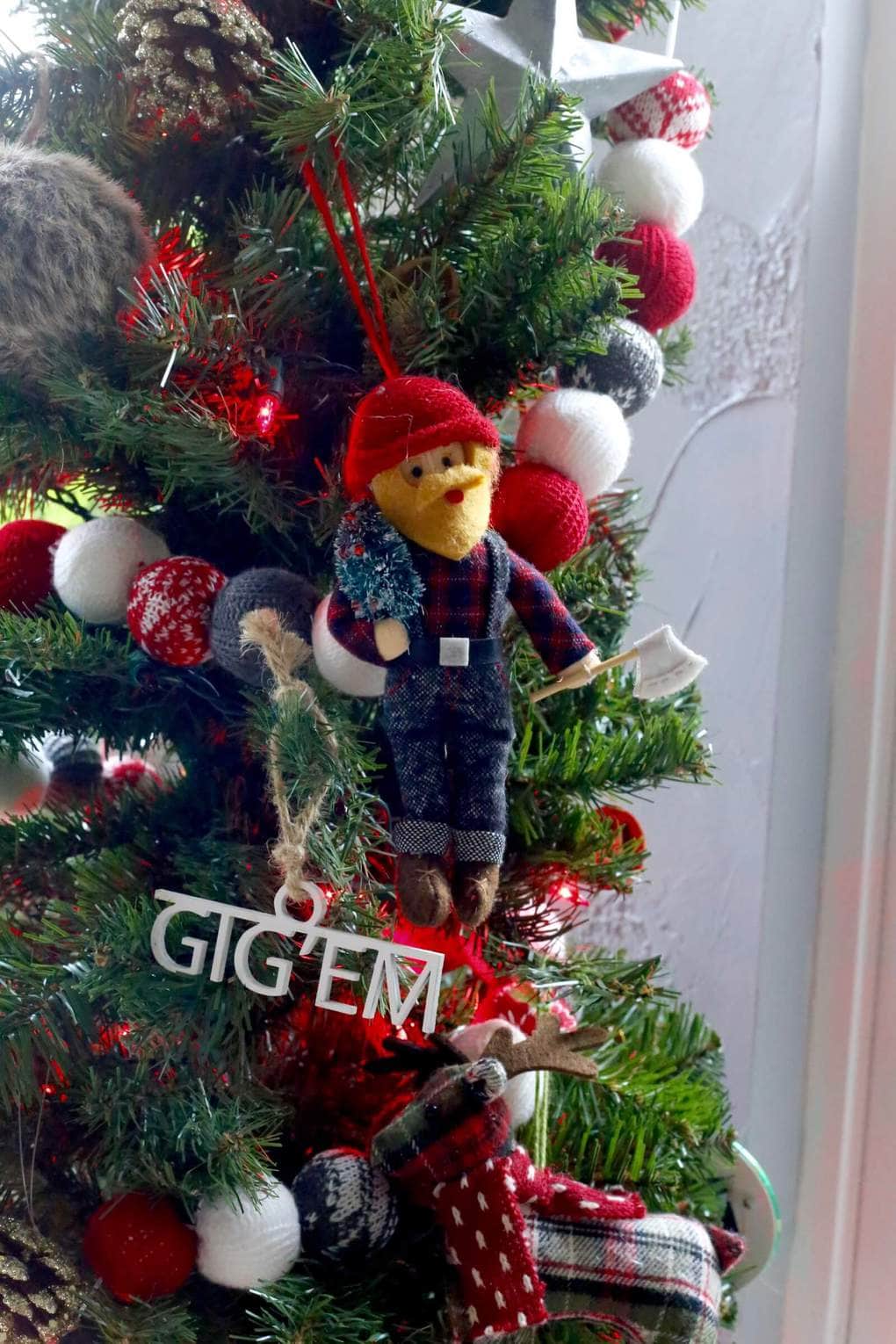 Our last tree downstairs is a new addition and it's one you've already seen – the media room tree. It's flocked, sparkly, silver, and gorgeous. This is the first year we're decorating in the media room at all, and I love it. It makes the room feel so cozy and special.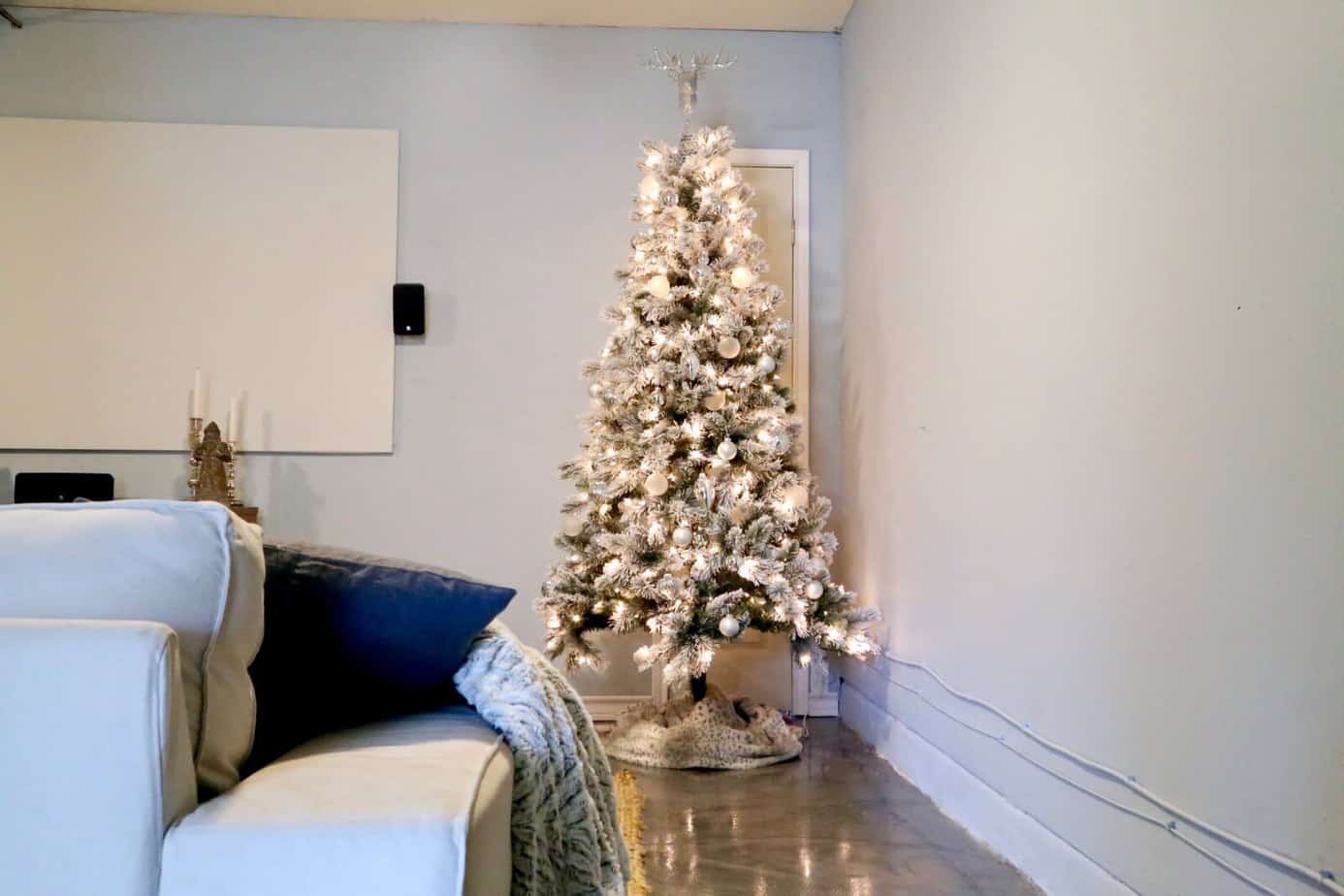 Next, we head upstairs. We don't really decorate in our bedroom yet (our collection of decorations isn't quite big enough yet to bring it upstairs…but I'm hoping next year it will be!) but we do have a little tree in our room – it's just enough to make the room feel a little more festive, and it always makes me smile when I wake up in the morning.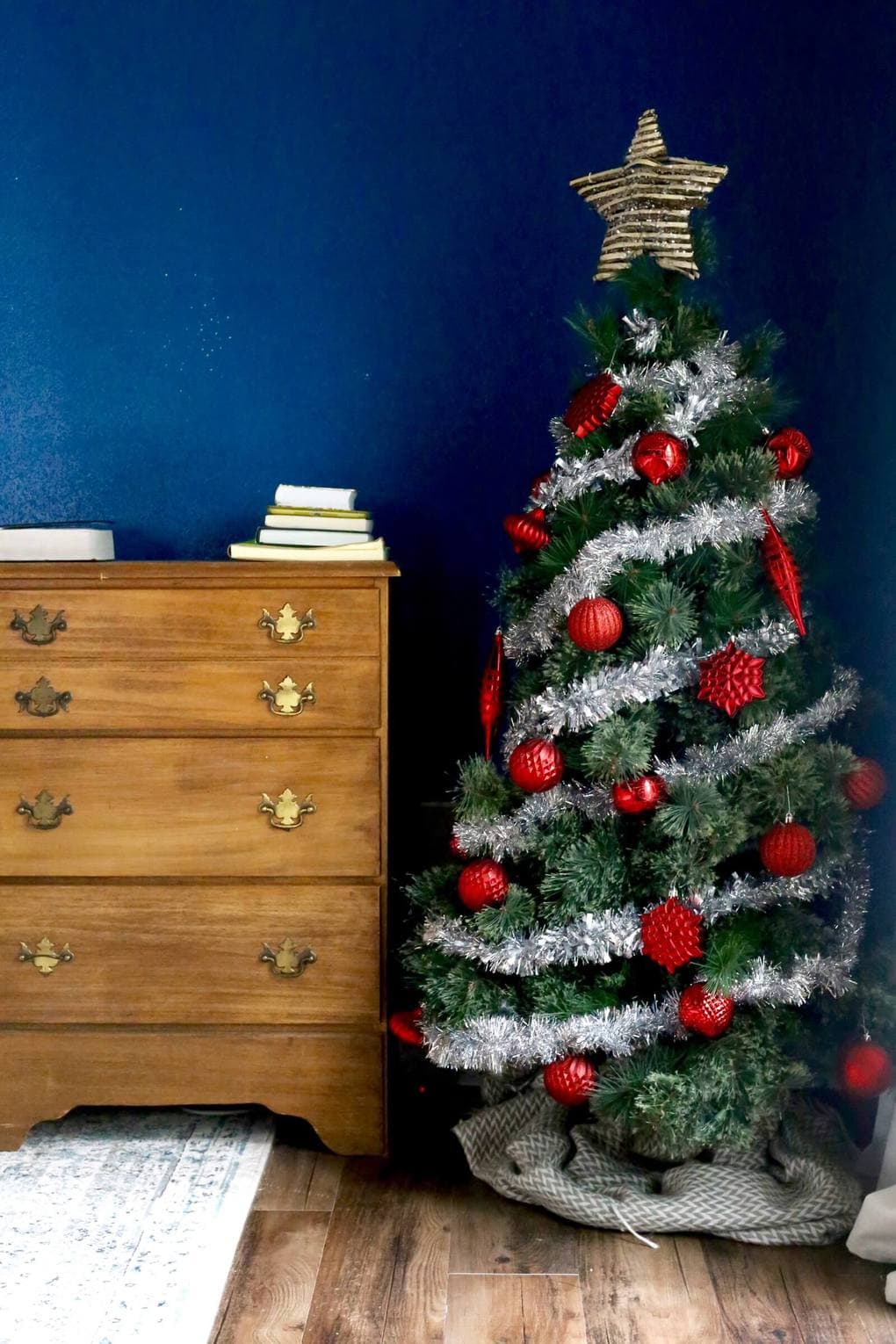 And finally, the last tree is also a new one this year – Jackson's tree! He was so dang excited to get decorating for the holidays this year that we couldn't pass up the chance to grab him a little tree for his bedroom. He had so much fun decorating it with me, and he uses it as a nightlight every night now. He told me the other day, "Mama, you can never take my tree out of my room."
We'll see about that.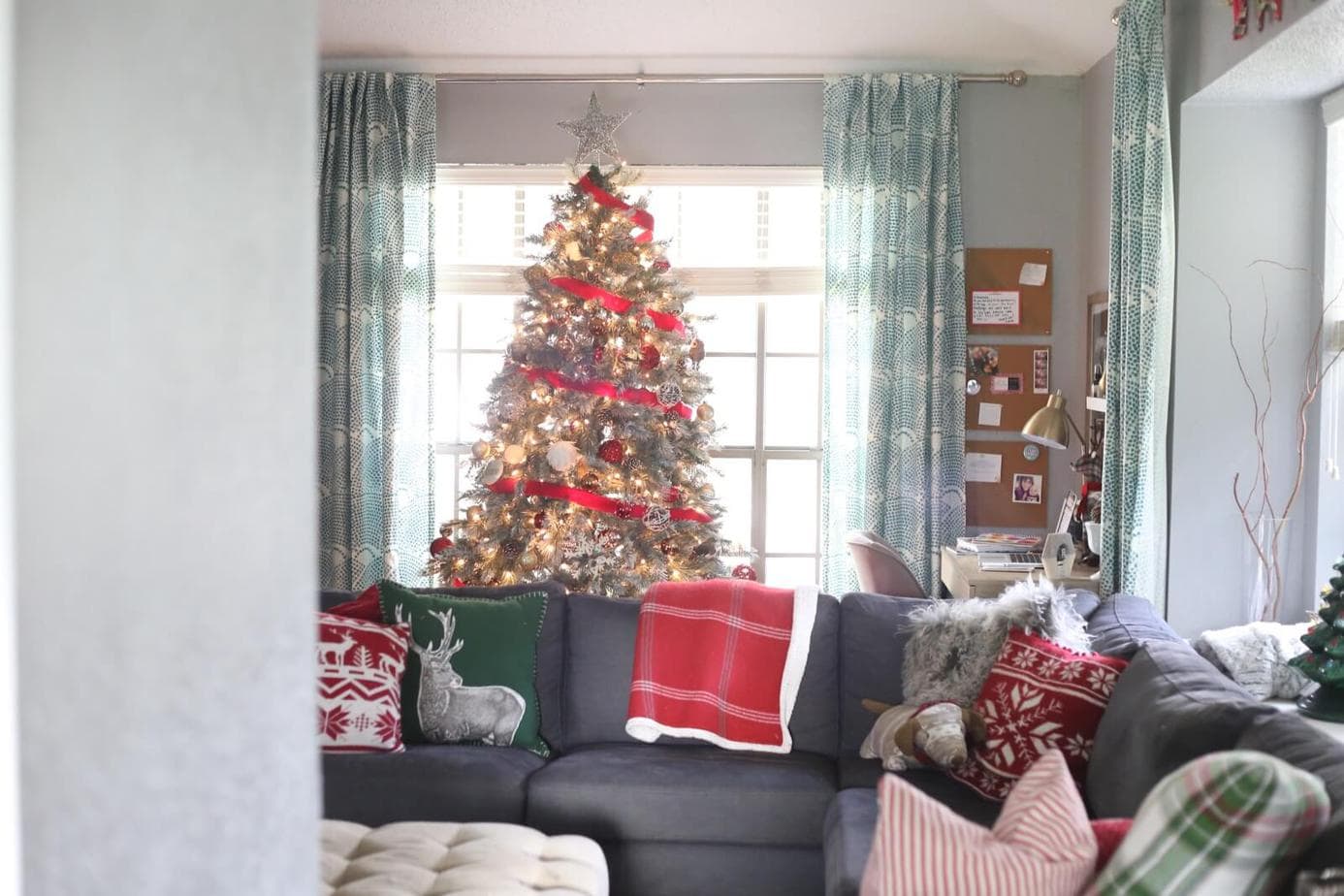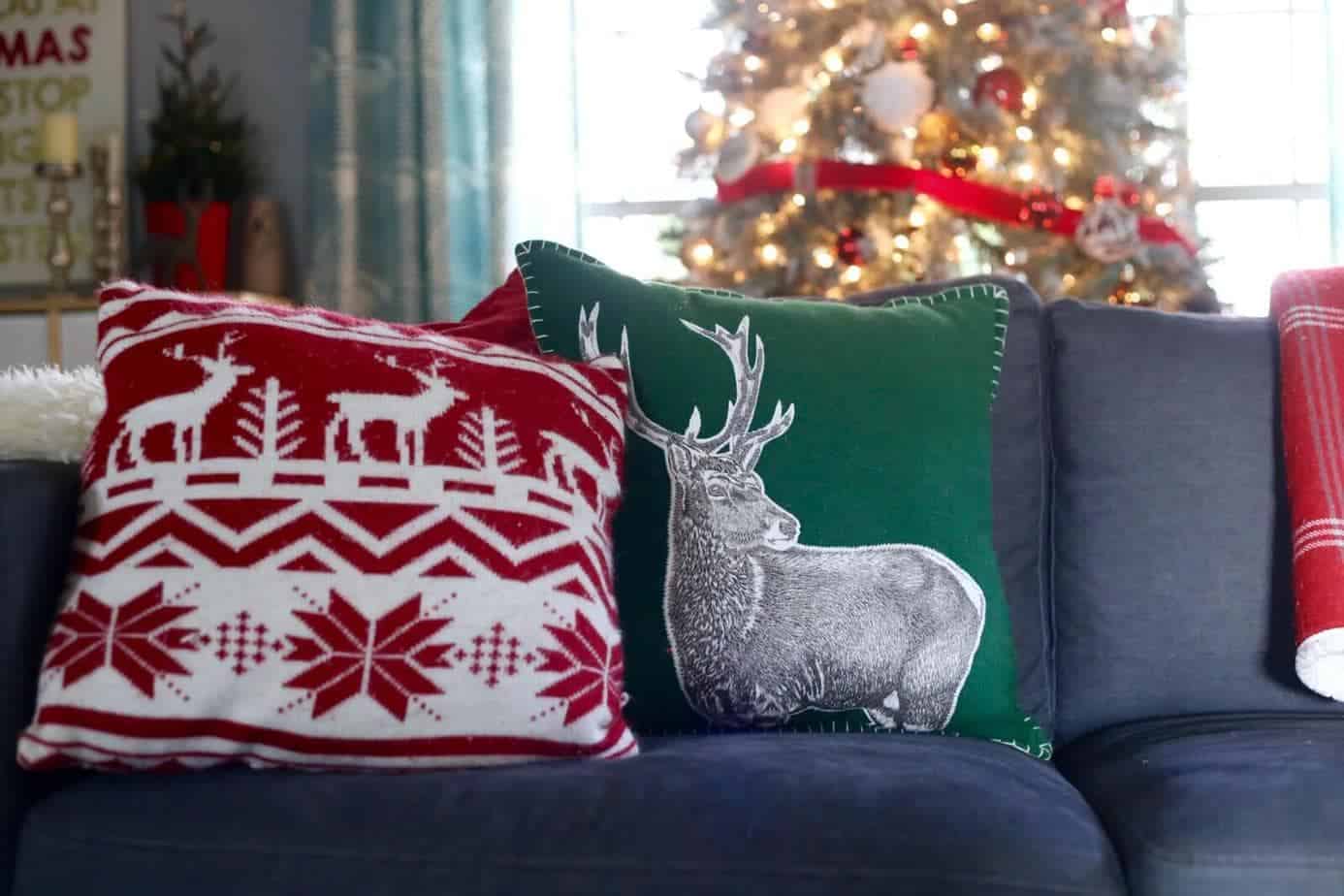 And that, my friends, is the story of our five Christmas trees. I don't see us adding any more to the collection of trees, but I definitely would like to expand our decorations to the bedrooms at some point in the future!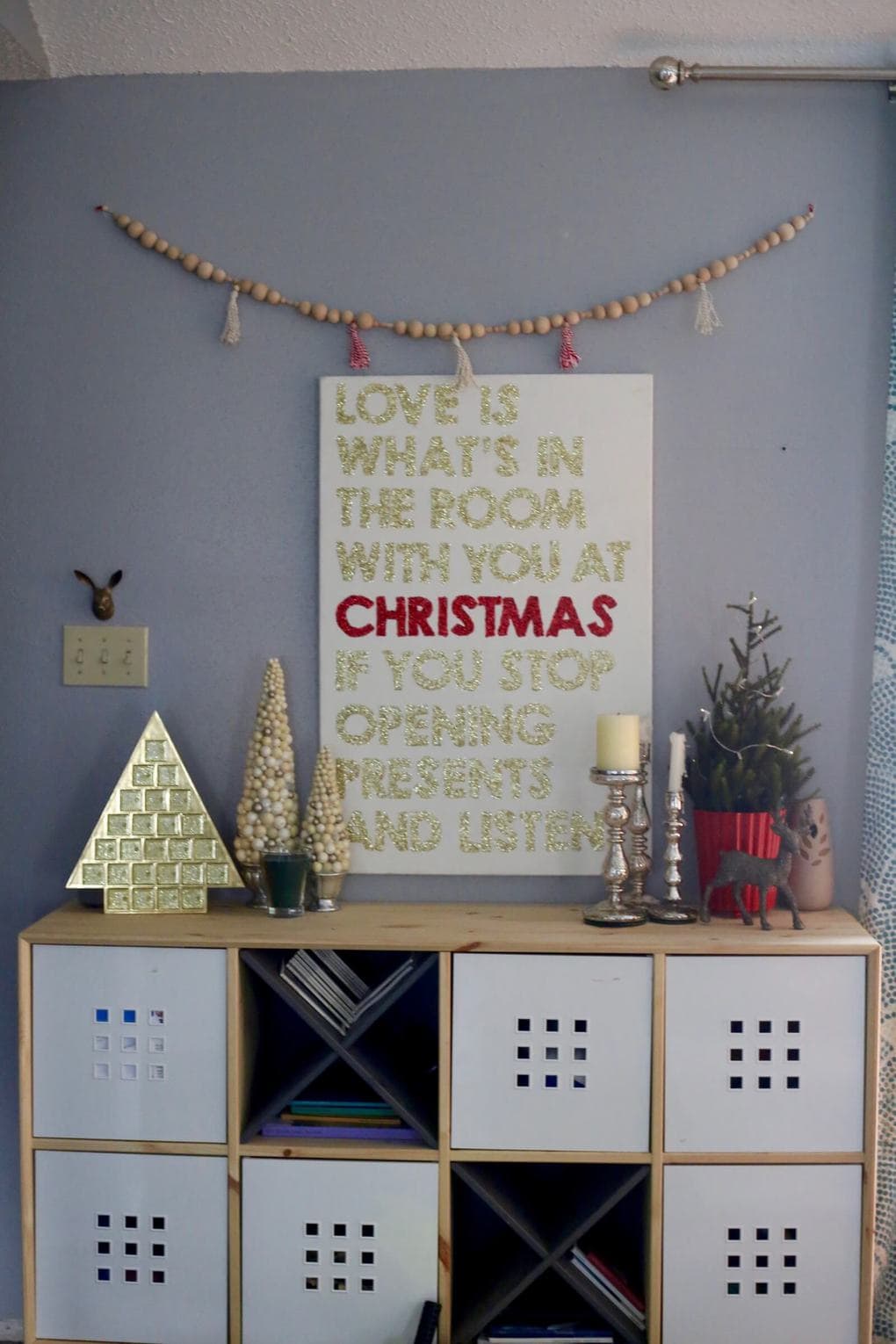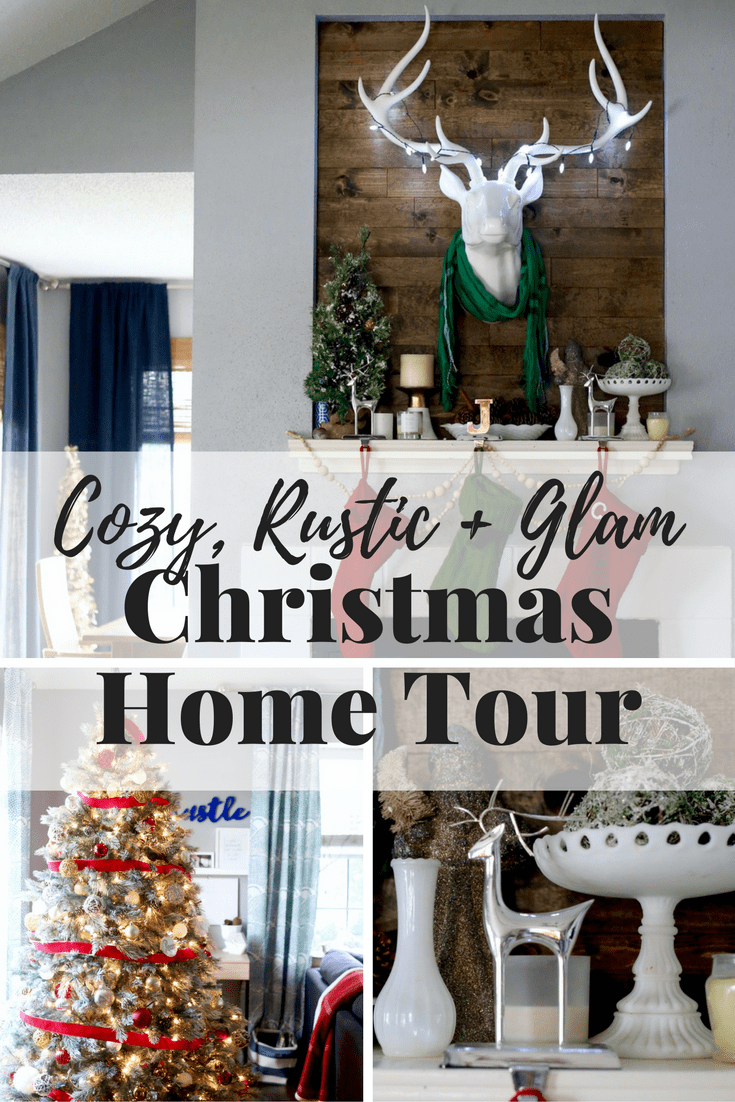 Okay, I have way more photos to show you of our home all decked out for Christmas, but I've babbled on about it for about 1,000 words now so it's probably time to wrap this post up – I promise I'll be back next week with part two!
How many Christmas trees do you have?
(Just one? Like normal people?)