Today, I want to tell you a little story about some crazy dog people.
Once upon a time, there was a young couple who was very much in love.
They had two wonderful dogs named Ranger and Cullen.
They were a wonderfully happy little family. But they were missing something – they wanted to add one more family member. And not one of the human variety (not yet, at least). Amanda wanted a sweet little kitten – she had one when she was growing up and has always loved cats. Corey wanted a third dog, because he had never had a cat before and he thought the first two dogs would love to have another one to play with.
Amanda did not want another dog. She swore up and down to Corey that they would never ever have a third dog – they were getting a cat and that was the end of the story.
Well…
Last Sunday, the couple was out and about running errands. They happened to drive past Petsmart and see that there was an adoption event going on, as there are most weekends. They loved to visit the dogs and play with them at these adoption events, so they decided to stop in, with Amanda throwing in a request to stop and look at the cats as well.
As they walked up to the store, they realized that all of the dogs in the cages that day were actually puppies – a rare occurrence at these events. As soon as they approached the cages with the puppies, Amanda honed in on a tiny little black and tan puppy sleeping peacefully on the ground. After checking the paper attached to her cage, Amanda learned that it was a purebred Doberman Pinscher – her dream dog. She immediately plopped down on the ground to give the puppy some love, and within about half a second fell completely head over heels for this tiny little malnourished dog.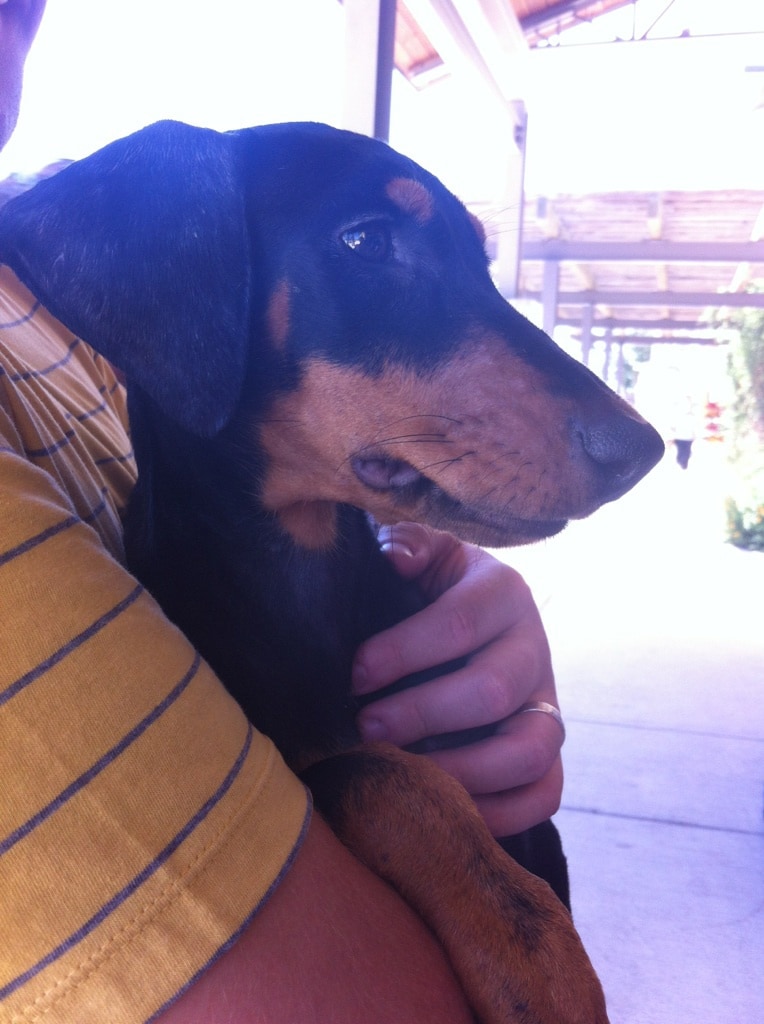 After about 5 minutes of playing with the dog, Amanda decided that she must make this dog hers. Corey had been begging her for a third dog for months and months, so she figured it was a no-brainer – Corey would be excited, they would bring this sweet little girl home, and she would become a part of their little family.
Except, that's not how it happened. After thinking it over for a few minutes, Corey decided that he was not ready to get another dog yet – both of them work all day and are out of the house, so the timing just wasn't ideal.
Amanda was heartbroken. She had been so convinced that this sweet little dog was going to be hers and she was blindsided by Corey's "no" answer. They had a rough couple of days after that, as Amanda had a hard time letting go of the idea of adopting that sweet little dog, and Corey just wouldn't change his mind. There were tears. There were protests. It was sad.
But, as hard as it was, by Tuesday when Amanda and Corey headed back to work after the long weekend, they were both over it. Amanda was still sad that the dog would not become a part of their family, but she had accepted Corey's decision.
And then, when she got home…well, there was a tiny little Doberman puppy waiting for her in the backyard. She cried. It was wonderful, sweet, and completely surprising.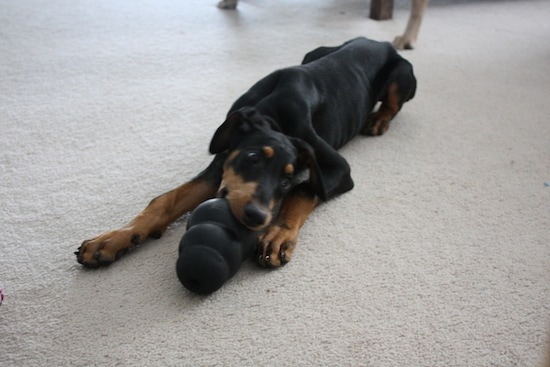 They decided to name the new puppy Hadley. After some research, they learned that she had been dropped off at the animal shelter wit her four sisters by a local "breeder" (read: puppy mill owner) because they were sick, malnourished, and completely emaciated – she couldn't sell them, so she needed to get rid of them. After taking Hadley to the vet, they learned that she had tapeworms, roundworms, and Giardia (a protozoa that can cause serious illness in dogs – and humans). She was also at least 10 pounds underweight and had two different spots on her body (one from being spayed, and one from either an improperly administered shot or a dog bite) that were infected.
They left the vet with more medicine than they had ever seen for one tiny little dog, including some vitamins that were intended to help her gain a bit of weight.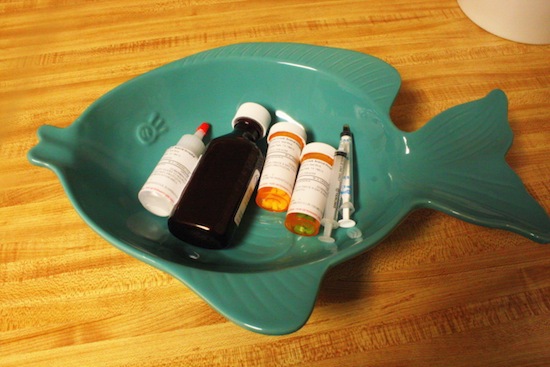 The other dogs in the family weren't sure about Hadley at first – her insane level of puppy energy was exhausting for them, and they kind of seemed to wish she would just go away. But after a few days they seemed to accept that she wasn't going anywhere, and they slowly began to play with her and accept her as one of their own. They still aren't completely sure whether or not they like her, but they seem to understand that she's here to stay.
The couple soon realized that it was almost impossible to get a good photo of their new puppy. Thanks to her endless energy (and the fact that she hasn't learned the command "sit" yet), photos taken of her always tended to look like this…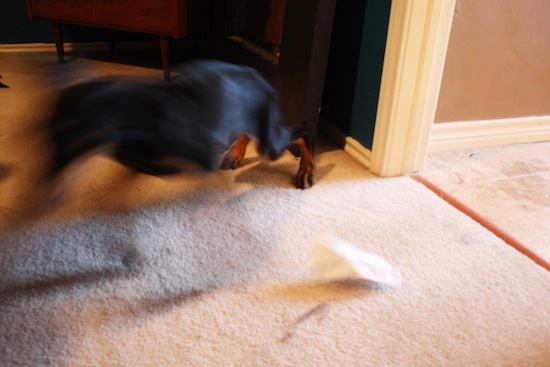 But every once in a while they would get lucky and manage to snap a few good photos of Hadley.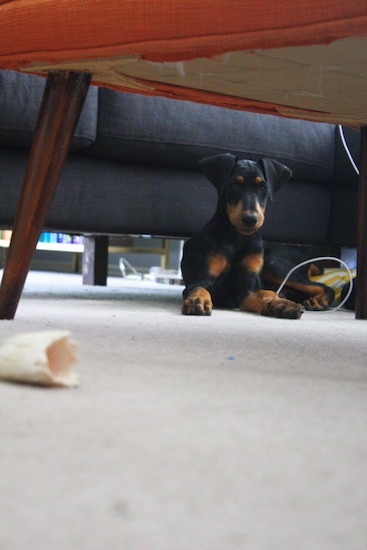 The new little family was a little more chaotic, a little more busy, and a lot more exhausted when they crawled into bed each night. But it was all worth it for those sweet, sweet puppy cuddles.
And they lived happily ever after.
Anyone else ever adopt a new pet that you originally had no intention of getting?