Jackson's Room All Decked Out for Christmas
Many of you have asked about how Jackson is settling in to the new house. I shared on Instagram before the move that he was feeling a lot of anxiety about changing schools, leaving the home he knew so well, and starting fresh in another neighborhood.
Well, I'm thrilled to report that he's doing fabulous.
He had a bit of nerves before his first day at his new school, and he does occasionally tell me that he misses his old teacher, but he is truly loving his new school (Corey and I are too!) and is making friends and making himself right at home already.
I've been wanting to share a closer look at his room for a while, and when my friend Chelsea from Two Twenty One invited me to participate in her Kid's Space Christmas Blog Tour I figured it was the perfect chance to give you a peek at his (still in progress) room all decked out for the holidays. If you're here from C.R.A.F.T. – welcome! And thank you so much for stopping by!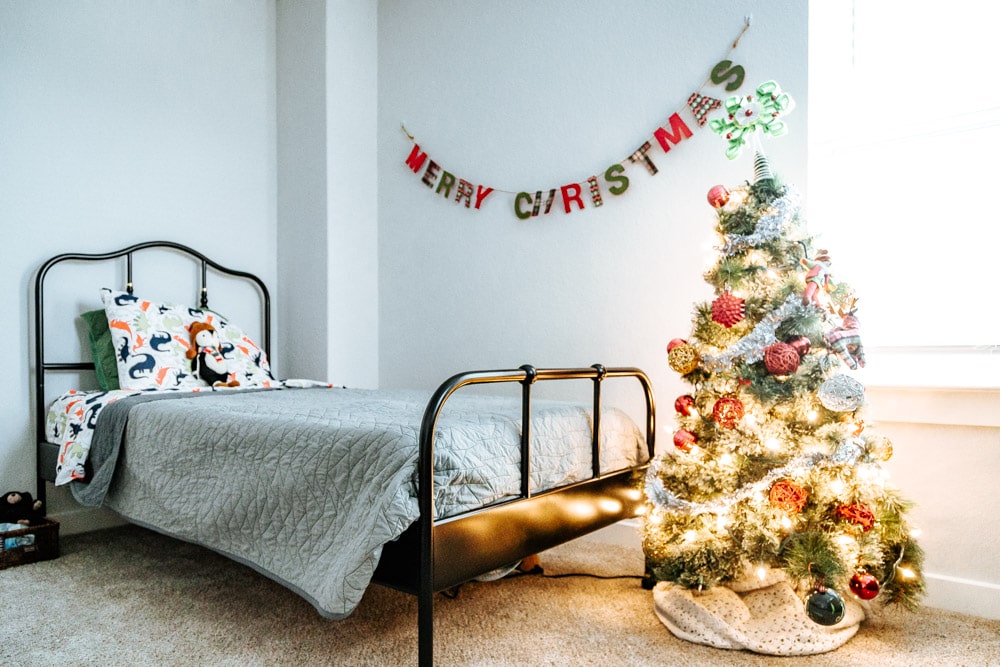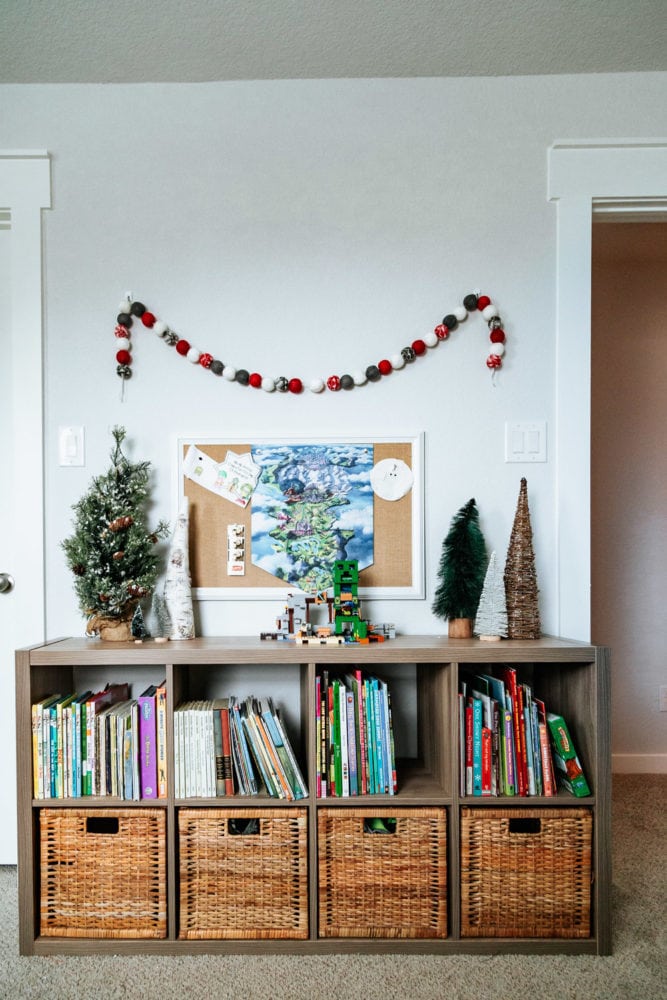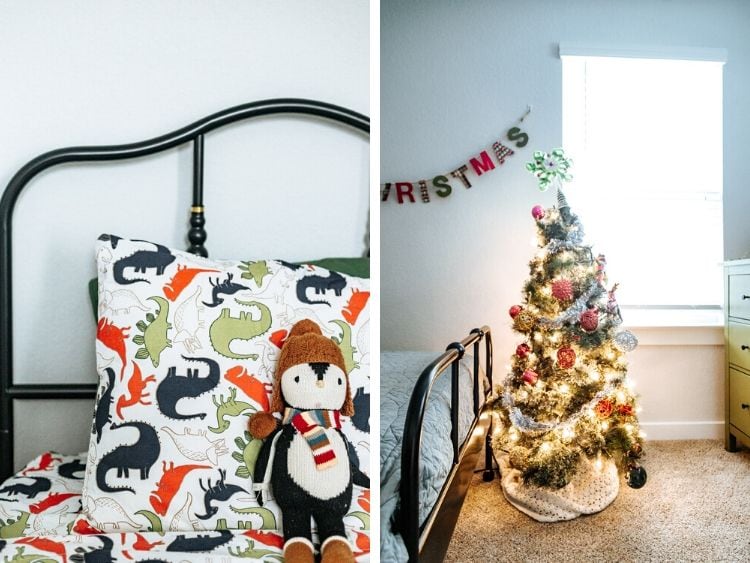 Now that Jack is almost 6 (HOW?!), we are really working to give him some control over his room and how we decorate it. We want him to feel ownership of and pride in his room, and so we are really letting him guide us when it comes to making decisions in here.
Of course, that started with letting him decorate his Christmas tree aaaaall by himself and biting my tongue about where ornaments should go or what ornaments (or, um, tree topper) he should use.
He did, however, let me take over for some of the other decorating in here, and I think it turned out pretty cute!
The long-term plan in here is likely to build him some sort of built-in bed. He wants bunk beds, but we aren't sure how and where they'd fit (that wall behind his bed is exactly 2″ too short for a twin mattress – ugh!), so we're going to live here for a while before we make any decisions.
Jackson has also told us that he wants his finished room to feel like a forest. We talked a lot about what that means and how to (realistically) achieve it, and I think we've landed on maybe a dark-colored board and batten treatment on the bottom half and some forest-y wallpaper up top. Or maybe a forest wallpaper mural on the wall behind his bed?!
We'll see where we end up!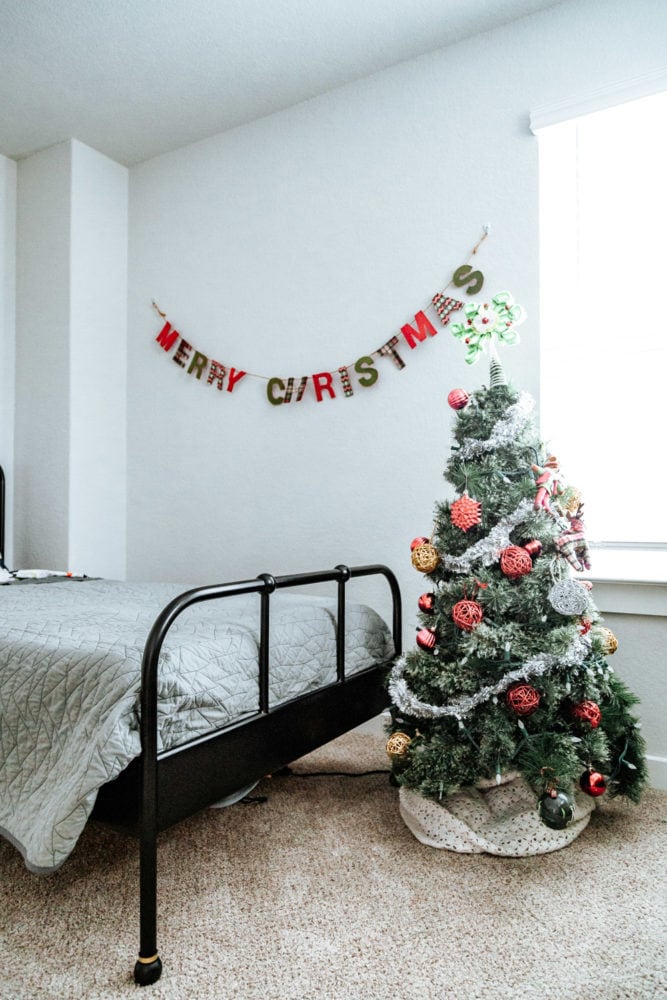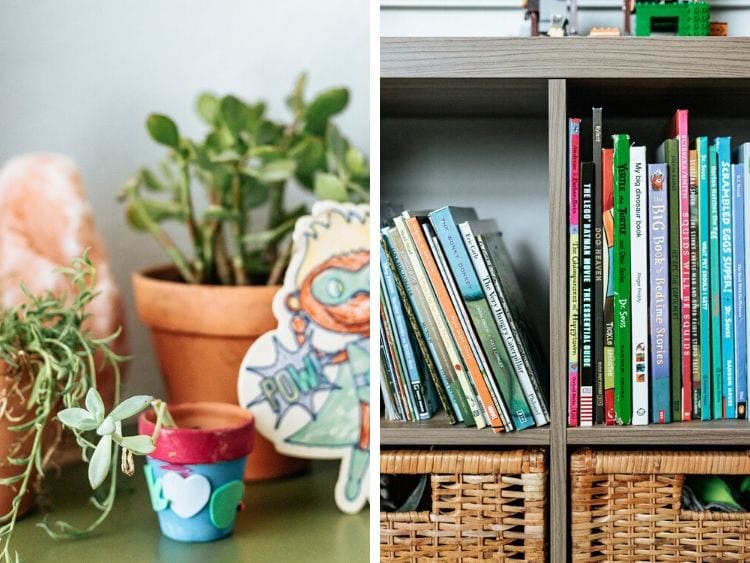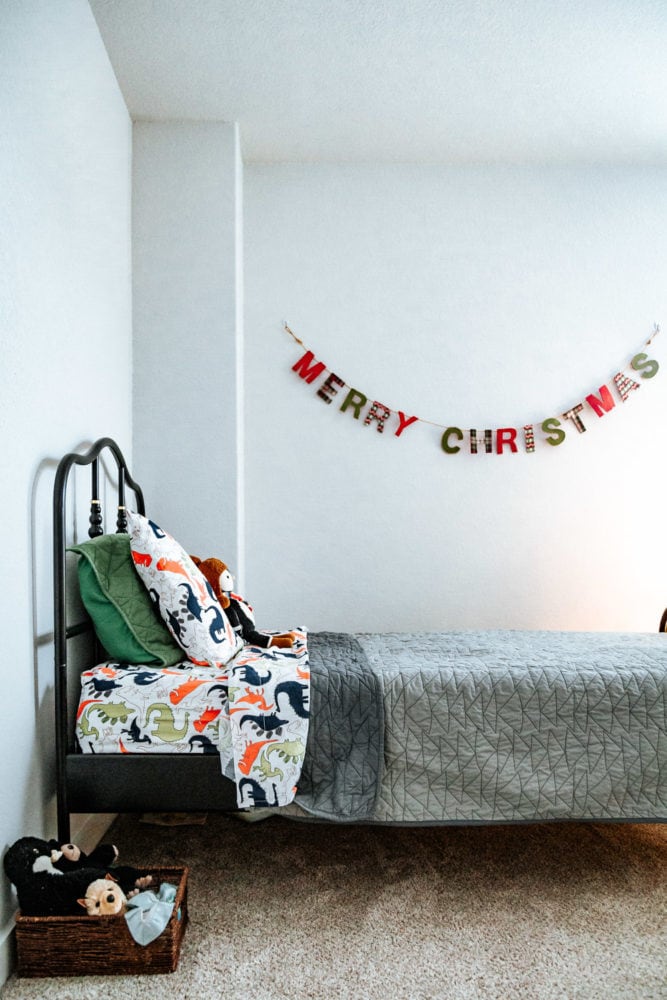 Jackson has always loved having a mini Christmas tree in his room, and it's been fun to watch him get a little better at decorating (and taking care of) it year after year. He's so into decorating every space he can get his hands on this time of year, so this is the first year that I took it a little further and added a bit of extra decor to his room. I'm not using a lot of my typical Christmas decor since our home is still a little sparse when it comes to furniture and surfaces to decorate, so this was a great way to use some of it.
If we're being realistic, I'll be surprised if the cute decor on his bookshelf and dresser lasts through this week – he uses his room, and anything I leave in there gets played with or worked into some crazy adventure with his toys pretty quickly. But, that's fine with me – I want him to enjoy every second of having his room decorated for the holidays, and if that means it only stays decorated long enough for me to take these photos then I'll just have to deal.
Next year I'm hoping we'll have things organized enough that I can decorate a bit in the game room too – I'm of the belief that you really can't have too much Christmas in your home, so it's making me a little itchy to leave so many spaces untouched this year!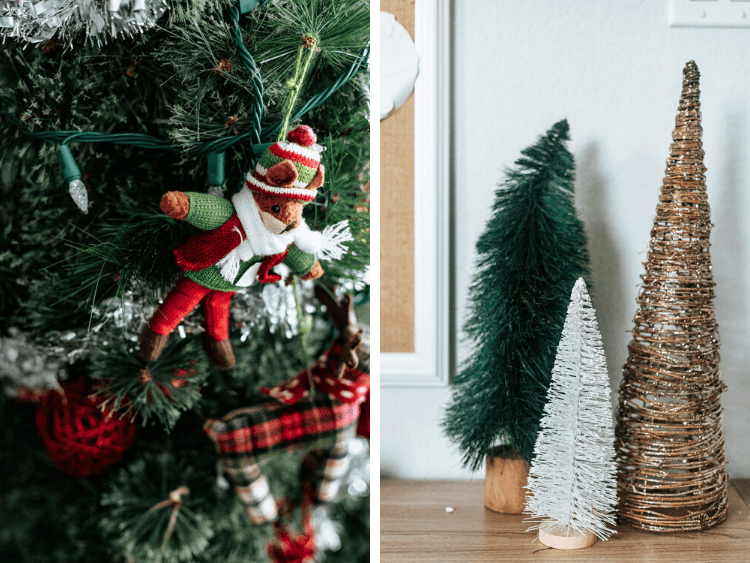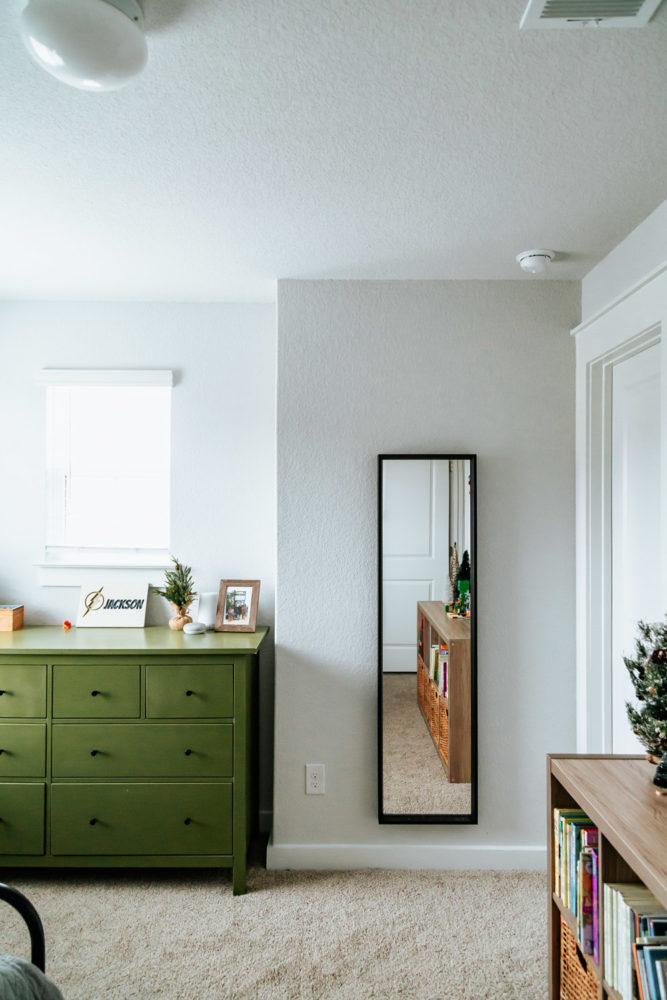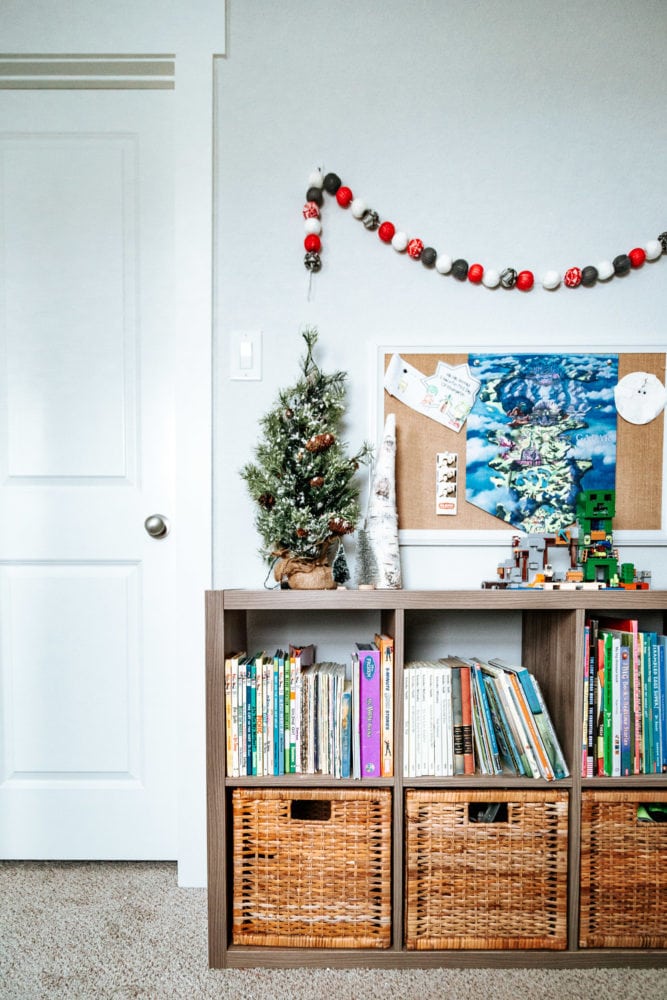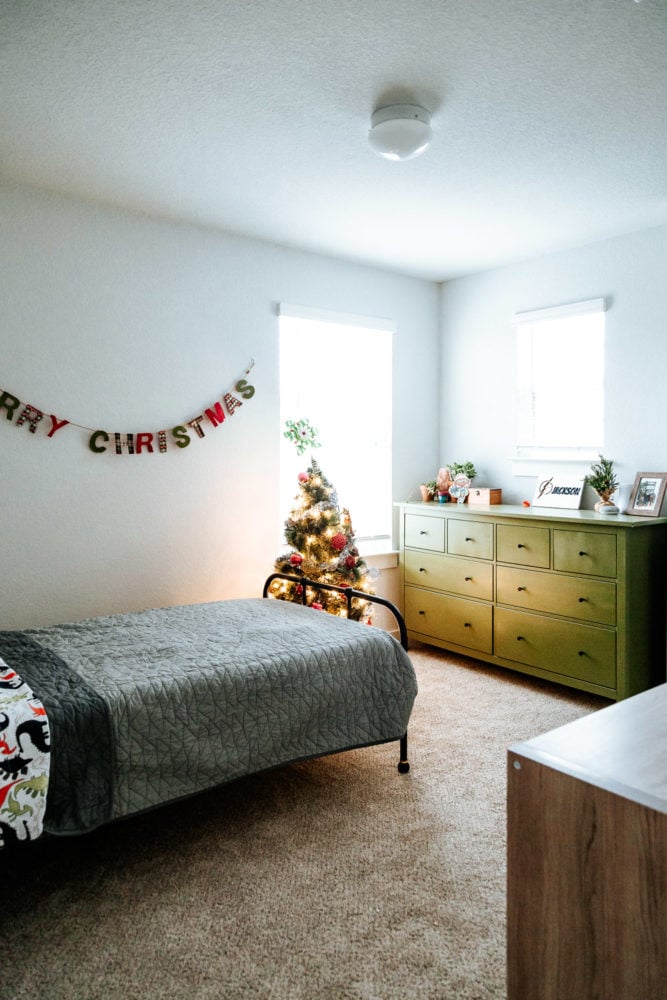 His room (like all of the rooms in our house) still has a long way to go and a ton of projects we want to tackle, but I think he's gotten off to a really great start! He was involved in choosing every single aspect of the new room from the sheets to the color on the dresser, and he's really truly proud of it.
Stay tuned later this week for a couple more spaces in our house – things are starting to come together a bit and I'm so excited to share!
Want even more kids' Christmas space ideas? I'm joining up with a bunch of blogging friends today for a little tour – head over to Kate Decorates next!
Two Twenty One / Modern Glam / DIY Decor Mom / At Charlotte's House

The Lily Pad Cottage / House by Hoff / Organized Mama / Kaleidoscope Living

C.R.A.F.T. / Lemon Thistle / Kate Decorates / Love and Renovations / Inspiration for Moms