Do you feel like you're wrestling with your bed every time you wash your duvet cover? Ever wonder how to put on a duvet cover without breaking a sweat? I'm going to teach you our (SUPER) simple trick for getting it back on in two minutes or less – it's a breeze! 
This post may feel familiar to those of you who have been reading this blog for some time – that's because I'm recycling it! That's right – I was brainstorming ideas for what I could share for this month's quick life hack, and I realized that one of my very favorite life hacks got shared on the blog a few years ago and I don't think this post got quite the attention that it deserved.
So, I'm giving the post a thorough update and sharing it with you again today because I think more people need to know this trick – it's life-changing.
Grab a cup of coffee, pull up a chair, and prepare to have your mind blown because today I'm teaching you how to put a duvet cover on your duvet in two minutes or less.
But first! Did you miss one of the posts in my life hacks series? You can catch up right here:
Simple Life Hack for Cleaning & Organization:
January: 3 Life-Changing Habits for a Cleaner Home
February: 10-Minute Nightly Cleaning Routine
March: The Lazy Girl Way to Purge Your Closet
April: Spring Cleaning Tips & Tricks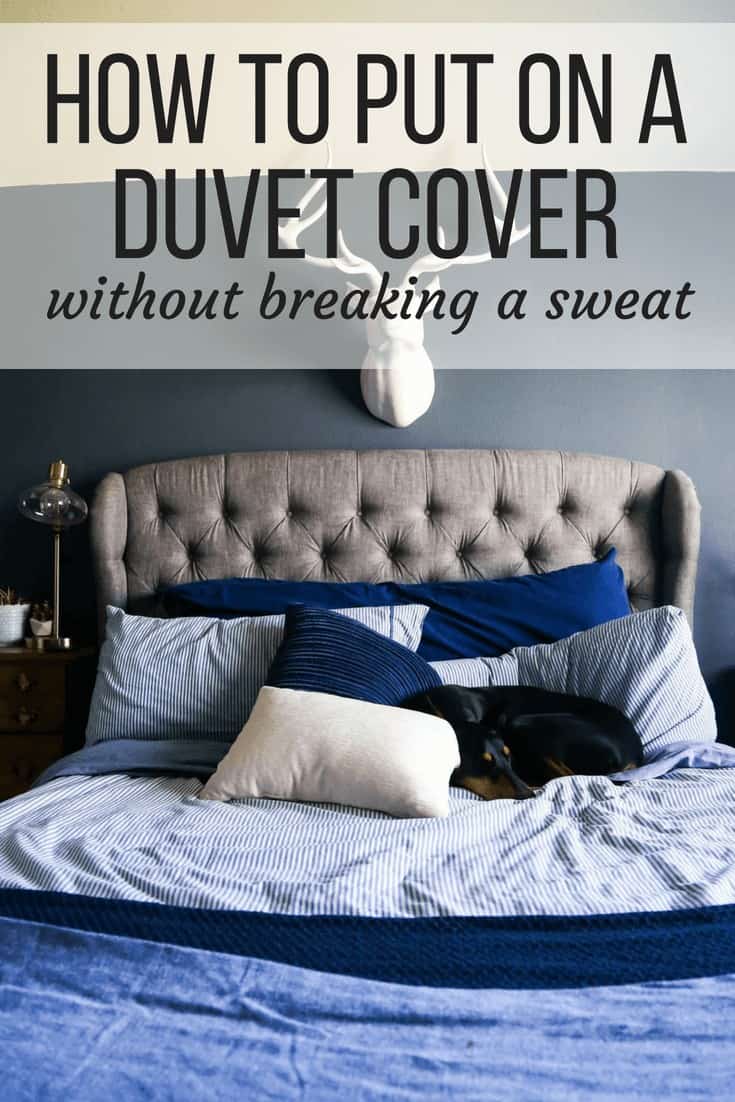 This post contains affiliate links. Click here to read my full disclosure policy. 
Before we learned this handy little trick, Corey and I had many a marital spat thanks to making the bed after we wash the linens. I was pretty much incapable of putting the duvet cover back on (it's so big and I'm so small!) and he absolutely hated doing it. If he had it his way, we would never have washed our duvet cover just to avoid putting it on.
But! Now that we know this trick, it's a breeze to put our duvet cover back on and there are no more fights. It's lovely. I can do it by myself in a pinch, but if Corey's around we're able to get the whole thing knocked out in about a minute or so. Literally – 60 seconds. It's amazing.
Are you ready to learn?
Here's How to Put On a Duvet Cover – The Easy Way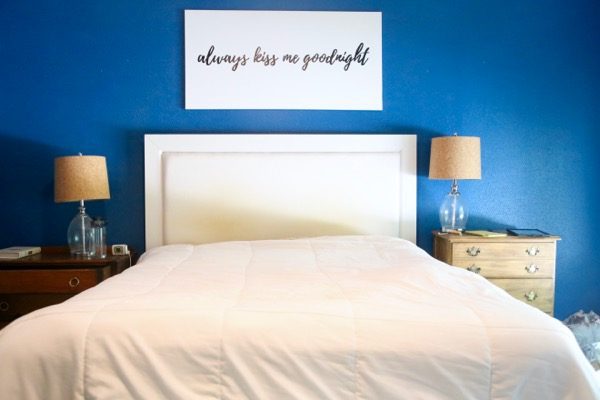 STEP ONE:
Take the duvet insert and spread it out on your bed, just as if you were making the bed normally.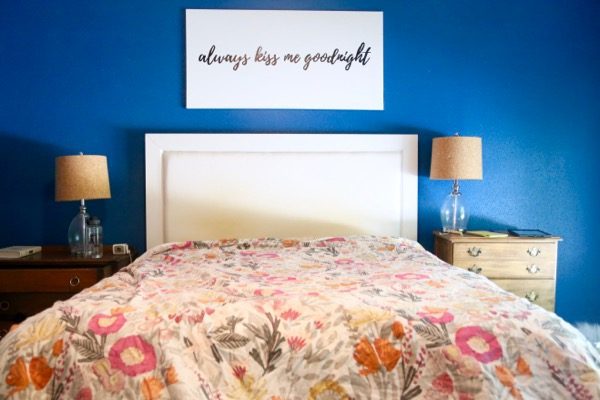 STEP TWO:
Flip your clean duvet cover inside out and lay it out on top of the insert. Make sure the opening is at the bottom, and try to line up the corners as best as you can.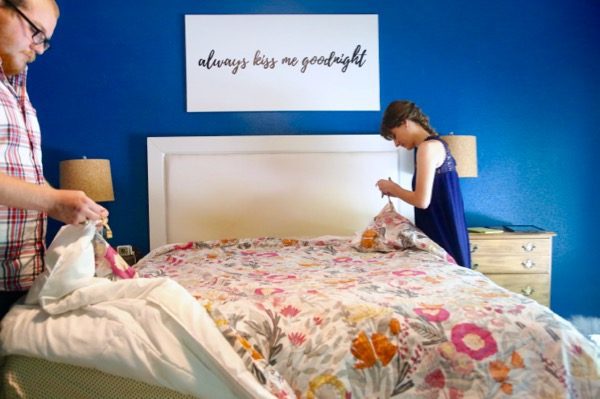 STEP THREE
If you have ties in the corners, go ahead and tie all of the corners now. If not, and you're looking for an easy way to keep your duvet cover in place here are a few options:
HOW TO KEEP YOUR DUVET IN PLACE
Add small safety pins on each corner to hold the corners in place.
Try adding these comforter clips to the corners of your bed – we haven't tried them, but I'm seriously tempted!
Sew small strips of ribbon or fabric in each corner of the duvet cover – then, simply tie them to the corners of your duvet before inserting it.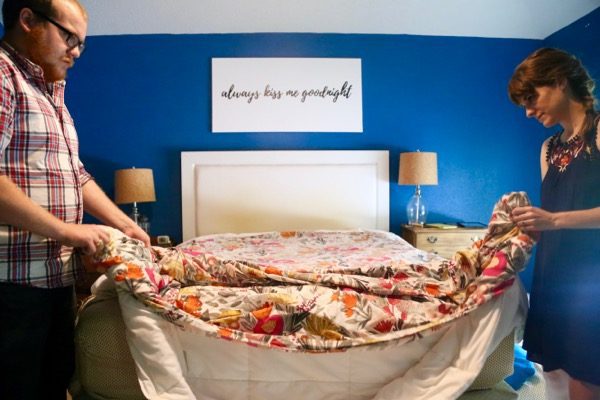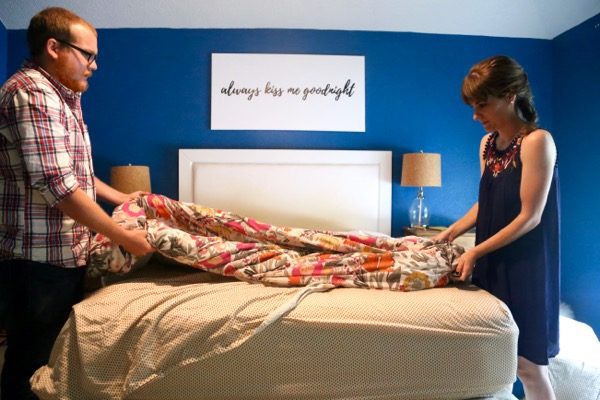 STEP FOUR:
Grab the opening of the duvet cover and start rolling the insert into the cover. This is easier if you have two people so you can roll both sides at once, but it's not hard with one person either. Start by reaching in and grabbing the bottom corners (making sure you have both the corner of the duvet insert and the duvet cover), then flip those so they're no longer inside out.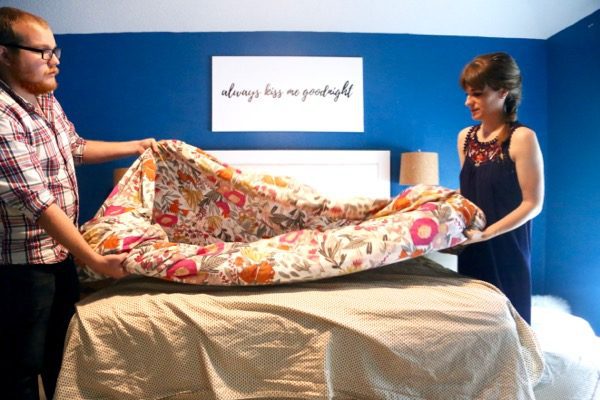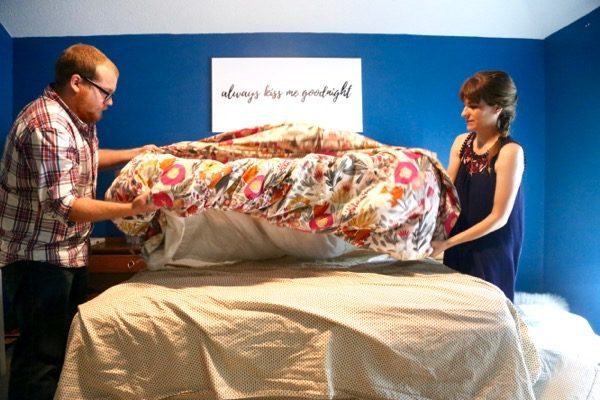 STEP FIVE:
Continue rolling up until you reach the end of the duvet. You'll probably feel like you've done something terribly wrong at this point, but I promise you haven't.
Note: Now that Corey and I have been using this trick for a couple of years now, we generally take the shortcut even further – after flipping the bottom corners the right way, we simply reach our arms into the duvet cover all the way up to the top corners, pinch them together, and pull them back out. It's a little easier than rolling the entire way up, and once you've flipped the whole thing, you can just shake it out and you're good to go!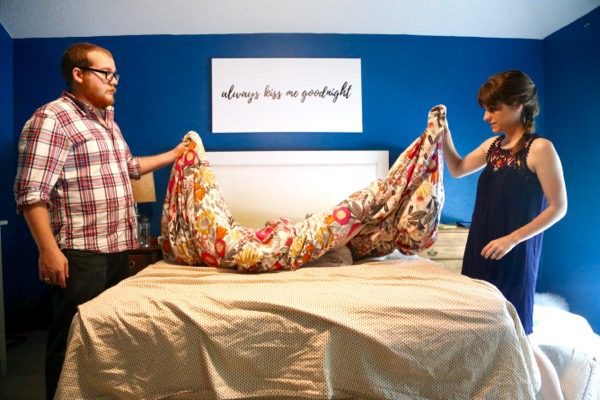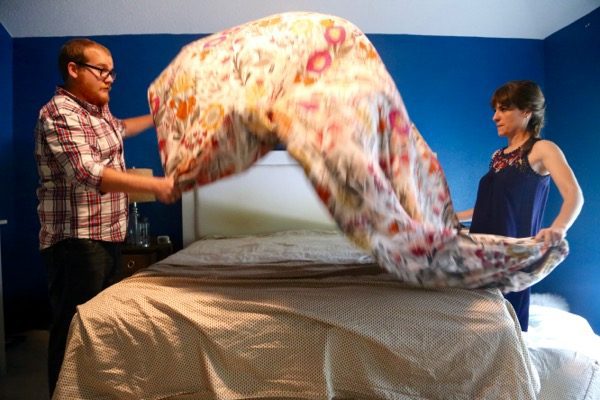 STEP SIX:
Grab the corners at the opposite end from where you started rolling. Pull them out, then grab the side and shake the whole thing out. It'll take two or three good shakes for it all to settle, and if you've got ties this is a good time to go around and grab all four corners where they're tied to pull it all nice and tight. Do a bit of adjusting and then…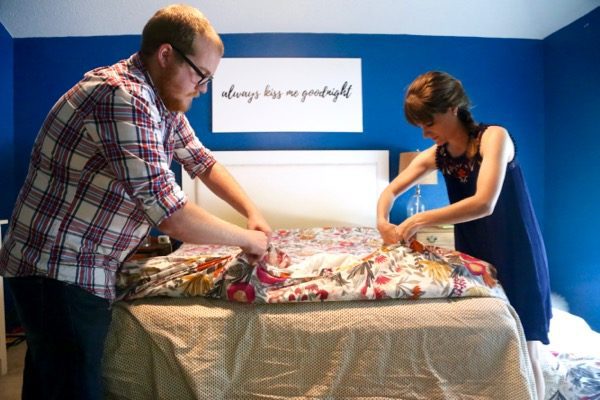 STEP SEVEN:
You're done! Button up your opening and bask in the glow of a clean duvet and the ability to make your bed without any cursing.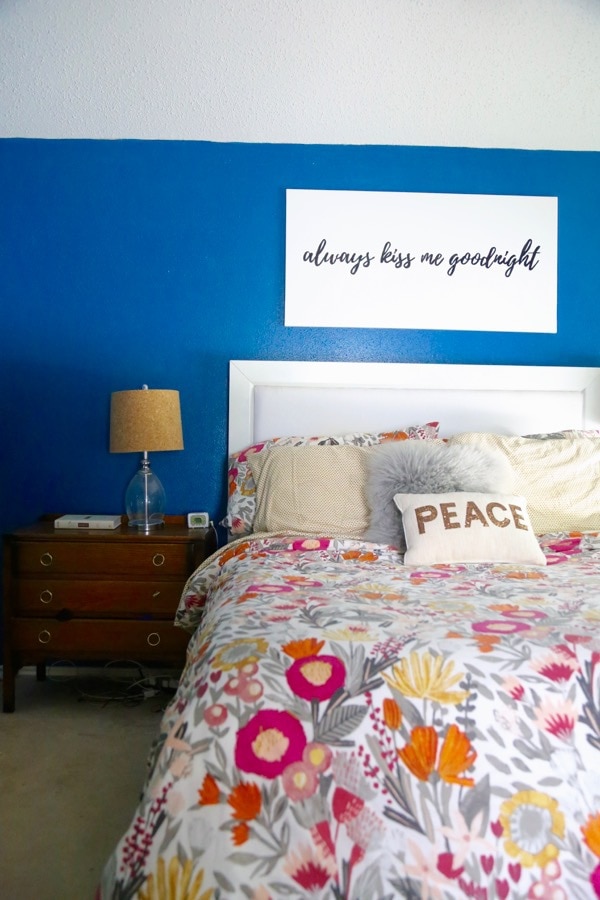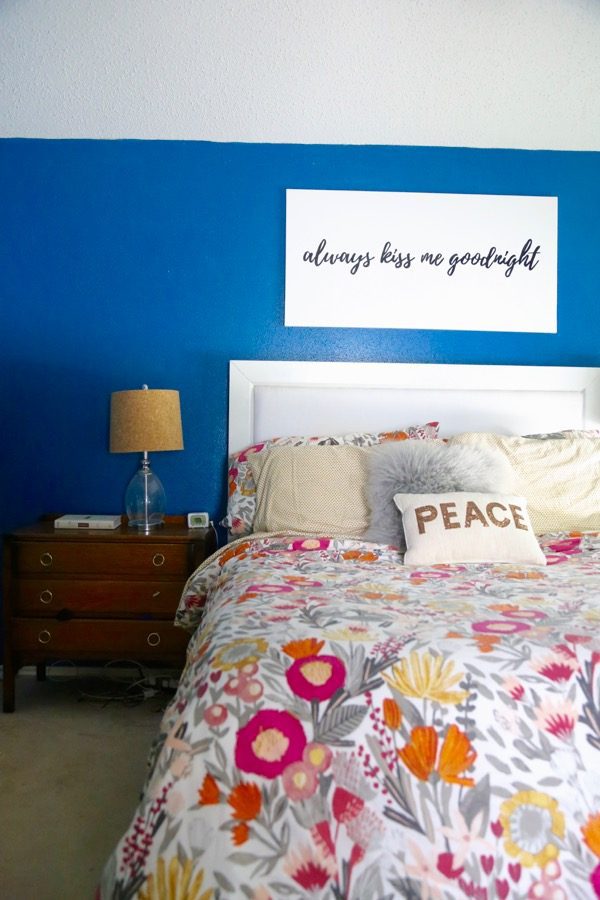 I can't overemphasize to you how excited I am about this trick and how much time (and how many headaches) it has saved us! We feel like high-fiving each other every time we make our bed now, and every time we do it we're in awe all over again of how simple it is.
We've used this trick with several different duvet inserts and duvet covers over the years, and it works equally well with all of them! We prefer duvet covers that have ties already attached to them to help hold everything into place once you've put it on, but with the tricks I shared above, you shouldn't have an issue keeping your duvet cover in place.
Is your mind blown? Or am I the only one who didn't already know this trick??