One Room Challenge // Week One
Have you ever heard of the One Room Challenge?
It's this gathering of 20 designers who take on a room and give it an amazing makeover in 6 weeks. It happens two times per year (in October and April), and the host of the challenge, Calling it Home, always invites bloggers to play along. I've watched this challenge for years and have always been amazed at the transformations that take place, but I've never been brave enough to jump in and participate.
Until now.
(EEEEEEK!!!)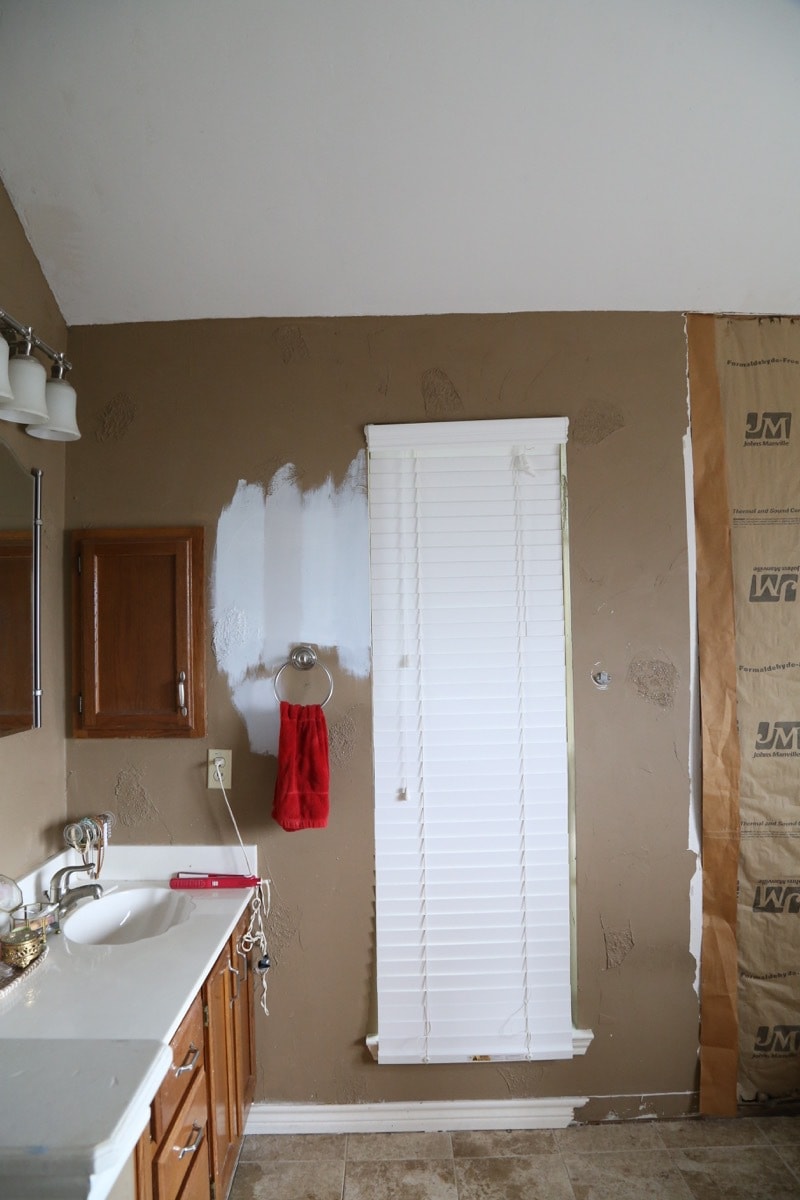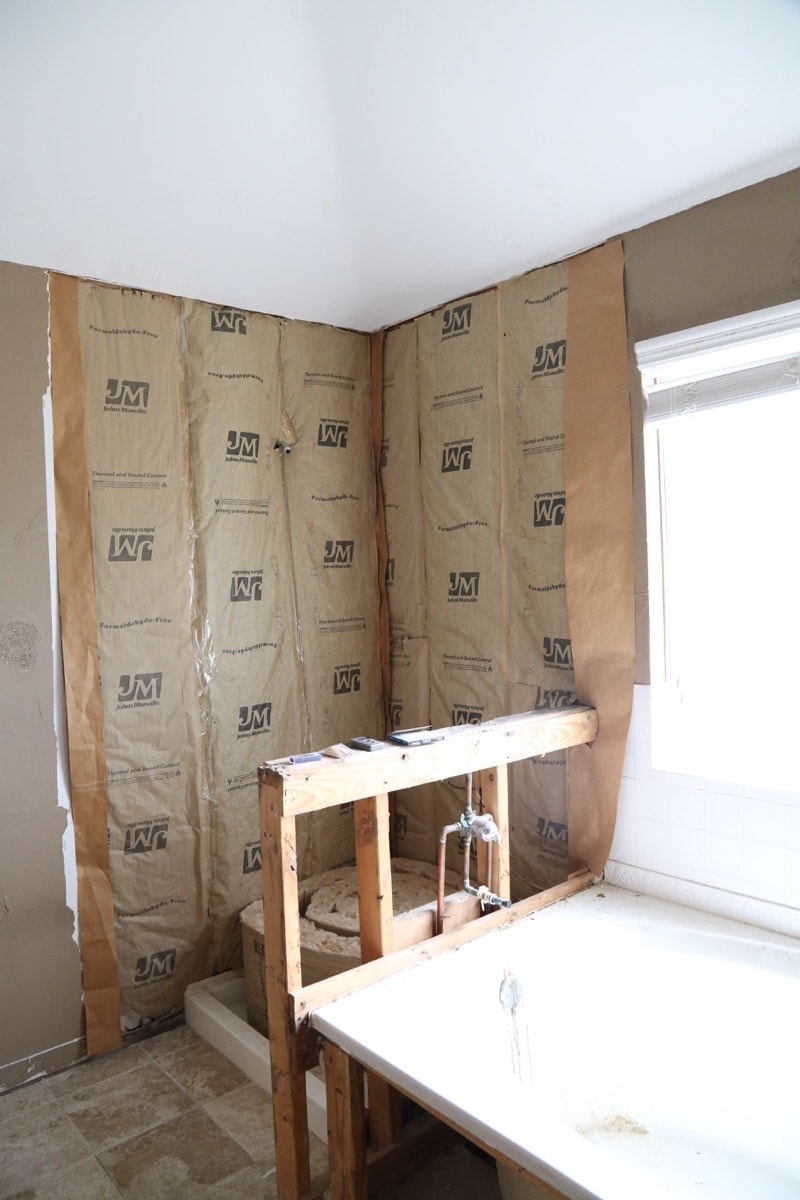 Welcome to my master bathroom. It's a complete and utter disaster zone. A couple of years ago we had the shower wall collapse in on us and decided that instead of just patching it up we would rip the whole thing out and renovate it. Except, we had a 7-week old baby at the time. Life happened, and that baby is now rapidly approaching 3 years old and the bathroom still looks exactly the same.
It's annoying to only have one shower in our home but add to that the fact that from April through September we had Corey's father living with us and you've got three adults and one toddler sharing a shower. Complete chaos! Corey's dad isn't living with us anymore, but that experience was a big wake-up call to the fact that it's about dang time we reclaim our master bathroom. And I am so flippin' excited I can't even control myself. Picture me doing cartwheels and happy dances the entire time we're working on this project because I am so ready to have this room completed!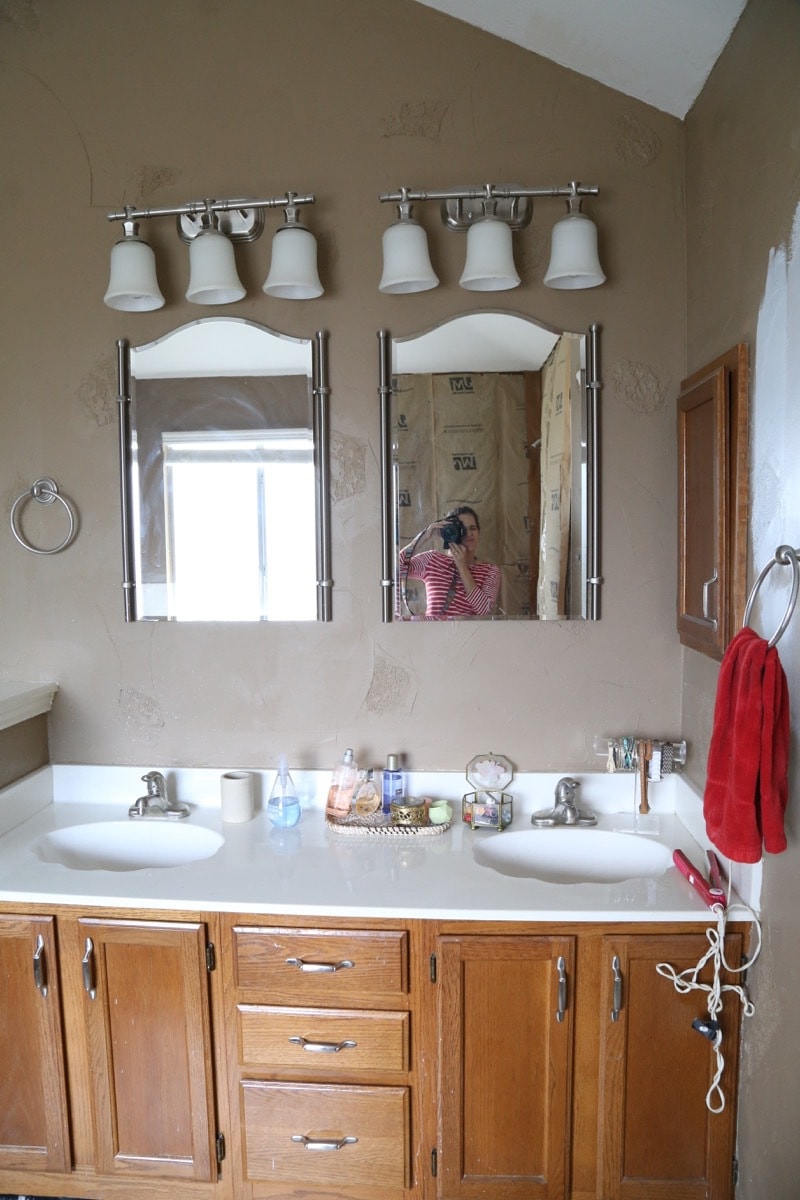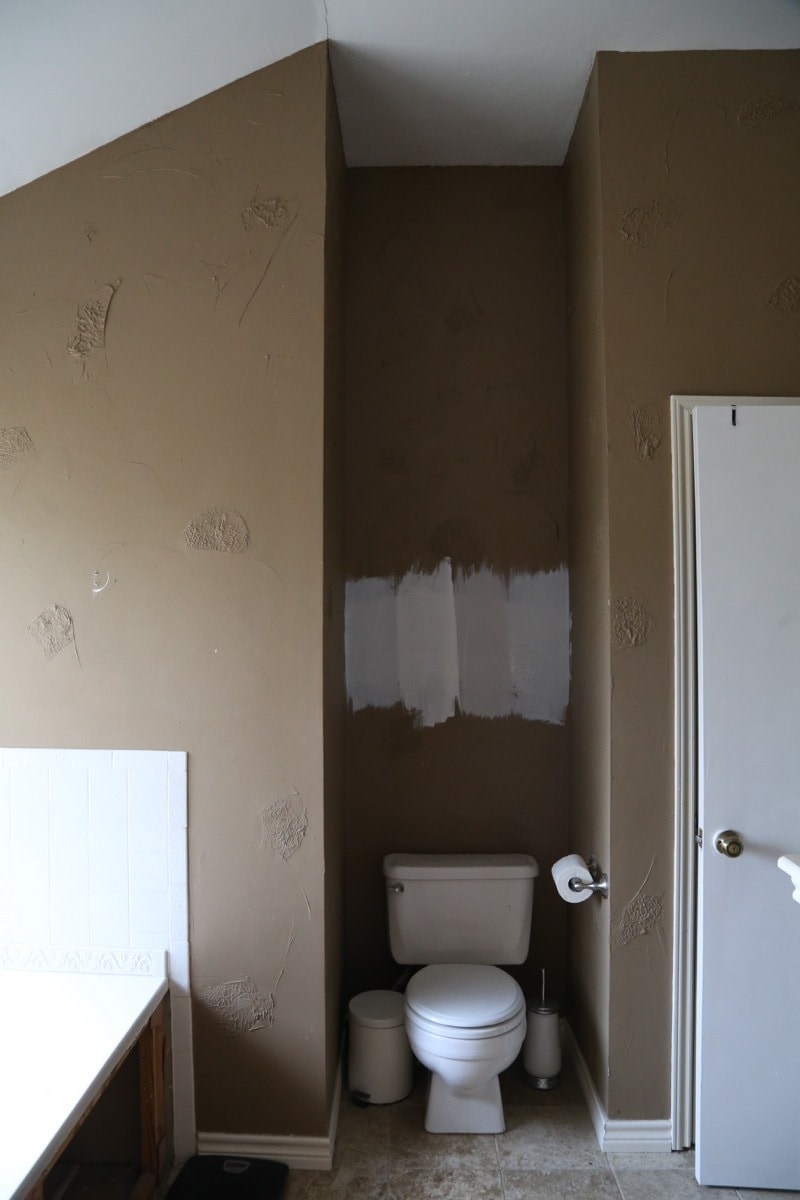 This post contains affiliate links for your convenience. 
So, over the next month and a half, you'll be hearing a lot about this room as we take it from basically unusable to the bathroom of our dreams. We have some majorly exciting plans in store for this little room, and I think the finished product might just blow your mind. As you can see from the photos, we've already chosen paint colors and we have also started to do a bit of work (we have way more than 6 weeks of work in this room, considering we both have full-time jobs, so we've at least got a few of the basics taken care of like finishing the demolition). If you follow me on Facebook, you've already seen a sneak peek at some of the demo we've done – if you want to stay up-to-date on all of the behind-the-scenes stuff throughout the challenge, be sure to like our Facebook page and follow me on Instagram! I'm going to be sharing some Facebook Live videos, Instagram stories, and lots of other fun tidbits throughout the challenge, so you don't want to miss out!
From now until mid-November you can catch me here every Wednesday sharing an update on the room. There's going to be way more info than I can possibly cram into six posts, though, so you can expect to be reading a lot about this bathroom and all of the projects we're taking on! Let's just go ahead and call October "The Master Bathroom Month," shall we?
I can't leave you with only ugly "before" photos for this post, so I'll go ahead and spill a quick peek at our inspiration board for this room. It's got a few sneak previews of things that we'll actually be putting in the room and really captures the overall feel we're going for. Of course, it doesn't give everything away – there are still a few big projects that aren't represented here, so stay tuned for more on that!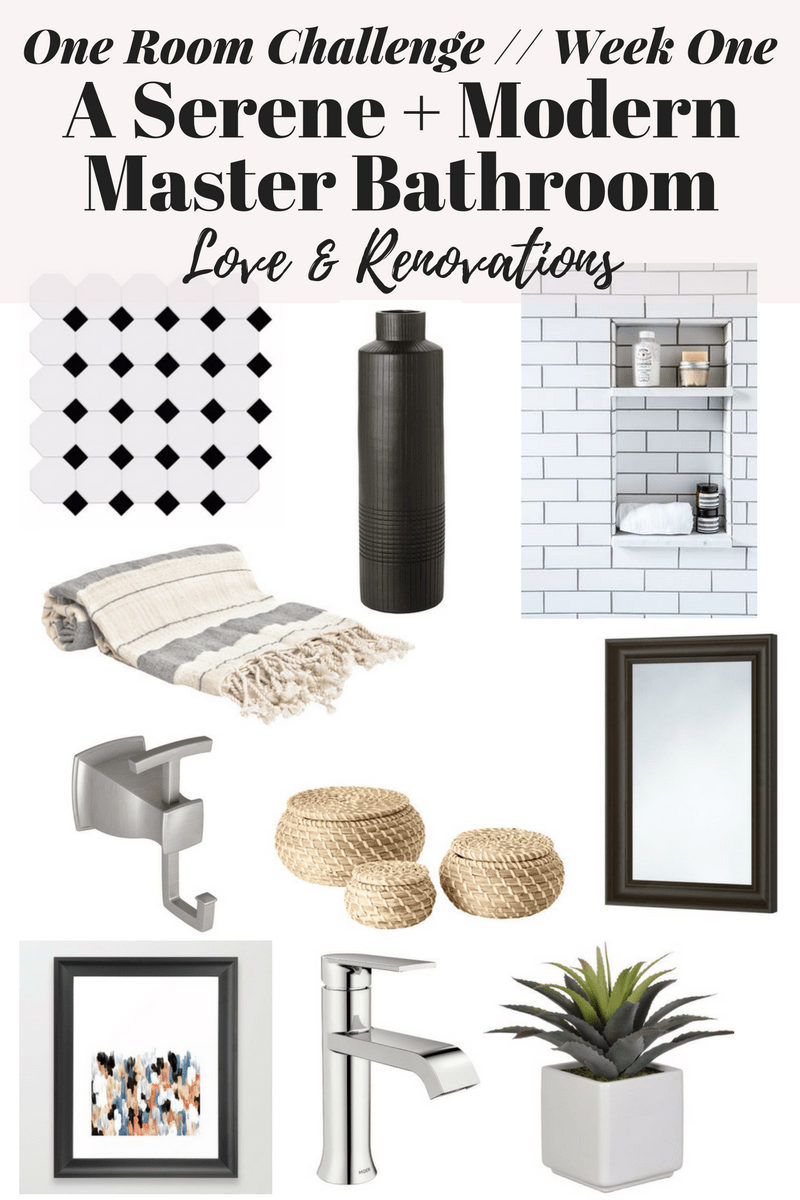 Tile // Vase // Shower // Towel //Hook // Baskets // Mirror // Art //Faucet // Plant
Oh, and I can't chat about the challenge without mentioning our amazing sponsors. One of my favorite things about the One Room Challenge is that it gives bloggers an opportunity to connect with some brands that they might not have been able to work with otherwise. We're so incredibly grateful to all of the fabulous brands that agreed to work with us, and we're still pinching ourselves over the fact that they actually said yes!
Please, oh please – give these guys some love because they've been so kind and generous and they're all amazing. Cannot say enough wonderful things about any of these brands!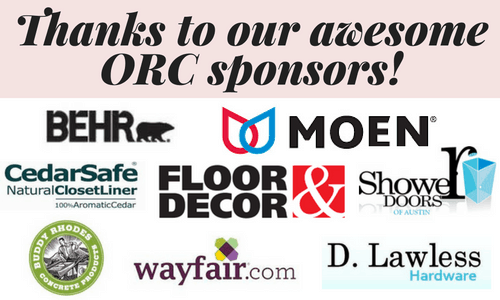 Behr // Moen // Floor & Decor // Shower Doors of Austin
CedarSafe // Wayfair // Buddy's Artisan Mix // D. Lawless Hardware
Do you follow the One Room Challenge? Have you ever participated? You've got to go check out all of the other bloggers linking up – can't wait to see what they do with their rooms!