Corey and I are a pretty hands-on couple when it comes to design. We love the idea of building furniture, remodeling our home ourselves, and doing whatever we can to save money/renovate our home with our own two (four?) hands.
Of course, since we're currently living in a rented duplex, we haven't had the chance to put those ideas into action very much yet. We can't change anything to the house itself, so any changes we make have to be just with the stuff that we actually own – which is kind of limiting.
We were prepared to put the idea of doing a lot of DIY on the back burner until we owned a home, but a few months ago we stumbled on something that we could do now.
When we moved from our old (tiny) apartment into this (slightly larger) duplex, I made Corey get rid of his old desk. It was ugly and giant and would never have fit into the extra room in this house, no matter how hard we tried. We searched on Craigslist a bit until we randomly found a desk that we both fell in love with. This is said desk in action in our current house: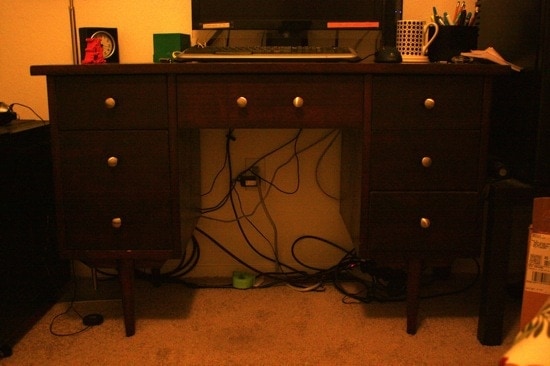 Love. That. Desk.
Only problem? We still had Corey's mammoth, horribly ugly office chair to use with it. I don't have any photos but just picture your typical run of the mill black rolly office chair, only about twice the size of the normal ones. Yeah. It's bad.
And thus began the search for a new office chair. We searched high and low at every store we could possibly think of, but we couldn't find anything for less than $200, and we didn't really love anything we found. And, um, we're the type of people that if we're going to spend two-hundred freaking dollars on something, we'd better love it!
So, we began exploring other options. Other options like finding an older chair and turning it into something that was perfect for us. Our decision was made when our wonderful wedding photographer, Melanie, offered up an old chair that she had sitting in her garage. It wasn't doing anything for her but taking up space, and she was excited to give it to us so we could give it a new life.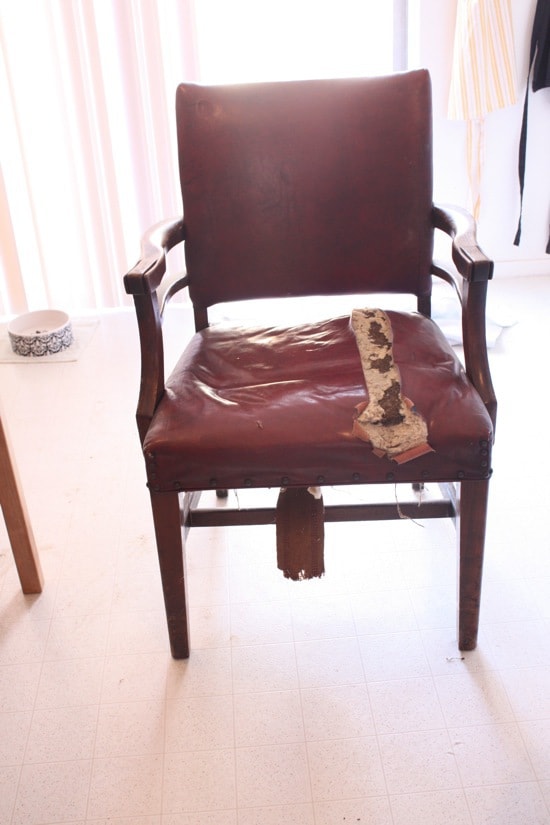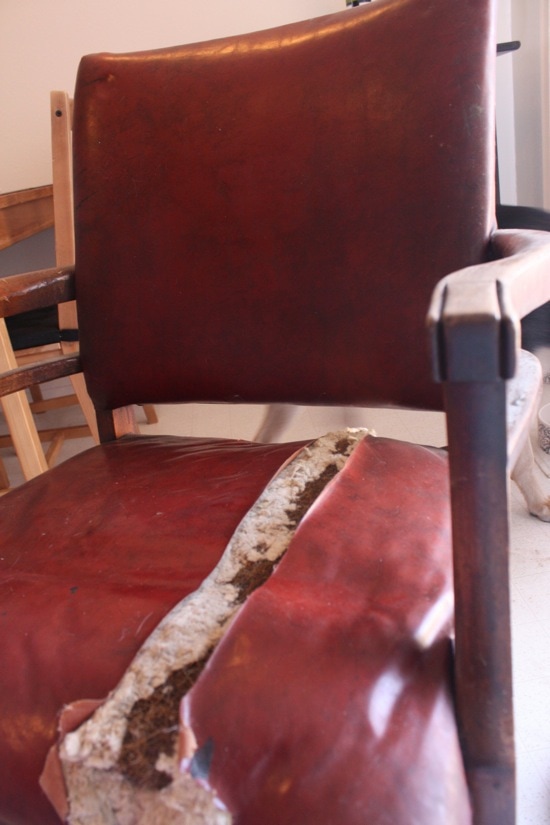 Um, yeah. It needed some SERIOUS love. So, we took the chair home, put it in our storage closet, and promptly forgot about it. We were in the middle of planning a wedding, and reupholstering a chair was kind of the last thing on our minds.
But, the wedding is over now. And what's a better thing to do on an unexpectedly long weekend than tackle some projects that you've been waiting entirely too long to do?! So, this weekend, we tackled the project of the chair.
First things first, we needed to get rid of all the grossness. It was a one person job so I graciously let Corey take on the task of stripping it down. I'm so nice, aren't I?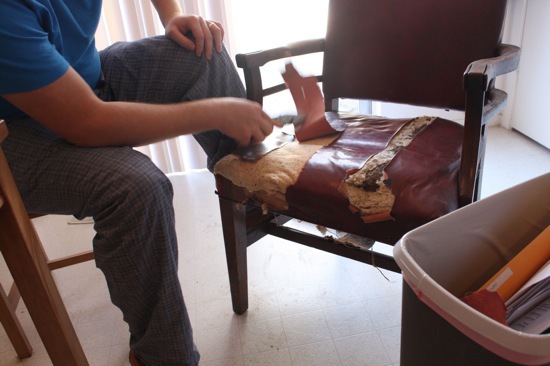 You see that over to the right of the seat? I'm pretty sure there were birds' nests in that chair!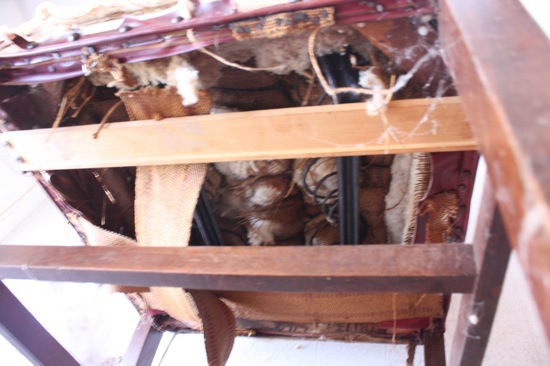 The underside of the chair. Again, needs some serious love.
It took a while, and was extremely messy, but pretty soon Corey had the chair stripped down to its bones and ready to get a serious update!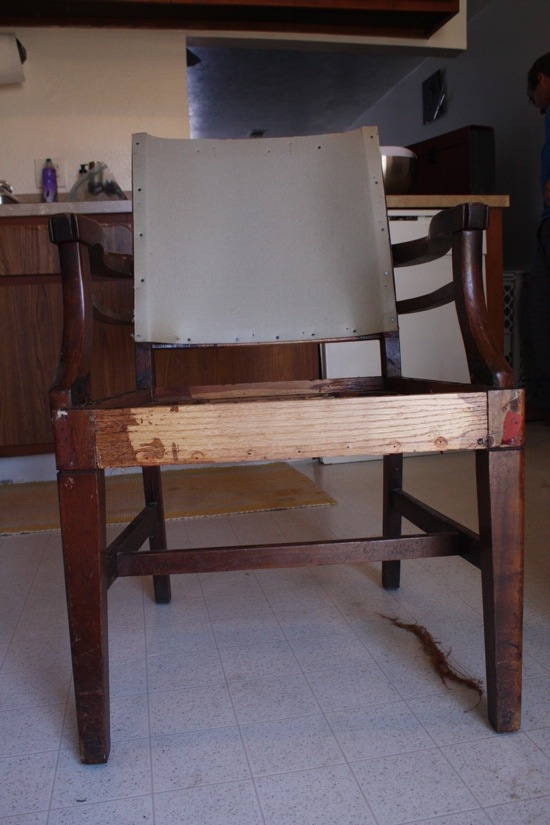 Much better already, no?
We loved the color of the stain on the wood, but because of the extremely traditional lines of the chair, we wanted to do something to make it a bit more modern. So, Corey sanded it down, we picked up some white paint, and I took over! The color we used was Martha Stewart's "Glass of Milk," and I feel like I should admit that 50% of the reason I chose it was because it had Martha's name on it, and the other 50% was because I loved the name. And that's my extremely methodical way to pick out a paint color.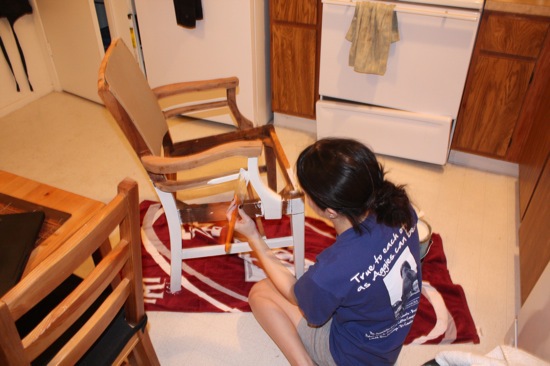 And soon enough, it was painted!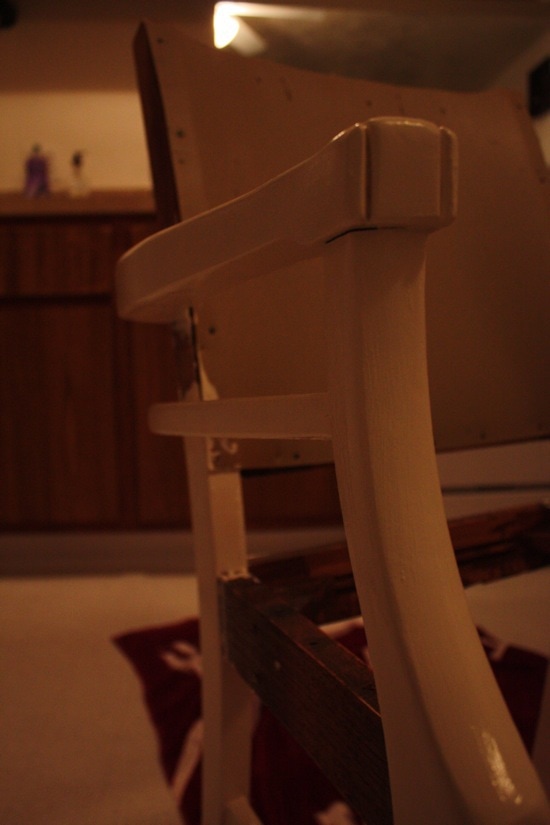 Sorry about the crap lighting. It was dark outside by this point and my house has absolutely no good lighting!
We were exhausted at this point, and we hadn't even gotten to the hard part yet. Next up? It's time to put in a new seat, and get to reupholstering!
Have you ever updated a piece of old furniture? Tell me about it!