Our New Dining Room Chairs
Our dining room has come together really nicely over the years – considering where we started with this room, I would definitely say we have come a long, long way! One thing that has bothered Corey and me for the last year or so, though, has been the side chairs in there. We bought them off of Craigslist shortly before moving into this house, and they've served us well for several years but it was definitely time for an upgrade. A couple of the chairs had some structural issues (Corey was convinced one of them would fall apart any day) and we hadn't gotten around to fixing them because we just didn't love them anymore.
So, needless to say, we've been in the market for new dining room chairs for a while. We've even known that we wanted these Baxton Studio LAC chairs for quite some time…we just hadn't pulled the trigger. But a few weeks ago we finally decided it was time to do it, and I'm so glad we did.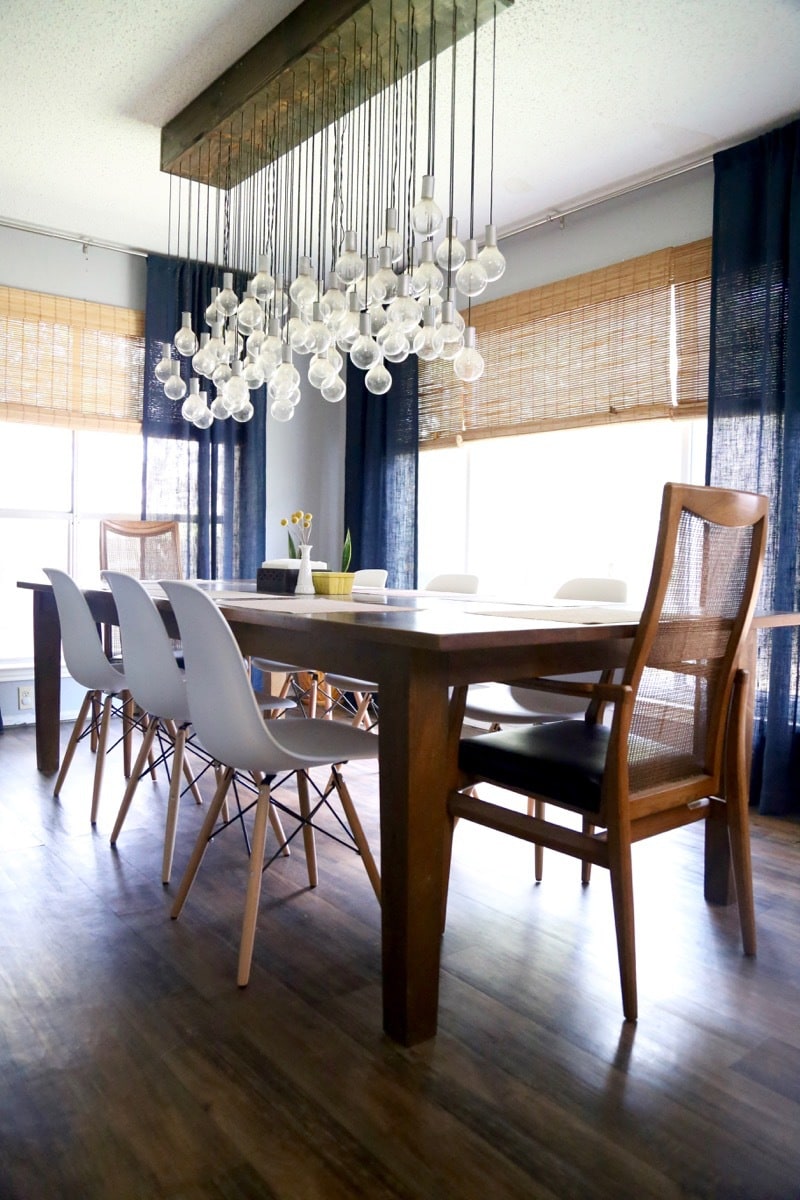 They're gorgeous, right?
I wanted to write a post about them to share how pretty they are, but also to give an honest review of these chairs. They have relatively mixed reviews on Amazon (mostly positive, but there are a few that concerned me), and I was more than a little worried that we'd be disappointed in the quality when they arrived. Thankfully, that hasn't been the case. We definitely expect a lesser quality when we're ordering something that's such an affordable version of a very pricey piece, and these chairs definitely aren't high-end. However – you won't notice that at all on a day to day basis. When we were putting the chairs together, we had a few minor issues with screws and getting everything to go together as it should. This is an issue that we encounter all the time with IKEA furniture and other ready-to-build furniture. It's just what happens when furniture is mass-produced to make it more affordable. So, other than a bit of cursing and frustration, the assembly process was straightforward and no more challenging than we expected it to be.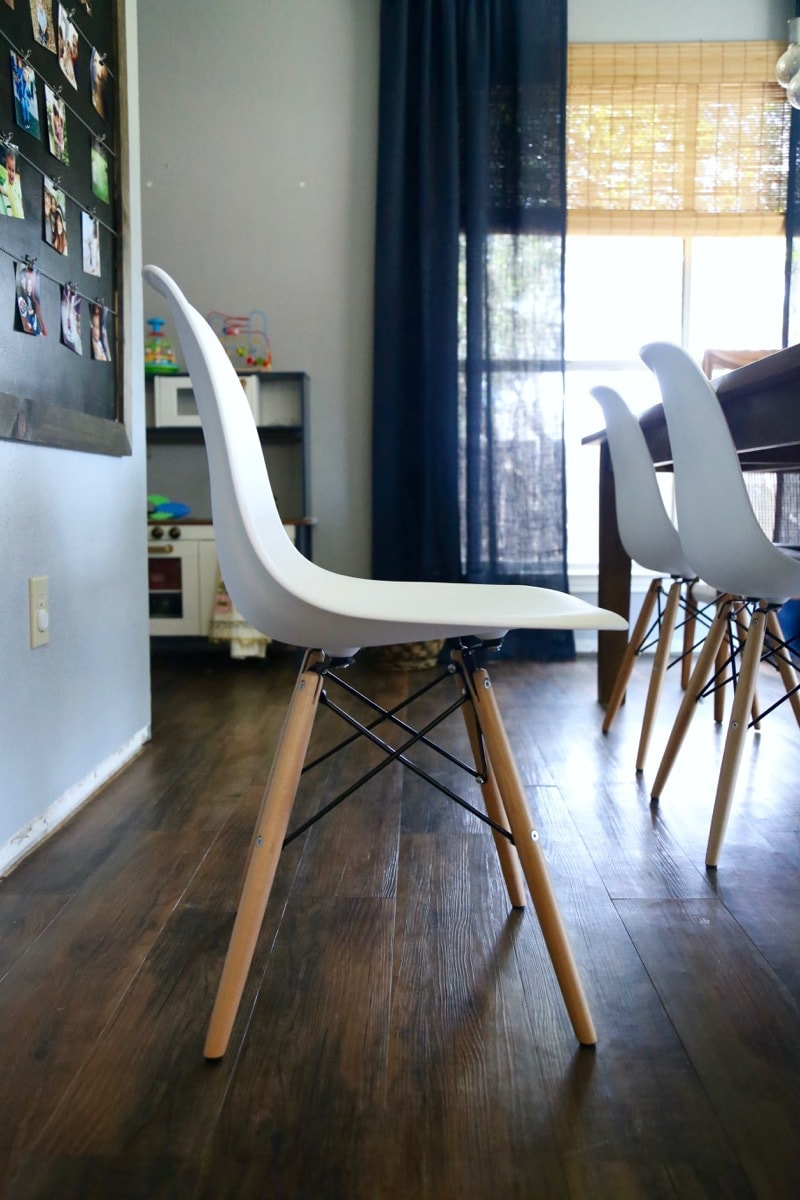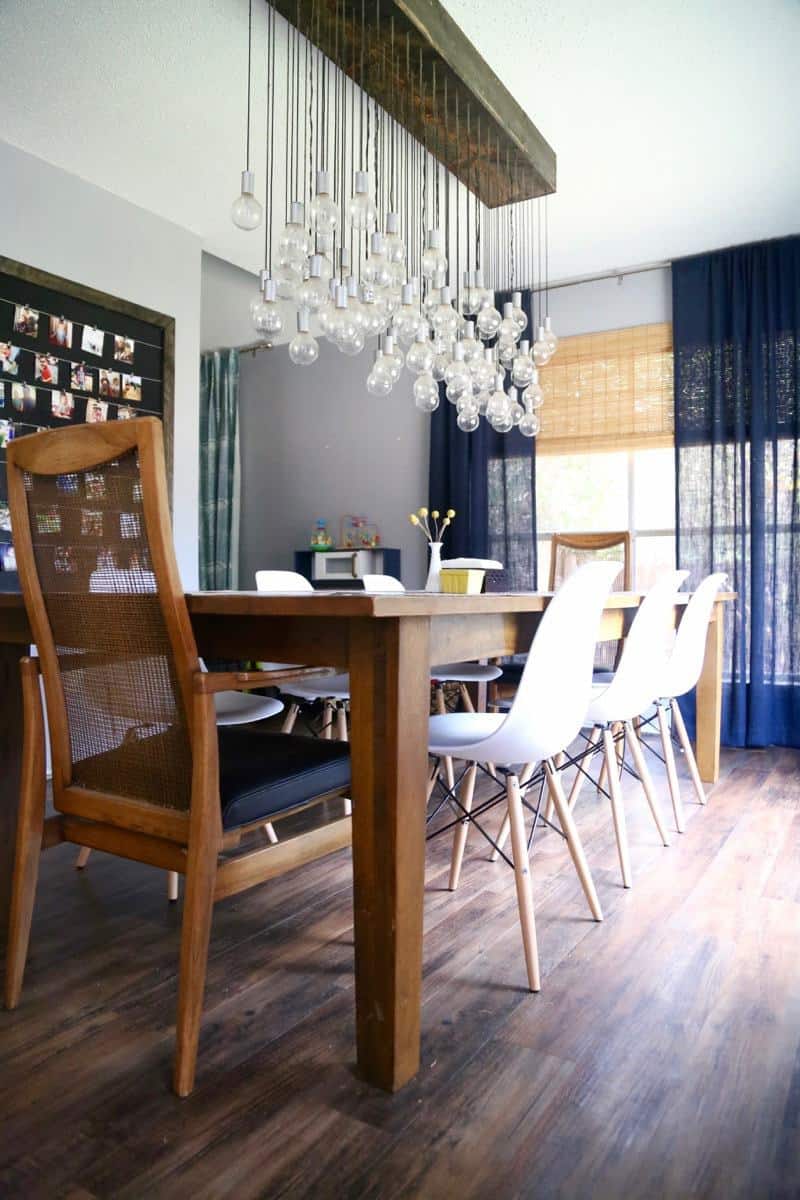 Once we got them put together, we were a little leery at first – the first time we sat on them, I was afraid they were going to fall apart! But, we quickly realized it was just because everything wasn't "settled" yet, for lack of a better term, and after that first time they feel very sturdy when I sit on them. They seem to protest a tiny bit if Corey doesn't sit down gently (he tends to fall into chairs rather than sit on them), but I have no issues with them at all.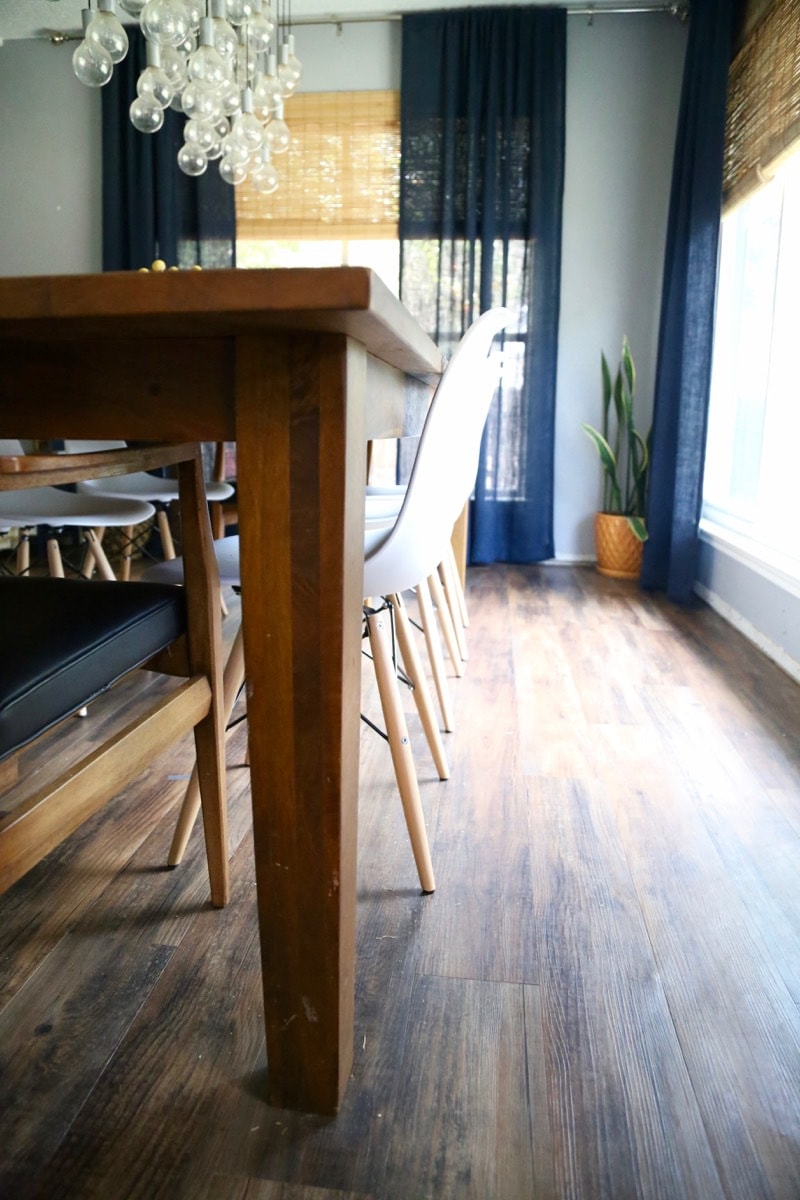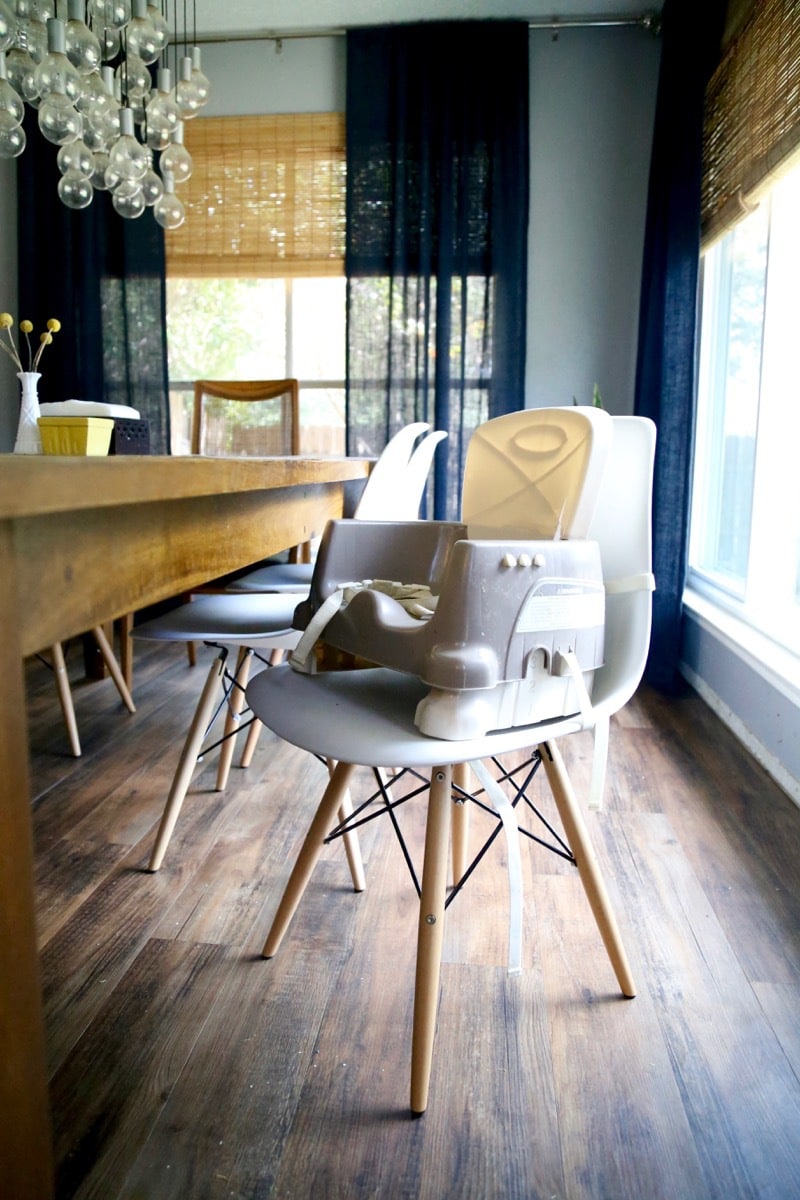 We've been able to put Jackson's booster seat into the chairs without any problems – I was worried the seat wouldn't be big enough to accommodate it, but we haven't had any problems. We also got to test out their cleanability really quickly when I served something with red sauce for dinner the very first night we had them. Oy vey! Jackson did his best to put a major stain on the chairs, but it wiped right up. I imagine that there might have been some red residue left on the chair if I hadn't gotten to it relatively quickly after dinner, but I'm pretty confident that a little scrubbing with my handy Magic Eraser (a.k.a. the most wonderful cleaning product ever) would take care of it pretty easily.
All in all, we've been more than pleased with these chairs so far – especially considering how cheap they were! We didn't expect the room to look too different when we brought these in because we had white chairs in here before, but we both feel like the room looks quite significantly better. It feels much more modern and complete now, and every once in a while when I'm walking through the room I like to pause and gaze at how pretty it all is now.
Seriously – I do that on a regular basis. Don't judge me.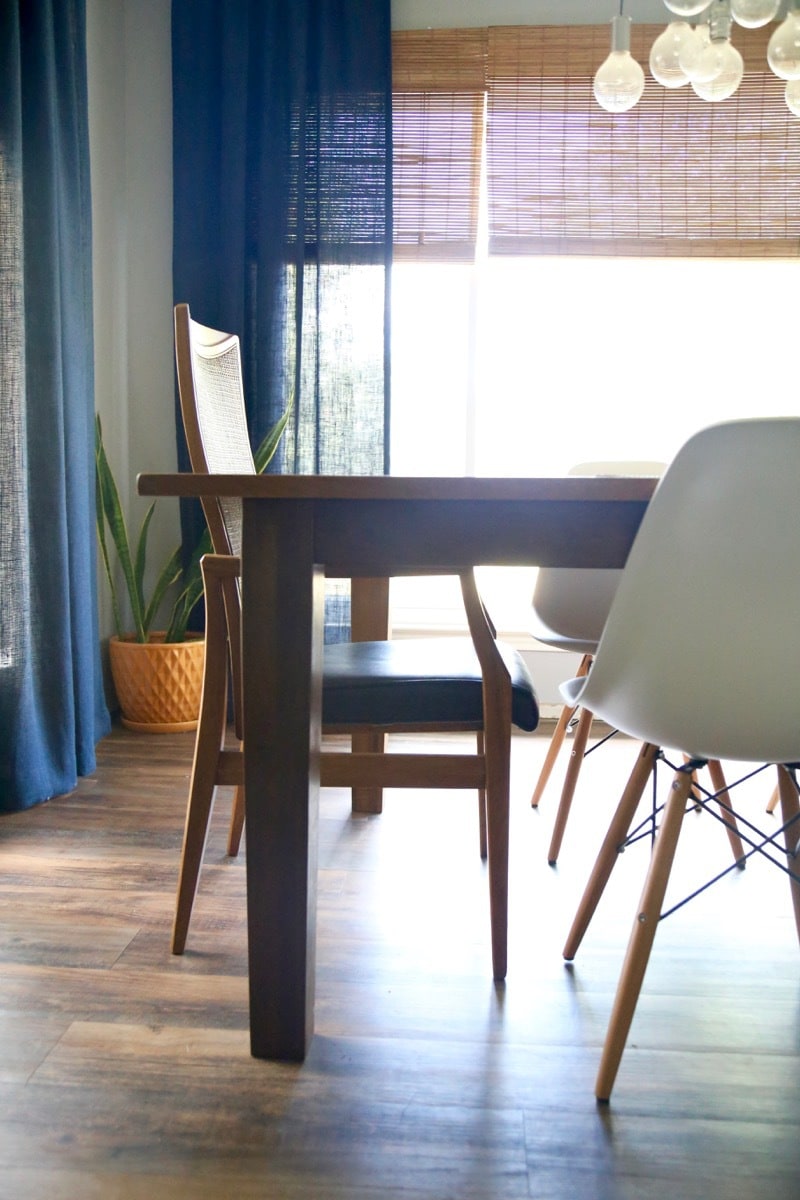 I feel like the basics of this room have come together really nicely so far, but it's still missing something. I need to replace the plant over in the corner because after several years of toughing it out with us it's really very dead at this point. I know it looks okay, but all of those leaves are hanging on by a thread, and some have been pulled out of the dirt and shoved back in by the resident destroyer-of-all-the-things (aka: the two year old). I'll probably buy another plant just like it, though, because I love how it fills up that corner and it's been shockingly easy to maintain!
I think our next step in this room is to figure out a good centerpiece for this table – I've tried a few different things over the years, but nothing has stuck. I get tired of it all too quickly, so I am currently working on finding a solution that's easy for me to change out regularly (without having to store a ton of different centerpieces). We also, of course, still need to put baseboards down in this room, and in the rest of downstairs, but we're waiting to do that until we replace the flooring in the kitchen. We'd much rather tackle it all at once than do part of it now and finish it later, plus the lack of baseboards is a great motivator to get the flooring in the kitchen done!
So, despite the mixed Amazon reviews, I can tell you that I personally have been very happy with these chairs, and I am so in love with how they look in this room. I'm so glad we decided to go with these, and I'm really hoping they last! We've had them for a little over a month now with no problems, so I'm keeping my fingers crossed it stays that way!
What do you have as a centerpiece in your dining room? Any ideas for me?