A Ryobi Pressure Washer review of the 1600 PSI Electric Pressure Washer. If you've ever wondered what a pressure washer is good for or if you need one in your life, this post will answer those questions for you. Here's a hint – the answer to the second one is YES YOU DO!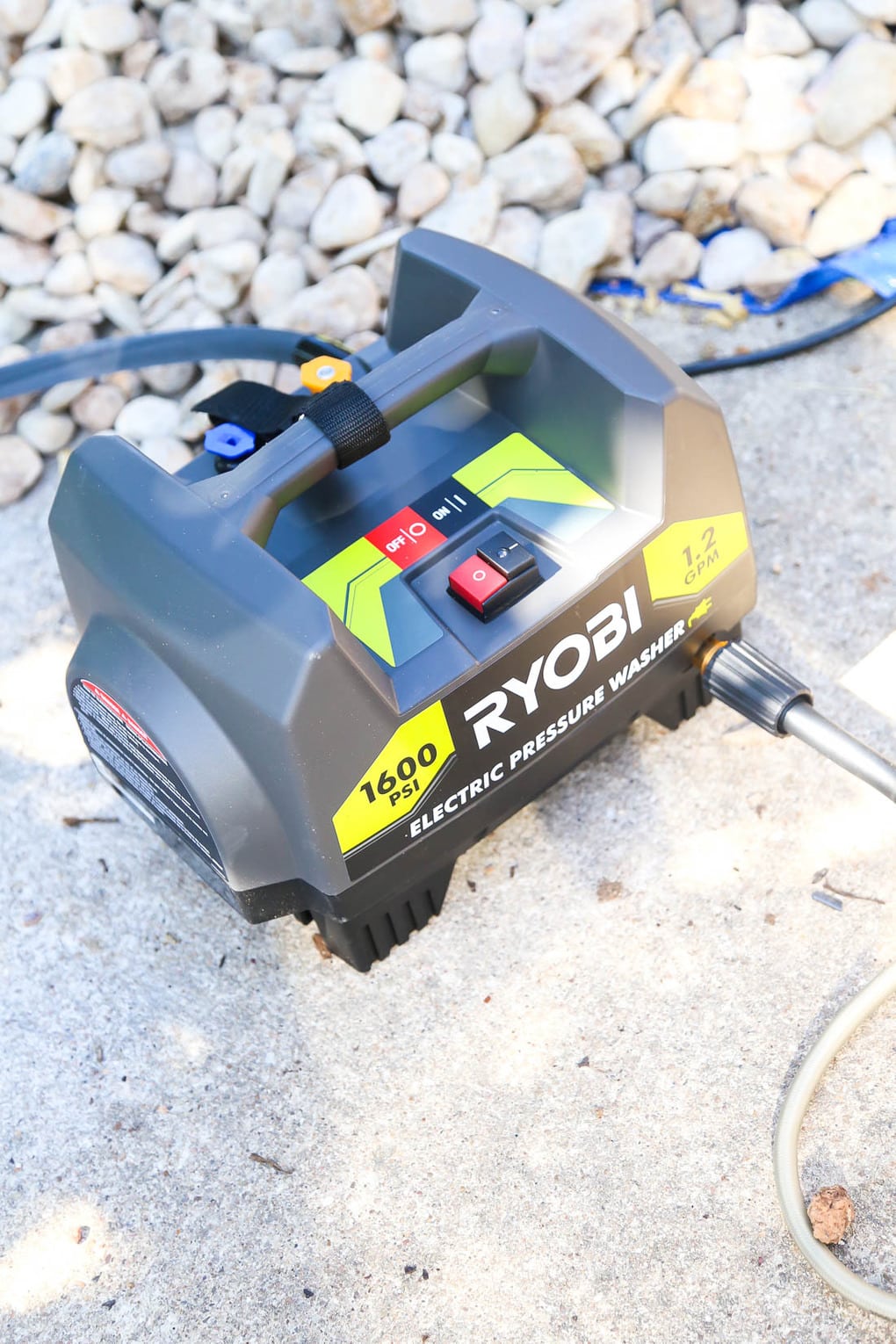 This post contains affiliate links. Click here to read my full disclosure policy. 
Have you ever watched those videos that pop up on Facebook from time to time of people pressure washing things? Every single time those videos come up in my feed, I'm totally mesmerized. Pressure washing always looked like such a satisfying thing to do, but I questioned if we'd really get the same results if we did it at our own house – I mean, it's not that old, it is relatively well-maintained, and it didn't look that dirty.
But, when our friends at Ryobi offered to send us their 1600 PSI Electric Pressure Washer to try out this spring, we jumped at the chance. Because who would pass up the opportunity to experience one of those videos in real life?!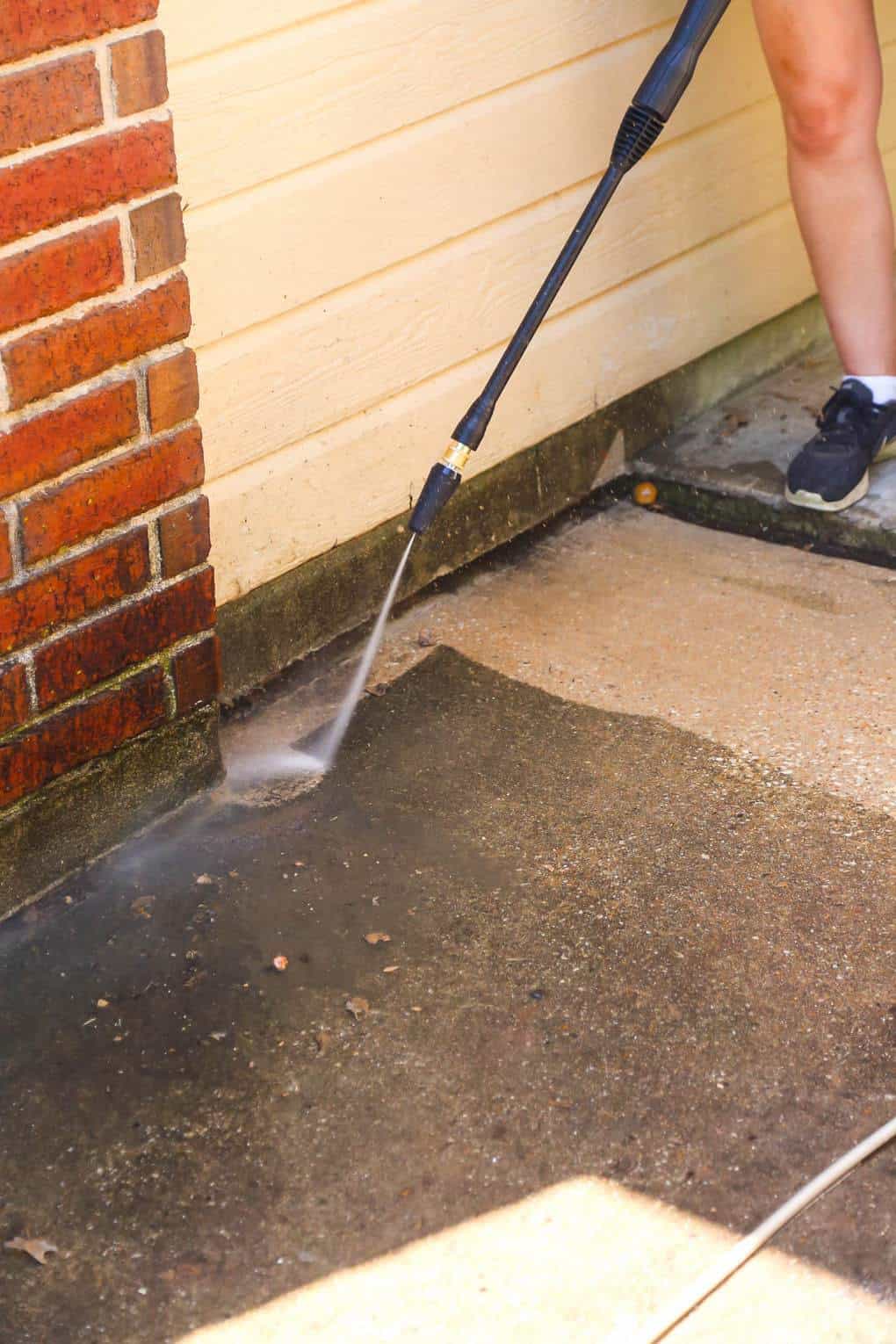 Y'ALL. I'm officially going to go ahead and say that our Ryobi Pressure Washer is my new favorite tool we own, and pressure washing is probably my new favorite hobby. Like, I might go start knocking on our neighbors' doors to ask if I can pressure wash their sidewalks for them. Is that weird?
Ryobi Pressure Washer Review
I don't normally do tool review type posts here on the blog, but this one was just so exciting to me that it seemed worth it. I know most of you are just as nerdy as I am when it comes to easy ways to clean around your house, and the Ryobi pressure washer is the easiest and most fun way to get a major cleaning high without a lot of work.
It was super easy to set up the pressure washer – just hook it up to the water hose, plug it in, and let 'er rip. We were sure to reference the manual to know which nozzle to use for various applications around the house – most of what we used was the power nozzle (which, let's be honest, is the most fun one to use) because our sidewalks and the brick on our house was looking pretty grungy.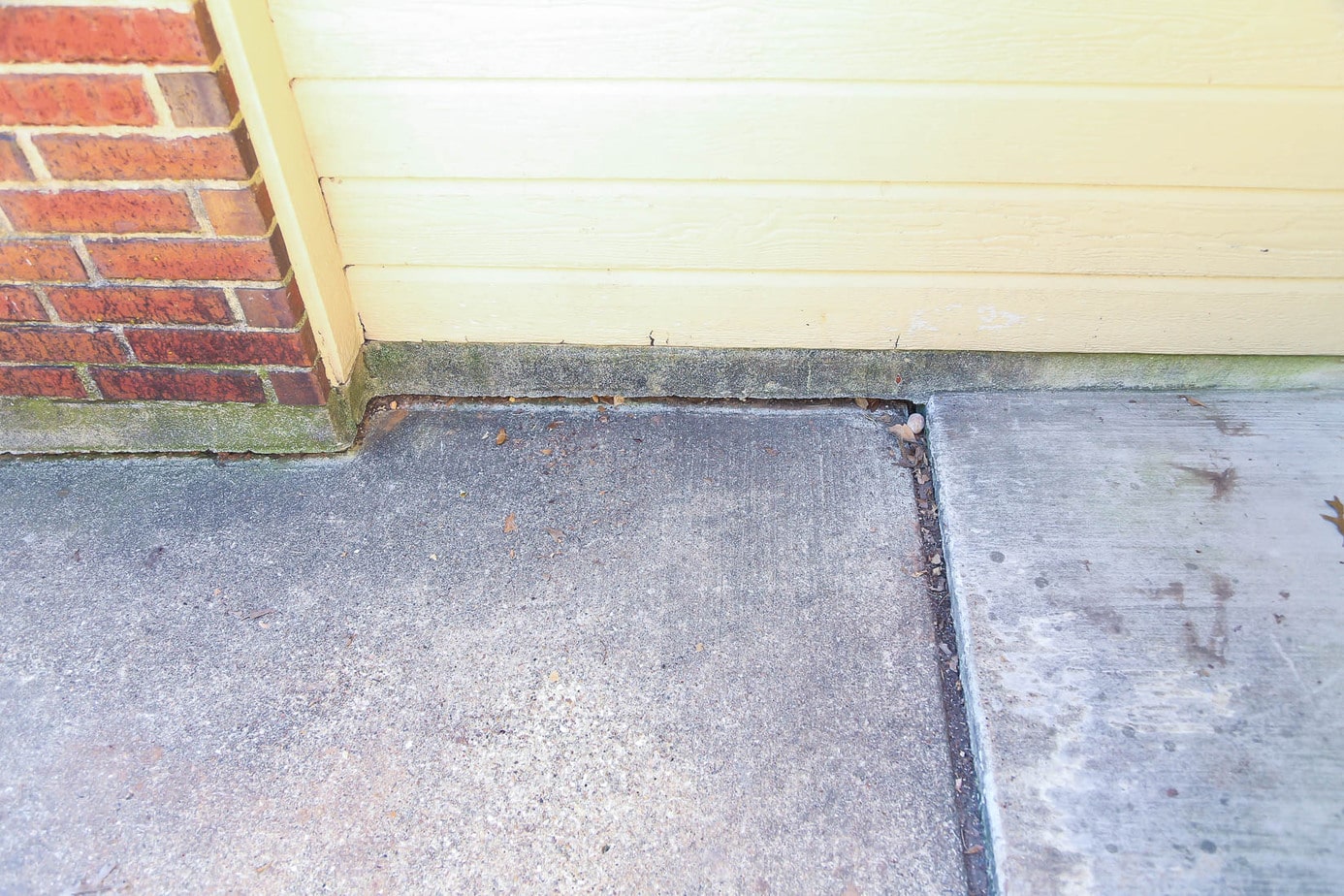 The sidewalks were much dirtier than they normally would be, thanks to our recent landscaping project, but I was surprised at how dirty even the parts that weren't affected by that project were! Also, probably the biggest surprise of all was when I started pressure washing the raised concrete area right by our front door – apparently at some point in time it has been painted or given a colored top coat, because it started flaking off when I was pressure washing it! Corey and I were both a little flabbergasted that we've lived here for 6 months and didn't even know that part of our front porch was painted. At some point, I'll probably try to go in and get all of it up so we can start fresh, because it's looking pretty ragged!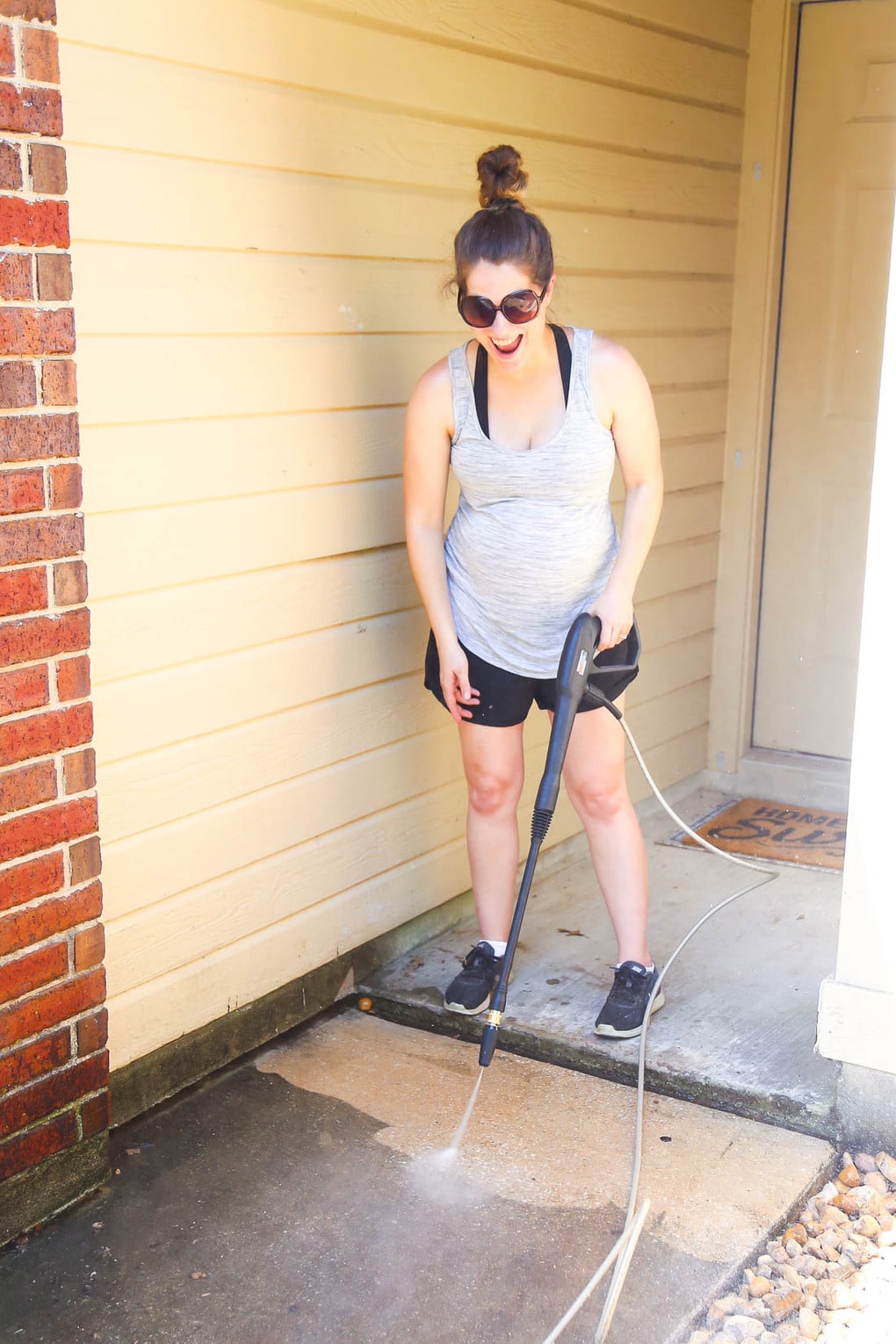 That photo pretty much sums up exactly how I feel about pressure washing. This is the face I was making basically the whole time I was working. Honestly, I was a little disappointed when I finished pressure washing everything I needed to do and had to stop. I could have done this all day long.
I didn't know much about pressure washing at all before we opened up our Ryobi Pressure Washer this weekend, so I wanted to share a few things I've learned, in case you're as clueless as I am.
What can I clean with a pressure washer? 
Here's a quick list of ideas for some things you could clean a pressure washer with (note that you may need to use different nozzles/pressures for different things. More on that in a minute).
Sidewalks and driveways
Patios
Brick
Siding
Outdoor grill
Cars
Decks
Outdoor furniture
Fences
Gutters/Drains
Garage doors
Trash cans
Really, the applications are pretty endless. Now that we have a pressure washer, I want to start being intentional about giving everything around our house a good cleaning every year. Our Ryobi Pressure Washer has a nozzle for soap as well, so I think in a few weeks I may give the entire house a bath! It's amazing to me how much grime can build up over a year (I mean, it makes sense if you think about it), so I want to start taking better care of the exterior of our house and a good pressure wash once a year or so is a great way to do that.
Oh, and a side note for the curious – here's how that area by our front door looked after we were done: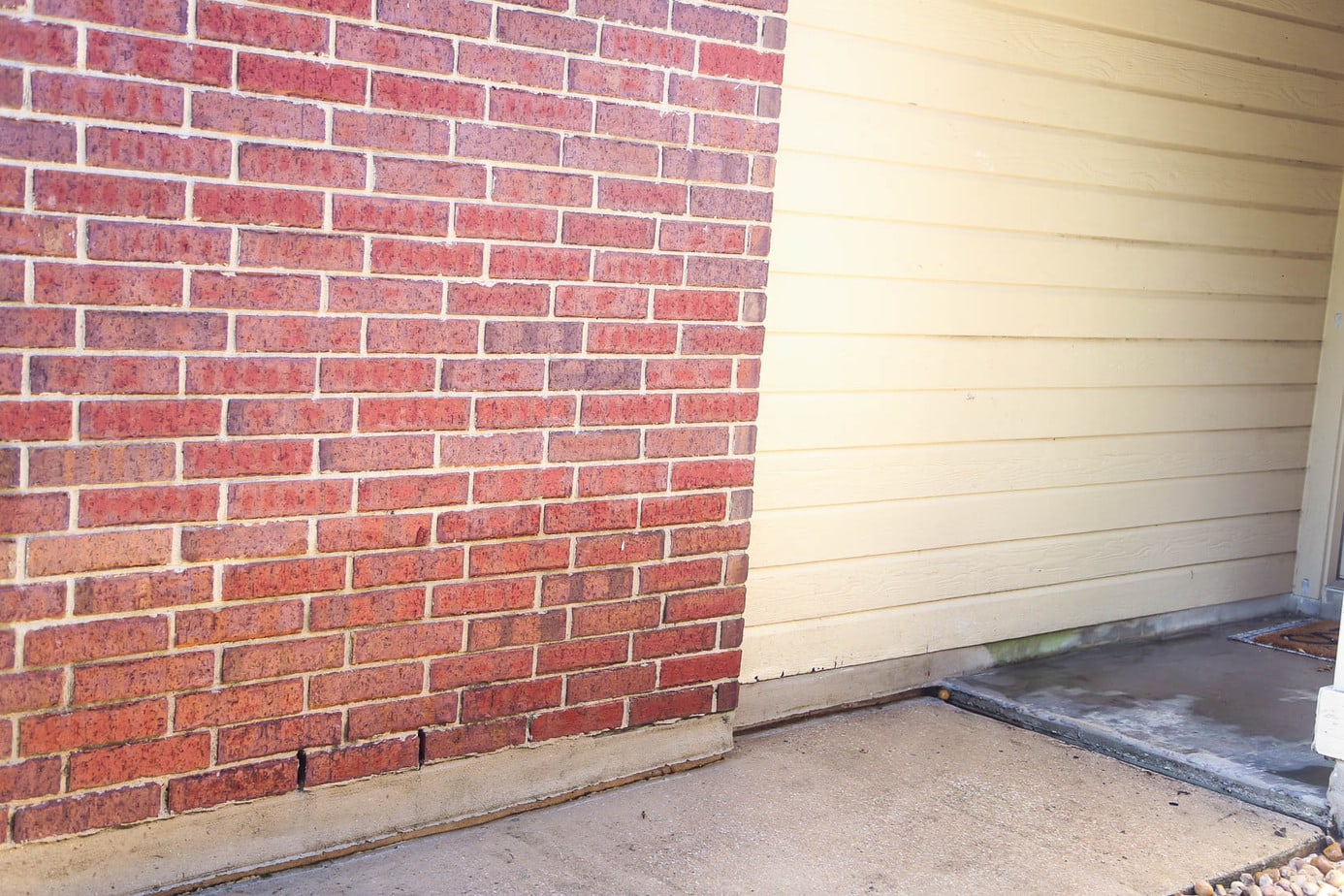 No more green! The brick is so nice and shiny (and still slightly wet in this photo, which is why it looks to be a different color). You can really see if the difference if you look at that one little green area under the siding that I missed. Also, please note the splotchy texture of the concrete right by the door – that's the part that was painted (???) and much of it has chipped up. So strange looking!
How do the different nozzles work?  
Every pressure washer will function differently, but the Ryobi 1600 PSI Electric Pressure Washer (which is what we have) comes with 3 different nozzles: A turbo nozzle, a 15-degree nozzle, and a soap nozzle. Here's a quick rundown of what they all do:
Turbo Nozzle: Used for brick, masonry, and concrete. This is the most powerful nozzle and can do some damage if used on the wrong material. It is the fastest-cleaning nozzle and (in my opinion) the most fun one to use!
15-Degree Nozzle: Can be used for brick, masonry, and concrete. Can also be used for siding, fencing, gutters, lawn equipment, and other applications if used with caution (always test a small, inconspicuous area first! We tried this one on our siding but it but it chipped the paint so we switched to the soap nozzle).
Soap Nozzle: As the name implies, this is the only nozzle that you would use soap with. It uses a much lower pressure and is more gentle for painted surfaces. This can be used on just about anything, and if you add some soap it's a great way to get a good cleaning! I might try this one my car next week because it's now covered in dirt since I left it sitting in the driveway while I played around with the pressure washer this weekend. Oops!
But, my patio isn't really that dirty.
Yes, it is. Just trust me. After I finished cleaning the parts of our sidewalk and driveway that were obviously dirty, I brought the pressure washer into the backyard to work on the patio. I didn't think it would really make much of a difference since the patio is covered and really appeared pretty clean.
Oh, was I ever wrong. It was just as satisfying to clean the concrete on the back patio as it was on the dirty sidewalk leading up to our house! It wasn't quite as bad, obviously, but it clearly was in need of a good clean and I was even able to get up a bit of paint I had spilled back there right when we moved into the house.
Basically, your house is way dirtier than you think it is and a pressure washer just might be your new best friend.
Since no post about pressure washers is complete without an oh-so-satisfying video, I'll leave you with this quick little snippet I took while I was cleaning our front walk.
I could watch that all day.
I kind of want our front sidewalk to go ahead and get all gross and dirty again so I can clean it!
I think I might have a problem.
Have you ever used a pressure washer before?!