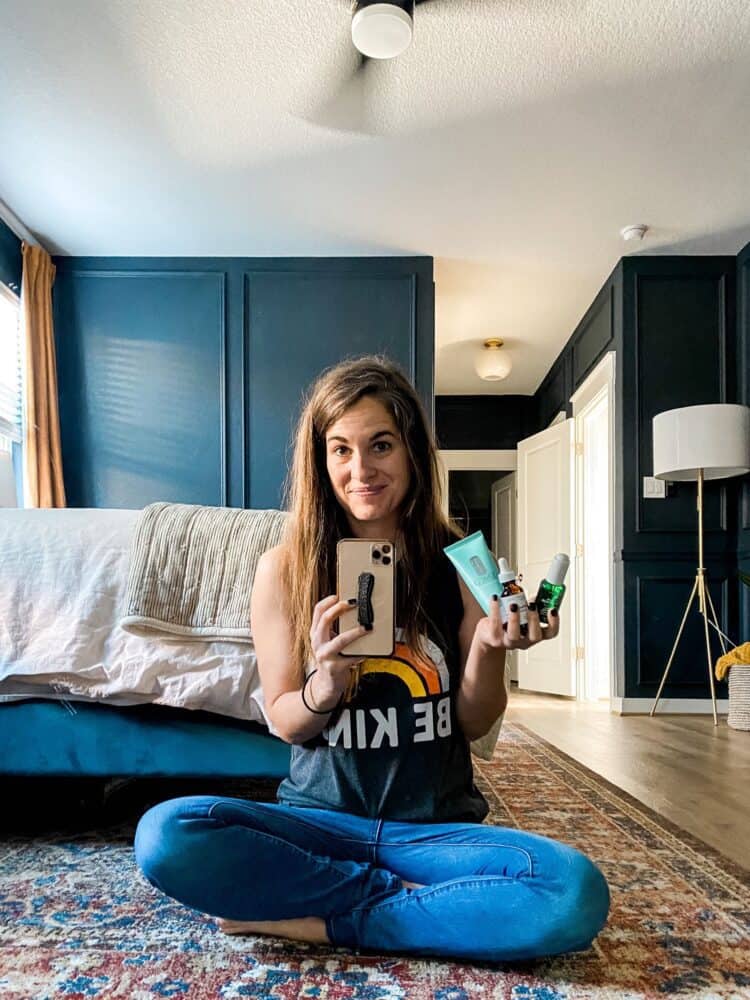 I mentioned on Instagram stories last week that, after many years of trial and error I have finally landed on a skincare routine that really works for me.
I had several requests to share what the routine was – enough that I figured it was worth a quick blog post to lay things out for you. As I started typing it out, I realized it feels a little extensive, but this is the first time in my life I've ever had what I would consider good skin, so I'm not complaining!
Before I dive into the details, a few notes:
I don't recommend trying more than one new product at a time. I learned the hard way that if I buy and try out three new products and one of them reacts badly with my skin, I have no idea which one is the problem! I've learned to only try one new product at a time, and to use it for a minimum of three weeks before I try something else.
Remember that what works well for me may not work well for you. I tried to copy several different people's routines and it never really worked. Everyone's skin reacts differently to everything, and patience is really the name of the game here.
I do still have occasional breakouts (especially around my period). But, now that I've learned the best methods for dealing with them, they don't last as long and they don't tend to spread. I'll detail exactly what I do below!
Let's dive in, shall we?
My Morning Skincare Routine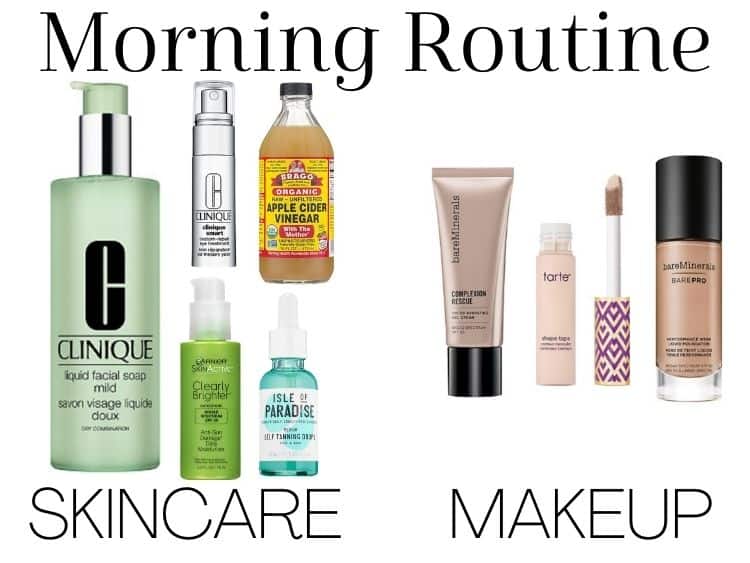 After that, I'm ready for makeup!
I'll note that if you struggle with acne and are looking for a new routine, it's 100% worth it to look at your skincare and your makeup. I noticed a huge difference when I switched over to Bare Minerals BAREPRO Foundation (and I use their Complexion Rescue Tinted Moisturizer on days when I want lighter coverage – I use this a lot in the summer months!) . I use Tarte ShapeTape for my concealer, and those two products have never let me down in terms of good coverage while also keeping my skin clear. Many other foundations and concealers I've tried have really irritated my skin, so these are definitely must-haves in my makeup bag.
And finally, I highly (HIGHLY!) recommend picking a day or two of the week where you do not wear makeup at all. Since last March I've gotten into a habit of not wearing any makeup on the weekends (and I often pick a third day during the week to skip it too), and my skin is much happier for it.
My Evening Skincare Routine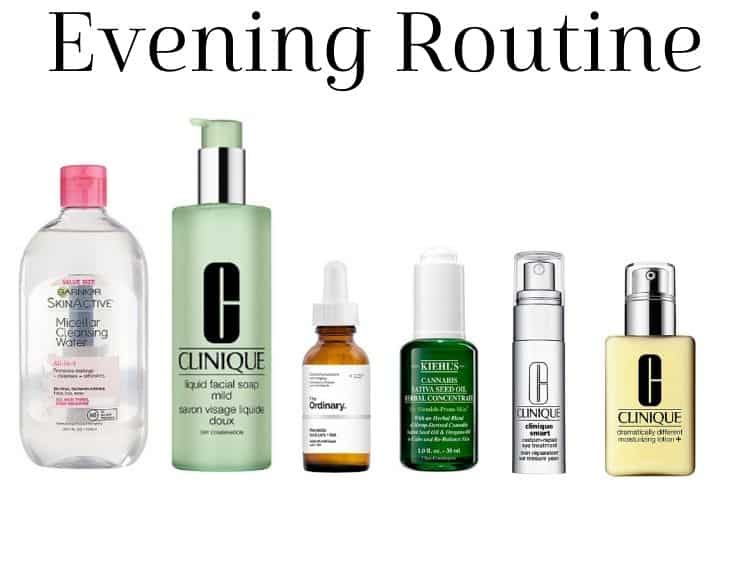 My Favorite Masks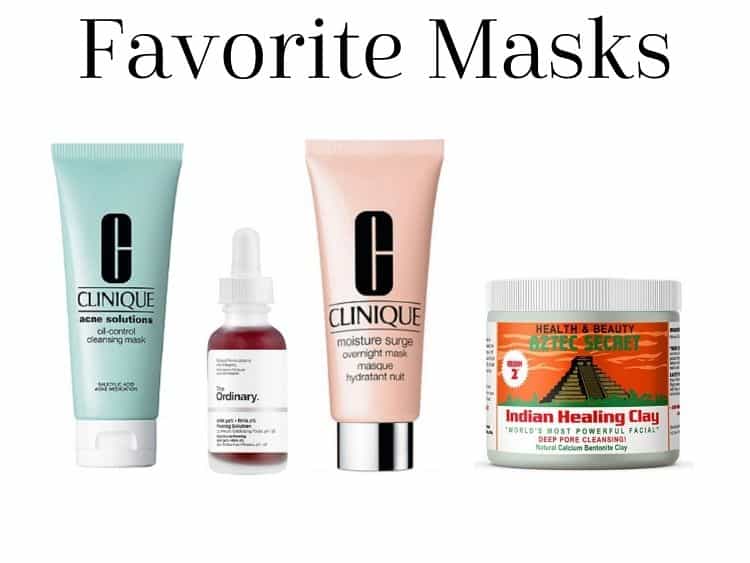 The last piece of the puzzle here is two masks that I do every single week. These have made a big difference for me, and I 100% notice a difference if I skip using them even once or twice.
When I have breakouts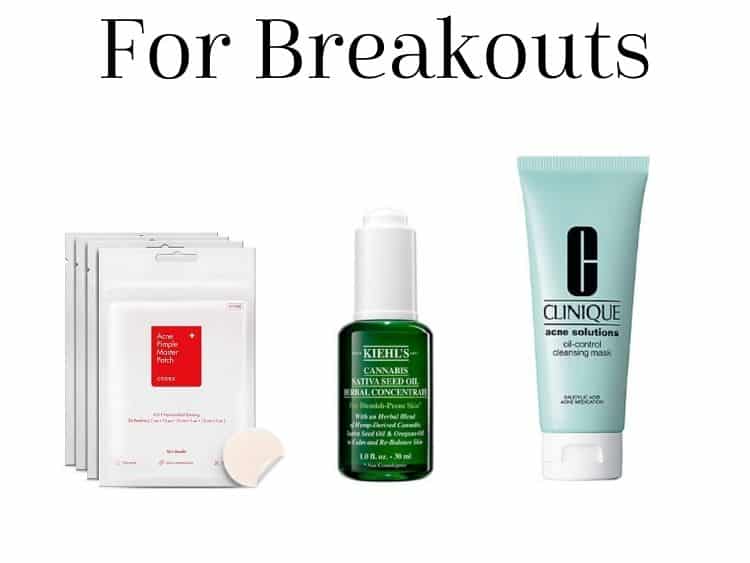 I do still have occasional breakouts, but now that I've spent all this time figuring the best routines and systems out, I know exactly how to deal with them.
First of all, DON'T TOUCH! I know you know this. I know this. We all know this. It's so hard. But just don't do it.
When I notice a breakout coming, I start applying the Sativa Seed Oil as a spot treatment directly to the affected area in the mornings. I do this until it is fully gone.
Every evening, I use one of these Acne Patches on any pimples, and I leave them on overnight. They're magic, especially if you have any acne that has broken open. These are 100% a must-have for me, and they're so affordable too.
And finally, when I'm struggling with a breakout I will add in a third day of my Acne Control Clearing Mask.It does a great job of clearing up my skin, and it's gentle enough that my skin never gets irritated with an extra application.
And that's what I'm currently doing!
This routine has taken me multiple years of trial (and error) to nail down, and my skin is currently the healthiest and clearest it has ever been!
I'll remind you that I didn't buy all of these products at once (and I don't recommend you do that either!). It's been a very long process of buying and trying one thing at at time until I finally landed on this routine.
If you're struggling to find a new skincare routine, here's what I recommend (keeping in mind I'm not an expert, this is just what finally worked for me):
Start by dropping everything you're doing. Go down to the very basics and do nothing but wash your face, remove your makeup, and moisturize. Do this for at least 2-ish weeks to give your skin some time to detox and settle. Play around with different cleansers and moisturizers until you find a combination that you like and doesn't make your skin worse.
Then, you can start adding in one new product at a time. If I was starting fresh, I would start by adding in the Apple Cider Vinegar Toner (because it's so affordable), and then the Kiehl's Sativa Seed Oil. Those are my two biggest must-haves, and it's a good combo for morning and night.
Keep (slowly) adding and testing products until you find the sweet spot where your skin is happy!
I hope this helps for those of you who are still struggling – just know this was not a short road for me. I started looking for a new routine in earnest shortly after Grant was born, and didn't really settle on all of this until a few months ago, about 2.5 years later. Hopefully the process is much shorter for you – I made a lot of mistakes (like trying multiple products at once) so you don't have to!
Let me know if you have any questions, or any incredible nighttime moisturizer and eye cream suggestions!