Y'ALL. I'm so excited to share today's post with you. You may remember that a few years back I went and visited the Southern Living Showcase Home that was here in the Austin area and shared some photos of the (incredibly inspiring) home – two whole posts worth of photos.
Well, I'm back today with another inspiring home tour. And I can't even begin to tell you how obsessed I am with the houses I'm about to show you – I'm so obsessed, in fact, that I took entirely too many photos and am going to have to break this into at least two posts. Get excited.
So, what the heck am I talking about? Let me explain. Some dear friends of mine and Corey have been working on a small development here in the suburbs of Austin – it's a planned community of detached condos called Starlight Village, and it's the most unique and beautiful little neighborhood I've ever seen. You see, our friends love midcentury modern design and architecture, so they set out to model their homes after the design styles of the 50's and 60's. They tried to track down as many authentic materials as they could find, put in a ton of research so they could take some of the popular design styles of the time and modernize them a bit for contemporary living (the bathrooms and closets are spacious, no asbestos, you know, the usual!), and they have truly poured their hearts and souls into this sweet little development.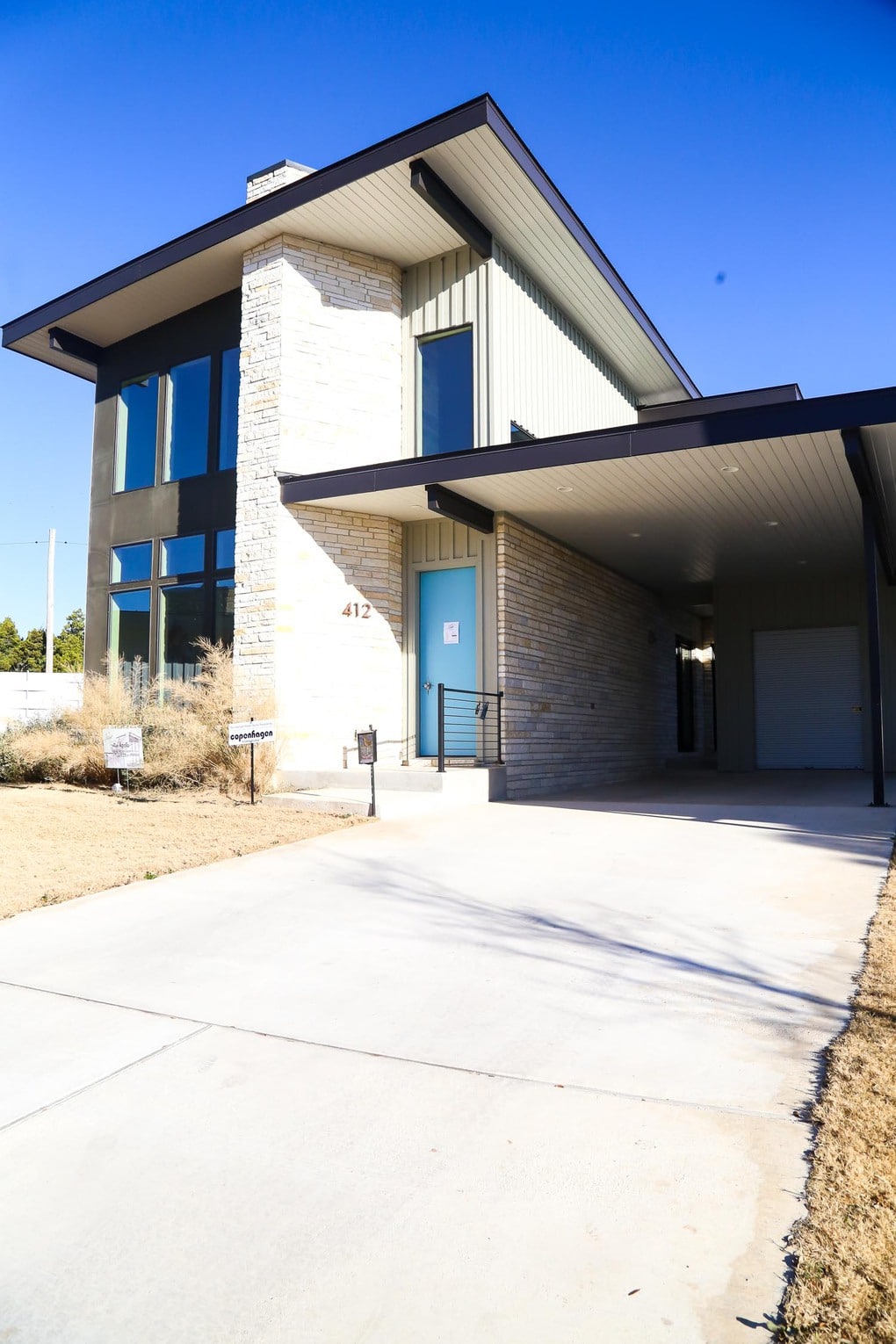 I asked our friends if Corey and I could come visit one day to check out the homes (they have several built and a few are even occupied, but most of the development is still under construction), and they were gracious enough to give us a full tour of the homes. Today I'm just going to walk you through one of the homes and chat a bit about it, but next week when I come back with more photos I'll have a quick Q&A with my friend about all of the details. If you have any specific questions for her, be sure to leave them in the comments!
Are you ready for this?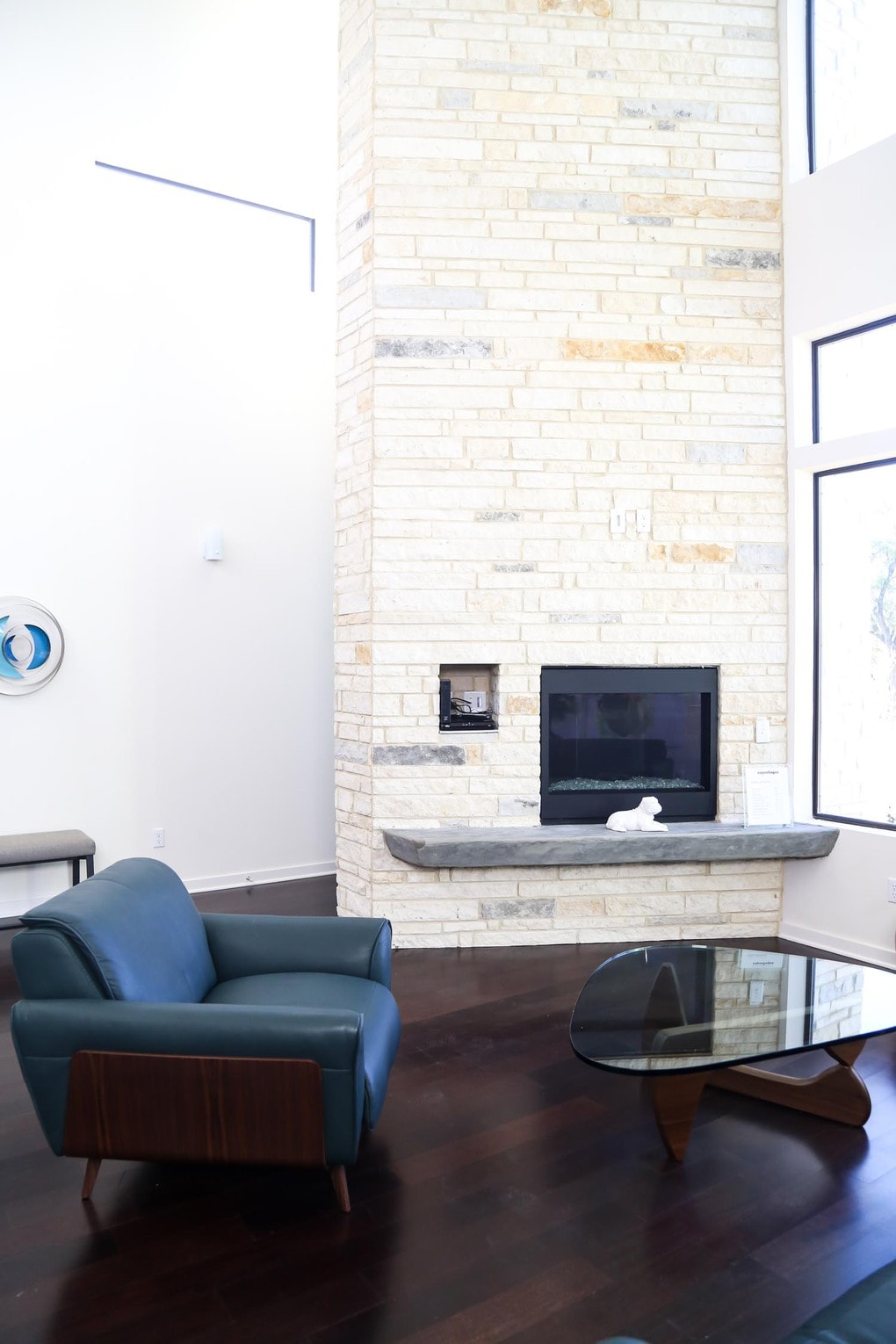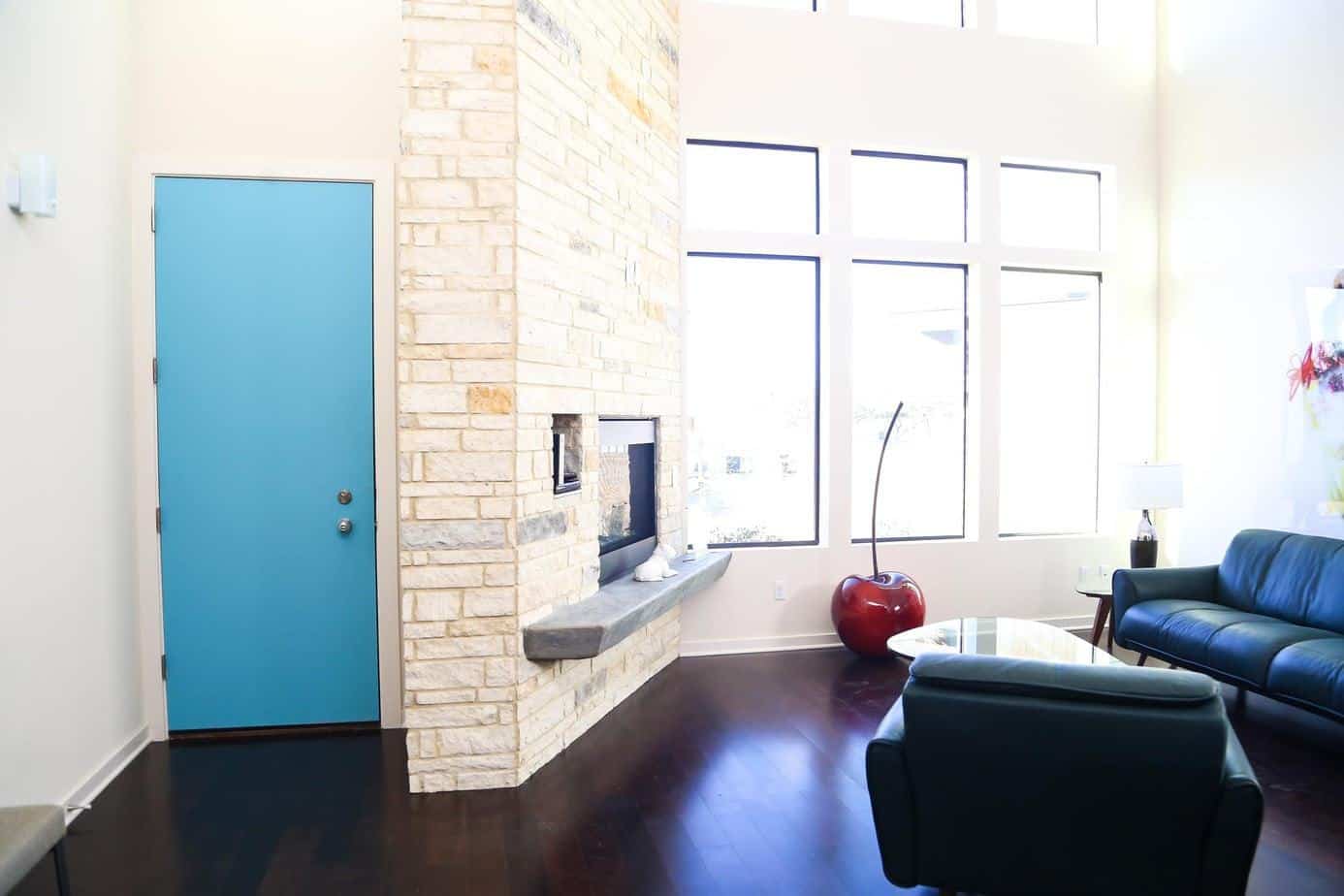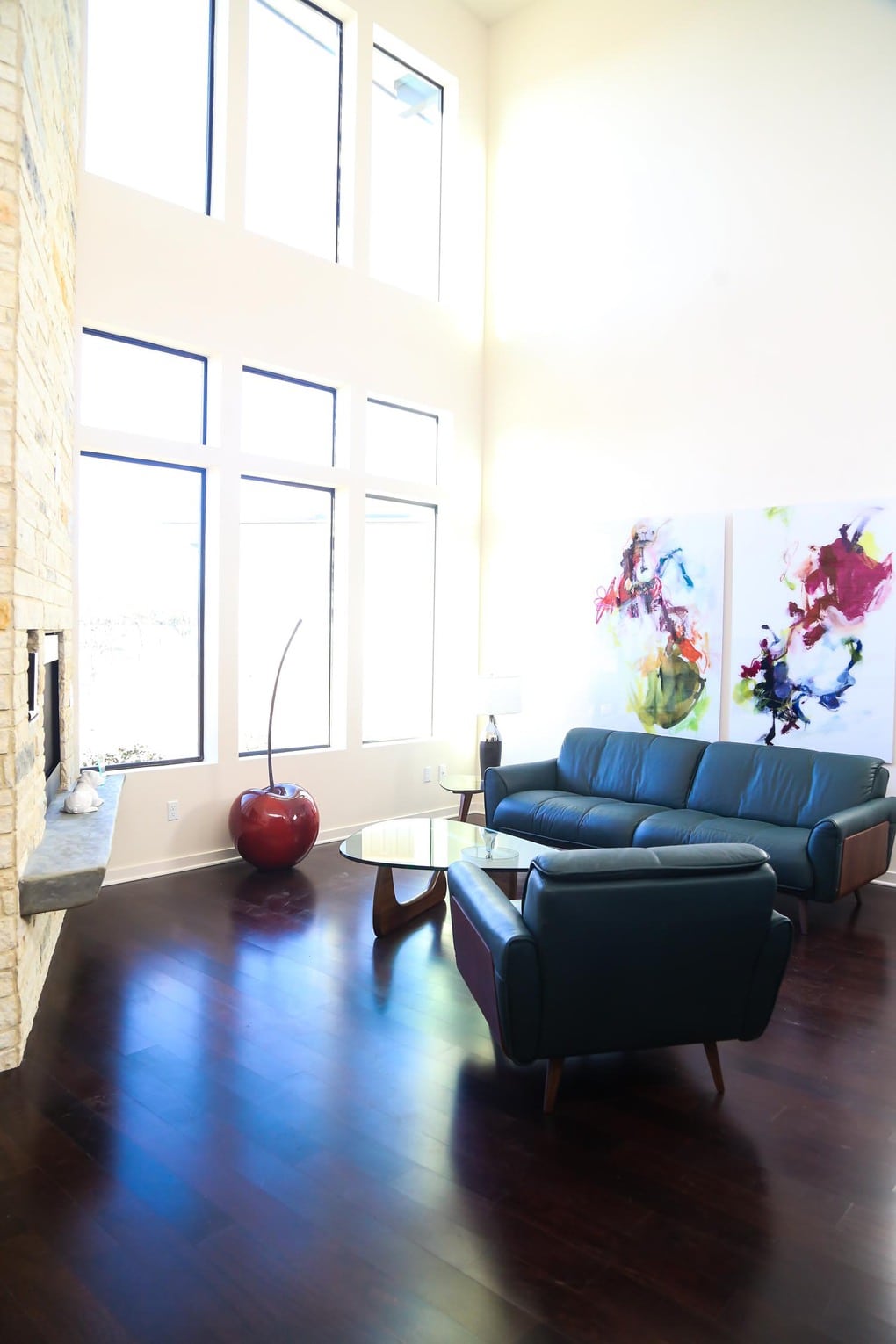 The house we're going to look at today is their furnished model home – it was furnished by Copenhagen and is just so beautifully styled. They've got 8 different floorplan options (the home pictured here is the Apollo floorplan) with endless customizations (seriously, one family wanted to add a sunken living room so they're currently building a home with a big sunken living room and it's going to look so good) and a ton of different roofline options (including the quintessential midcentury "butterfly" roofline, which is so cute).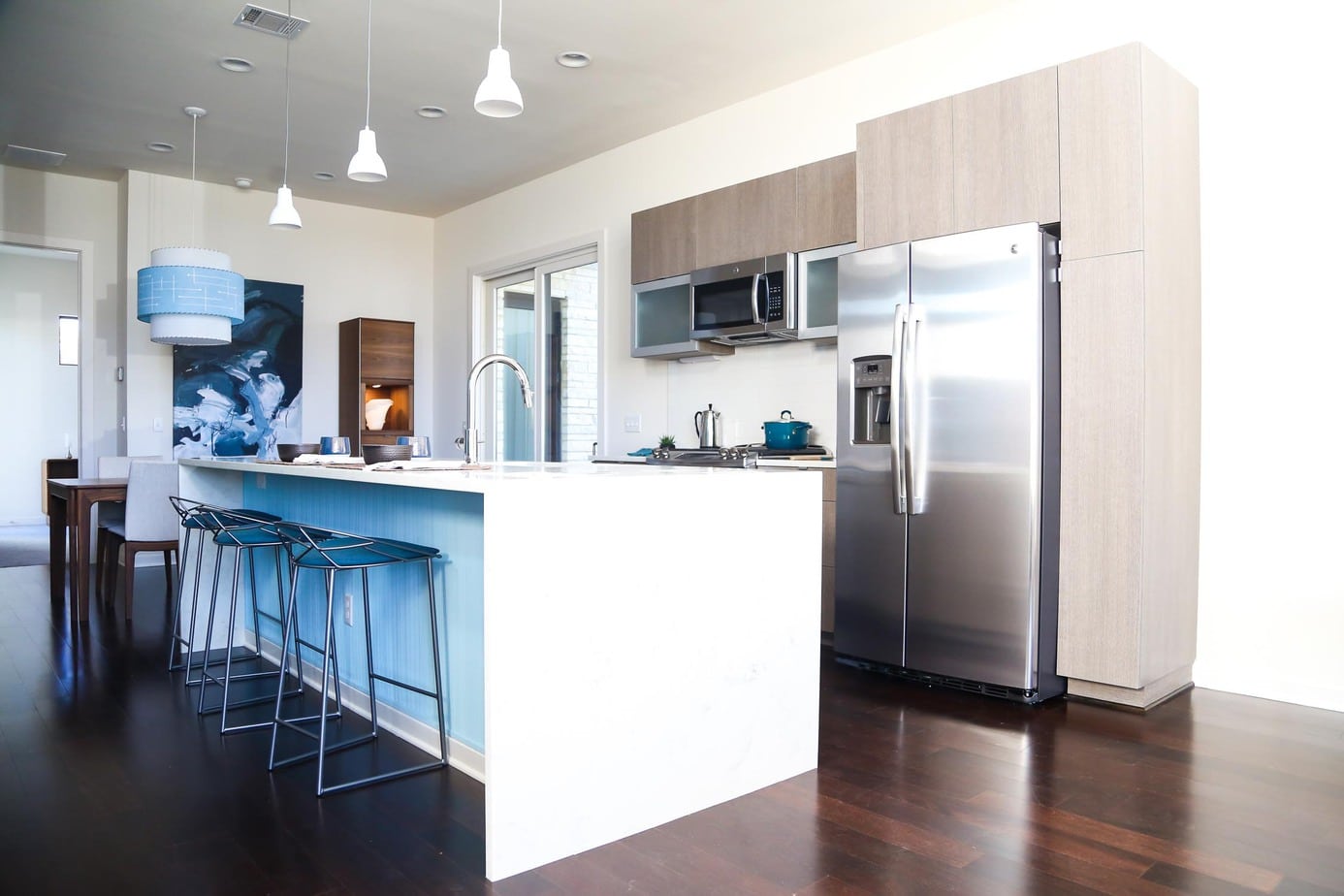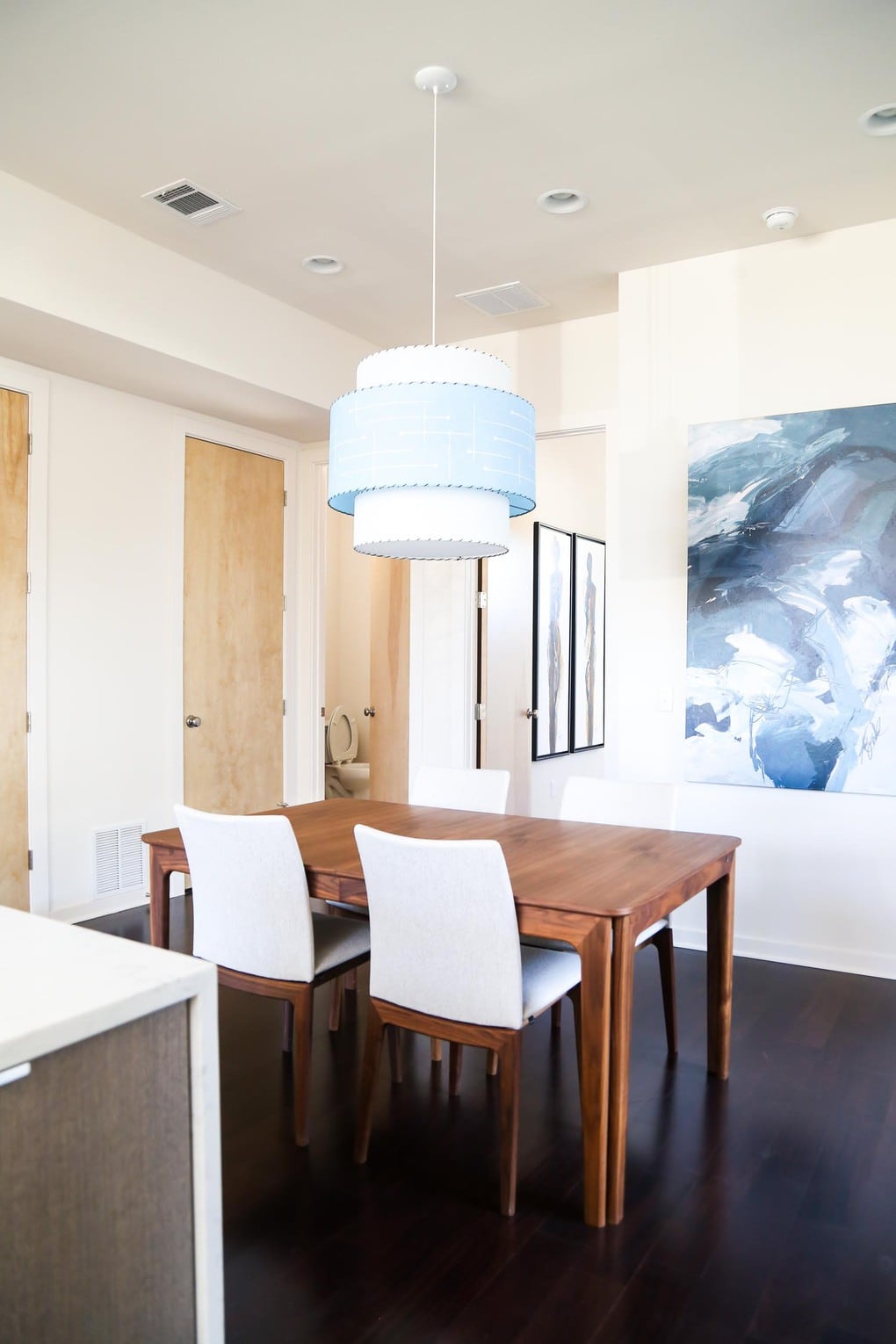 One of the things I noticed immediately about every single house we toured (we walked through 6 or 7 homes) was the incredible natural light. They've put a lot of thought into the windows throughout the homes and they're all very smartly placed. There isn't a single missed opportunity to let some extra light in, and they also put in the extra effort to ensure that the window layouts look great from the inside and the outside of the home. I loved the black frames on all of the windows, and the lofted ceilings throughout the houses (they all have a minimum of 10-foot ceilings, but most of the houses we saw also had living rooms that opened up to the second story) make even the smaller houses feel huge and airy.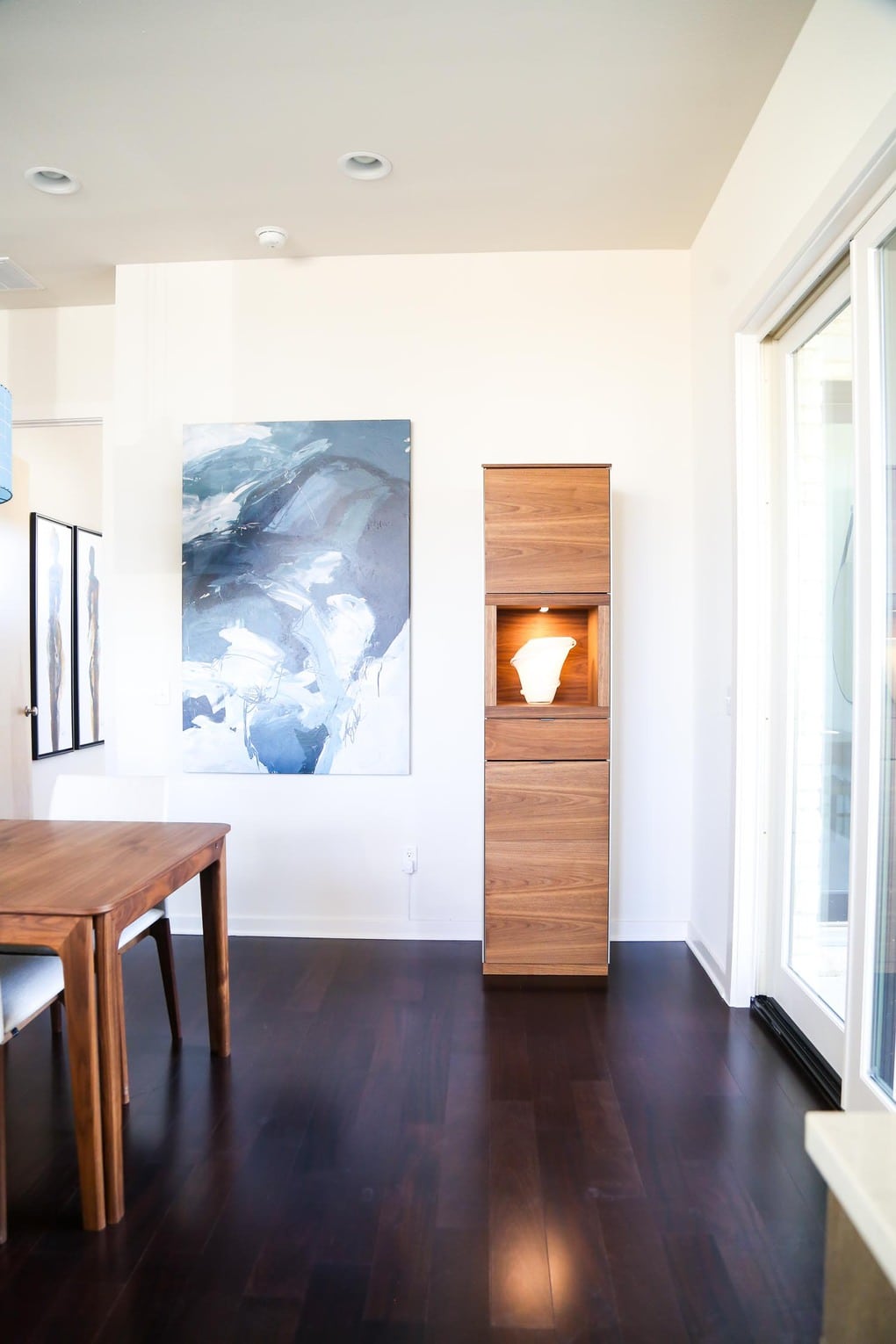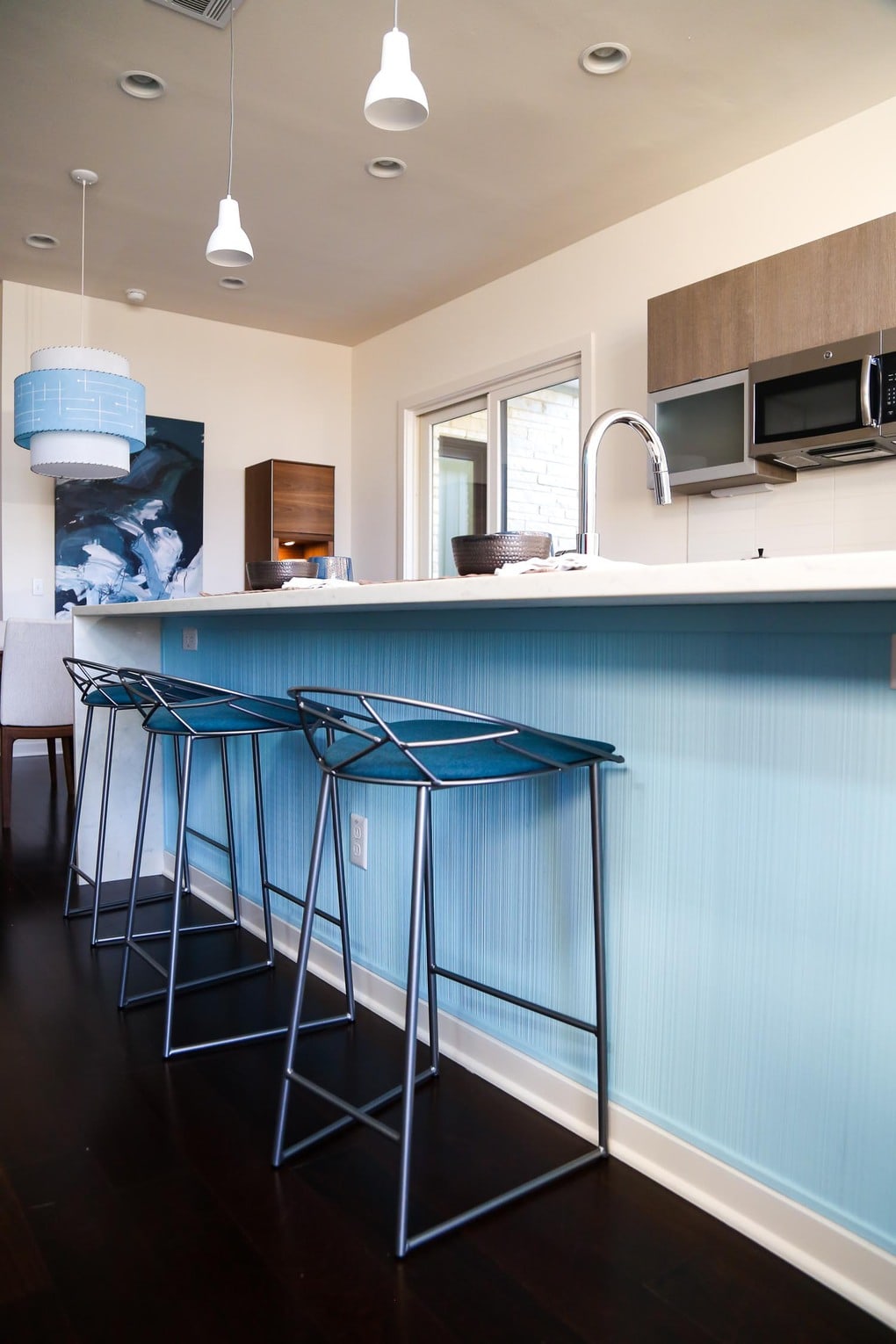 Plus, can we talk about those colors?! The texture on that paneling behind the island in the kitchen is so unique and beautiful, and I love the pop of color. All of the homes had really fun and unique details like this – some had pink accents, some were orange, but all of them felt like they could have come straight out of Mad Men and it made me so happy.
Another thing I marveled at was the sheer dedication to making sure they had the best available materials and finishes for the houses. They took a family road trip from Texas to California just to pick up a specific tile that's only sold once a year and only in person. Now that's dedication.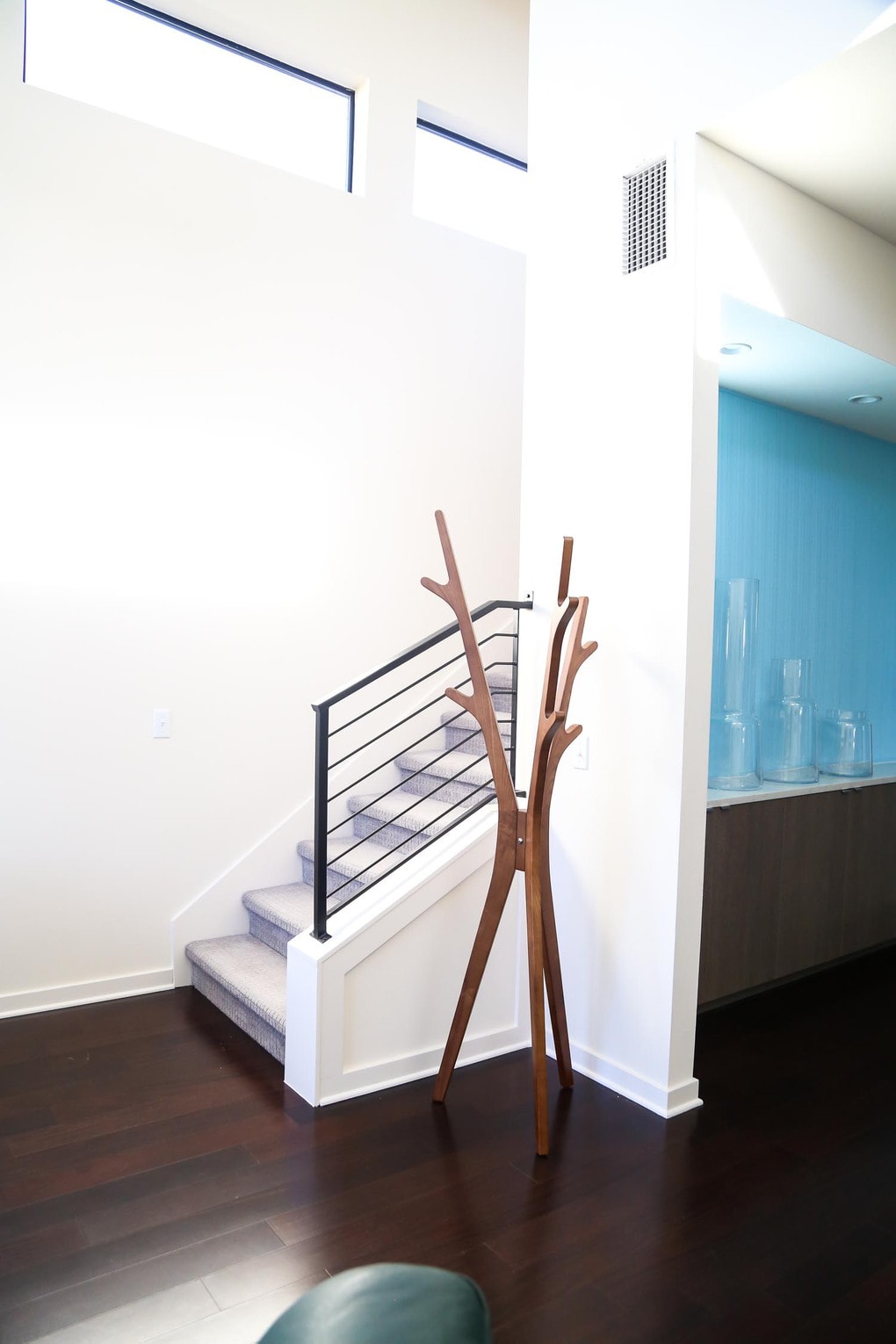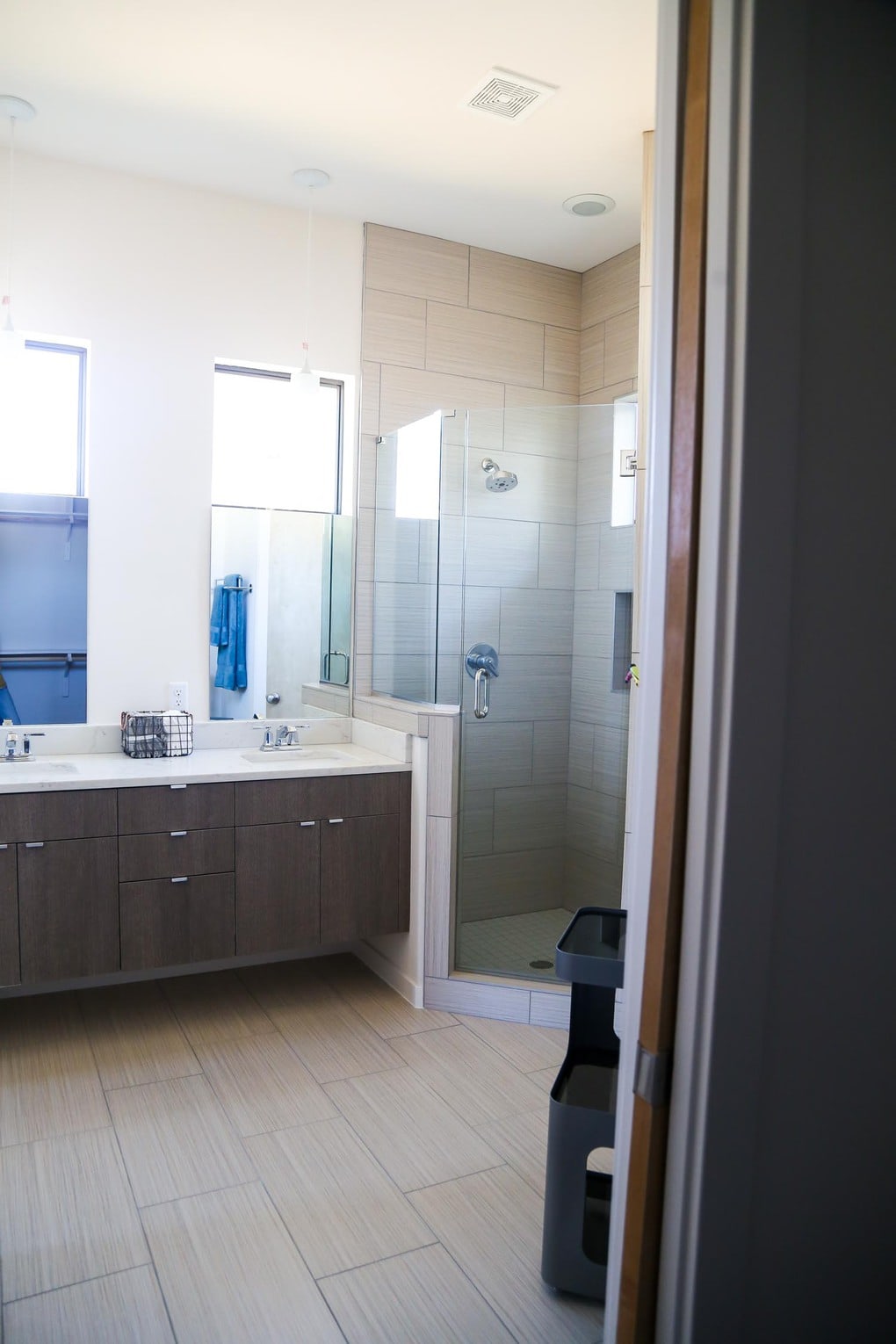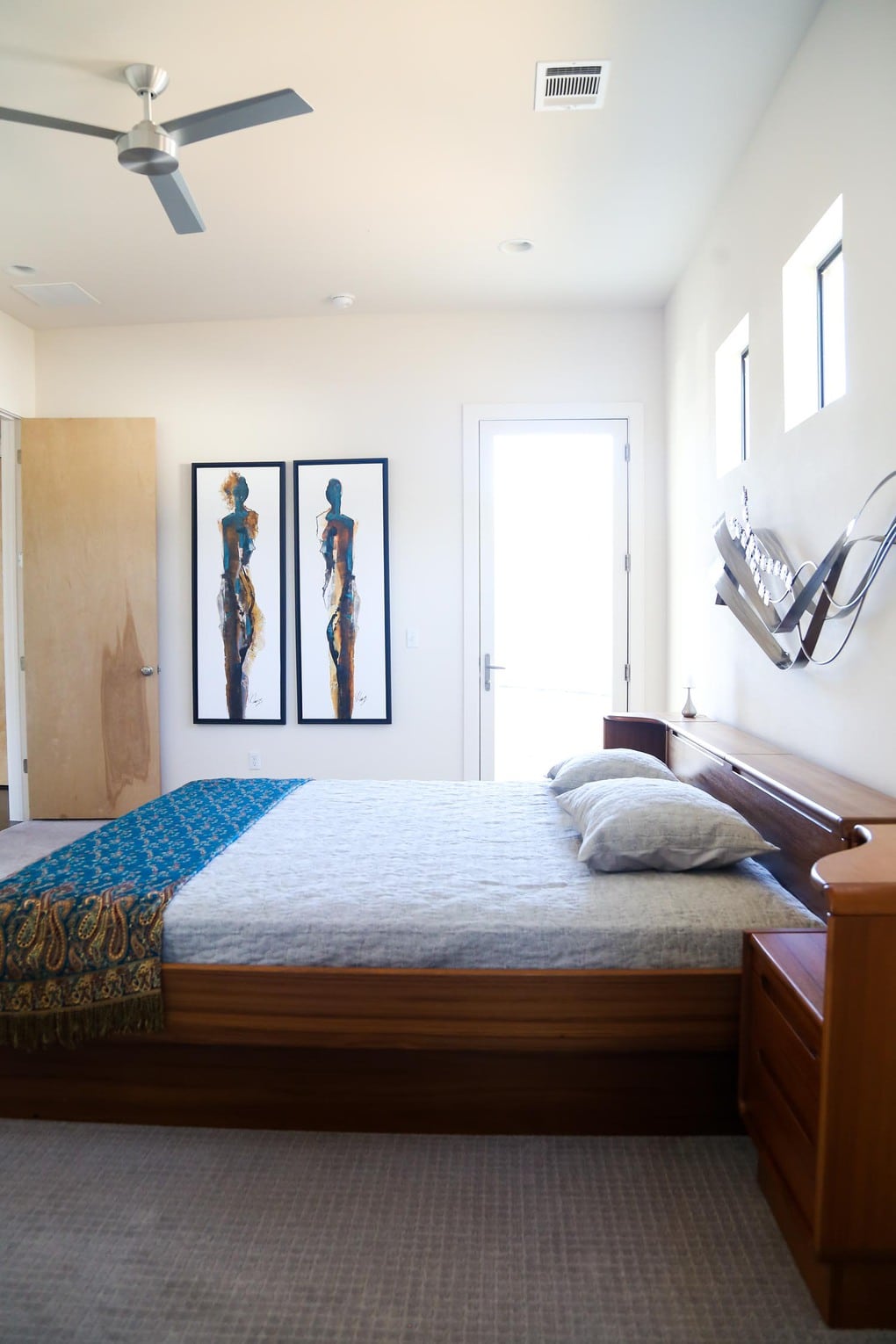 I got a little swoon-y over this bed and nightstand combo in the master bedroom of the model home. It seriously looks like it was pulled right out of an episode of The Brady Bunch and I am here for it.
Also, I adore the windows above the mirrors in the bathrooms – such a smart and simple way to get some extra natural light in a room where it's often hard to come by, and they blend right into the mirrors and make the ceilings feel even taller than they already are.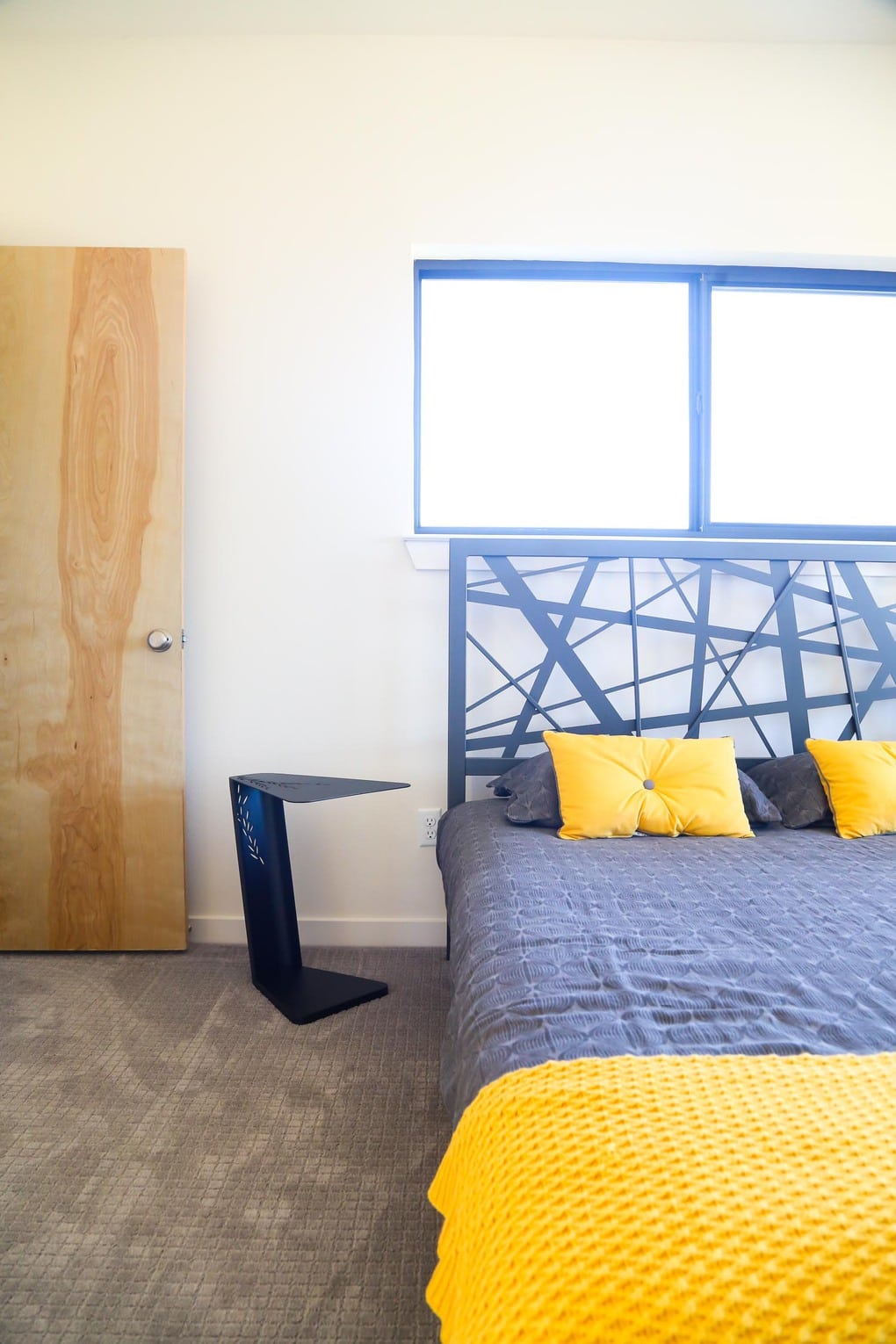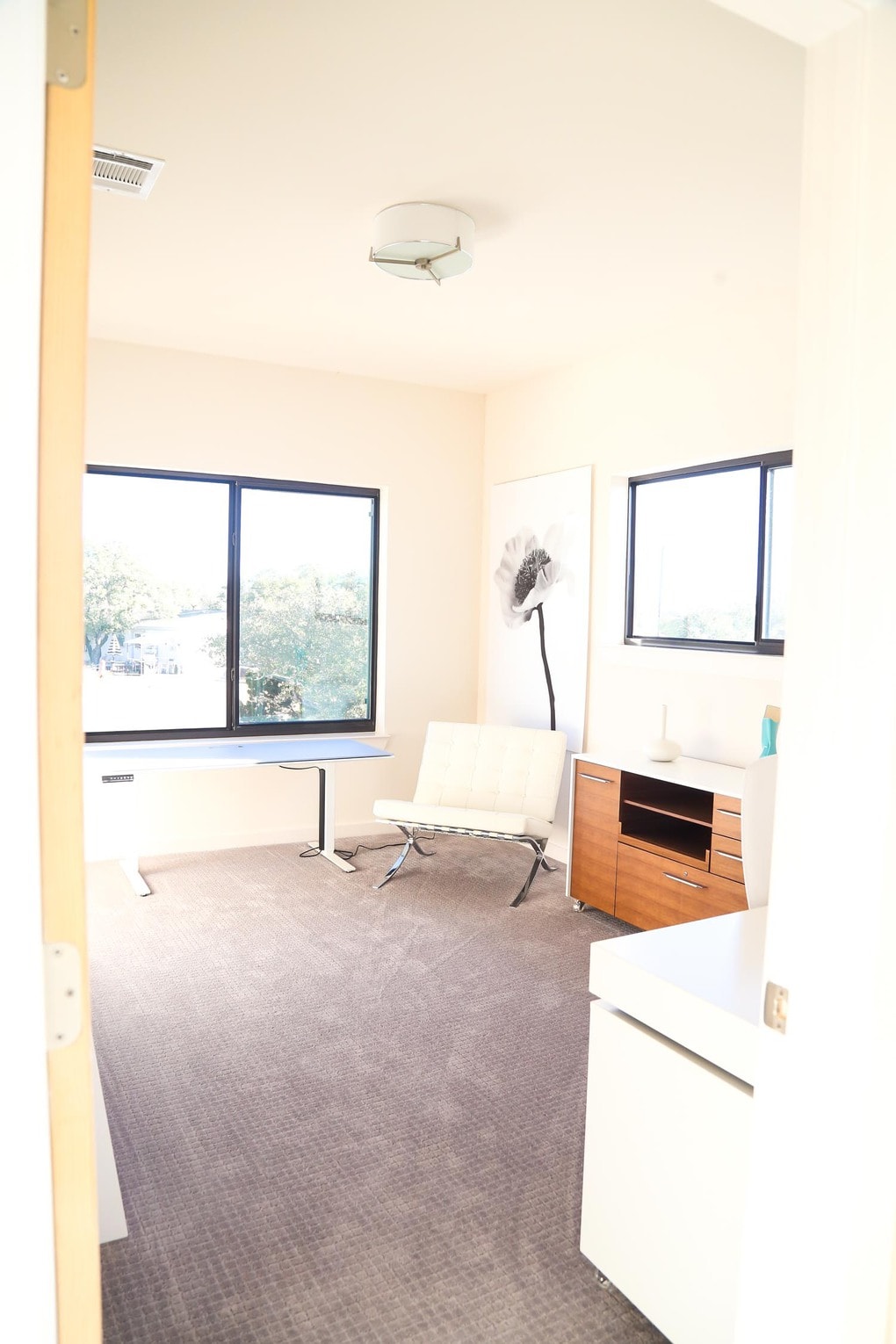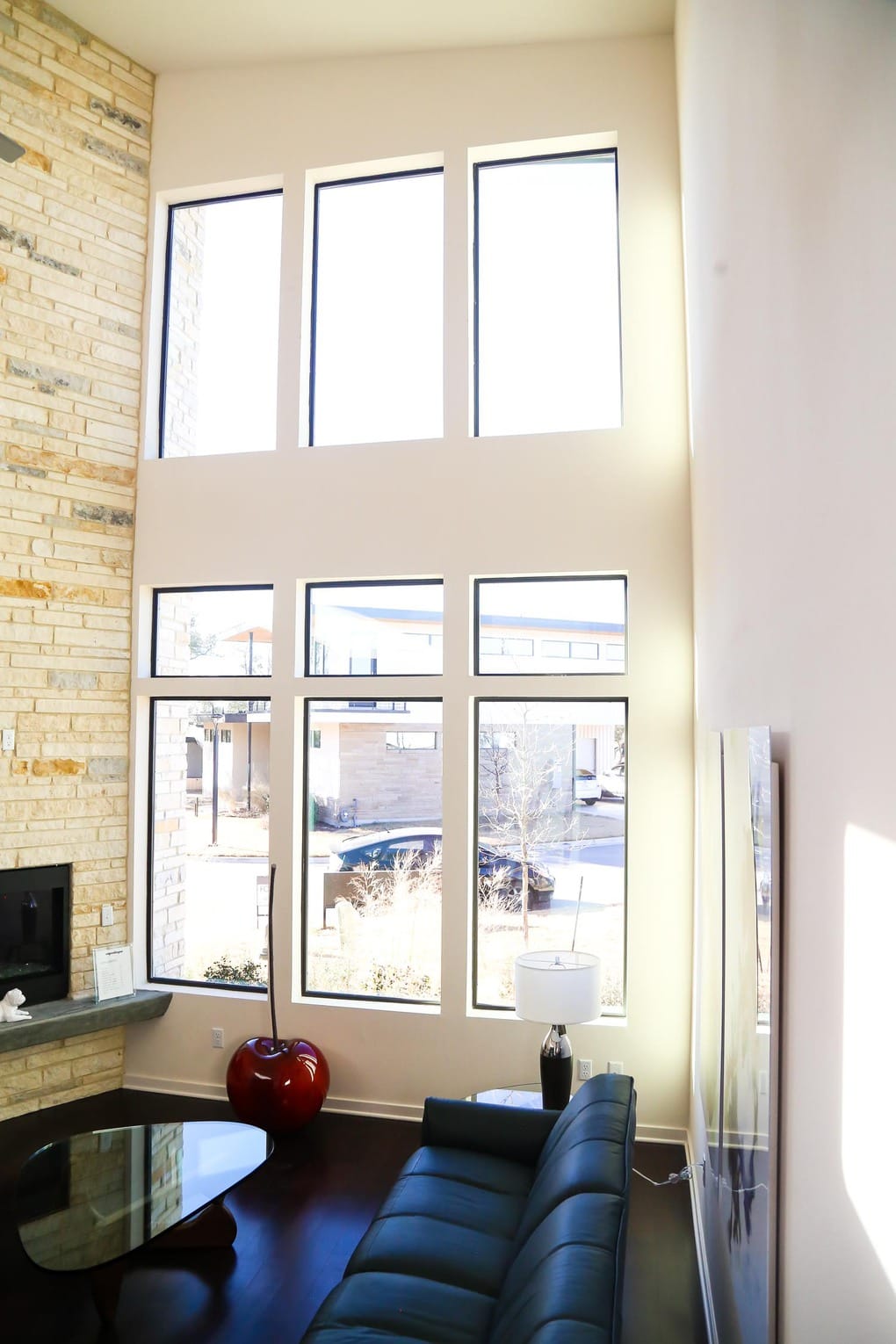 Another fun detail was that all of the two-story homes had at least one balcony area – and most of them had two or even three. They also worked hard to ensure that each condo would be able to have a small, fenced backyard, which is a perk you rarely see in these communities. They've put a ton of thought into the development of the neighborhood and truly making it feel like an oasis, and they've really capitalized on the outdoor areas to ensure that the homeowners can really enjoy the outdoor space too.
Also, can you even handle those floor-to-ceiling windows in the living room? Because I can't. I'm dead.
Oh, one more little detail before I stop gushing – the front doors. All of the doors throughout the houses were extra tall (it made a big difference in how big the rooms felt!), and the front doors were all painted different, fun colors. One was aqua, one was yellow (my favorite!), one was red – you get the idea. But, the part that made me swoon the most was this pretty little backplate they added to a plain doorknob to make it feel a little more special. It was such a smart idea, and it really elevates a plain ol' doorknob!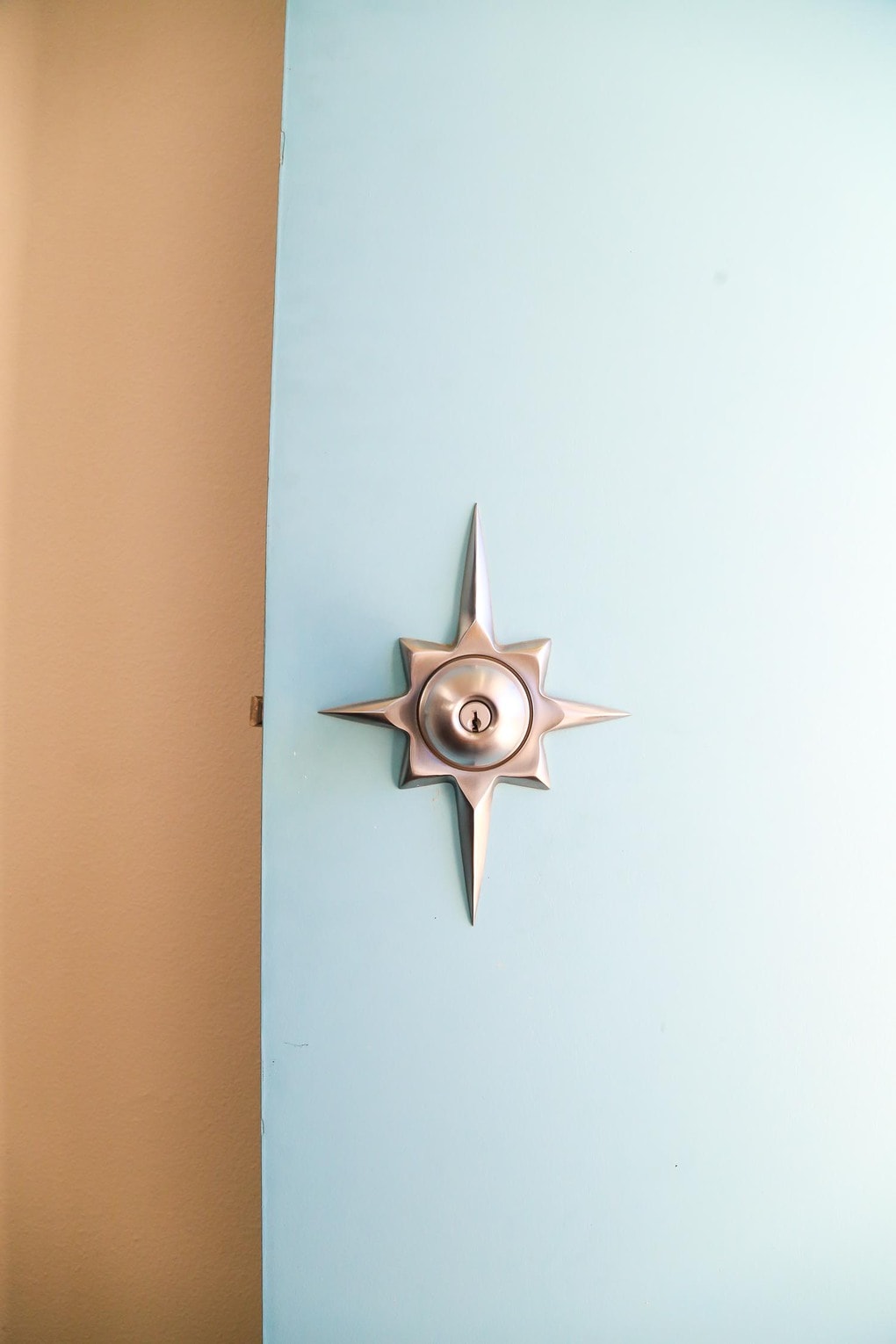 Love, love, love.
Are you swooning as hard as I am right now? There's a lot more where this came from – I have another full house tour, plus a few random shots from the other houses we visted along the way, so I'll start putting together another post with even more eye candy. And, if you can believe it, I think I liked the second house we visted even more than this one!
I'm curious, though – would you ever want to live in a mid-century modern themed home? Would you go all-in and buy all mid-century modern furniture, or would you decorate it with what you've already got? I've been thinking about this every since we visited and I'd love to know your thoughts!