The Best, Simplest Stuffed Animal Storage Ideas
Are your children as obsessed with stuffed animals as mine are? In our family, Jackson (the 8-year-old) can't get enough of them. Grant (who is almost 4) doesn't care about them that much, but he sees how much his brother loves them and insists on keeping a large collection. I struggled with stuffed animal storage ideas for many years before I finally landed on the system we have…and it works for us, so I wanted to share!
Of course, I'm a bit of a stickler for keeping things clutter-free, so our collections aren't that large. So, after I share what we do for stuffed animal storage in our house, I'll round up a few other stuffed animal storage ideas that might be a good fit if your collection is a bit larger!
simple stuffed animal storage ideas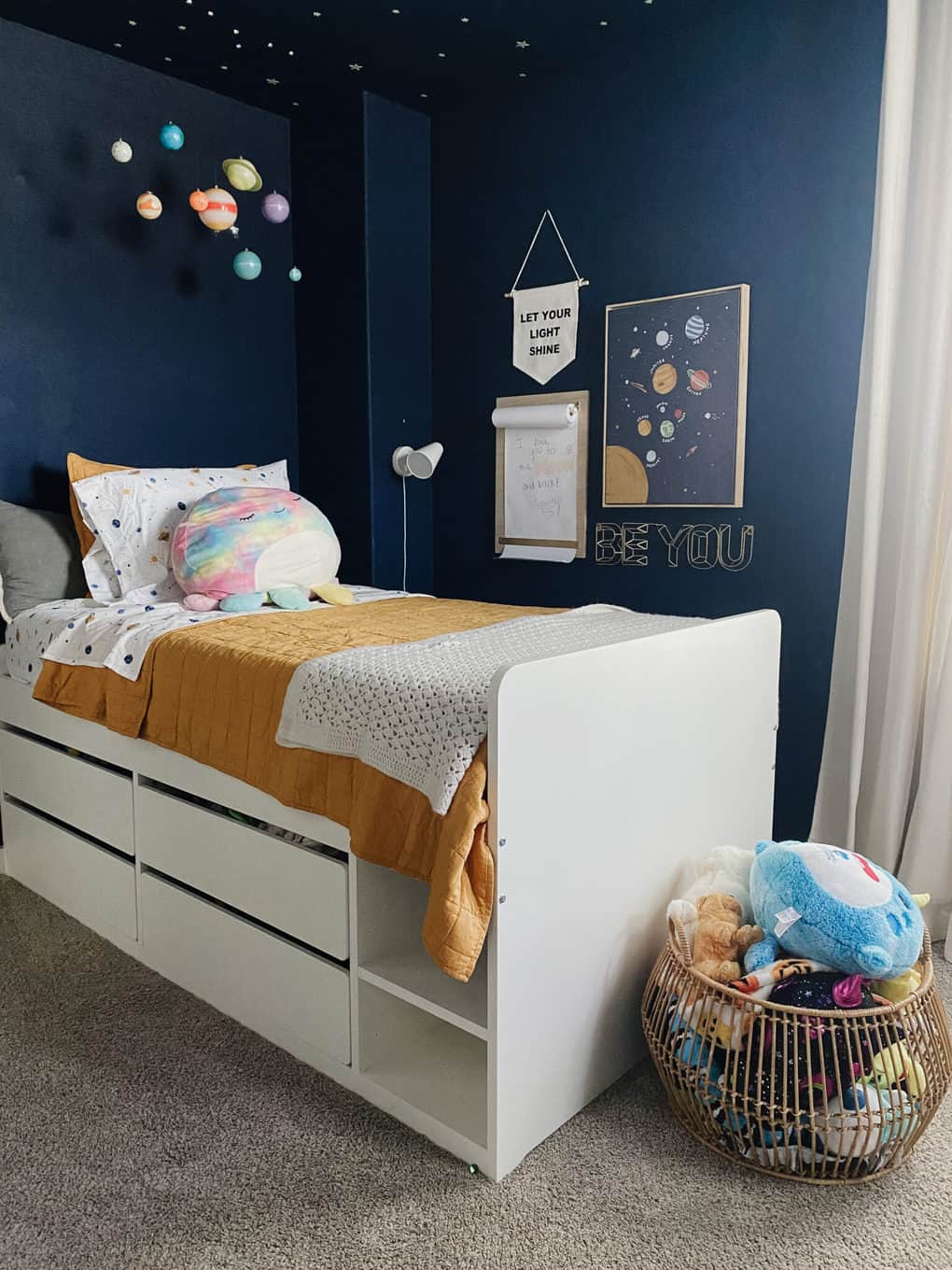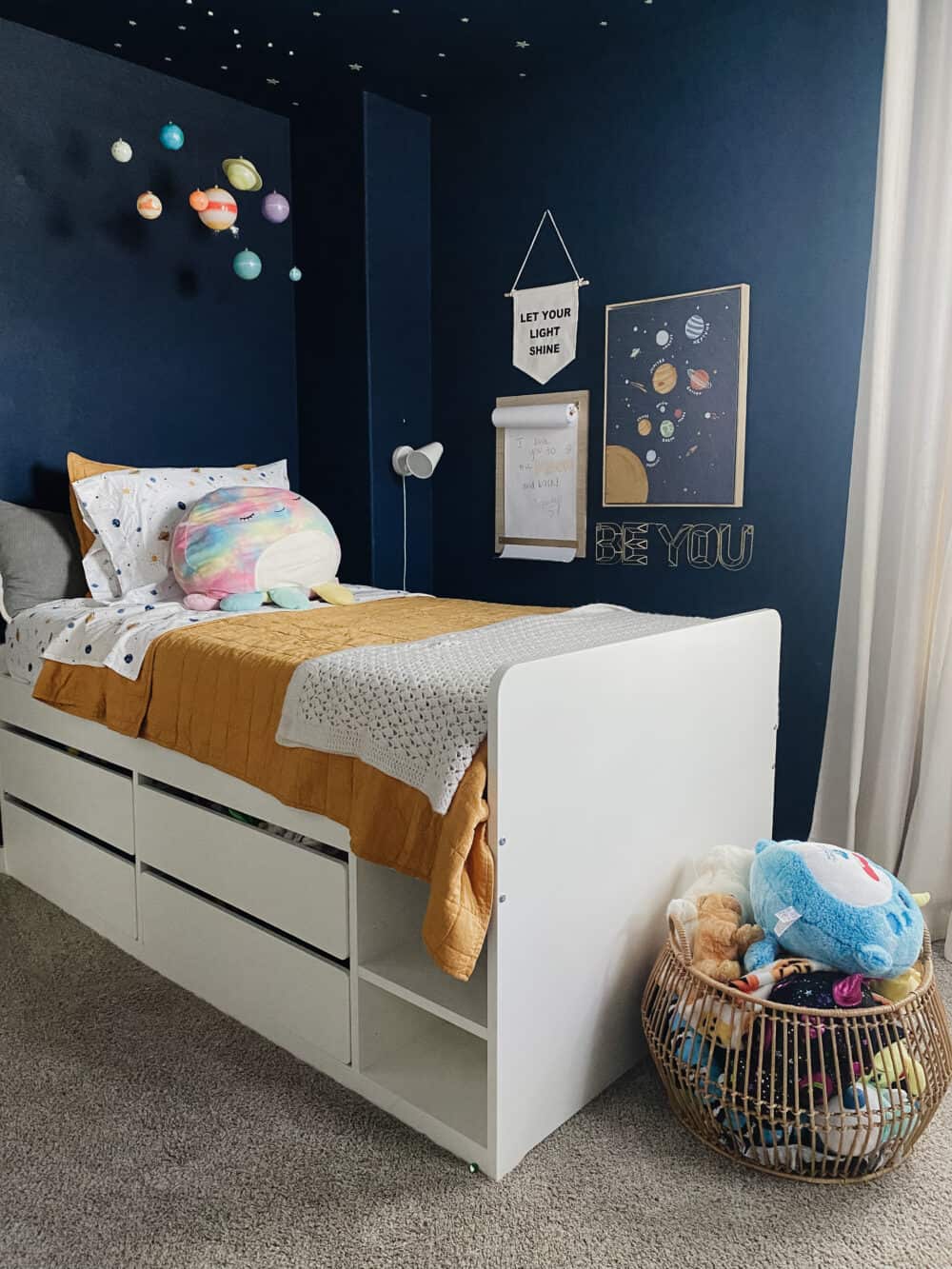 idea #1: A giant basket
This is obviously a super simple idea, but it has worked really well for Jackson for years now. We bought the most obnoxiously giant basket we could find and set it at the foot of his bed. We told him he can collect stuffed animals until they fill up the basket, and then it's time to say goodbye to a few.
He also keeps a few on his bed (like his huge Squishmallows), so they're not always all in there. But, having a designated basket that's just for stuffed animals has really helped corral the chaos. It also helps him think about which ones actually mean the most to him.
Here's a roundup of some giant baskets that could be great for your stuffed toys!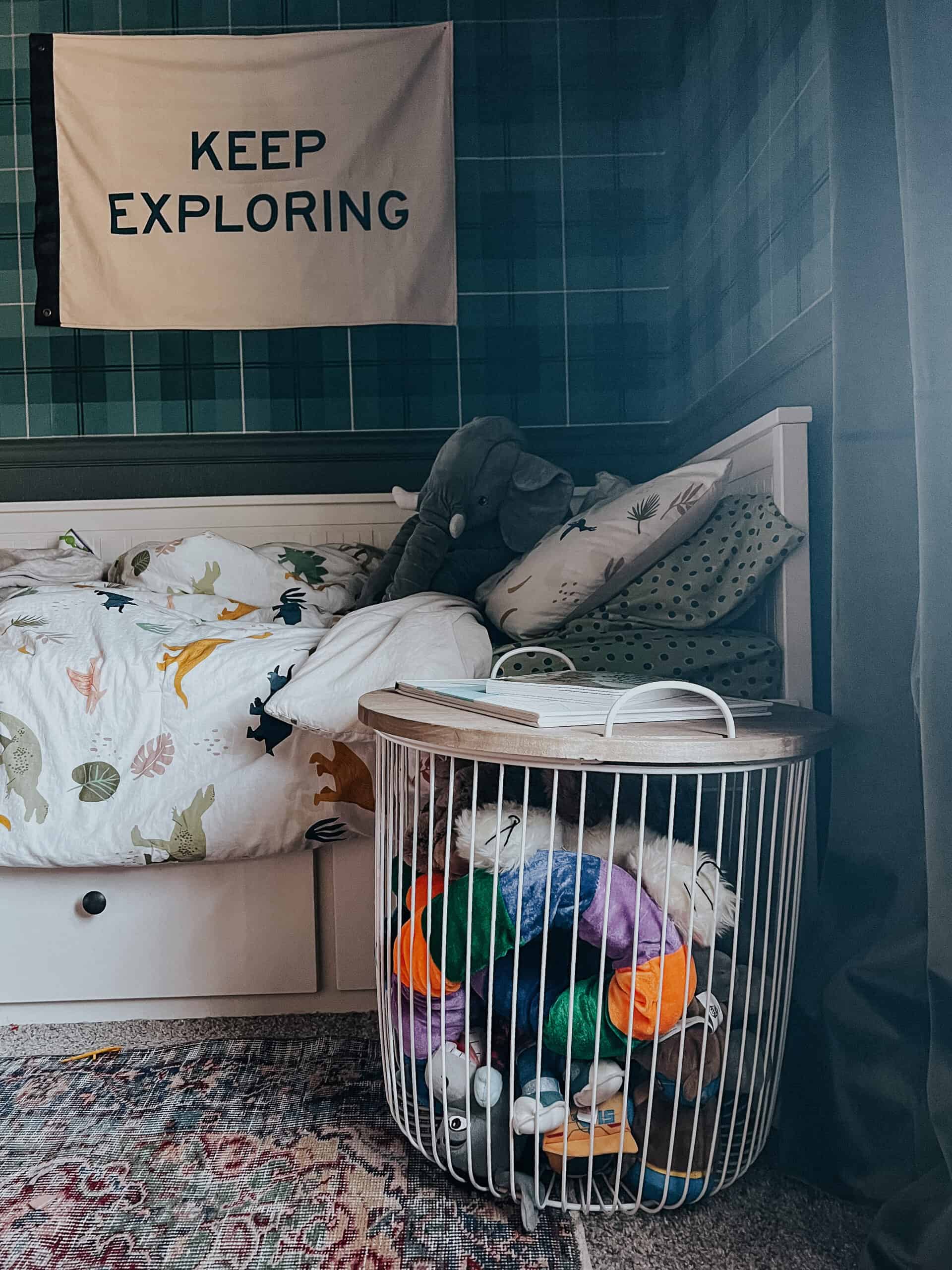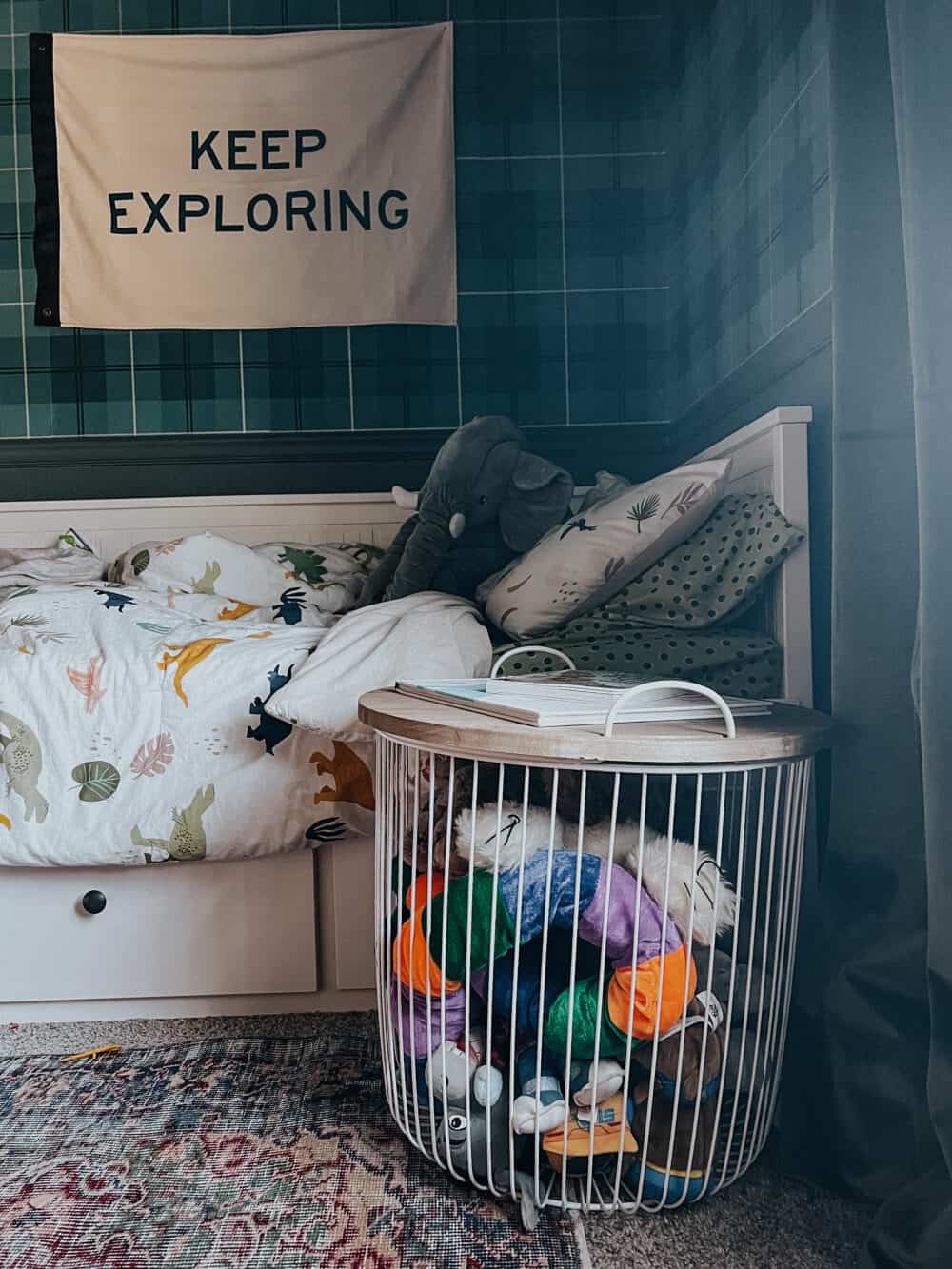 idea #2: a storage table
The little storage table that we use to store stuffed animals in Grant's room is my favorite solution. It's a genius way to keep stuffed animals corralled, and it looks so cute in his room. It doubles as a nightstand, and could be used for all sorts of other toy storage as he gets older and doesn't play with the stuffed animals as much.
I think just about every kid's room could benefit from having a storage table. It's the perfect storage solution for us!
Grant tends to have a few favorites that he sleeps with. The rest of them live in the little table most of the time. He'll take the lid off and play with them on occasion, but they end up being decoration more than anything else.
Here's a link to the storage table we have in Grant's room. Below, I'll share a few more options!

other Stuffed Animal Storage ideas
Of course, you may have a larger stuffed animal collection or not have space in the room for a big basket or a storage table. Here are a few other ideas that might be up your alley…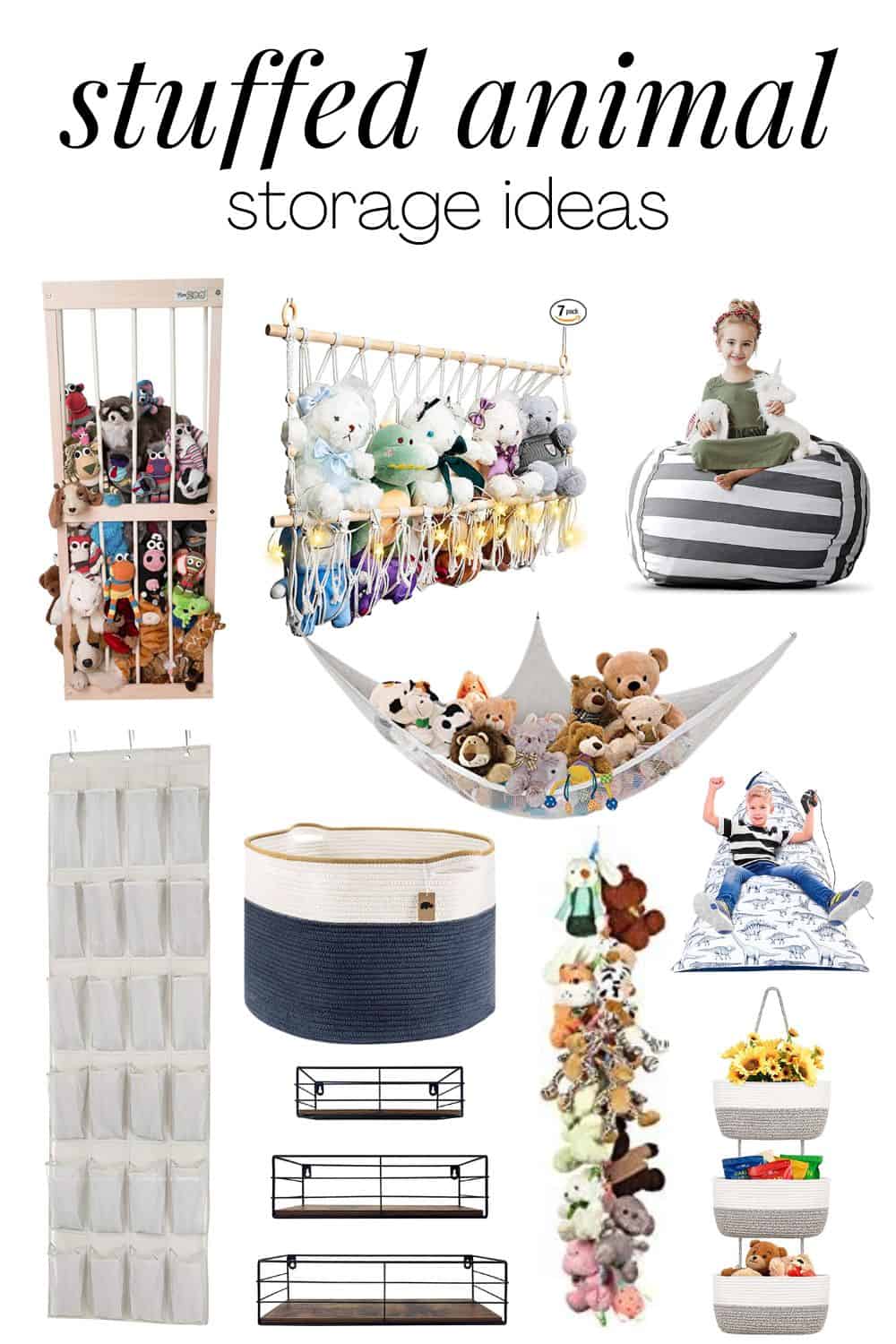 Stuffed animal zoo | Stuffed animal swing | Stuffed animal bean bag | Stuffed animal hammock | Over the door shoe hanger | Large basket | Stuffed animal hanging storage | Stuffed animal chair | Trio of wall shelves | Hanging baskets
Stuffed animal hammock. I've seen so many adorable variations on this idea. The basic premise is that you hang some fabric across the corner of the room using a hook and make a little stuffed animal net for your kids' stuffed animals. I never trusted my kids with something like this (goodness knows they'd try to climb in), but it's really cute for kids who are a little less rowdy.
Use a shoe organizer. You can hang a shoe organizer in your child's closet or behind a door and use that to hold individual stuffed animals. This will work better with small stuffed animals, but it's a great way to see each one! A hanging closet organizer is so versatile, too, and can be used long after the stuffed animals are gone.
Create a stuffed animal zoo. This is a really fun and unique DIY stuffed animal storage solution – you can build a little cage for them and call it a zoo! Here's an example of this fun little project.
Use empty bean bags. This is perfect for the kid who has a sentimental attachment to their stuffed animals but doesn't play with them much. You can get an empty bean bag and fill it up with stuffed animals! I imagine a stuffed animal bean bag is a tad more lumpy than your standard bean bag. But, a stuffed animal chair is a great way to keep the chaos out of sight and provides a functional way to store them. You could also use a storage ottoman to hold them!
Put them on shelves. A really functional way to store stuffed animals is to hang some shelves and display the stuffed animals on there! It's something that will last your kids forever. It can be used for literally anything else when they've outgrown the animals.
Use milk crates or storage bins. Of course, you can always use a collection of pretty storage bins, buckets, milk crates, or even cute laundry baskets to store the stuffed animals. Basket storage is a great option for just about anything, and stuffed animals are no exception. A toy box or storage box is also a really simple example of this that would work great.
A stuffed animal storage swing. Stuffed animal swings are a new concept that I discovered when I was researching for this post. And, they're so cute! It's a fun idea for a child's room as long as you trust the kid to, once again, not use it themselves. It's a tiered set of little shelves that hangs from the ceiling, and it's adorable. Here's a really adorable example of this project!
Wall-hanging planters. This is a great idea for a toddler, or to display a small collection in a playroom. Choose a few pretty wall planters (like this one), and hang them up. Tuck your animals in there and suddenly they feel really fancy and beautiful!
I hope this list gave you some inspiration for your child's room and got you thinking about unique solutions for stuffed animal storage! How do YOU store stuffed animals in your home? Anything I missed?!