The first look at our new house
Last week, we were heading out to dinner and decided to take a quick detour to check on the new house. We knew that drywall had been installed and taped, and we wanted a chance to step inside and see how it felt with actual walls up.
Well, when we got there we saw it was a lot further along than we anticipated! There was texture on the walls and ceiling, the doors and trim were in the garage waiting to be installed, and there were cabinets in the kitchen! We were excited, to say the least.
I wanted to give you a quick peek inside the house today – I'm saving things like the full layout and all of the details until the house is finished and we're getting settled, but I can't resist showing you how it's looking!
Are you ready?!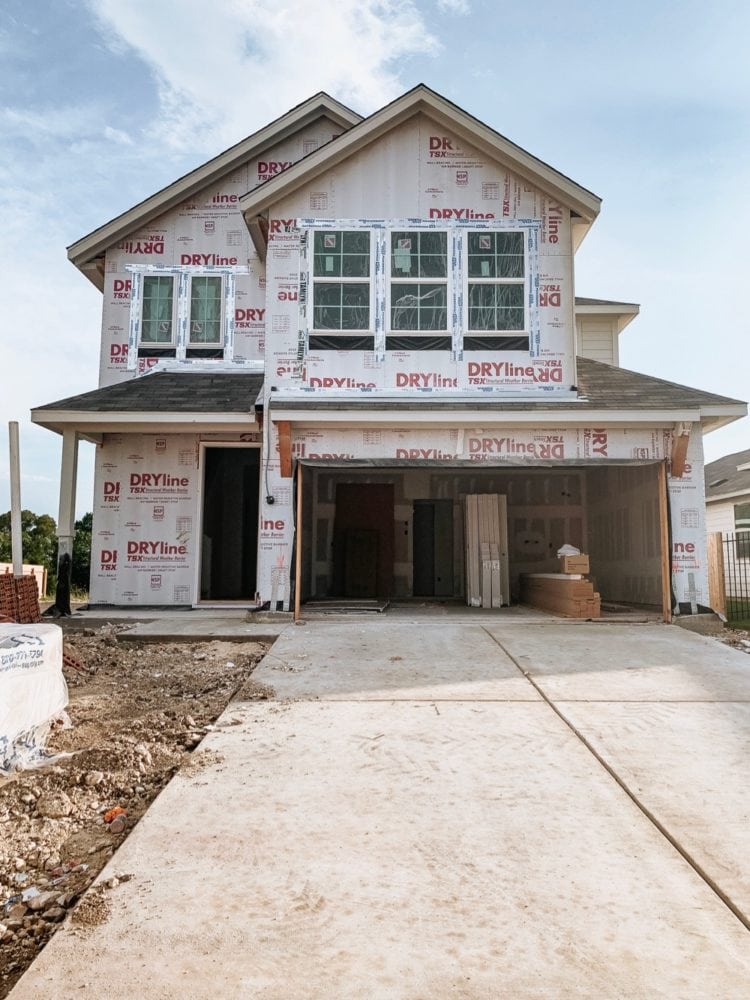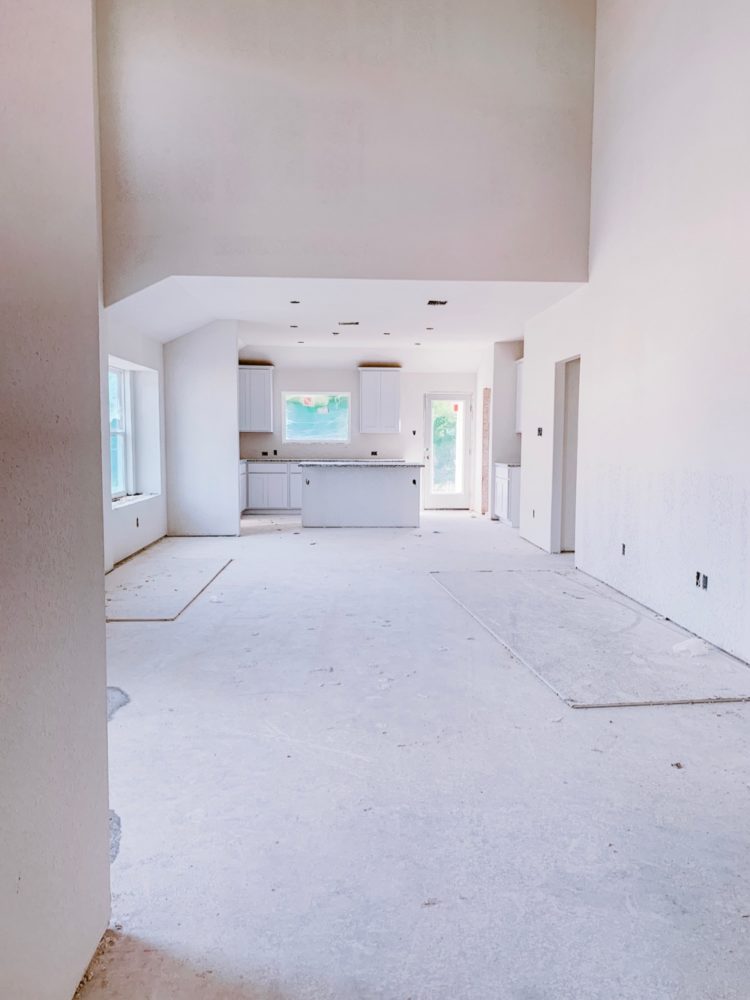 My favorite part of the house is, obviously, the great room. Corey and I were honestly hesitant about this house at first because we weren't sure if we could make the fully open space work (I love an open floor plan, but this is really open). I still think it'll be a unique challenge to make the space really work well for us, but standing in it and seeing it all start to come together is just so exciting it gives me chills.
I think our biggest challenge will be to find the right balance in decorating the two-story walls. We have lots of ideas swirling around already, but that wall above the kitchen and dining room is stumping me already. I'm sure we'll leave it totally blank for quite some time (and maybe forever!), but I've seen lots of inspiration with some beautiful wall hangings on walls like this, so we'll see where we land.
I'm also currently brainstorming window treatments for the super high windows (you can't see them in this photo, but there are four windows on that left wall, two of which are essentially on the second floor). Two-story curtains are beautiful but I worry they'd feel a little too formal, and it seems silly to only hang curtains on the bottom ones.
These are the things that keep me up at night, y'all.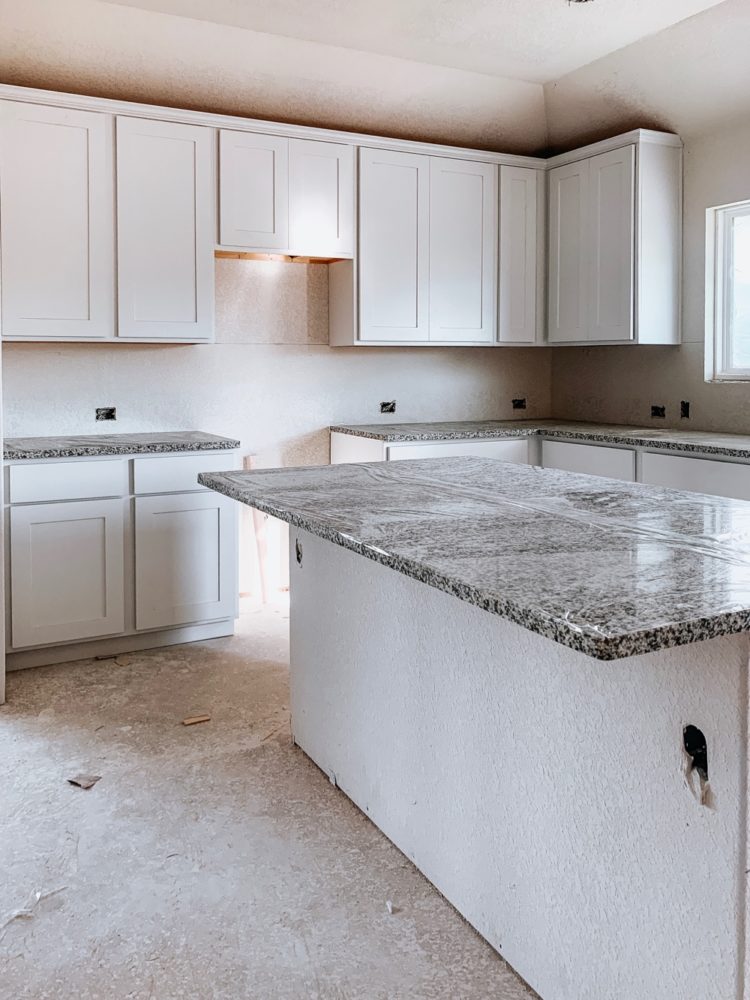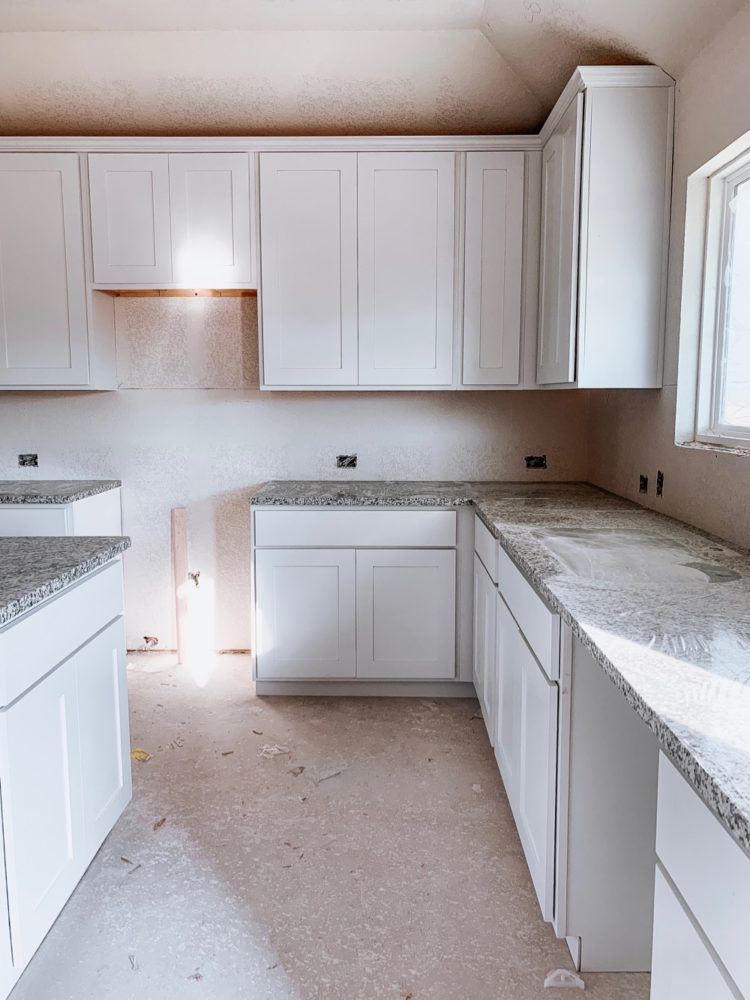 The kitchen is all white and, while it's not what I would have chosen if I was designing it myself, I love how it's coming together. The shaker-style cabinets make my heart happy, and it all just feels so bright and fresh. I've never had this! many! cabinets! in my life, and I'm giddy thinking about all of the storage space.
The island is a great size, and I love that there's an overhang for some stools. The window over the sink makes my heart happy (I had one in the old house and I miss it every day!), and the window seat in the dining room is going to be such a sweet place to cozy up and read a book with the kids!
One of my favorite details in the kitchen is the cove ceiling – it's a really unique detail that makes the cabinets feel like they go all the way up and are a little more custom than just leaving a gap to the ceiling.
And did I mention how many cabinets there are?!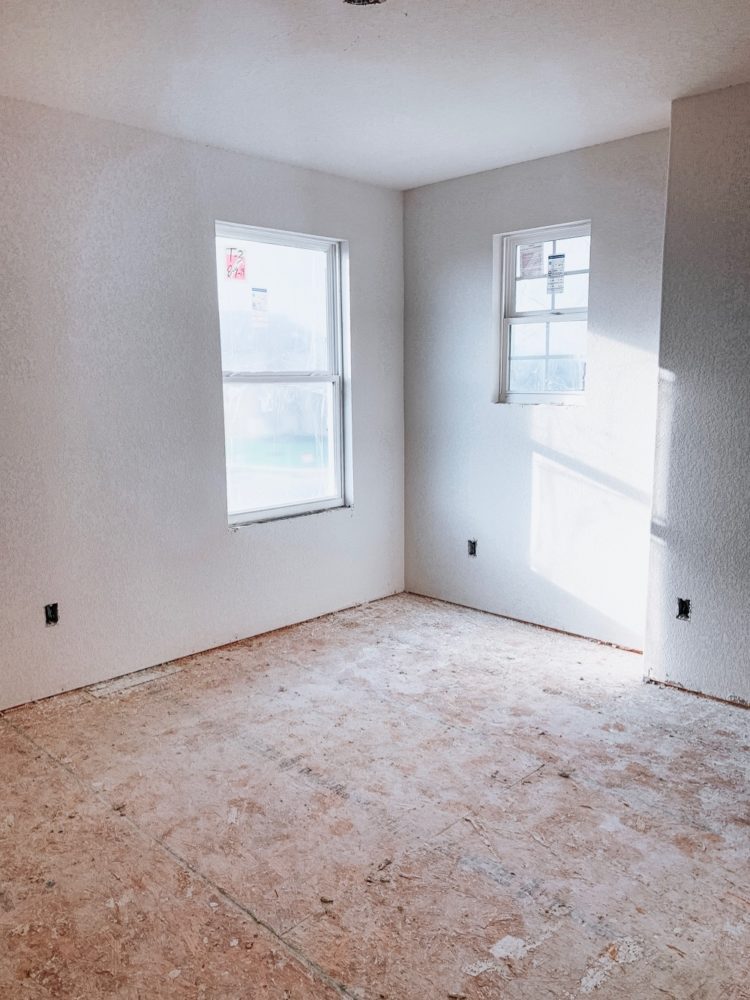 Jackson was, of course, beside himself with excitement, and couldn't stop begging to head upstairs and see his bedroom. It was so exciting to see these spaces start to actually feel like a real home. The house had great natural light, even though it was early evening, and it just felt so open and right.
If I squint, I can see a cute bedroom with a bunk bed, some fun wallpaper, and cozy carpet. Can you see it?!
I didn't take pictures of every room (we can't give everything away yet!), but another favorite space to see was the bonus room. The game room? The play room? We haven't really landed on what we'll call it yet, and I think I call it something different every time I refer to it. Whatever we'll call it, it's a bright and welcoming space that I think will get a lot of use!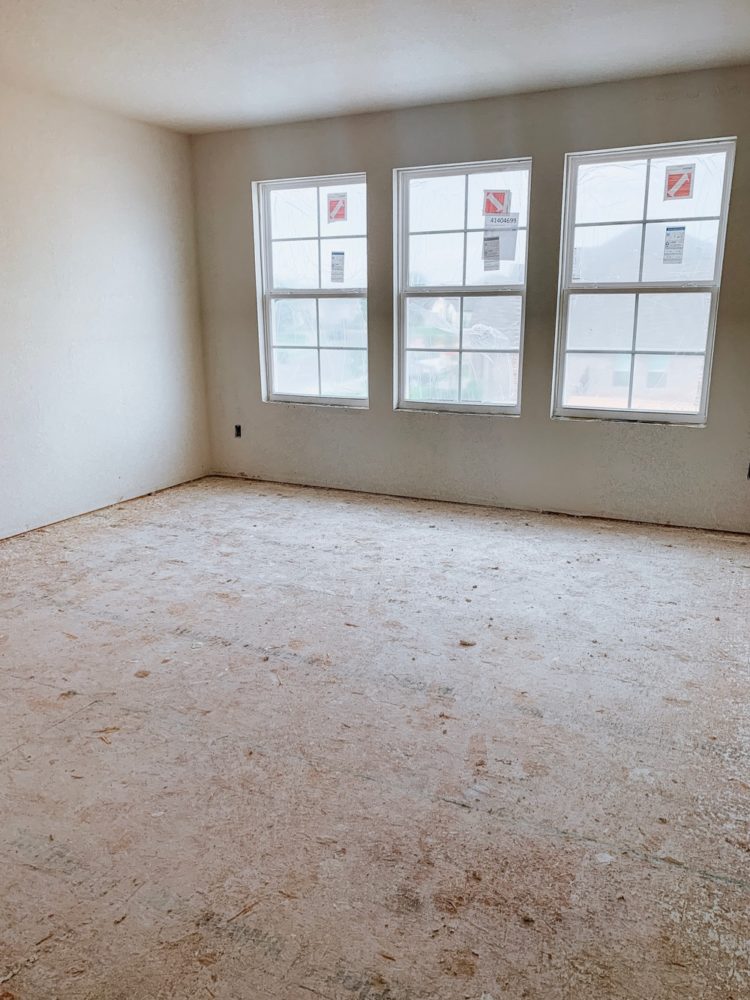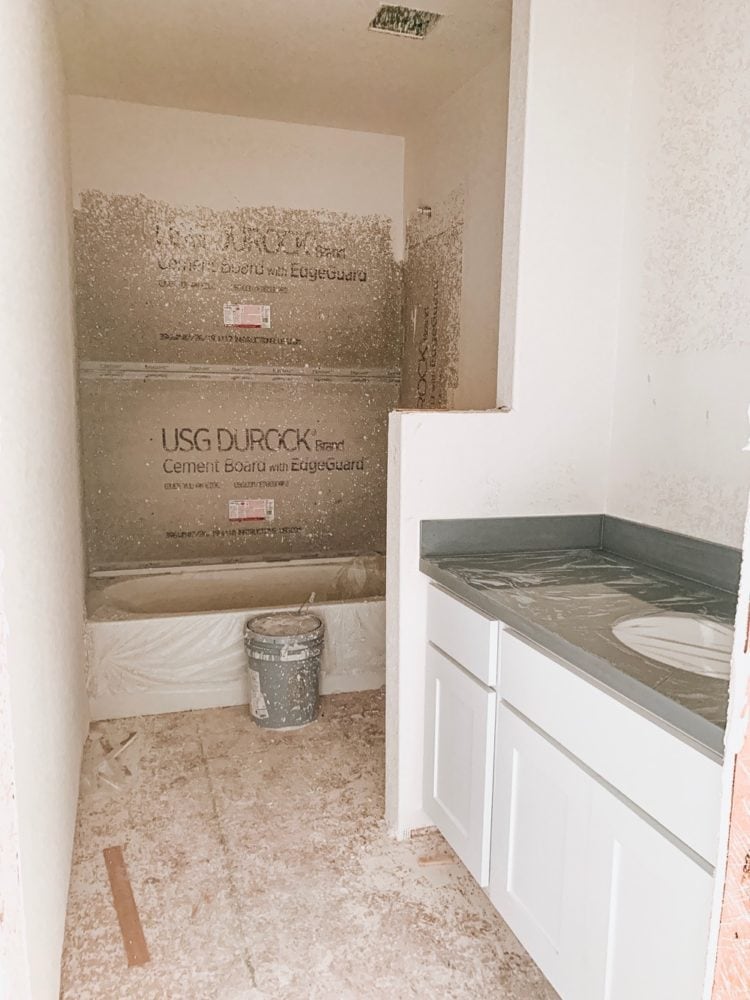 I think it was most surreal to see the bathrooms coming together – they look like bathrooms! This is the upstairs bathroom, which the boys will share, and I love that it's got some great storage space, a lot of counter space, and it feels a lot bigger than I expected it to.
None of the bathrooms have windows, but that's something I could see us adding down the line. Our bathroom definitely needs a window (some of the floor plans have one in the master, but that wasn't an option that was included when they planned our house), and I'd love to see a long and narrow window above the shower in here.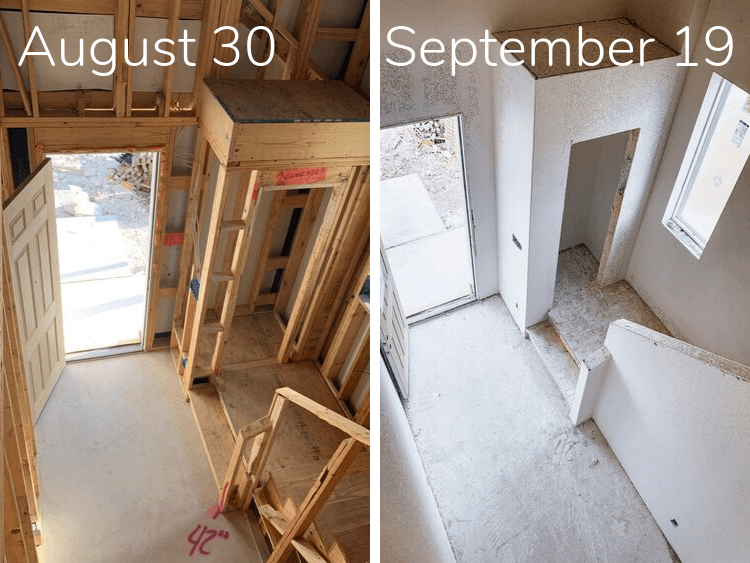 It's wild how much can change in less than a month!
The next time I show you this space, there will be trim! and flooring! and paint! I'm so excited I can barely stand it!
Thanks, again, for all of your excitement surrounding the new house. We cannot wait to get in there and start sharing more with you, and we've got some big plans to make it our own. I can't wait to tell you more!