This update is coming a bit late – Jackson's going to be 8 months old next week, but since I shared the first 6 months here and I'm already writing these out for his first year photo book, I figured I may as well keep going and finish out the year sharing here! So, here's what Jackson was doing when he turned 7 months old a few weeks ago.
Stats: We haven't had a doctor's appointment or weighed him here lately, but I don't feel like he's gotten too much bigger in the last month – my guess is close to 17 pounds.
Clothing Size: He's in all 6-9 month clothes now! My big boy!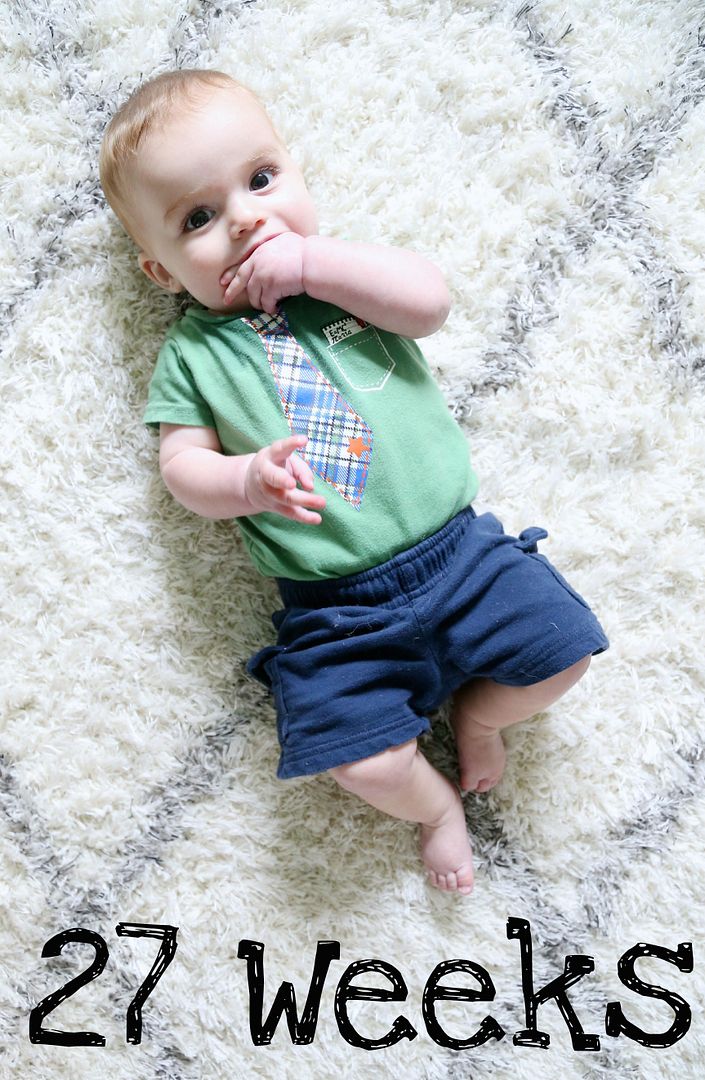 Sleep: Night sleep is still fantastic (thank goodness since work started again recently) – 6:30ish until 4:30ish, then right back down until we wake him up for daycare (or on weekends, about 8:30). I think he's in the process of dropping his third nap, as well – at daycare he only takes two plus a short (15ish minutes) nap on the way home a few times a week. On the weekends he varies between two and three naps depending on what our schedule is like that day. He's taking good (over an hour long) naps at daycare, which is a huge relief, since the first week back had some super short naps!
Eating: Jackson is loving solids! He's eating a puree pouch for lunch every day and whatever we have for dinner. Some nights I feel like he could almost eat as much as I do! It's so fun to watch him eat and get better at it – he's eating quite a bit at this point! A few highlights from the month were the lasagna, pesto on zucchini and pasta, tortollini, and eggs. He also discovered that he's a big fan of prune juice – though none of us were thrilled about the reason he was drinking it!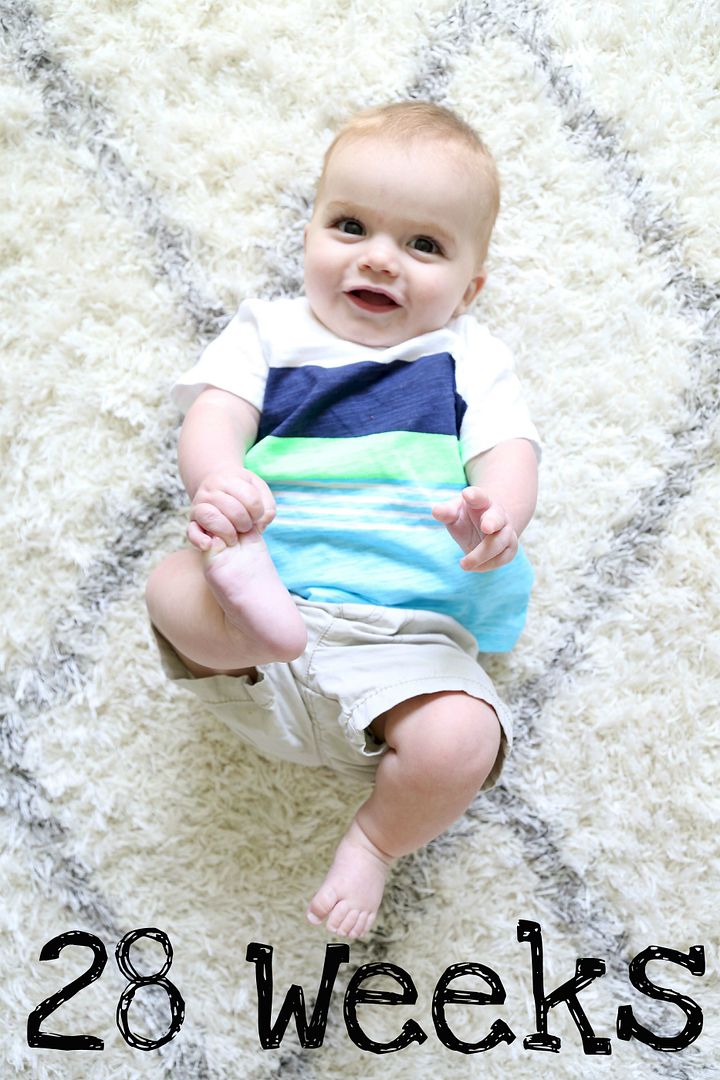 Milestones: Jackson learned how to reach for people and that if he's sitting and holds his arms up, he's going to get picked up! He figured out how to make the "b" sound, so that's happening a lot right now! He's also constantly blowing raspberries and making other silly noises. He's still not crawling but he has figured out how to pull up on things if he can get a good enough grip. He's favorite thing to pull up on is me! He's a professional army crawler at this point, and we're starting to wonder if he's just going to skip crawling alltogether. He has no interest in getting up on his hands and knees – he's so efficient at scooting now! 
Things we want to remember: I'm trying to soak up the rare moments when he falls asleep while nursing at night – it doesn't happen very often anymore! I love watching his mouth figure out how to make new sounds and how exaggerated he makes them when he's learning (the "b" sound involves a lot of tongue sticking out, haha). I want to remember how much we both love the constant raspberry noises he makes and his little babbles. I want to remember the giant smile he has every day when we show up to get him from daycare – he seems to know it's special that both Corey and I are picking him up now!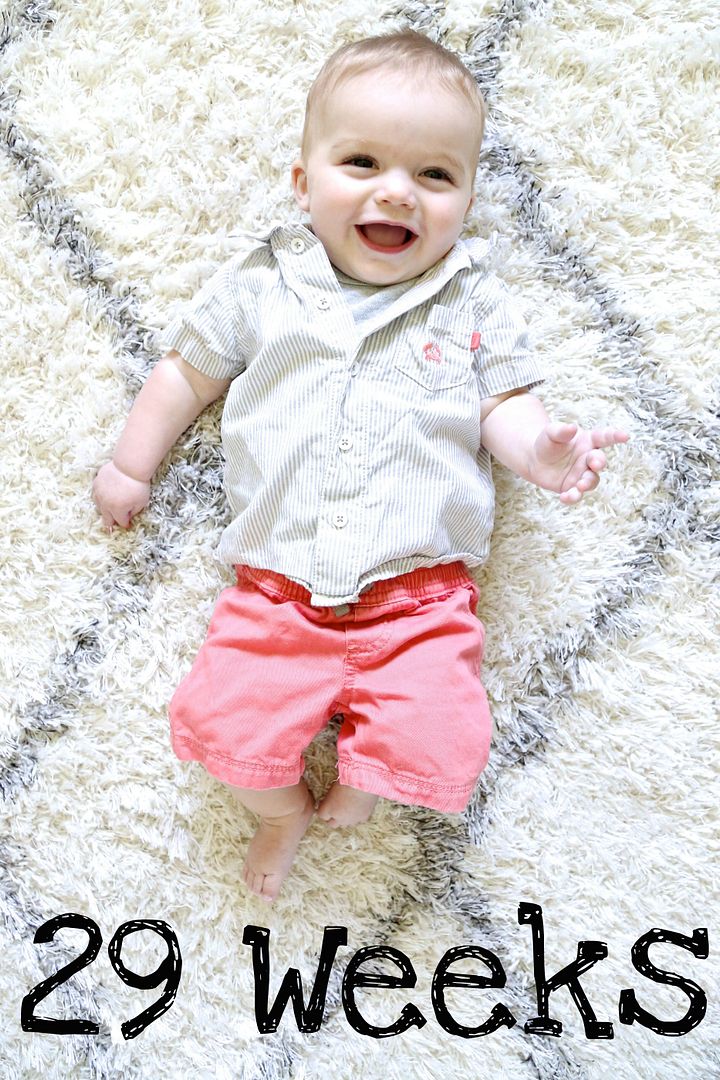 Special outings or adventures: We went downtown again for the food trucks and tried out a new, amazing toy store that Jackson loved. He got to spend a few days in the summer with his grandma (Hendrix) while Corey and I worked, and got to spend some time hanging out with Aunt Jennifer one day too! He met his new baby friend, Logan and then got pretty jealous when I was snuggling with Logan!
Favorites: We got him an Ugly Doll that looks like a monster at the toy store and his entire face lights up every time we bring it out. He loves the sheepskin rug we bought him, and he LOVES eating. Bathtime is still a favorite, and Corey and I feel like we've taken a shower after he finishes because we're both soaked from all the splashing. He's in constant motion and loves when we scatter toys all over the floor so he can scoot around playing with one after the other. Aunt Jenn is one of his favorite people in the world – he always gets so excited to see her! He also loves to climb all over me while I lay on the floor – he seems to think I'm a jungle gym!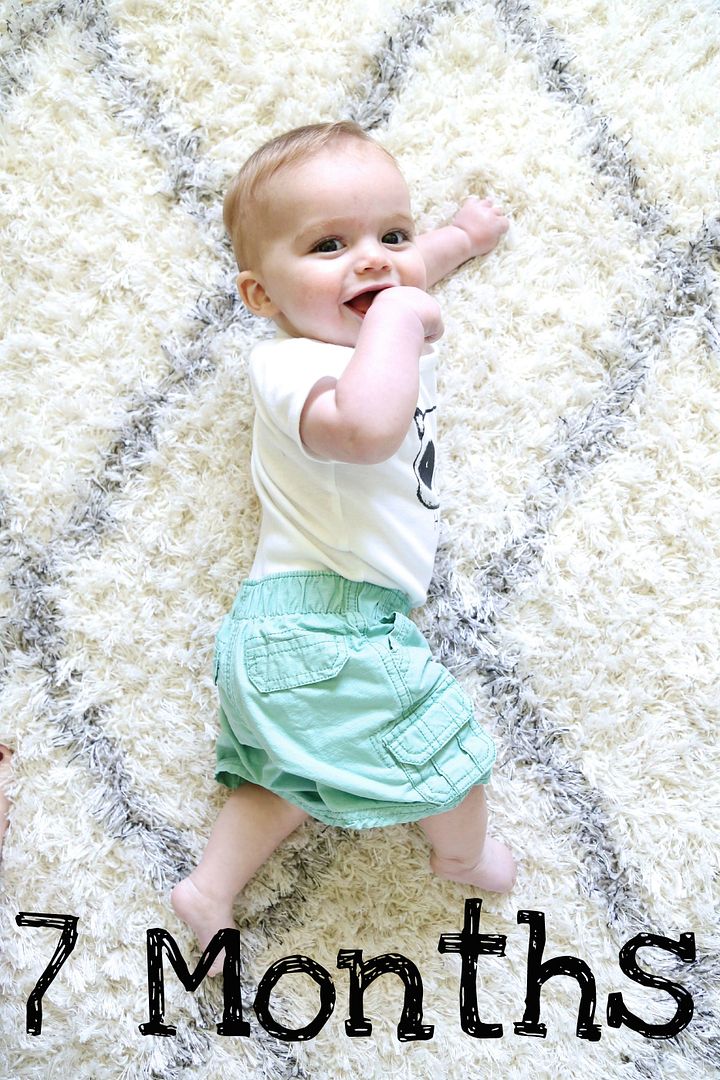 What we've learned: We're learning how different this whole experinece is for everyone – we have lots of friends with babies and they are all so vastly different! We're learning how to adjust to this growing little boy – figuring out how to feed him real foods, how to keep him entertained all day, and how to navigate this crazy new life as a family of three. It's so hectic and incredibly challenging but we both frequently say that we are SO happy to have Jackson in our lives and we can't imagine our family any other way!
Like this post? You might also like...